Homes
Art Deco and Scandinavian minimalism take centre stage in this Bharuch home by P&D Associates
AUG 22, 2022
| By Sneha Gandhi
Navigating through a complex ensemble of materials and an unusually dynamic colour palette, this Bharuch home finds its coherent voice in the floral upholstery and designer Italian marble.
Designed by Devang Patel and Pratik Siddhpura, Principal Designers of P&D Associates, the 7,130 sq ft home in Bharuch, Gujarat named 'Anurag', is an assortment of themes and compositions weaved with a single entity. 
You may also like: This bachelor pad in Gujarat is not your average man cave
The curious brief 
The site layout prompted an inward looking plan which was further enhanced with the design brief. Belonging to a three generational family of six, the modern home is visualised as a spacious five-bedroom villa with ample communal spaces overlooking its meticulous landscape design.
The design prioritises an unobstructed, ambient supply of natural light, further enhanced with its thoughtful choice of bright and electric colours.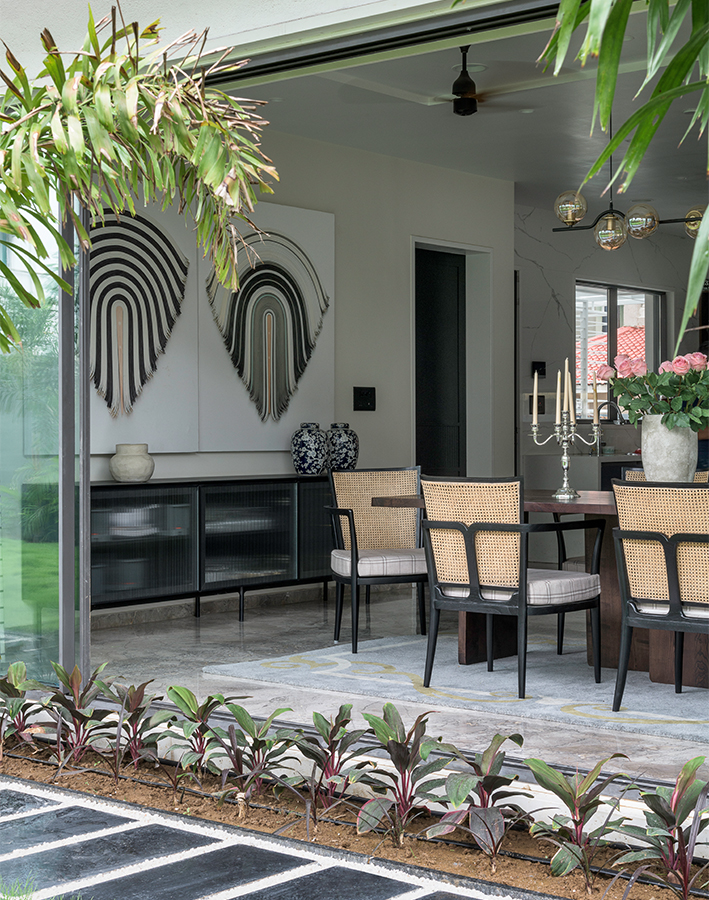 Tour every turn of the palatial home
Illuminated by a series of spectacular vintage-inspired hanging lights from a 24 ft high ceiling, the double-height entrance foyer welcomes with a grand gesture setting the overall tone for the home. Underneath, one discovers a veneer-based console and arched jali window crafted with a Scandinavian influence.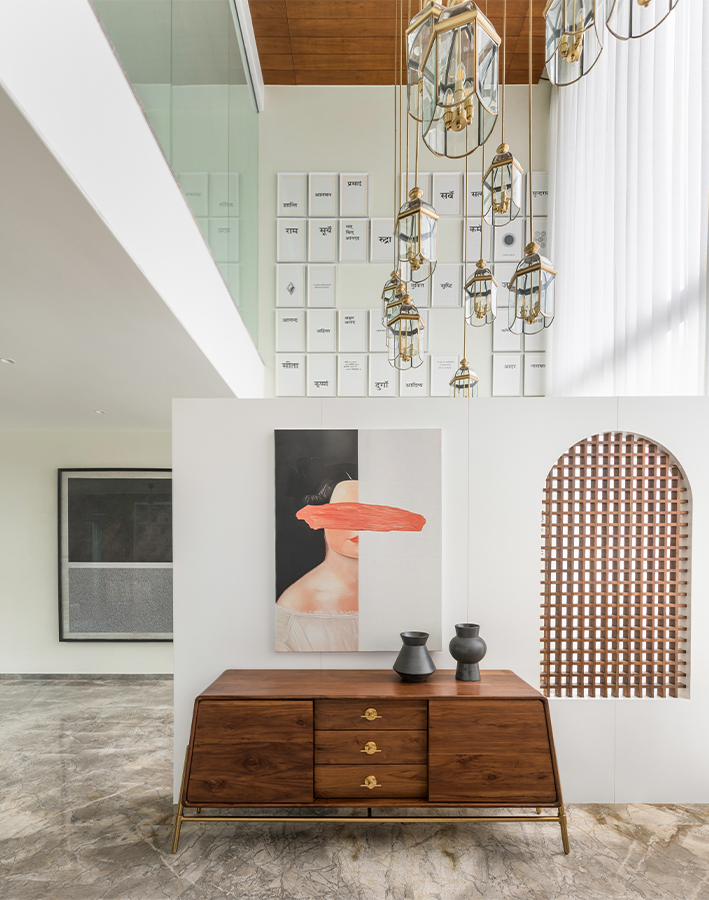 Adjoining is the puja room with a seven ft monochrome accent wall featuring an array of frames with the Sanskrit names of Indian gods and goddesses. Doused in a neutral palette, the ground floor houses a monochrome living room, an elongated dining area for eight adjoining the outdoor seating and two bedrooms. 
An L-shaped deck encircles the home, providing a much needed private outdoor space with an elaborate backyard garden. An enviable location for intimate family gatherings, the backyard is furnished with a black marble patio with green marble detailing, fitted in Indian style.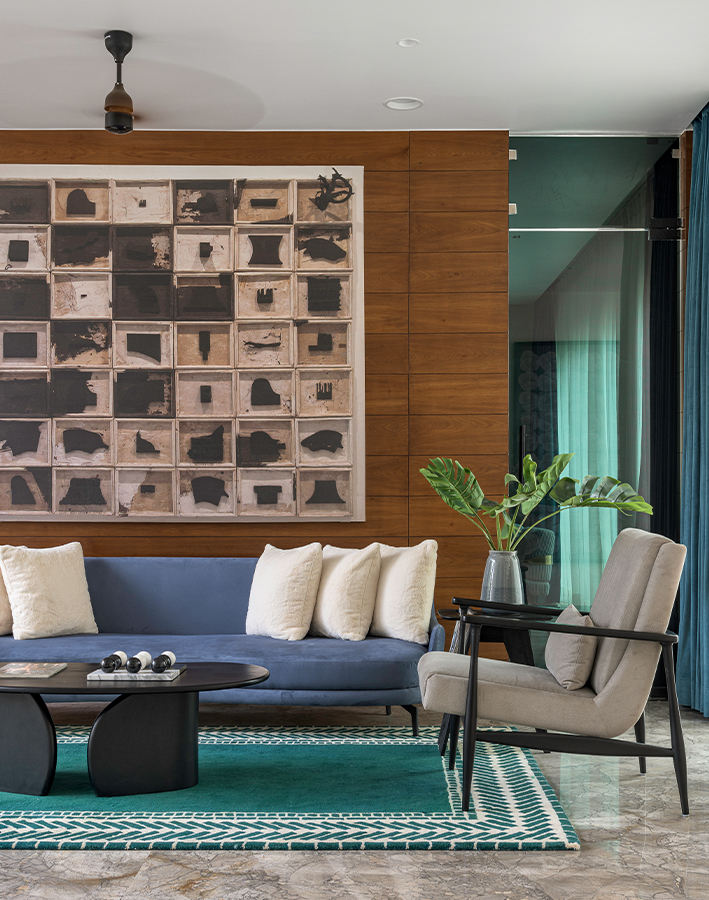 Seemingly merging into the flooring, the dining area grey carpet holds an antique-style wooden table with coordinated black chairs with cane details. The highlight of the space, however, is Derrick Velasquez's illustration.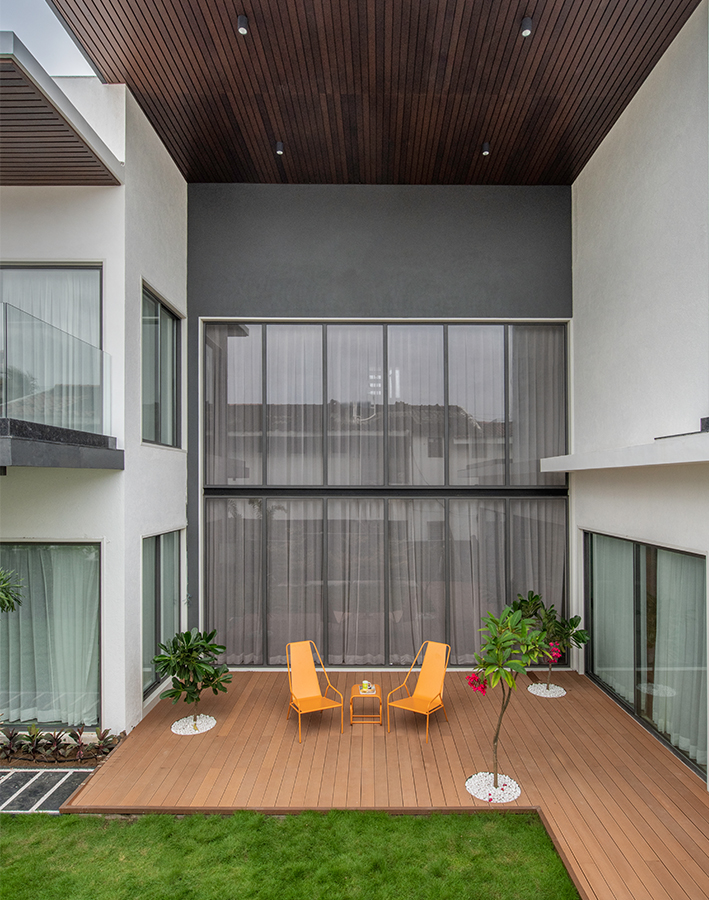 A floating staircase with brown Italian marble, white Indian marble balustrade and brass handrail design leads to the first floor housing the remaining three bedrooms. The parent's bedroom combines neoclassical and art deco design with its bold blue panels, rustic brown fabric and polished plaster white wall.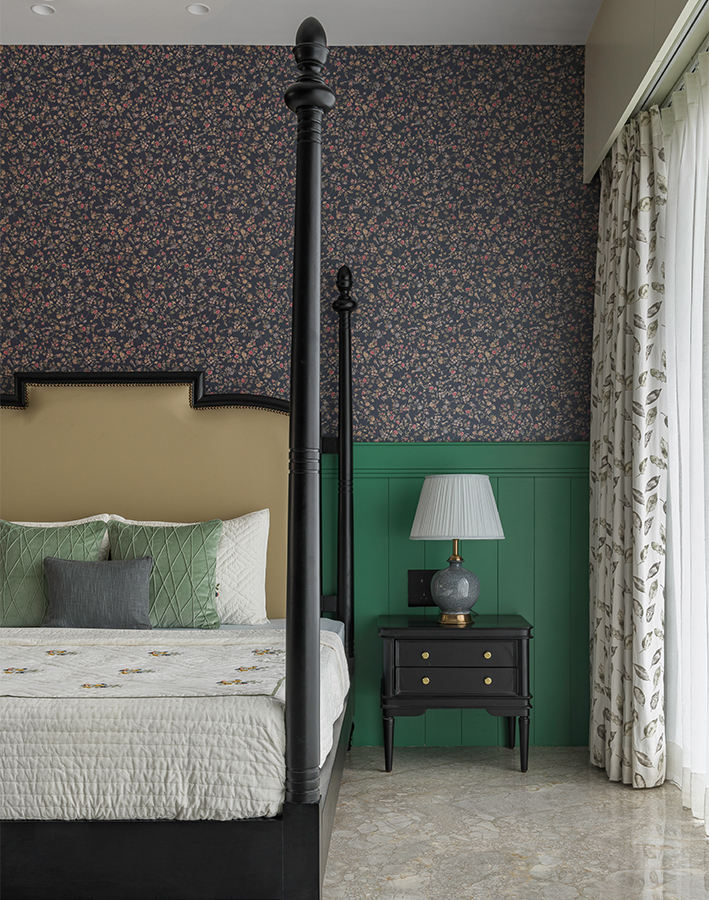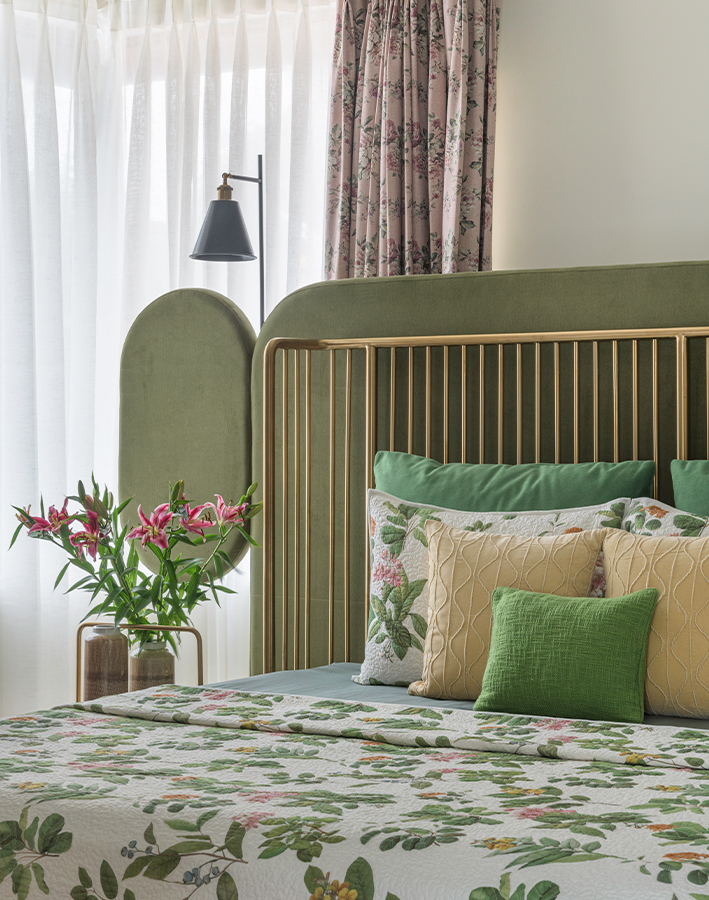 Chic with a sage green and floral pink colour scheme, the daughter's bedroom displays clean lines and nature-inspired designs. On the contrary, the son's bedroom sports a more bold look with a material palette of warm walnut timber, chequered black and white tapestry, black polish and polished plaster lime green walls.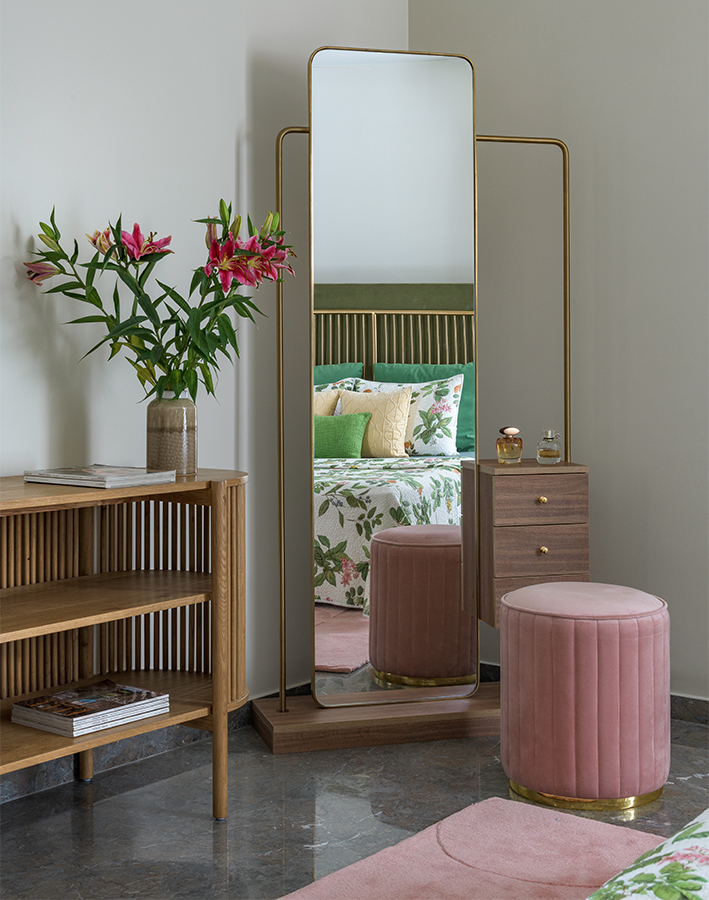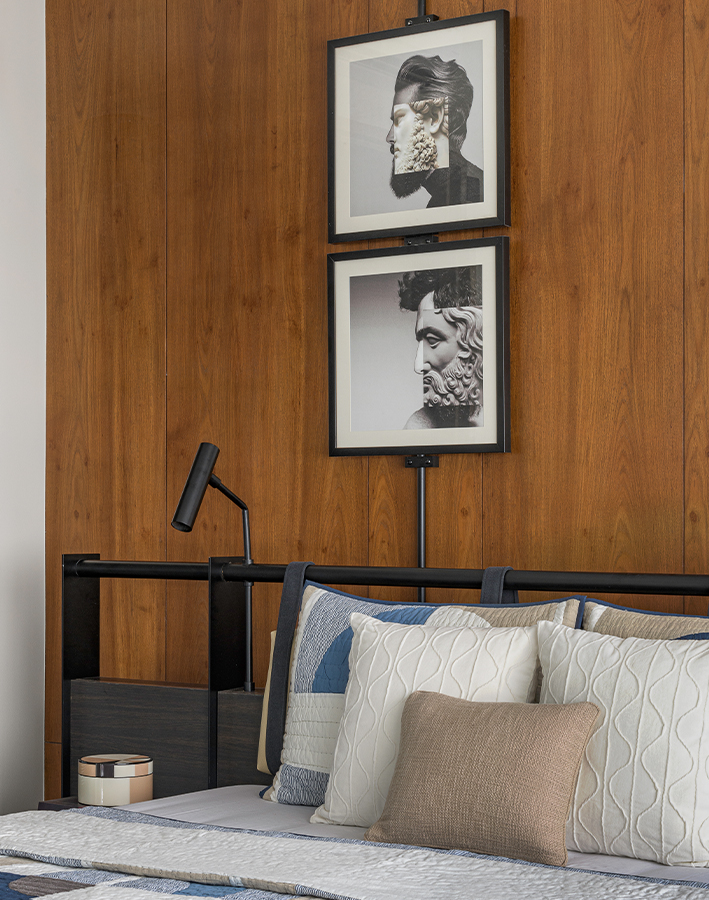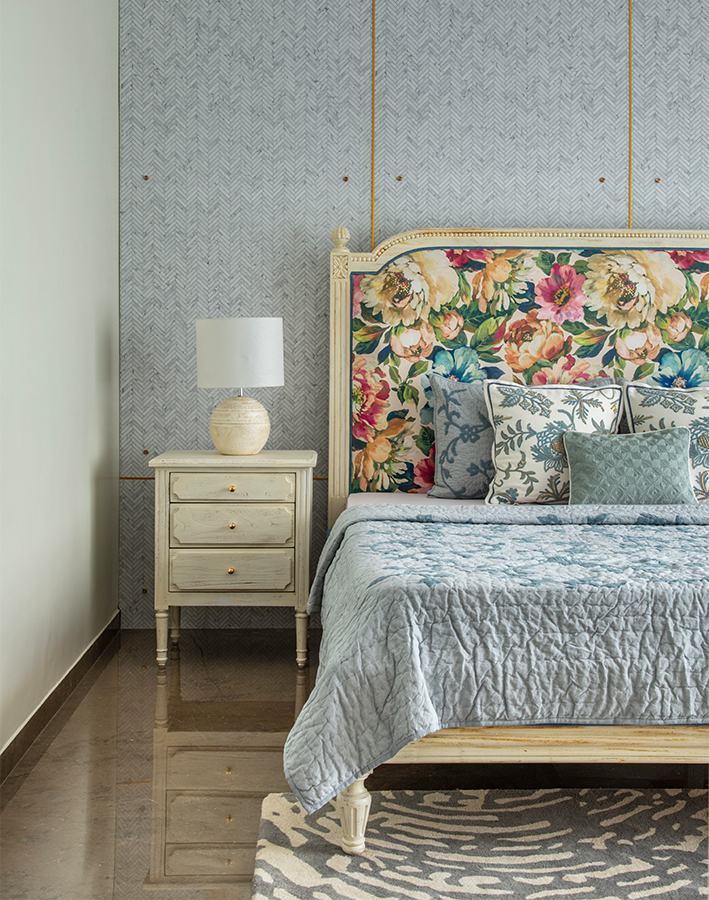 Ideas to bookmark – eccentric colours and materials
Showcasing a unity in diversity approach, the maximalist home is dotted with several surreal artworks adding drama in every corner. While each room draws a distinct colour scheme and materials, Italian marble shines through as a common factor.
Influenced by Scandinavian minimalism and Art Deco, P&D Associates experiment with patterns to form exhilarating backdrops.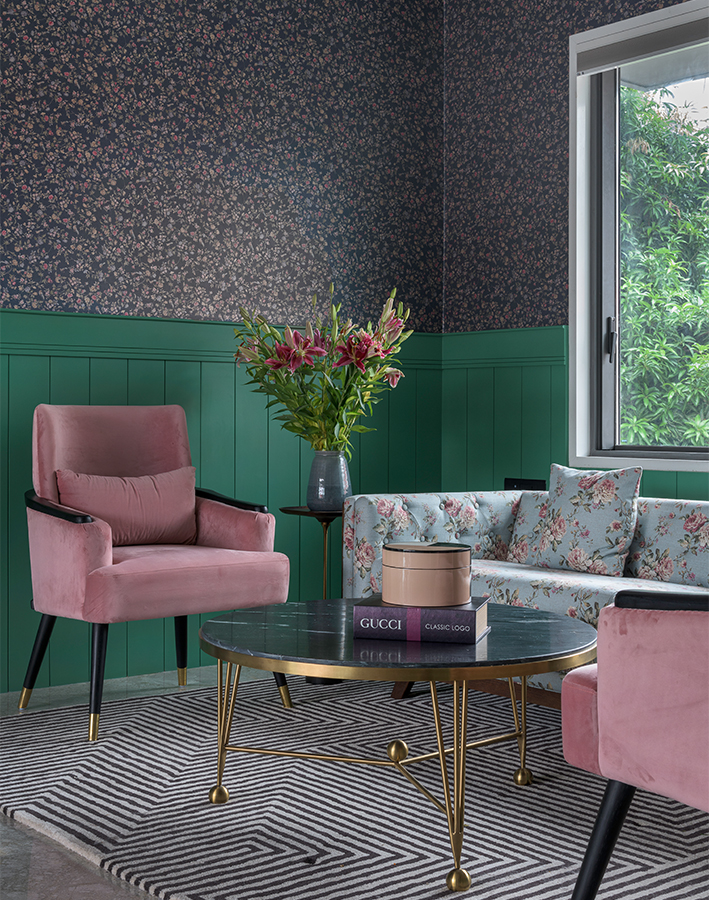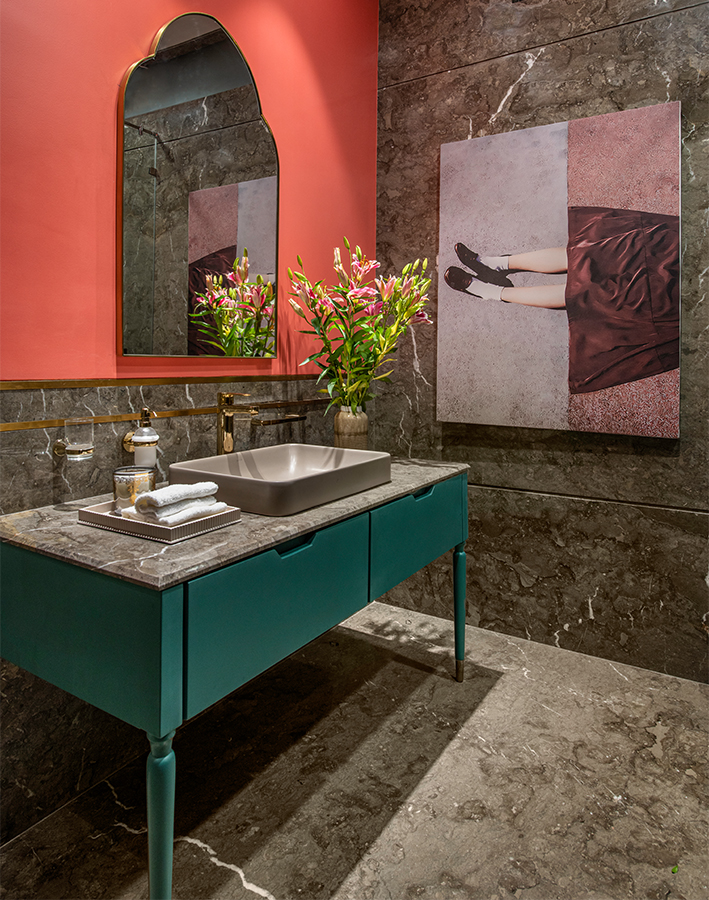 What P&D Associates fell in love with…
While every room has its own sense of character, the main bedroom is the studio's take on modern art deco. "A custom made floral black wallpaper above the low height wainscoting panel in green running throughout the room introduces depth to the space. The black four poster bed with light beige upholstery adds to the grandeur to the room," reveals Devang.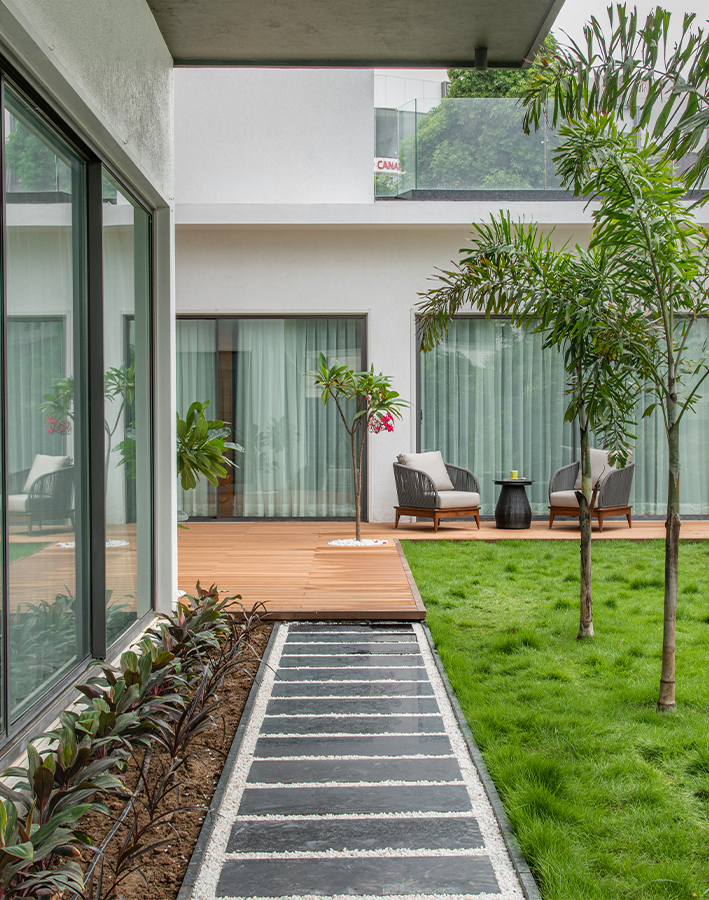 Loved this Gujarat home by P&D Associates? Now check out Atulyam villa in Gujarat by P&D Associates with a gleeful colour palette and neoclassical charm