Homes
This bachelor pad in Gujarat is not your average man cave
AUG 1, 2019
| By Nitija Shastri
When you think of the term "bachelor pad" only two things may come to mind: a modern house replete with high-tech gadgets or an aesthetically pleasing party pad designed with strong, masculine elements. Banishing the banal—this quiet den of an avid traveller boasts of vibrant textures, bold hues and modern fittings—a fresh respite from the cliched garçonnières. Nestled within an industrious city in Gujarat, this 1925 sq ft man cave, helmed by Devang Patel and Pratik Siddhpura of P&D Associates, is crafted with a confluence of contemporary art-deco presented in a modern palette. "You'll find them throughout the home, right from the colour, furniture selection, to the wall panelling style teamed up with modern artworks and artefacts," says Devang Patel. Whether you're looking to design a man cave for your partner or simply inspire his abode, take cues from this sophisticated pad for the perfect mix of design.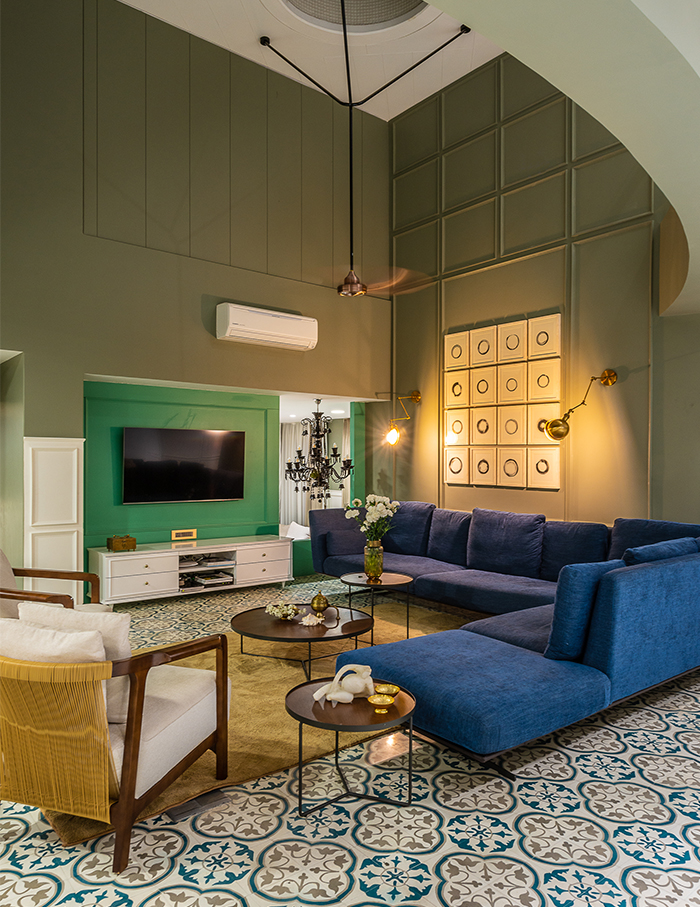 The materials used are natural and modern, replete with custom-made cane furniture, gorgeous parquet flooring and ceramic tiles of Moorish architectural style which were incorporated in a modern context, "Of which our versatile client is a fan," says Devang. Tread a few steps in and you will notice the play of colours within each individual spaces—bold hues in pops of red and blue are set against the backdrop of muted pastels. Nothing kills a space quite like clutter, the dwelling, however triumphs with a balanced mix of personal souvenir artefacts, modern accents, and even unique wainscotted walls. "Our client is fond of travelling; experiencing different cultures and wanted to have a reflection of the same in this residence," says Devang. A picturesque composition was made to create a backdrop to compliment the minimalistic furniture of the casual home theatre.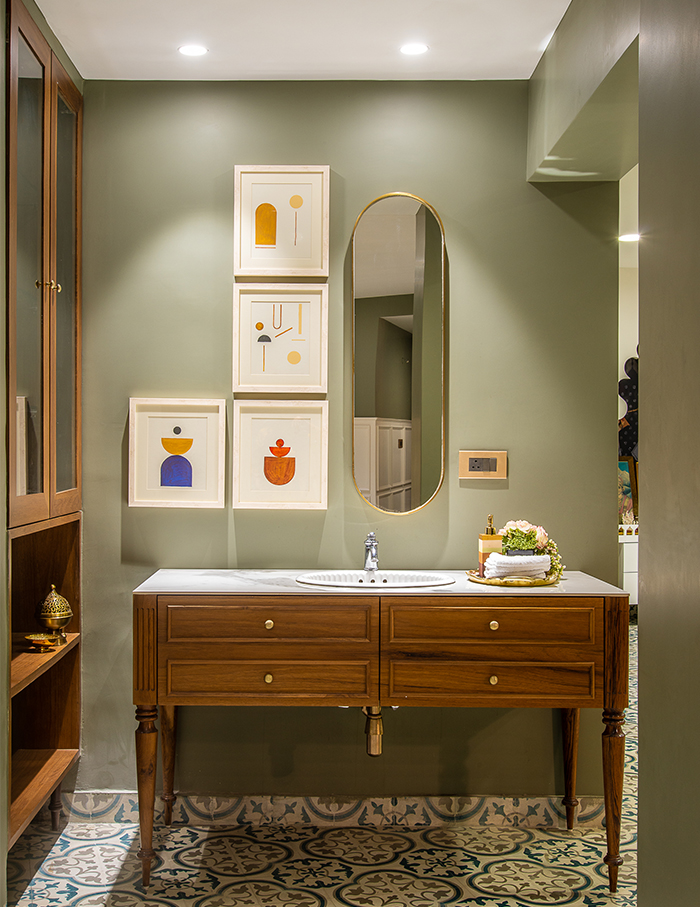 The space features walls enveloped in pastel-hued wainscoting—an unexpected twist! "This was done to enhance the acoustics of the room," he says. Feast your eyes to a drama that unfolds in the bedroom, where you will find a colourful explosion of cane-arched friezes embellished with brass detailing resting on a turquoise backdrop and a striking red dresser. This truly is a home that tastefully combines functional spaces with the use of textures, patterns, colours in a cohesive manner.