Homes
Old world OTT glam and chic luxe are the signature style of the Lucknowi heir Adil Iqbal Ahmad
MAR 21, 2022
| By Henry Wilson
Located in a honeycomb of lanes, Adil Iqbal Ahmad's South Delhi home is barely distinguishable from its neighbour. But once inside, it's tempting to throw out the rulebook on writing and splurge on superlatives. Lucknow, Ahmad's home city, has a history for indulging in style and luxury.
Its citizens were connoisseurs of food, dance, poetry and architecture, their love of a "good life" recognised across the sub-continent. Ahmad has inherited this sensibility in his home, which is richly coloured and never less than opulent.
Assertively self-confident for his age – just over 25 – he is a practising interior decorator and owns a company called "4 sure," now actively helming The Palace Collection challenging current views on design.
You may also like: Anita Lal explores new design directions with the re-launch of Good Earth's Mumbai headquarters designed by Adil Ahmad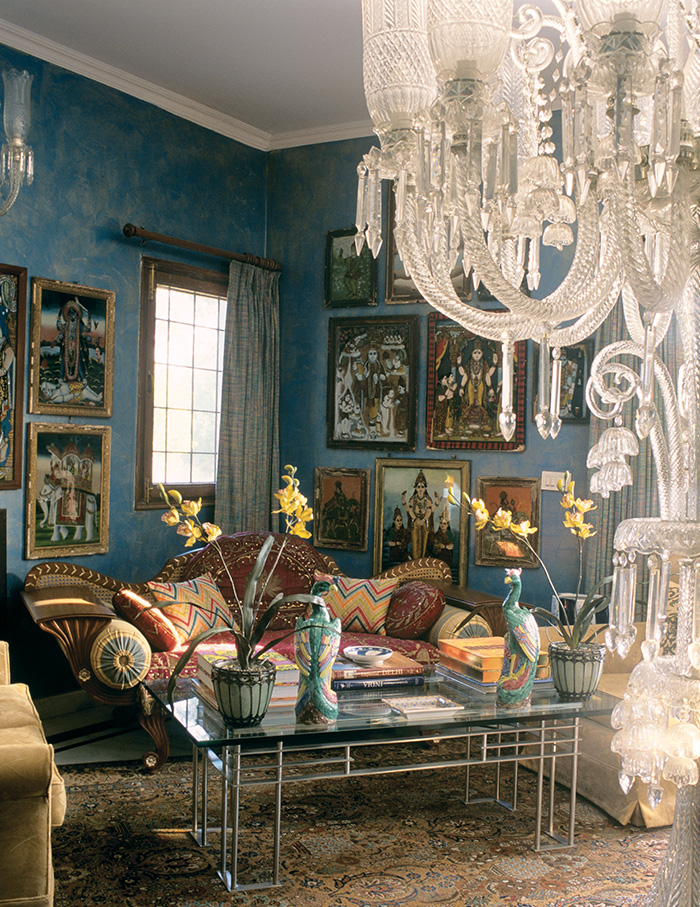 While everyone else is racing towards minimalism and the new "global" style, he is moving in the opposite direction. Not mincing words, he says, "I despair the trend of what I call the 'Hong Kong Airport look'. Minimalism is soulless, vacuous and lacks individuality. So what if the walls are really smooth, the lines perfectly straight – tell me, what else is there to recommend the look?"
Adil's first commission, at the age of 17, was for a family friend's house in Lucknow. He ponders, "I still have the envelope, which contains the letter thanking me for bringing such joy and beauty into their lives." He says that he has been interested in interiors since he can remember – while his contemporaries at school played cricket, he would go to the Government house in Lucknow to arrange flowers. The antique lithographs of English country homes, sourced in Hyderabad were his first decorative purchases, which now hang in the hall on the first floor of his residence.
In his opinion, the ability to decorate is genetic and as a result, to a certain extent, is instinctive. However, he insists that it's also a constant process of learning, reading and exposing oneself to a gamut of styles and tastes.
Individuality marked Ahmad to be a loner, but the positive effect of this was a defined outlook. Today he is very focused. "I love my work, my mind races away with it, interiors are a passion for me and I become fully immersed in them.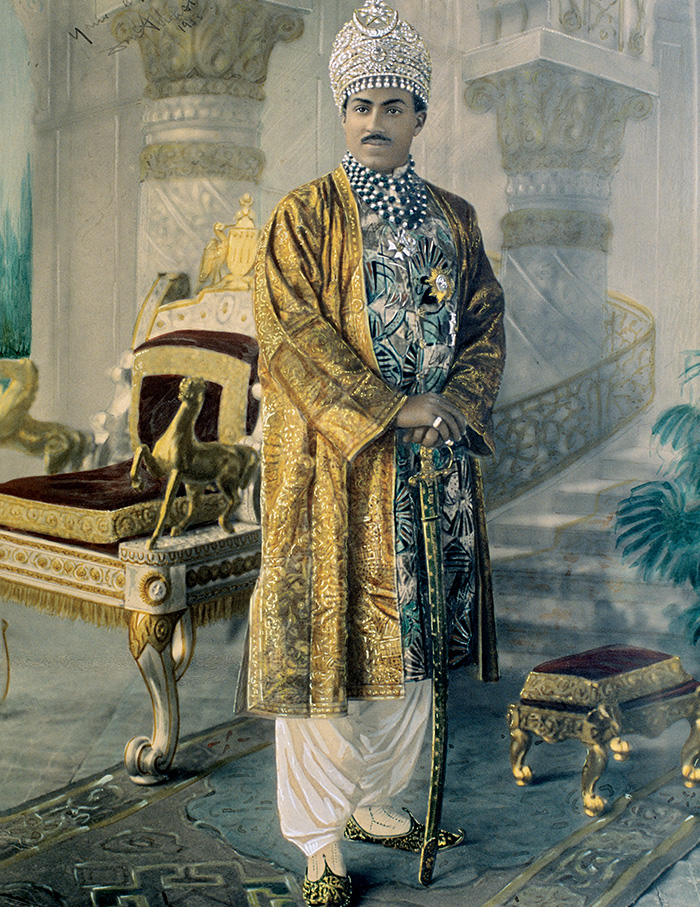 "I have always been instinctively drawn to glamour, elegance and allure," Adil Iqbal Ahmad recalls. When his whole school came down with conjunctivitis, some went to the market and bought cheap plastic glasses, others didn't bother at all. But only Versace glasses with the distinctive Medusa heads on the arms would do for him. "I am inspired by 'over the top' decorators such as Alberto Pinto and Juan Pablo Mobueaux, and I love the work of society photographer Cecil Beaton; his book of portraits is genius at work."
Ahmad is very clear about his influences. For him the French look is contrived, whereas English interiors inspire him: "Comfortably grand informality is what I admire about the former – chopped fire wood casually stored under a gilt rococo console topped by a Regency mirror. 'Shabby Chic' encapsulates the look I love."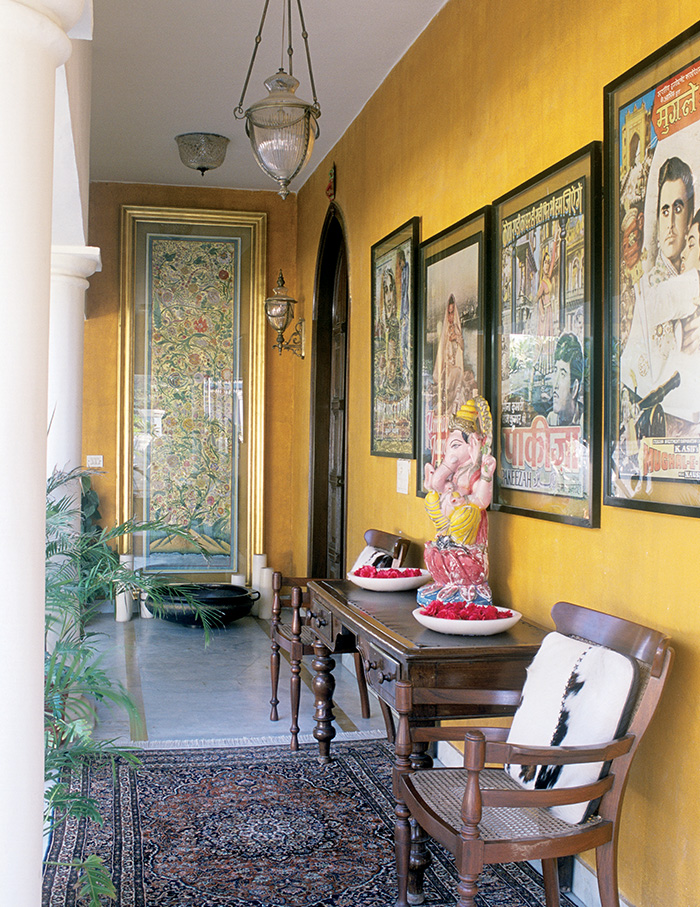 Adil Iqbal Ahmad grew up in a huge palatial house in Lucknow and so is drawn to large scale. "Blenheim Palace in England is awe-inspiring, the sheer scale and opulence, decorated to impress." Yet he always found his family's rambling house soulless.
"Grandeur can exist even in just two rooms, but it has to be chic, has to have something about it that hits you in the face." His house achieves this, stressing that one must be able to feel comfortable: However grand, it must not be a film set.
There is method to my madness, contrived clutter is my signature. Furniture, objects and art are not dumped in a location, but are a result of conscious mixing to achieve what I have mentally arranged." Ahmad admits he is acquisitive, "I just cannot resist the opportunity to acquire a beautiful object or a piece of art work. In part, it is the chase and tracing down of beautiful things – which are almost more important than possession." Adil feels that his style has evolved over the years. He is still learning and developing, "I'm certainly not set in my own ideas; no final resting place for me yet."
Nonetheless, he remains emphatic about various aspects of the design process and cannot resist a final swipe at modernity. "I shall continue to resist this plastic age – vinyl, plastic moulded furniture – it's not for me."
Loved this ornate home of Adil Iqbal Ahmad? You may also like: Jaipur home by Shantanu Garg interweaves glories of the past while redefining contemporary Indian design