Homes
A plane puzzle—New Delhi home by MOVA1 surprises with its balanced wooden compositions
JUL 27, 2022
| By Sneha Gandhi
Wood, an absolute design favourite in home interiors is a tricky material to handle. When going overboard with the versatile material is a serious concern, aesthetically regulating it can be a task. Varrun Motihar, Founder and Creative Head of MOVA1 faces this challenge head-on with a simple trick—one plane at a time. 
The studio synchronises a wooden symphony throughout the 4,500 sq ft, New Delhi home. The warm toned material flows fluently from the walls of the living room to the flooring of the bedrooms and back again to the ceiling in the passages maintaining a visual balance.
 You may also like: Shades of walnut — Kolkata home by Spaces & Design recites the beguiling warmth of walnut, wood and browns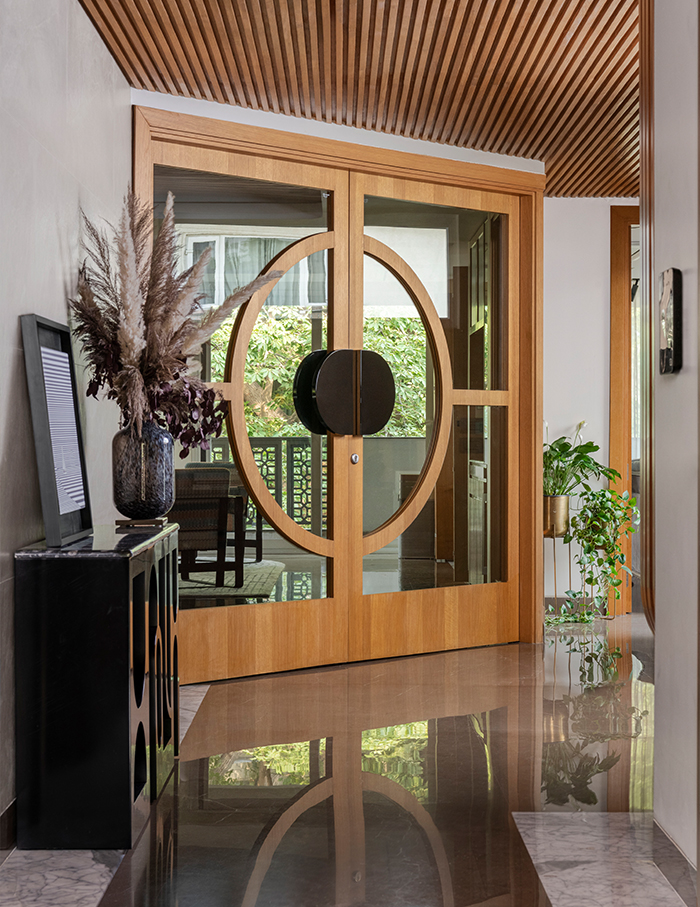 A focused brief 
The opulent home nestled in the Panchsheel Park is a modern and modular residence curated for a family of four. Prioritising functionality, the architects specifically focused on the MEP layouts to ensure a smooth flow of building services.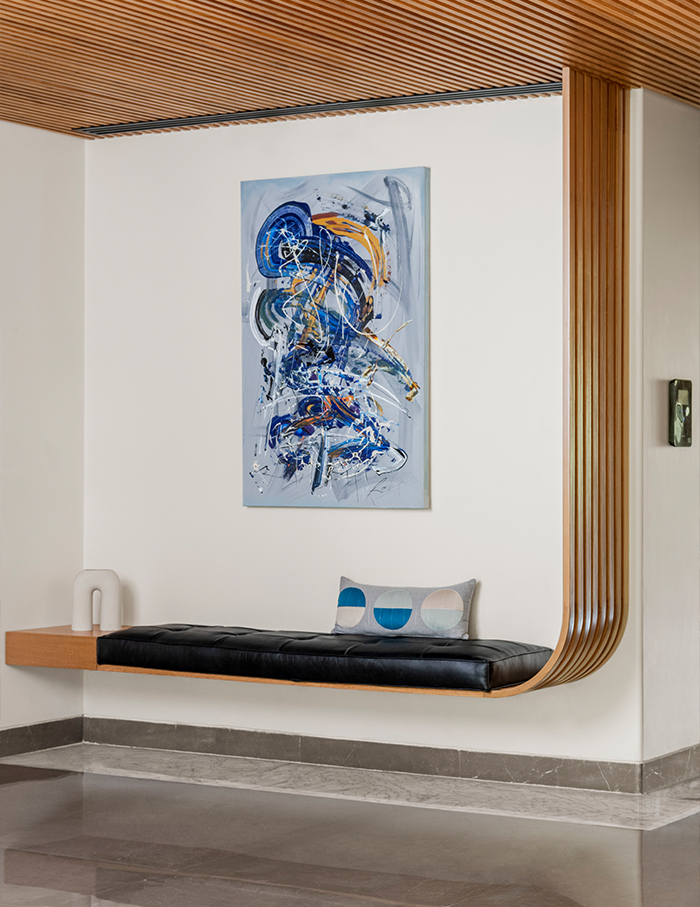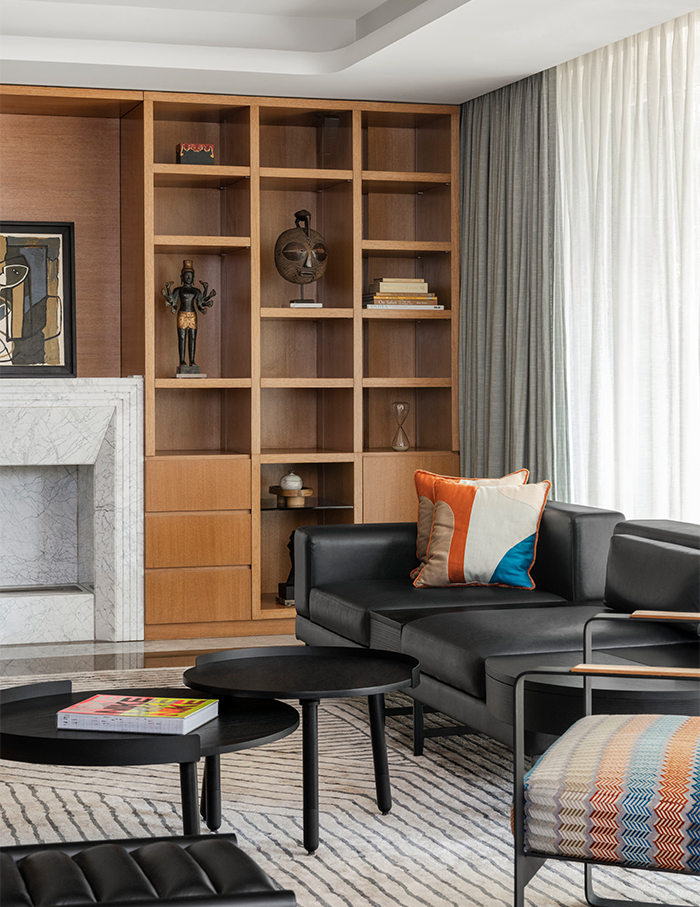 Tour every turn of the handcrafted home
A floating hardwood bench and an enormous wood and glass entrance door welcome one aboard. Stepping in, the home is thoughtfully divided into communal spaces on the right and the bedrooms on the left. A central passage with a wooden ceiling connects the two parts with a centrally assessed kitchen and powder room along with a service core.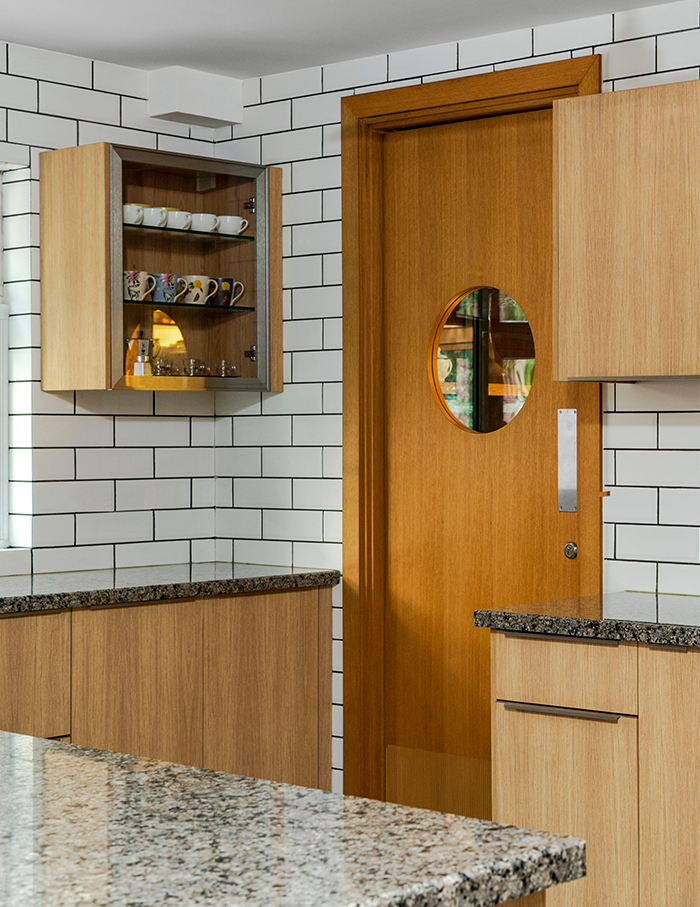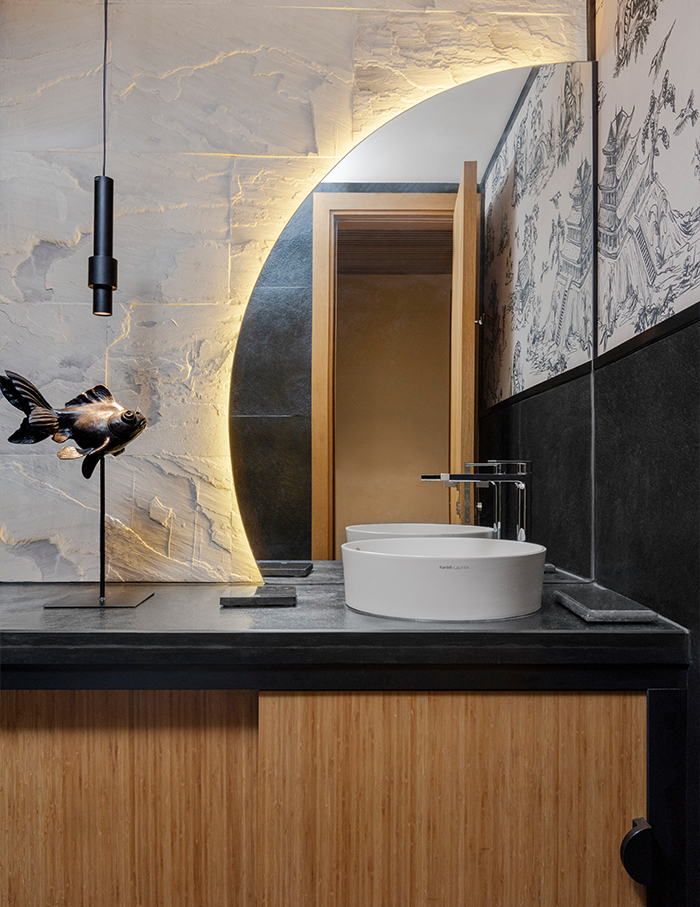 A mammoth metal and oakwood wall unit formulates the heart of the living and dining expanse. The grid storage unit incorporates the dining console and a white marble fireplace while housing a music system, books, art and sculptures. The terrazzo terrace is a product of reused stone debris from the main areas of the home.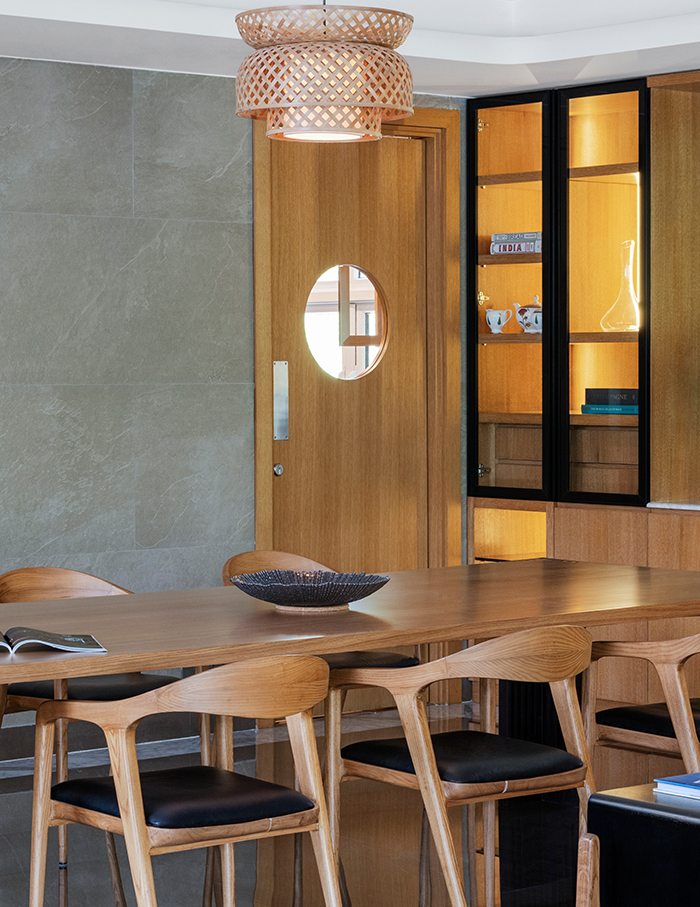 The rooms are designed keeping in mind the personality of the inhabitants. For example, the primary bedroom is dressed in mature shades of grey paired with browns along with minimum clutter. Whereas the children's bedrooms boldly experiment with different colours to keep the playful vibe alive. The family room exudes a soothing calm augmented by clean-lined furniture.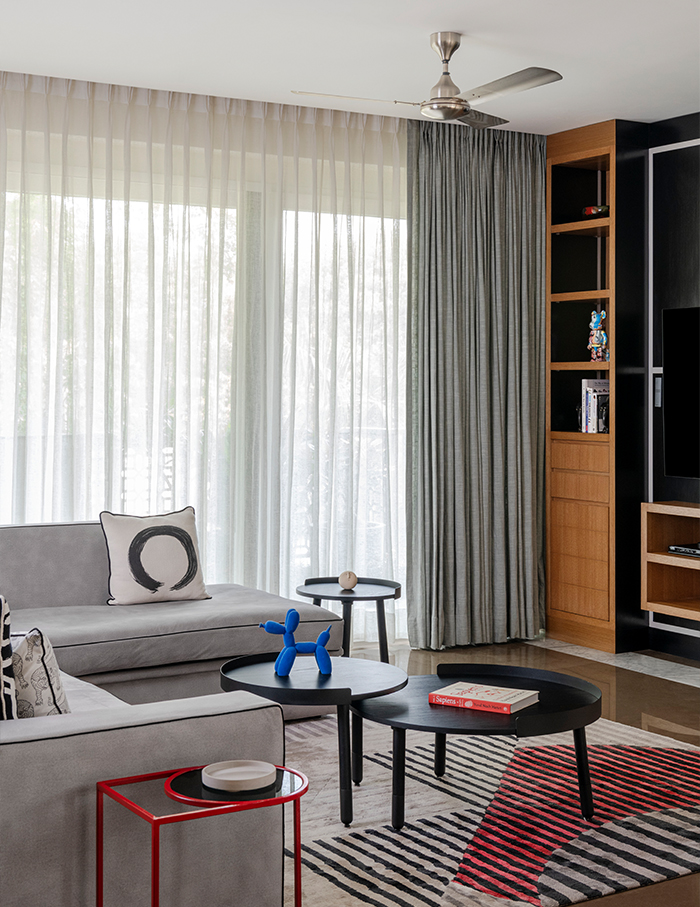 Ideas to bookmark – a minimal palette works wonders!
One underrated use of a restricted material palette is the ability to apply offcuts to smaller areas. The material palette in this case encompasses stone, oak wood, bamboo veneers, stainless steel and clear and fluted glass. Beige, browns and whites govern the colour palette of the minimal home.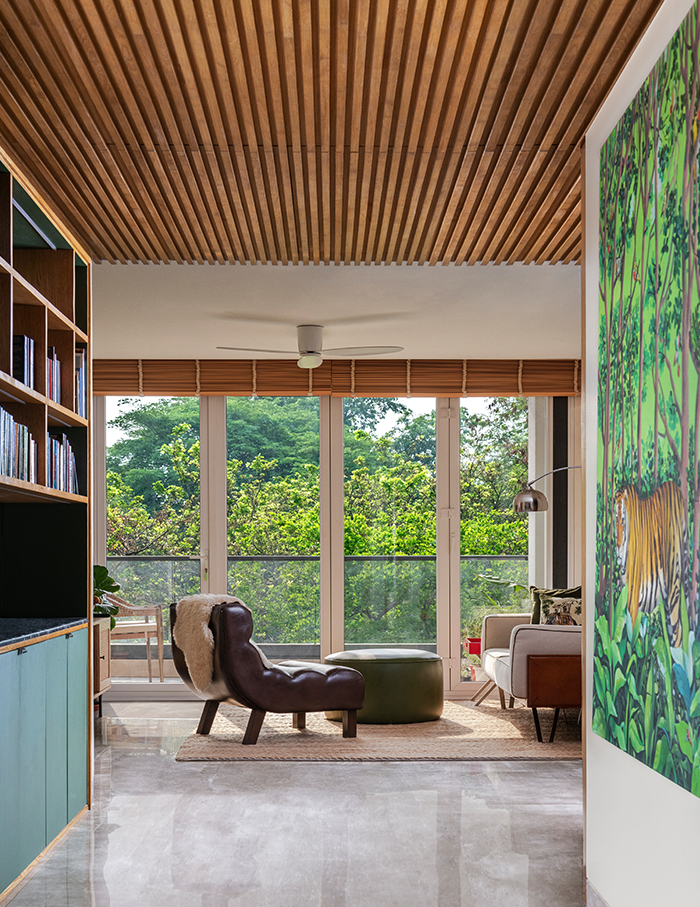 What MOVA1 fell in love with…
When Varrun first walked through the space, gauging its inherent aura, he had a fair idea of how the space would transform. And rightly so, the New Delhi home unfolds in the form of a puzzle with wood as the guiding clue. "A sense of enjoyment arises when the puzzle is complete and the pieces fit perfectly as planned," concludes Varrun.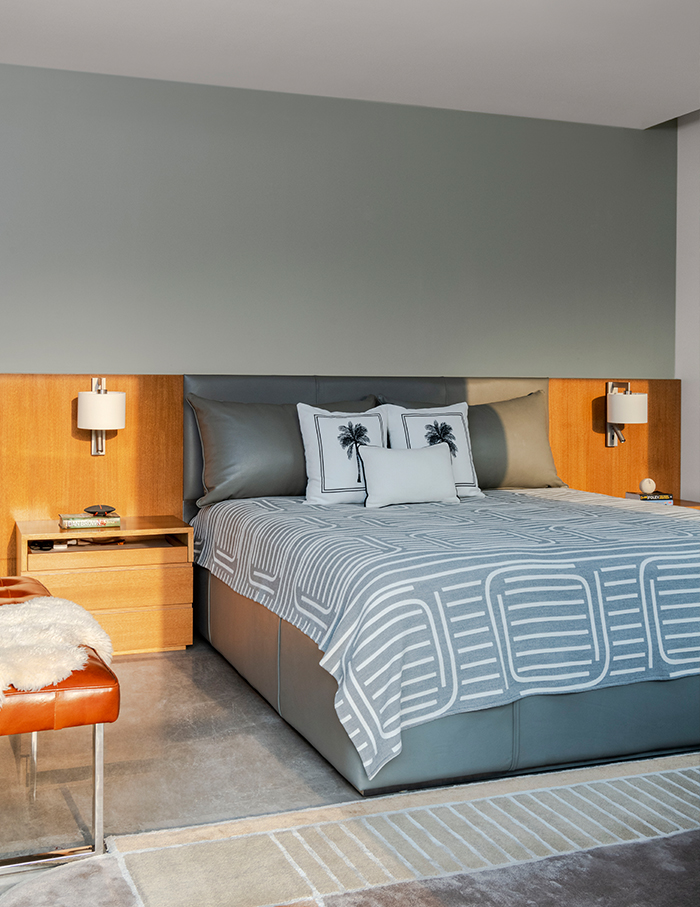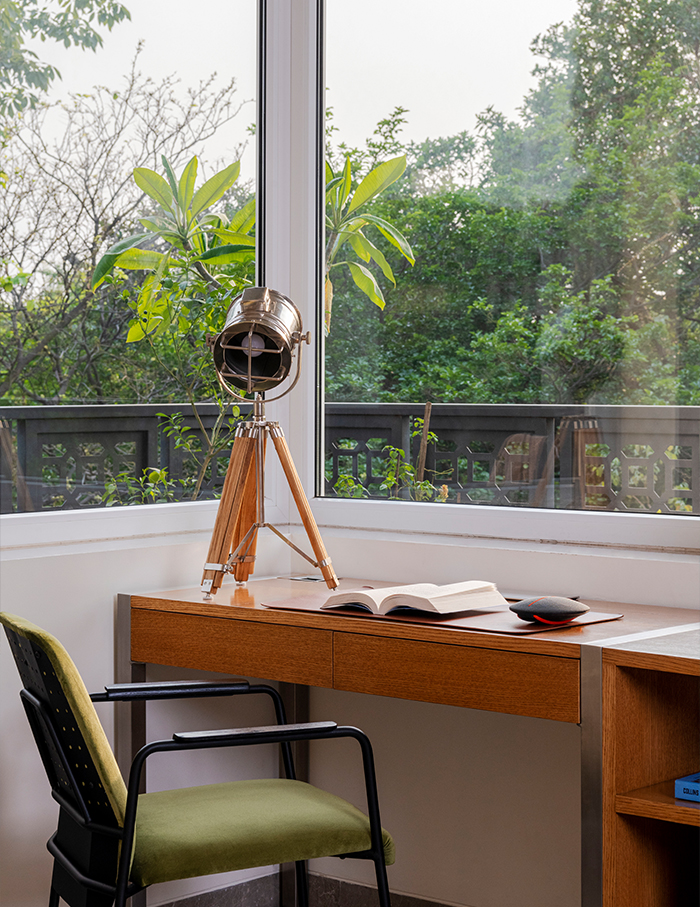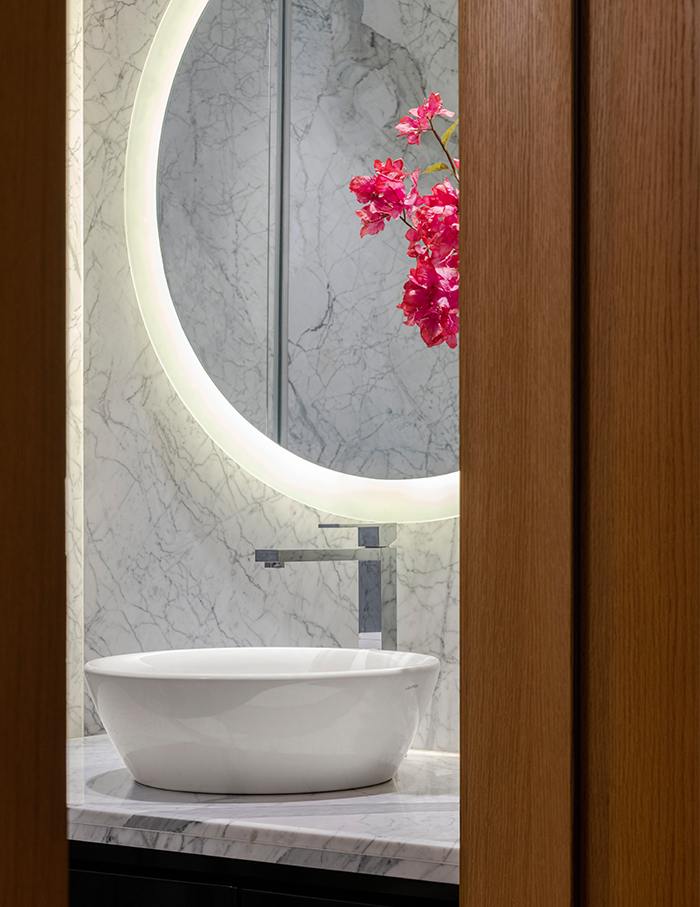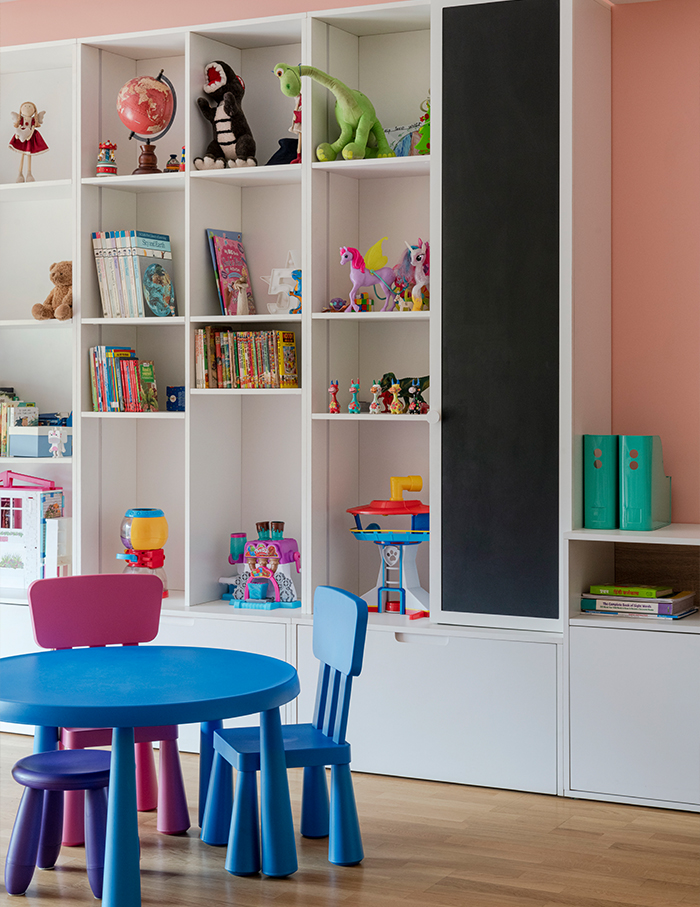 Loved the wooden symphony in this home? Now check out how Wood and brass are a revelation in this ingenious Vadodara villa crafted by a+t associates