Homes
Iram Sultan and Mohit Kansal engaged with Gautam Seth and Prateek Jain to create their gallery-esque home in the capital
JAN 8, 2021
| By Sonia Dutt and Iram Sultan
Serenity and textural interplay are the two defining features of this beautiful abode that the uber-talented cofounders of Klove Studio, Gautam Seth and Prateek Jain, call home. The three of us have been close friends for more years than we can count and I'm super thrilled to have played a small, supporting role in helping them design their residence.
As designers, we are all rather restless and like changing how our spaces look, in tandem with how we are feeling. Gautam and Prateek wanted to add a new room and reconfigure some of the internal layouts along with giving the home a fresh look. This is where we stepped in. My partner in crime Mohit Kansal fashioned a lightweight structure, bringing in both ample space and light.
Reinforcements were added to existing structures where needed. A new, spacious master bathroom was carved out and a skylight was fitted at the entrance of the home to flood it with daylight and create a courtyard-like setting.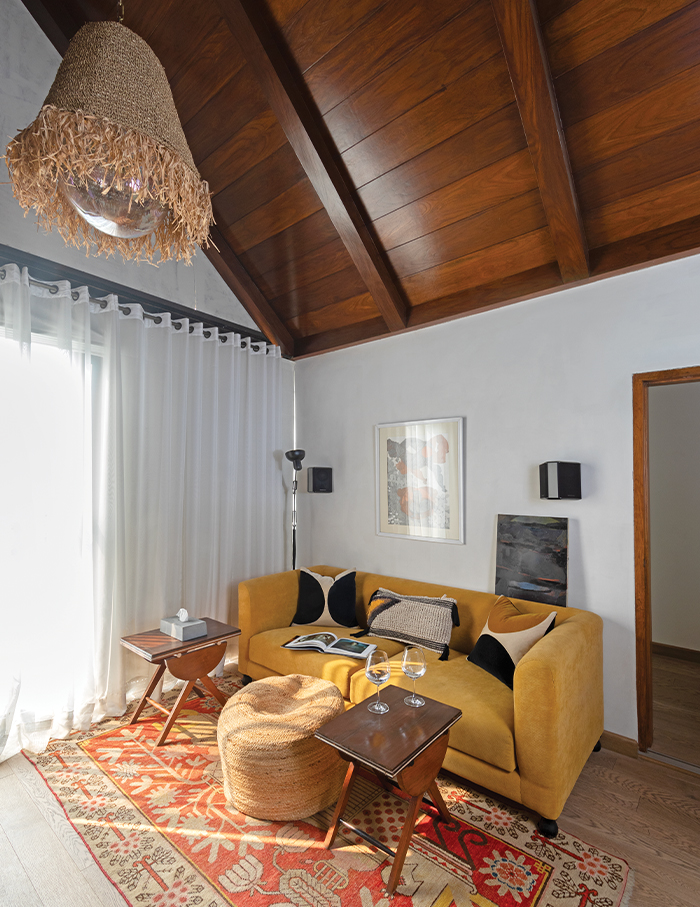 The living room, with kitchen and dining areas on the left, follows after. From here, doors lead to the guest rooms, as well as the master suite, which comprises an entertainment room and the master bed and bath.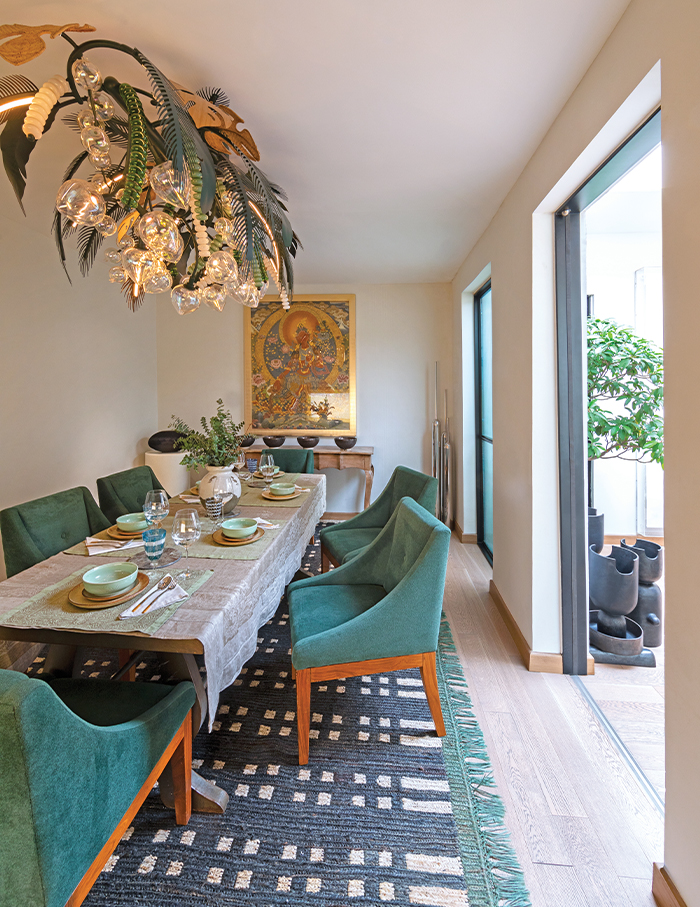 Both men had great clarity when it came to their wish list. We retained the partially prevalent Ita gold stone flooring, for its golden lustre, while oak was selected for the new sections. All the walls were painted in a chalky white organic paint by Nilaya.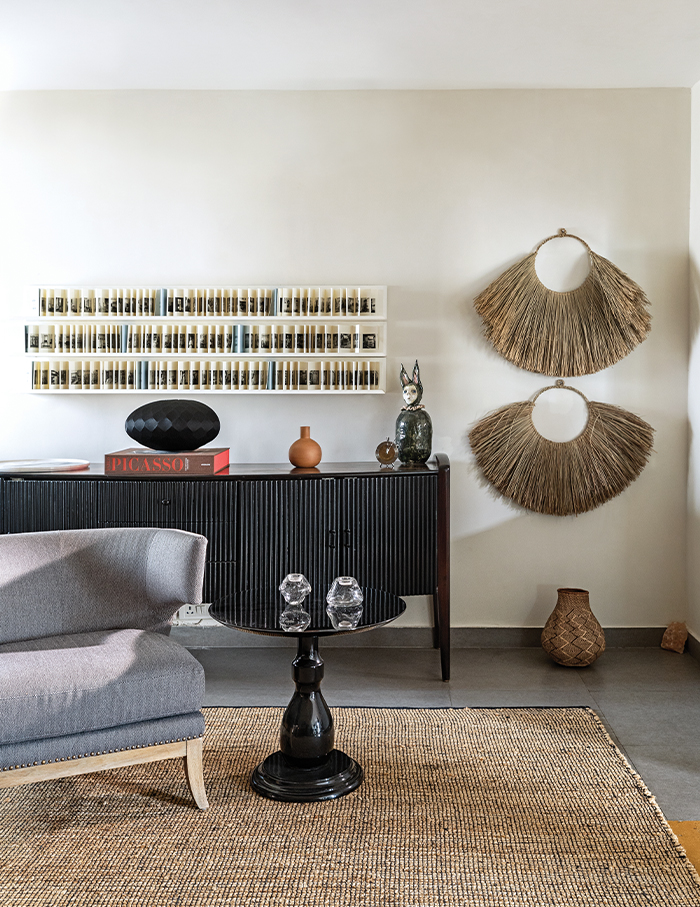 Then it was down to the brass tacks. Textures, colours, fabrics, carpets, lights and the other little things that coalesce together to breathe life into spaces. All the materials have been chosen to resonate one simple thought—quiet beauty.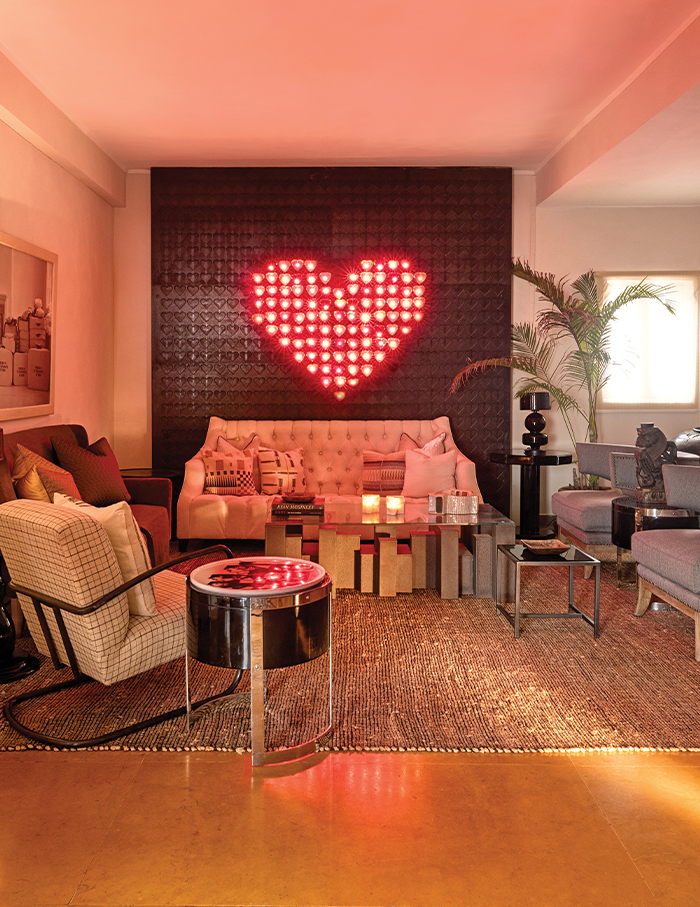 The stellar art collection ranging from large works by Shilpa Gupta and Sehar Shah to poetic canvases by Biraaj Dodiya also alludes to the reigning aesthetic. This home is a black and white photograph augmented with hints of sepias, golds and greens. It whispers timeless elegance.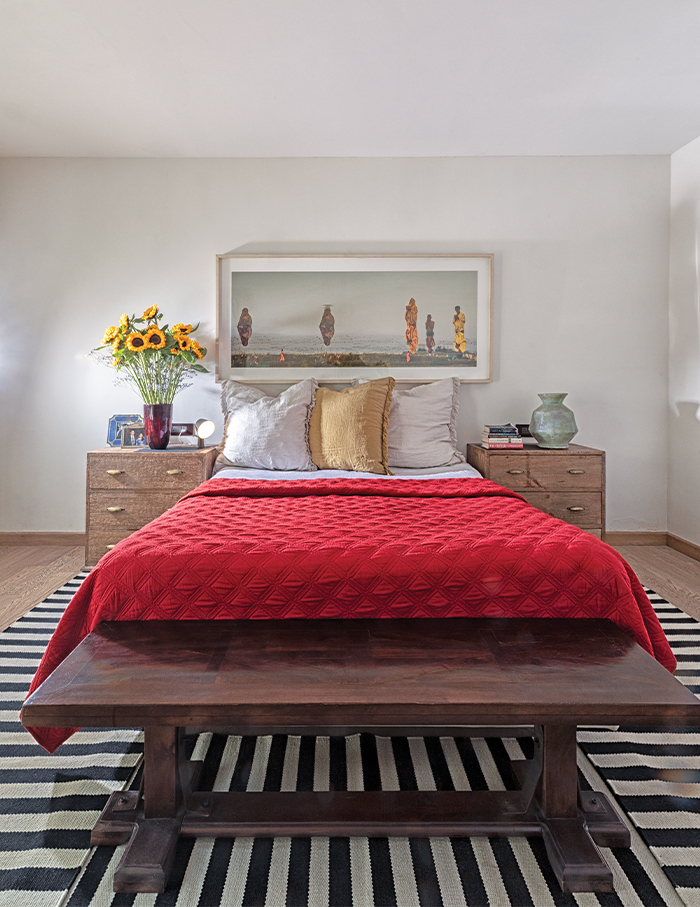 The bespoke jute and hemp carpets, linen upholstered sofas and brushed cotton velvet on the dining chairs are all tactile elements that encourage one to explore the home in different ways. Lights are obviously from Klove Studio.
While the bespoke dining room chandelier grabs eyeballs, the serene display of hand blown Klove lights in a seagrass skirt in the guest bedroom is no less stunning. The conceptualisation and overall design of the space was certainly a combined effort. Gautam took the lead in some aspects and Prateek in others.
If I had to pick my favourite accessories in the home, they'd have to be the ones collected by Prateek during his many travels. What I love most about this abode is its ambience. Peaceful, warm, welcoming, nuanced and oh-so-cosmopolitan—just like the beautiful duo who lives in it.
Read our 20th anniversary special issue—on stands now! Click here to subscribe