Lifestyle
Iram Sultan and Mohit Kansal of Iram Sultan Design Studio promise an immersive dining experience with Triple 8
SEP 25, 2020
| By Iram Sultan
Triple 8 is a modern telling of all things oriental with none of the cliched elements. The entire space is enveloped in a monochromatic saturation of rubicund tones that are a nod to the Pan Asian reds, offset by accents of crisp black and white. Fluted plaster walls and soft velvet on bespoke furniture that invites you to linger, are drenched in the same tone.
Slim-lined arched metal doors are the dominant architectural element. Complementing the sanguine tones are the warm wooden doors and panels, and the potent hues of the black and white Asian culinary-themed photographs that line the walls.
The large bar counter glows like a siren call and is detailed with a black-and-white, printed veneer front. Custom-designed lanterns are suspended across the space and the lighting is soft and moody. Bold strokes of brass and black stone tables and elegant chairs tie up the look.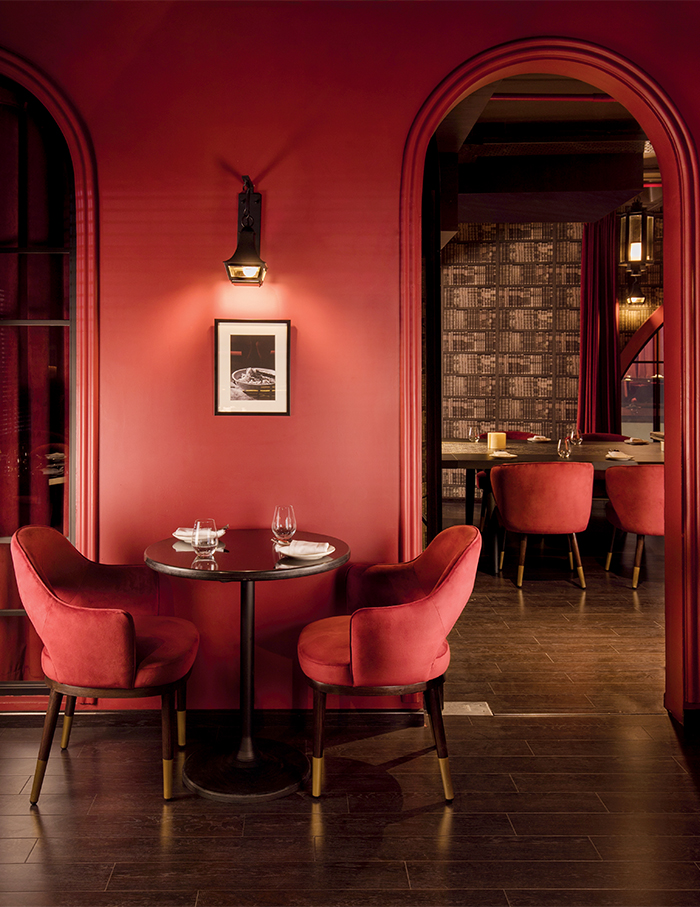 The client's brief and spaces drive the design philosophy that lends a unique narrative to each nook. The restaurant rests on the overall scheme of celebrating sophisticated luxury and subtle elegance.