Homes
Bold colours, geometric shapes and warm textures—This Himachal home by Sreya Seth Design marries leisure with the love for good design
APR 20, 2022
| By Rhea Sinha
Nestled in the foothills of the Himalayas is this sublime holiday home in Himachal Pradesh authored by principal designer Sreya Seth of her eponymous practice Sreya Seth Design. 
Exhibiting a Memphis-like design theme with a lively Parisian touch, the 4,000 sq ft villa draws inspiration from the colour palettes of English country homes with an enhanced quotient of elegance.  
Designed to reflect the dichotomy of its homeowner, the residence displays a contemporary contrast between discipline and a delightful dedication to relish one's life after retirement. 
You may also like: The Hermitage in Kasauli is a getaway cocooned in the laps of hills and lush greenery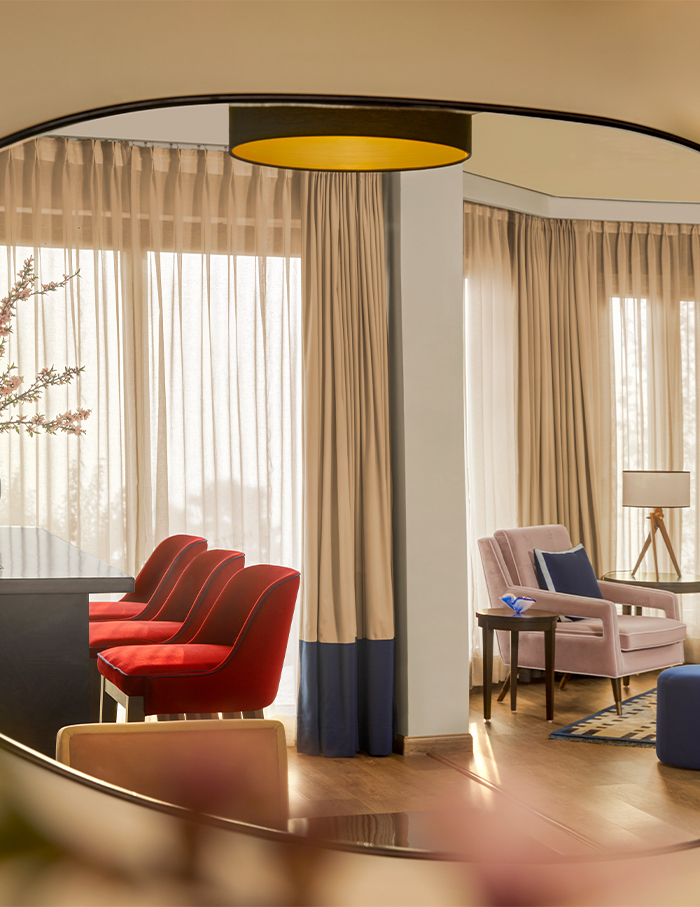 Setting the tone in this resplendent pied-à-terre from the onset, vivid graphic patterns and prints welcome its residents into the space. Sophisticated yet splashy shades establish a vigour as you make your way through the milieu. 
Towards the left, the lounge space is divided into a threefold division of a primary and secondary sitting area and the bar and dining section.
Dividing the space between the two structural columns, an environment-friendly ethanol based fireplace fulfils the essence of an ideal hillside element in the home.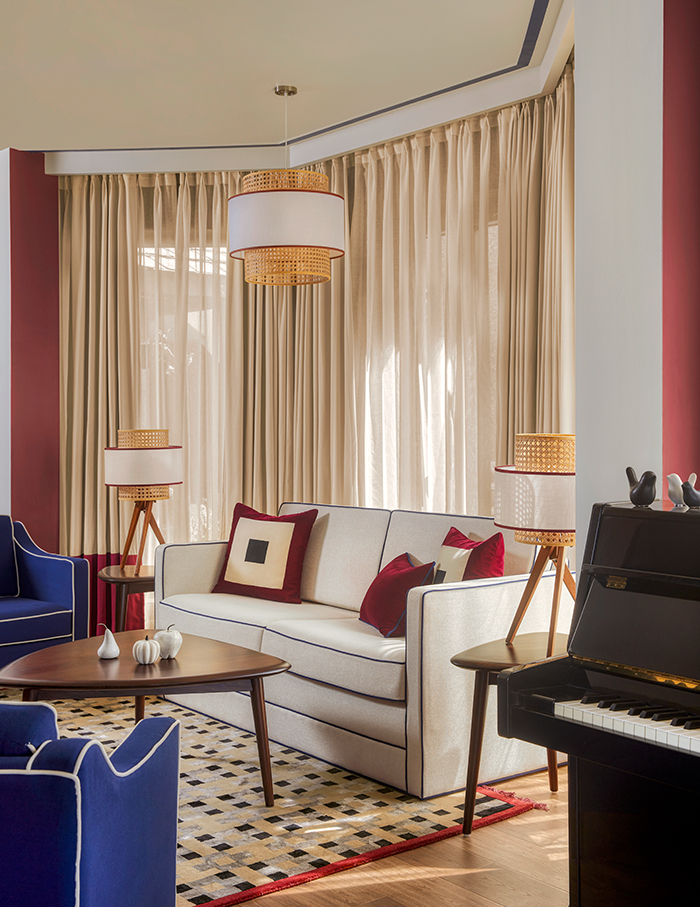 A recurrent use of velvet is prominent in the primary sitting area's textile palette. While the fabric is well suited to work hand in hand with the cold climate, simultaneously it also manifests a rich aura in the room. Cotton, linen and sheer curtains balance the bold look of the area with hints of subtle finesse. Walnut wooden flooring and classic cane lights add whiffs of warm tones to the striking space.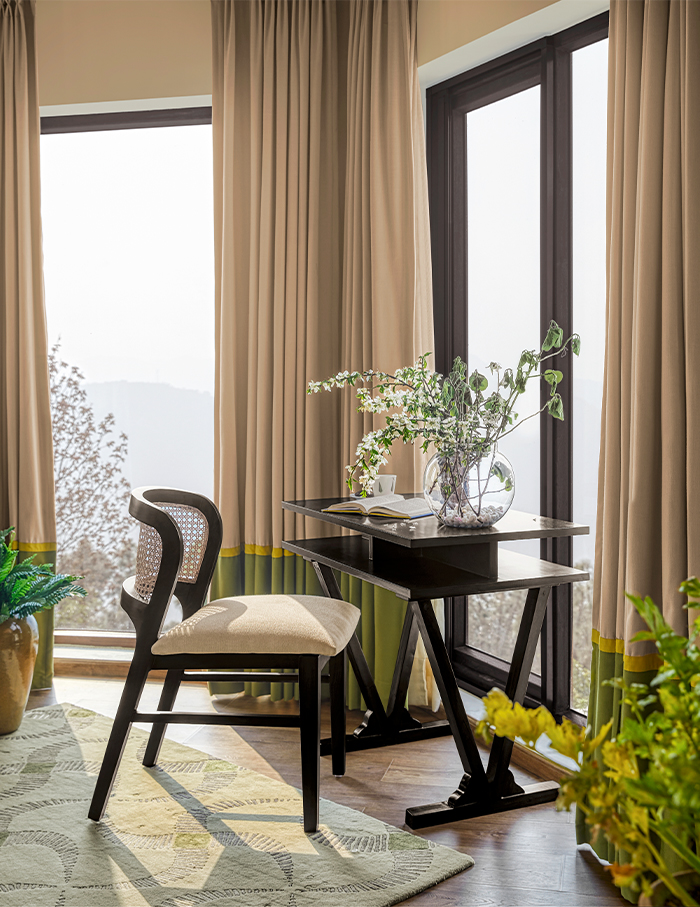 On the opposite side, adjacent to the lush lawns is a standalone bar beside the dining space leading towards the kitchen. As adaptable as it is avant-garde, the living room opens up to a study, featuring a sofa-cum-bed to accommodate and entertain guests. Framing a picturesque indoor-to-outdoor setting, the study mingles out onto a raised deck. 
A staircase stands on the right side of the entrance navigating to the upper level embodying three bedrooms including the master. The designer informs that the existing bedroom had to be restructured completely to astutely make room for a higher roof.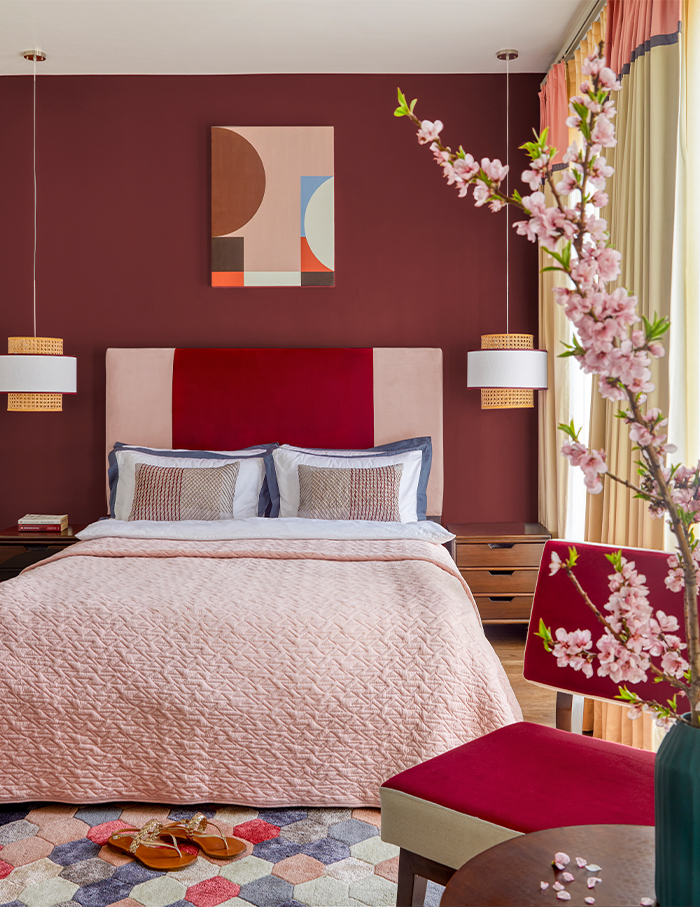 Illustrating a pronounced hill-like ambience, the primary suite headlines a pine panelled ceiling in a comfortable nook, functioning as a private sitting room cum study. The boudoir also shares a balcony offering absorbing views of the area, with the son's bedroom. 
Sreya's choicest spaces where she majorly stuck to her personal design calling as well is the living space and daughter's bedroom. She divulges, "The colour palette of navy, burgundy and blush is a personal favourite and it was a joy to use them with the classic black and white geometric motifs on the rugs and the lights."
Injecting the home with a sense of panache and adventure, the creative behind Sreya Seth Design sketches an organised yet eclectic blueprint for the holiday home. She muses, "Structured but playful. Bold yet elegant. I really like to think of this home as Rock n' roll in a tux!"
Loved this home by Sreya Seth Design? Now check out this sunlit Chennai home crafted by Farah Agarwal of Chestnut Storeys