Design
The Hermitage in Kasauli is a blissful getaway cocooned in the shelter of hills and lush greenery
APR 13, 2022
| By Shriya Goyal
Sky above, earth below and peace within! Go wild for a while, on a date with mountains, among the peaky wonders and never-ending vistas. The Hermitage in Kasauli hills serves these aspirations with blissful getaway villas for your vacation, staycation or remote work days.
Set amongst whispering pines and tranquil surroundings, The Hermitage—luxury hillside villas are located in Jagjit Nagar, Kasauli. Designed by Saurabh Gupta, the design vocabulary of the property blends a contemporary appeal with the ecology of the area by utilising natural materials like locally sourced stone and wood. 
True to its name, 'The Hermitage' is an alluring haven for a person to sojourn peacefully in solitude. Comprising a lush private chalet, surrounded by flora and fauna, the villa has been designed adhering to the natural swales and ridges of the site.
You may also like: A country home in Kasauli designed for artist Usha Hooda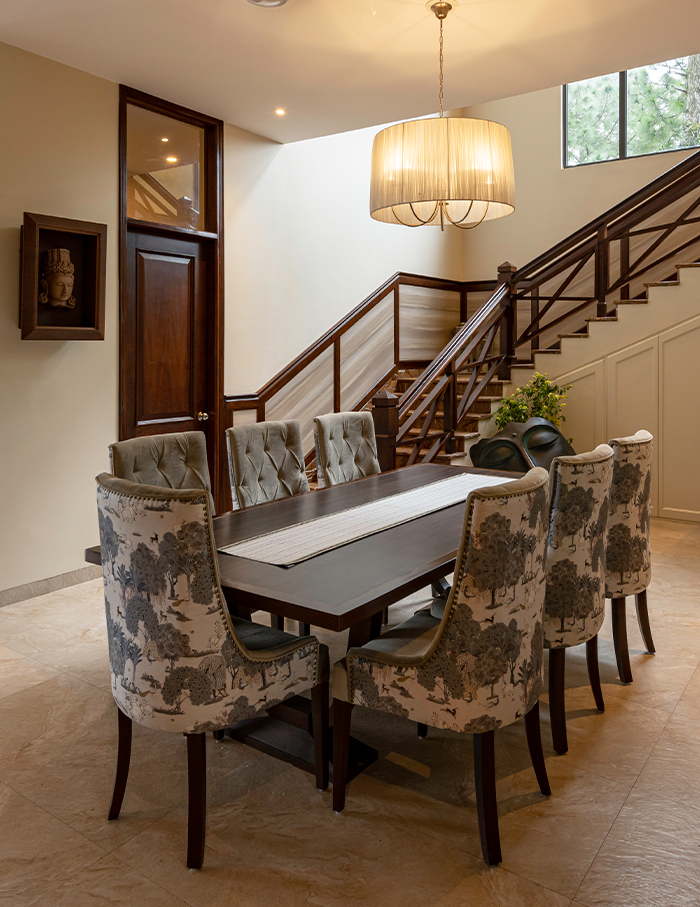 Away from commercialisation and hustle bustle, the site has been carefully selected keeping in mind the privacy along with the vistas and views. Cocooned in the shelter of virgin forests, the property has been developed according to the natural contours of the area to preserve the original topography, minimise the amount of cutting and filling and retain maximum existing vegetation of the site. This structure with cantilevered balconies is designed to withstand up to 10 Richter scale earthquakes.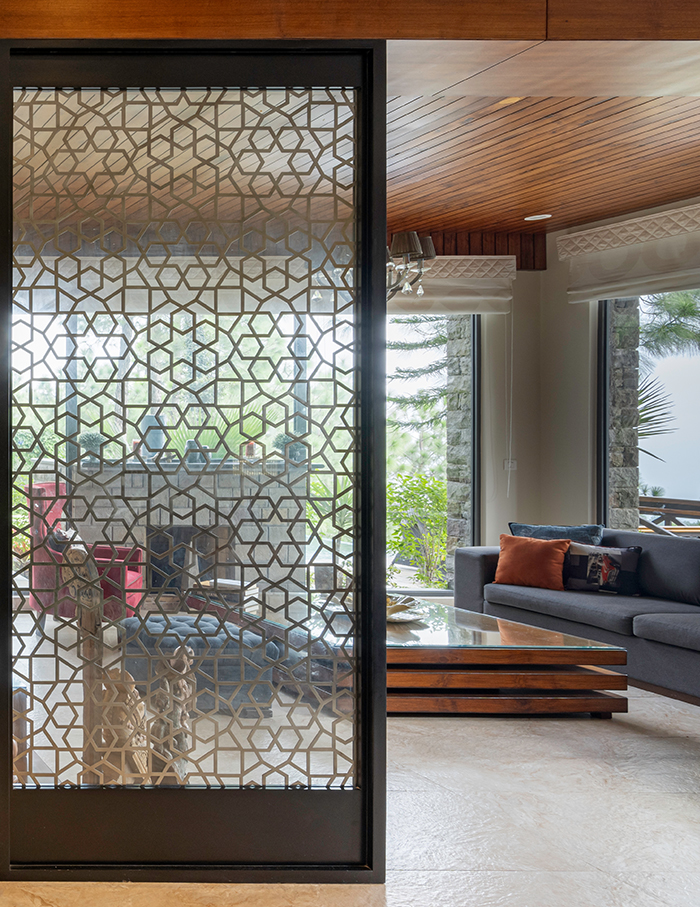 Blending the context with the exteriors, the villa interiors showcase nuances of contemporary design. Accentuating the setting, The Emerald Villa is a rendezvous of nature, design and functionality. Comprising a living room and bar, family lounge, dining area, kitchen and four bedrooms along with bathrooms, modern facilities such as home automation systems have been incorporated.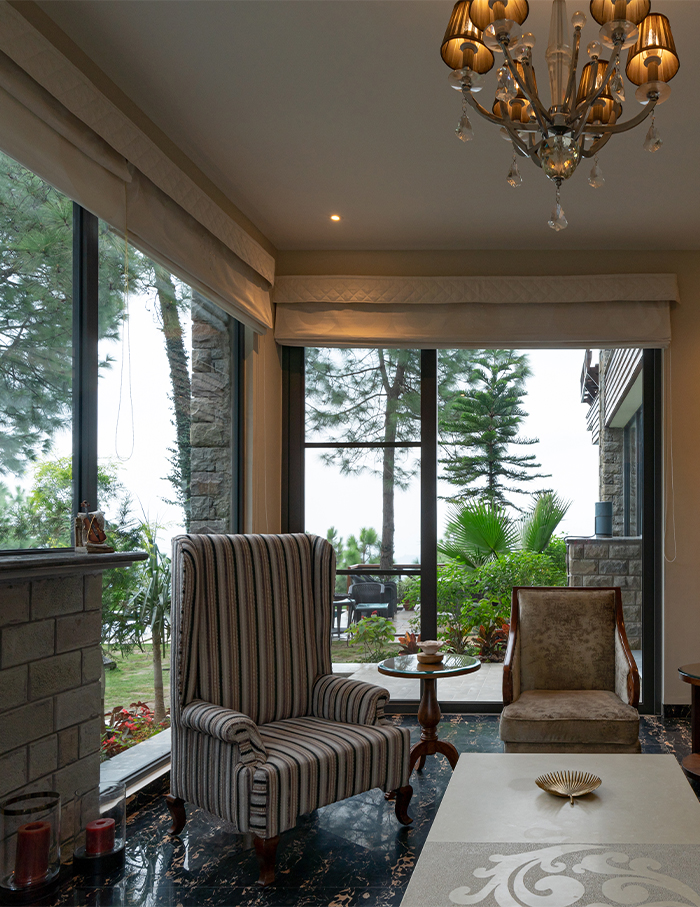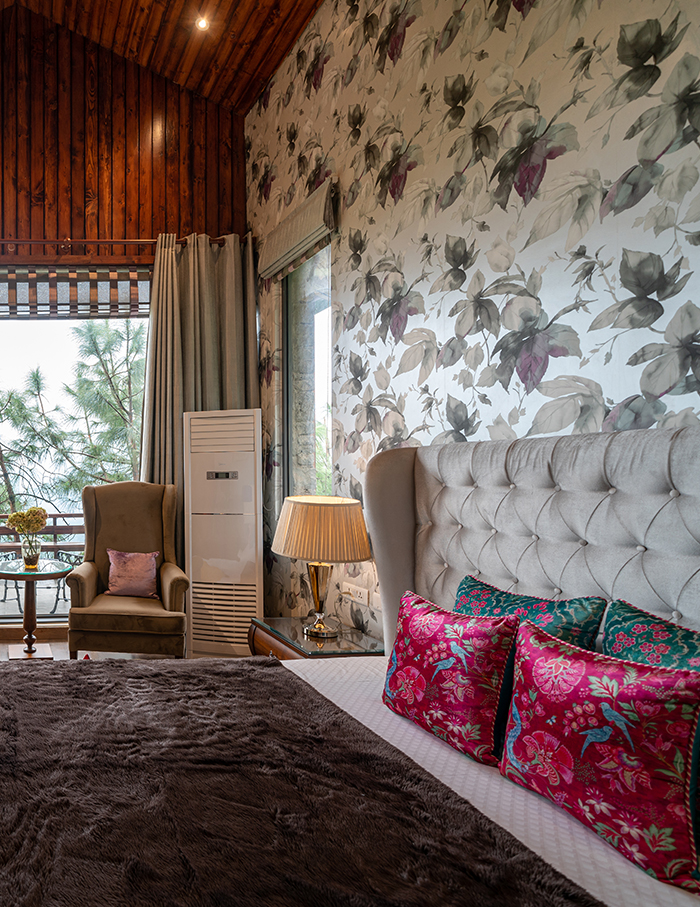 Expansive mountain ranges and lush greenery encompasses the villa on all sides, bringing residents closer to the natural surroundings. The extensive use of full height windows throughout the chalet offers seamless views even while savouring the heat from the mantelpiece, lounging in the bedroom or having a good time in the play zone. 
With plush fabrics, wooden panelled ceilings and contemporary furniture designs, the property renders a warm and snug atmosphere. Application of porcelain tiles in bathrooms and wooden flooring in bedrooms enhance the vibe of the space.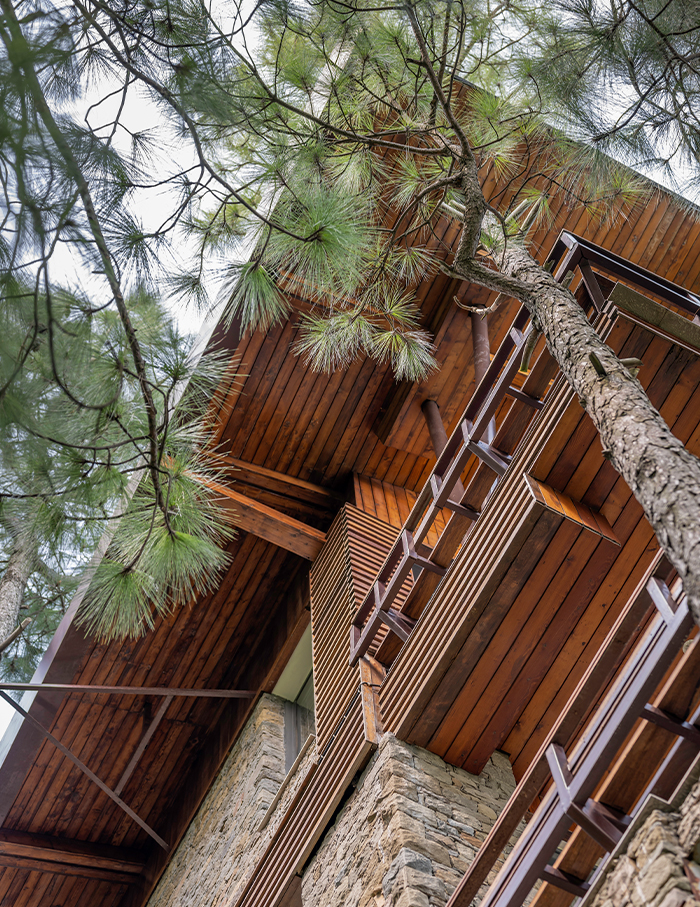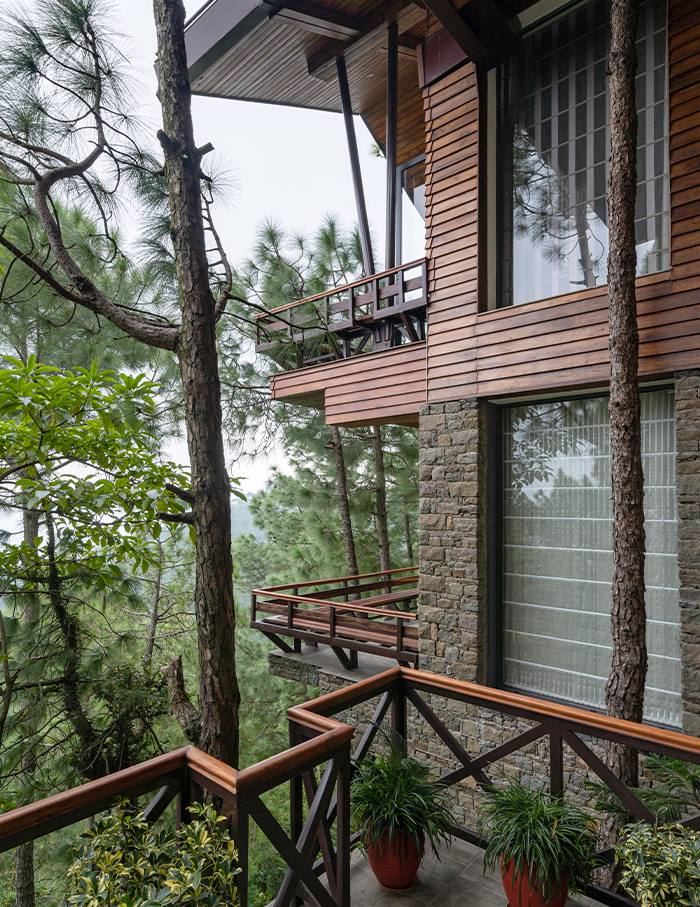 The Hermitage in Kasauli coalesces architecture and landscape in an environmentally sensitive design that embraces native species, rainwater harvesting techniques, climate responsive design strategies and sustainable construction materials. 
The mountains are calling and you must go to witness the picturesque acreage of the mountains, sunshine and dew along with the other delights of nature.
If The Hermitage in Kasauli gave you wanderlust, then check out Stone Lodges – Private Residences in Wayanad by Earthitects