Homes
Learning how to build from Masons: A country home in Kasauli designed for artist Usha Hooda with hand crafted local stone and reclaimed wood
JAN 10, 2022
| By Vibhaa Hooda
Produced by Sonia Dutt
A decade ago, my mother, an artist and textile designer, asked me to build her home in the mountains. She had just recovered from cancer and it was time to leave Delhi for pristine surroundings.
I had inherited a design sense, but technicalities of the architectural process were completely alien. With sheets of paper, a ruler, a pencil, and a plastic desk, I sat on this piece of land perched on a 5,500 ft mountain ridge near Kasauli, and visualised.
The lay of the land was restrictive—there was constant sacrifice of space for either a septic tank issue or a hillside that was behaving unruly. As a consequence many hours were spent redrawing to ensure that my four-point agenda met structural stability. Finally, a built-up area of 3,400 sq ft became the artists residence.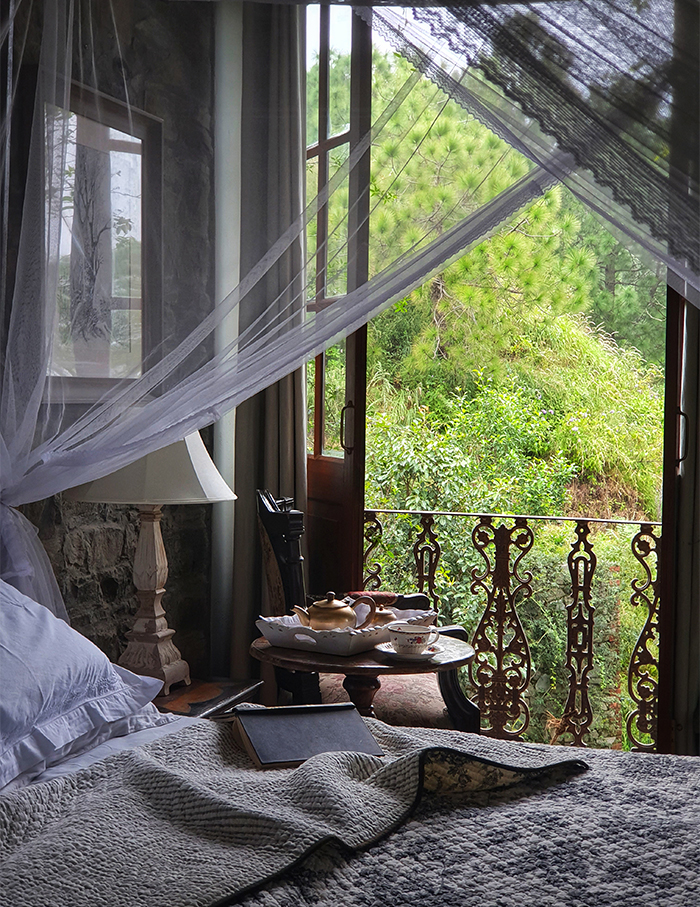 My vision could not have been realised without my teachers—senior masons. Perhaps the last generation of their kind, true craftsmen, who took great pride in their skill. The next generation however, did not see their craft as their 'dharma'. An era of masons who saw themselves as artists came to end in the three years it took to build this house. Three years as the land had no road access and construction happened medieval style. Materials arrived on the backs of strong men and sure-footed mules. Kasauli
The home was designed to have three bedrooms, an artist's studio, a kitchen, utility, and a living room spilling into verandahs on both sides. From the garden you walk into a courtyard, the entrance to the house, an Indic idea deeply embedded in our DNA. To the left is a large kitchen and the living room is to its right. The back of the courtyard has a grand stairwell with skylights high up on the sloping roof that lead to the first and second floor. The first-floor walks into a partially open landing with bedrooms on two opposite ends, with an airy studio space adjacent to my mother's room. The second floor houses the third bedroom, with its own sunroom, study, balcony and terrace overlooking the Greater Himalayas.
Dive deeper into the story and discover more about the Kasauli home in the December 2021 – January 2022 issue of ELLE DECOR India…