Homes
#EDExclusive — Neelam Kothari and Behzad Kharas reveal an echoing euphony of design, glamour and city vistas in this South Mumbai home
APR 13, 2022
| By Pratishtha Rana
On one end of a bustling lane in Lower Parel, an upscale neighbourhood in South Mumbai, stands a colossal and truly luxurious residential premises called One Avighna. Sashaying through the lobby to the lift, the destination of the hour is 49 Avigna, a plush apartment imagined by LINKBNK.
Dwelling a family of three generations, this home is a nexus of diverse elements coming together but in a rather planned and positioned way for a discerning eye to catch the play of calculated design experimentation here.
The design of this space marks a proud debut for actress and jewellery designer Neelam Kothari Soni in cohorts with Behzad Kharas of The BNK Group, calling this collaborative venture LINKBNK. Thus, it took not one but two perceptive minds to make this project feel like home—where warmth is felt as much as the modernity of the design is seen. 
You may also like: Tour Kangana Ranaut's studio Manikarnika Films, designed by Shabnam Gupta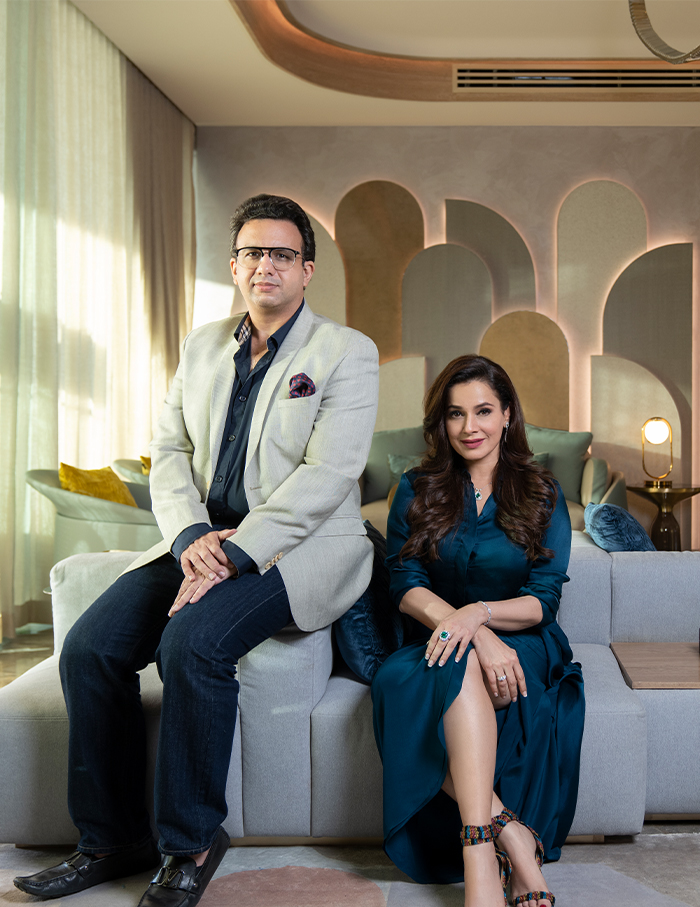 Ensconced in a high rise, the 3,800 sq ft apartment embraces a sweeping deck and balcony area of added 1,200 sq ft commanding arresting vistas of the Arabian Sea and the racecourse. 
For Behzad and Neelam, this home is a poetic confluence of spatial and design virtuosity, pinned with a reticent flamboyance that rises subtly. Inhabited by a joint family, the home had to be generously accommodating, grand and beyond.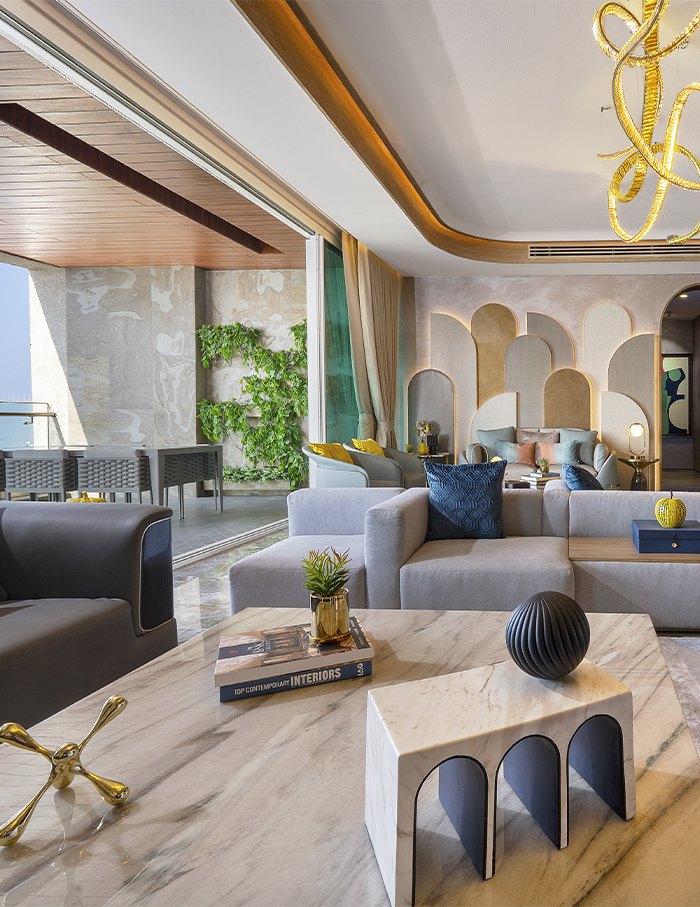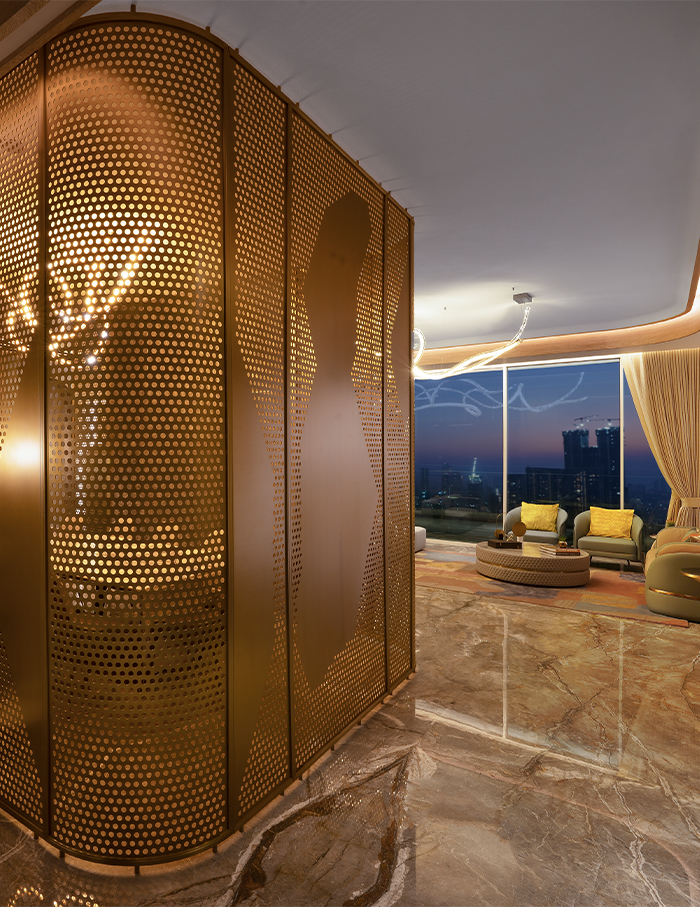 Behzad avers, "The client wanted a home which was modern yet opulent while the younger generation wanted something contemporary and rustic." 
An astute flow of interiors and decor is witnessed throughout the den with an exemplary design grammar lent by Neelam Kothari Soni, who carries glimmers of her sense of jewellery design in the spaces as well. She divulges, "A designer's job is to create a home that reflects the clients' personality and I add my bit by refining it. Adding pops of colour, using pastels is my personal style of bringing life to a space, which is evident in this project."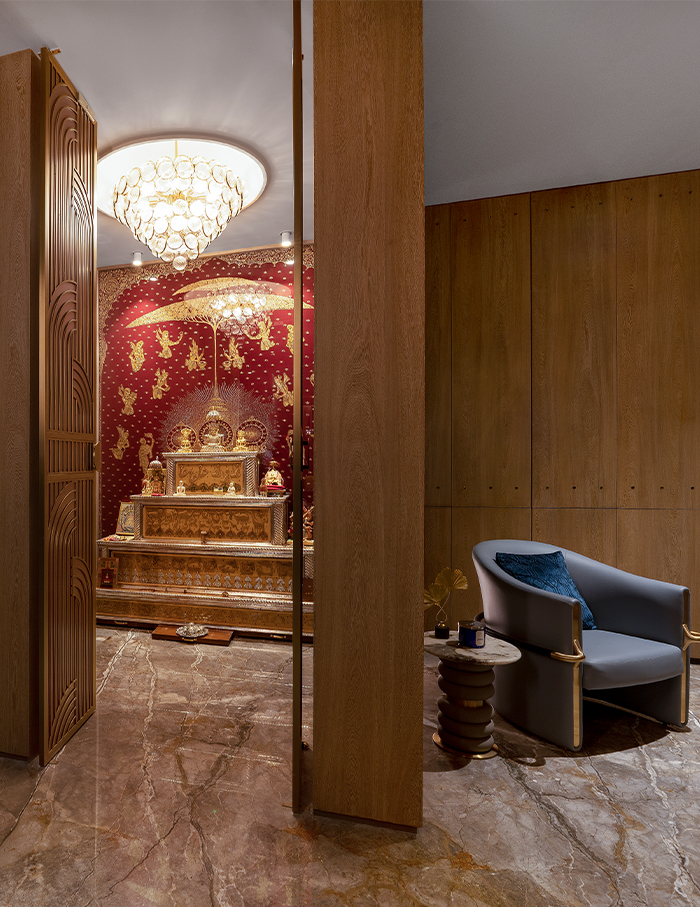 The home navigates through an articulate layout, opening up to a foyer and a splendid mandir unfurling into a grand living room. Skirting this area is a bespoke dining space crafted into a private but spacious sit-down zone with an intricate metal screen standing elegantly. 
Sauntering in, an intelligent coming together of art nouveau and contemporary style emerges through a geometric play of archways and curvaceous furniture. The living zone models a dual function and aesthetic, where one side of the seating area is more formal, straight lined with filleted edges while the other end shows art nouveau in curvilinear forms.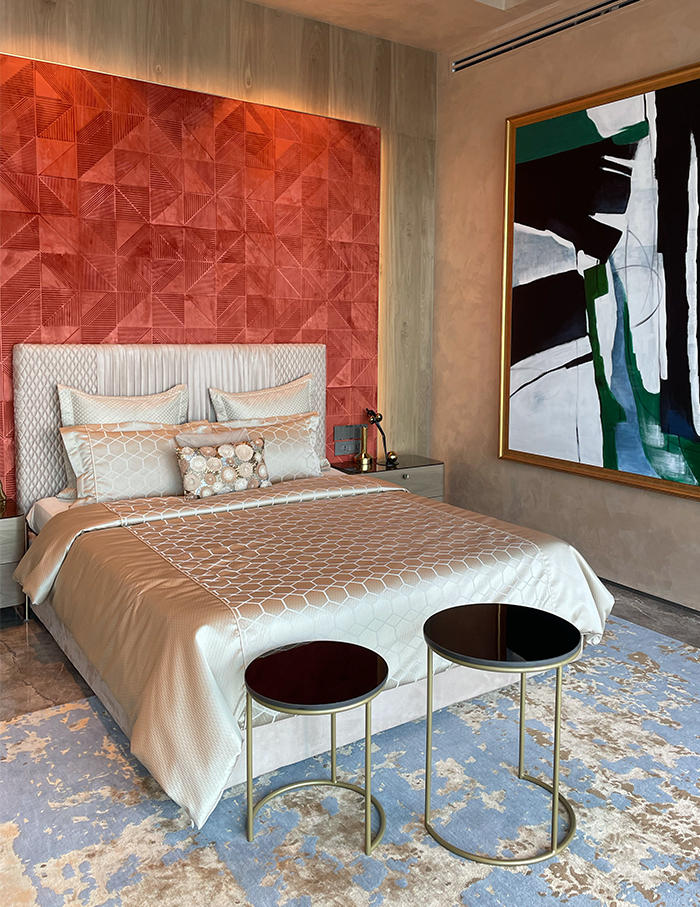 One cannot miss the curvy but slender chandelier in the living and dining area that draw the spotlight, melding softly with the geometry of the space and of course the colourful, engaging artworks. What Neelam and Behzad like to call as the piece de resistance is the white Carrara marble dining table that hosts art and utility with finesse.
Neelam and Behzad brainstormed conjointly to dress up each bedroom—parents', daughter's, son's, master and guest—to reflect the person's individual taste and lifestyle. 
Behzad reveals, "The doors of bedrooms and powder room are camouflaged with the same texture as the living so that elements of door are not seen and the space overall looks balanced."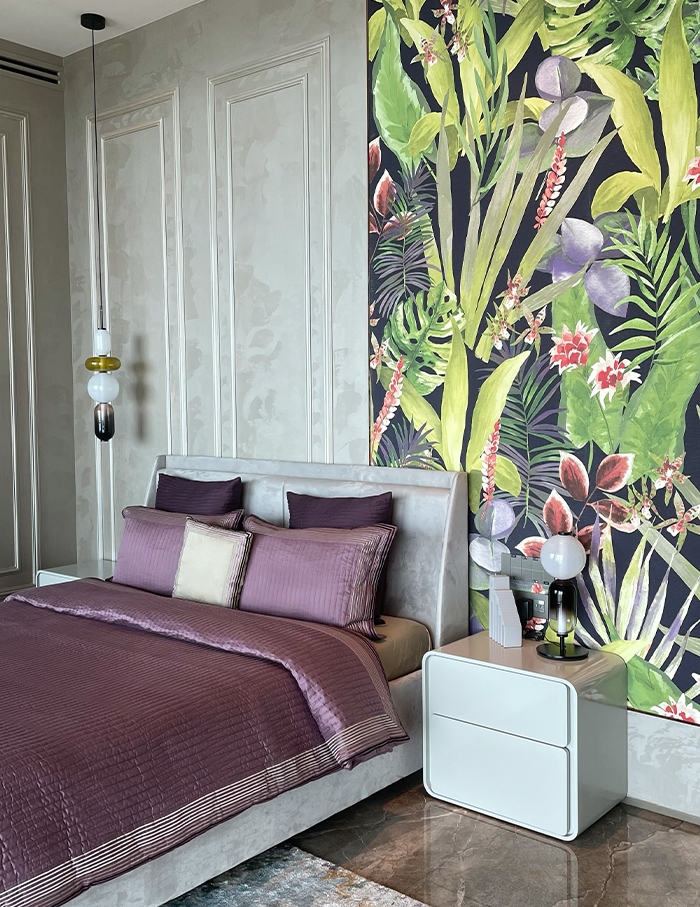 Inside the bedroom, an enticing world of design and decor takes shape, with each room embodying its private deck—breezy, commodious and cultivated for leisure. 
Divulging on the choice of materials and colours at 49 Avighna, Behzad and Neelam remark that grey is the new white. "Having grey as the floor made us carry forward a principle of creating neutral background for the colours of the soft furnishing to pop out." They add that the walls are done in a stucco texture and wrap all major elements of the living space so that not many elements stand out all together.
 Although the overall palette of the residence flows harmoniously from neutral hues to soft textures, a welcome swash of pastels and bold colours march indoors, translating into a collaborative dialogue called home. 
Loved this Mumbai home by Neelam Kothari Soni? Now tour this home of Godrej Vikhroli's CEO Anubhav Gupta that mirrors aesthetics of a museum