People
Tour Kangana Ranaut's studio Manikarnika Films, designed by Shabnam Gupta
AUG 7, 2020
| By Mrudul Pathak Kundu, Anamika Butalia and Pinky Akola
On a crisp Sunday afternoon, we walk into actor Kangana Ranaut's studio in Mumbai. As we enter through a wicket in a green gate, a capacious, partially alfresco space opens up. In one corner is an aqua feature because, as designer Shabnam Gupta tells us, "Kangana finds the sound of running water soothing". The burble can be heard across the layout, where a coffee bar and open cafe lie shaded by trees.
A freshly installed, a spiral stairway leads us two flights up. On the first level are the main workplace, an editing studio, a discussion area and conference room. However, the floor above is all Kangana's. It houses a large meeting area, and a mezzanine zone with cushy couches, low seaters and a bathroom complete with a shower, wardrobe and dressing area, in case she needs to leave for a shoot from here.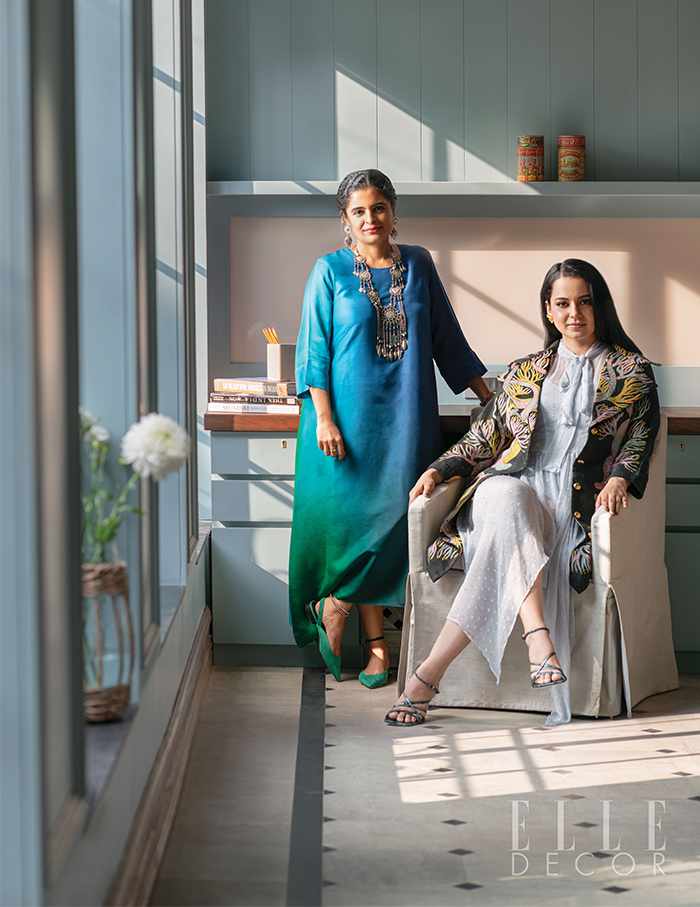 During our walkthrough, a few concurrent details and themes jump out at us. The entire space is akin to a Parisian cafe. French doors on the top floor are covered with dainty, handmade sheer blinds. And the colour schemes bring to mind the vibrant structures of European towns like Bruges and Bergen. All the furniture is custom designed by Shabnam's venture Peacock Life, save for some stools on the uppermost level that have been sourced from Rajasthan.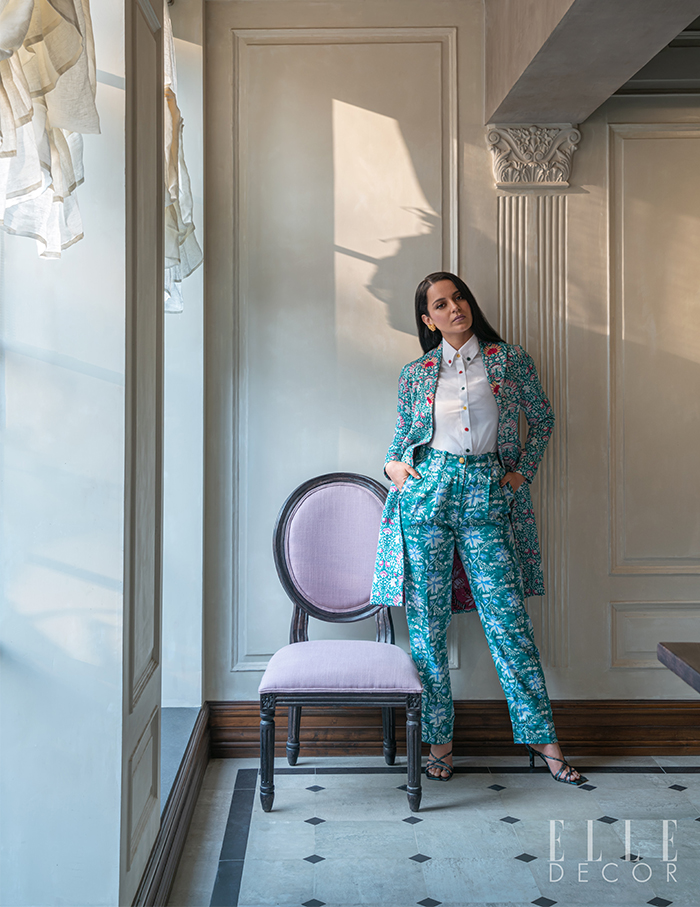 Even though the space is nothing like its previous avatar, Shabnam did find an element worth retaining: The ceiling rafts. These have been left exposed to add a touch of grunge. Other key features include the glass facade behind the stairway, which showcases a patch of greens and brings in daylight, and the thought provoking quotes that punctuate the workplace.
Although this is her first visit to the site since handing it over to Shabnam, it's clear that Kangana's feeling truly at home as she sits with one arm stretched over the back of the couch and feet curled up under her. This is where she and Shabnam share how the studio came into being. Excerpts:
Tête-à-tête with Kangana Ranaut
What were your initial thoughts for the studio?
I've wanted to be a filmmaker and a mentor since the beginning of my career. Over the years, I've been to some dreadful offices that scream "work now". It made me very clear on what I wanted. My first requirement was that it shouldn't look like an office, it should feel like home. You'll see that all the work zones have been devised to enhance creativity. It has a lot of warmth, mostly feminine. In some spaces, you'll see a masculine vibe and in others, an industrial look.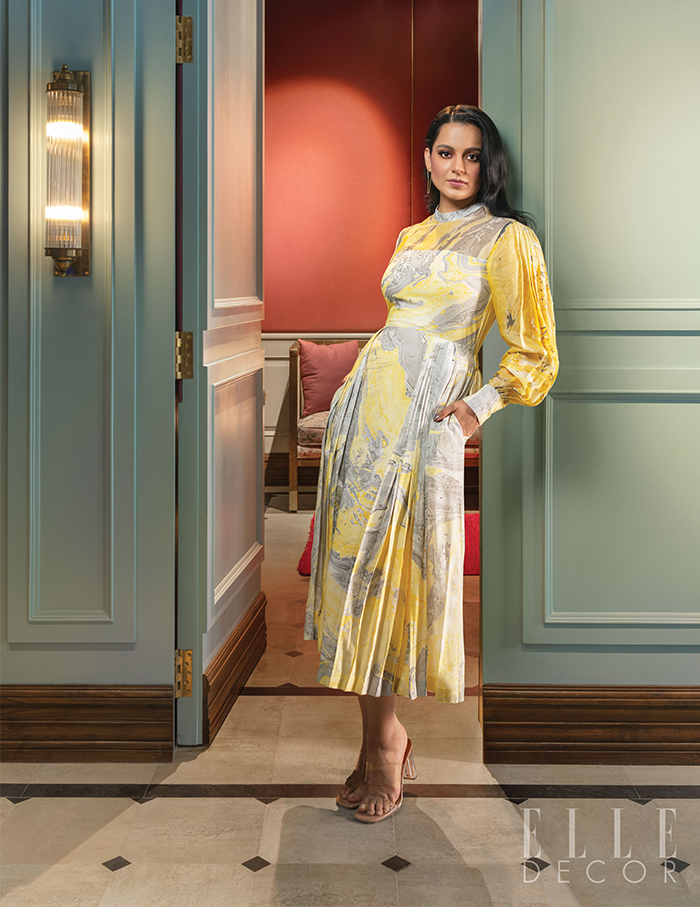 Tell us what it was like working with Shabnam Gupta…
It'll be really embarrassing to praise Shabnam while she's sitting right beside me (chuckles). This is my second collaboration with her. I don't think we even need to talk, that's the beauty of working with likeminded people. Her idea of richness matches mine. We have a synergy, where I didn't need to share references of what I liked or not. Instead, I told her the mood I wanted to achieve, a Zen-like space, and she ably interpreted that, even choosing the furniture and fabric all on her own. She's one of the best in her field and it was only right to give her free rein.
Which parts do you like best?
It would have to be my personal boudoir—my wardrobe and makeup room. I know it sounds so diva like (laughs) but it's true. Also, the cafeteria, which is meant to be comfortable and relaxing.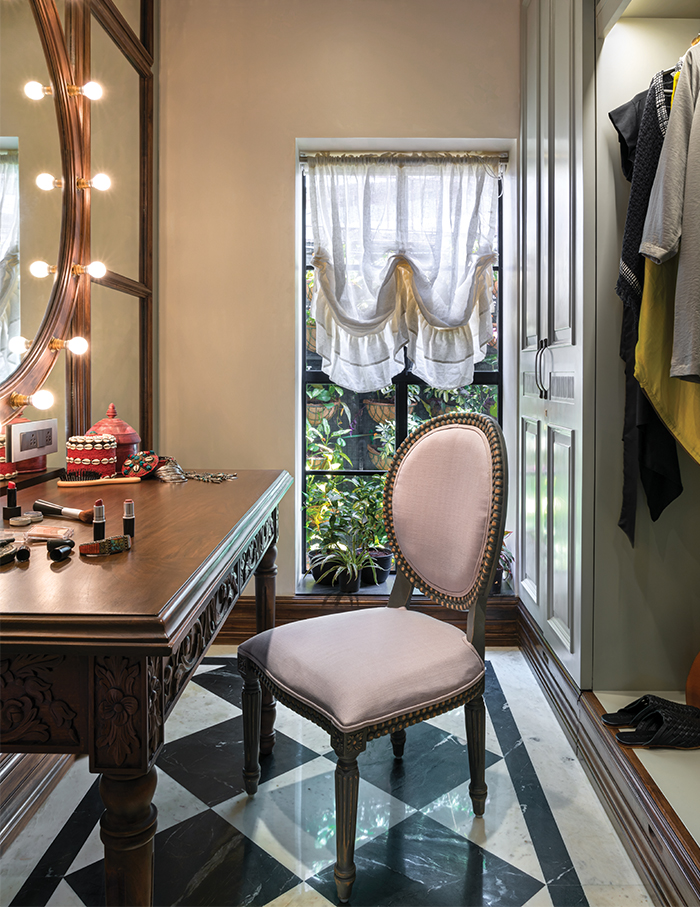 We're told water is an element you really like…
The sound is a reference to the ashram that I go to for meditation. I'd asked Shabnam if there was any way we could integrate it in the office, and she managed it so well in the middle of our chaotic city. It's a reminder of things that we must not lose track of, things that make us feel at peace.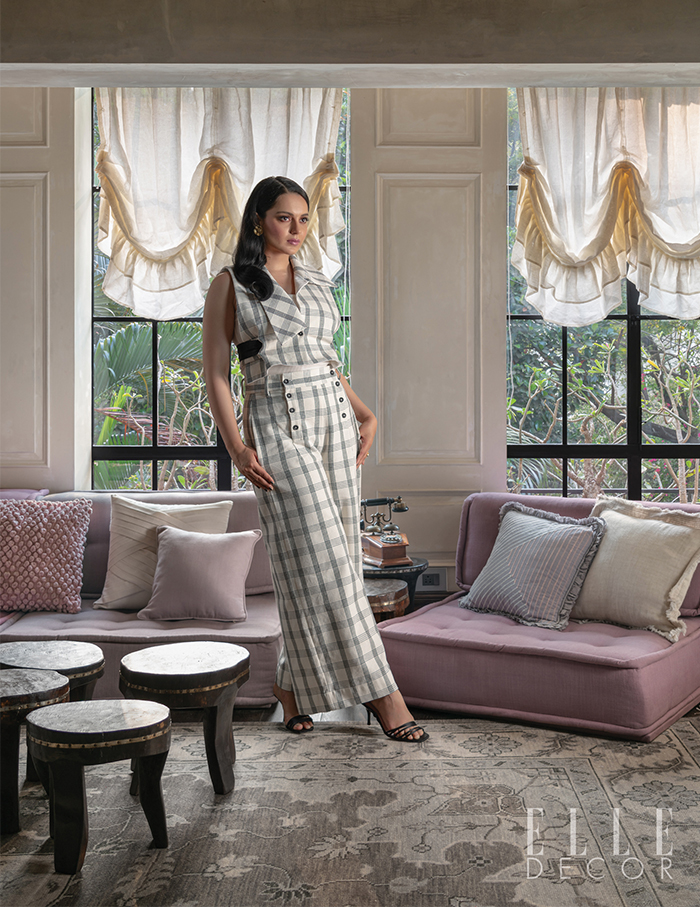 What does "living green" mean to you?
Over the past three to four years, I've been very aware of my ecological footprint. So, I have taken some measures towards sustainability in this place. For example, this is going to be a plastic-free zone. We've also integrated flower beds and greens in the front and back of the building. I intend to grow a few trees as well. Personally, I recycle clothes and choose cotton clothing as it requires lesser water to rinse. These are just small steps that I've integrated into my daily routine.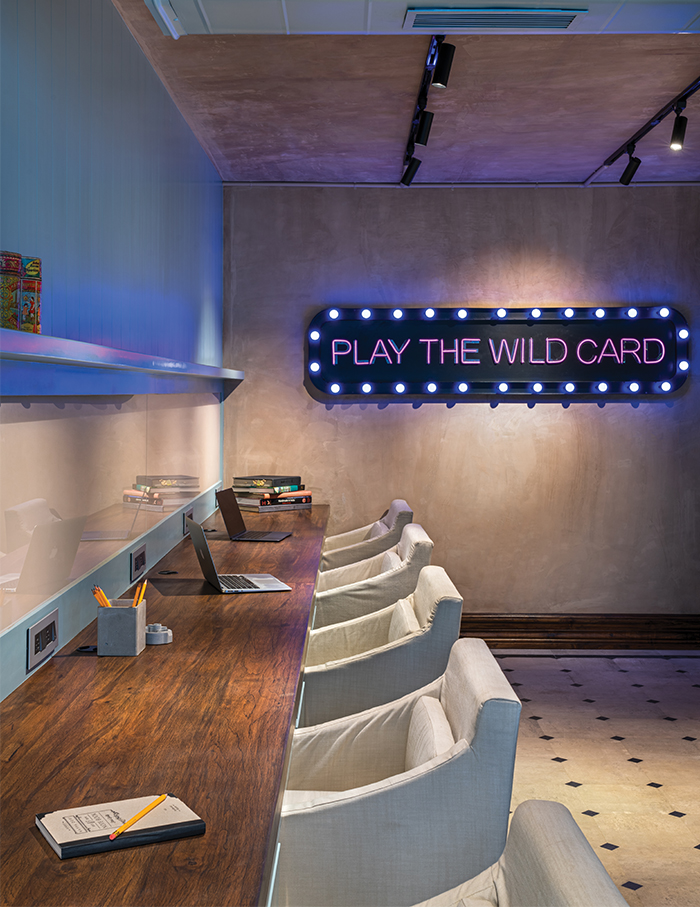 Tête-à-tête with Shabnam Gupta
This is your second project with Kangana Ranaut…
She's a rare, trusting person, which makes it easy for me, as a designer, to execute the work, especially since we're in sync with one another. Indeed, my responsibility doubles or even triples because the onus for everything is entirely on me, unlike in other cases where clients are more involved in a project. But there's a lot of commonality in who she is and the kind of work we do at The Orange Lane. She's an old soul with a strong personal style statement. She doesn't follow norms—which I love. And like Kangana said, we didn't need to speak since I knew that she wanted an unconventional, atypical workplace. Her brief was that it has a vintage, early 20th century, lived-in quality.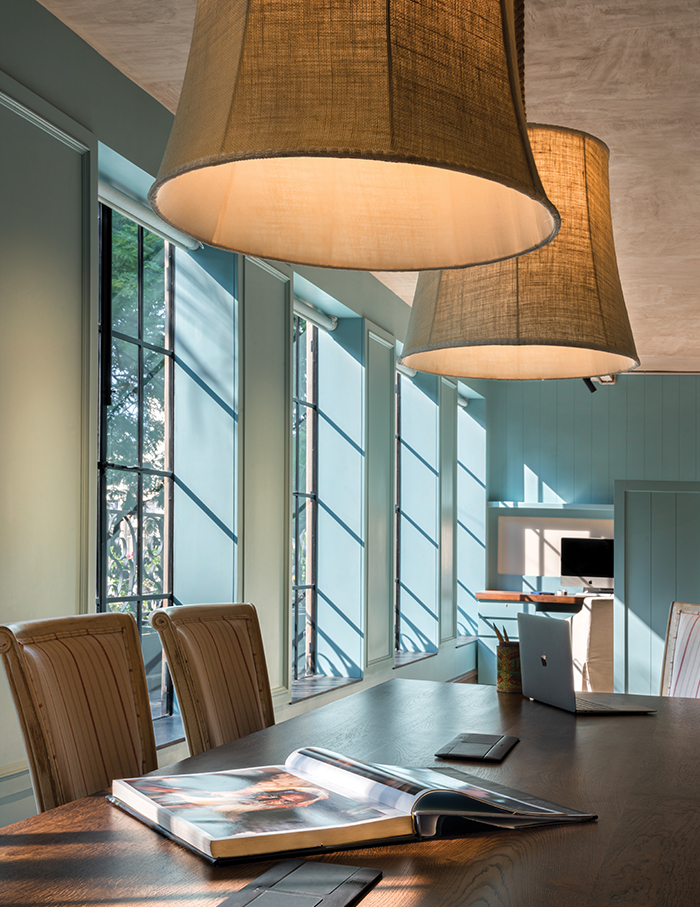 How did the place take shape?
I spent time at the site to perceive its geography, how sunlight streams in. These aspects are imperative to get right, more than the aesthetics. Previously, the site housed a preschool with striped primary colours all over, no big windows, no greenery—it was literally a cube when we took it up. So, we stripped the structure down to bare bones; leaving only the slab and columns in place. That's when we realised it's a lovely space surrounded by trees. Since there was no daylight coming in from the west, we created a cavity behind the stairs to allow daylight in. We chose a creative, gender neutral palette and a colourless facade. We didn't want the studio to have Bollywood clichés. Instead, we created a landscape story with natural light.
What do you like best here?
Kangana's personal workplace with its seating area and how it lights up is extremely romanticised.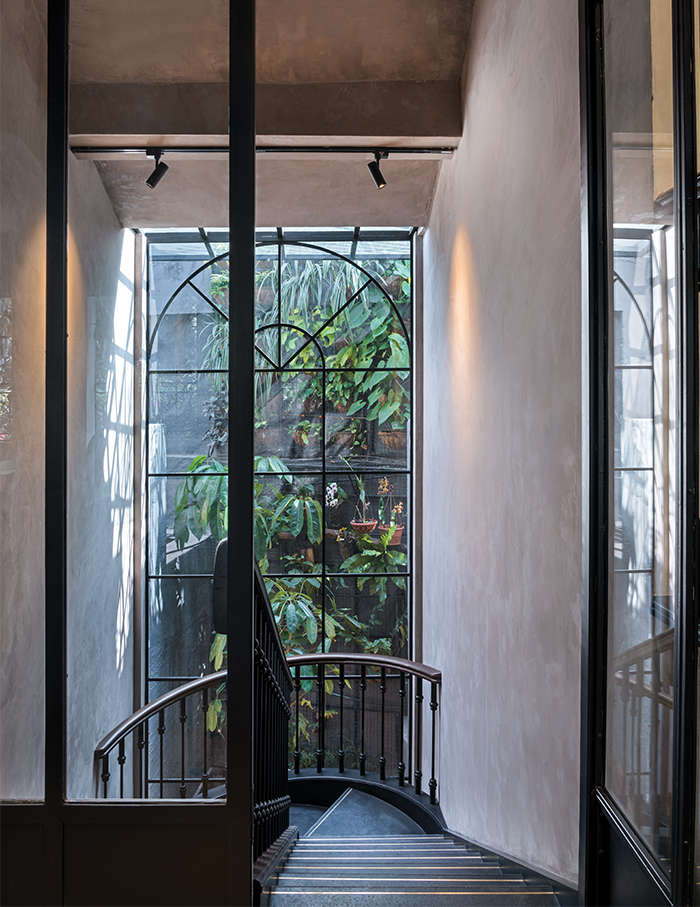 How would you sum up the design of this studio?
Free spirited, bohemian and pulsing with feminine energy. Plus, it is silent, which allows one to think clearly.
What does "creating sustainably" mean to you?
We put greens first in every design, figuring out how to bring the outdoors in seamlessly by keeping wind and sunlight in mind. For this project, we've created an entire cavity for a vertical garden that runs through all the levels of the structure.
Assisted by Subodh Shaw; Styled by Karuna Laungani; Hair by Haseena Shaikh; Makeup by Loveleen Ramchandani; Styling assisted by Ruchi Kapoor