Design
Wild and whimsical—ELLE DECOR India reveals the trending fantasy themes for kids bedroom ideas
AUG 5, 2022
| By Sneha Gandhi
Kids bedroom design, more commonly known as the official licence to go wild and whimsical. Every inch of this la la land is brimming with our favourite fantasies, from submerged in the sea to jungle and tropical trees. 
With customised furniture, handmade accents and mood lighting, the designs look straight out of an illustrated book. Don't believe us? Take a look at ELLE DECOR India's latest guide to bookmark-worthy ideas for your tiny tots…
Before you begin here's our previous roundup: New trends in design for kids furniture—Elle Decor India curates the definite guide to the best kids bedroom ideas
Driving curiosity with Deshna Kasliwal Design Studio
Compact yet functional, the kids bedroom by Deshna Kasliwal Design Studio focuses on the freedom of movement by wall-aligning its stylish and safe chamfered wooden furniture. Supplemented with soft pastels, the vivid roadmap wallpaper by the study area acts as an interactive backdrop to pique a child's imagination.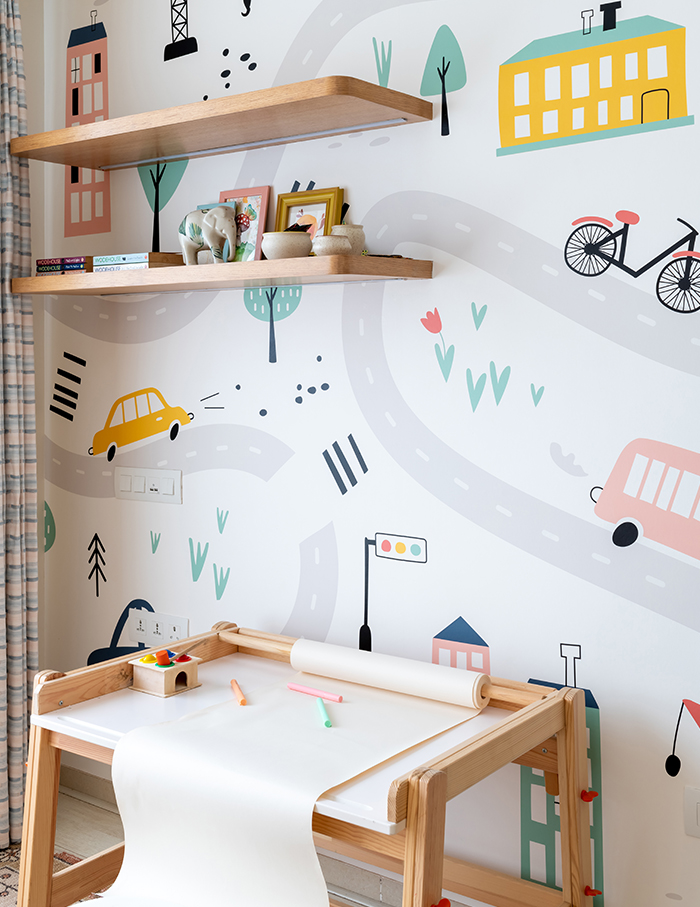 It's a Playdate with Design Deconstruct
A playground of colours and ideas, Design Deconstruct introduces a myriad of shapes and forms targeted at stimulating the creative side of children. An exciting contrast of cheerful yellow and blue with soothing pastels results in exhilarating spaces. Designers Monica Chadha and Rishabh Kapoor tuck away the storage woes in geometric shaped boxes in equally vivid colours.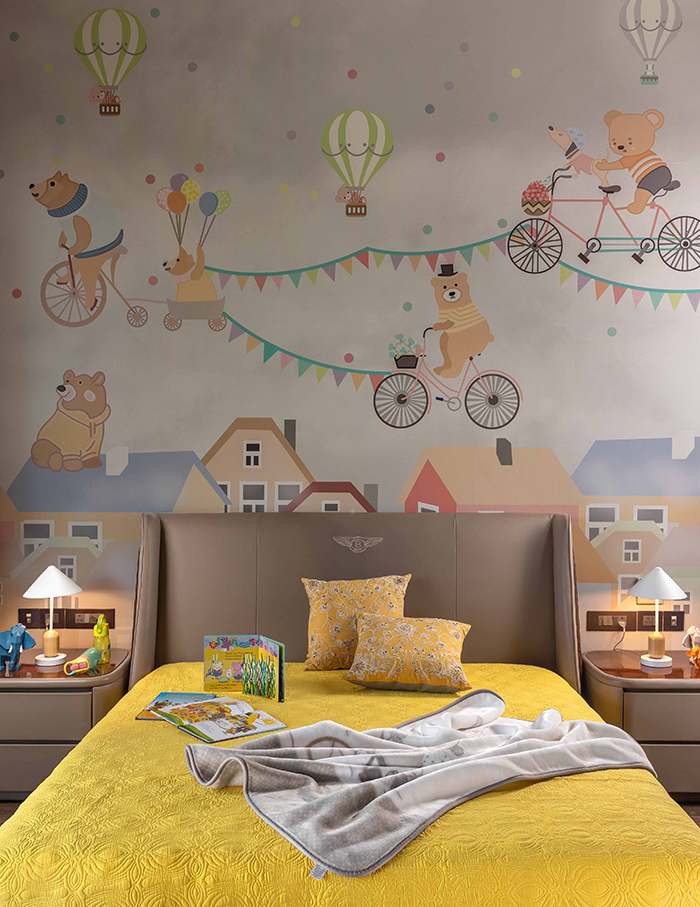 Tropical treat with Fabindia's Kids Collection
As the name suggests, the FabKids collection by Fabindia draws inspiration from the all-time favourite fantasy land—a dense tropical forest. The mango and sheesham wood furniture collection includes an eucalyptus wood table with a slate top and stool, a rocking horse, a printed safari tent, bedding and bath sets. Complemented with themed motif play and bright colours, the set-up is an animated jungle come to life.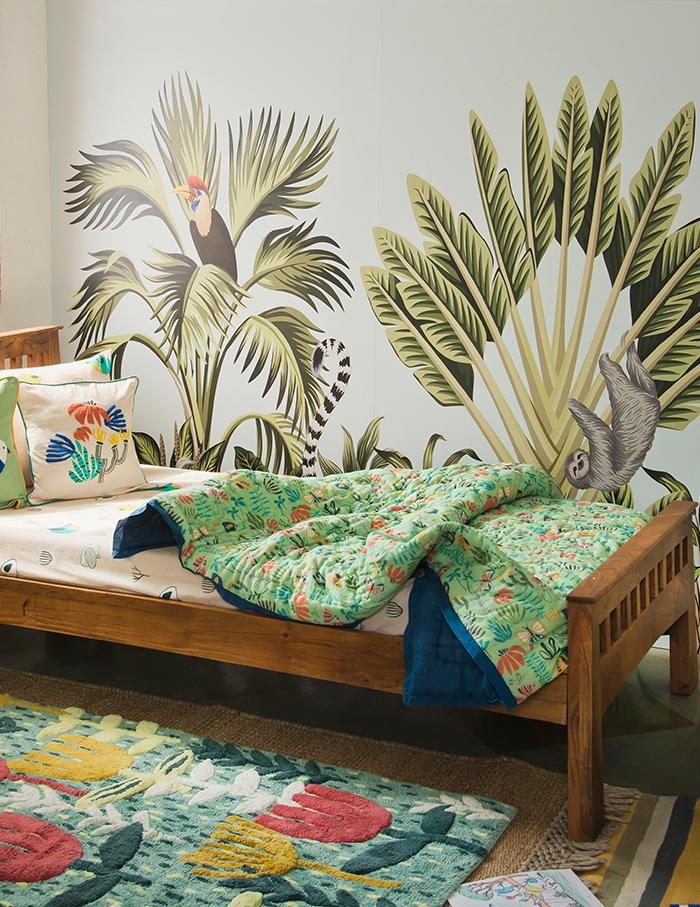 Functional and fun with Kay's Design Lab
Governed by an electric orange and blue palette, the children's room designed by Kay's Design Lab comes with a 'playtime' first ideology. Thoughtfully carving a stepping playscape with plenty of open floor area, designer Kulsum Husain ensures the bedroom is the perfect spot to entertain friends, while maintaining a certain charm to it that screams 'joy'! With an open shelf design, books, toys and collectibles doubling up as the perfect accessories, the room is a haven of fun personified.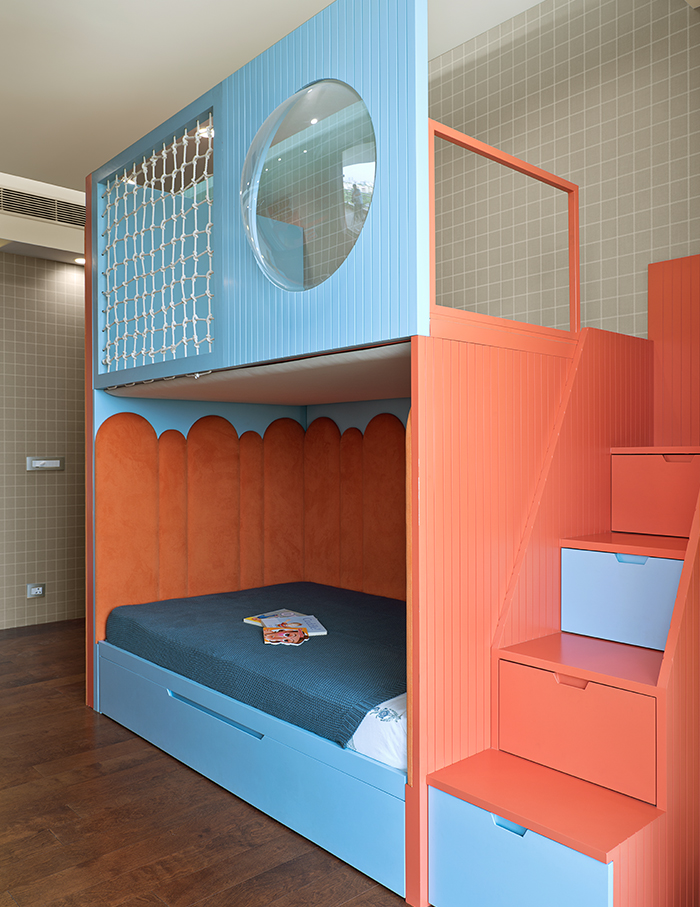 Its all games with Peekaboo Interiors
Posing in simple lines and neutral colour, the kids bedroom by Garima Agarwal of Peekaboo Interiors lets the quaint furniture do the talking. The showstopper toy storage unit with a lit-up, curved top is an open invitation to game night in the playroom. Functionally sound, the grey perforated design sections are ideal for neatly tucking away toys, games and books. Special mention to the absolutely whimsical wallpaper with hot air balloon prints and a giraffe riding a bicycle!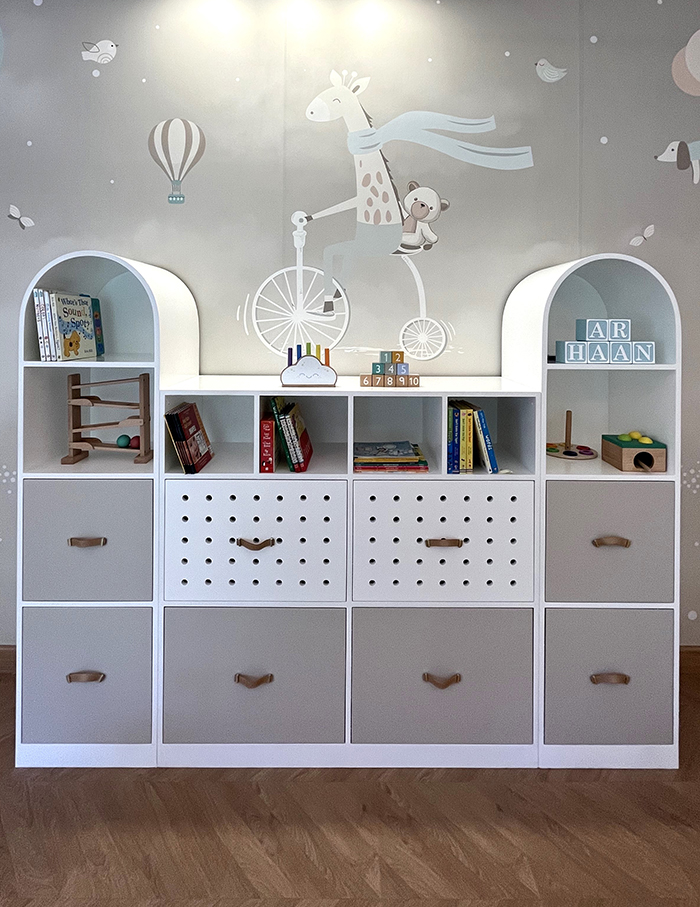 Tapping that toddler vibe with Rosabagh 
Charting an unconventional route, Rosabagh by Abhishek Kathuria throws in all shades of sophistication for this children's bedroom. A symphony in white, beige and pastels, the space exhibits strong influences of both the modern and the classical elements. Minimal furniture with curved edges and a minty freshness crafts the resolutely idyllic feel.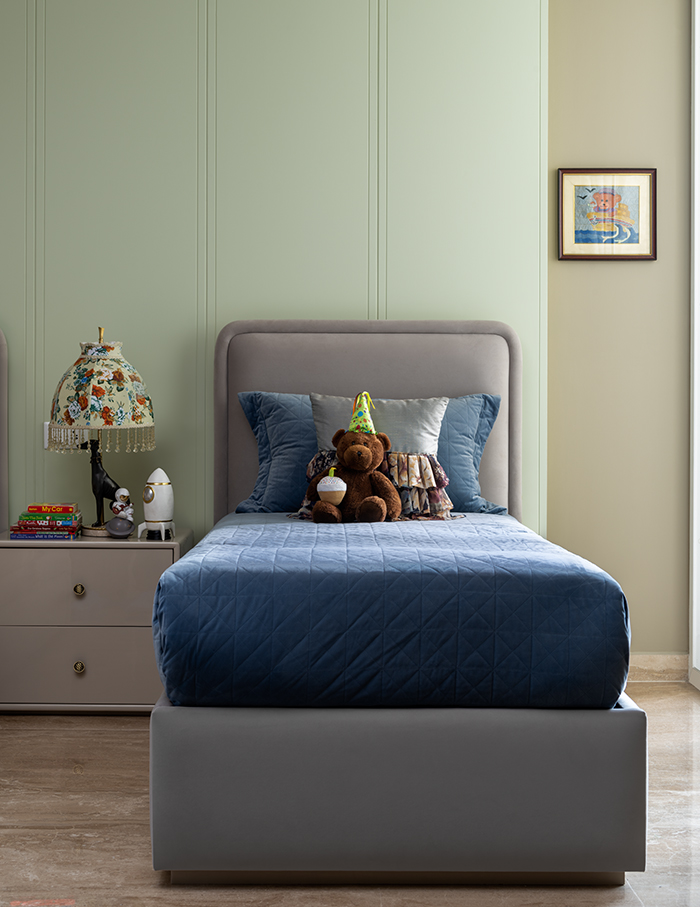 A touch of whimsical with The Interior Workshop
Synonymous with dreamy, the kids bedroom by The Interior Workshop is doused in pastel pink with grey and white accents. The stylish study area crafted by Tejas Mistry also serves as a dressing unit with extendable shelves. Further emphasising the fairyland layout are the themed-furniture pieces like the cloudy bed back, ceiling light, the shelves, moon wall art and the rabbit shaped mirror. Idiosyncratic much?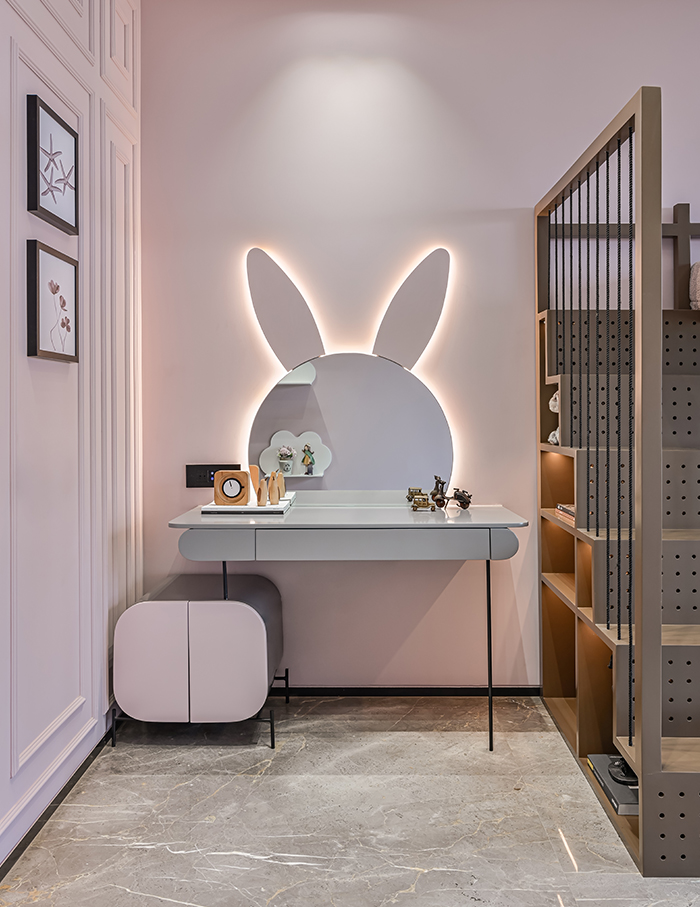 Diving deep with Think Cutieful
Meet a quirky under-the-sea themed bedroom that perpetuates adventure from the deep oceans by Think Cutieful. Designer Romilla Tewari visualises a nursery with an assorted palette of blue, white, greys and hints of ocean-inspired hues with removable furniture and decals, ocean-themed blinds, wall art and soft toys. Seemingly submerged in the sea, the room is a reflection of the children's new-found interest in ocean life.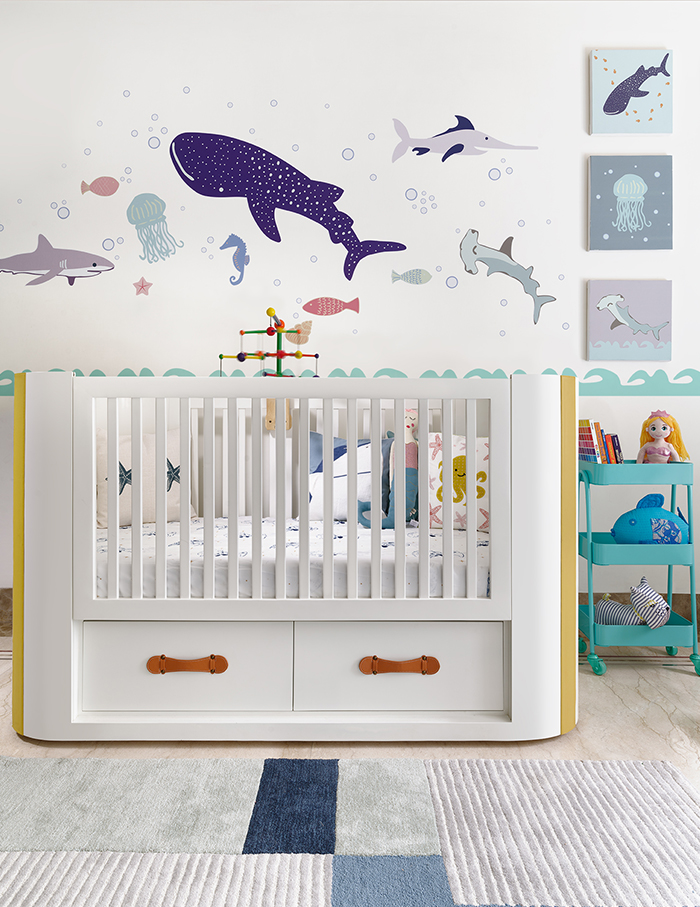 Hygienic bathrooms with VitrA Sento Kids Collection
 An integral part in the developing years, bathrooms now spruce up the same spirited ambience as the bedrooms. Developed by the VitrA Innovation Centre Ergonomics Laboratory, the Sento Kids Collection offers a gamut of colours and dimensions with respect to different age groups. The brand offers soft-closing WC seats, smooth flush WC pans, VitrA Hygiene glaze that inhibits the growth of harmful bacteria and much more.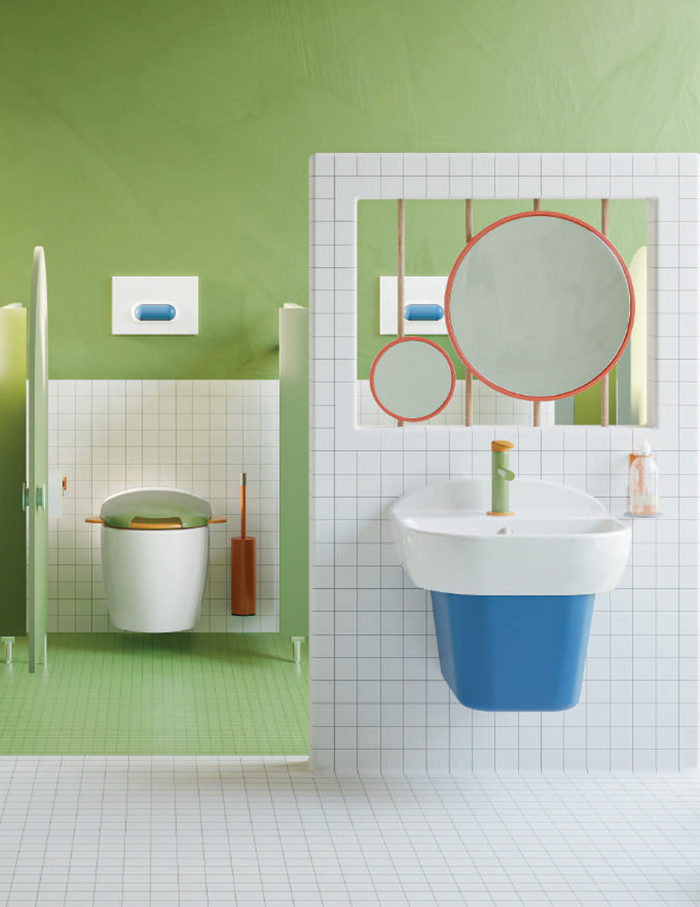 You may also like: Why should kids have all the fun—bookmark these resorts in India that host adventures for your child and the child in you