Design
New trends in design for kids furniture—Elle Decor India curates the definite guide to the best kids bedroom ideas
MAR 24, 2022
| By Shriya Goyal
Smart and perky, kids today are much cooler than us adults, and so are their furniture and spaces! Be it cute little cots and beds, miniature table-chairs, adorable furnishings and charming strokes of colours, the new trends in design for kids furniture and kids rooms are one (or two things) to take note of!
If you are looking to create kid-friendly spaces that appeal to the children's sensitivities and doubles up as their fantasy land, Elle Decor India assembles kids rooms and kids bedroom ideas by various designers that are sure to engage and fascinate your child at studying, play or leisure.
You may also like: 9 tableware pieces for kids to make mealtime merrier
Son's bedroom by Aanai Design Studio
As bright as yellow and as cute as a cupcake, this kids bedroom for a boy with colourful carpets opens up the central space for the child to play. With a chest of drawers, crib and a bamboo chair, the kids room is kept as open and unobtrusive as possible. The designers Nikhil Haridas and Gayathri Padmam H of Aanai Design Studio craft a room filled with fun and learning with quirky frames and a quaint bookshelf in Bagh Residence.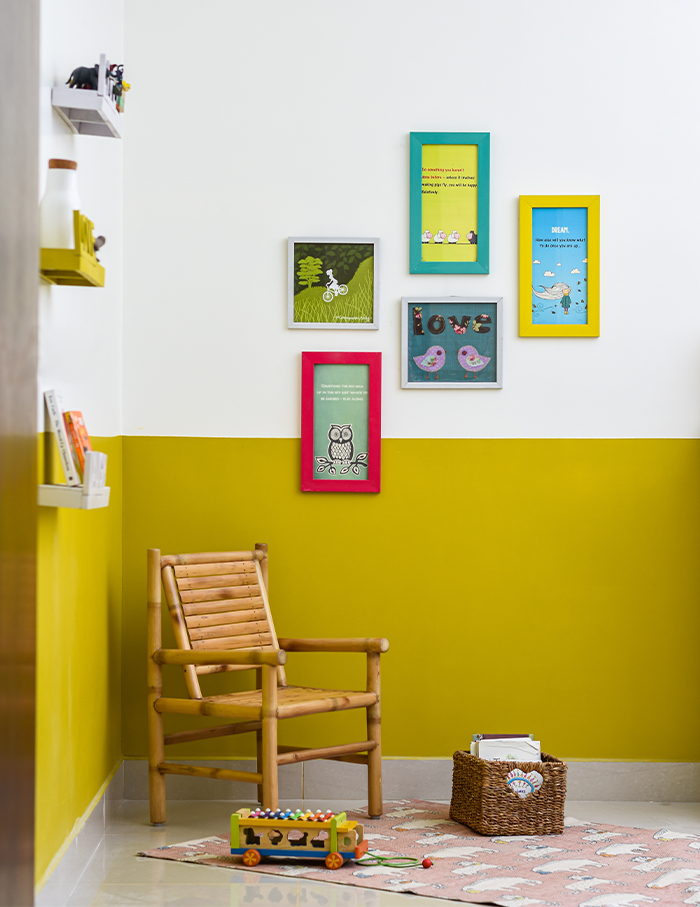 Jungle safari room by Think Cutieful
Fulfil your child's whims with new trends in design and let them be surrounded by cars, cartoons, animals or any other theme that appeals to their young minds by Think Cutieful. Interior expert and space designer Romilla Tewari customises environments that foster a healthy upbringing. This jungle safari nursery with muted tones, animals and natural-looking hand painted palms to create a serene sanctuary lends a warm fuzzy vibe. The kids bedroom comes together in a lovely amalgamation of all the adorable animals and textures in terms of wooden flooring, day bed, chest of drawers, blinds, wallpaper, chair and accessories.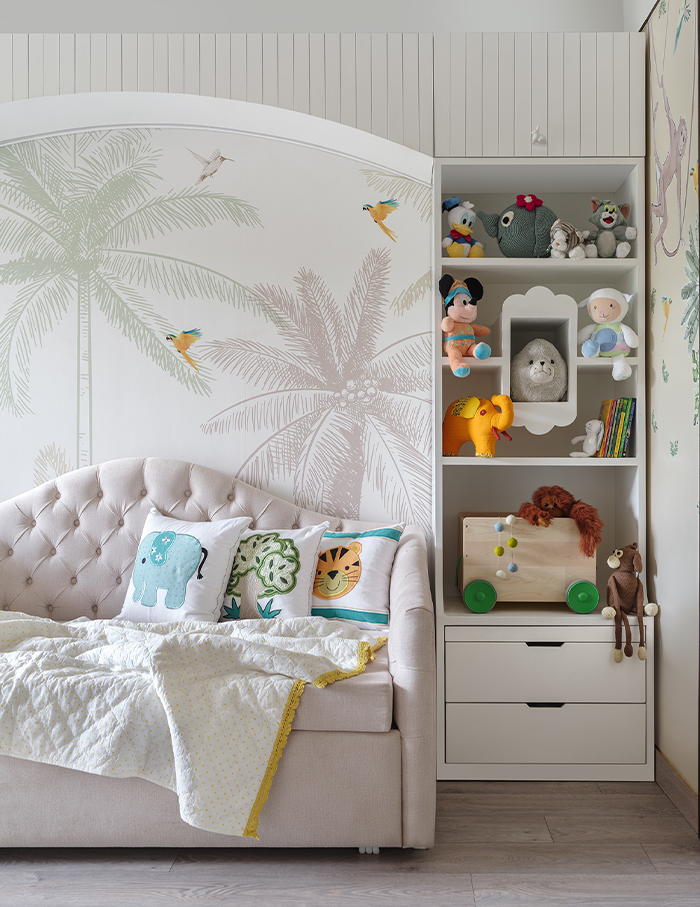 Rooms for young girls by Amsel Design Studio
As gay as pink, the kids bedroom for a young girl in Jindal Residence is sophisticated and elegant. Keeping new trends in design in focus, it is designed by principal designers Sahil and Priya Chaudhary of Amsel Design Studio with a subtle colour palette, lots of tonal variations and patterned wooden flooring, the room is endearing and calm.
A bit of more colour, vibrancy and pzazz adorns the kids room in Central Park Resorts styled by Rahul Kukreja. With a low-heighted open cot, quirky toys and frames, hand-painted world map, a bay window seating and a charming pink casio set, the room poses as a canvas for children to grow.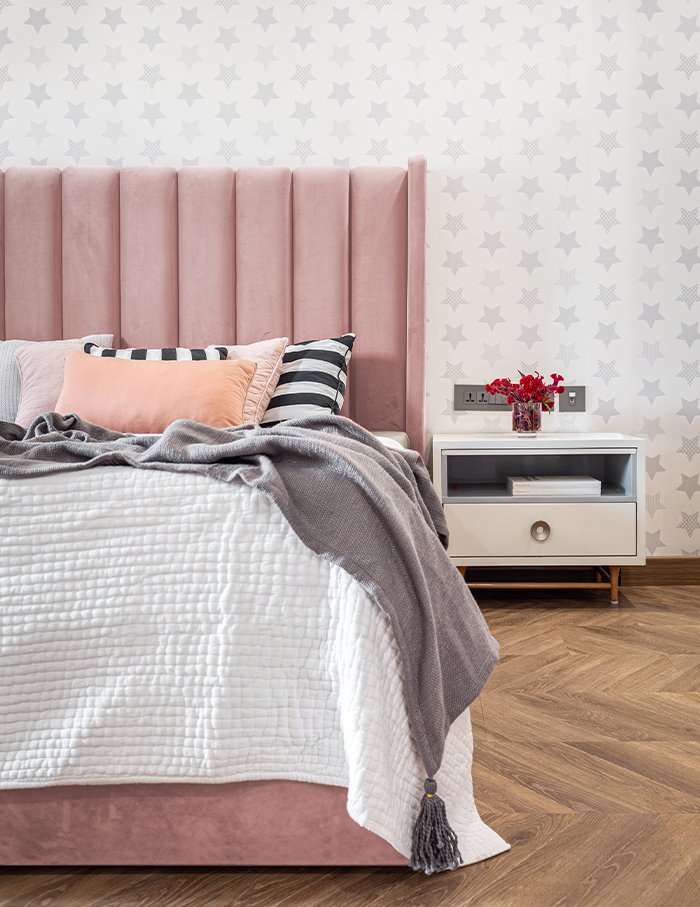 London room by Fairytale
Orange is the new black! Designed by Fairytale, the room is rendered in a warm relaxing colour palette. With a rounded wall mural, desk and gum chair in the study space, bed, side table and toys in the sleeping zone, the visuals of the room and the array of kids furniture are not less than any animated set. The energy and joy of this space is all set for the ten year old girl.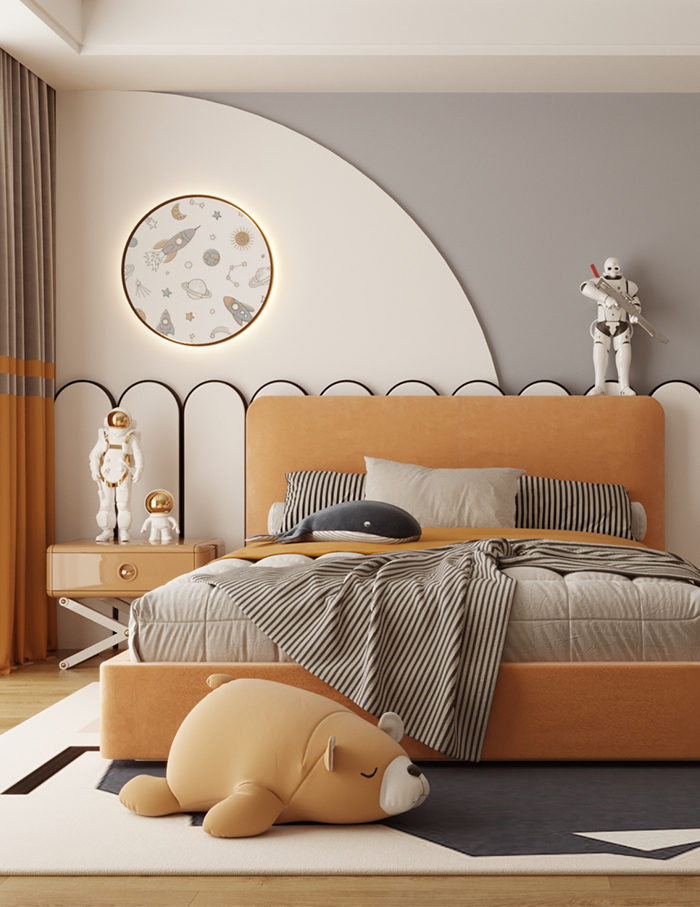 Teen room by 42MM Architecture
Founder and architects Priyanka Khanna and Ruudraksh Charan of 42MM Architecture craft the room for a young girl, adhering to her growing years and the new trends in design that strike a chord with kid-friendly spaces. A cosy reading nook with a swing, a collection of geometric shapes, different textures and an array of decor pieces adorn the room. A place to let her imaginations fly, dreams take over and shape her thoughts, the room is furnished in neutral tones and playful kids furniture.
Kid's room by Aparna Kaushik Design Group
A depiction of Aparna Kaushik's penchant for classical elegant themes, this room is graced in neutral colours. Dressed in grey, pink and a beige palette enhanced by white mouldings, the space fulfils all the requirements of a kid. A pencil shaped dresser and a play hut with ladder along with a suspension light, TV cabinet, study table and herringbone wooden flooring, this room is all parts youthful and lavish.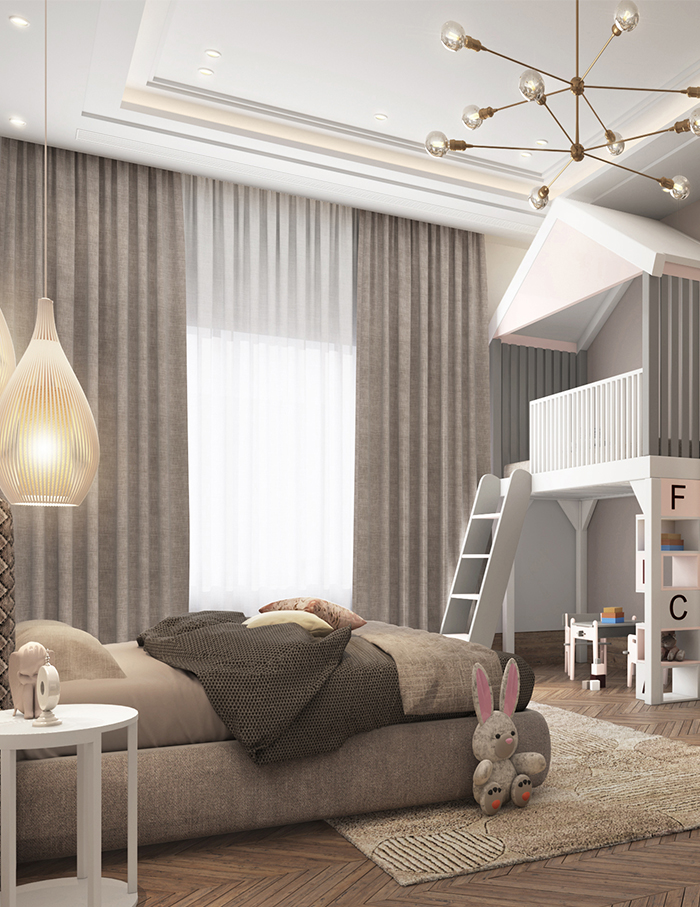 Children's rooms by Essentia Environments
Soft pastels, gradient colour variations and a multitude of textures by Essentia Environments evoke a sublime ambience for the young minds. Founders Hardesh Chawla and Monica Chawla design with the philosophy of neutral settings and limited accessories to craft impactful open space for their play times. Weaving in new trends in design, white boards on the bed back wall for their nonchalant scribbling along with wooden flooring, wall moulding and charming artwork bestow excitement and zeal to their spaces.
Toddler's room by MADS Creations
Decked in blush pink and grey, the room is decorated with charming accessories and delightful furnishings. Founder and interior designer Meenu Agarwal of MADS Creations, crafts an independent room that revolves around functionality and creativity. With a bed on a mezzanine floor and the cosy corner underneath, this kids room will make even the adults fall in love with it.
Twin sharing room and Play zone by Peekaboo Interiors
Blue or pink, escaping this confusion for the twin's bedroom, Garima Agarwal of Peekaboo Interiors chose an overall colour palette of grey and white with pops of cheerful yellow. Rounding off the kids furniture here, upholstered headboard for the twin beds neatly nestled against the muted aeroplane wallpaper provides warmth and offers a cocoon for the little ones to dream about their future, hobbies or even just snacks! 
Peppered with pops of bright red and green, the Play Room houses a compact toddler desk and chair, a tree house resembling a play pod with two ladders, a sweet picket fence, and a versatile lower space. Offering fresh avenues to be used as a reading nook, a meditation corner or an art station, the space below presents endless and exciting possibilities!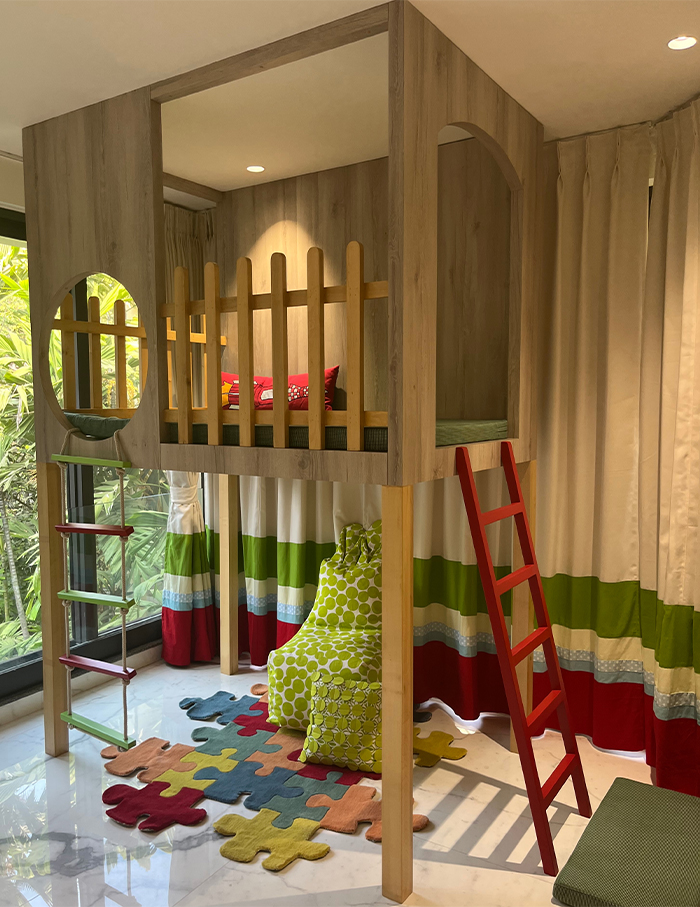 Bunkbed room by Viceroy Properties
The charm of climbing up and down the bed not only fancies the kids but makes a lot of adults wish they were a kid too. Bunk beds appeal to the children and open up a lot of ground space to accommodate their requirements and play area in this room at Viceroy Savana. Cyrus Mody, Managing Partner, Viceroy Properties render a warm earthy feel with green and brown tones. 
Whether it's for a toddler or a young child, crafting kids bedroom creatively and imbuing their own story will go a long way in their growth. With ELLE DECOR India's recommendations of new trends in design, hold on to those cute moments you spend in their space and cherish the snuggles, these little munchkins won't be little forever.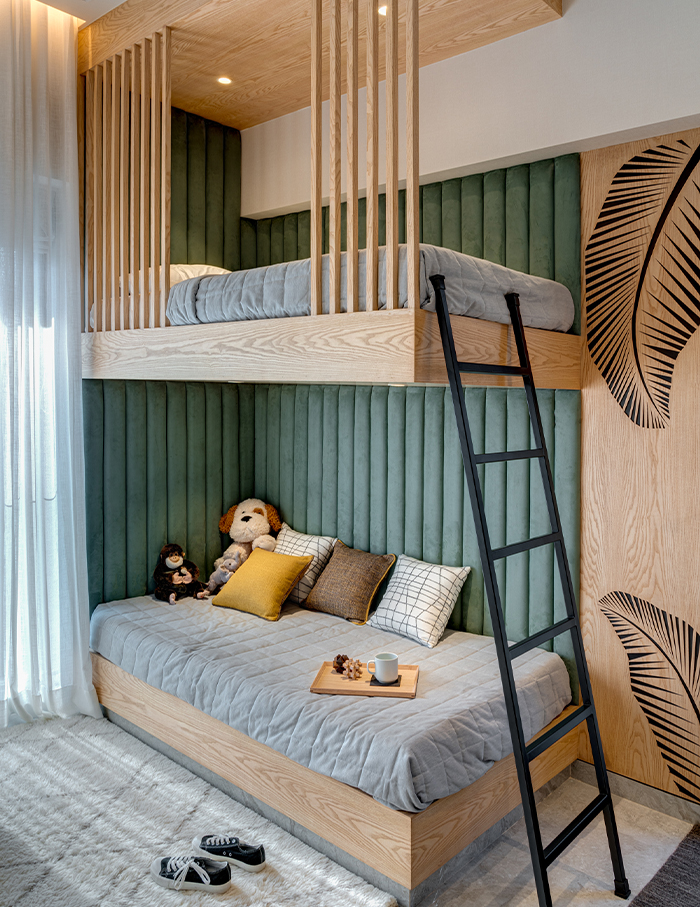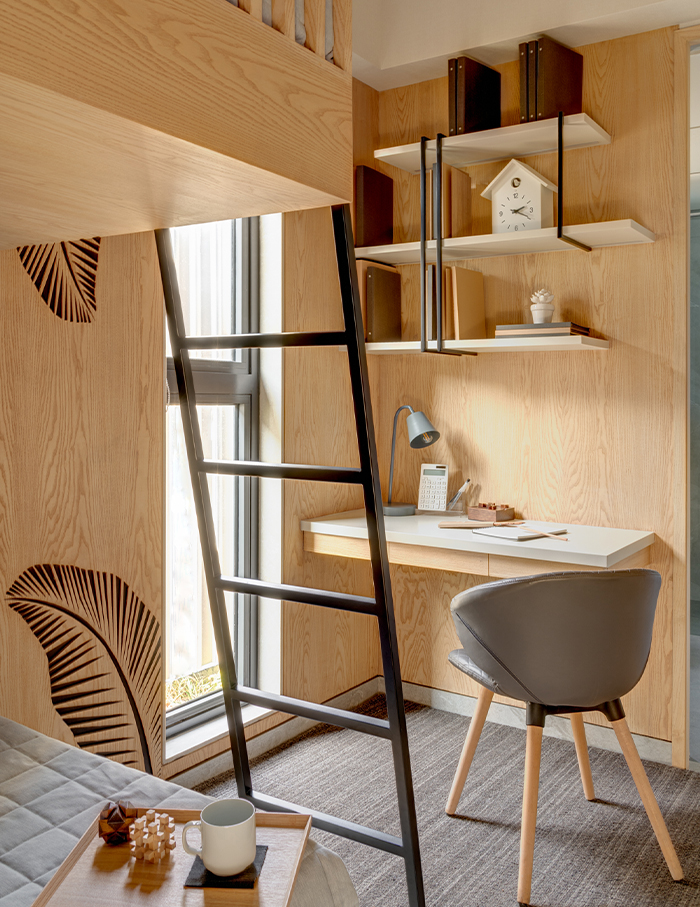 Whether it's for a toddler or a young child, crafting their bedrooms creatively and furnishing their own story will go a long way in their growth. Hold on to those cute moments you spend in their space and cherish the snuggles, these little munchkins won't be little forever.
You may also like: Bookmark these resorts in India that host adventures for your child and the child in you