Design
Food Fort(e) — Ekaa Restaurant in Mumbai blends minimal aesthetics with Chef Niyati Rao's inventiveness
MAR 9, 2022
| By Twinkle Tolani
Celebrating the nuances of Indian spices and sustenance, Ekaa Restaurant in Mumbai is centred around bringing out individuality of the recipes and ingredients. Ekaa that recently opened up in a quaint lane of Azad Maidan in South Mumbai is helmed by co-founder, Sagar Neve, and head chef and partner Niyati Rao who bring to their patrons an interpreted cuisine that intrigues with nostalgia. 
Sagar, a restaurateur for a decade, joined hands with Niyati, who has impressive cooking and curating experience in and out of the country. The latter was driven by her brief stint in Noma, Copenhagen and on returning to Mumbai, she wanted to use her insightful experience in a way that impacted the Indian culinary world.
Chef speaks
In her words, "This is an ode to my motherland. The chefs at Noma make optimum use of what is available to them and create magic. How they focus on a humble local ingredient and celebrate it to the best of its capability is a work of art itself. That is probably why the world respects them, because they respect what is around them first. Our country has so much to offer, and many indigenous ingredients and techniques remain untapped."
You may also like: 7 document worthy restaurants that promise great food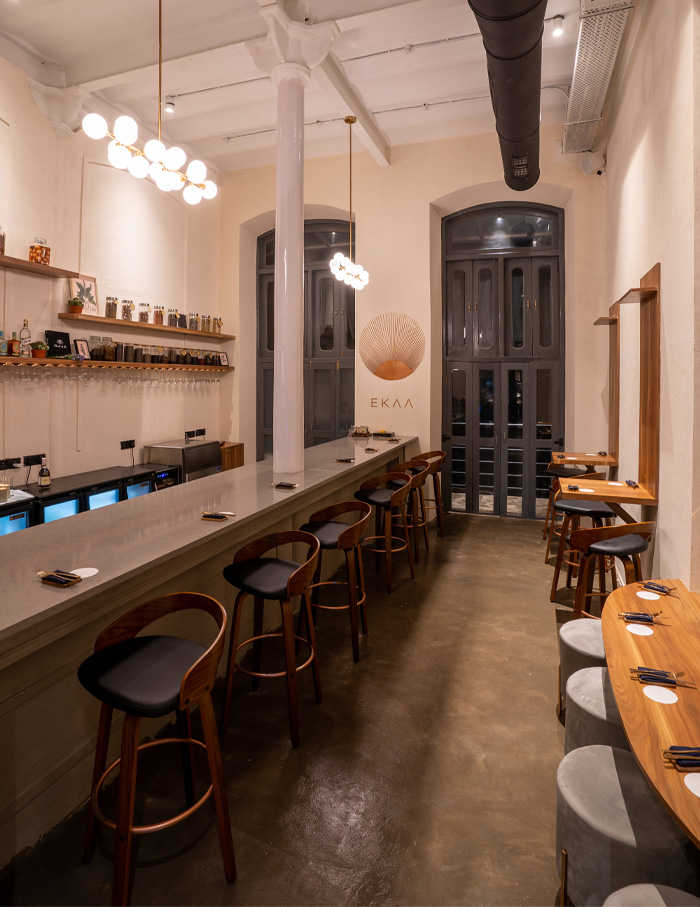 The menu at Ekaa: Spice and sustenance
The menu at Ekaa does not adhere to any particular cuisine. An interpreted menu, where the ingredients are protagonists, liberalises the chef's creative constraints and also aids in curating non-niche dishes that are as unique as the visitors. Three different experiential menus, namely a Tapas Menu paired with the Bar Menu, A la Carte menu and a 10-course Chef's Tasting Menu grant visitors the reign to steer their experience at Ekaa. 
 The Chef's Tasting Menu features fresh, fun, and inventive dishes. The A la Carte menu presents textures and combinations of flavours in a single offering, with variants for every palette, dietary requirement and food preference. The Tapas Bar inspired by Indian Ecosystems serves as a backdrop for relaxed settings.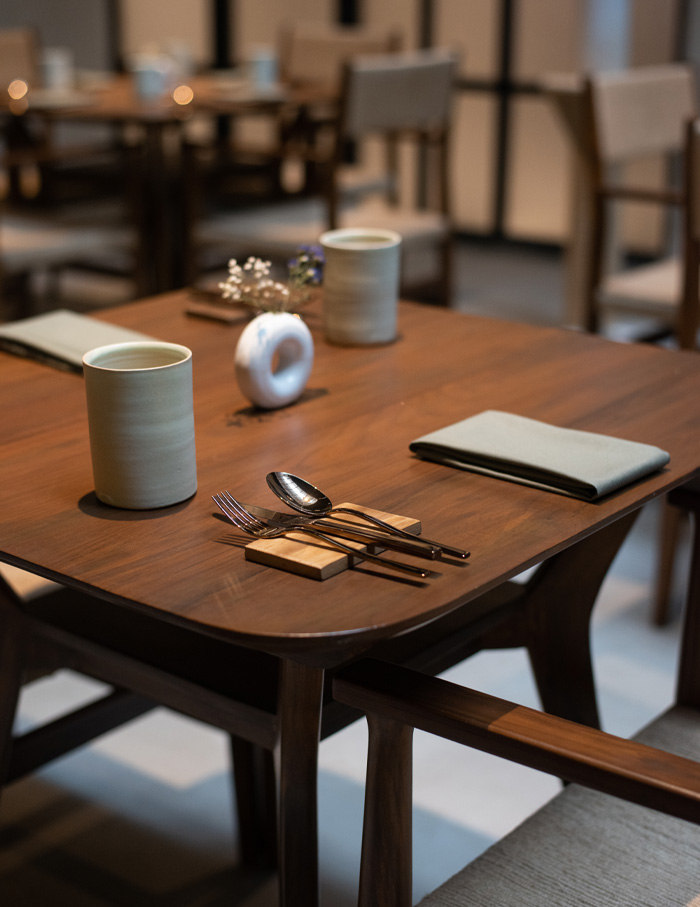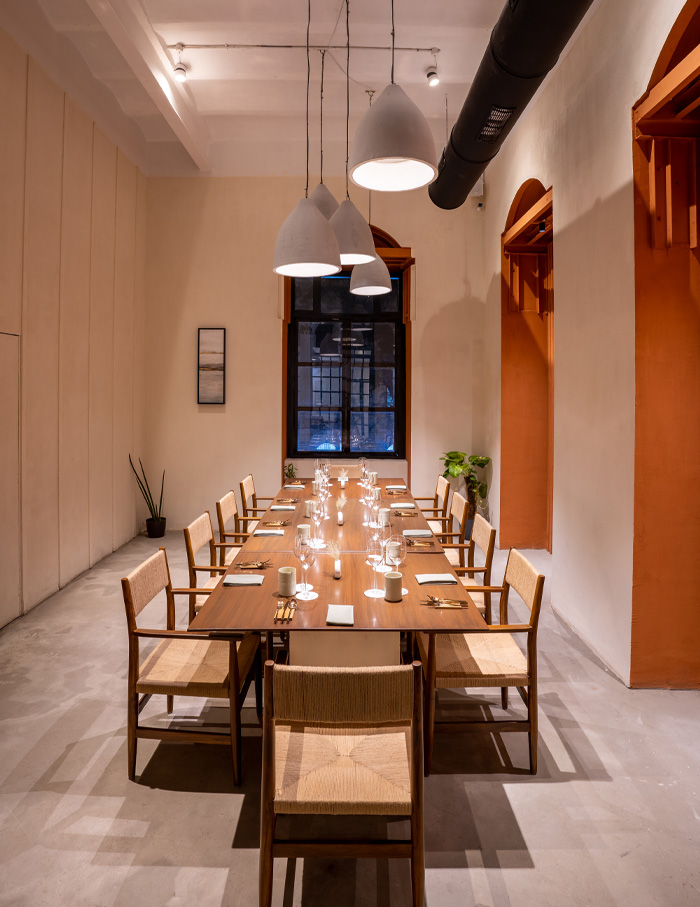 Designer speaks
Adopting the 'less is more' Japanese and Nordic style of architecture, a clean and minimalistic space that does not take the focus away from the food fuses with the context. By retaining 131-year-old architectural characteristics, the natural charm of Kitab Mahal (est. 1890) stays intact. Creamy ceramics and wall installations compliment the earthy tones of handmade wooden furniture and moulded lamps crafted by local artisans.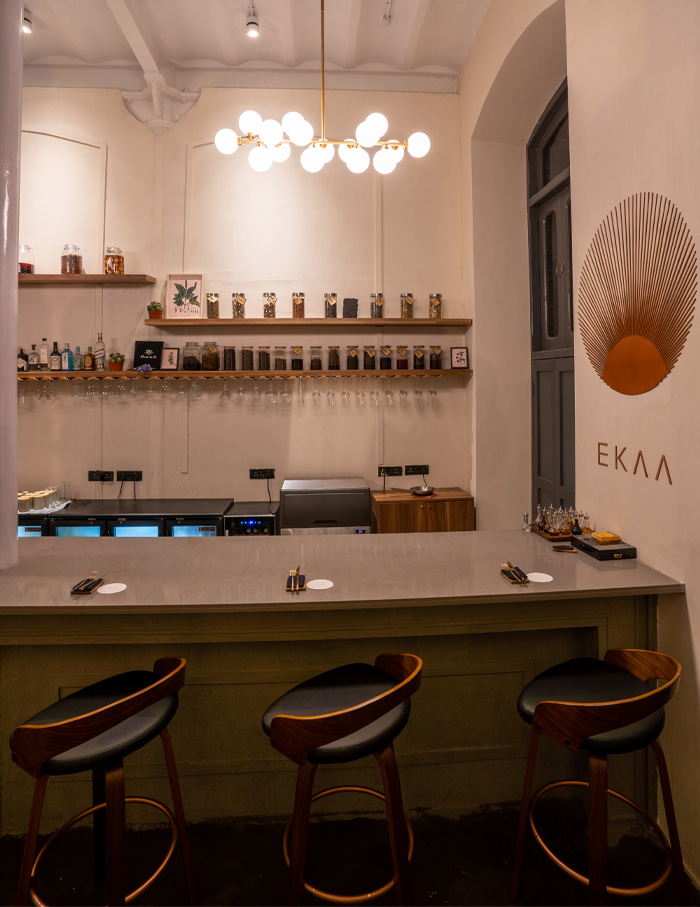 Ekaa has an open kitchen space that lets guests walk in and interact with chefs. The Tapas and Bar area has an intimate setting that catalyses unwinding. The restaurant also has a private dining room for people who like a private dining affair and exclusively curated experiences for an occasion.
If this celebration of Indian spices and sustenance appeals to you, you may also like Foo Bandra for your Asian cuisine cravings