Design
Cook up a vibrant visual story inspired by our edit of contemporary and colourful kitchens
JUN 6, 2022
| By Shriya Goyal and Rhea Sinha
Seasoned with love, the fondest memories made in a family are often the ones that were made gathered around the kitchen counter. It is befittingly said that there is no end to imagination when it comes to the kitchen, whether it's bellying up with delectable concoctions or putting together creative kitchen designs.   
Keep up with topical trends and satisfy your appetite for colours in your culinary zone with punchy hues and zesty vibes. Uplift the motley mood of your cookery with a bright balance of tints, inspired by Elle Decor India's edit of customised contemporary and colourful kitchens.
You may also like: Best cafes in India that serve aesthetics, fresh brews and delish bites
Red and blue palette by Baldiwala Edge in Mumbai
Manifesting a 1980's moodboard of vintage tints and textures is this kitchen in a Mumbai home by Ali Baldiwala of Baldiwala Edge. Sparking curiosity with what's old as new again, the prismatic pantry imbues a colourful representation of the Memphis design movement through its blue and red palette. Bringing a pop of black and white with terrazzo vitrified tiles from Caesar, the open pantry reflects the visual vocabulary of the home.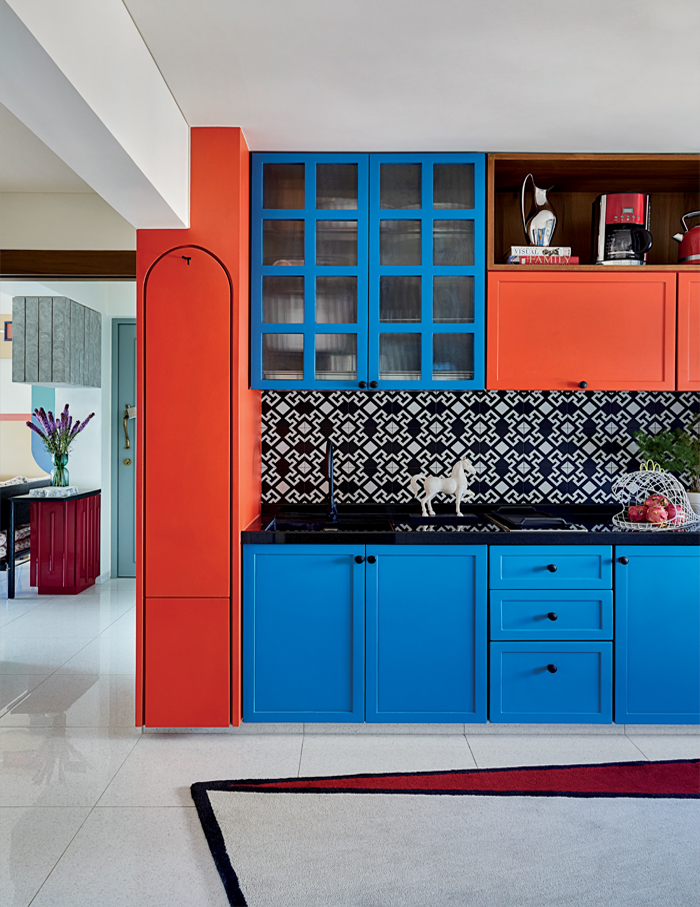 Pastel pink sheath by Sona Reddy Studio in Hyderabad
Unfurling an unconventional story of maximalist design, Sona Reddy of Sona Reddy Studio narrates a theatrical tale in this Hyderabad Banjara Hills home's peppy kitchen. Reflecting hints of a retro semblance, a blue arched door marks the entrance of the kitchen and portrays the homeowner's penchant for hues. Sheathed in pastel pink shades with a striped skittish ceiling and classic chequered harlequin flooring, the eclectic space christened 'The Circus' is laced with Parisian influences and elements of geometric design.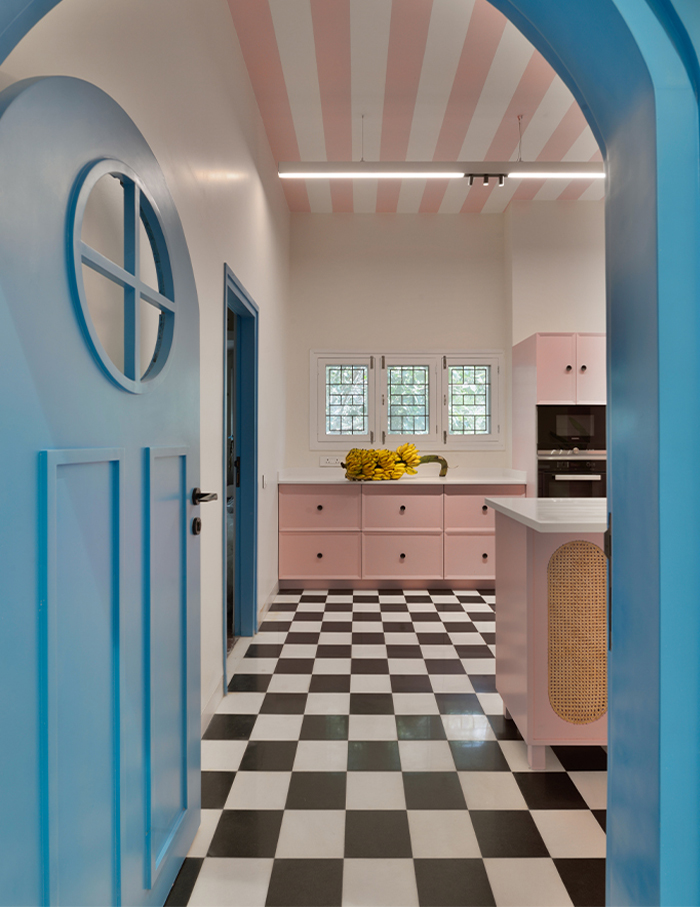 Canvas in pastel blue from By The Riverside in Bengaluru
Embodying a Mediterranean theme whilst welding the worlds of elegance, fun and functionality, is this kitchen in a Bengaluru home by Swati Seraan of By The Riverside. Transforming a basic kitchen into a state of art space for the homeowner, a passionate baker, a soft colour palette with pastel tones lends a chic and suave appeal. Enhanced by pastel blue cabinets with window grill detailing and Jodhpuri yellow handles, along with dusty grey backsplash and flooring, the elongated kitchen is swathed in natural light.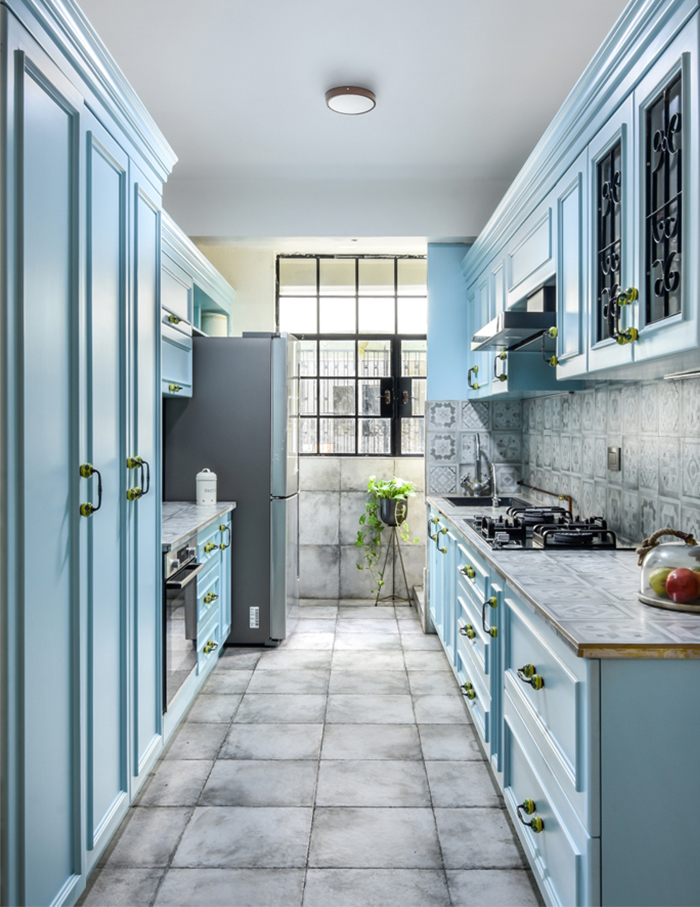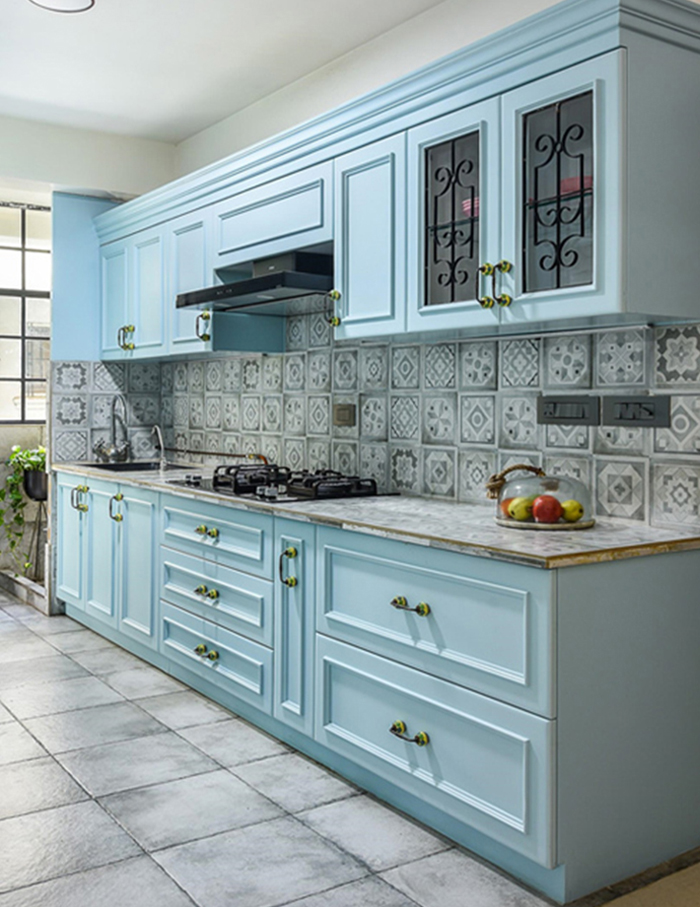 Black-white minimalism by GA Design in Mumbai
Combining practicality with style, this compact kitchen in a Mumbai home designed by Shami Goregaoker of GA Design reflects the colour scheme and minimal decor of the residence. Painted white with shades of grey and taupe, the space is permeated with ample natural light. Overhead shutters with milky white back-painted glass, white quartz countertop, matte english grey laminate shutters below the counter and a backsplash of dado tiles in black geometric pattern on a white base paired with wooden flooring shapes the sleek kitchen.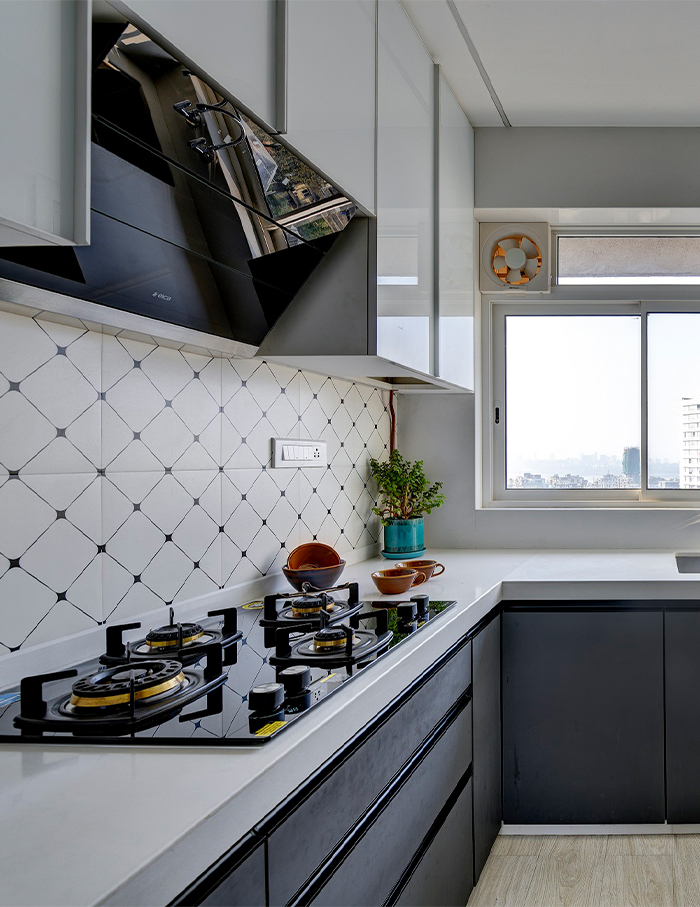 Rustic blueprint by Weespaces in Hyderabad
Boasting an allure of blues in its kitchen blueprint, is this industrial-chic Hyderabad apartment by Vinithra Amarnathan of Weespaces. Wrapped in deep teal with blue and white tiles, the open plan of the kitchen follows the rustic and textured aesthetic of the home. Accentuating the exposed concept further is a large open counter with vintage barber stools and antique brass pendants facing the brick-lined wall.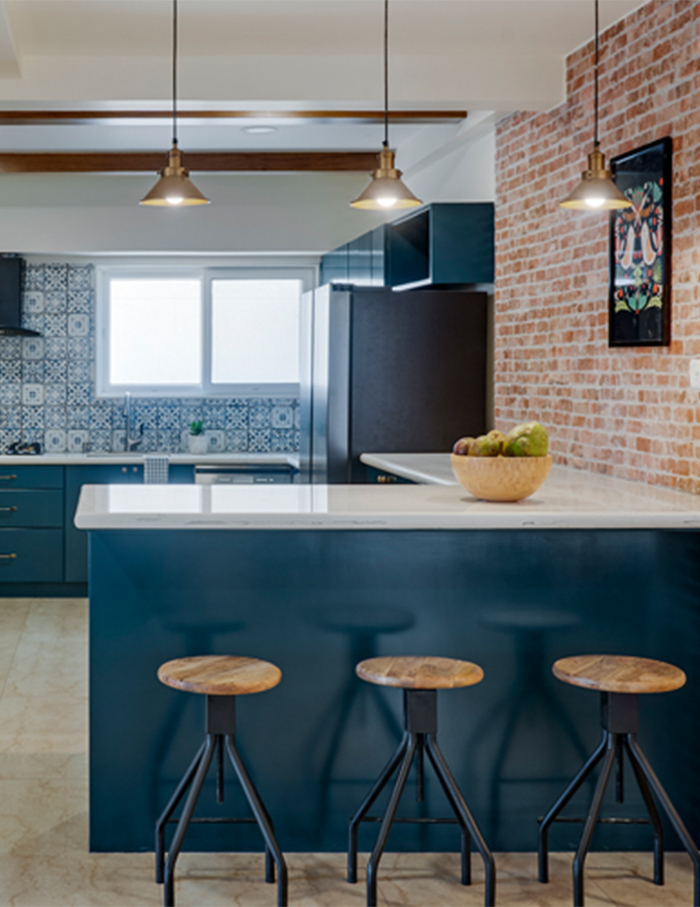 Play of green hues and pink splashes by Tejas Patel Associates in Vadodara
Delicate simplicity with an emphasis on colour play, is this open-kitchen in Vadodara home by Tejas Patel and Nidhi Shastri of Tejas Patel Associates. A pastel green hue dominates the kitchen with a splash of pink to create a sense of serenity yet bring in a quirky edge to the spaces. Illustrating a contemporary character, wooden accents and customised geometric flooring tiles highlight and harmonise with the ambience of the home.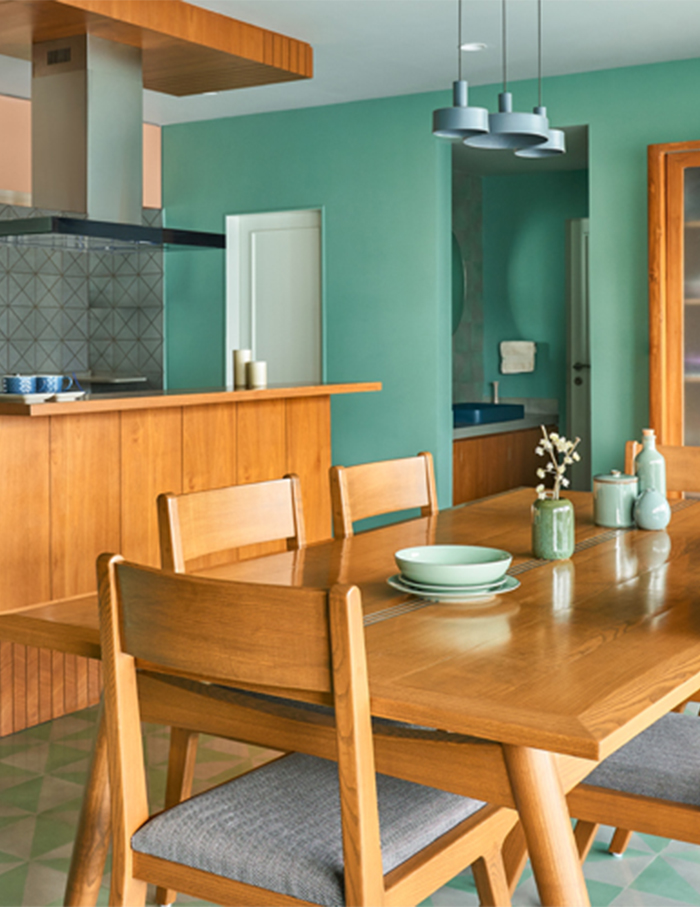 Emerald green and grey mood board by Palindrome Spaces in Mumbai
Modelled meticulously for a millennial couple who loves to host, this kitchen-dining-bar section by Nayan Shah of Palindrome Spaces is the star of this Mumbai home's show. Donning an open-kitchen layout, this sleek space seamlessly blends into the lounge. Overhead cabinets, blending in with grey walls remain a neutral backdrop to the other elements of the kitchen. A match made in heaven with a waterstone granite and mother of pearl countertops, brass handles, and custom emerald green cabinetry; the kitchen's mood board is complete with tones and textures reflecting the couple's love for vintage and chic elements.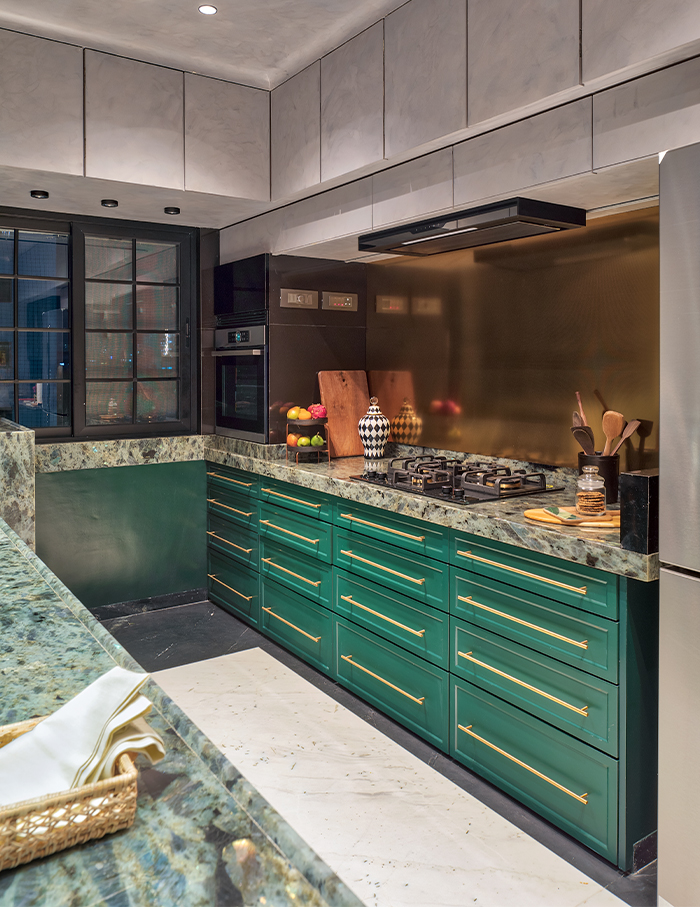 Pale blue and grey cookery by Hrishikesh More Architects in Mumbai
Hrishikesh More of Hrishikesh More Architects puts together an efficient yet elegant cooking space in this Mumbai kitchen with a parallel platform setup and plenty of area for movement. Coated in pale blue and grey coloured tones, the space consists of handcrafted teak wood furniture unifying the space and rendering a spacious appeal. With a touch of mid-century modern style, the kitchen is separated by a fluted glass wood framed sliding door. A tall unit houses the washing machine along with other built-in appliances seamlessly with the aesthetics.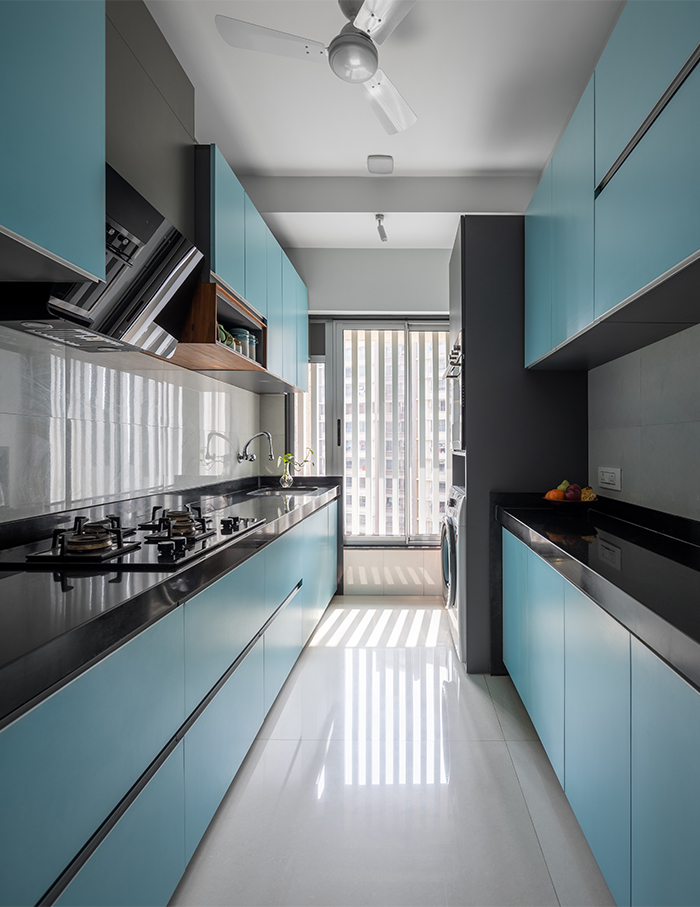 Deep blue and white contrasts by 5ft Apart in Bengaluru
Breaking away from the monotony of monochromatic tones, this kitchen for a baker in Yelahanka, Bengaluru by Taarini Jouhari of 5ft Apart is a bright playful space. With a contrast of colours, the lower cabinets were painted in a deep shade of blue with white cabinets overhead  and a clean herringbone white subway tile in the middle. A pop of prints marks the space with the patterned flooring tiles.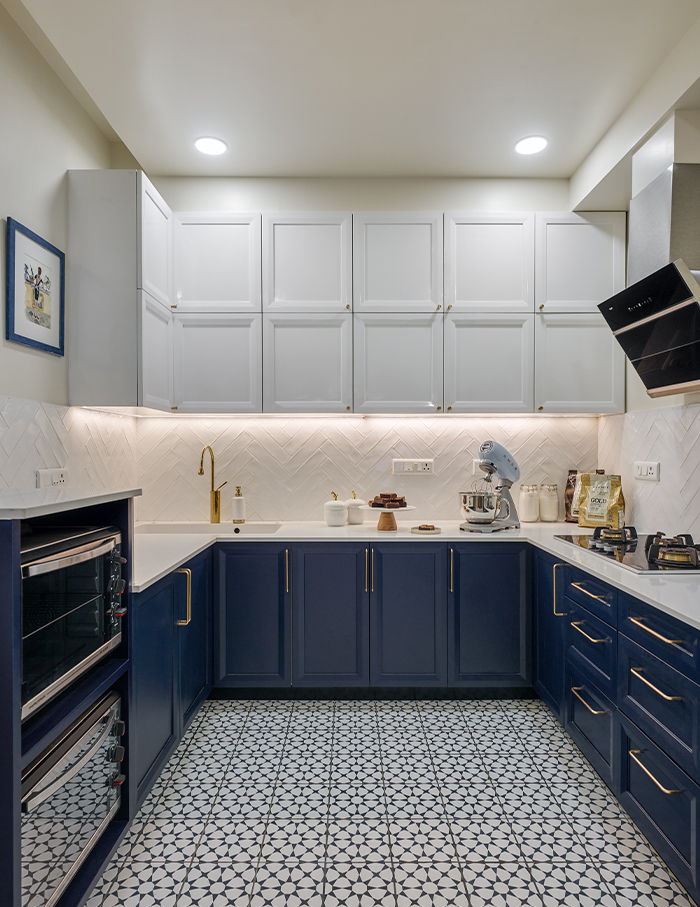 Ripple of egg blue by Plavi Design Studio in Bengaluru
A bold ripple of a vibrant robin egg blue colour takes over the open kitchen's expanse in The Modern Hue Home, Bengaluru by Plavita Borah of Plavi Design Studio. The L-configuration kitchen is further pronounced with the inclusion of a peninsula breakfast counter crowned by an overhead pendant light. The shaker style PU-painted cabinetry with brass hardware has been topped off with Kalinga Silver Grey Quartz stone. The backsplash has been embellished with chequered harlequin pattern-inspired tiles, underscoring an artisanal influence and visual dynamism.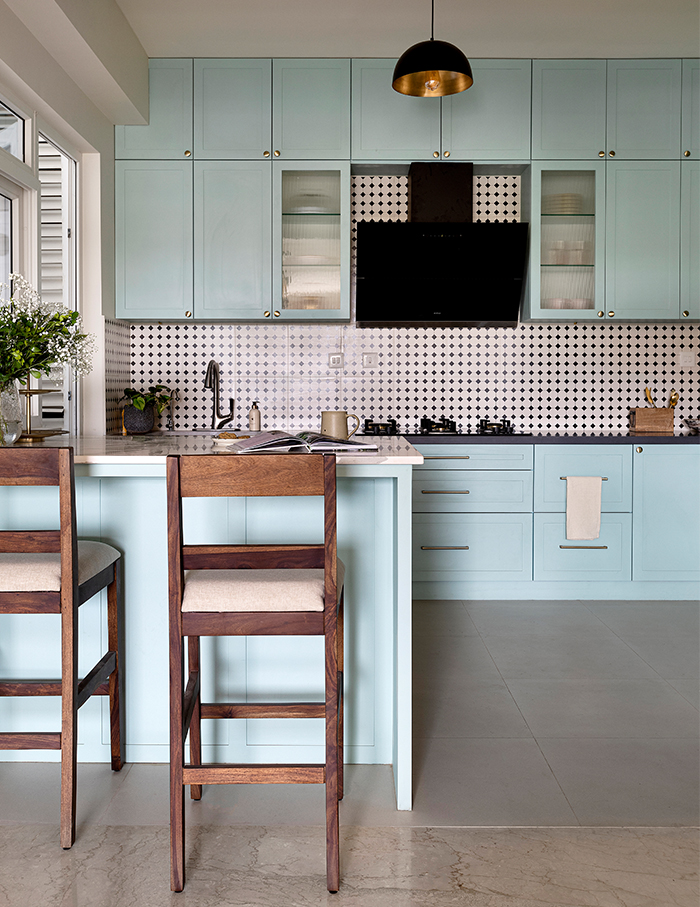 Nude colour palette by IKS Architects in Rajkot
A gentle, soothing and subtle decor furnishes this kitchen in Rajkot by Ishita Shah and Kushal Shah of IKS Architects. With glossy below platform shutters, a statuario platform and grey Italian flooring, the modular kitchen is swathed in a nude colour palette. A breakfast counter with two bar chairs and hanging lights add to the kitchen appeal from the living room.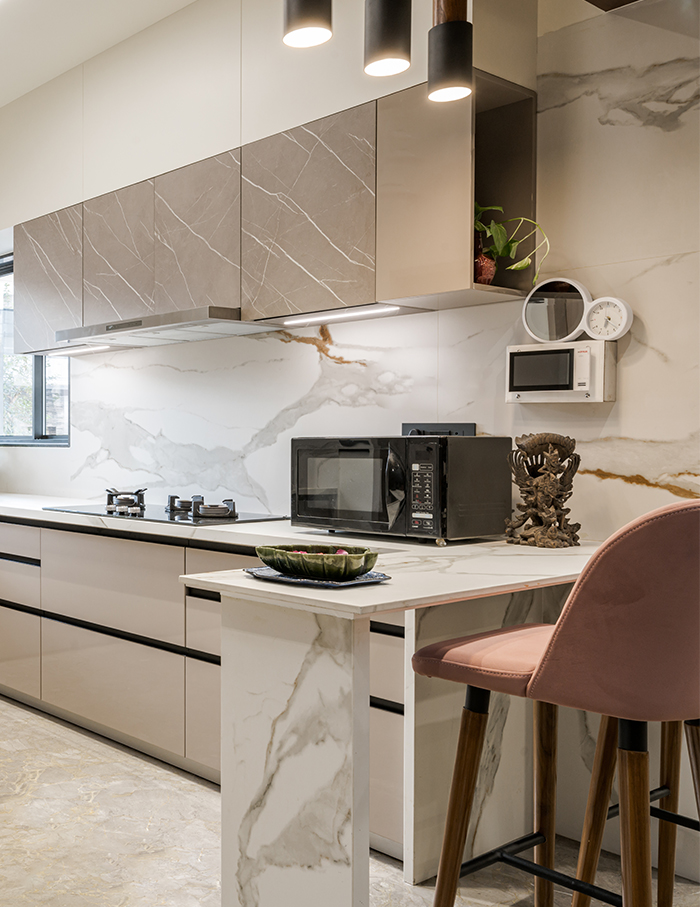 Warm minty inspiration by Houseof9Design in Bengaluru
Reaping umpteen inspiration from the apartment's old Bengaluru verdure, this kitchen by Nain Belliappa of Houseof9Design injects a vivacious hue into the neutral milieu. Posing as a backdrop to the dining area, a warm minty hue washes over the PU- painted cabinetry, rendering the space with an exalted impression. Participating in textural play with terrazzo flooring, stone countertops, brass handles and glazed tiles, the space commands attention.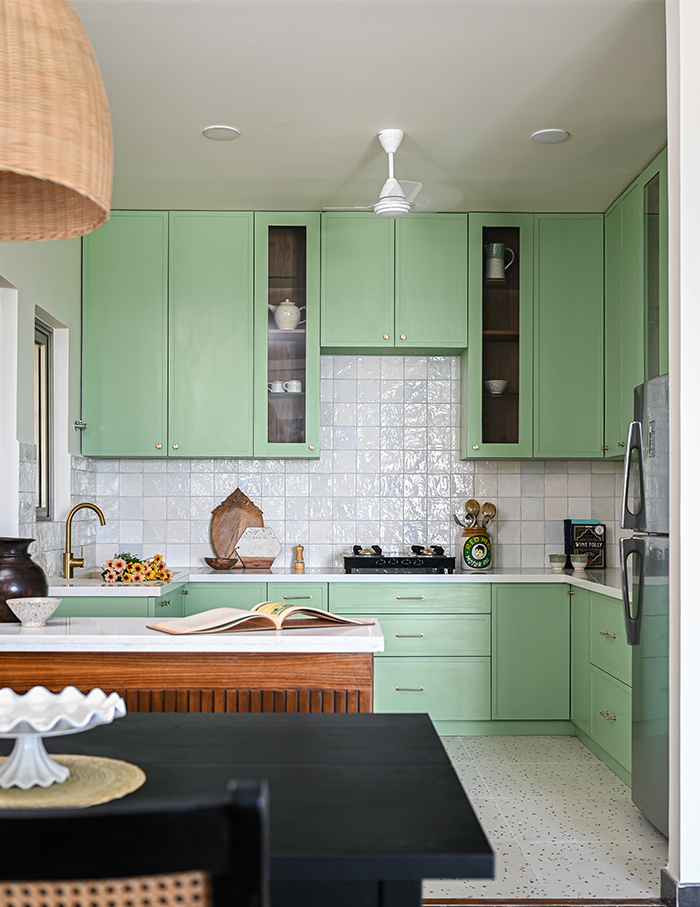 If you loved our curation of colourful kitchens in India, Check out: New cool stores in India for your shopping sprees and store inspirations