Design
Step into our edit of new cool stores in India for your shopping sprees and store inspirations
APR 5, 2022
| By Shriya Goyal
As an avid believer of retail therapy, we are convinced that shopping brings ultimate joy and delight. The first few seconds a shopper lays eyes on a store decides if they will be interested to dive in or walk away without a second thought. Structure and environment of a shop plays an important role in influencing customers to make the decision of shopping. New cool stores in India with aesthetically pleasing designs are certain to make people stop and shop.
Elle Decor brings to you an edit of new cool stores in India that manifests the brand identity creatively with strategic displays, optimal layout and tactical lighting detail for your shopping sprees and store inspirations.
You may also like: A minimal marble medley in monochrome at The Slate Store, Bangalore
Good Earth apparel floor, Mumbai
Designed and conceptualised by Shani Himanshu of 11.11/eleven eleven and Celldsgn and Milan-based Conzatti Solanki Architects, Good Earth apparel floor incorporates a series of clusters representing each individual designer, coming together as one cohesive whole. The design sustains the building's original features — natural daylight, airy volume, industrial concrete and stone floors. 
Moulded and shaped into rails reminiscent of ribbons, brass contrasts against delicate fabric chandeliers, rustic flooring, and screens of natural cotton, hand-printed by local artisans. The ageing of brass over time mirrors qualities of longevity and endurance inherent to Good Earth's apparel curation. The apparel floor represents dynamism and fluidity. Garments hang on an incline, individual designer areas are circular, and the movement from one to another is intuitive and fluid. With its own presence, each product seamlessly fits in as part of a larger universe in this apparel floor.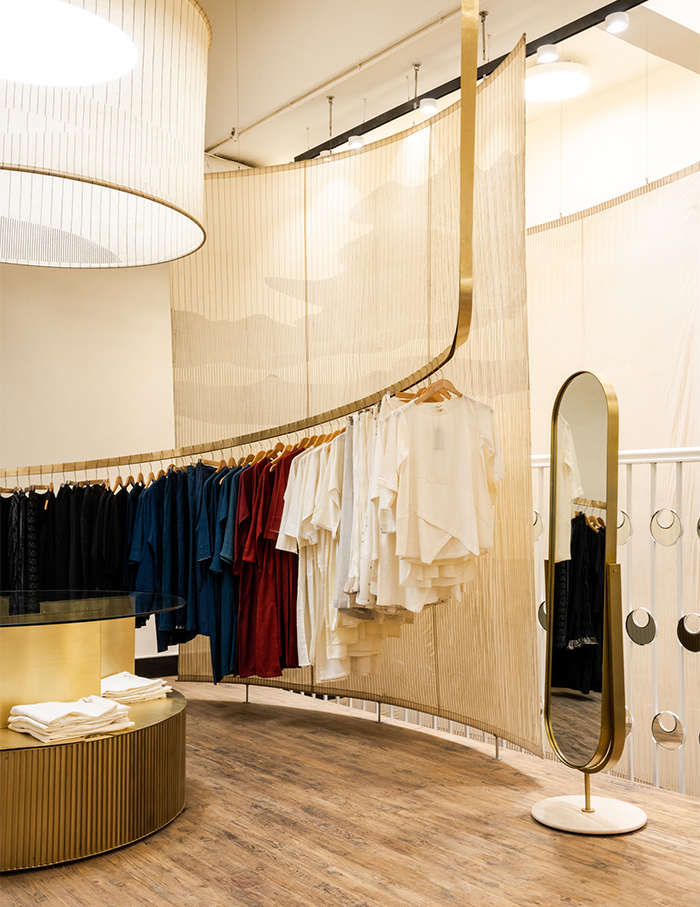 Kimora, Surat
Kimora, a traditional wear fashion house in Surat merges the chaos of shopping with the serenity of nature. Dipesh Kheni of Design Ritmo crafts a canvas of subtle colours with ease of display. With a play of textures on walls, the space features corrugated sheets, planters and rough finishes. The lighting design has been indigenously created to obtain precise directional light on the products. Design minimalism highlights Kimora's vivid collection of apparels with the focus on distinct materials and ambient lighting.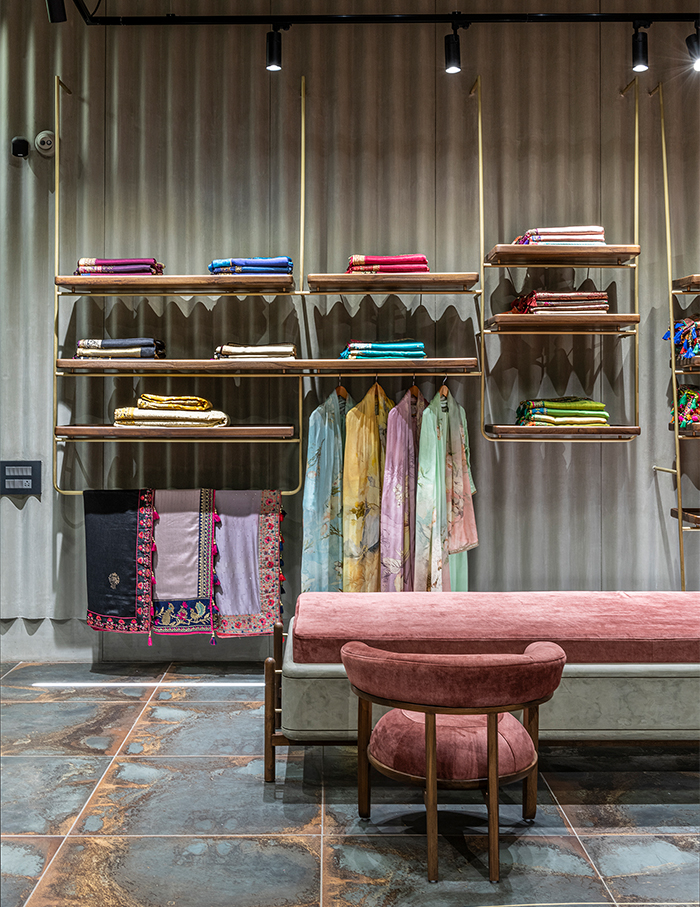 SHIVAN & NARRESH, Mumbai
Uniting elements of discovery interspersed with notable influences of Art Deco and contemporary design, the holiday wear brand SHIVAN & NARRESH reinforces historical relevance through restoration of an iconic 1940's Deco building in Kala Ghoda, Mumbai. Flushed with pastel pink and warm white flutes, the store brings to life the concept of 'Art of Holidays' entwined with intricate layers of urban elegance and sophisticated lifestyle. 
Sleek geometric and stylized forms display bold lines alongside the chic marble inlay flooring that compliment the fluid tropical space. Deep elliptical arches forge opulence while the graphic staircase spreads into a vintage L-shaped mezzanine housing celebration and couture styles. The store exhibits a wide array of clothing and accessories synonymous with five distinct holiday lifestyles – swim, resort, cruise, safari & ski through a potpourri of powerful prints and silhouettes that seamlessly capture the onset of escapism for the tropical city.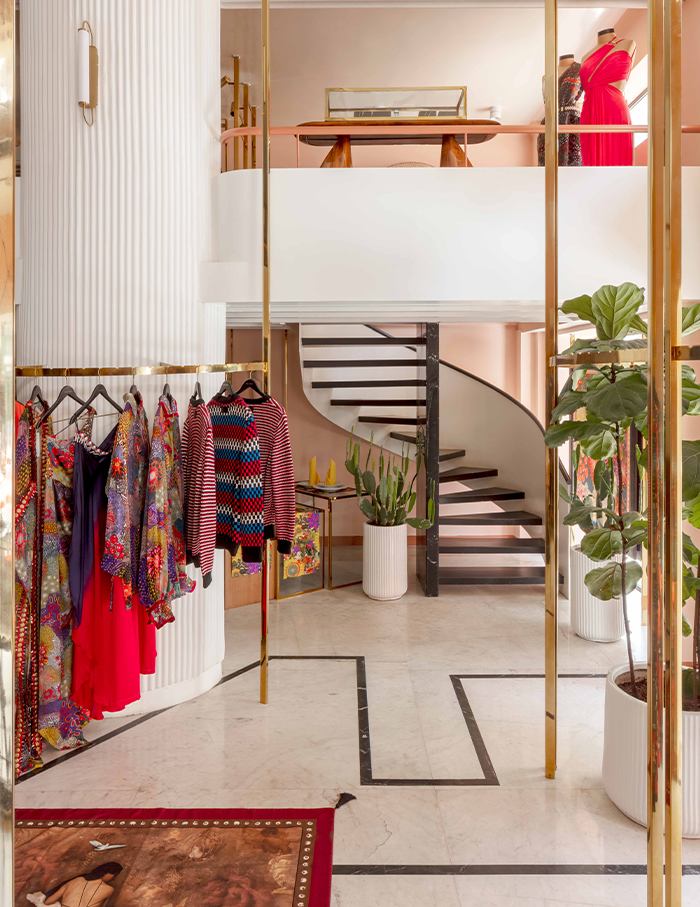 Shankh Couture, Surat
Designed by Mitesh Champaneria & Jaba Champaneria of Kuryaat Spaces and Art, Shankh Couture is a designing studio that caters to the bride and groom's wedding day ensemble. Made of lime plaster and terrazzo, the store is an amalgamation of traditional partitions with a modern art sprinkle. Each furniture piece of the couture is made from teak wood and brass to accentuate the design. The colour of the lime plaster is dyed in shades which allows the outfits to highlight themselves. This 600 sq. ft. land witnesses tears of joy and the happiness one feels when their dream outfit comes out right.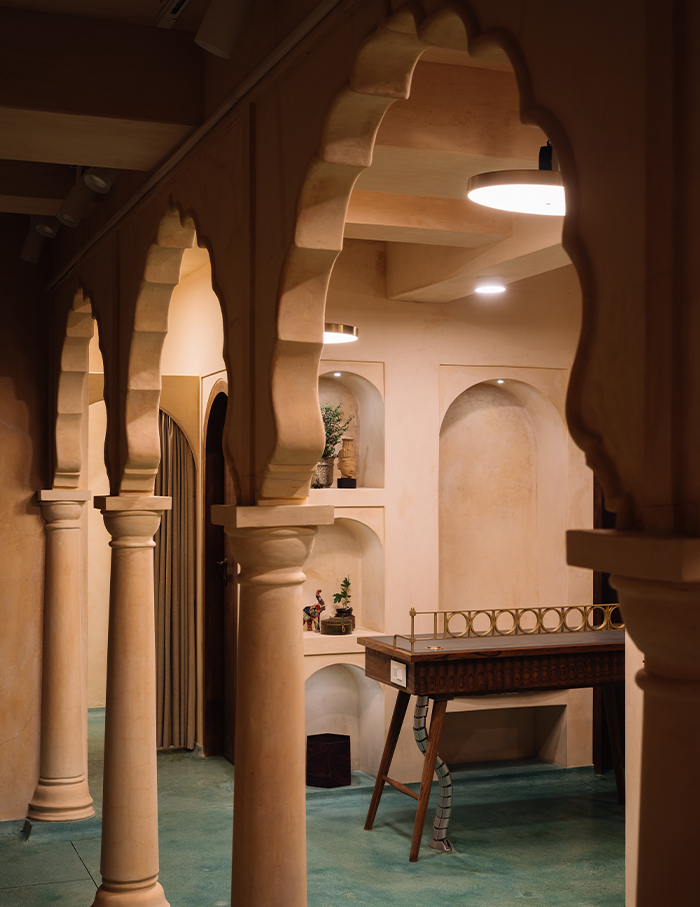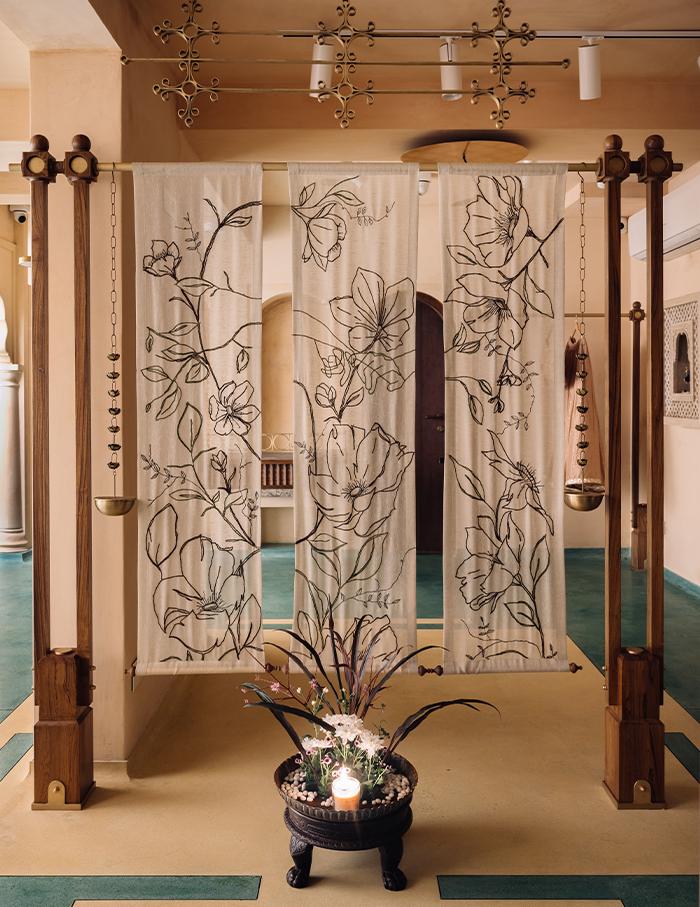 Bulgari store, New Delhi
Speaking of the brand's affinity to its Roman and Grecian roots, the Bulgari store facade features a black Grand Antique marble portal, used in contrast with white Travertino Navona round columns at the entrance. Following the concept and artistic direction of the celebrated American architect Peter Marino, different furniture pieces such as the Mangiarotti table, Oswaldo Borsani sofas, complete the store's seamless blending of classic and contemporary. The brand DNA is further brought to life with artworks by Andy Warhol. This redesigned Bulgari store is truly an escape — a space to indulge in all things luxurious.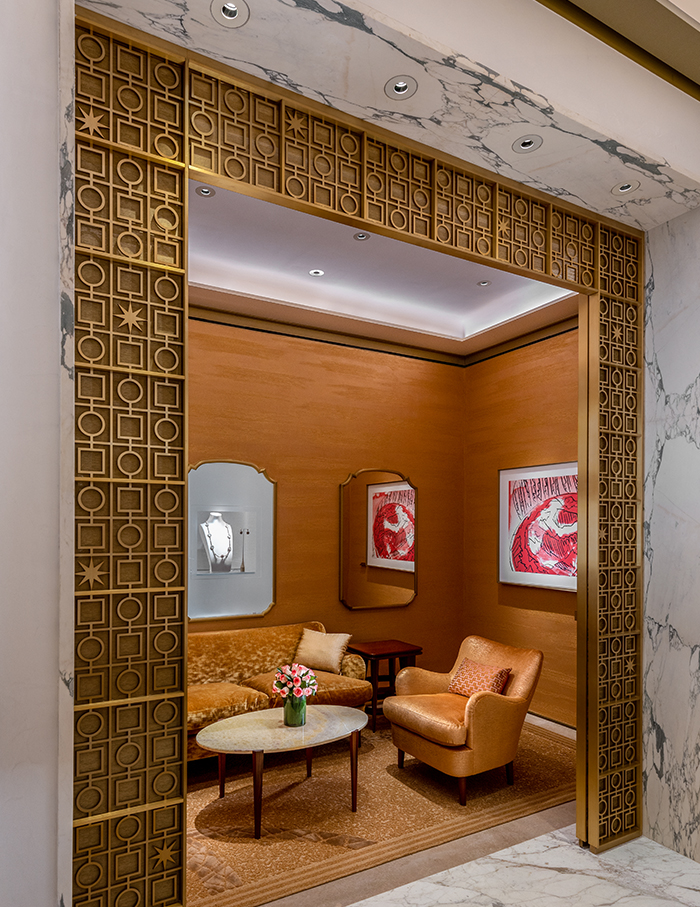 Zavaana – "The silhouette", Mumbai
The 650 sq ft fashion boutique Zavaana is a concoction of local and exquisite elements and monochrome earthy palette which brings the essence of the brand and its purpose. Bricks, raw wood handle, customised metal and thread chandelier display the authenticity of the brand. Designers Mukti Rathi and Nidhi Chaudhary of Studio Muktinidhi blend a combination of interiors with the character of the designer, her exquisite approach and thoughts that allow one to experience the creativity and ethos of the clothes on display.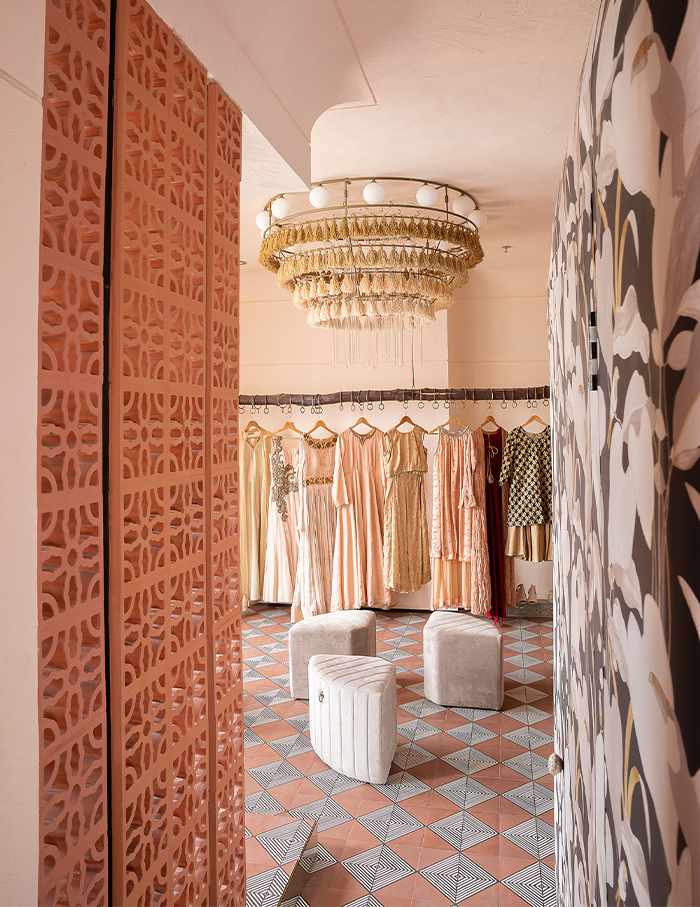 Soulspace, Bangalore
Engulfed in the colour salmon, with soft arches, delicate brass accents and repetitive linear mouldings is this bed & bath linen store on MG Road, Bangalore. Designed by Akshita Mehra, Principal Designer at Studio Goya, Soulspace flaunts a clean minimalist aesthetic. Merging different zones together with curvilinear forms, the space features plain finishes and linear fluted textures that modulate the quality of light and impart depth.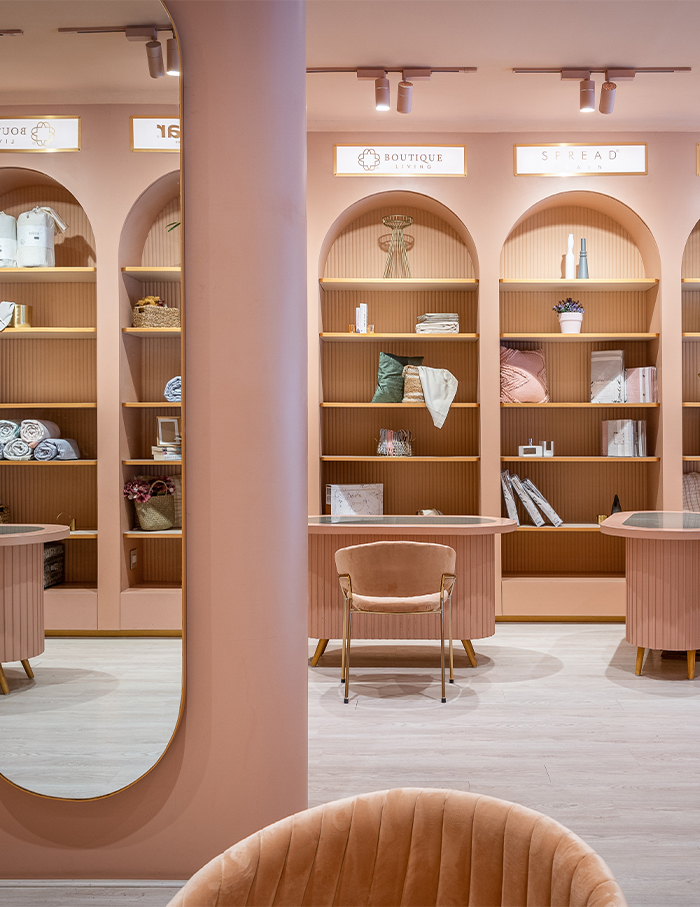 Outhouse, Mumbai
Monolithic forms with delicate designs, the Outhouse flagship store in Mumbai integrates the idea of casting and carving, similar to their pieces of jewelleries. Organic forms, minimal undertones and clean modernism combine with free-flowing idyllic islands to narrate the beauty of Cyclades. Vritima Wadhwa of Project 810 accentuates this jewellery store by Kaabia Grewal and Sasha Grewal with salmon pink terrazzo flooring, striking art deco mirrors and subtle hues of warm white in earthy minimalism.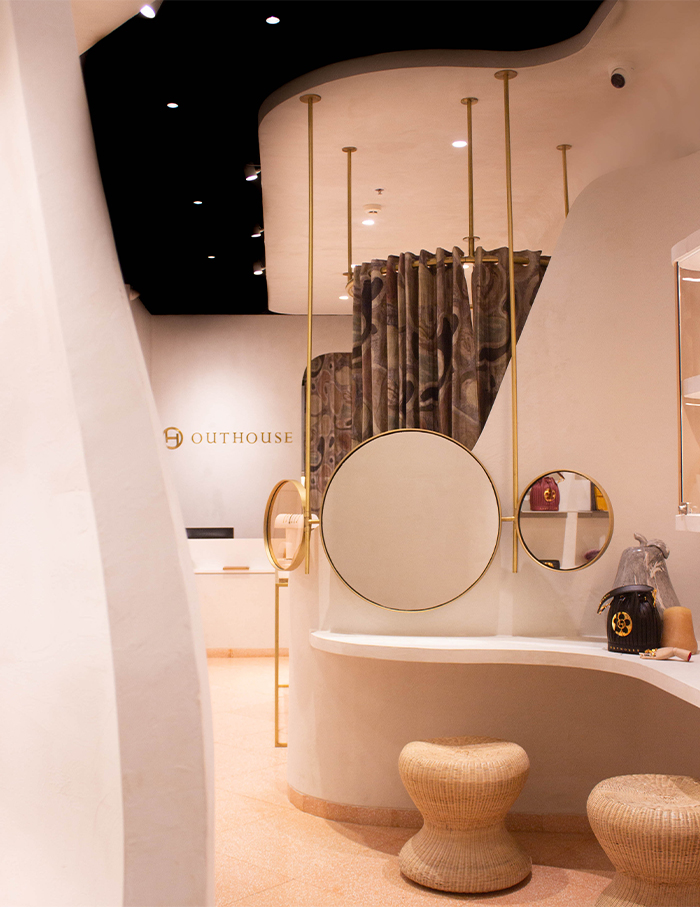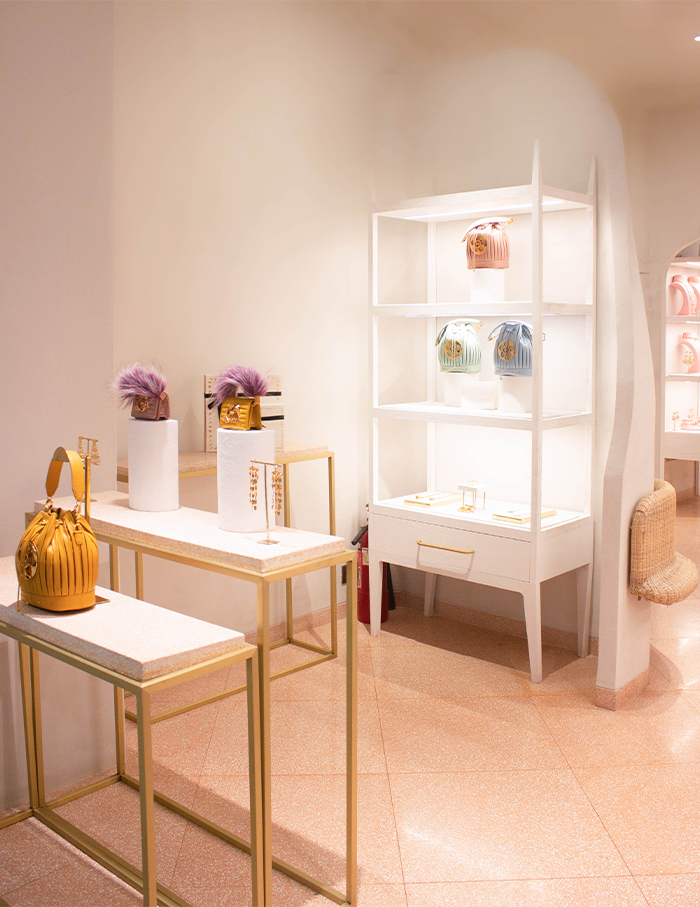 Cultivo, Aurangabad
A hydroponic store in Aurangabad, Cultivo is a compact 615 sq ft green grocery shop designed by Sheetal Patel of Studio noya. Spruced up in a colour theme of dandelion yellow and Amsterdam green and an open-layout dominated by french windows, the design blends the ambience of a quaint European cafe with the vibe of a farmer's market. With the use of metal partitions, potted and ceiling plants, wooden accents and socialising nooks, the premise promotes a holistic lifestyle.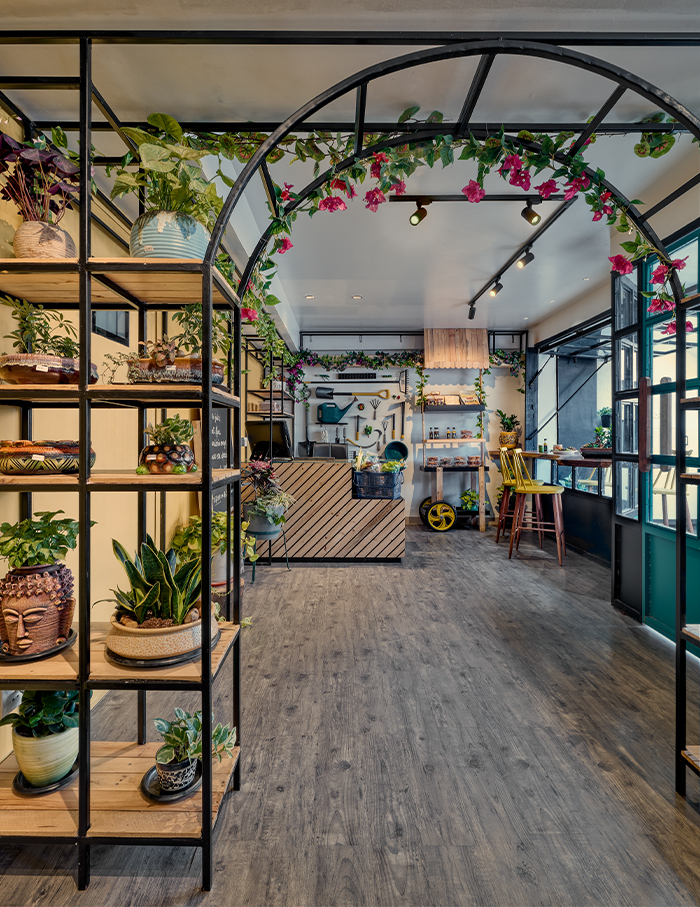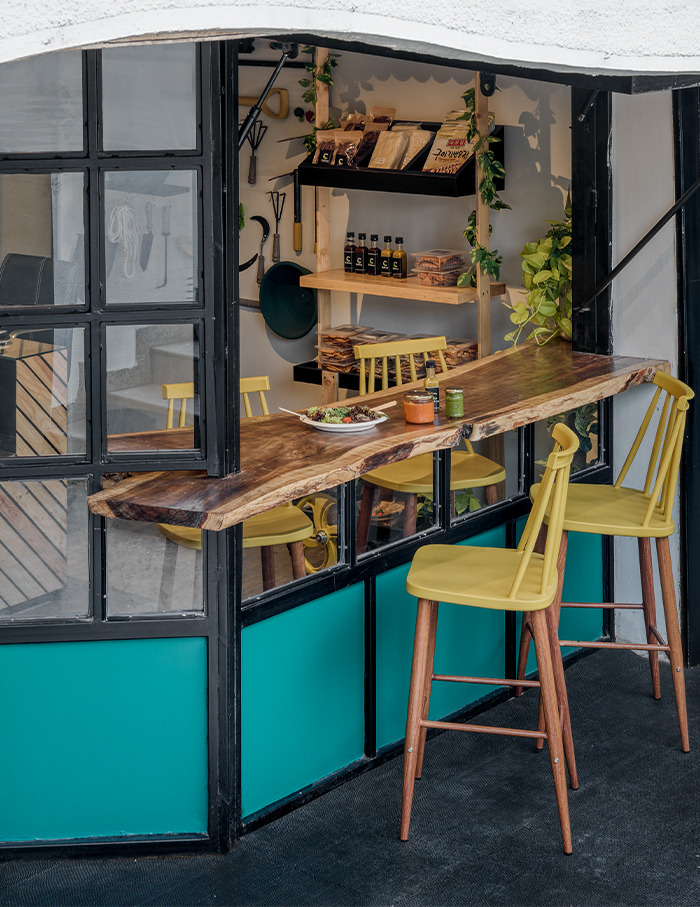 The Anushree Reddy Store, Hyderabad 
A saga of colour, texture and sensorial design, this luxury couture store is a penchant for detail, heritage and modern undertones. Monotone employment of colour reigns the interior spaces of The Anushree Reddy Store, wherein hues and textures make a debut through Indian materiality—locally sourced stone flooring, stained natural wood, and a peppering of earthy artefacts. Sona Reddy of Sona Reddy Studio pieces together all the segments of the layout in a sense of continuity.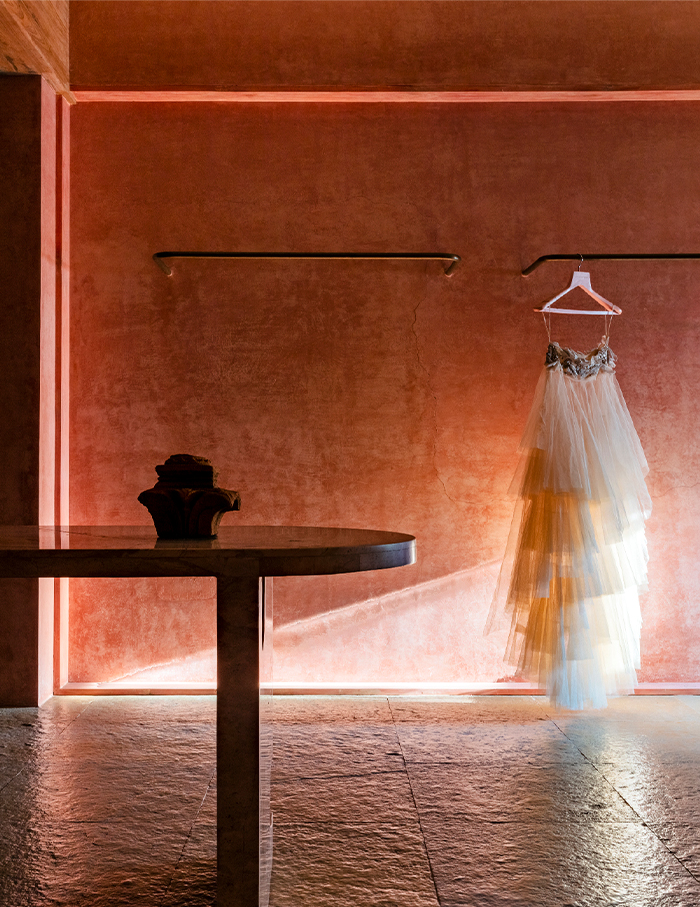 The White Teak Company, Bangalore
A retail space for lighting and home decor in Bangalore, this store for The White Teak Company represents curves through arches and lines through planes in an attempt to incorporate geometries. With display panels and arched niches, the number of lights visible at once is controlled. Gaurav Sareen, Principal Architect of Choreography of Spaces furnishes the space in a plain and textured grey colour palette, wooden floor, golden metal frames and subtle inserts of green and pink.
Pinklay, Bangalore
A collective of 7 distinct rooms that come together as one, the Pinklay store designed by Divya Devatha, Raajan Sharma, and Soundarya Madhav is an exploratory and transitional journey through the spaces. Finding its roots in Rajasthan, colour and block-prints are the core of their collection, be it clothing or home decor. Keeping true to the brand's casual vibe, the store features 3 dozen arches, ivory walls, pebbles, kota stone, wood, intricate murals, mirrors and a hint of jewel tones rendering the whole space in a beautiful laid-back vibe.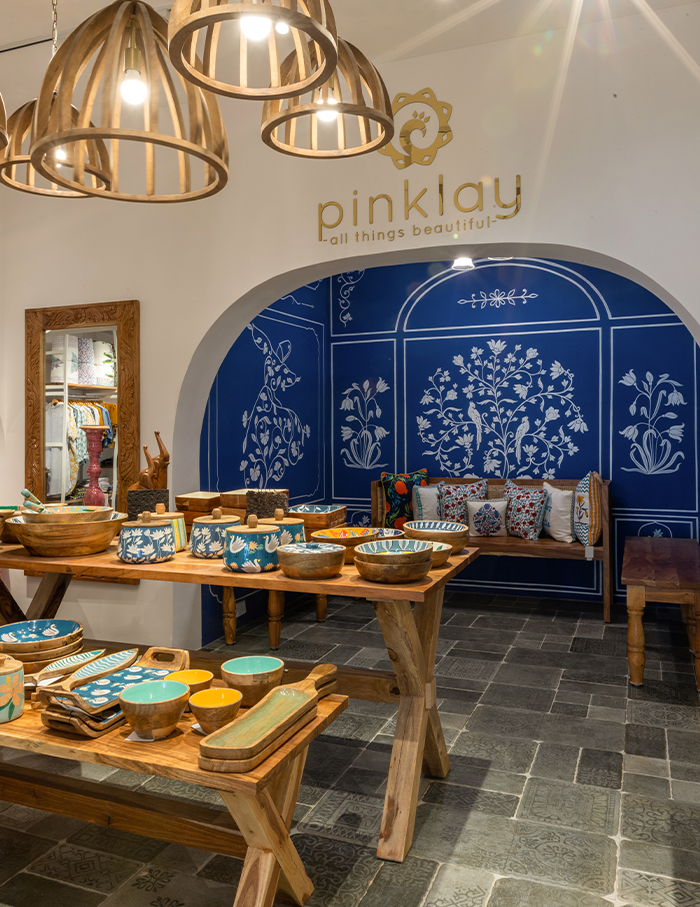 If you loved our curation of new cool stores in India, Check out: ED's curated list of shops and salons to spruce up your business venues