Design
#EDPicks 5 shops to visit post lockdown
JUN 19, 2021
| By Urvika Barua
Celebrating the lockdown being lifted and our lives getting back on track, ED picks shops that you must definitely visit once circumstances normalise. From decor stores to retail outlets specialising in bespoke jewellery to stunning salons, there's something for the connoisseur and shopaholic alike!
Pink Curves by Dinkle Sonegara of Studio 23.eight and Surbhi Bansal of Project 1505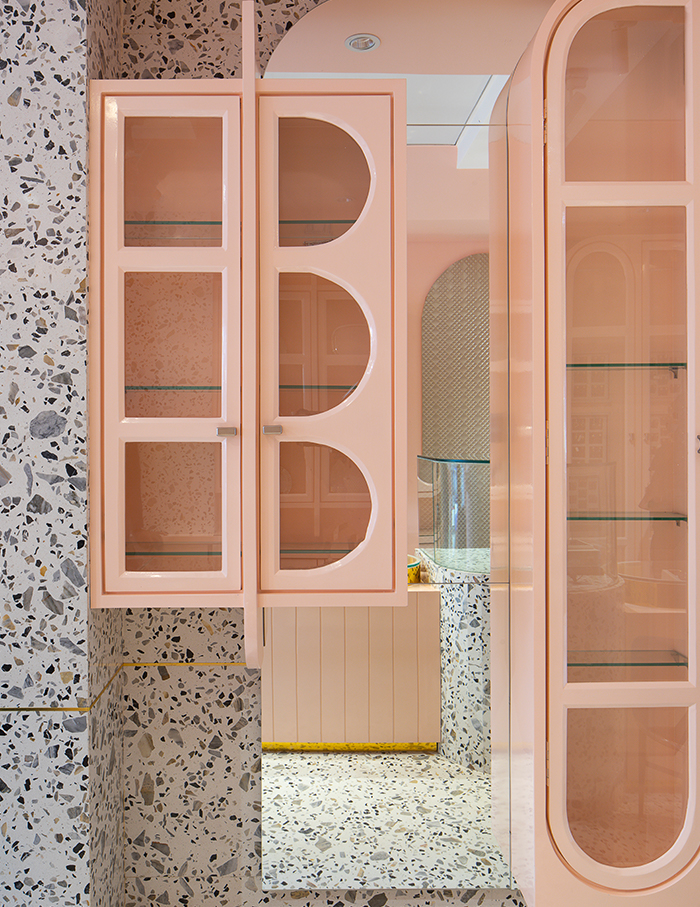 Located in Bhilwara, Rajasthan, Pink curves is a 270 sq ft boutique store that retails ornate silverware and jewellery. Its striking contrast of glamorous gold and subtle pink terrazzo floors against exposed skeletal surfaces makes for a visual treat.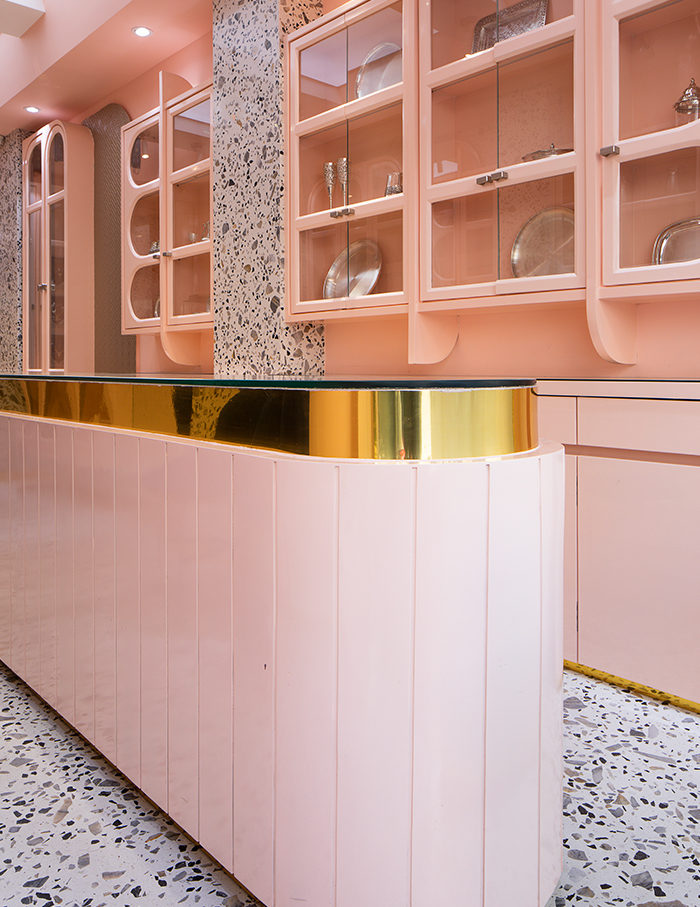 The linear design efficiently guides customers through the displays. The elongated counter allows for a streamlined approach to the store. A mirror located near the weigh and pay desk is angled into the terrazzo to impart luxury and ingenuity into the space.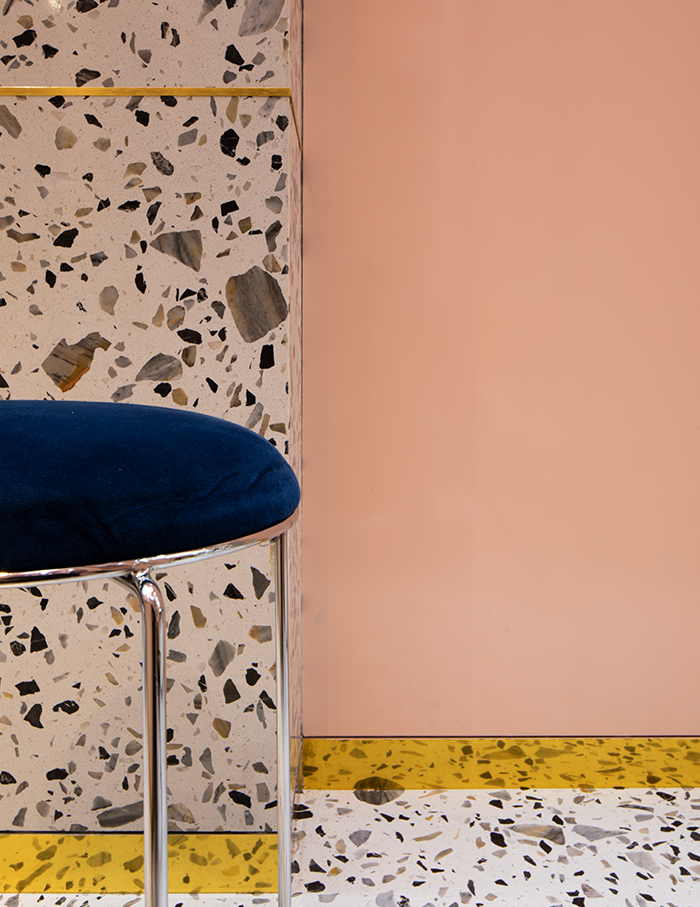 Sonegara and Bansal's have endeavoured to translate minute details of the products into a store environment that is elegant and welcoming. The curved shapes of the display modules soften the edges while the brass inserts add a touch of class.
Beruru in collaboration with The Purple Turtles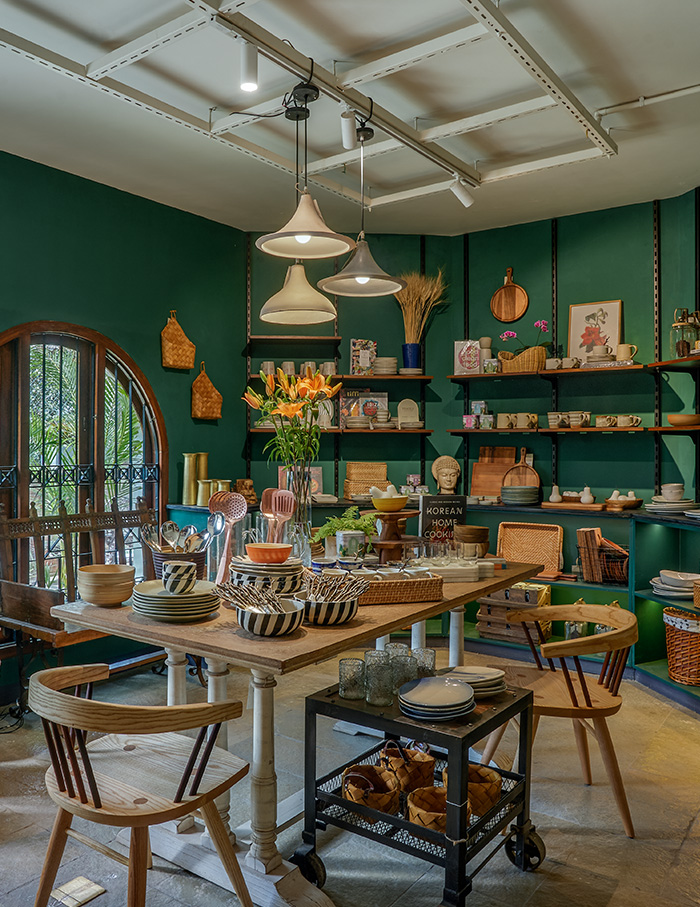 Beruru, Indiranagar in collaboration with The Purple Turtles have scoured the globe to bring you an assortment of plants, planters, garden accessories, decor, and furnishings for indoor and outdoor under a single roof.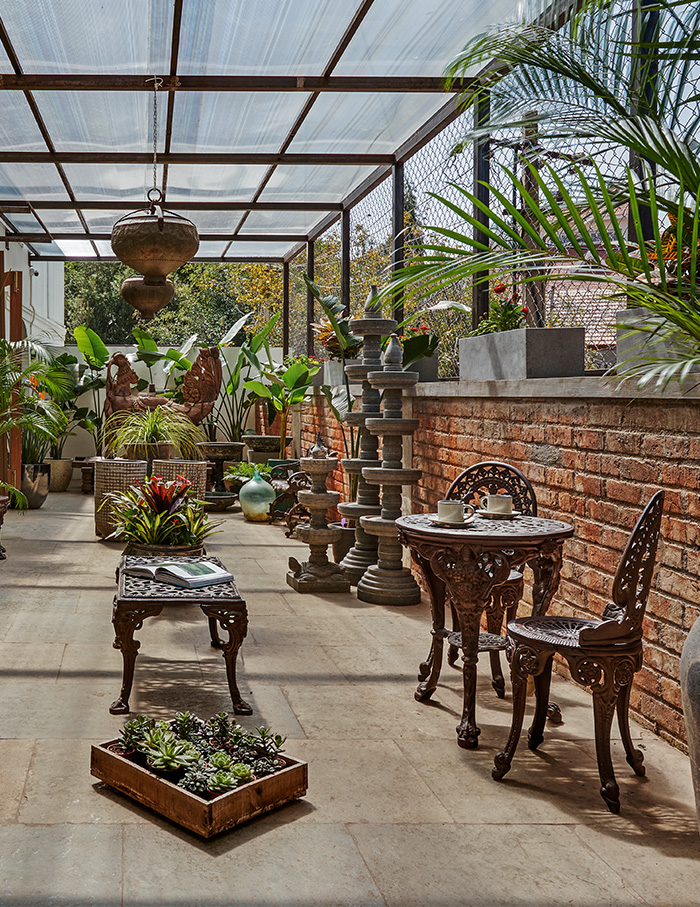 Their range includes indoor and outdoor plants, garden accessories, planters, lanterns, furniture, coffee table books, home accessories, BBQ Grills, landscaping solutions, and outdoor living, as well as a specialised flower shop.
Ohana Flowers, CMYK Books, Weber Grills, and Indo American are among the Indiranagar shop partners. An alfresco place is devised to conduct workshops and events. The idea here is to treat the store akin to an experience and not a mere pit-stop!
House of Bumble Salon by The Wall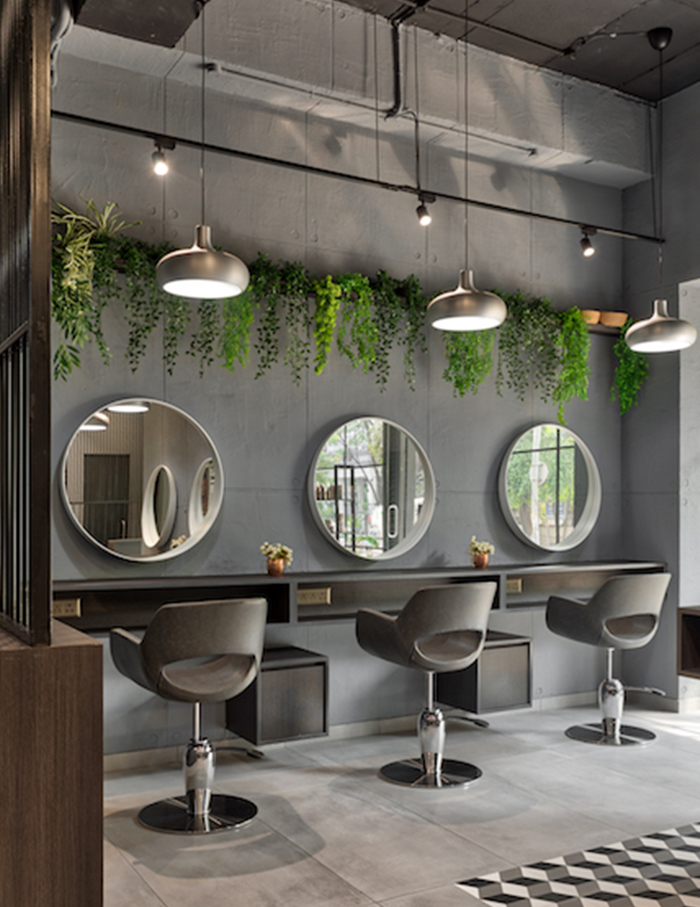 House of Bumble based in Pune is an industrial-style salon designed by Elham Mirza that plays with minimalism. Housing a range of services, this space is drenched in grey and adorned with backlit mirrors at each service station. The tricoloured checkered tile floor helps in breaking the monotony.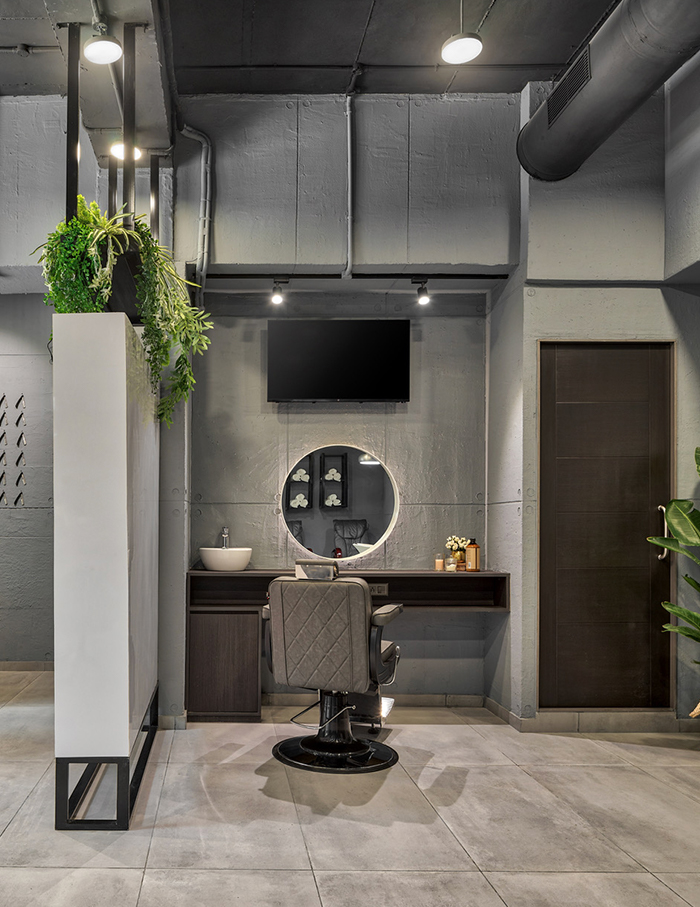 Mirza aims to curate spaces that are creative yet efficient. She prefers understanding her clientele before taking on a project and attempts to deliver a personalised experience, as this enables her to offer each project the attention it needs. House of Bumble embraces this ethos as the salon imbibes a  unique personality, underlining  Mirza's design philosophy. 
Shades and Mirror by DPA Design Studio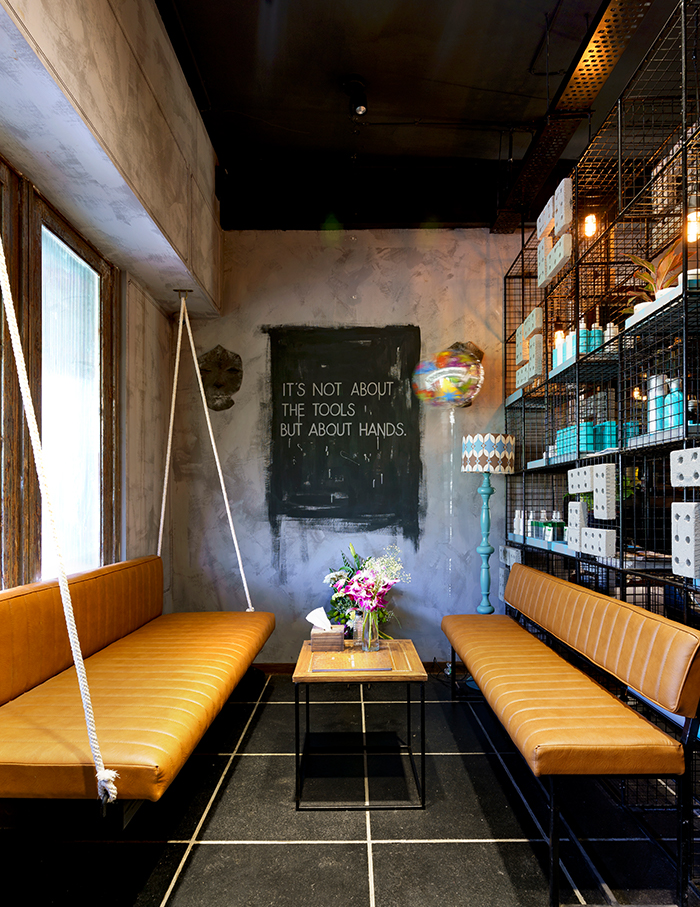 Spanning over 1,300 sq ft, Shades and Mirror Salon in Ahmedabad, Gujarat flawlessly embodies Nikki and Messi's individuality. Located in the centre of the city, its natural, raw, weathered and unpretentious design has been implemented by Dhaval Patel (Founder, DPA Design Studio).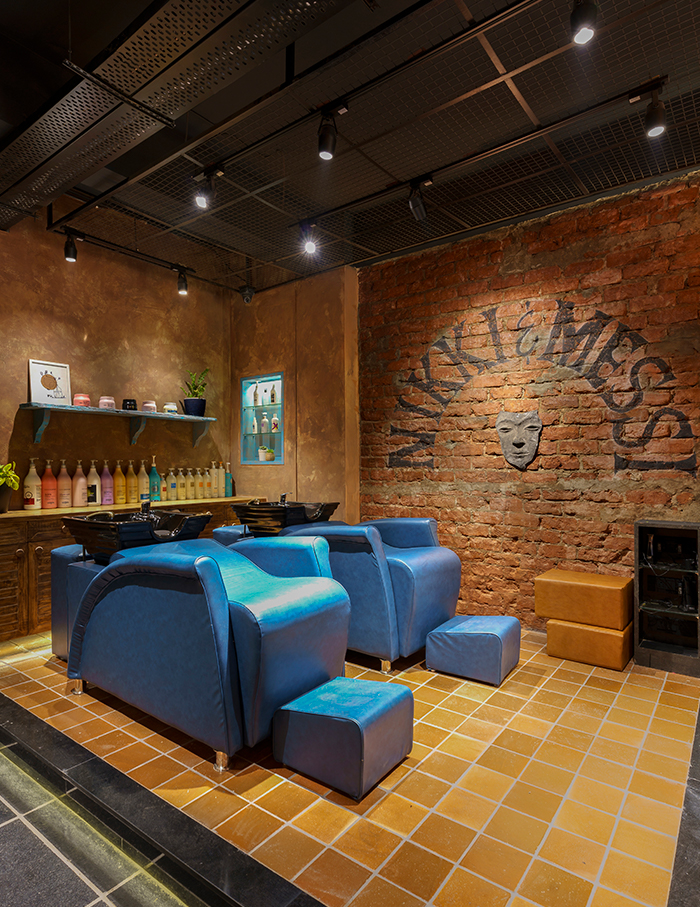 Reception and waiting rooms, main office, nail treatment area, spa cabins, hair treatment cabins and facial treatment cabins are housed in a linear structure with spacious yet inviting spaces.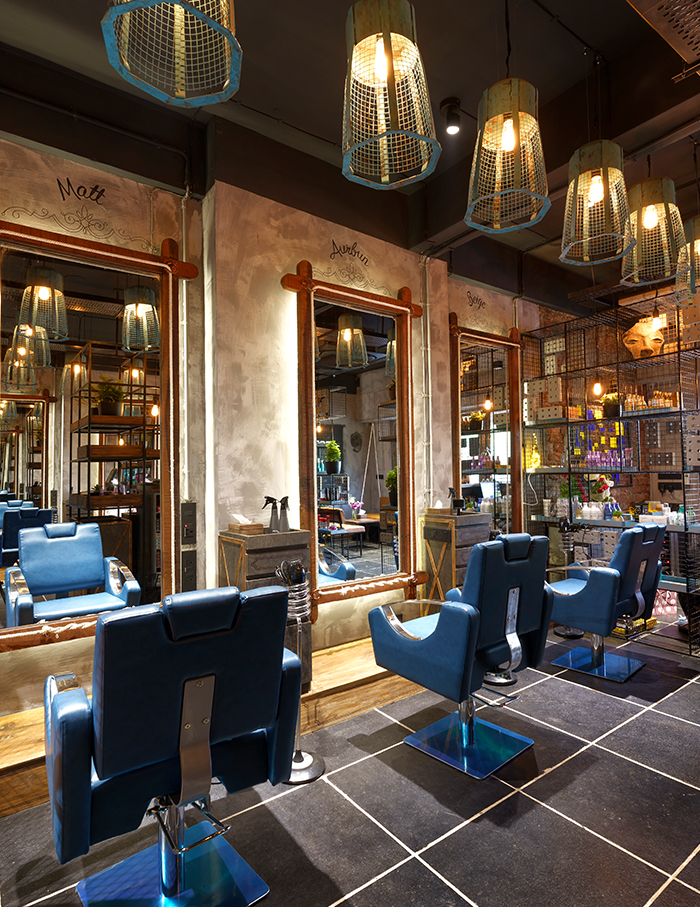 Cohesion and balance are achieved by the use of dividers to provide a peaceful nook for customers, away from the salon's bustle. It's a fine line to tread when it pertains to being luxurious while being accessible and Nikki Salon aces it effortlessly.
Tilfi by Aditi Sharma Design Studio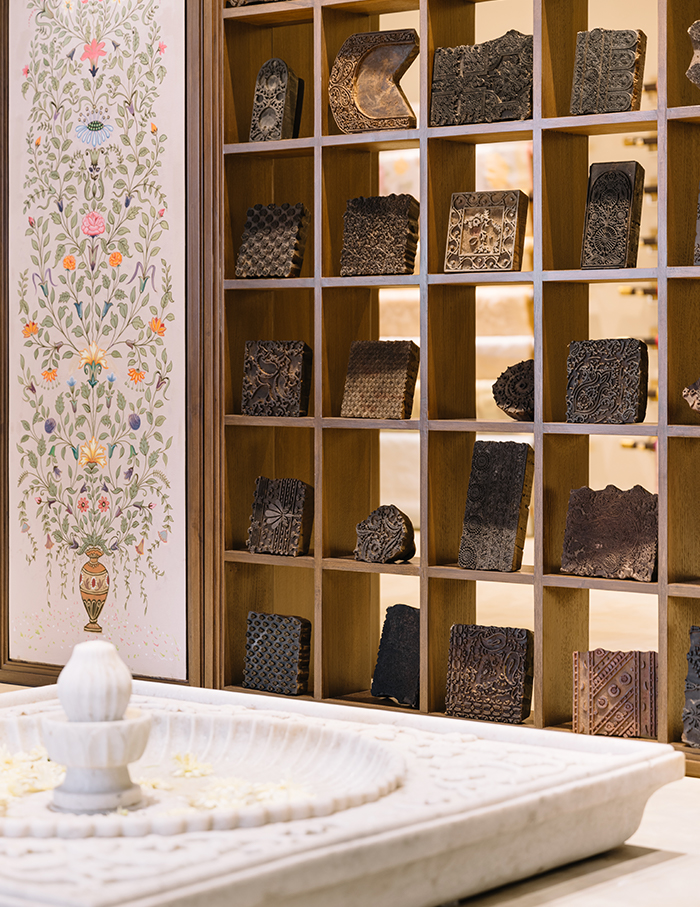 Tilfi is a Varanasi-based brand retailing pure handwoven textiles that conveys the artistry and cultural knowledge of Banaras' age-old workmanship. Drawing inspiration from the city itself, Aditi Sharma Design Studio (ASDS) has crafted this store that spreads over 2,500 sq ft. Drenched in the earthy buff sandstone shade with the vibrancy of Kashi hues paired with the colours of Tifli, this store embodies elegance and creativity. A stunning Zari installation truly turns heads!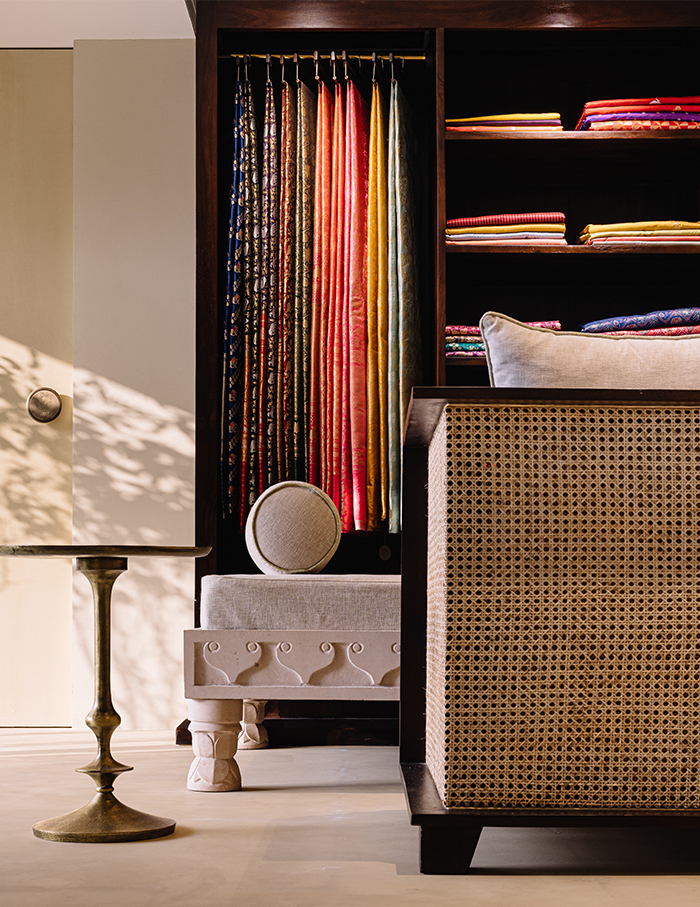 Metal repousse is a well-known technique used on brass tables and artworks as well as on the hardware. Hand-painted wall panels and niches generate starkness by showcasing the skill of an award-winning, 83-year-old mural artist. 
Astha Narang Boutique by PORTAL92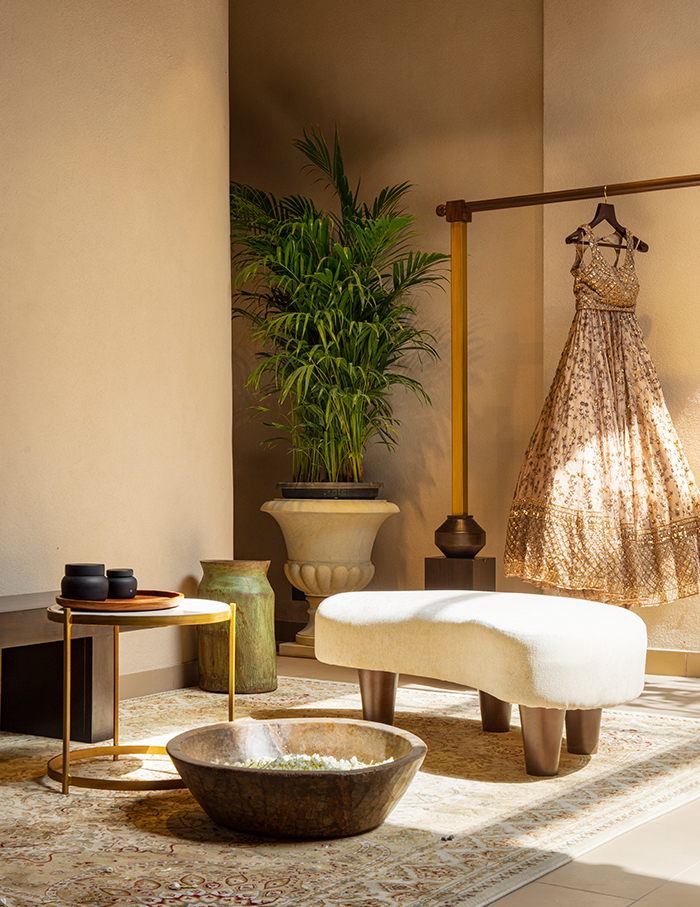 Astha Narang is a young bridal wear designer that caters to Indian weddings both within India and overseas. PORTAL92 wanted to add this dynamic cultural milieu into the concept in the Delhi-based store. They attempted to develop a pristine backdrop for the designer's garments that interweaves certain classic elements into the furnishings and partitions.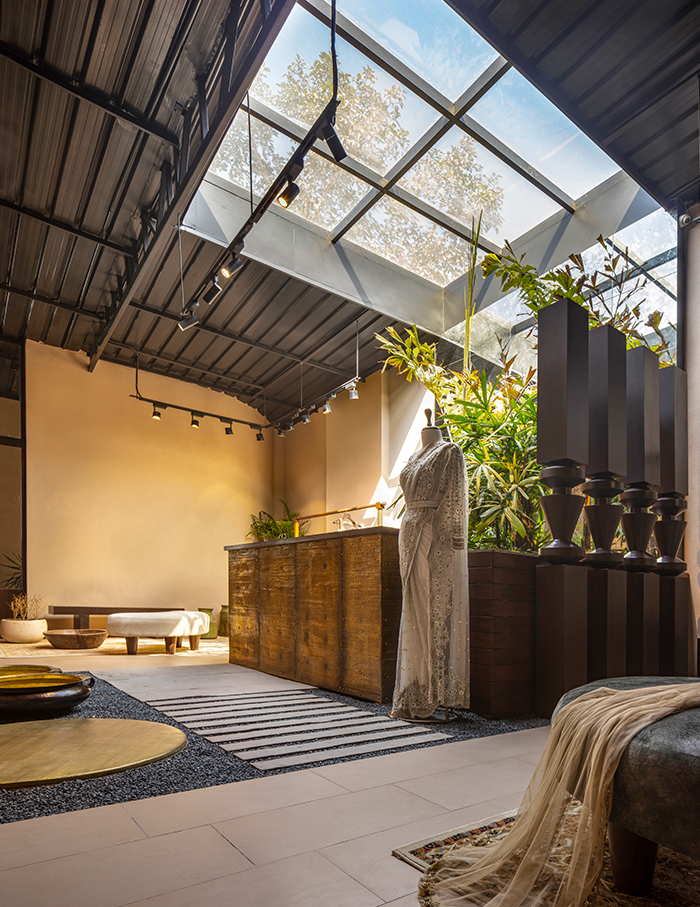 The studio's soul is sewn together by enabling customers to explore diverse areas within it. The use of an inward curve layering the entry, accentuated by a wooden column, contributes to the space's mystique. Indoor plants, natural light and textures blur the lines between indoors and outdoors.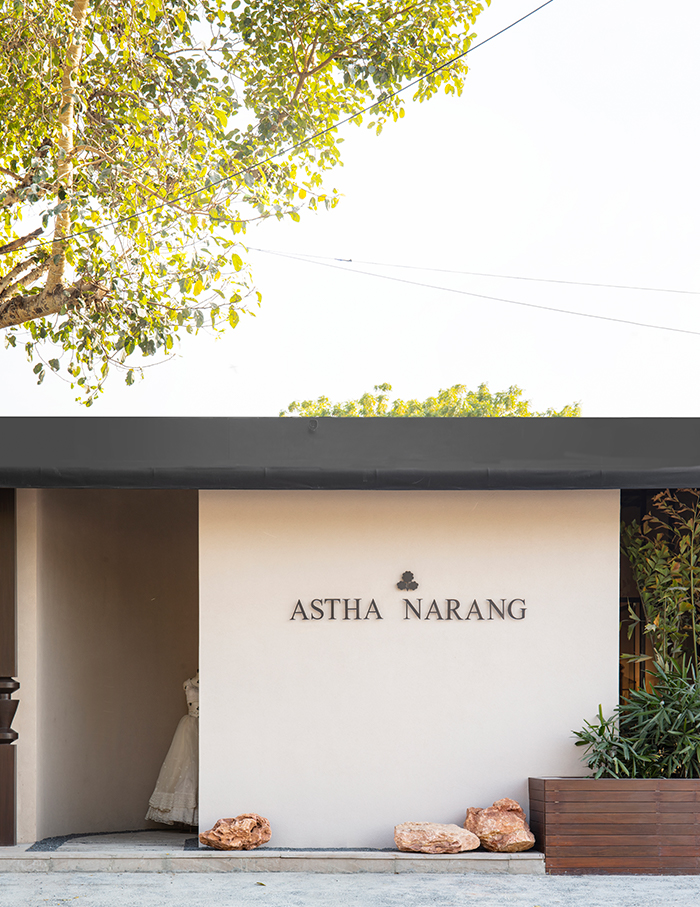 As the client approaches the interiors, a skylight pierces the shed roof, illuminating the space in natural light. The entryway, among other places, is accompanied by a succession of wooden pillars which operate as screens. Each detail was skillfully modified in order to maintain and alter traditional ideals while still embracing modern values!