Homes
Villa in the Sky by Ceebros Designworks is resplendent in views and blues courtesy of the seas and breeze
FEB 24, 2022
| By Twinkle Tolani
A home away from home, for a family primarily living aboard, immersed in modern sensibilities rather than over-the-top, indigenous interventions describe this apartment in Chennai. Located in a premium high rise building designed by Architect Rahul Mehrotra called Ceebros One74 Residences, luxury for the 3,000 sq ft penthouse staring into the Bay of Bengal doesn't cease here, thanks to Ceebros Designworks. 
Designed by Sruthi C Reddy, Principal Architect and Creative Director at Ceebros Designworks, just enough doses of hues borrowed from the sea in the interiors bring the outside inside. Named 'A Villa in the Sky', 800 sq ft of deck area from the total make sure no vistas are amiss.
The home, spread out on two levels, subtly but surely amalgamates Indian culture and craftsmanship with modern sensibilities. Thoughtful design decisions aimed at making the family feel cocooned yet swooned by their roots were epoch-making. 
You may also like: 9 homes with exhilarating views we'd love to live in!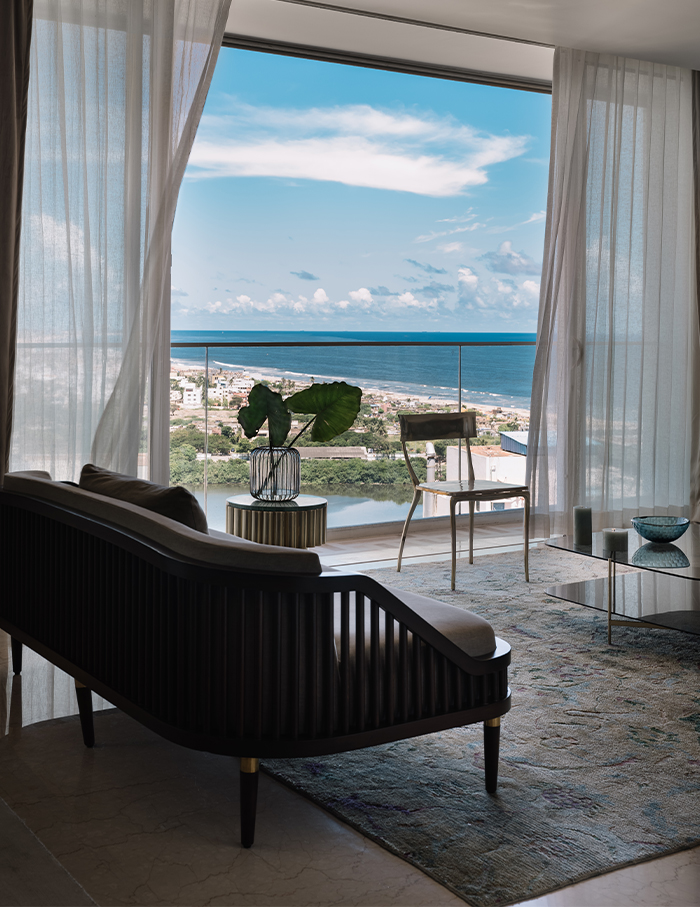 Spatial planning, as free-flowing as the sea, wrapped by a marble-inlaid deck, remains fundamental to the home. Floor-to-ceiling sliding doors sponsor expansive views of the Bay of Bengal from every nook of the unit. 
The foyer opens into a generous open living and dining area with the kitchen at its heart. Flanked by a deck each, the three bedrooms share the floor space with the aforementioned preliminary spaces.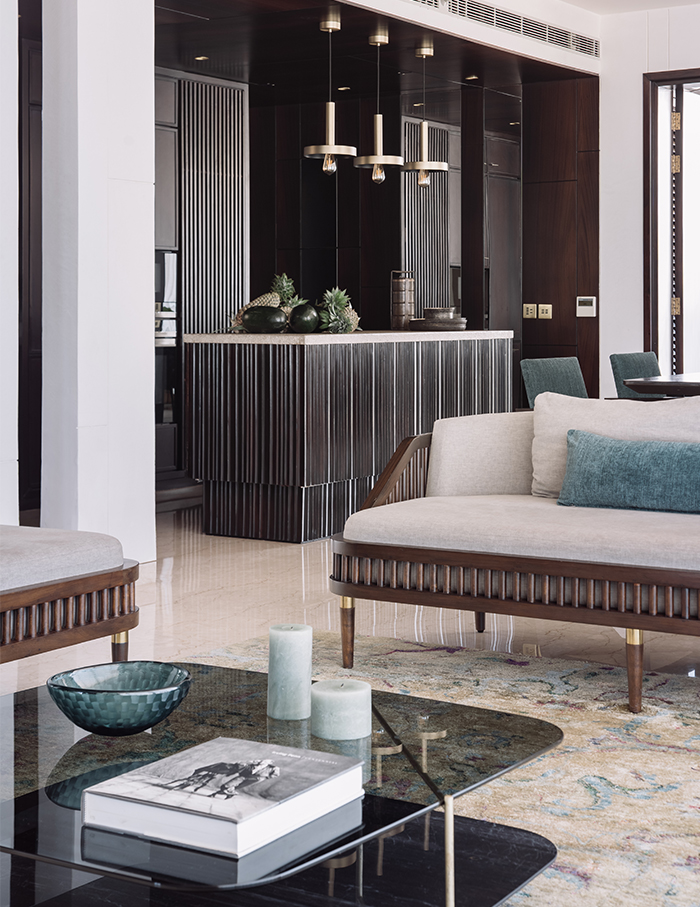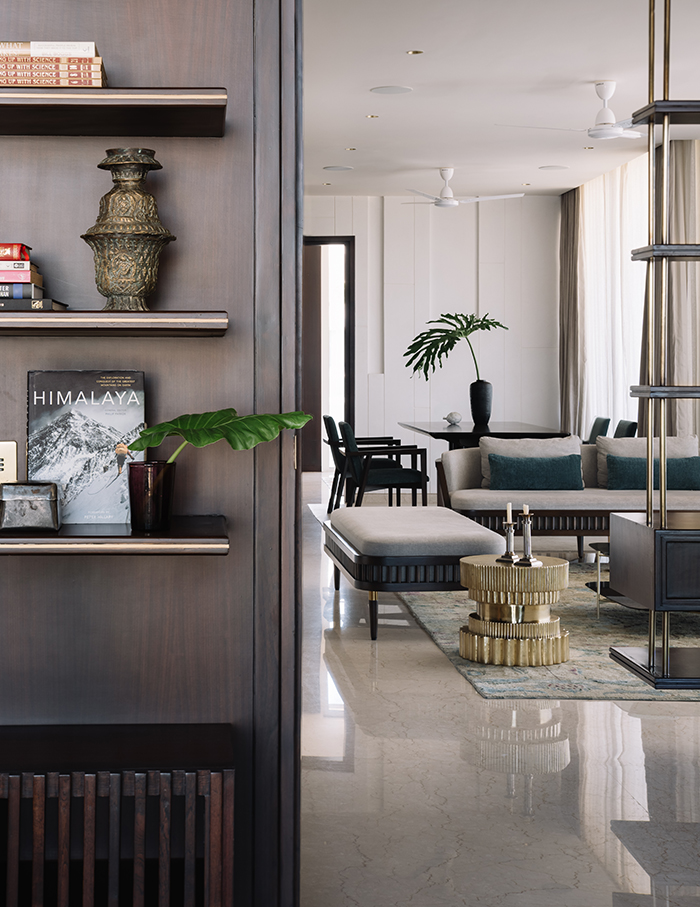 On the upper floor, a private entertainment den seamlessly intertwines with a large deck and its camaraderie, breathtaking scenery of the horizons.
"Materiality and texture is something we explored to a maximum in this project by collaborating with local craftspeople, right from the beginning to the end," expresses Reddy. Evident from the lime plastered walls in the living and dining area and entertainment room, the influence of heritage Indian homes seeps into the modern aesthetic.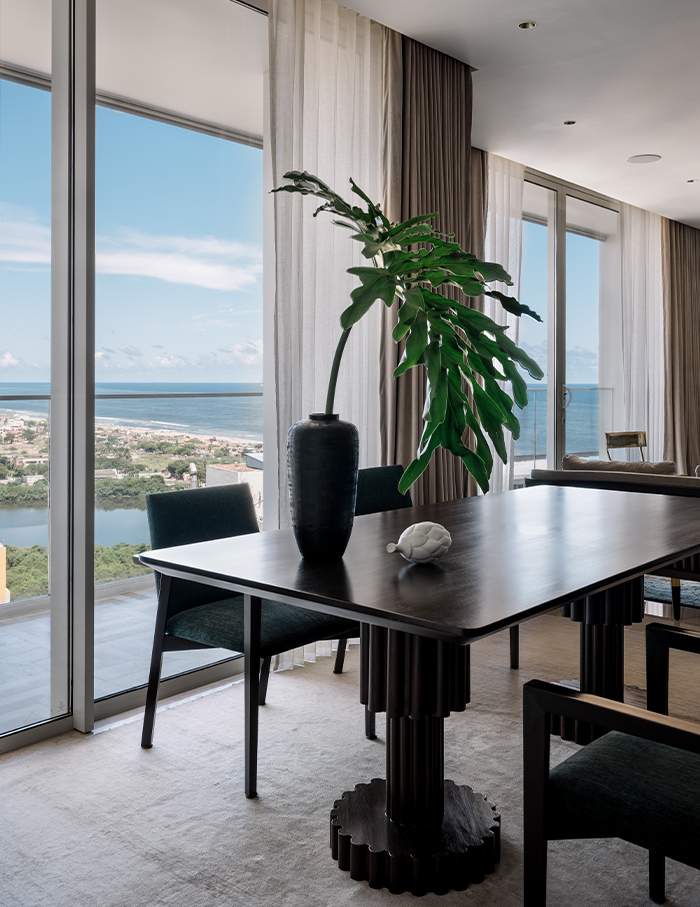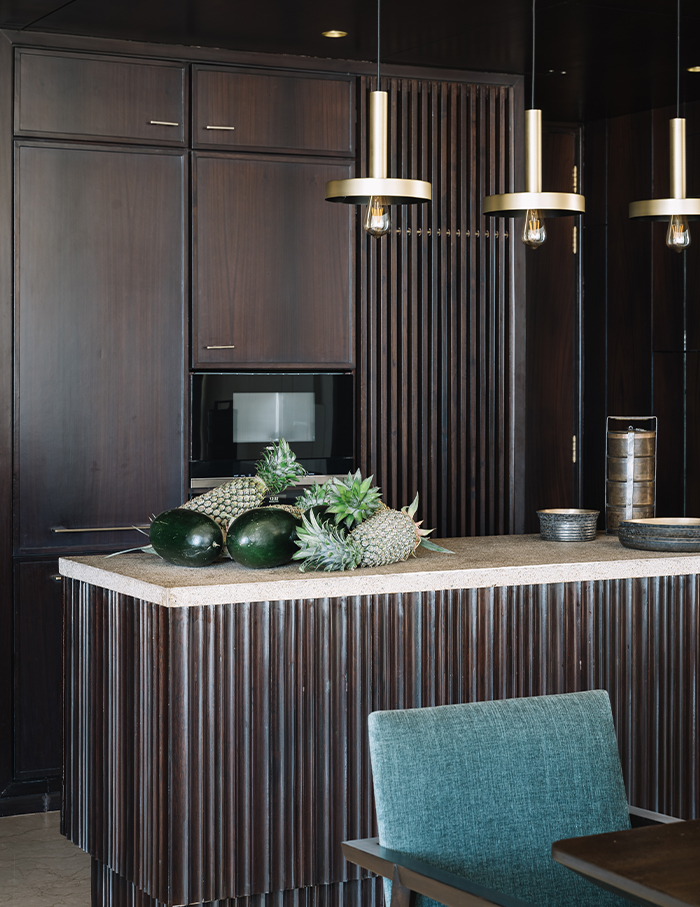 Glazed green ceramic tiles against dark walnut kitchen units and a bush hammered stone for the kitchen island countertop parade with the warm walnut toned furniture in disciplinary disarray.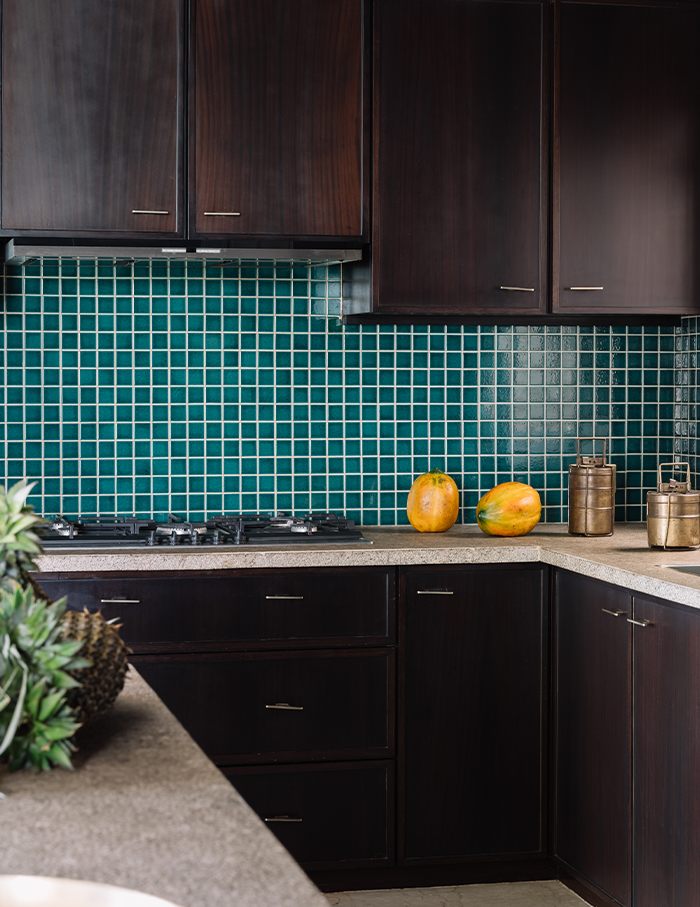 "The entertainment den that blends with the outdoor terrace was the most exciting space to design as it had a play of multiple materials and textures," reveals Reddy. 
A bush-hammered local stone cladding wall in the entertainment room compliments the textured floors of the terrace. A built-in bar unit with smoked timber and custom brass shutters dynamises the setting.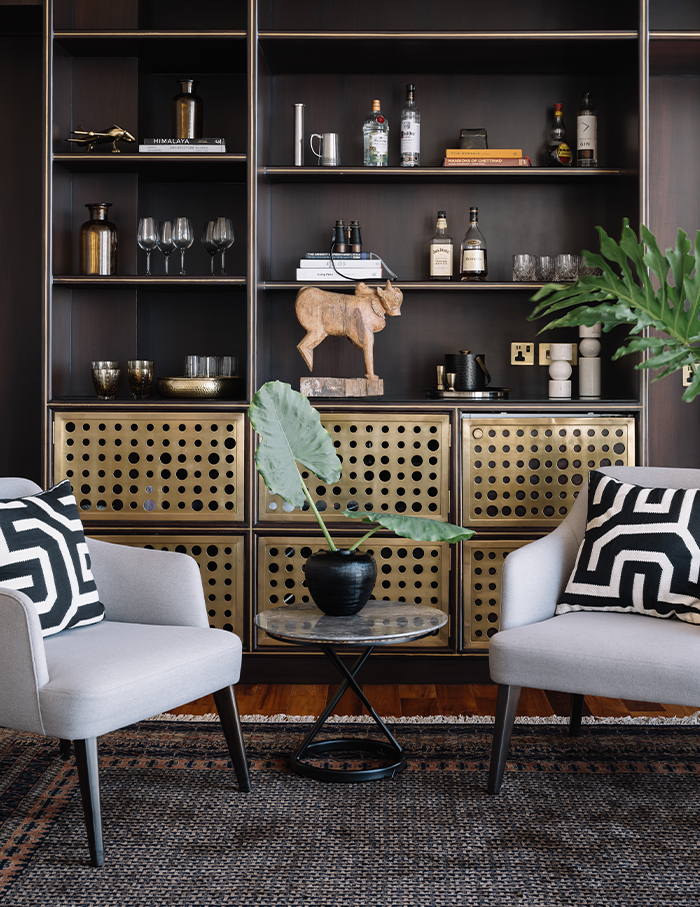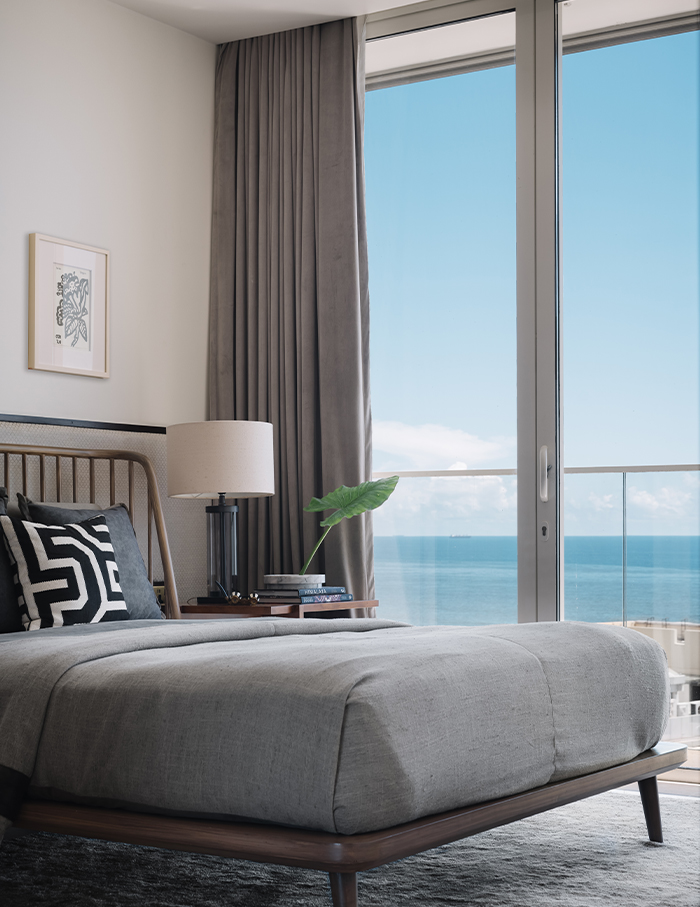 Stirring the neutral palette with eclectic crafts such as upcycled sari silk rugs, resin-inlaid consoles, and a curated collection of vintage artefacts remains a notorious yet endearing design strategy throughout the home.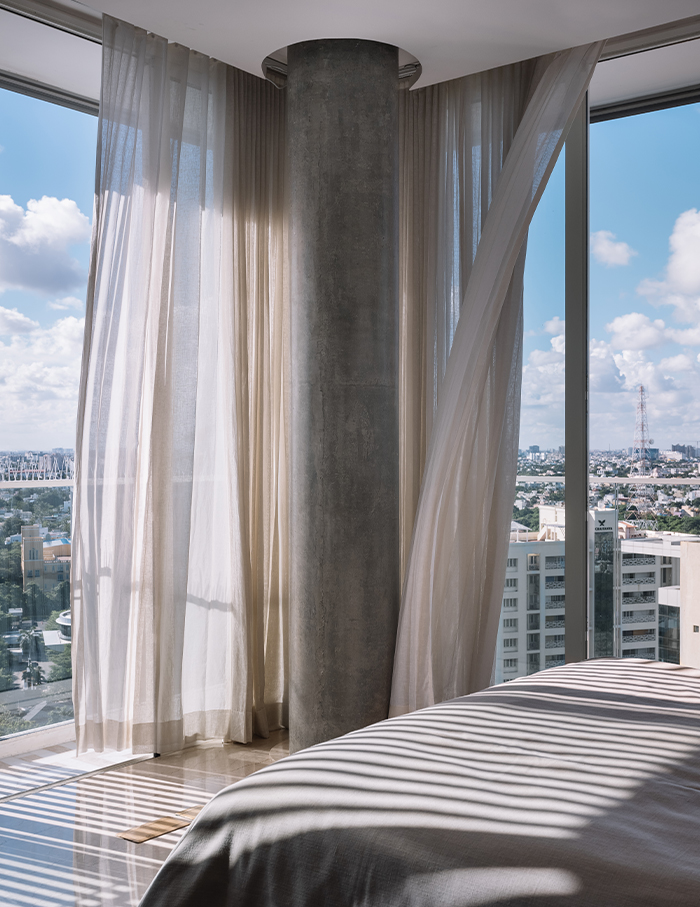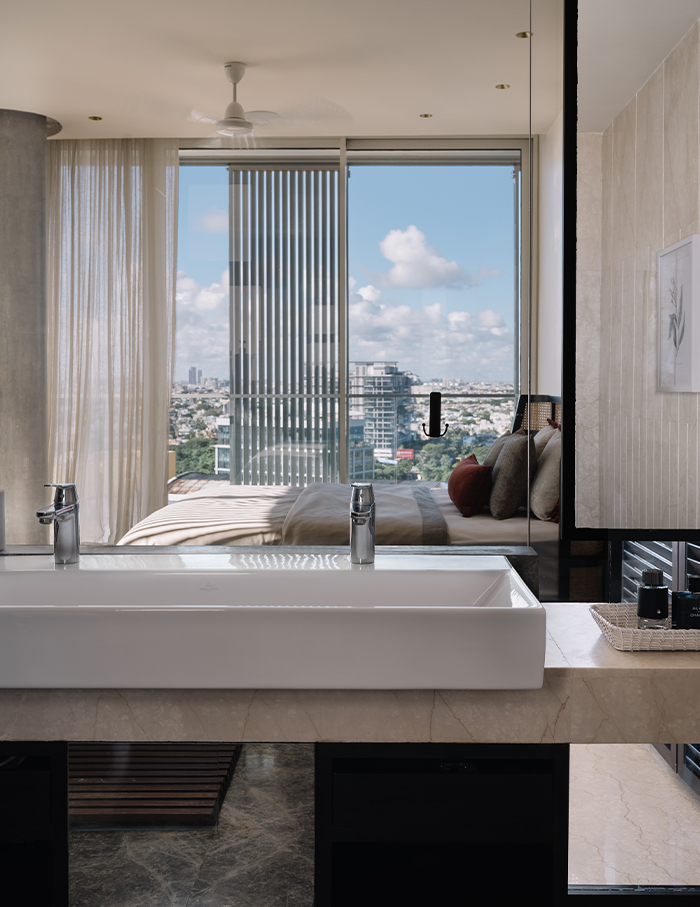 True to Ceebros Designworks' core values, the design focuses on balancing boundaries between the natural and built environment and creates spaces that blur the inside and the outside.
Love the views served at this house by Ceebros Designworks, then check out the Chelsea Residence by Aamir Khandwala in Manhattan