Homes
Shining the spotlight on our effervescent north eastern heritage is this Bengaluru home by ThumbSpark Creative
APR 29, 2022
| By Kashish Kaushal
Home away from home is an expression used to describe a feeling of comfort that encapsulates us in not-so-familiar settings. When Debabrata Dey, a user experience, interior designer and founder of ThumbSpark Creative with his better-half Ofelia Dey Sarkar, began drafting their dream home in the bustling capital city of Bengaluru, adding prominent memorabilia reminiscent of their north eastern roots was a no-brainer!
Fondly christened 'Storyteller', the three BHK apartment is spread across 2,100 sq ft and houses six people from three different generations. Talking about the theme around which he weaved the entire space, Debabrata shares, "The home tastefully blends art, storytelling and nostalgia to emulate our distinct roots—from Assam and Bengal. It's a quintessential Bengali home, which has influences of Colonial-era plantation bungalows of Assam and bonedi baris (traditional bungalows) of Kolkata."
You may also like: When classic meets modern— This Gurugram condo by The Chalkwhite Home is exemplary of a calm vacation away from the chaos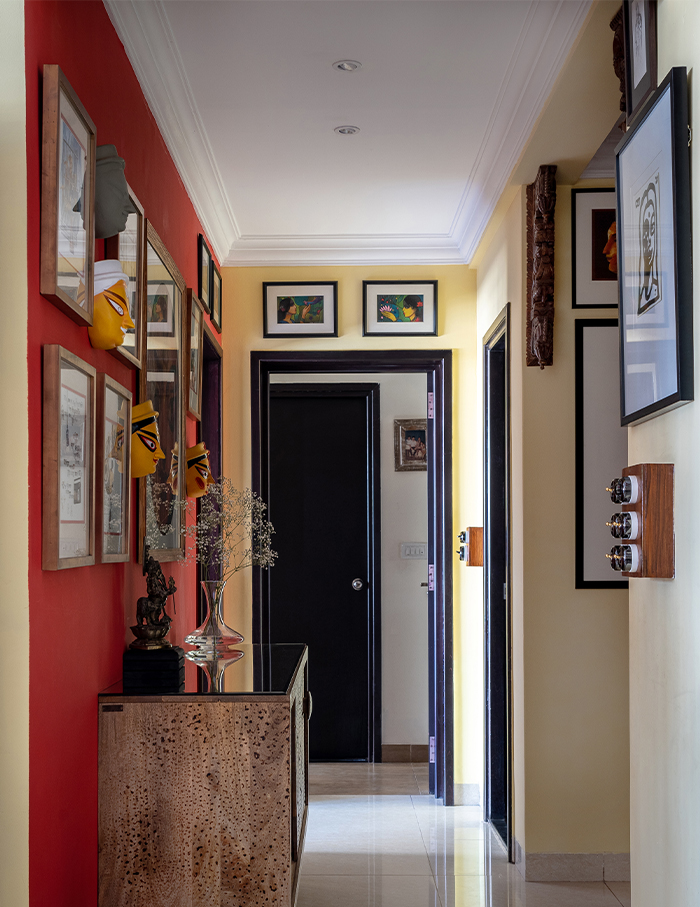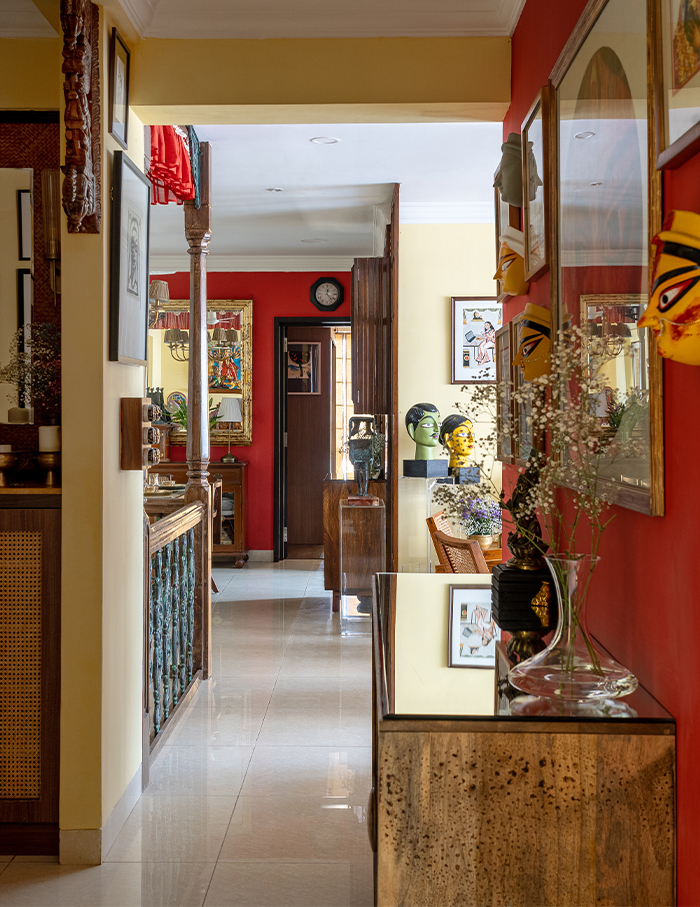 Sporting various tints and hues of the colours yellow and red, Storyteller takes you back to the old Bengali homes filled with art, sculptures, artefacts, curios and photographs. Crafting his own home gave Debabrata a chance to infuse his love for art with the endless design possibilities sustainable materials bring with them. Giving a new lease of life to old pillars, louvre doors, cast iron railings, he commissioned building demolishers from Bengaluru and Kolkata to source entities that exuded a vintage charm.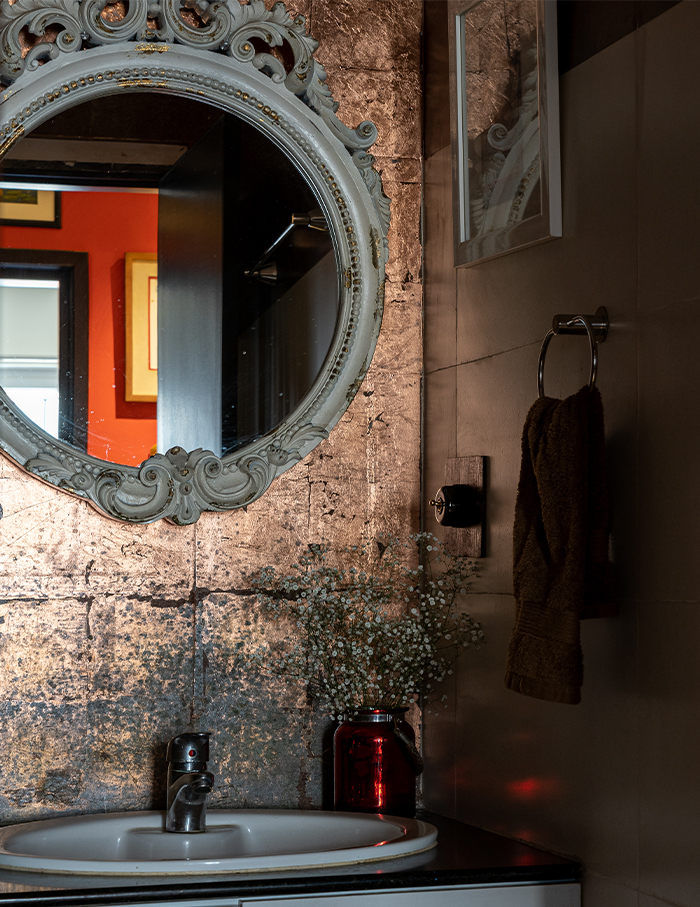 North eastern influences can be seen right from the entrance with the Shital Pati panels on the main door sourced from Silchar, Assam. However, it is the foyer wall that bags the title of Storyteller's showstopper—bright red wall exudes a sense of celebration and festivity, highlighting the installation 'The Journey of Durga Pujo' in all its glory. "We commissioned artist Sayandip Kangsabanik to create the festival journey paintings that pay homage to the contribution of people behind the mega spectacle", reveals Debabrata.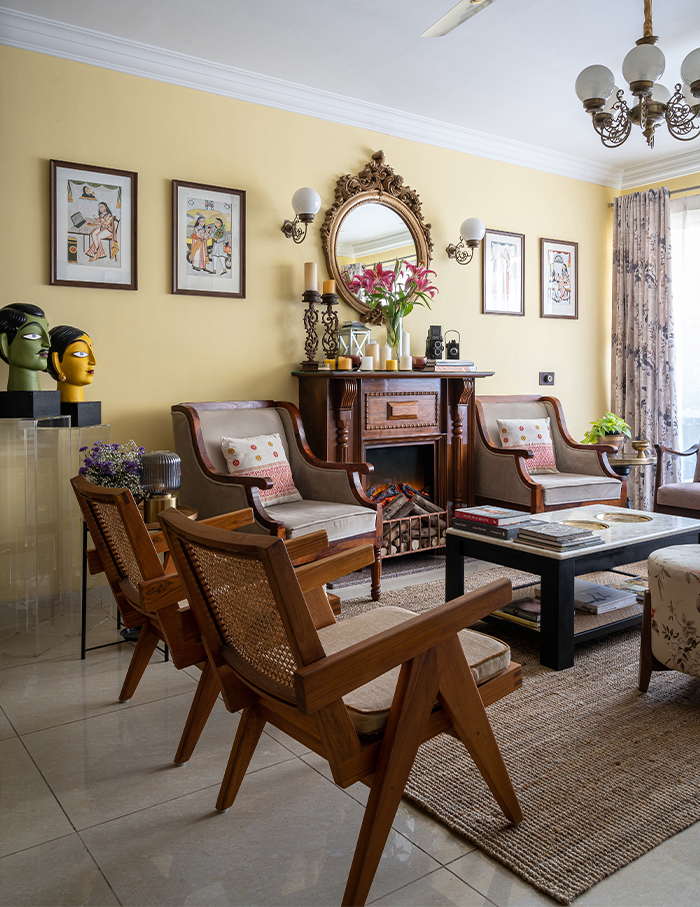 Letting in ample natural light is the huge balcony inside the living room that has influences similar to the living rooms of Assam tea plantation bungalows. The colonial era Burma-teak fireplace is a pleasant reminder of the life and cosy weather in Northeastern hills. Moving on, the dining area is designed in a way that acts as a conversation starter, with a Pierre Jeanneret inspired dining table setup adorned with artworks.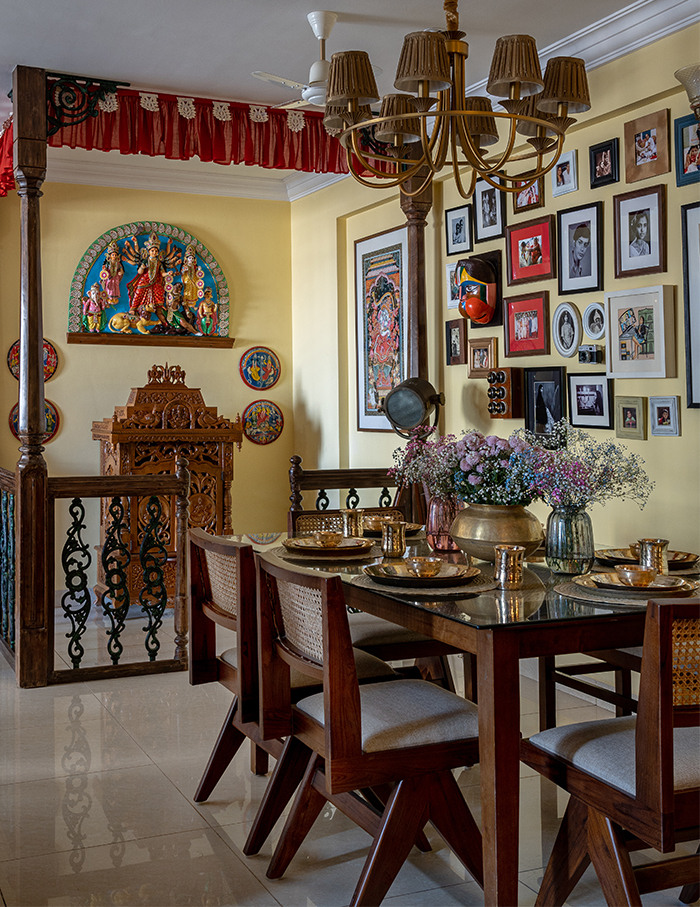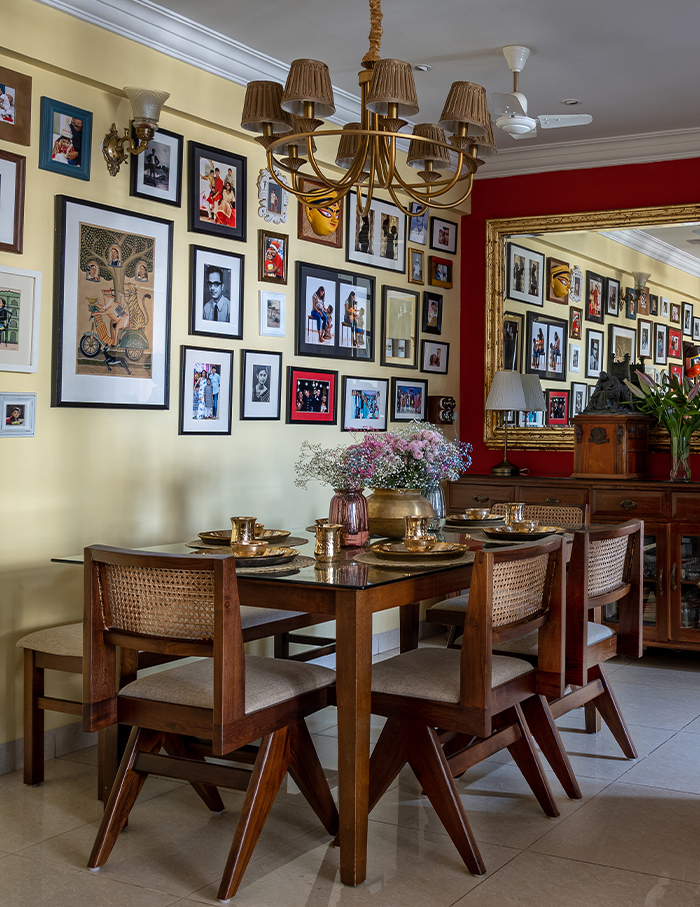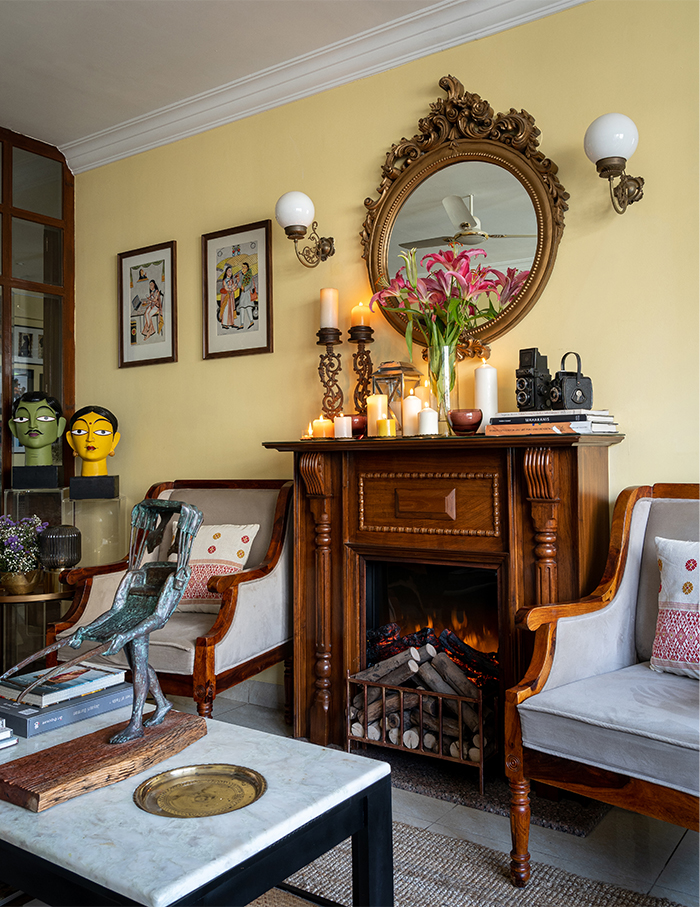 Just like the entrance, the primary bedroom displays liberal use of Shital Pati, paintings and a red colour language. Metal bed inside the parents bedroom, a hand painted headboard wall showcasing artworks by Debabrata himself and artist Utpal Dutta brighten it up with nostalgia. The kid's bedroom follows a subtle yet utilitarian design theme.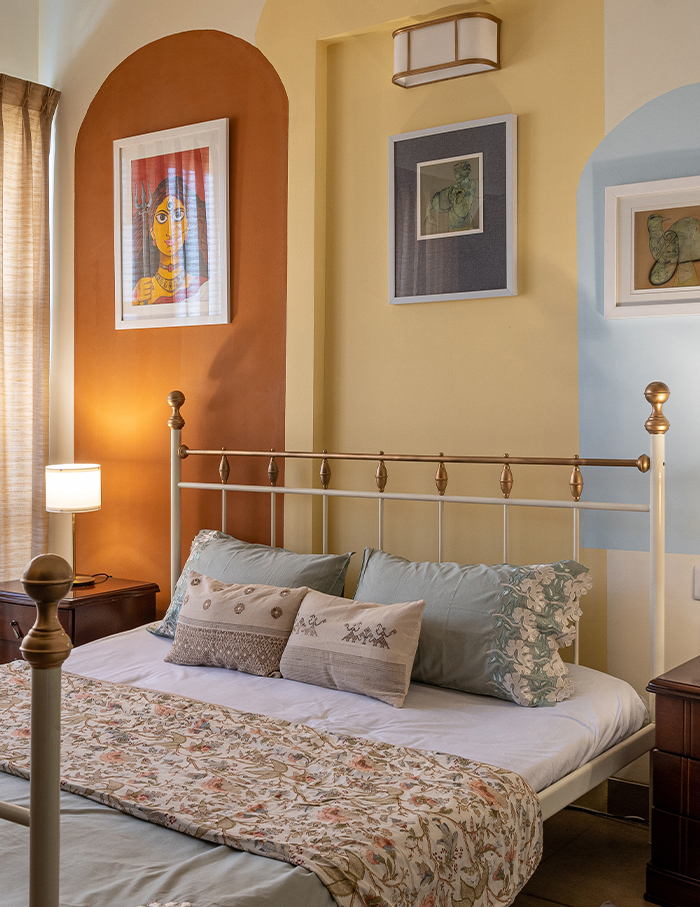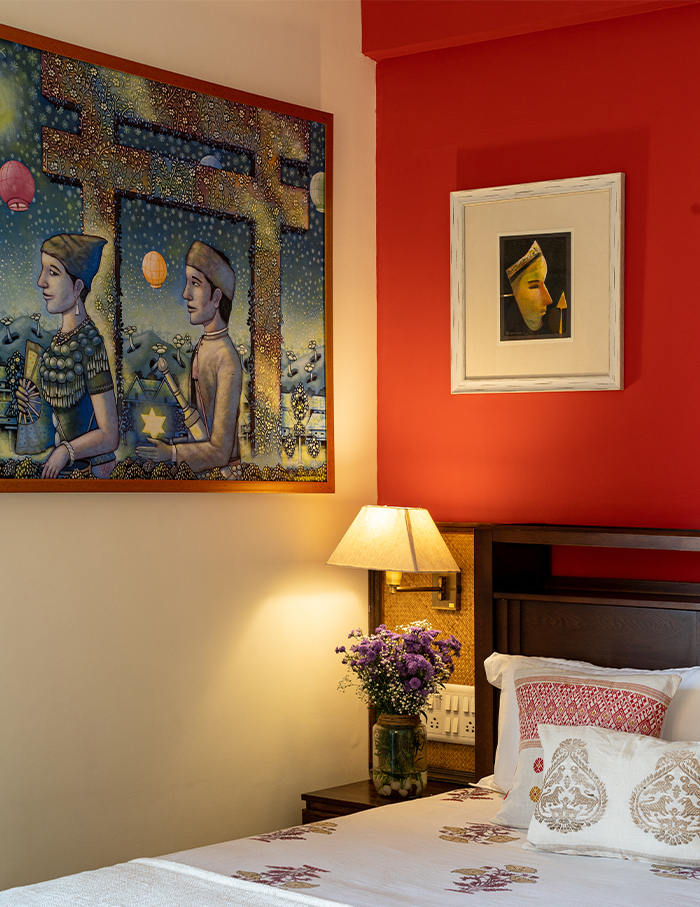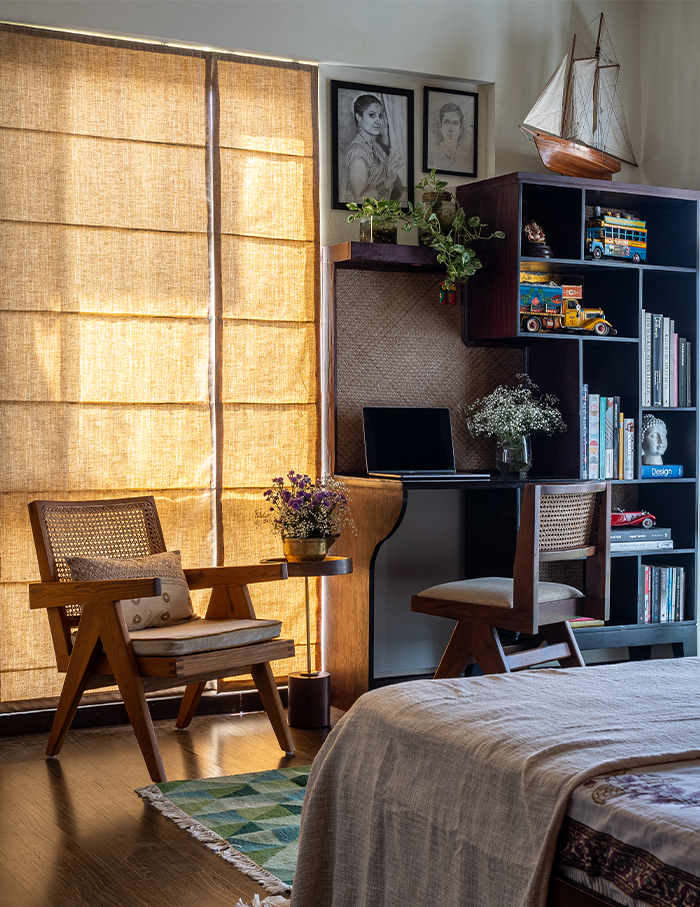 Storytelling is an art that has the ability to teleport you from the harsh realities of the world to a space that calms and soothes your soul. In today's modern age that enforces hustle culture on everyone, Storyteller is a home that will make you pause, reflect and remind you about the joys of slow living.
If you like this home, make sure you check out Apartment 1602 by The Architecture Company!