Design
Beige Beauty—The new AMPM store in New Delhi advocates a less is more design perspective
JUN 17, 2022
| By Kashish Kaushal
"Every once in a while, to take a leap forward, you need to take a few steps back. It was about three years ago when we started contemplating what lies ahead for the brand. What were our challenges and what were our advantages? Where did we see ourselves in the next 10 years and more importantly, where did we want to see ourselves?", ponders Priyanka Modi—co-founder and creative director of everyday luxury lifestyle brand AMPM. 
Spread across 1,700 sq ft and located in DLF Emporio, New Delhi, the store is thoughtfully curated with an innate sense of discovery. The intent was to detach from the cacophony of the outside world and craft a home-like experience for the visitors to immerse and relax in. Led by Priyanka, Ankur Modi, CFO and Anirudh Birla, Chief Brand Officer, AMPM made its debut two decades ago, providing its audience with something relaxed and stylish. 
You may also like: No colour is off limits for Sanjyt Syngh in his latest design studio in Sultanpur, New Delhi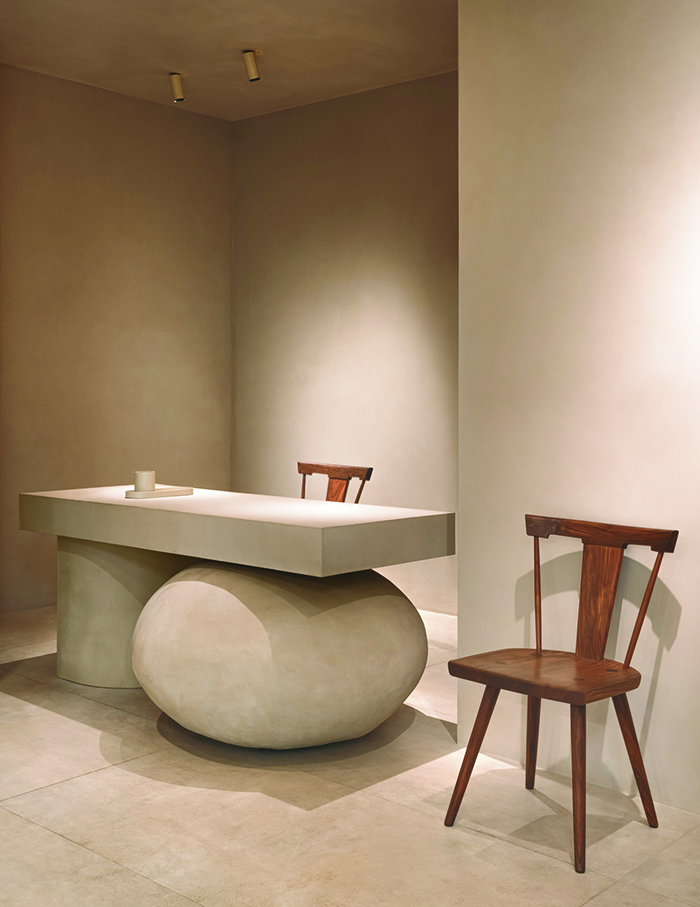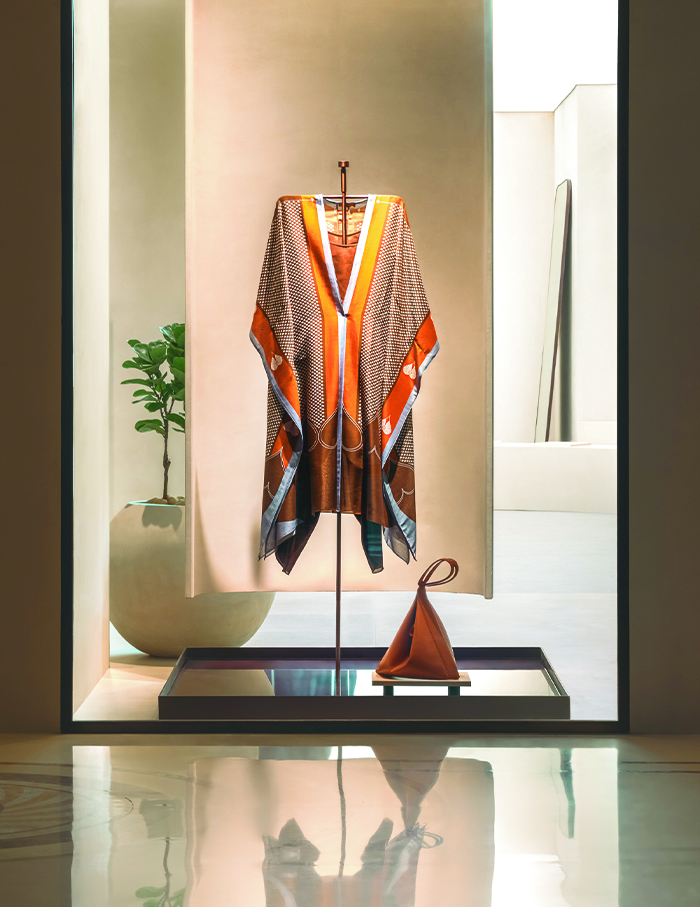 "Every single detail was discussed and deliberated for months with our interior architect, Jaisika Jabbal, making sure that nothing is off-key. All human senses had to evoke the same feelings and so whether it was the music or the fragrance in the store, everything was passionately filtered and most lovingly curated," shares Priyanka. 
Major structural changes included doubling up the store size by subsuming the store next door. The window size was reduced to about one-third of the front facade, and convert it into a show window that piques your interest and invites you to come in and discover the space. As for the material palette, wood was a natural choice, adding character and warmth to an otherwise stark canvas.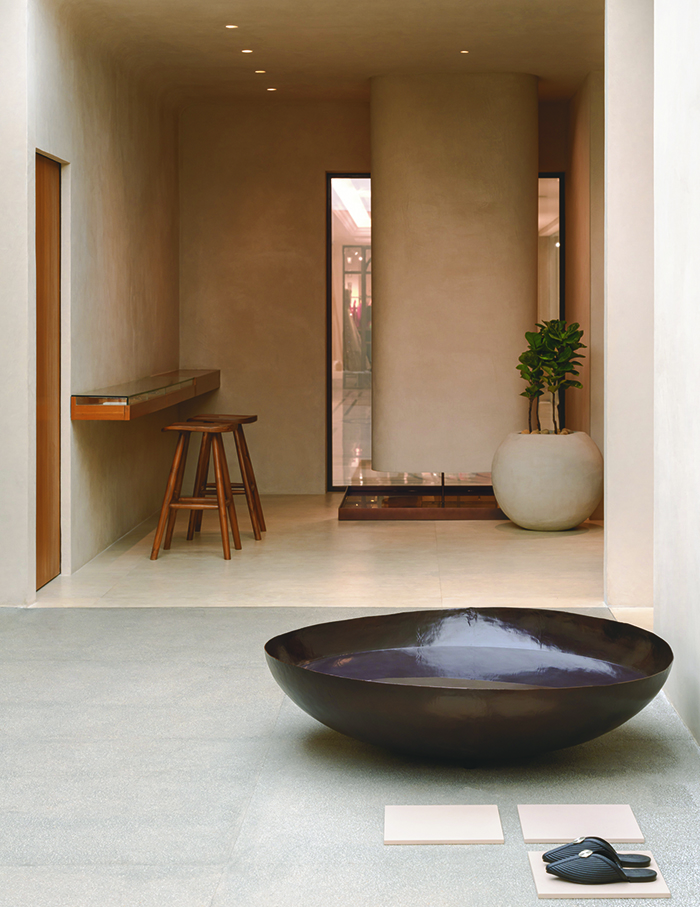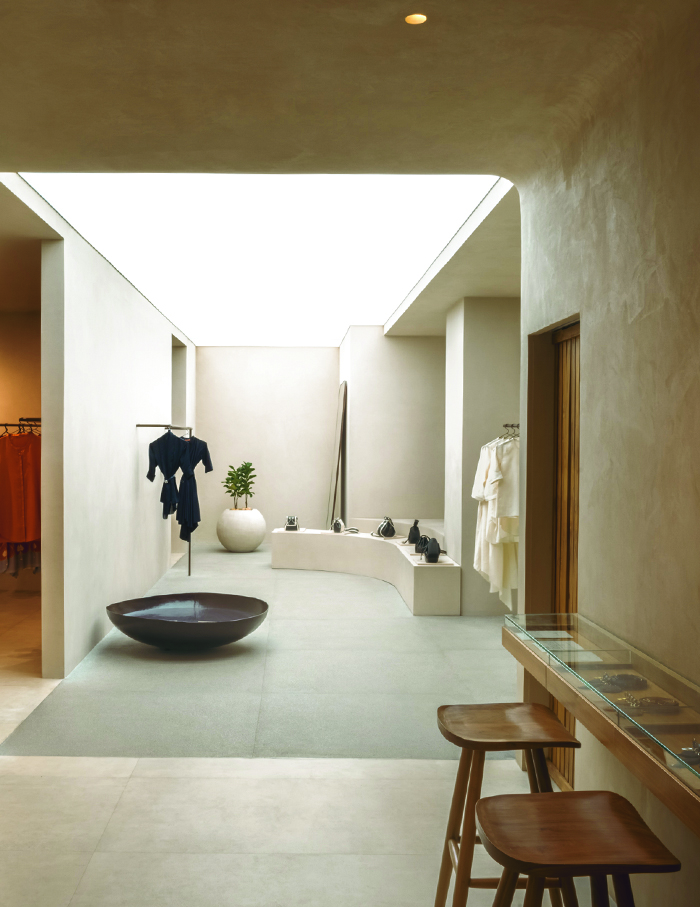 The store was designed mindfully allowing people to feel centred and at ease whilst they are inside the store. Nature was brought into the space through elements like muted palette walls and beige-coloured floors. While inside, you are not distracted by the commotions of the retail environment outside and can completely immerse yourself in the zen-like experience.
The store is divided into three main parts—the foyer that leads to the gallery, the sun-filled outdoor courtyard replete with a waterbody and grit flooring and the lounge with an uber-comfy sofa and a built-in wardrobe curated with their latest pieces for your browsing pleasure.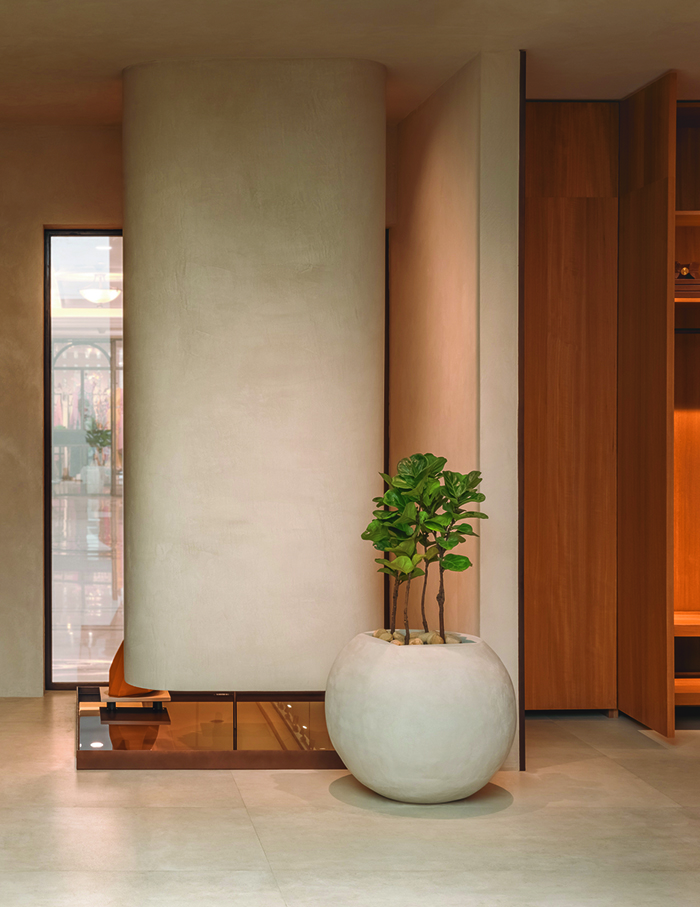 The brand's ethos entails a discovery of art that is expressive and evocative. Just like their collections are reimagined and reinvented, the store gets an individuality and captures the essence of the new language. The intent was to establish a new identity, a new voice, a new brand universe in the ambitious pace AMPM had set for themselves, through a set of radical changes.
"Minimal, with a focus on materiality, sums up my home. It speaks of how little you need to do to make something luxurious if you just learn to work with the elements, to exist with nature. We realised we wanted to imbibe the same essence in our retail experience. We weren't aiming to create a store at all, but a sanctuary. And that is what we did," concludes Priyanka.
If this neutral design left you wanting more, check out this Hyderabad home by MakeSpace Architects that makes minimal look magnificent!