Design
Atelier Ashiesh Shah explores the craft of Terracotta pottery through The Terradrum — an object of colour, illusion and texture
MAR 25, 2022
| By Ashiesh Shah
Through my practice at the Atelier, collaborating closely with artisans across the country, celebrating fine craftsmanship has been paramount. Inspired by the Japanese philosophy of 'Wabi-Sabi,' the design objects follow a 'Brutalist Tribal' characteristic to celebrate beauty in imperfection through a series of handcrafted collectibles.
We aim to revive and uplift craft communities by marrying primordial Indian crafts with a modern day aesthetic celebrating the philosophies of geometry, sustainability and empowerment. The Atelier is a composition of inventiveness, tapped by artists and craftsmen, coming together to narrate tales of evolving aesthetics.
Having dedicated a significant amount of time in designing, researching and developing an understanding of various craft communities we work towards empowering the 'Karigar' by designing objects that employ craft techniques, materials and processes native to the country creating pieces that exude the philosophies of perfect imperfection through a contemporary flair.
You may also like: This home collection by Ashiesh Shah and Ritu Kumar brings fashion, heritage and architecture together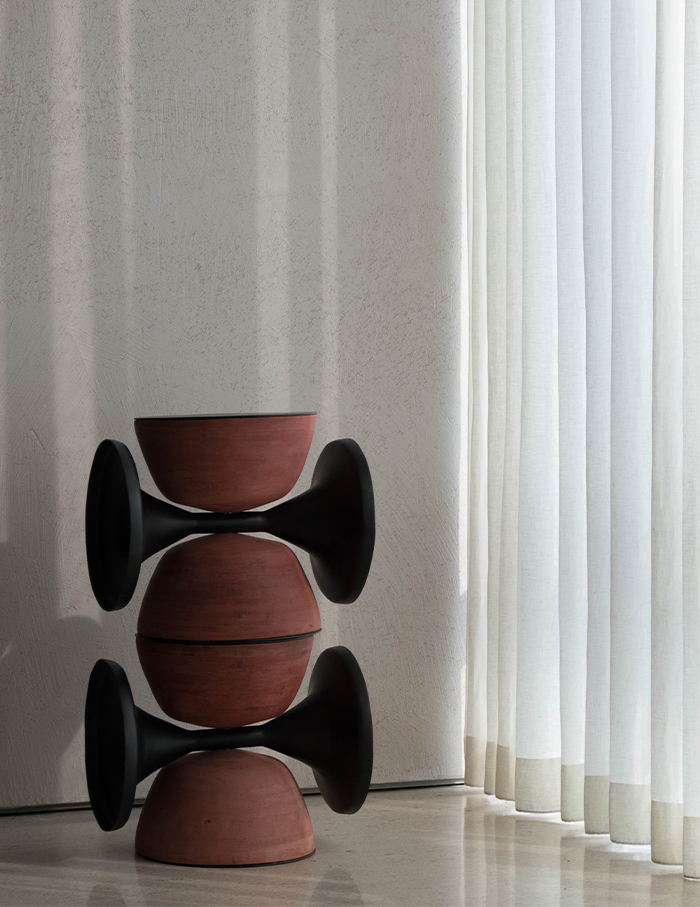 The Atelier promotes localisation of resources through a re-contextualisation of Indian craftsmanship by integrating experimentation, artisanship and technique into a creative ecosystem for collaboration and development. Debunking preconceived notions and redefining existing narratives associated with craft by helping people view local craftsmanship, indigenous practises and age-old momentos in contemporary light. Through this journey, we have enjoyed working closely with local craftsmen to bring my vision to life.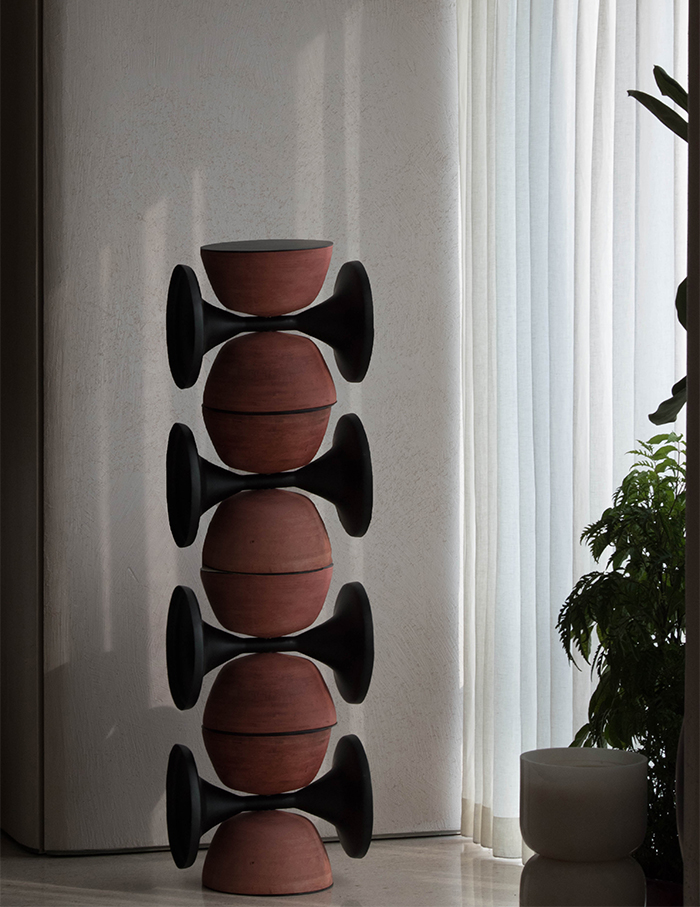 It's been an interesting back and forth process where we closely collaborate with artisans pushing the boundaries and challenging them through scale, form and function. One such craft that we've recently explored—working closely with local artisans in Mumbai is Terracotta pottery. The final design object, a result of these explorations—the Terradrum successfully captures the raw earthiness of the craft infused with the Atelier's design language.
The Terradrum, inspired by Anish Kapoor's Taratantara, finds a new avatar in this marriage between two pertinent crafts—terracotta pottery and cast aluminium. Gravitating towards the geometry of an ellipse, a form quintessential to the Atelier, this baked object enraptures one through its distinct form.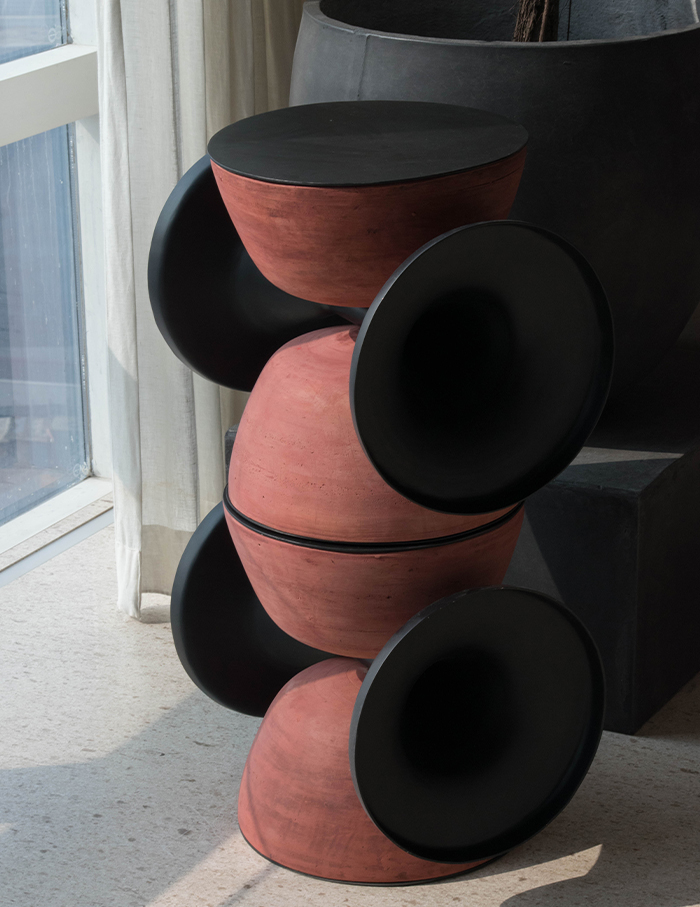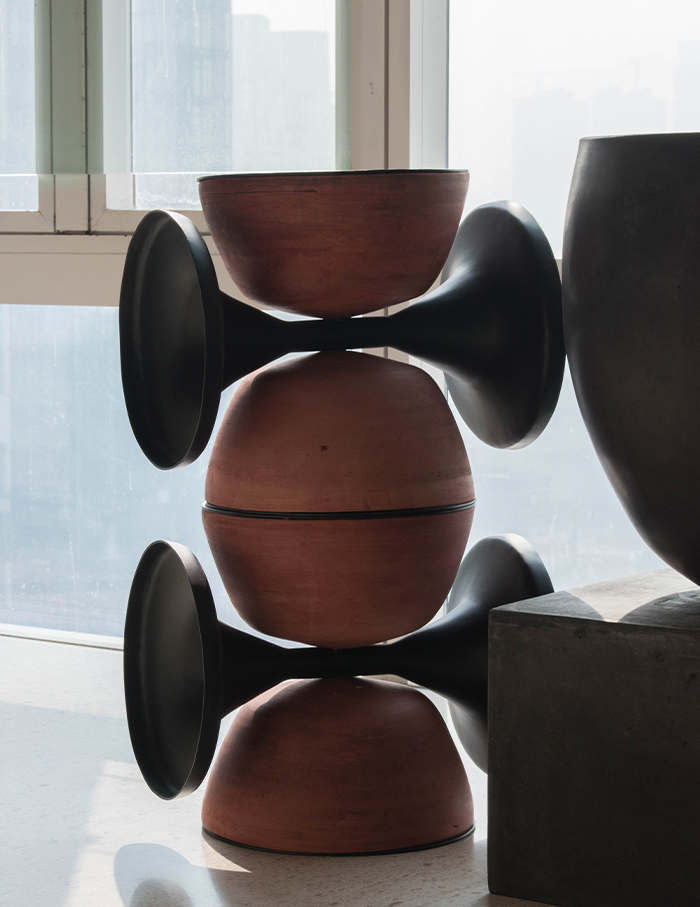 Two lingams sit inversely over the other and are separated by a form, bulbous at the edges and lean in the centre. Appearing as protruding ears/'kaan,' these elliptical ends are hollow through and through.
This elliptical form is used in combination with hand crafted processes, to produce a reclaimable design object in Terracotta—the colour of the burnt orange, natural clay fired to perfection in a buzzing street in Dharavi, pays homage to localisation and optimisation of resources, through a programme of generating employment and uplifting artisans.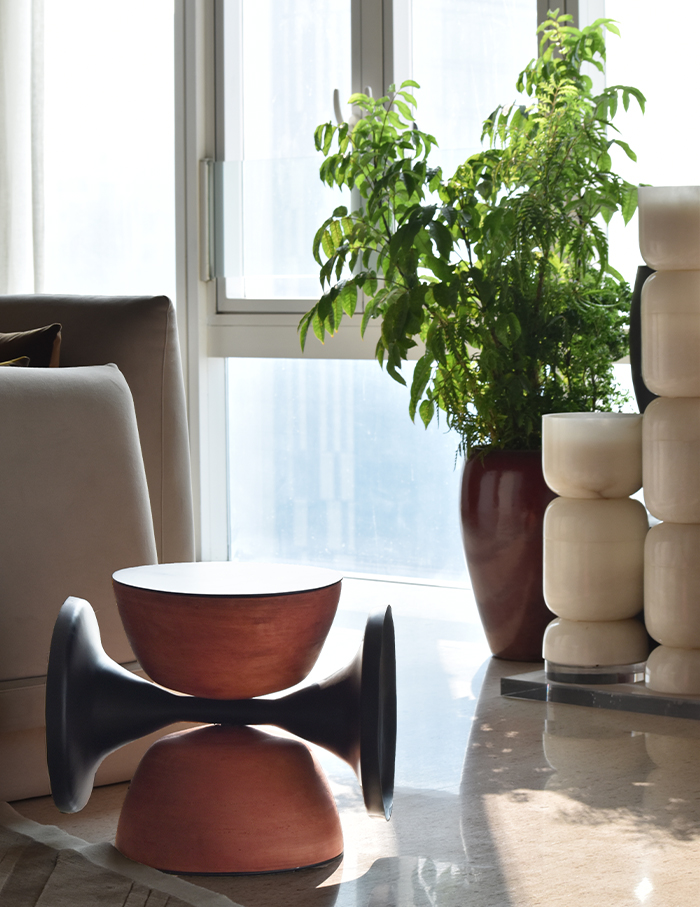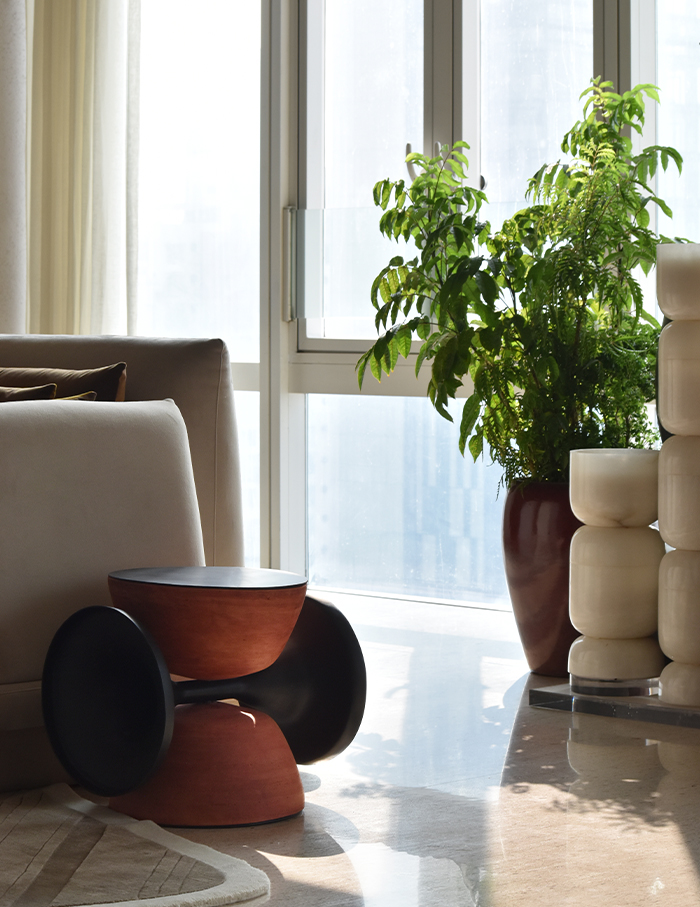 Besides an obvious play of material and scale, the objects can be alternatively purposed to stand as a totem or perch stools and tables, placed one over the other as convex and concave curvatures, celebrating dynamism.
The resulting objects sit beautifully atop another, embodying colour, illusion and texture exuding a sense of perfect imperfection. The Atelier endeavours to explore the craft further by collaborating closely with these artisans pushing its boundaries lending it new possibilities! ­­­­­
Loved gazing at The Terradrum by Atelier Ashiesh Shah? You may also like: Top 5 luxury homes personified by Ashiesh Shah's striking art curation