Design
A riveting dialogue between fashion, architecture and heritage brews into an irresistible home collection by Ashiesh Shah and Ritu Kumar
NOV 15, 2021
| By Pratishtha Rana
A collaboration drenched in a passionate dialogue between fashion and art takes centre stage as two celebrated names in the space of design— Ashiesh Shah and Ritu Kumar—come together. Shah's works in interiors and architecture that are proverbially serene and thought-provoking, intersect with the playful and trendsetting moodboard of fashion designer Ritu Kumar in the latest exclusive edition collection of home linen, tableware, wallpaper and decor. 
This collection is imagined through the lens of the cultural vivacity that India holds, precisely focussing on the design narratives of Amer, Jaisalmer and Kochi. Each home decor piece speaks highly of the age-old traditions and heritage craftsmanship, peppered with a modern version of the local flavours, elemental colours and textures, characteristic to these cities across the country.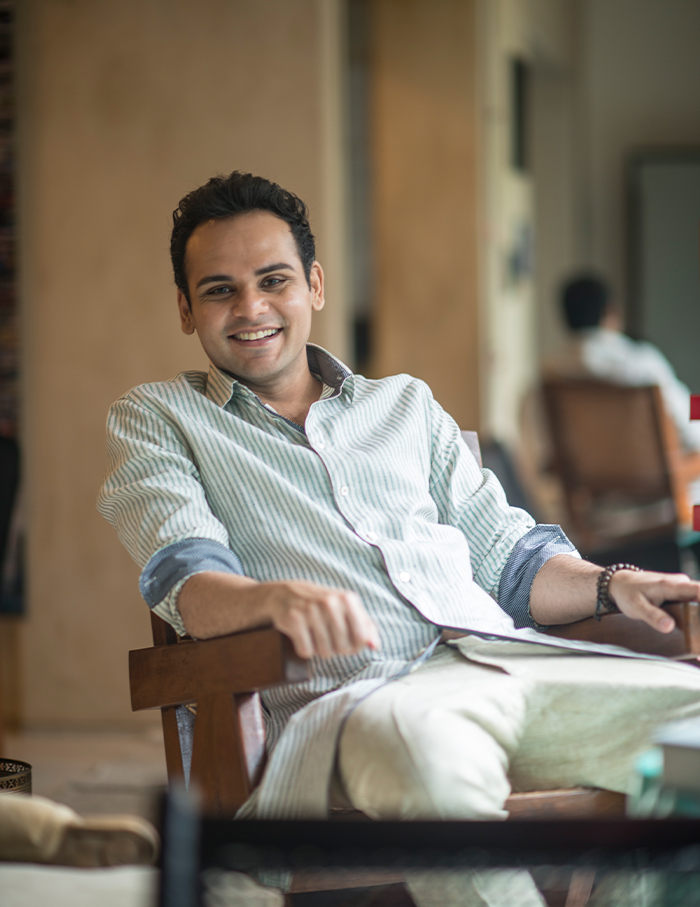 How closely interwoven is fashion with architecture. What can the people expect when two stalwarts from their respective fields come together?
In my opinion, the boundaries between fashion and architecture are blurred. The construction of a garment for instance, is composed of a stitch, a fold, a seam very much like the joineries in architecture, both are deeply entrenched in our daily lives. While a garment is in close physical contact with the body, architecture is an immersive experience surrounding one's body – it's simply the works of designers like Issey Miyaki that reinforce how clothing can be architectural.
The commonalities between architecture and fashion are showcased through a detailed exercise in colour blocking and styling, reflected in a play of texture, colour and materiality. Soft furnishings and furniture of spatially store design, particularly fashion retail boutiques, plays a significant role in the perception of the object. While art and architecture are always known to be hand in hand, I firmly believe that textile and architecture seamlessly blend into one another.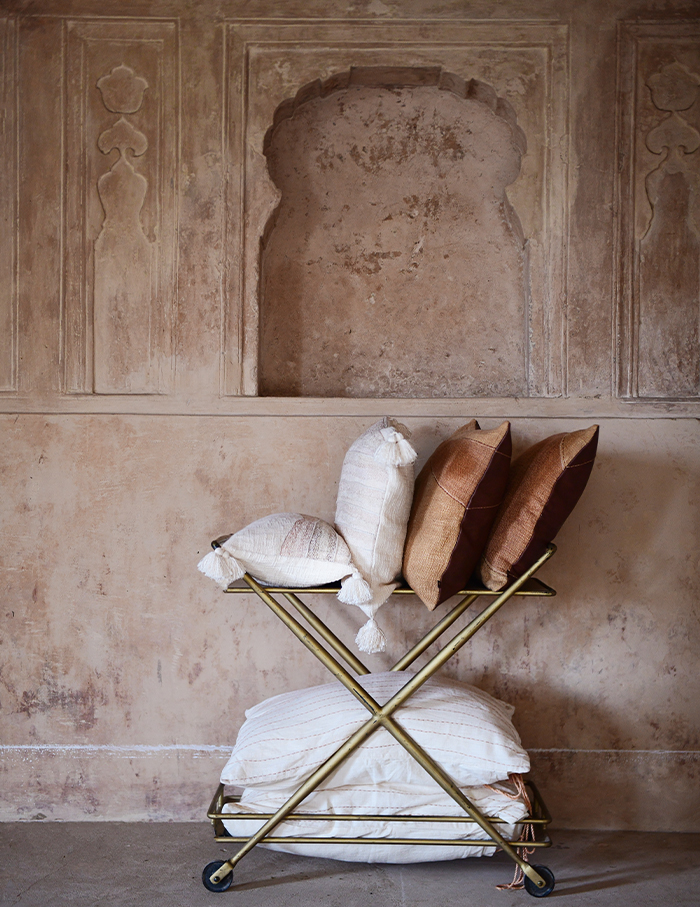 What were the initial conversations with Ritu Kumar that led to The Home Collection?
The first conversation took place in Ritu Kumar's studio where we took a fair while to study their archives along with the collections they've produced thus far. Browsing through her work and reading her books gave me insights into her refined perception of India and her overarching aesthetic. Supplemented with a bank of detail and information, we began our journey in an attempt to understand the world of Ritu Kumar first to layer it by infusing our thought process at the atelier for a seamlessly synchronised pairing.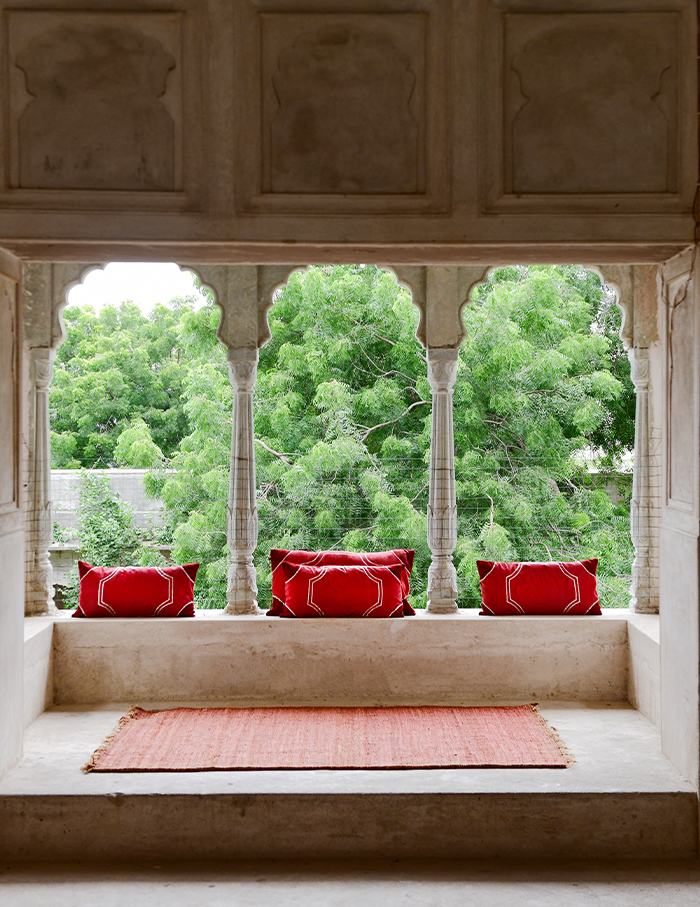 Is there a common thread in the design of this collection, apart from the fact that they are designed in inspiration to art and culture from various cities in India?
The common thread is the layering within each collection, a result of the in depth research done so far combined with the distinction of the brand ethos. It is a reflection of the thought process of what we wish to project as the new vision for the collaboration. The collection integrates design philosophies from elements that are specific to the context of the city with emphasis on their architecture and way of life. Every city was analysed and thoroughly researched to determine its mood board and overarching colour palette that finds its way through the entirety of the collection, suggestive of its immediate environment and presented with a contemporary flair.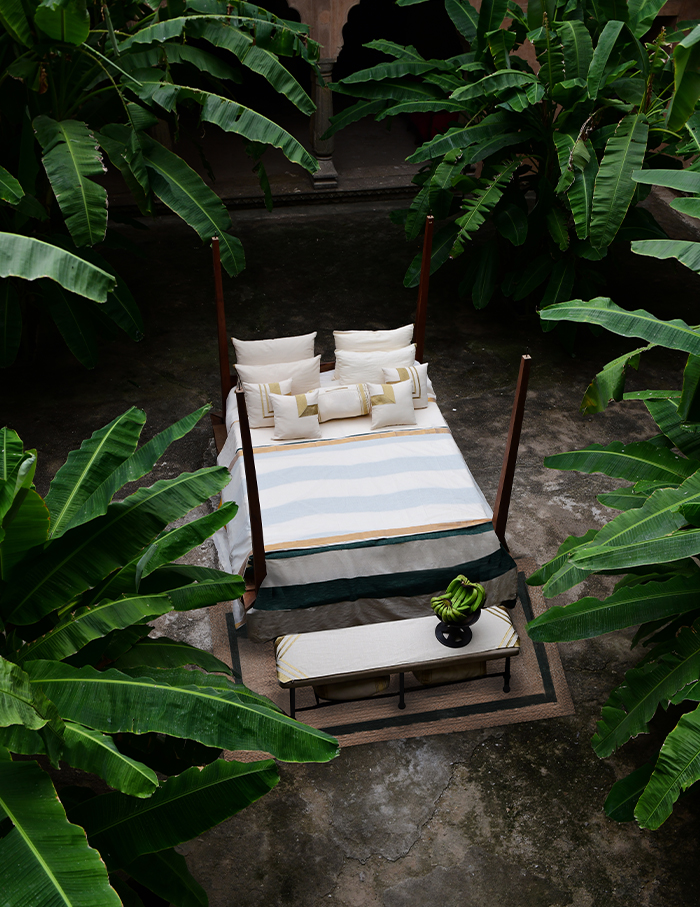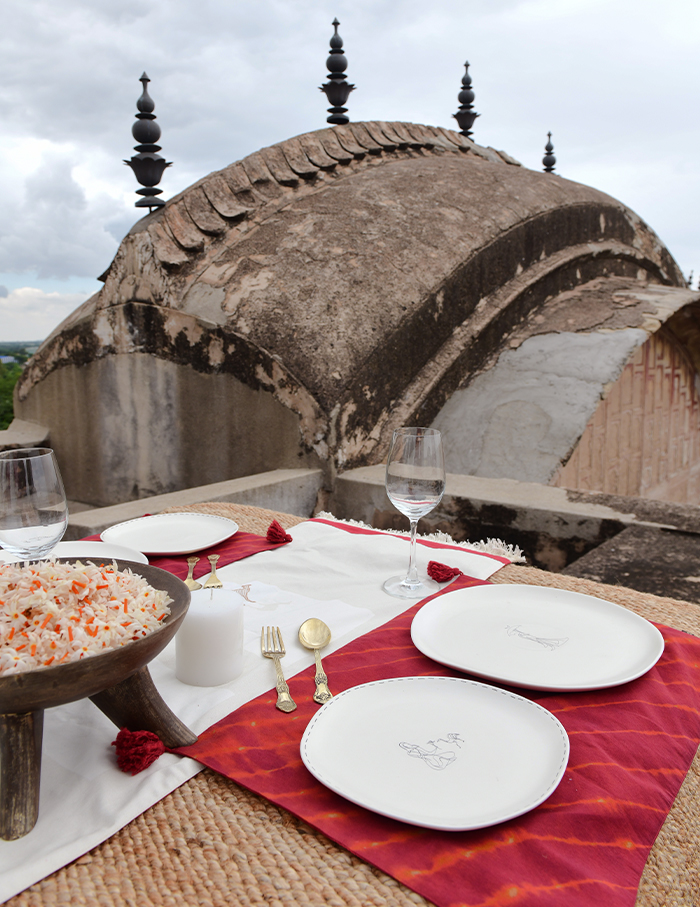 What kind of materials and weaving techniques have been incorporated?
Our collection is curated with soft fabrics like cotton slub it adds a rich texture to plain cotton and enhances it. A limited-edition of hand-block printed bed linen in fine muslin and linen brings the charm of natural colours into your bedroom. Different techniques like: foiling, tamba gota are used to create attractive patterns, it adds a rich look to the collection.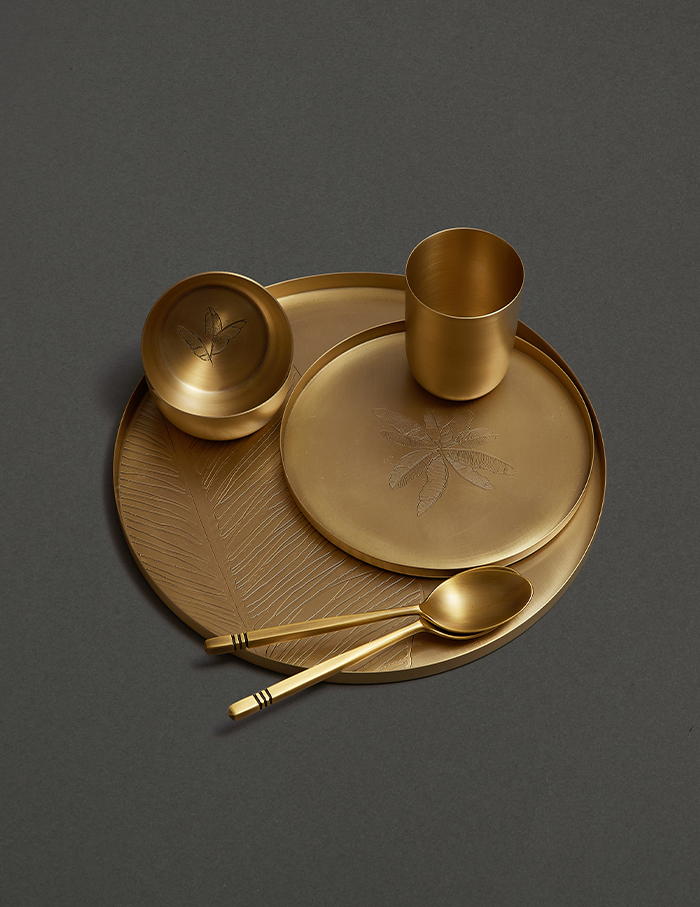 Were any local artisanal or weaving communities involved in the production of the collection?
At Ritu Kumar, we have always relied on our country's vast, rich heritage of traditional crafts and methodology in our design language. We have incorporated hand-block printing techniques from across the country into our collections to make them look richer and enhance the collection's look.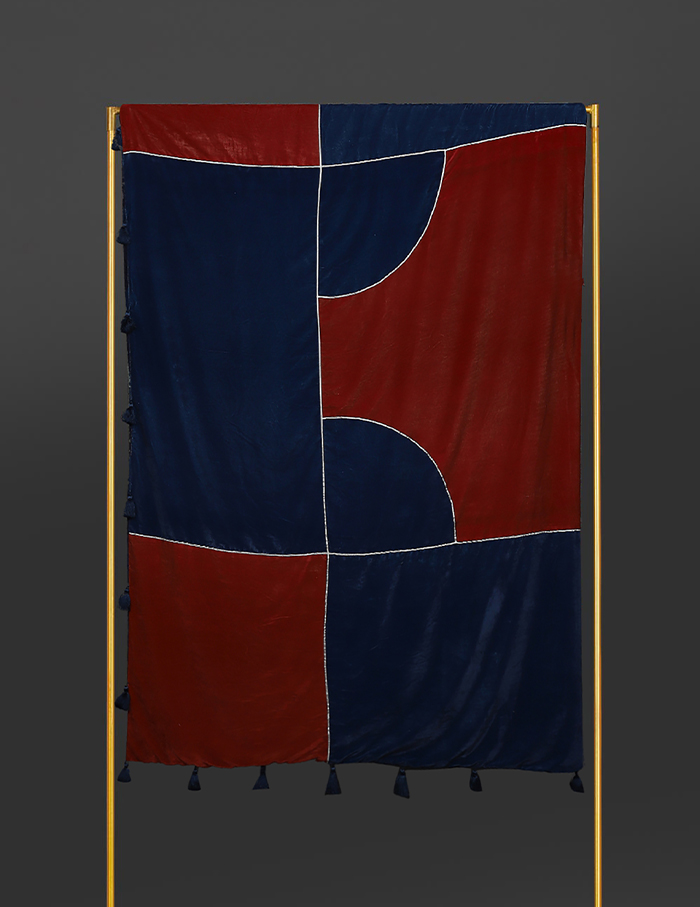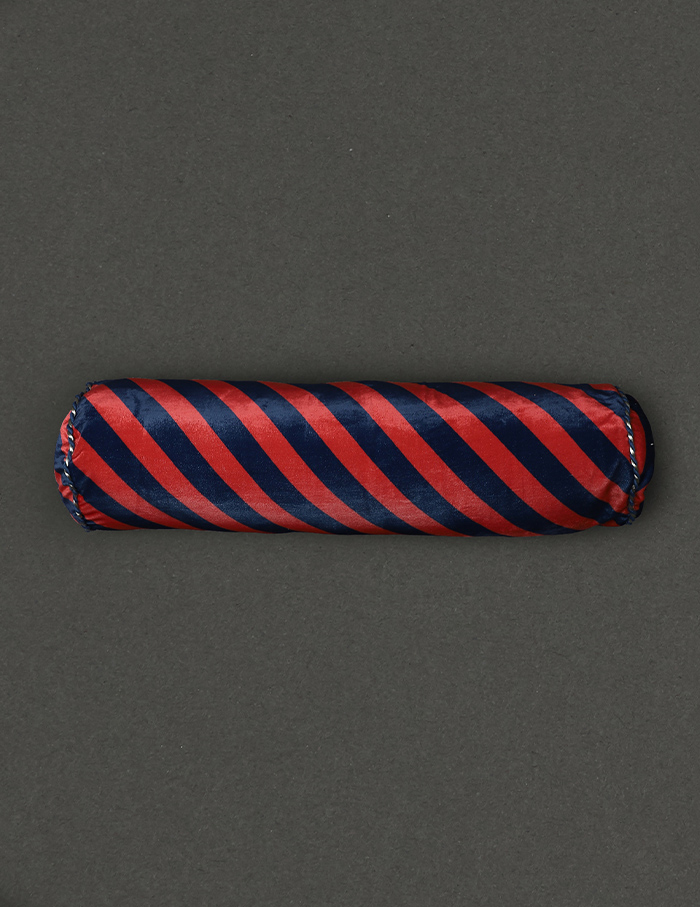 Looking forward, how do you perceive the future of fashion and design, when merged together?
I view this convergence as a start, a precedent to a lot of such interesting collaborations in the future. It is always exciting and refreshing to gain a multitude of perspectives and insights from a different discipline.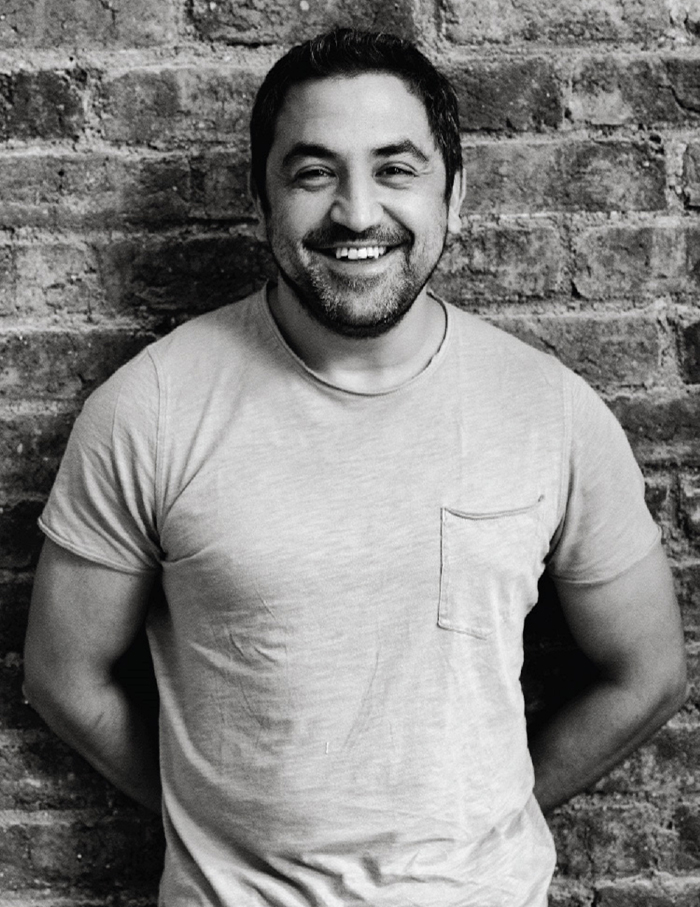 Talking about the collaboration, Mr. Amrish Kumar, Managing Director Ritu Kumar elucidates, "We have always been inspired by the breadth of what India has to offer in art, fabric, and architecture. Our passion for rediscovering and restoring Indian textiles has been the brand's signature since its inception 50 years ago. Ritu Kumar Home is a contemporary take on traditional Indian textiles, architecture, and motifs. Ashiesh's design sensibilities and our vision have come together to curate a collection that is minimalist and new for Ritu Kumar Home, but still something that would excite the Ritu Kumar patron.
Click here to explore more about the Ashiesh Shah and Ritu Kumar exclusive edition collection