Homes
Decoding the language of lines at this artistic abode designed by Open Atelier Mumbai
JUN 16, 2022
| By Sneha Gandhi
Lines are a curious visual element. Pack enough of these underrated design tools together and they will emphasise and enhance the linearity of a space. Stack them vertically and the same space is now more tight-knit and snug. Converge them and one can unleash a string of focal points via interesting intersections. 
Accentuating this intriguing play of strokes by abstract artworks is a Mumbai apartment, titled Blenden. Conceptualised by Rahul Mistri, Principal Designer of Open Atelier Mumbai, the 1,500 sq ft opulent home encompasses a living room, dining area, kitchen, a primary bedroom and two children's bedrooms. 
Although design functionality dictates a compartmentalisation of spaces, the contemporary home stitches them back together through its unified visual language. Lines reign supreme on all three planes: floor, wall and ceiling, drafting an array of opulence.
You may also like: Mismatched design intentions bring a surprising boho aesthetic to this Wadala home crafted by Open Atelier Mumbai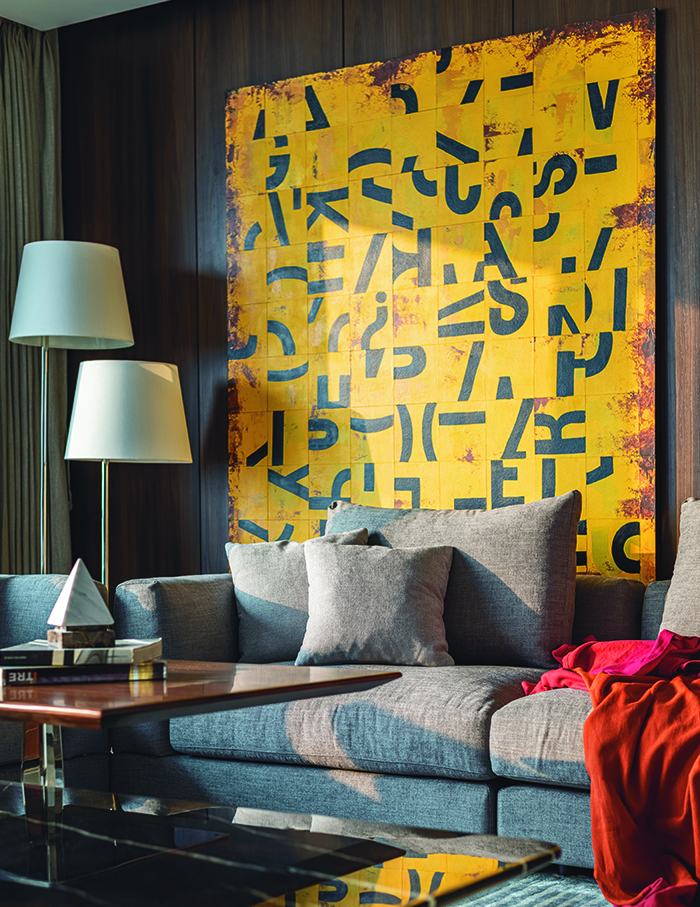 "The Open Atelier Mumbai studio aims to craft vivacious and elegant spaces derived from a juxtaposition of elements and materials and strengthened by an exceptional focus on quality to weave an empirical spatial narrative," elaborates Rahul.
Echoing unique compositions, the artworks are integrated with geometric patterns throughout the vast expanse of the space, welcoming one in with much intrigue. Derived from the existing flooring palette, the living room is a fusion of warm tones of ocres and browns balanced with neutral greys.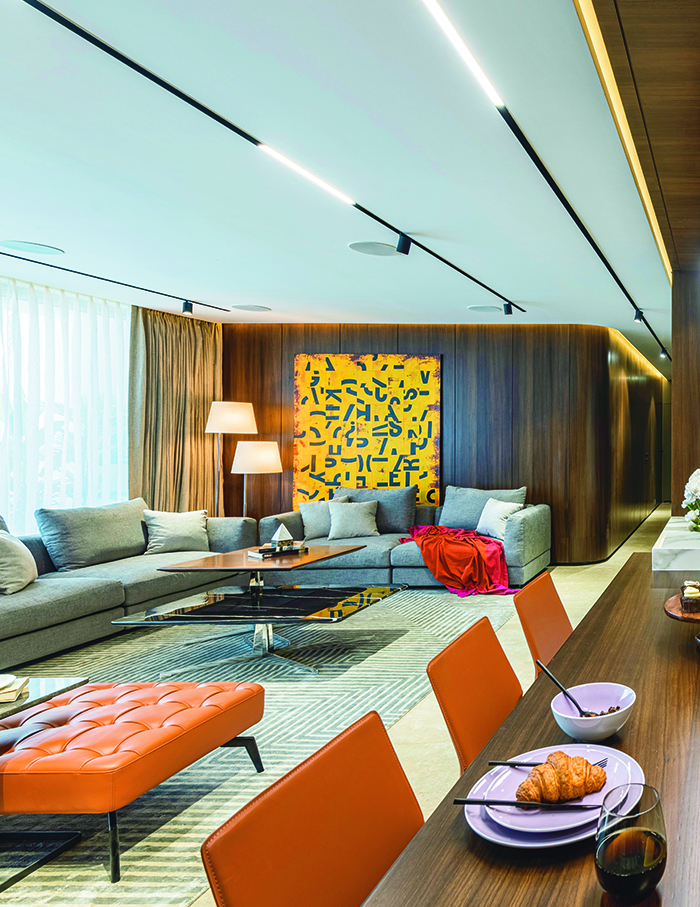 On the left, a curvilinear panelling reveals the dining area and the modular kitchen. To enable a continuous dialogue, the home steers clear of the enclosed kitchen layout but instead opts for a large combined volume based on the working triangle principle. 
The architect promptly declares this space as his favourite part of the home, revealing, "Incorporating an open-kitchen with an island, ample storage, utility areas, appliances and an attached dining room while maintaining an aesthetic and interactive character was indeed thrilling!"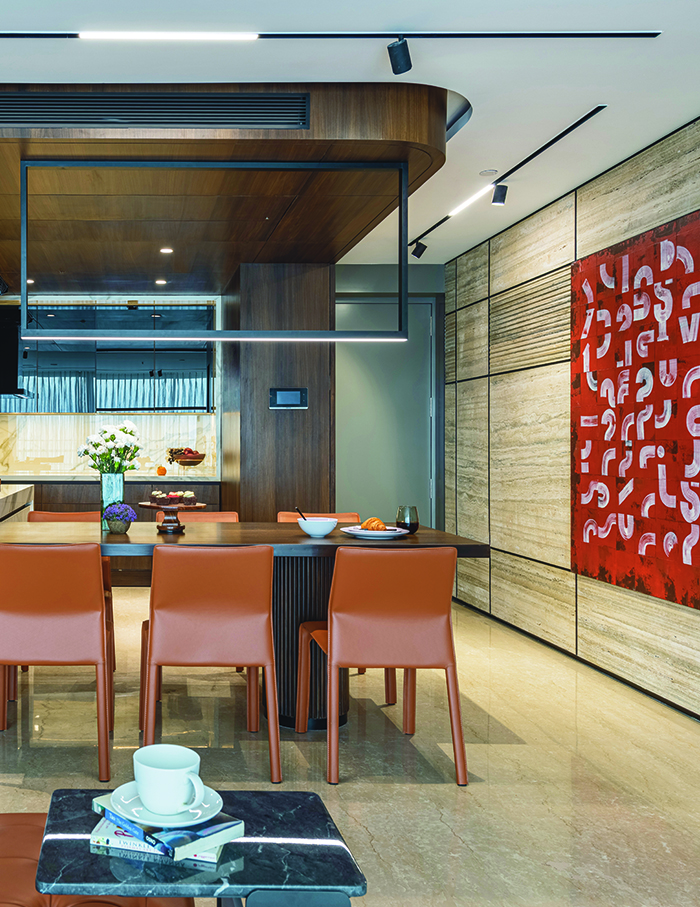 Going with the theme of compartmentalised-but-together, the dining table with its ribbed cylindrical legs and classic chairs creatively connects to the kitchen countertops. The travertine marble wall behind provides a contrasting backdrop to the television unit. Thoughtfully placed ceiling lighting tracks further enunciate the horizontality of the communal spaces. 
Replicating the curve aesthetic, a coffee wood panelling in the living area adorned with an abstract yellow artwork curls into the passage area. Embedded in rich weave bedding, the primary bedroom is a textural oasis displaying a dark veneer panelled wall contrasted with a black glass closet and PVC panelling.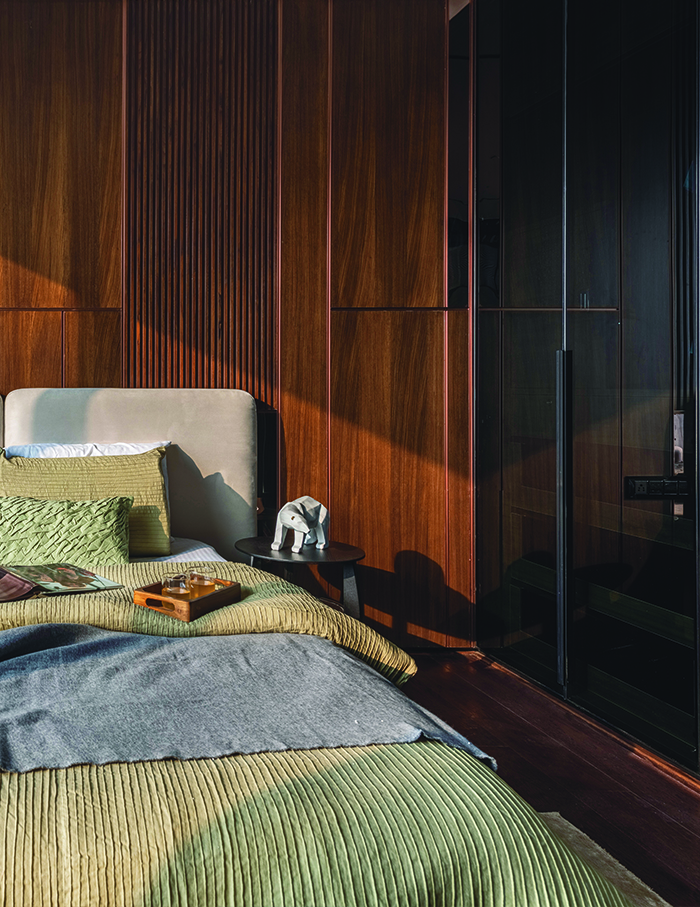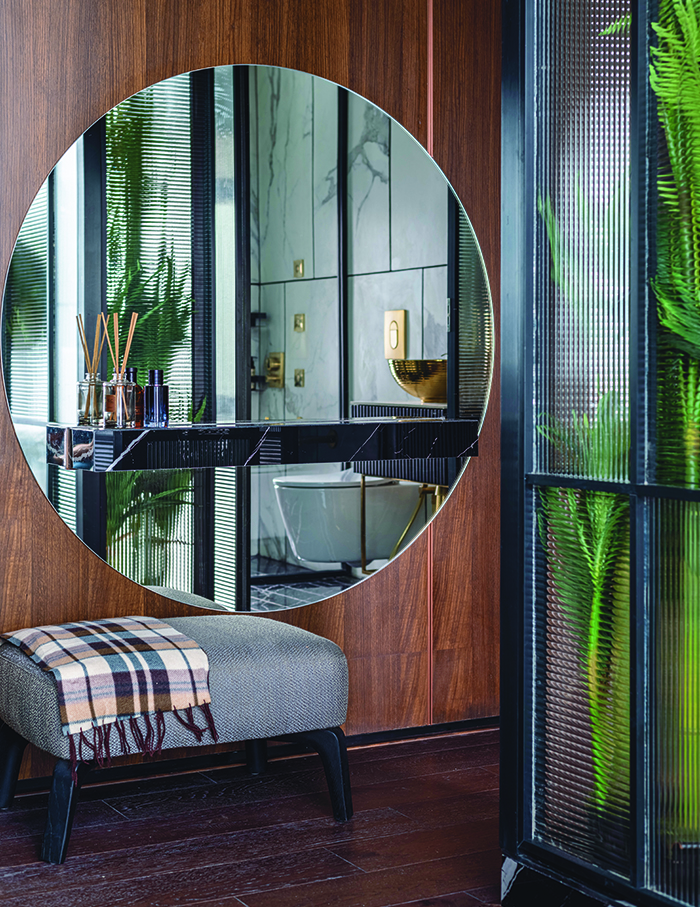 Separating the primary bedroom from the bath stands a translucent glass box inserted with curated planters, stacked in place after consultation with a horticulture specialist. The studio dubs the partition as #GreenInsideGlass, with Rahul adding, "this impactful touch of nature brings positivity and calmness to the entire room whilst purifying the air and ensuring optimum sustainability."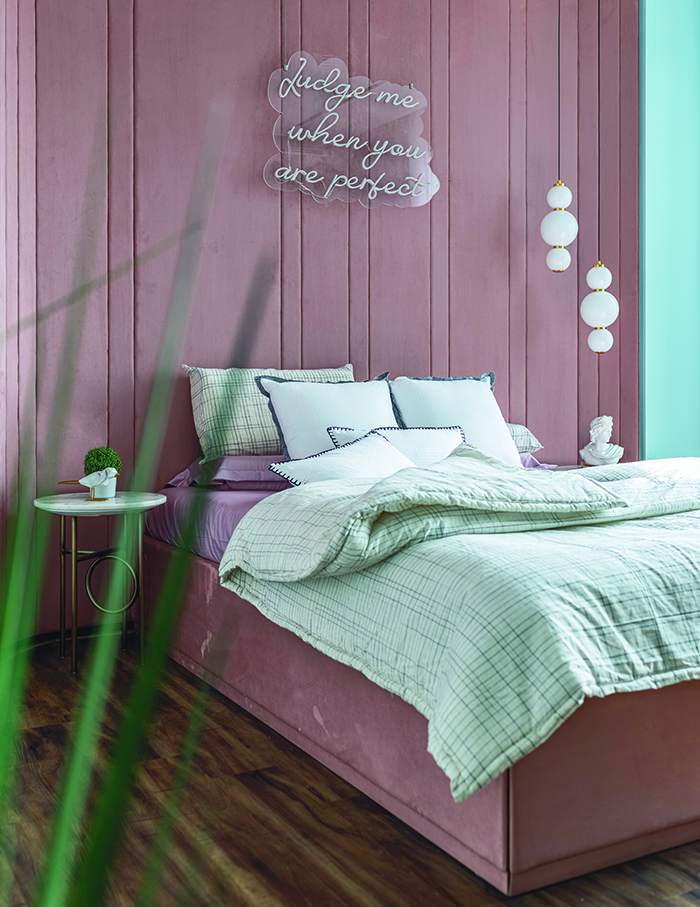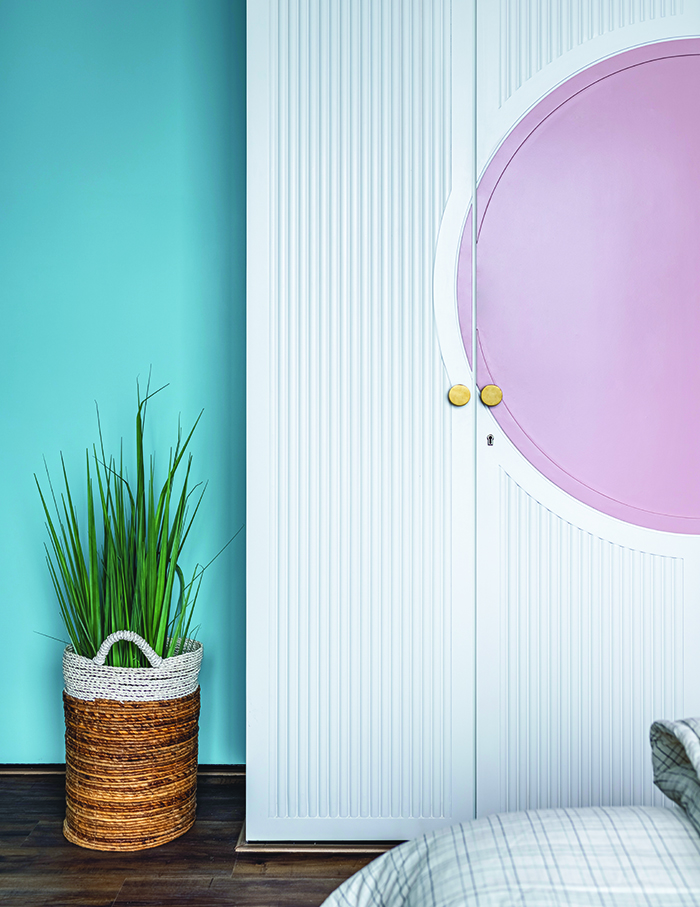 The children's bedroom is a mood in itself with its blush-hued interiors complemented with white and blue fabrics and accents. Designed with zest and attention to detail, the furniture is as cheerful and simple as its inhabitants. The bathroom extends the same playful ambience as the bedroom with classic terrazzo and hexagonal mosaics complemented by statement white sanitary ware.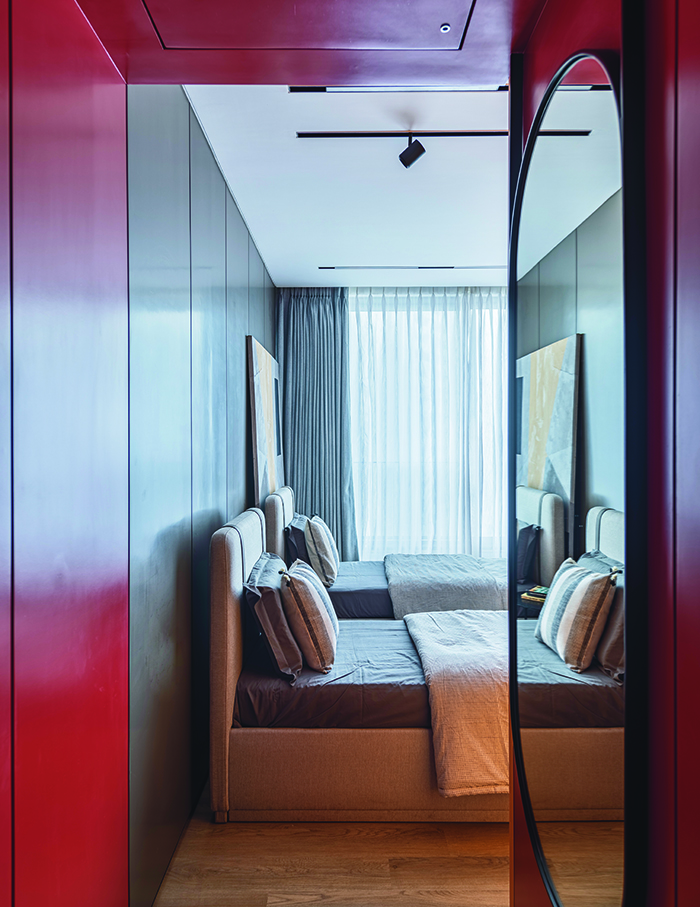 In comparison, the elder daughter's bedroom is engulfed in grey tones with occasional splashes of colour in the form of a bed-back artwork. Mango yellow furniture in the study area renders a vibrant and exciting energy.
This Mumbai home employs smart home instruments like sensory lighting systems and advanced bathroom faucets, kinetic jets and water spouts within the bathroom. "Additionally, the design comprises sensor automated pumps and online geysers that utilise power and energy only when the bathroom is in use," concludes Rahul.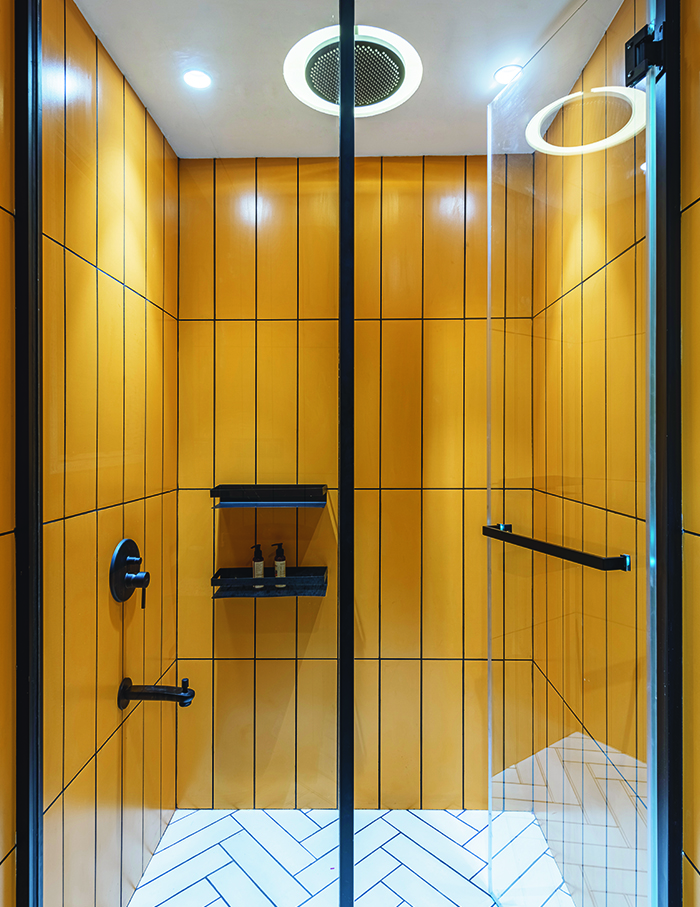 Insightful touches like the #GreenInsideGlass and geometric detailing of spaces make Blenden by Open Atelier Mumbai a creative yet meaningful composition. 
Loved the artistic appeal of this Mumbai home? Now check out This Ahmedabad villa by tHE gRID Architects is like stepping into an artwork