Design
Aparna Kaushik Design Group's Noida office whips a canvas of old world charm underlined by modernity
MAR 24, 2022
| By Shriya Goyal
Imagine a scenario where the designer becomes the owner of their own space. The outcome is crafted with their spirit and ethos, that not only inspires focus and imagination, it confers the clientele a perspective of what's to come. By the same token Aparna Kaushik Design Group's Noida office borrows the identity of its occupant and devises a vintage aesthetic underlined by contextual design.
Designed by Aparna Kaushik, the four storey structure holds a graceful, symmetric silhouette composed of clean lines, large balconied windows and a subtle exterior palette of warm grey and antique brass hues. 
Faithful to her own taste, the designer incorporates hints of classical stylisations brought together by tailored fabrics and furniture. The balanced use of discerning variations of fine metal, glass and stone, frame serene museum-like interiors.
You may also like: Creative New York City loft office by Christina Loucks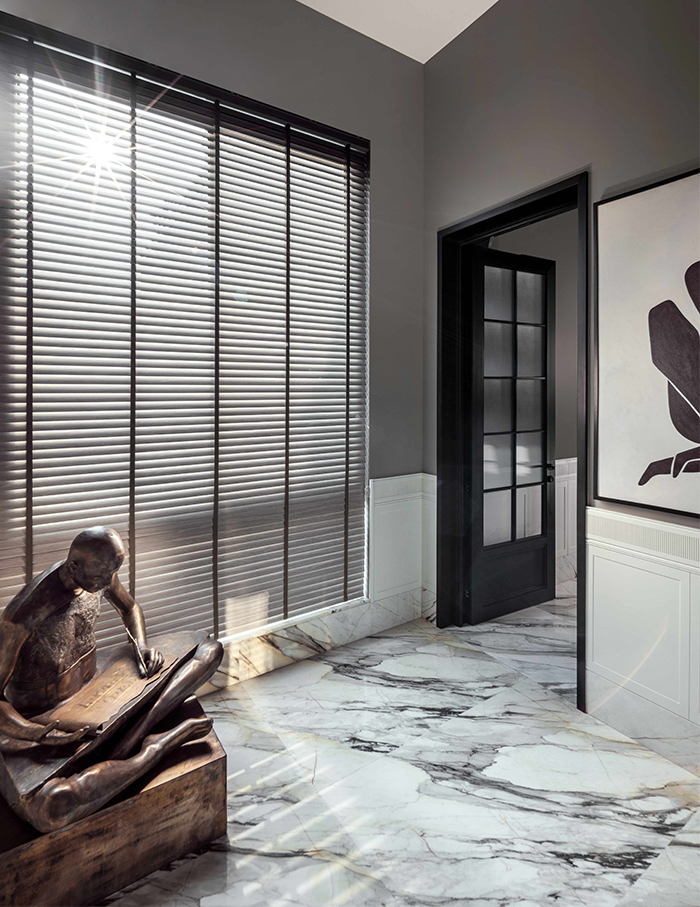 In constant conversation with natural light, the entrance, hallway and lobbies speak volumes of its richness. The Calacatta gold marble floors beset by architectural art and sculptures adds vividity. 
Aparna Kaushik's penchant for modern and impressionist art is depicted by bronze sculptures. An engrossed seated man with the Sanskrit words, Vasudev Kutumbhakamb – 'The world is one family' and a girl dressed like a ballerina with the stance of a dancer and the gaze of childlike wonder and creativity.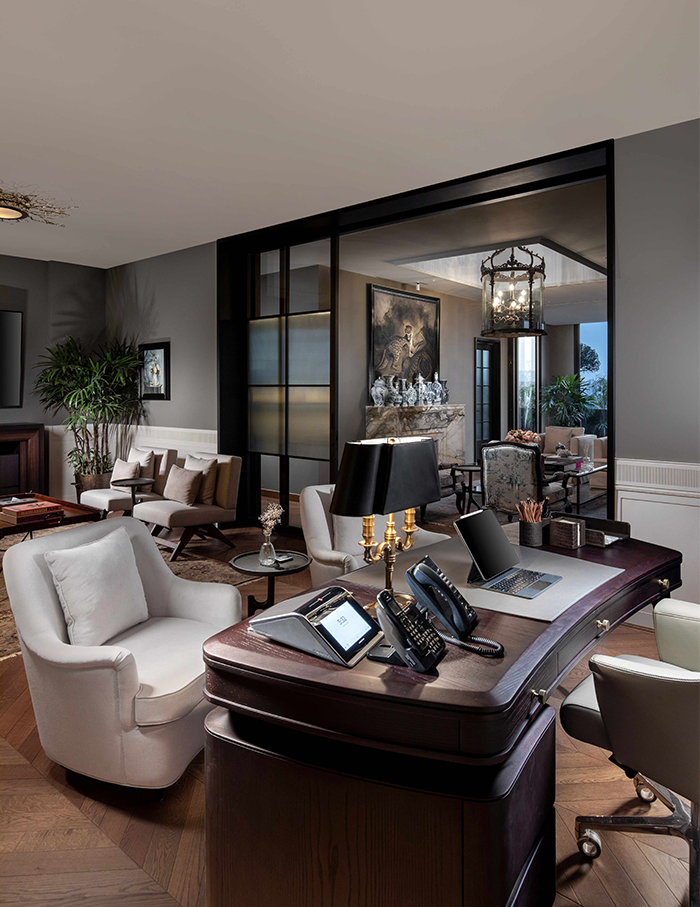 The mid-century design of a pagoda chandelier in the elevator lobby is inspired by a vintage book discovered in the bazaars of Daryaganj, an old Delhi flea market. Intimate spatial nooks clad in neutral colours and fitted with bookshelves deepen a sense of seclusion.
Large artworks featuring trompe-l'oeil on the neutral coloured walls render illusory depth to closed spaces. Scaled down ceiling heights with intricate detailing imparts an intimate character. Stylised on the principles of comfort and functionality, the work zones are devoid of partitions to enhance collaborative interactions.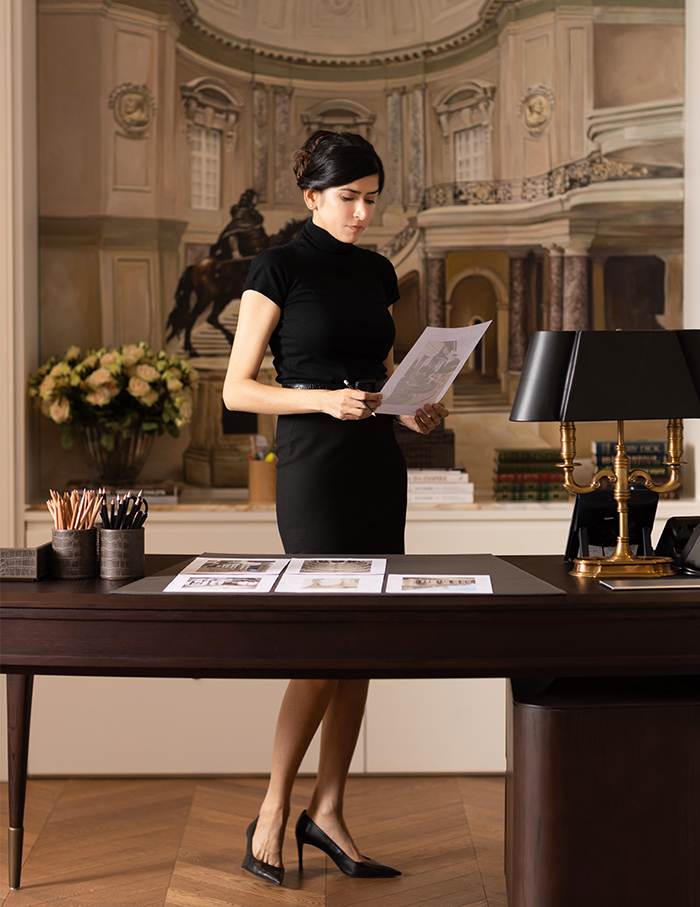 An antique-style desk by Alexander Theodore, gold lighting accents, lush plants in beaten brass planters, silver-grey upholstery and a subtle-toned Persian rug strike a compelling balance against dark wood floors and a domed palatial banquet hall backdrop in the main suite. 
Set against an expressway skyline and arresting views of the city, soft grey hues of the ornate rooftop client's lounge is a force to be reckoned with chinese style porcelain vases on a marble mantle, beset with a leopard painting and exuding an inviting frame of modern regality.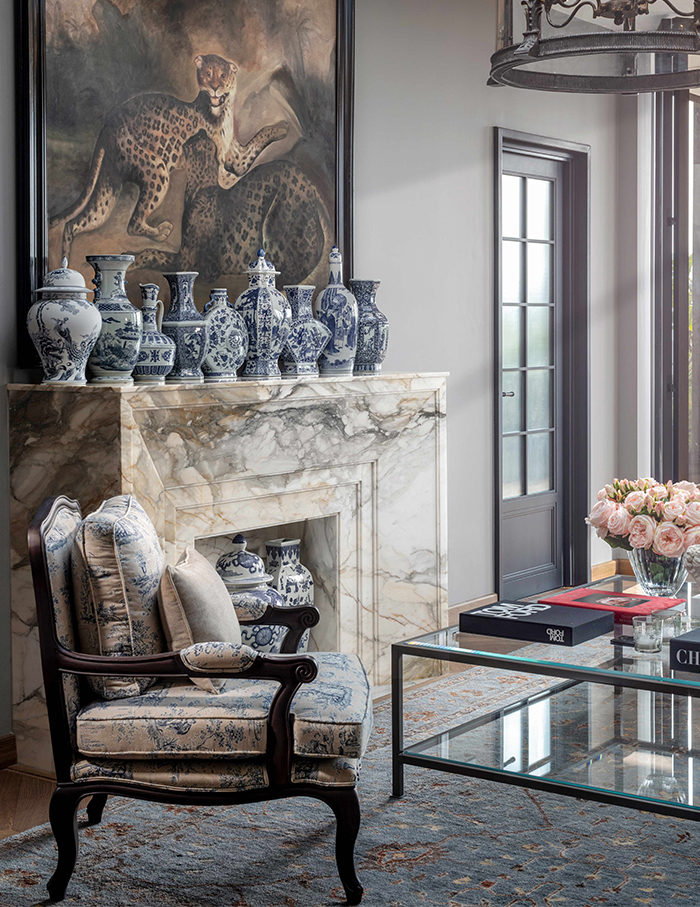 Nostalgic design with a hint of contemporary aesthetics, the office is an effortless haven of an imaginative, elevated and bespoke setting. Minimal and muted furnishings throughout the layout evoke an aura of opulence and calm felicitous for committed work, novel ideas and creative sojourns. Devoted to historic and global design heuristics, this classical milieu charades art and novel architecture.
Scroll down to see more glimpses of Aparna Kaushik Design Group's Noida office: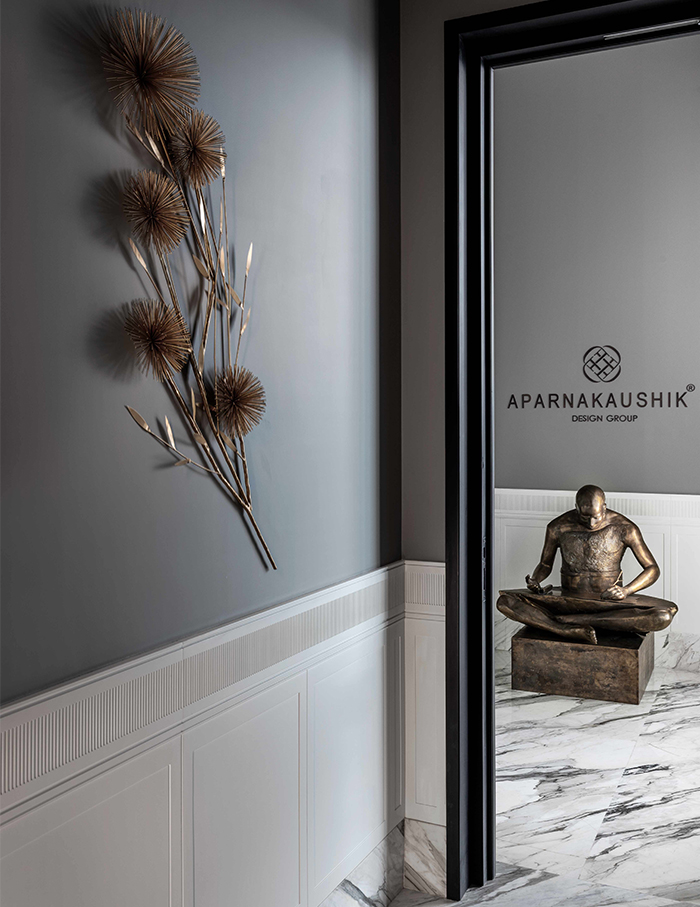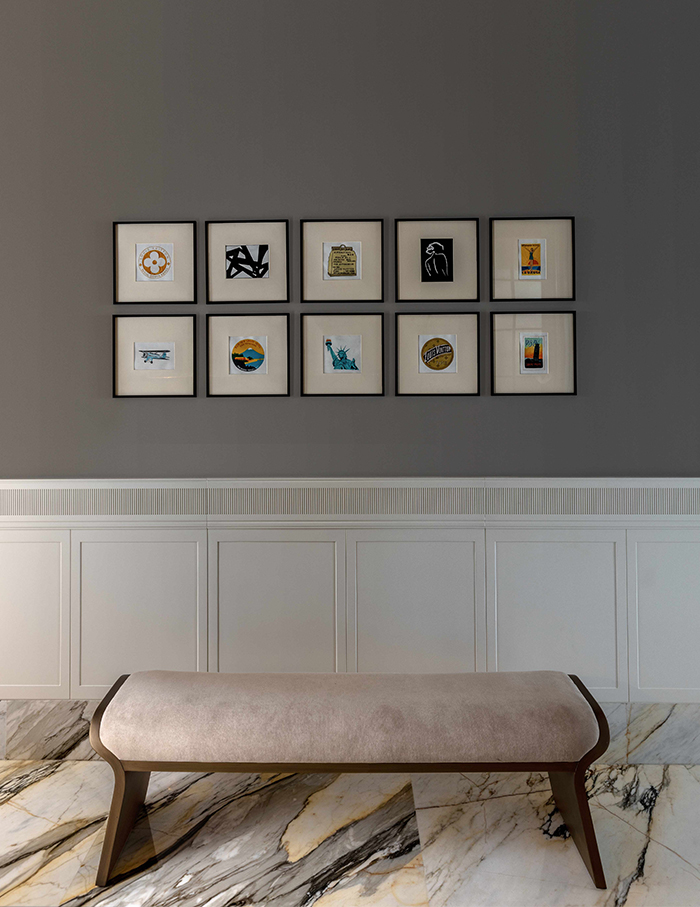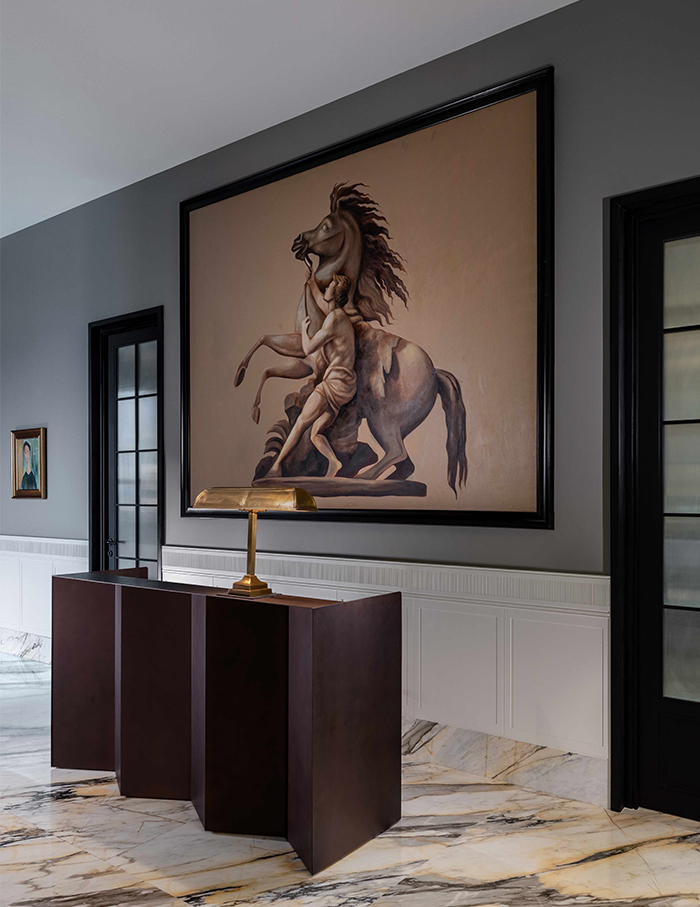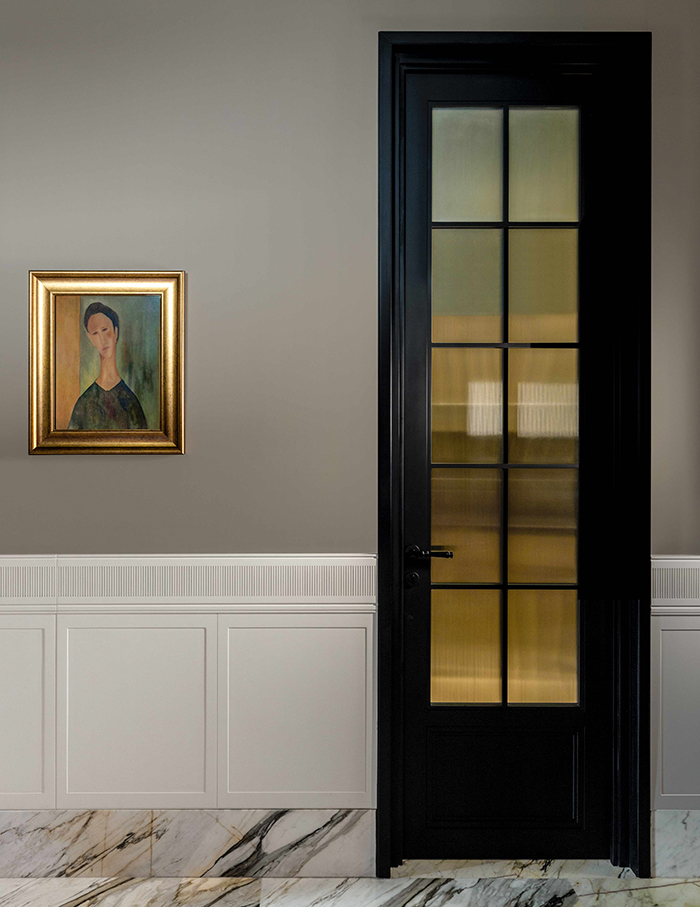 Fascinated by Aparna Kaushik Design Group's Noida office, check out The Aventador Office with it's asymmetrical and edgy facade