Design
Who spilled the coffee—The first Drop Coffee outpost in Abu Dhabi is rethinking the cafe experience helmed by Roar design studio
APR 28, 2022
| By Pratishtha Rana
In a passionate translation of the robust flavours and fluid temper of coffee, a new caffeine-centric outlet has materialised in Abu Dhabi. Dubbed Drop Coffee, the space in its design glossary is all that coffee stands for (and doesn't), thanks to the inventive minds at Roar, an interior design studio helmed by its founder and creative director Pallavi Dean.
Minimalist at one glance but a canvas of diverse interior observations coming together, Drop Coffee in Abu Dhabi is the first of its kind and the second outlet for the brand founded by Emirati duo Mahmood Al Khamis and Ghanim Al Qassim.
A monochrome play of tones flows seamlessly from one corner to the other, outlining an ambience free of clutter and chaos, where sipping on one's favourite brews, working or even idling away time is an experience worth indulging in.
You may also like: Best cafes in India: Serving aesthetics, fresh brews and delish bites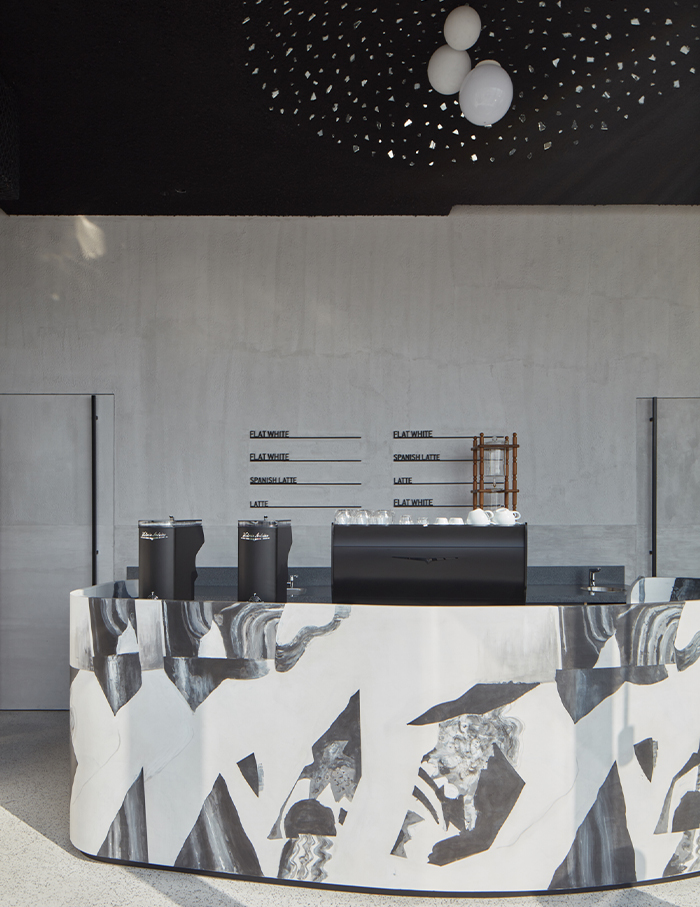 As one ambles into the cafe, a backdrop wall inside reveals a grey concrete textured paint, applied in a rather rough finish and astutely synergised with natural oak wood accents.
Meandering through the space, placed right at the nexus of the cafe is a long brushed stainless steel communal table. A pièce de résistance if you may call it, the curvilinear table sets the design grammar right for all its accompanying furniture and seatings.
Cleverly peppered hints of greens and wood elevate the minimal canvas, extending a sense of warmth to the space.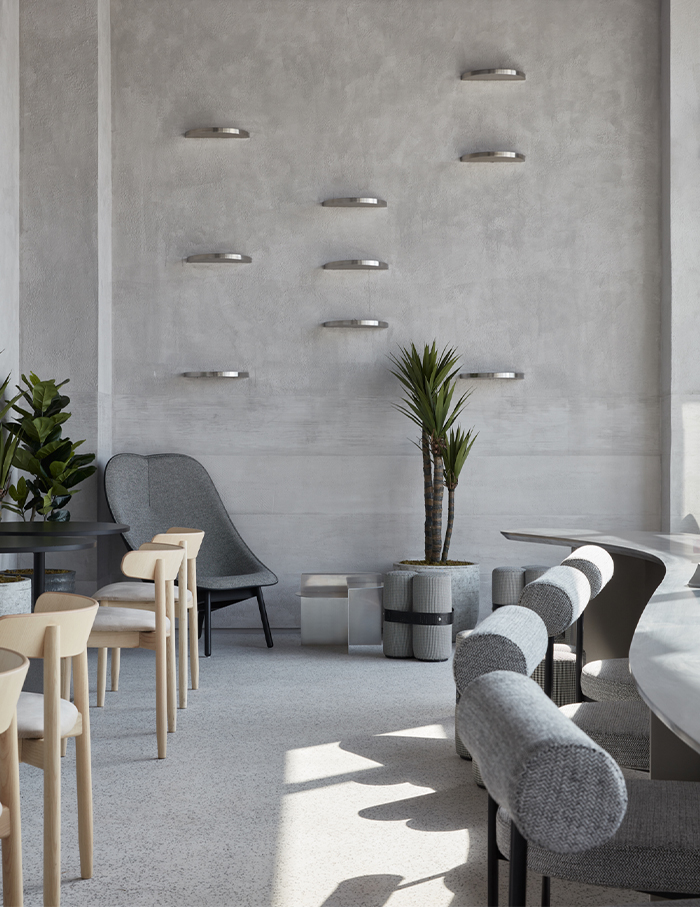 As one turns eyes towards the main bar area, a striking glimpse of a unique design thought captures attention—traces of spilt coffee mimicked through textured paint on the counter front.
Pallavi muses, "We were in the studio and started  playing with the idea of using split coffee as a motif within the scheme, which we thought  would be a fun nod to the brand's name, Drop." On a large piece of paper then, coffee was dripped and its droplets were dragged around with a mug.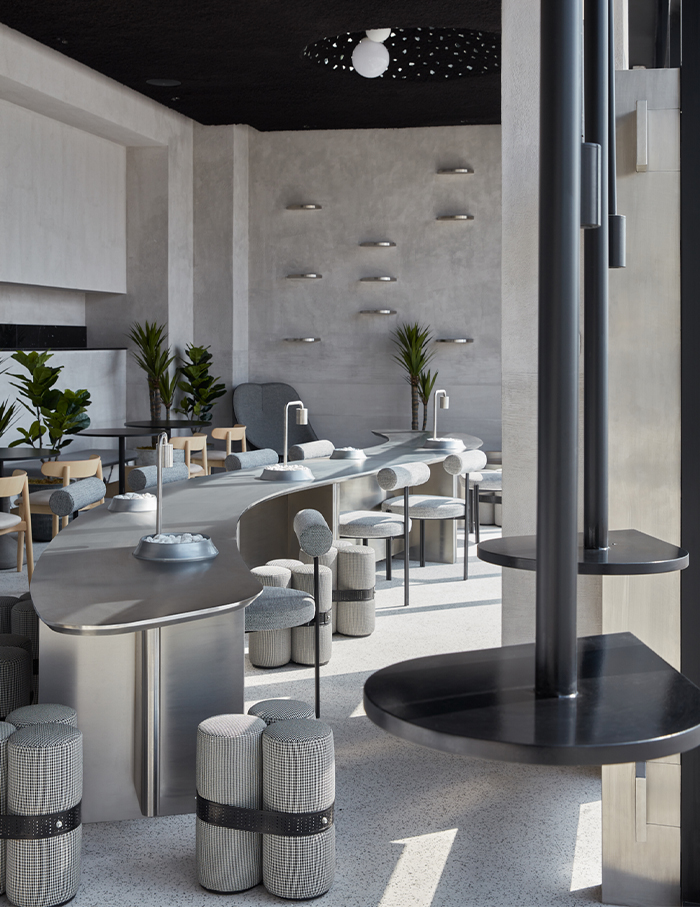 This impromptu, abstract pattern was next photocopied and magnified to be used as a textured motif at the bar as well the booth joinery against the wall!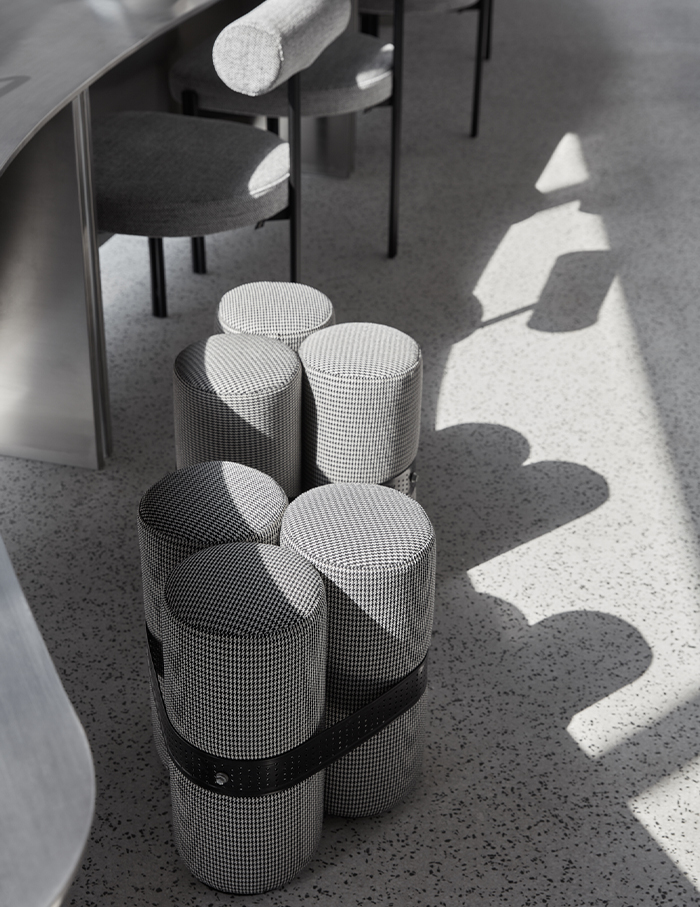 Moments of awe don't stop here. Look up and the ceiling grips you with its dome-shaped design that is covered in textured paint with mirror shards embedded within, luminously reflecting the floor's chipped terrazzo tiles in a play of light and forms. Coalesce these diverse design ingredients with the bodied taste of caffeine and you have a timeless recipe that manifests in form of Drop Coffee in Abu Dhabi! 
You may also like: Have you visited The Craftery by SUBKO in Mumbai houses a cafe, bakery, retail zone and more?