Lifestyle
Japanese concepts wabi sabi and kintsugi lead to an ideal Oriental oasis for Zenmai by Shiraz Jamali Architects
DEC 17, 2020
| By Kashmira Pathare
Simply walking through the doors of Zenmai in suburban Mumbai immediately transports you to an Oriental setting that's rather cosmopolitan for its bold use of colours. Architects Shiraz Jamali and Mammen Paul have brought to life this 3,500 sq ft restaurant, which is ideal as much for cosy brunches as it is for fine dining after dusk.
Since the practice believes in staying true to the space, its function and the aspiration. So, for this pan-Asian venue—which offers a fusion of Japanese, Chinese and Thai fare with a touch of Indian and Nigerian flavours—the creatives pursued the Japanese philosophy of wabi sabi as well as the art of kintsugi.
Oriental elements are strategically placed to have the desired effect. The first such is in the outdoor section, where a majestic Buddha statue is enveloped by creepers and palms. Art deco-inspired doors welcome natural light in and shadows throughout the day alter the mood within.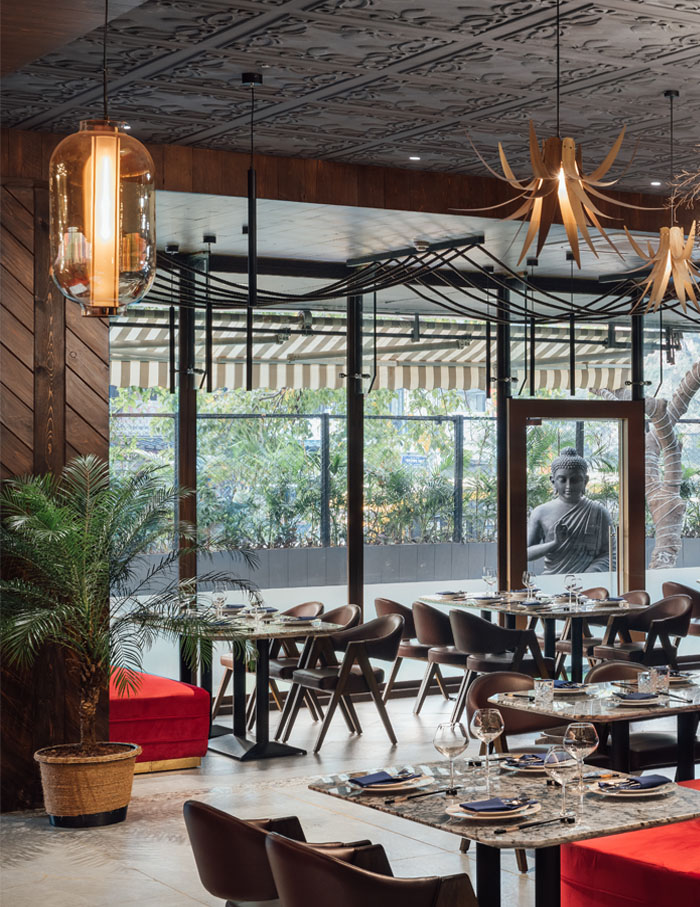 Inside, a geometric brass and fluted glass partition leads to the dining section with its intricately detailed ceiling with dark grey ornamental mouldings. These are further highlighted by the hanging ropes and custom-made light fittings.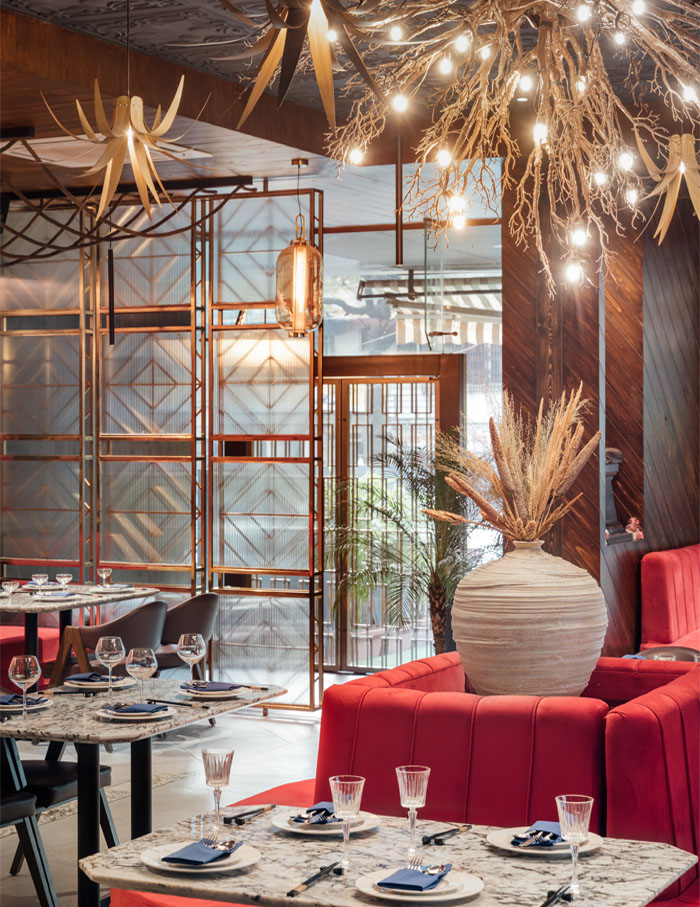 Jamali says that this is the part the team most enjoyed, "It was the most challenging too. We used classically moulded panels in combination with a rough wooden ceiling. Thick jute ropes have been looped above the tables to lower the ceiling height, making the venue feel cosy and comfortable."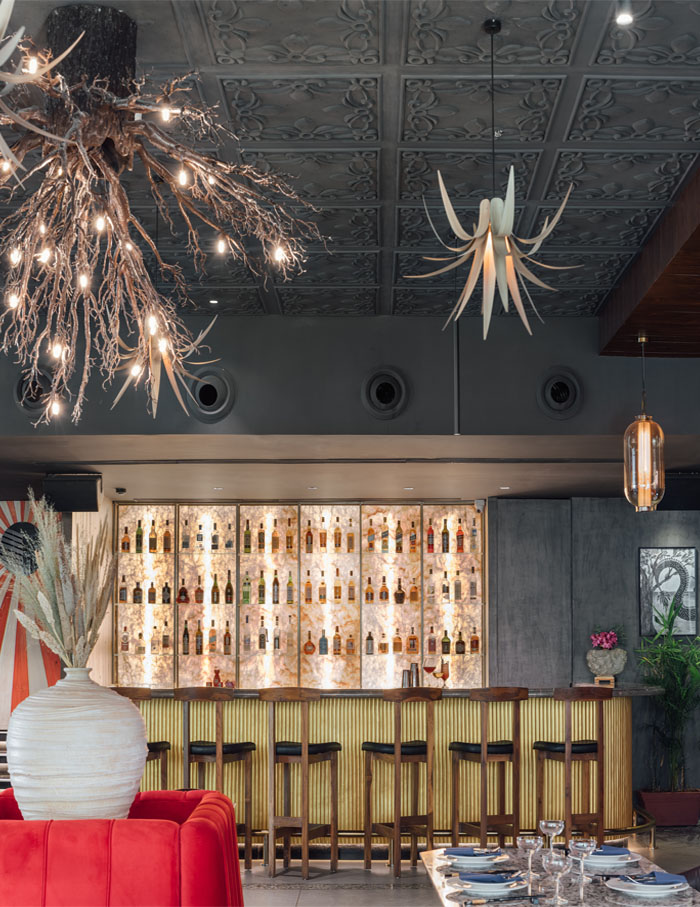 On one wall, a bespoke wallpaper—sketched by one of the trio of restaurateurs and graphic designer Urvi Gupta—stretches across the length of the room. It subtly hints at the restaurant's offering with the use of bright and bold hues and imagery that immediately recalls Chinese and Japanese landmarks.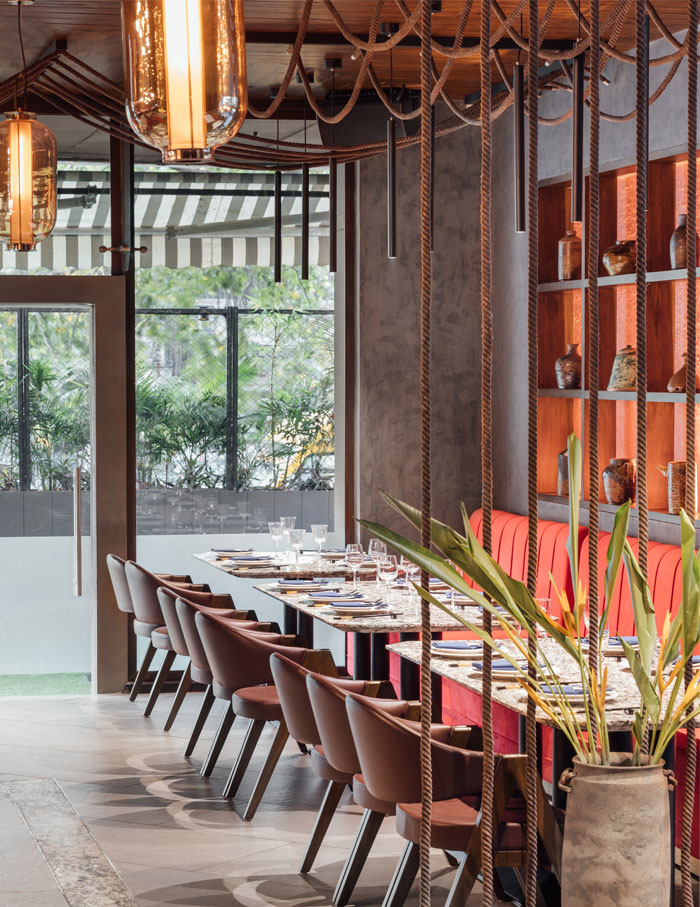 A wabi sabi wall is designed on the opposite side, where handmade pottery regardless of its imperfections are given pride of place on a shelving unit emboldened by silhouettes that are created with the play of colour and light.
Following the notion that nothing lasts forever, is fully complete or perfect, broken floor tiles that are carefully filled with golden grout are also seen. This technique is an illustration of kintsugi, a belief that breakage when fixed with gold-dusted lacquer makes a stronger artistic statement. The abrupt ending of inlay borders in the flooring further depicts the unintended imperfection in the scheme of things. 
A lively, modern vibe is achieved with the help of contrasting seaters—vibrant sofas and muted chairs. This was crucial for the first-time restaurateurs Darshan Desai, Kunal Sikhwal and Rahul Gianchandani behind Zenmai.
The trio sought inspiration from Asian philosophy and design principles while steering clear of stereotypes. And with their offering of Asian cuisine with Indian and Nigerian influences, a casual yet wholesome dining experience is surely on the cards!