Homes
This Mumbai home by Soka Design Studio doubles up as an art gallery with its coalition of striking artworks
FEB 21, 2022
| By Shriya Goyal
"Art to me is the life of the house. It makes me acknowledge where the homeowner is vibrating at this point in his life. It is emotive and insightful for me" says Sravanya Aditya Pittie, Founder of Soka Design Studio.
Sravanya Aditya Pittie crafts and assembles her apartment backwards. Rather than an afterthought, a coalition of intricate and comprehensive artworks became the rudiments of her home interiors and that has been styled by Samir Wadekar.
This 5,600 sq ft apartment located in Worli, overlooks the Arabian sea. Home to the designer along with her husband, two young kids and a dog, it is designed to bestow practicality and render a luxurious fresh vibe alongside.
You may also like: Founder of Space 118, Saloni Doshi showcases her waterfront Worli home
This Worli Apartment by Soka Design Studio is segregated into two sections, with three bedrooms and children's playroom on one side and the living rooms, lounge, dining, powder toilet and office on the other side to maintain privacy.
An array of distinct installations and artefacts makes the eye wander around as you step in. Modern chairs fabricated with ancient skills along with a gold champagne bucket sculpture at the entrance delivers a dramatic statement.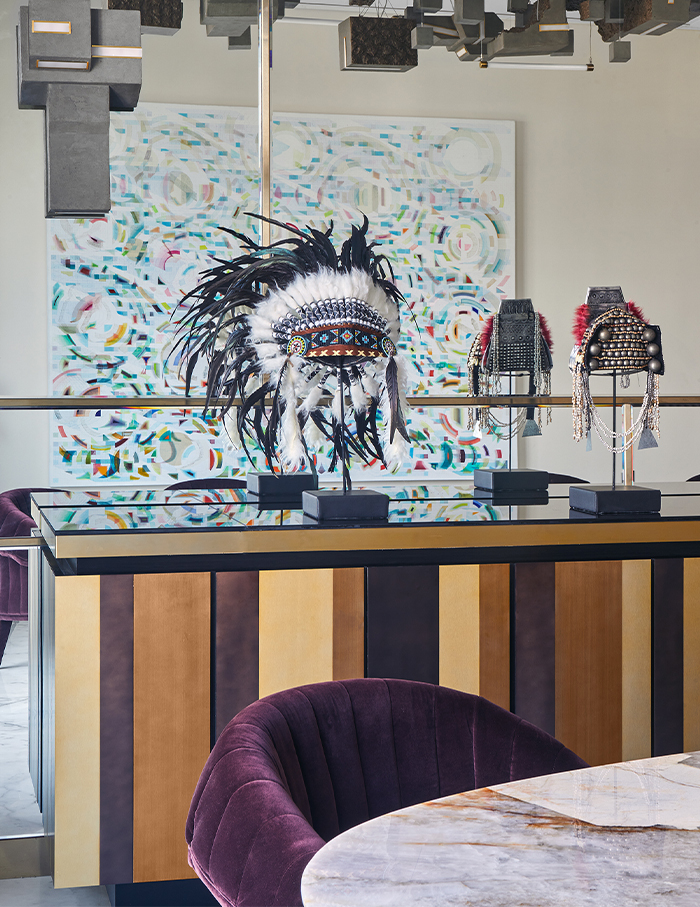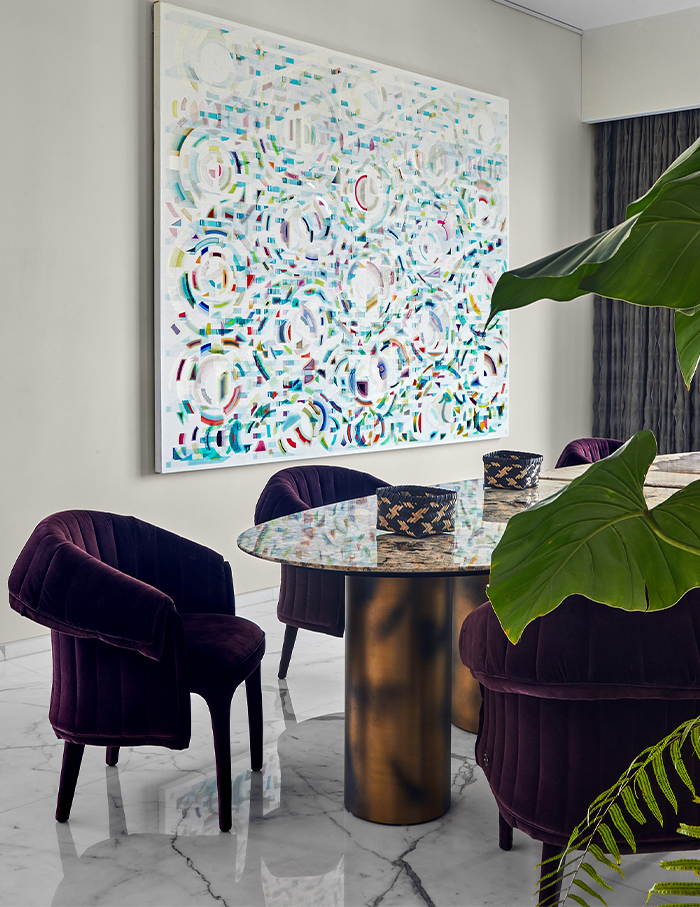 Achieving a balance between old and new, the dining room is dressed in lavish tones, bronze and gold hues, a geometric light installation and masks from different tribes. Designed by Pittie and executed by Arjun Rathi, raw concrete and glossy metal come together to wash the dining room in contrasting materials.
Entering the formal zone in the centre, the two sides contrast each other with their dusky and bleached themes. Floor to ceiling light installation set against dark tones of the living room imparts a striking first impression and renders an organic feel to the clean lined room. A Jitish Kallat frame speaks about humanity and nature, yielding a pop of colour to the setting. The second living room is a composition of beige with gold touches accentuated by a royal blue sofa and patterned chairs, bestowing the space into warmth and solace.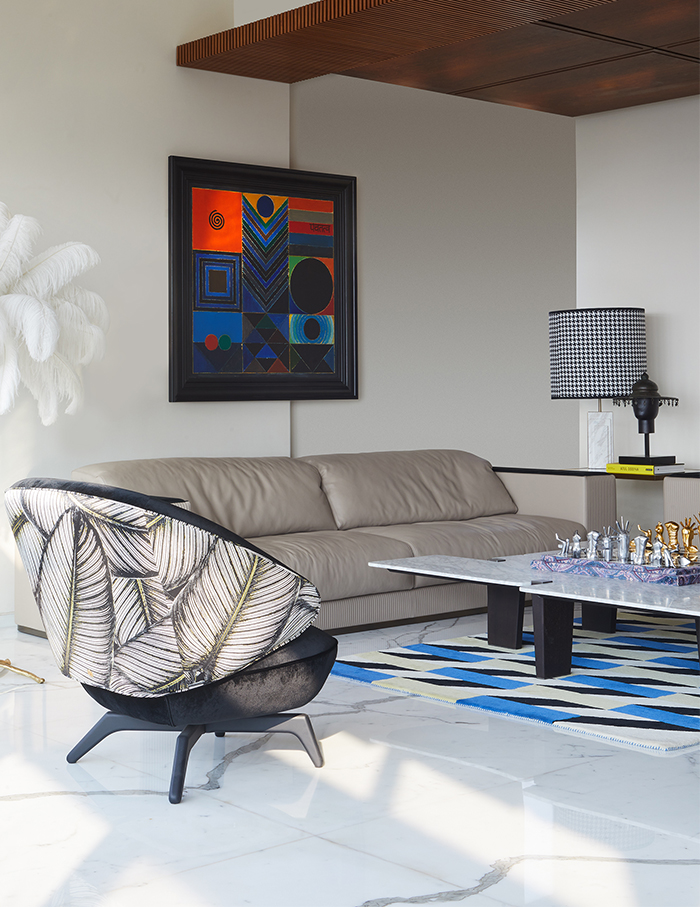 Wall panelling with metal trims, neon artwork, vivid gold bar and chairs along with glossy maroon quilted chairs and an eccentric ceiling light outlines the lounge in an opulent cigar room vibe. With soundproofing installed in the flooring and wall panels, the room is ideal for entertainment and social gatherings. Designed in a professional demeanour, the office is an arena of neutral hues of white and brown complimenting each other.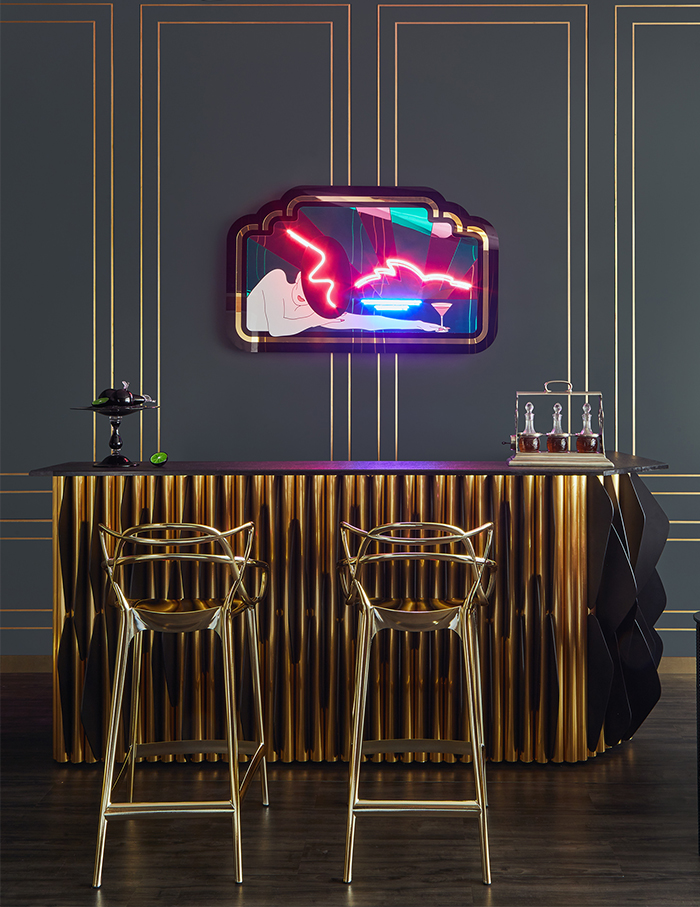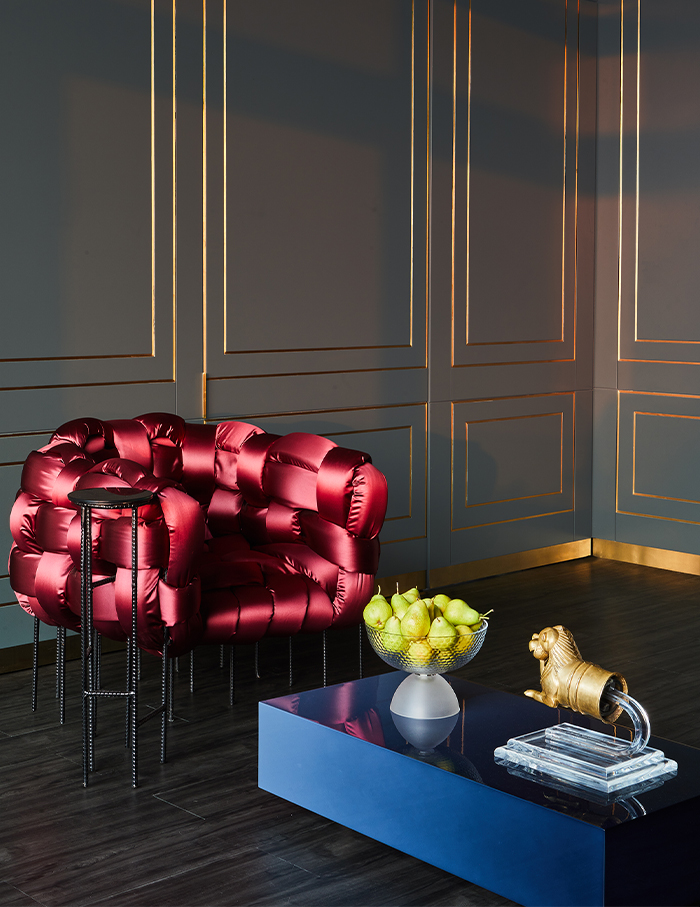 The path to the other side of the house opens into the children's playroom — one of the widely used family spaces. An endearing room crafted to suit their sensitivities, the space houses a sofa with the kids' drawings printed on it and a rocking bull in ombre shades. Crafting a modern replica of an outdoor treehouse, the designer brought a tree from Alibaug and cured it on site. 
Decked in elegance, the main bedroom is furnished in navy blue with gold hemmed decor pieces put together around the room. Void of any kiddie stuff, the children's room is highlighted by a painting from Shilpa Gupta. Hexagonal bookshelf and accessories in shades of blue beset the wooden flooring spanned across the room.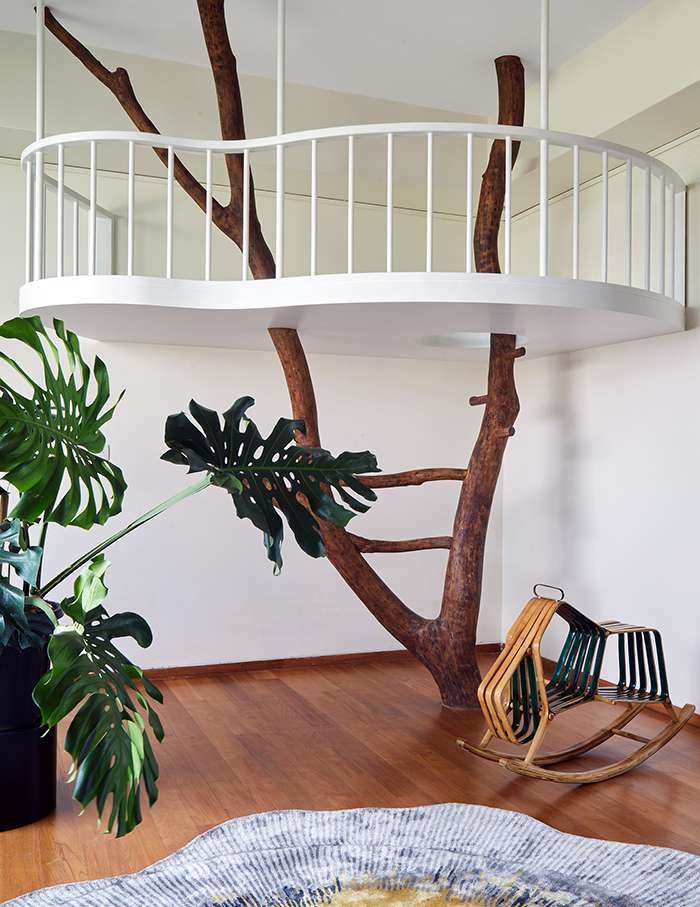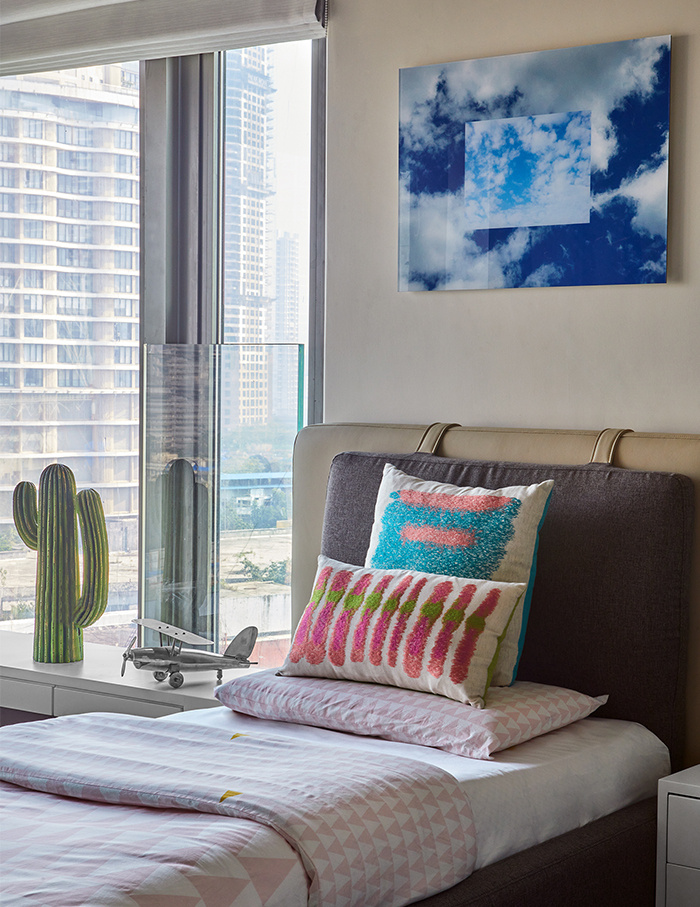 High ceilings and full length windows around the house capture cityline views and a gush of sunlight in every corner enhances the visual appeal. 
Modern yet familiar, the home that doubles up as an art gallery is a culmination of Indian antiques and contemporary decor with globally sourced accessories. "The house, though dressed, is designed to bestow comfort with an amalgam of materials like stone, acrylic and wood. It marinates in your cells as you absorb each detail and emotions relayed by each decor piece" rounds off Pittie.
Scroll down to see more glimpses of this Worli Apartment by Soka Design Studio: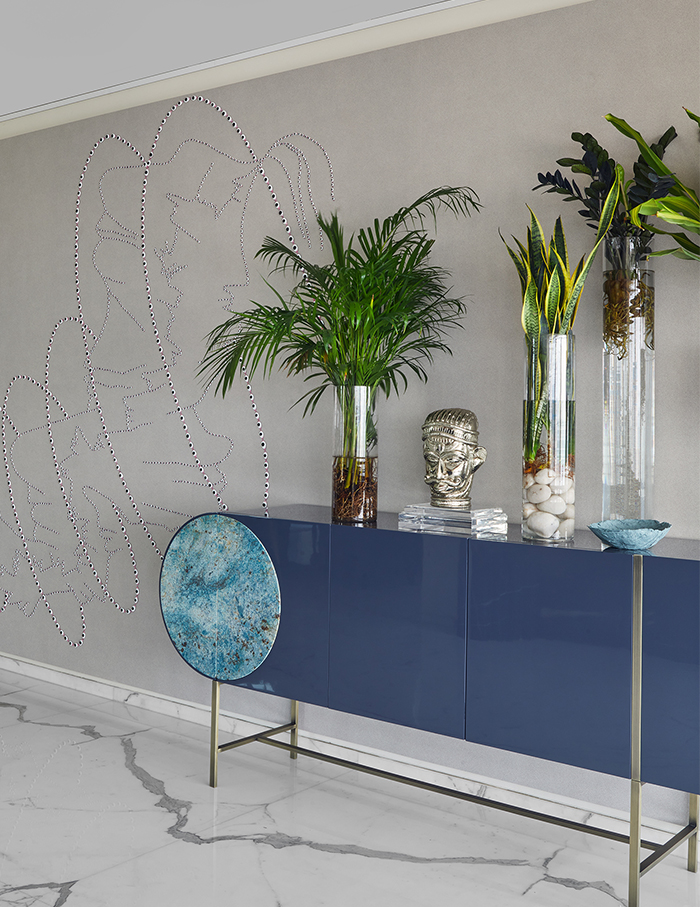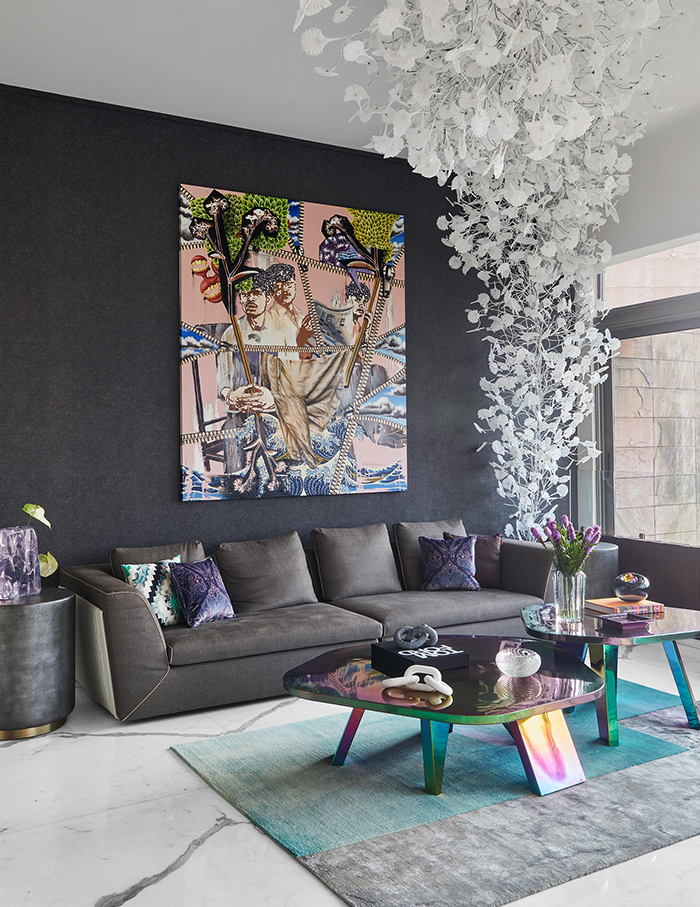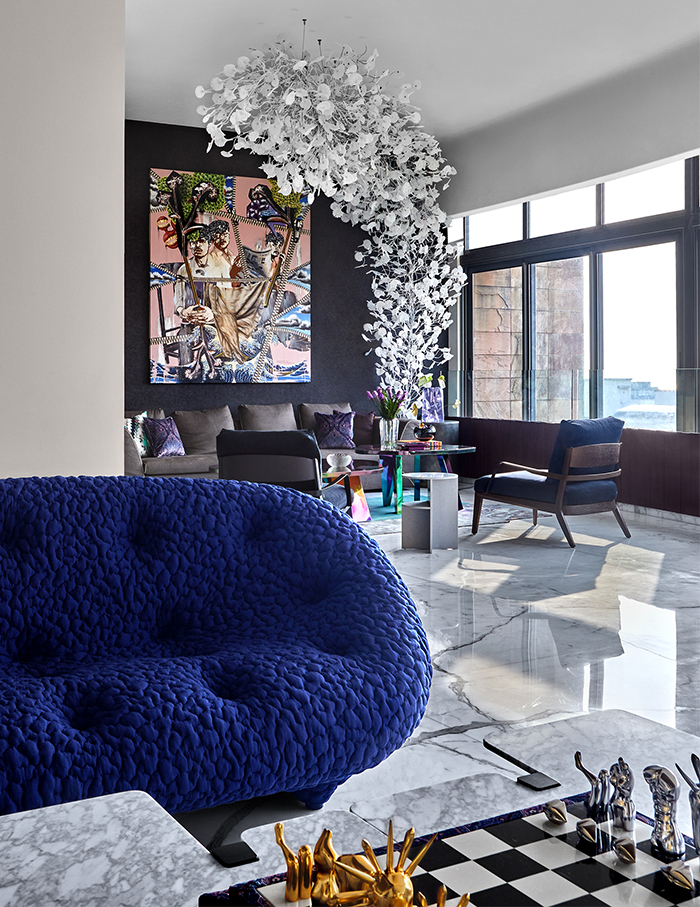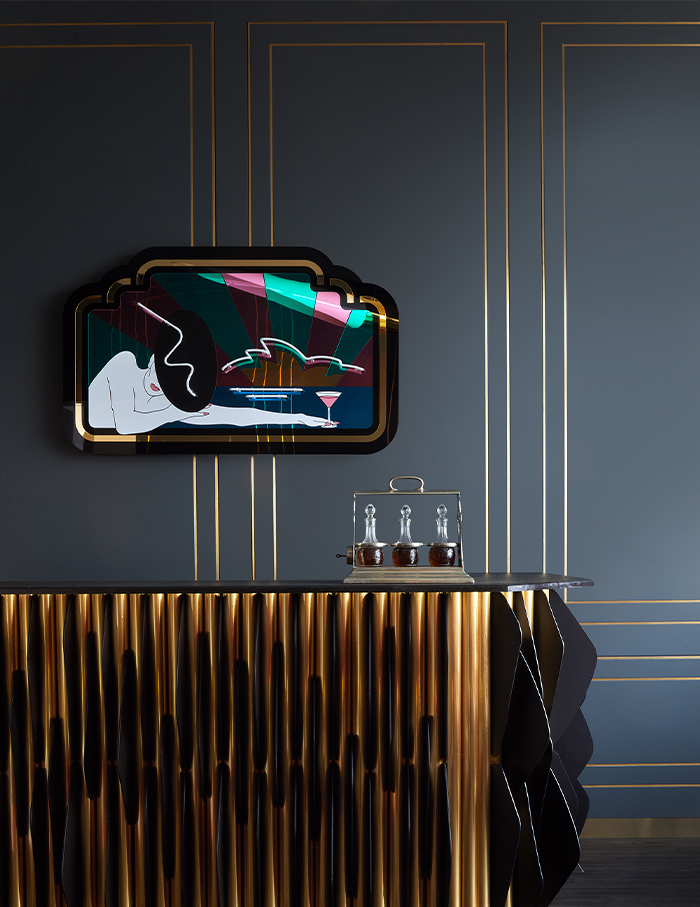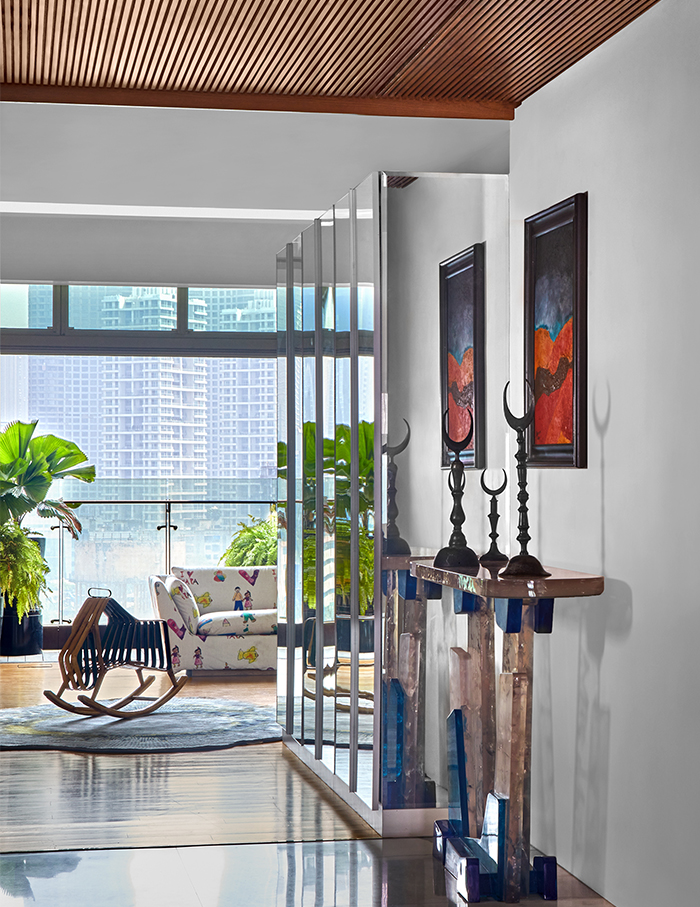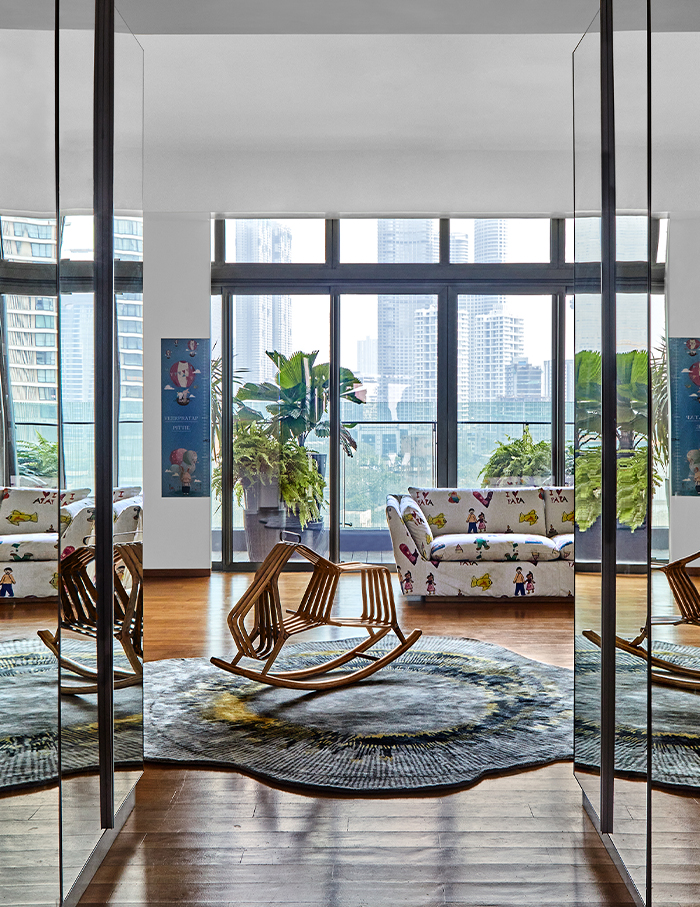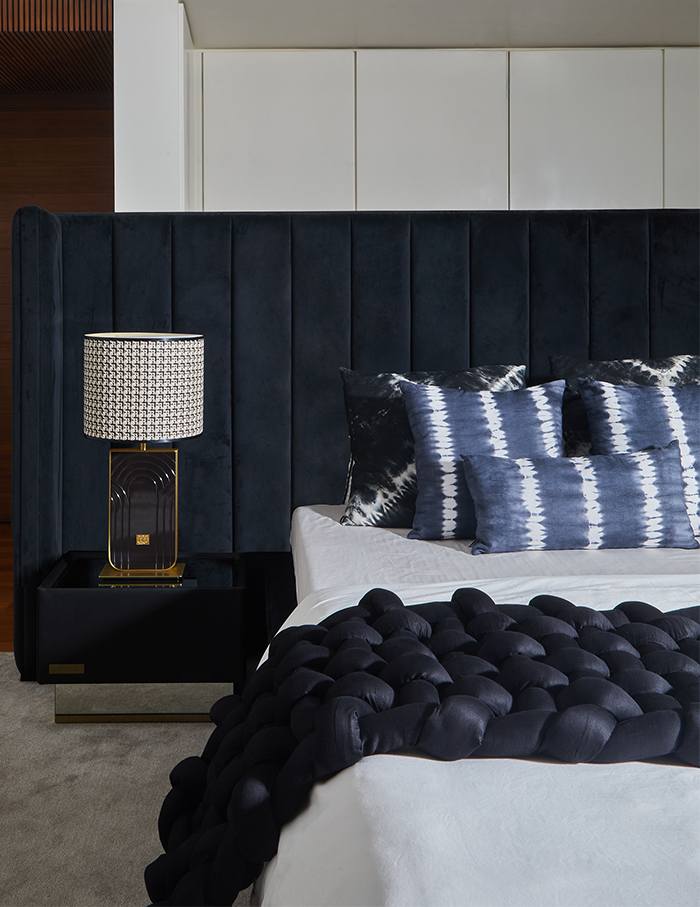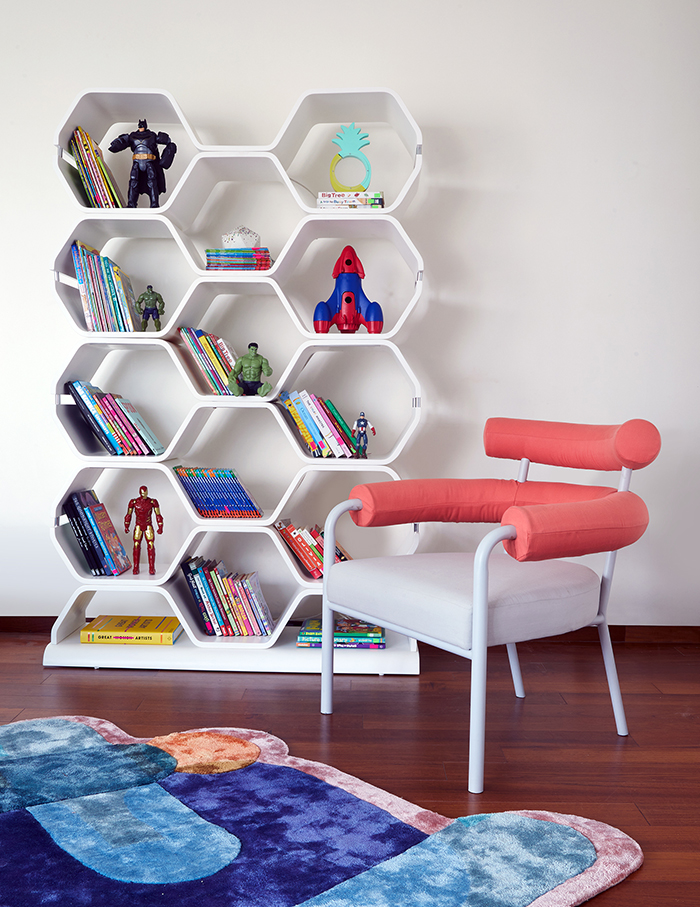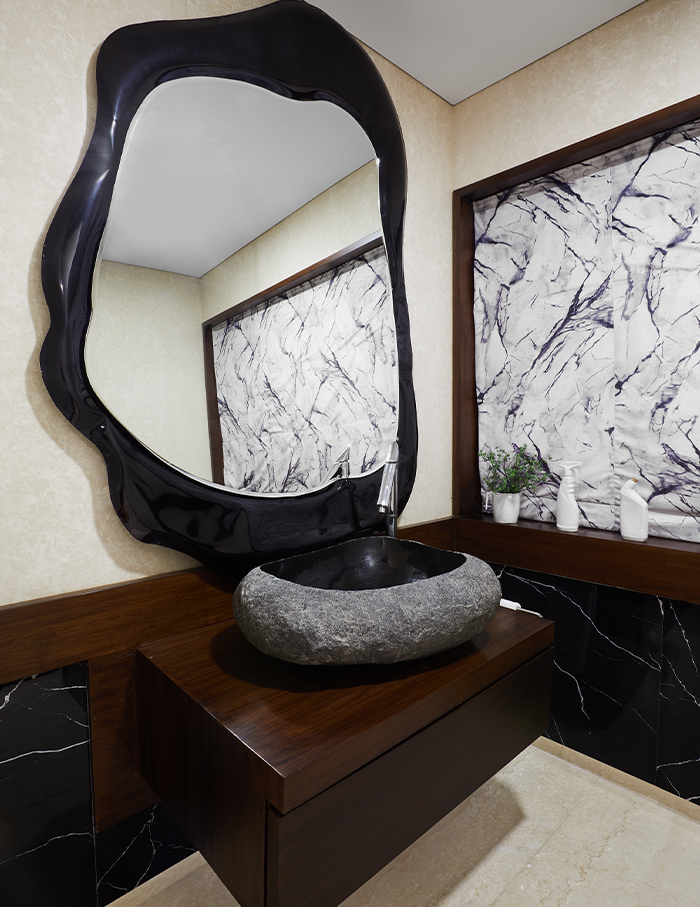 If this Worli Apartment by Soka Design Studio charmed you, then check out this Bengaluru home by U and I Designs that reflect Scandinavian styles