Design
Work from a home-like workspace by Compartment S4—A dream for every employee
NOV 22, 2022
| By Shrimohi Shah
During the hard, never ending 'covid times' we were forced to work from home if we were lucky enough to have sustained the intensive layoffs. Some of us who were introverts loved this comfort while the extroverts felt like they were lost. That leaves the ambiverts, totally confused. That's what makes the expansive, 1346 sq. ft Court Fort by Compartment S4, designs a 'made to fit for all. It's a home-like workspace that makes you feel at home while at work, located in Ahmedabad, Gujarat.
Here are 5 reasons why Elle Decor loves the Court Fort by the innovative minds at Compartment S4, a collaborative of architects—Kishan Shah, Krishna Parikh, Monik Shah, Vedanti Agarwal, Aman Amin, Prasik Chaudhari, Nishita Parmar and Manuni Patel, they focused on offering design solutions across architecture, urban design, rural infrastructure and interiors.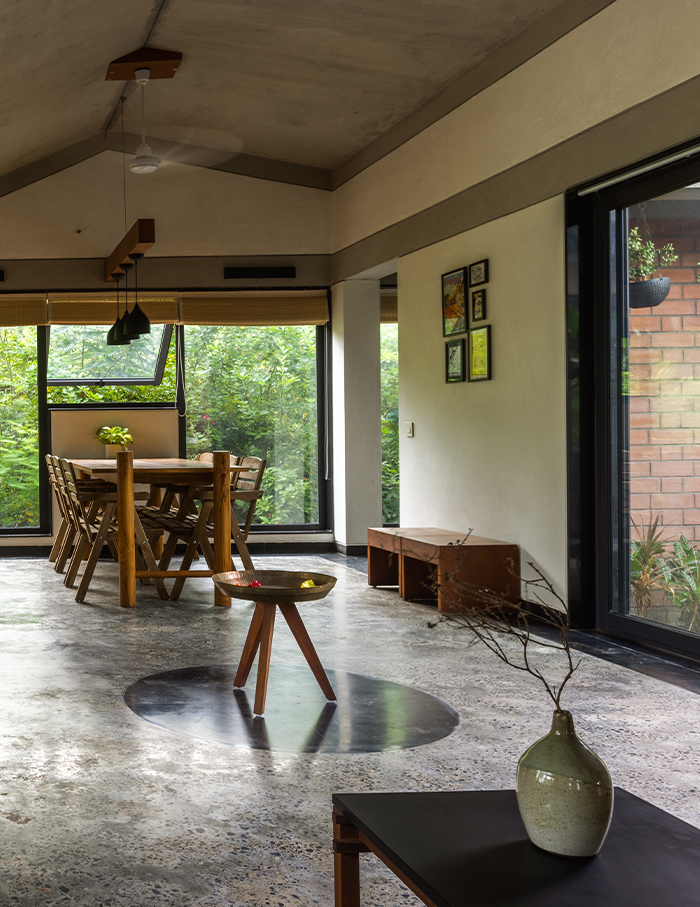 A getaway, every day
Who doesn't love a home away from home? Compartment S4 Designs conceptualised a multipurpose space away from the hustle of the city, isn't that a dream? This design artistry is located on the outskirts of the city of Ahmedabad in Gujarat for an urban farmer continuing to strike the dialogue between the built form and its farm-like surroundings. 
Conceptualised as an urban farm, this fort-like structure is divided into four parts and has space for a small farm, each having its own distinct personality! Filled with earthy textures and varying aesthetics, the space exemplifies minimal and natural living in its very essence. It is an evolving and flexible space which adapts to the needs of its occupants.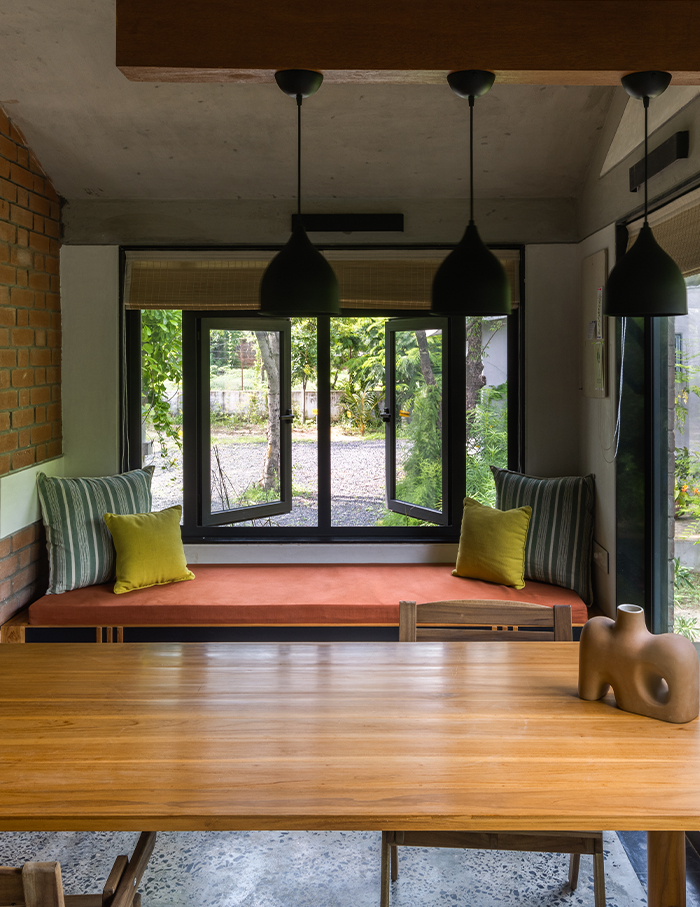 Healthy working at the 4 zone ecosystem
At Court Fort a variety of distinct terrains amalgamate into a serene ecosystem! The first and foremost zone is the largest and is used as a framing space and occupies over 60% of the plot in the East.
A natural pond is what the second zone is, which is held together by wild greens. It is complemented by a water body towards the East.
A dense forest makes up the third zone of the expansive space. Lying in the South-West side, this jungle creates an ecosystem full of varying seasonal vegetation, a natural water body and an array of animals and birds which are regular visitors here.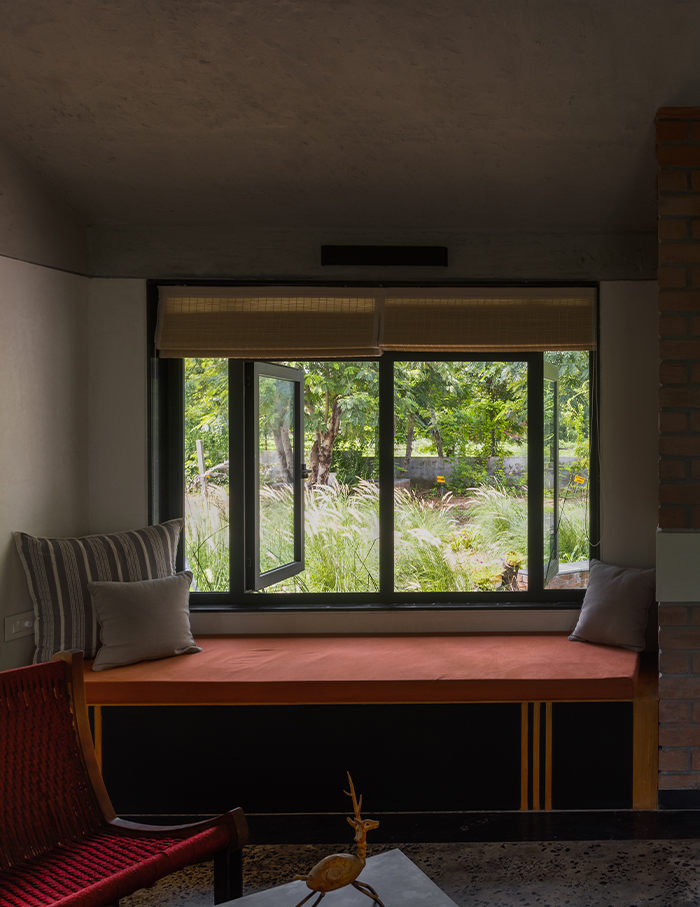 Last but not the least, the fourth and final zone is a built form with minimal footprints. Designed as a non-invasive space, it weaves the programmatic requirements of a home-like workspace! This area also uses its orientation axis to its climatic advantage.
The Idea: Home-like Workspace
The courtyard forms a visual axis with the entrance in the north, dividing the main living-cum-working space into a formal workspace-cum-dining in the west and a sitting/informal meeting space in the east which many might say is critical to maintaining a balance between extreme relaxation and working in a state of zen. The load-bearing exposed brick walls create cosy internal workspaces while a reinforced cement concrete pitch roof shades and humbly sits on top. The small kitchenette and washing space and a common toilet are accessible from the courtyard for ease of use by the family and visitors making it practical for work-from-home parents.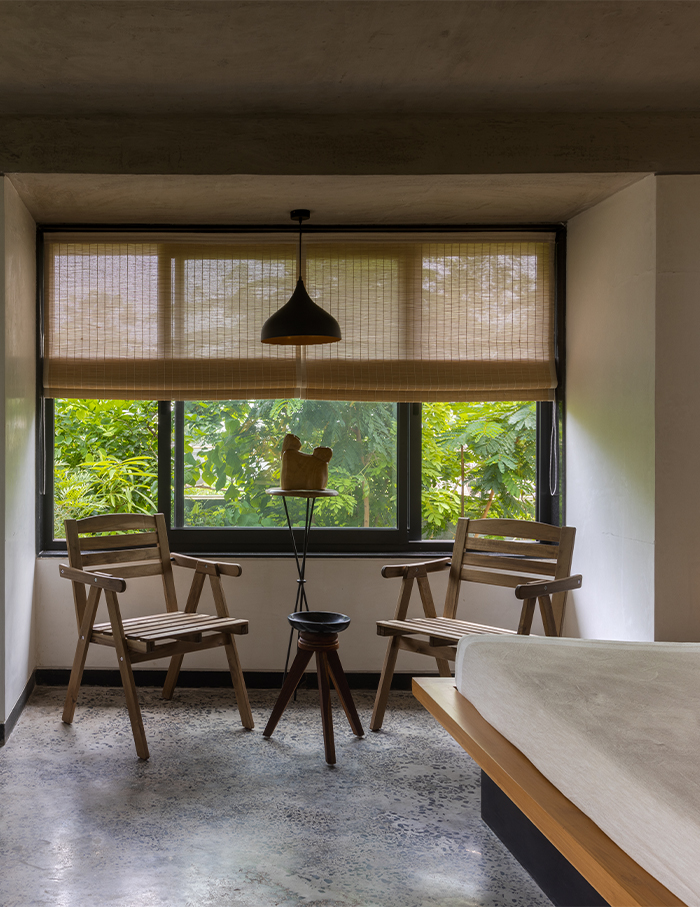 Furniture moving is not a task anymore?
The ledge seating by the entrance and the bed are cast-in-situ and the rest of the furniture is designed to be flexible, movable, and allow for the adaptability of space as suitable which makes it ideal for those people like me who like moving around while working to break the monotony of a 4×4 cubicle.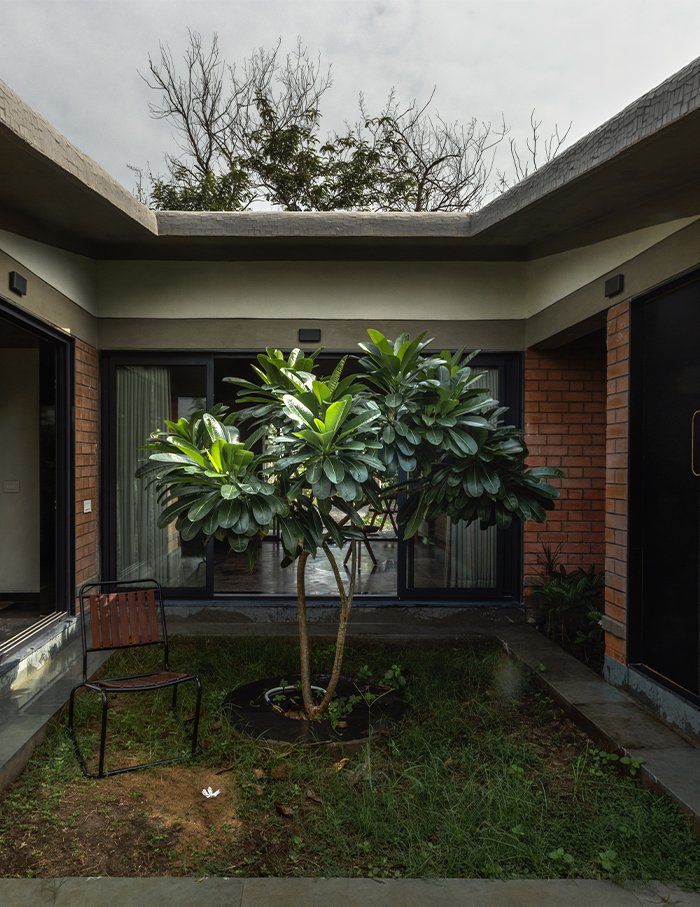 Socialising while working from 'home'
Humans are social animals, after a point no matter how introverted one is, exposure to the external environment and other people is key to personality development. Compartment S4 Designs has kept this in mind while curating this space. The northwest corner of the fort is carved in to create a mini-amphitheatre-like space looking onto the farm, where people could gather during workshops and training sessions. It is an interactive social space that is more public, unlike the courtyard which is more inward-looking and a great addition to this space.
These are the reasons Elle Decor thinks every employee would love working at Court Fort and every company should create workspaces that are home-like. What do you think?
You may also like: A British colonial-styled home office in Mumbai crafted by Papersky Studio