Homes
Witness a flourishing confluence of different periods, styles and elements as Sage Living creates a sensorial experience within the walls of this Hyderabad home
MAR 14, 2023
| By Siddharth Babani
Commissioned by a couple living abroad as a sanctuary for their young family, the project named Bloom is a masterful fusion of traditional Indian aesthetics and modern design. "We like to experiment creatively with styles, materials, textures, and colours, which explains all the contrasting pieces in the home that still sit wonderfully together. The trifecta of luxury, Indian craftsmanship and modernity is the core" professes the architect.
At a sprawling 4,500 square feet this apartment in Hyderabad designed by creative director Keerthi Tummala of Sage Living is an eclectic blend of the past and the future, of creative experimentation, using vivid materials and skilled craftsmanship. This house is a visual panorama of exquisitely layered interiors complemented with distinct detailing and statement furniture that reflects the personality of those that reside within.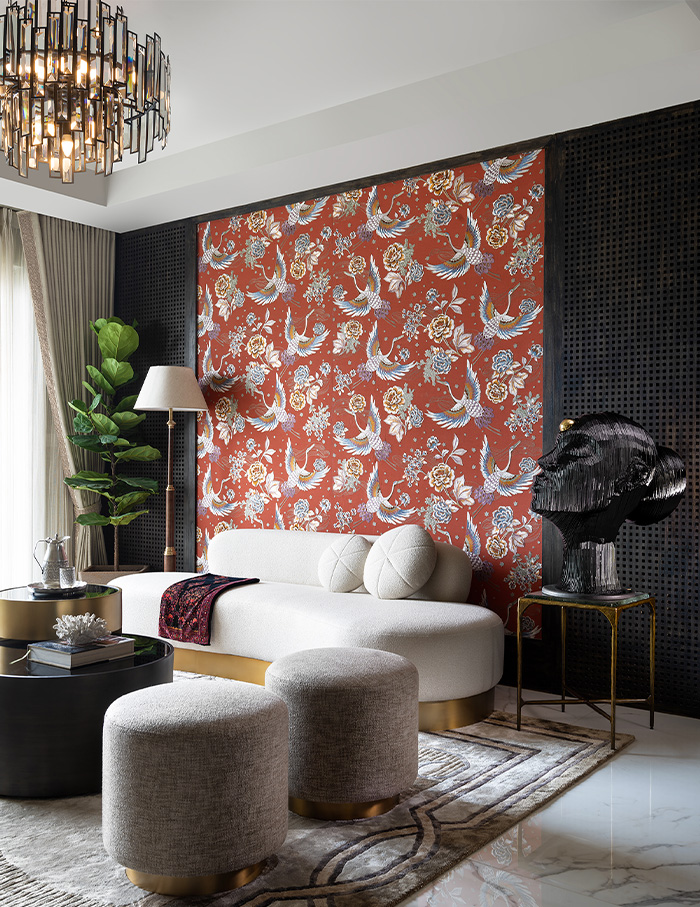 Tour every turn of this home
Channelising the design philosophy of 'India Modern Aesthetics', this spacious apartment in Hyderabad greets you at the foyer, with its whimsical wall art, rattan chairs, vintage urns, and potted plants. 
Sitting under the embroidered gaze of the oriental crane wallpaper, the lounge plays host to a selection of elegant pieces of curvilinear furniture embellished with rich brass accents and a stunning sculpture called Indian Mother by visual artist Naman Mahipal which underlines the softness and femininity of the room.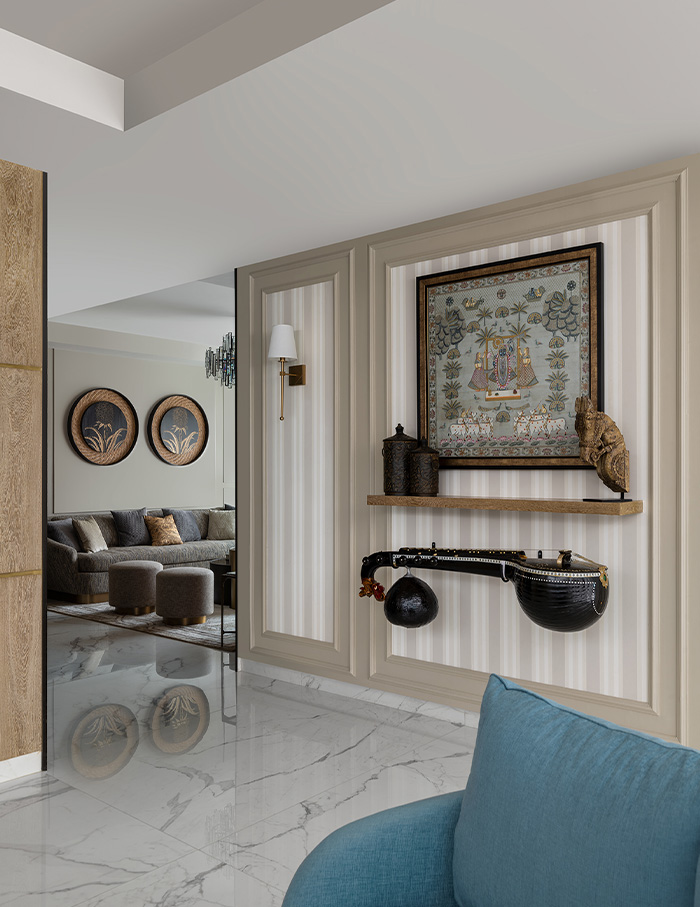 In similar contrasting fashion, a few paces in, we find an old 'veena', an heirloom belonging to the family, hanging on a wall featuring French boiserie, Cambridge striped wallpaper and a traditional Pichhwai painting between two contemporary wall lights. A beautifully hand-crafted carpet sits under a striking blue sectional sofa in a living room with walls of veneer and gold trim. A pair of tasselled chandeliers complete the space with ornate wooden art affixed to the ceiling.
The dining room and the open kitchen is an assemblage of multiple styles. The kitchen features simulated wooden beams, soft sage cabinetry and printed tiles which exude an air of the countryside. In stark contrast, the muted and modern dining space comprises a sleek oakwood dining table and conic chairs, along with an ombre-finished bar unit to one corner of the light filled room. The space opens up further to accommodate a 7-feet tall Tanjore of Lord Balaji that graces the house from the temple, protected by a wall patterned in sandstone and fluted wood.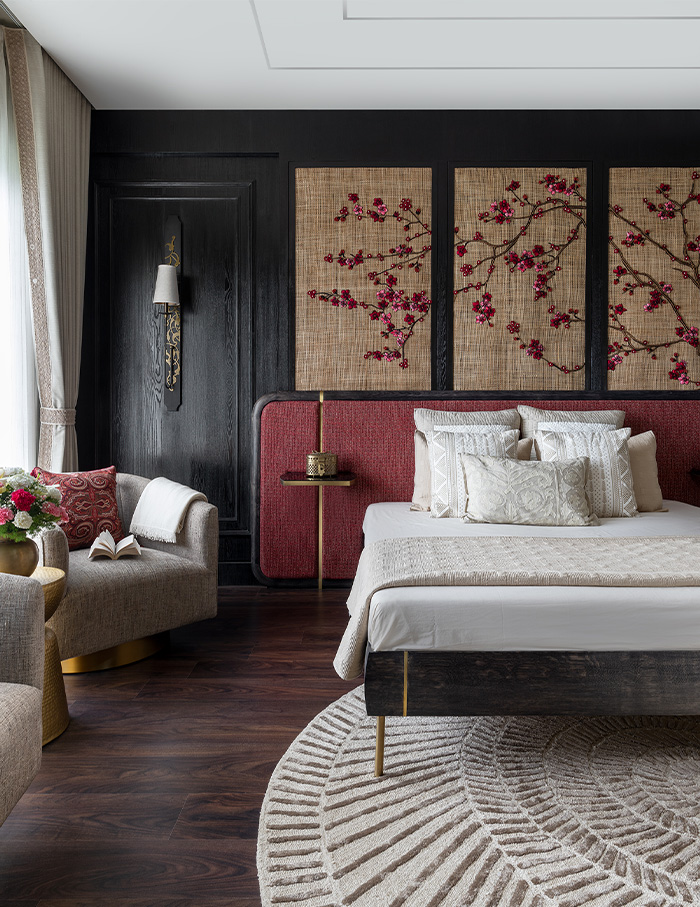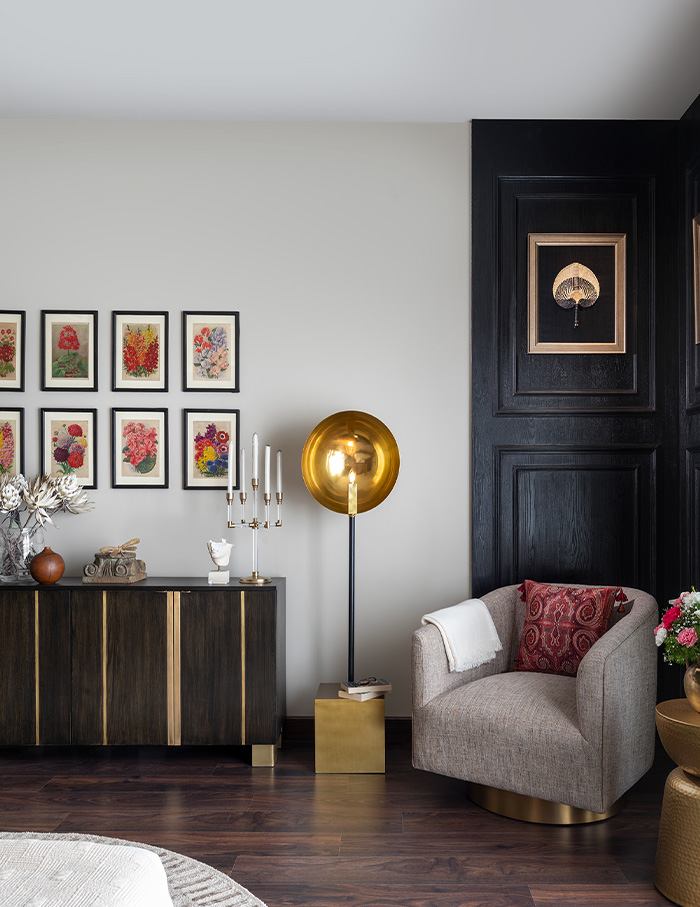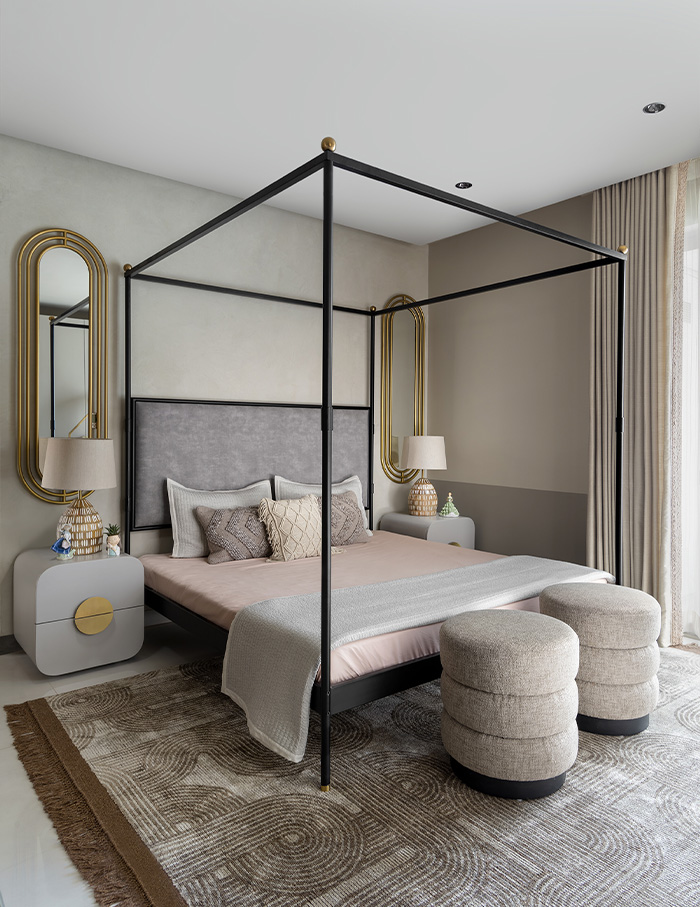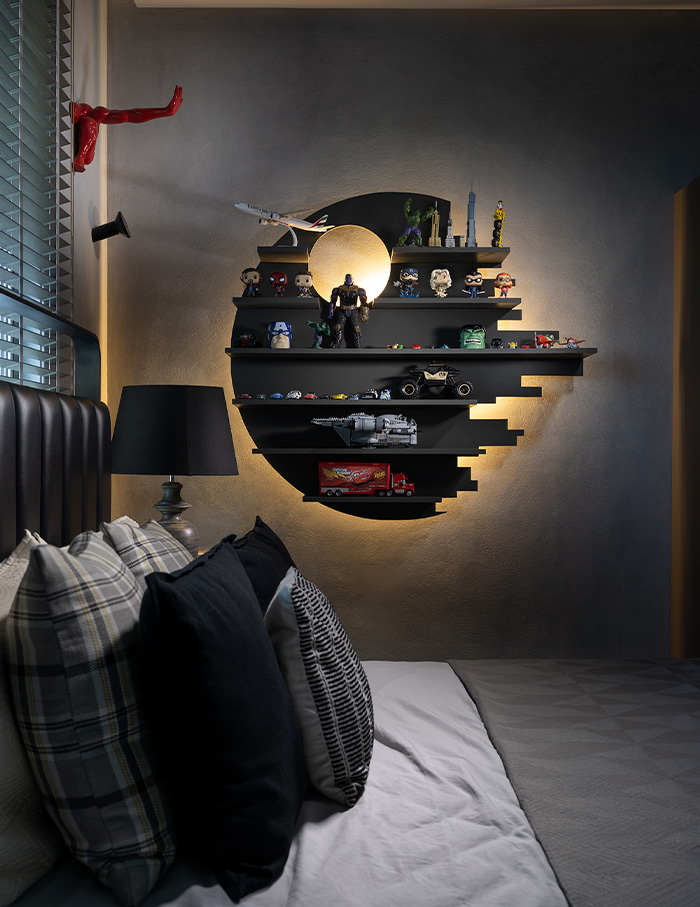 Each of the bedrooms are also a world unto themselves. The master bedroom is an eloquent mix of colour and texture. The crowning jewel is the exquisitely embroidered cane backdrop of cherry blossoms with a ruby red striking hempstead, and brass furniture. The boy's room with its clean lines and modern finishes is an all-encompassing geek fest. In contrast, the girl's room is a haven of serenity, of muted colours and gold accents that exude understated luxury.
Ideas to bookmark
The house features an impeccable collection of furniture and pieces of curio that provide each of the spaces with their own individual identity in a house where the line between different aesthetics is distorted and design styles seemingly blend together.
You may also like: A mixed bag of surprises and excitement—Isprava's newly launched property designed by Nishita Kamdar wraps the Goa house with elements of nature