Design
With quirky yet earthy aesthetics, this ETA store in Ahmedabad crafted by Parthavi Patel highlights Indo-western fashion labels from all over India
JAN 6, 2023
| By Shriya Goyal and Akshay Bipin Luthiya
Unfollowing the common trends and true to itself, the ETA store located in Ahmedabad curates Indo–western pret lines from fashion labels all over India, under one roof.
Spanned across 1600 sq ft and curated by Parthavi Patel, Founder and Principal Designer of Studio Patternmaker renders a unique vibe, so when one leaves the store, they go home with a sense of an overall experience.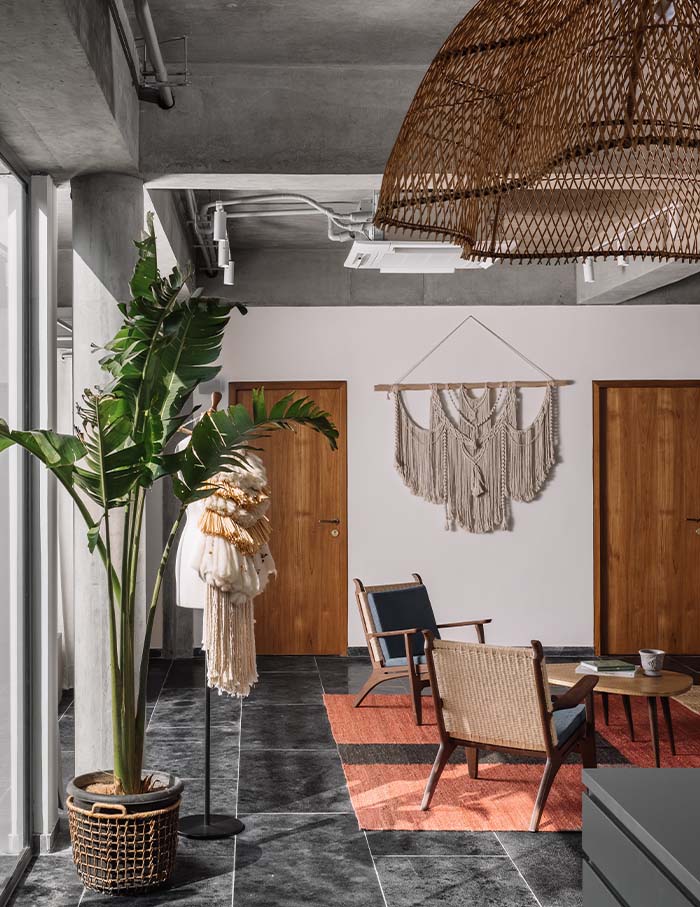 Parthavi says, "​The brief that they came to us with was mainly quirky but not in the face, accommodating art but not like a gallery, simple yet elegant with almost earthy aesthetics to it. The space should have the flexibility to accommodate change in usage for example, changing displays, holding events etc. to avoid any element which is fixed and hard to move. It would have been amazing if the brief ended there, but the final and the most important requirement was that the store had to be opened in one month."
Undertaking this as a challenge, after countless discussions, endless nights and multiple design iterations, the designer and her team succeeded  in meeting the deadline.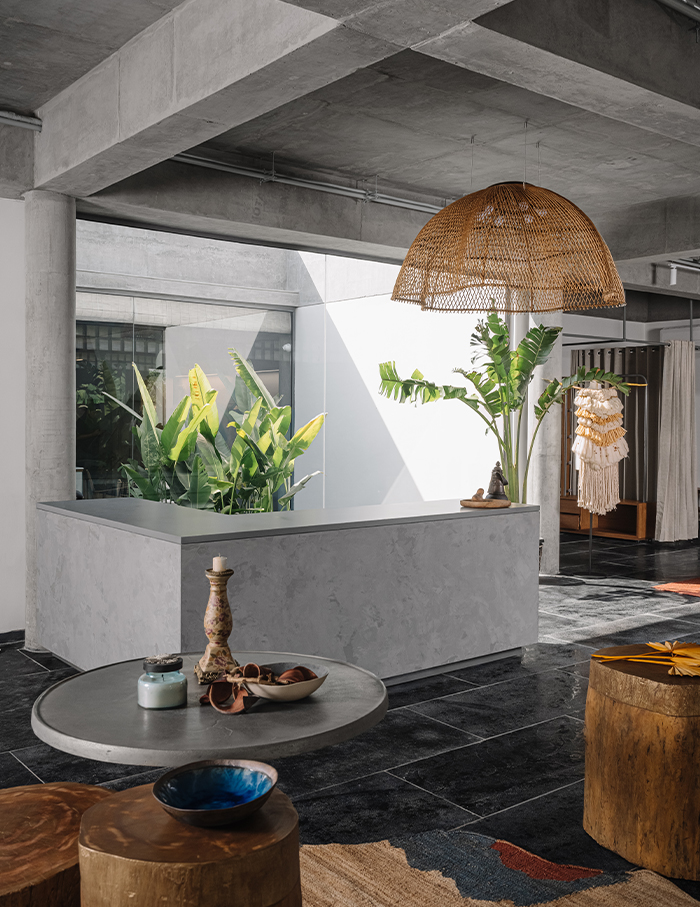 The ETA store is an ode to Indian craft and its extremely talented craftspeople who work behind the scenes tirelessly to bring one's vision to fruition. The store carries the same theme, creating zones to display clothing in different unique ways. Parthavi states, "When designing any project, the details follow the 'feel' of when I enter a bare site. All the details that are developed are solely for that particular project, be it furniture, lights or even curating accessories."  
As one enters through the Georgian teak wood doors, the left side is occupied with a reception area crafted in a monolithic format and a set of local handmade wooden display tables in a rustic finish take over the right side.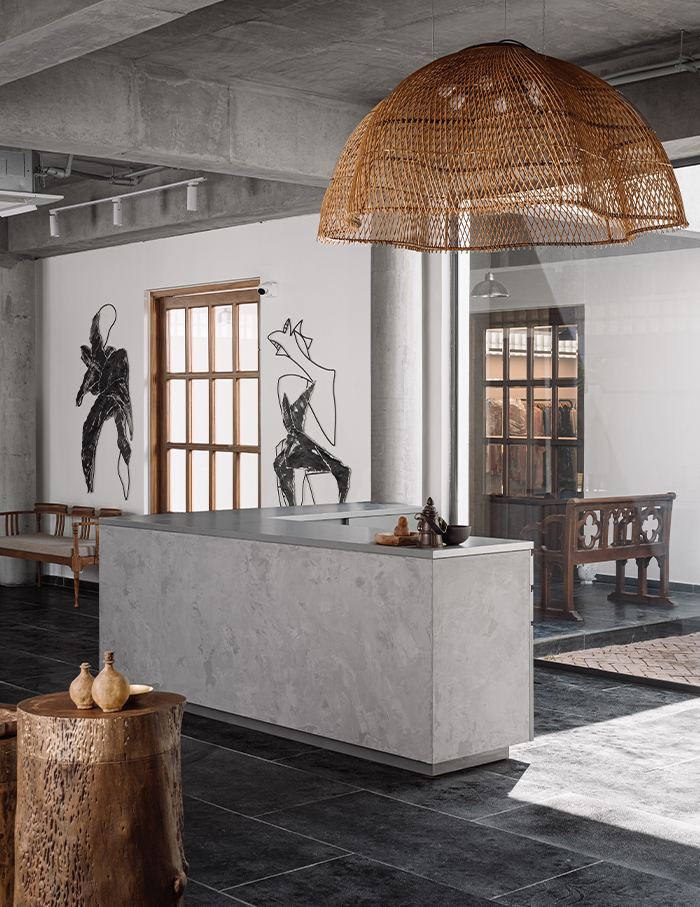 These tables form the display of various curated clothing and accessories housed at the store. Right in the centre, an interesting array of salvaged wood logs with dull brass painted tops serve as display surfaces for various accessories. Seizing attention towards the counter while keeping up the warm tones of the store, a huge intricately woven cane lamp grabs attention. 
To keep the visitors engrossed as they walk across the store, refurbished antique cabinets for jewellery and accessories create occasional halts. On the other end, the waiting area is designed along the changing rooms with mid-century chairs and modish brass centre tables. Changing areas with huge mirrors and bulbs adds the right amount of glamour.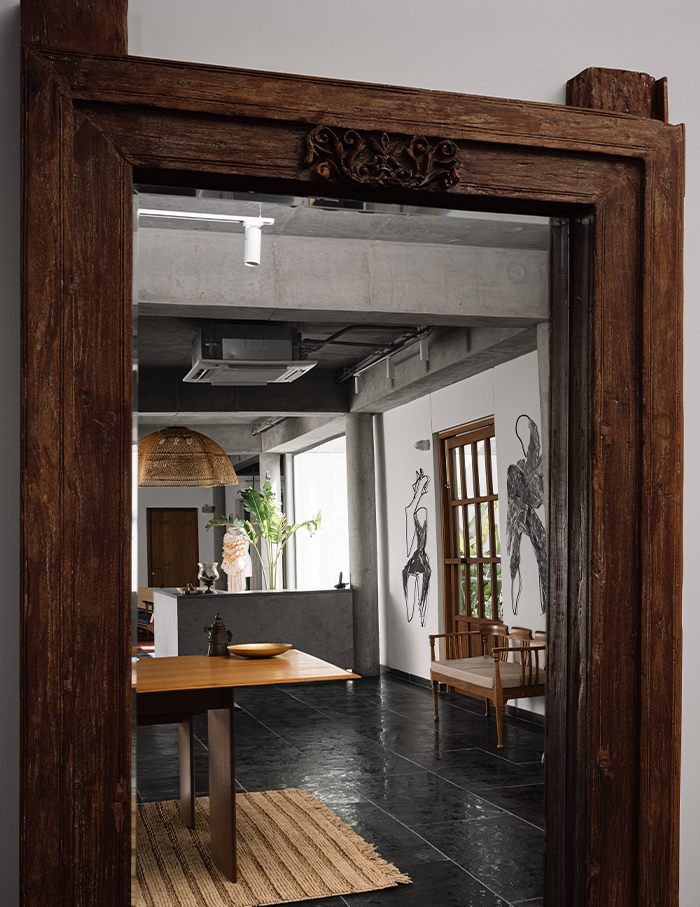 Macramé and art form the backdrop of display tables and bring in the much needed splashes of colour throughout the store. Specially designed carpets balance the dark kadappa stone floor mindfully at key areas so that the visitor, while navigating, becomes occupied at various intervals. While the earthy tones form the canvas to the clothing, the art punctuates the space with pauses and the carpets and local furniture make navigation easier and guides visitors through the complete experience. 
Parthavi concludes, "Design for people. All my works have one thing in common—they should have a soul, a feel, almost profound minimalism. ​​The space, be it a home, a store, a café, should take you in. This only happens if the detail created for the same is very site and project specific."
You may also like: This New Delhi office crafted by Nivasa