Design
Marrying traditional craft with contemporary technique is this New Delhi office crafted by Nivasa
NOV 30, 2022
| By Akshay Bipin Luthiya
Breaking the stereotype of a so-called typical lawyer's office, Nivasa brings an array of colours and materials in this new-age plush and cosy office for a lawyer. 
Saba Kapoor and Rohit Kapoor, Co-founders of Nivasa craft this 3000 sq ft office for a senior lawyer in Defence Colony, New Delhi.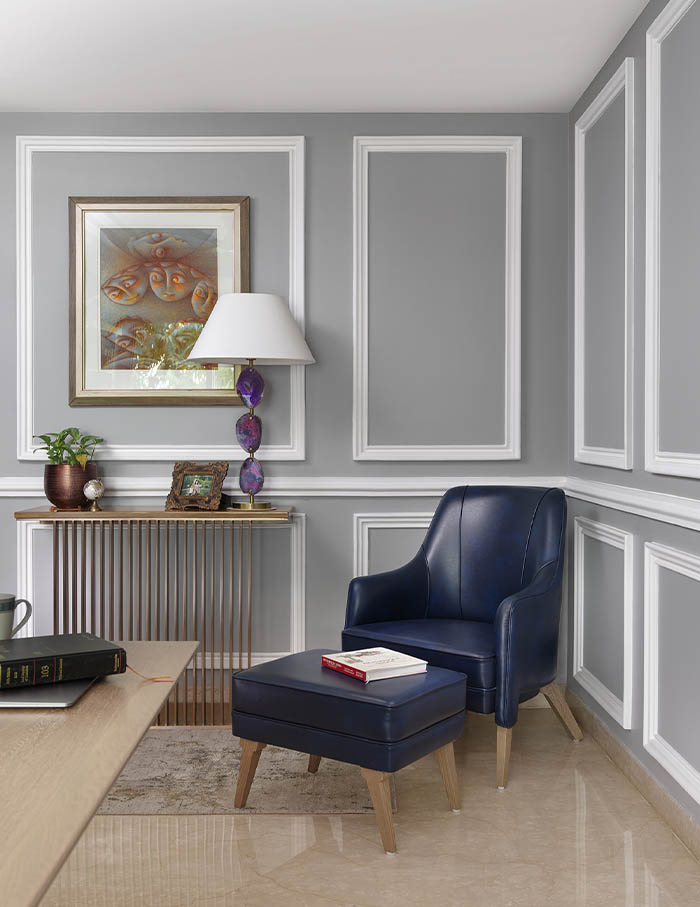 The curious brief 
Rohit and Saba previously designed a home for the client and hence while designing the office, the owner's approached well before the date of finalisation, while the civil work was still going on. 
"The primary point, which was discussed during the design discussions, was that the office should not look like a typical lawyer's office with heavy wooden panelling or wood finishes," says Rohit and Saba. As the main office is where the lawyer spends most of his time, it becomes the focus. Only a few walls were shifted at the time of the construction. Otherwise, no major setting changes were made.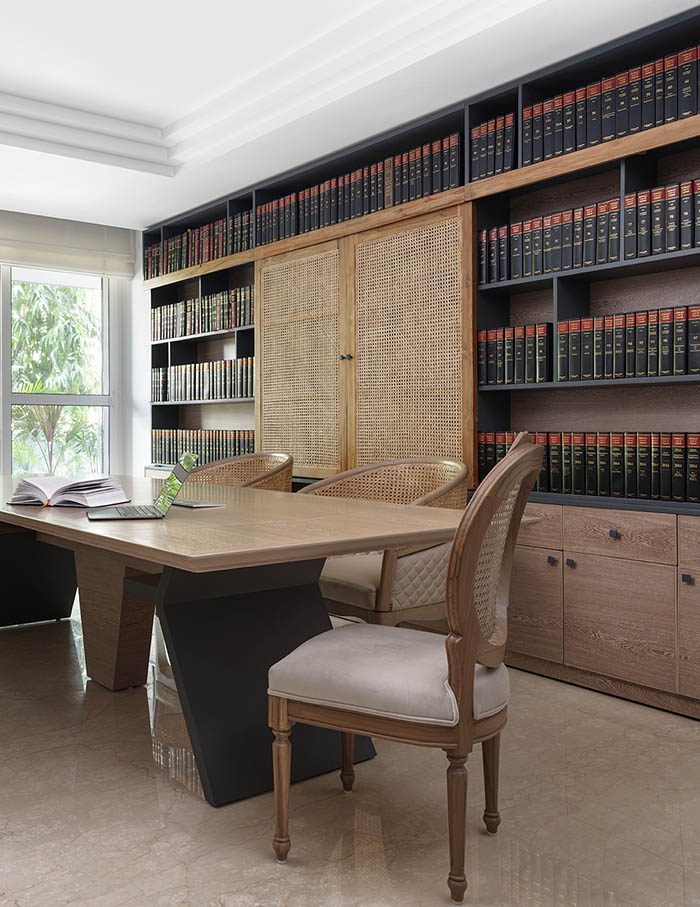 Tour the office
The entrance to the office is a refreshing burst of light blue and yellow with an array of planters, decor pieces and artwork. A chic lobby leads to a hospitable waiting room, a sophisticated main office and a welcoming conference room. The waiting room of the office has been designed to look and feel like a luxurious living room with a plush blue and grey sofa set, a large wooden shelf along with a rectangular metal and wooden coffee table. 
Upon entrance to the room, the lawyer's desk takes the left side and the seating area takes the right. Floor-to-ceiling wooden bookshelves with cane features alongside a brown chesterfield commands attention.
The design aesthetic of the main office continues in the conference room as well with grey walls, and wooden furniture with cane detailing. A dark blue lounger and a console with decor accessories render character and calm to the space.  Food is a priority, if not the first in the list! Adhering to the same, the conference room has a well appointed pantry inside a niche with sliding pocket shutters, ideal for cosy socialising as well.
Ideas to bookmark- colours and materials 
"For the lawyer's office we have incorporated locally sourced, environmentally sustainable cane in the furniture and surface treatments. We, at Nivasa, love celebrating this environmentally sustainable material in our furniture and interior projects," expresses the designers. 
Preserving age-old Indian crafts such as cane weaving that have transcended generations of artisan families, they have merged traditional crafts with contemporary techniques and processes to revive the crafts and render economy for the local craftsmen.
What the designer fell in love with 
Saba and Rohit voice, "This office reimagines what a lawyer's office looks and feels like. We gave the office a crisp new identity, the interiors reflect contemporary aesthetics peppered with classical highlights. This theme continues through space."
You may also like: Hyderabad office imagined by Space Styling