Design
With novel amenities in place, Studio Lotus crafts an extraordinary workspace for the Trilegal law firm
MAR 23, 2022
| By Anushua Aich
Keeping the wellbeing and professional welfare of employees at the forefront, a leading group of designers of Studio Lotus crafted an inspiring workspace for one of India's most influential law firms—Trilegal. The dream team comprising Asha Sairam, Ambrish Arora, Tanuj Biyani, Aastha Batra, Pooja Rathi, Deepali Gupta, and Randhir Kumar are the sharp minds who designed the office spaces for Trilegal.
Founders of Studio Lotus, Ambrish Arora, Sidhartha Talwar, and Ankur Choksi further share insights on why today the structure of workplaces matter and play a pivotal role in the lives of workers and employees. The idea that Trilegal focused on, principal designer Asha Sairam explains, "Trilegal's project brief for the interiors of their new office space called for creating a distinct brand identity—representative of their nationwide presence and embodying their future-forward vision. We conceptualized their corporate offices in keeping with these considerations—devising a layout that encourages collaboration while enabling privacy".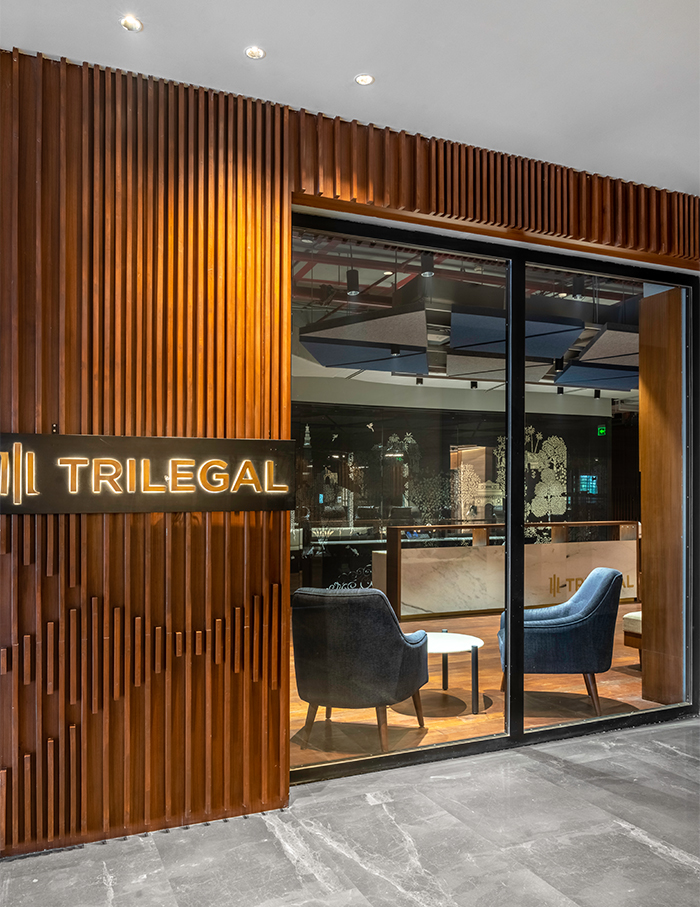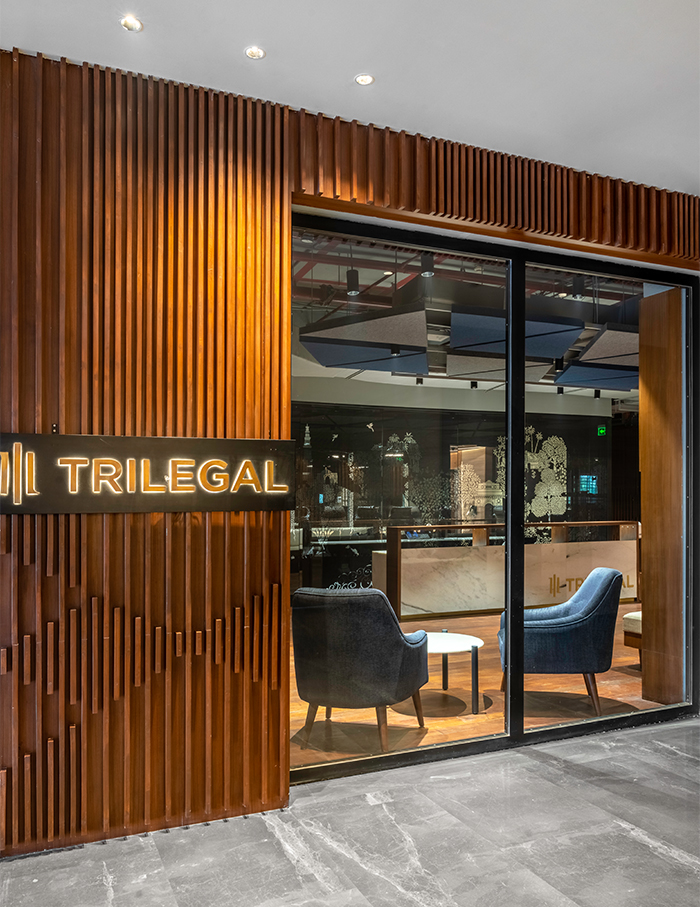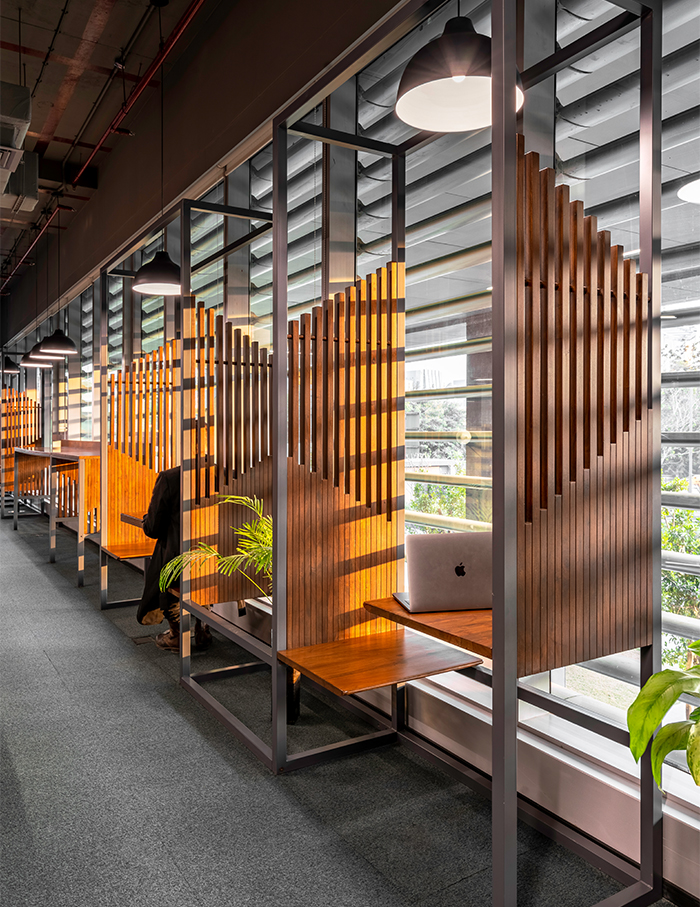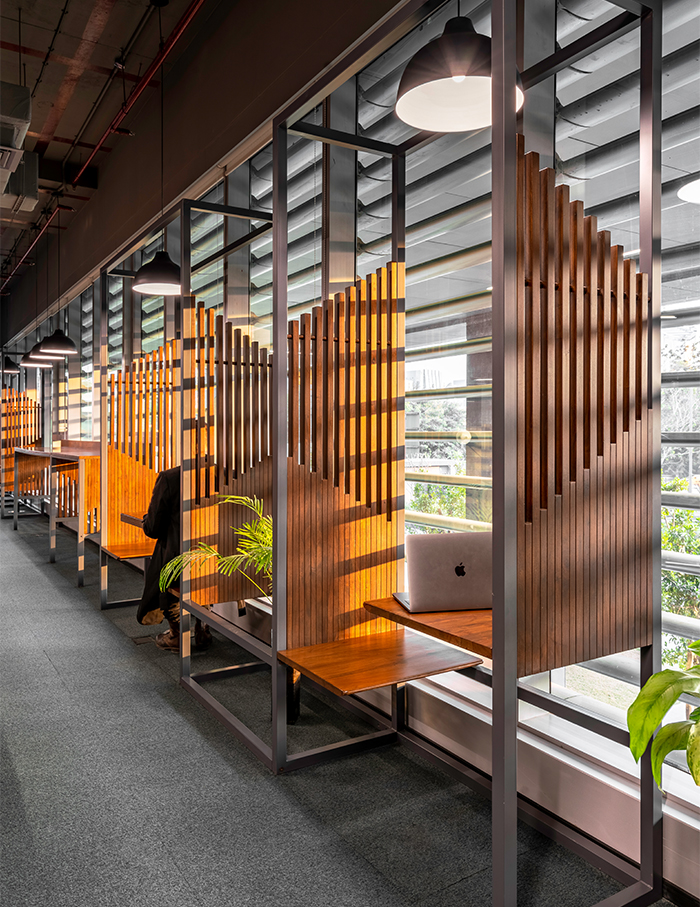 Located on the first floor of a commercial tower in DLF Cyber Park, Phase III, Udyog Vihar, Gurugram, the Trilegal office covers 19,000 sq ft. From the reception and waiting area accommodating the entrance to the diverse multipurpose zones—the Townhall, the breakout zones, the library, cafeteria, or the private booths, each reflects that flexibility in a workplace goes beyond productivity. Rather it emphasises having a positive environment that will encourage employees to connect and communicate freely.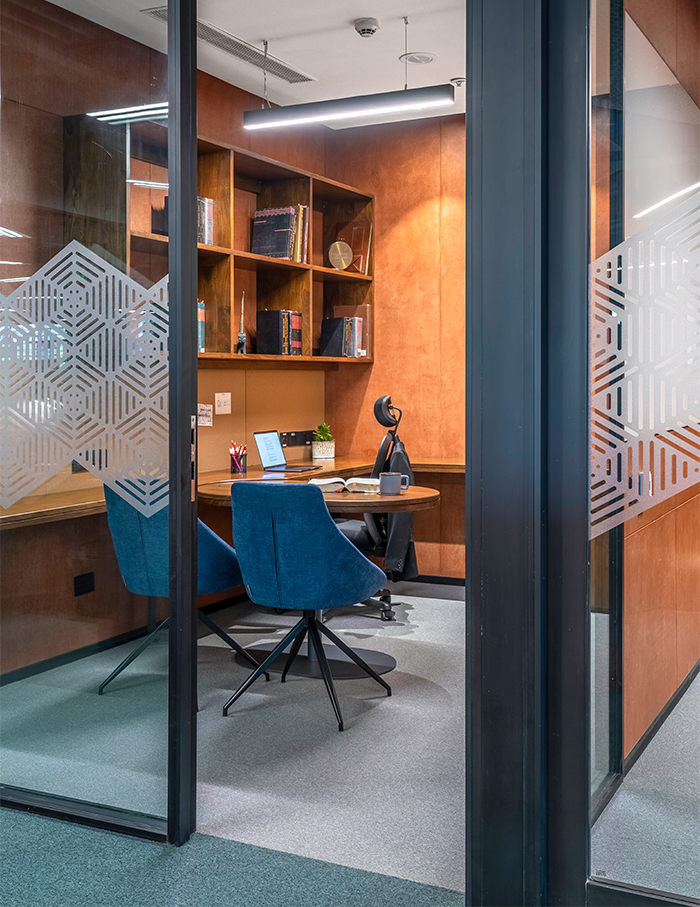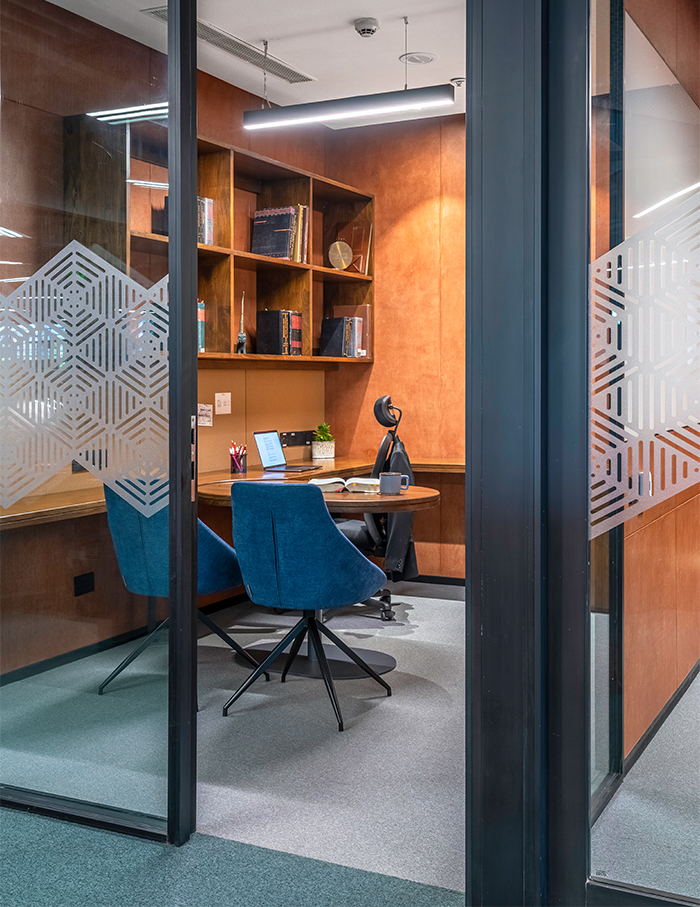 One of the essential takeaways rendered by the interiors of the Trilegal office is that of its consciously shaped workstations. Flanking each side of the Town Hall, the workstations are laid out in a segmented honeycomb formation, with pods for teams of two and four individuals. Each workstation is separated by blue and grey sound-absorbing matter wall partitions which serve as soft boards. To ensure that employees can move in and move out comfortably, the partitions are equipped with a coat and a shoe rack.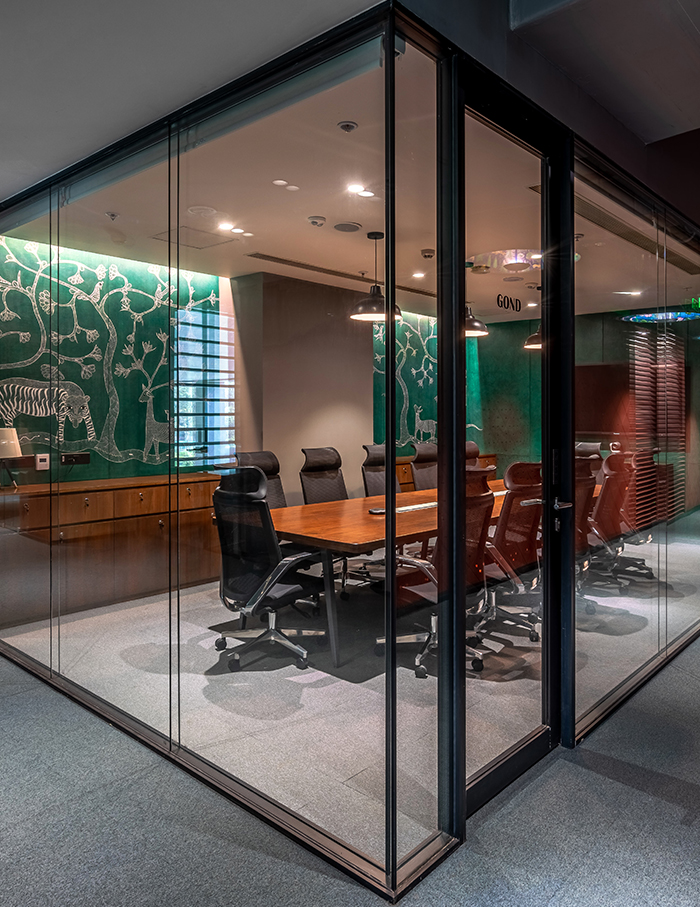 Addition of different layers to the work units reiterate the thoughtfulness of the designers. Sairam adds, "We teamed up with MKraft to design and engineer these hexagonal workstations that enable privacy while ensuring easy collaboration and flexibility for the teams. The placement of the larger pods near the partners' cabins is conducive to create this intertwined system that enables better communication and coordination; the smaller pods are peripheral in nature, serving as smaller breakout spaces away from the main desk."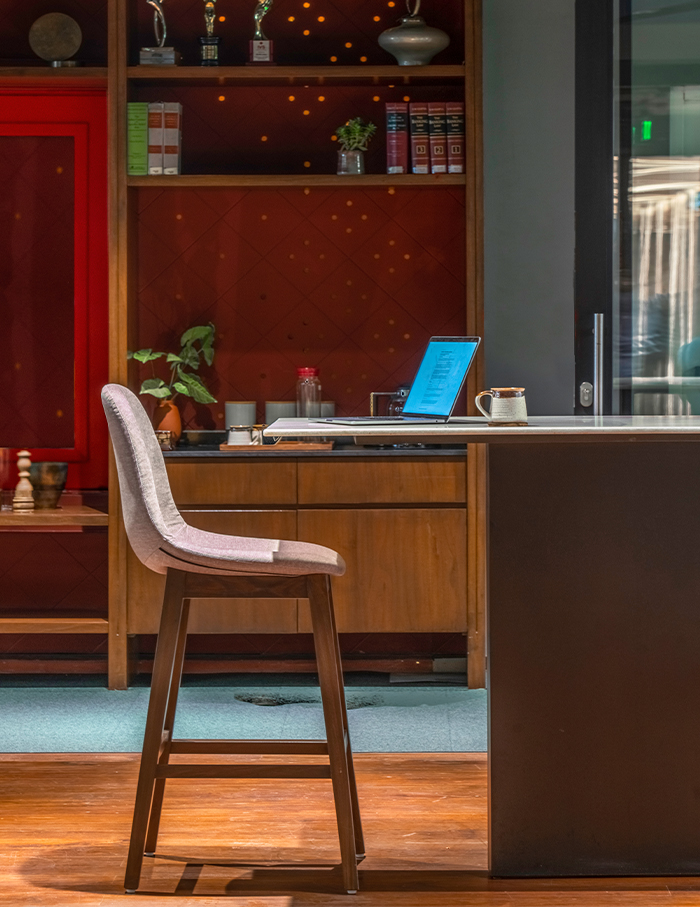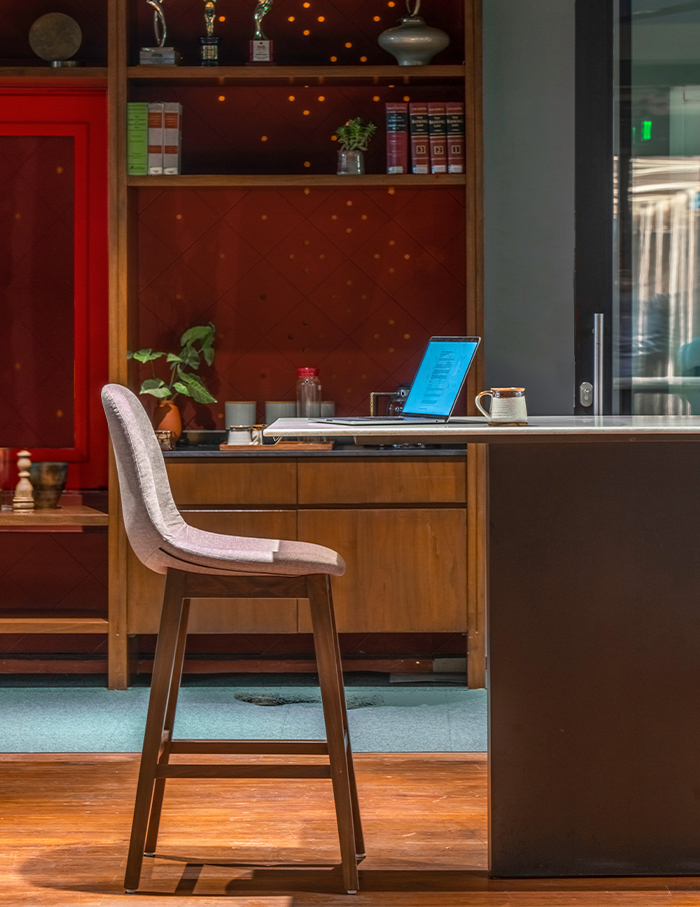 To foster a steady flow of work, large composite panels in tune with the hexagonal pods have been installed to create a system of floating ceilings—helping employees to maintain an uninterrupted workflow. Complementing the strong geometry of the workspace, peripheral seating near the glazed walls along the south eastern exposure are punctuated with timber slats featuring abstract hexagonal shapes. Interspersed with planters, this linear section is designed to encourage casual banter, lunches, and light work.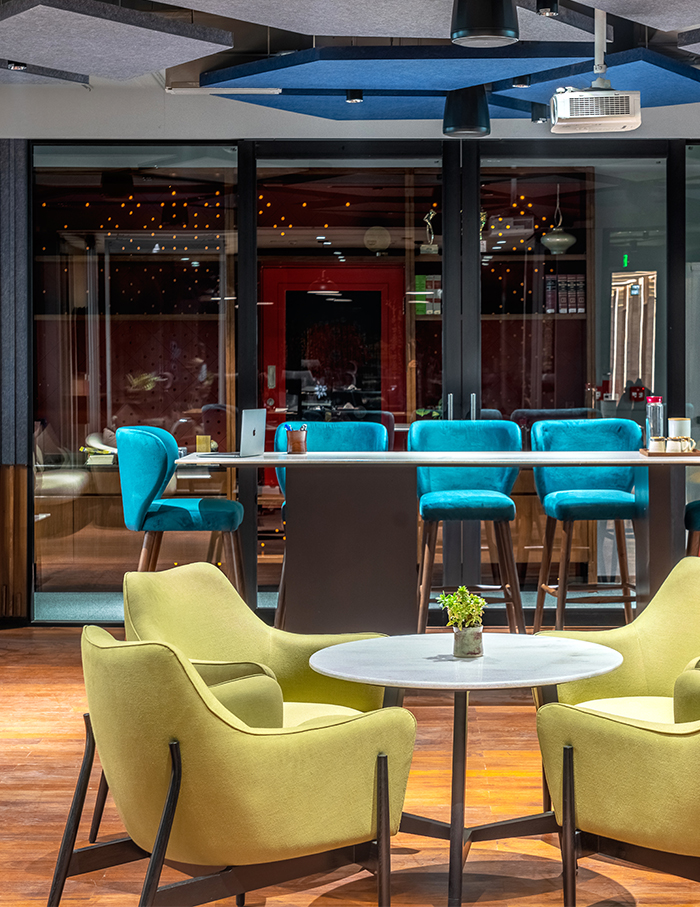 Sairam's design precision is showcased in every nook and corner of the Trilegal office. She has made sure that there is no room left for monotony to crawl in. The partners' desk, built in a versatile L-shape reinforces work efficiency. To keep up the mood of the employees, each work cabin is equipped with adequate overhead storage, a soft board and a whiteboard to create a clutter-free workspace, which is crucial for legal practitioners.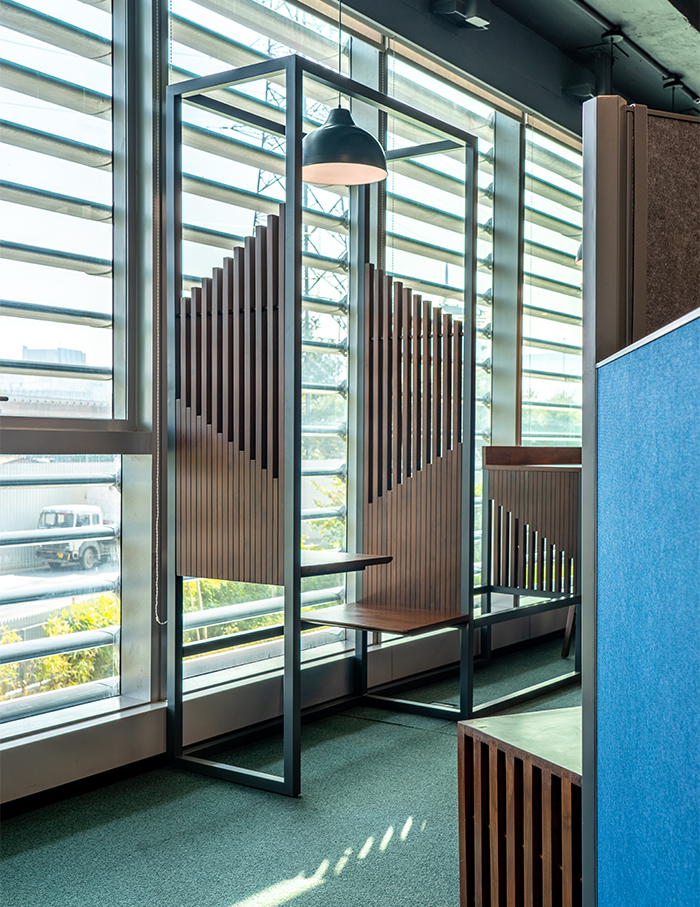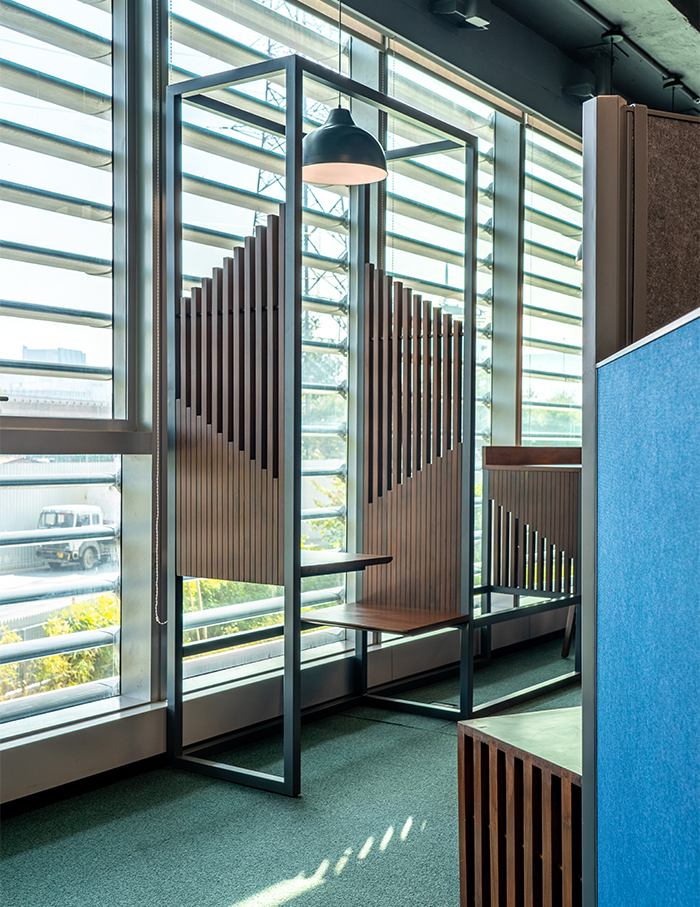 Highlighting the theme of the space,  Sairam mentions, "Human beings clock up roughly two-thirds of a day at work, which necessitates designing comfortable physical work environments with a strong and memorable aesthetic appeal. The design, fundamentally, should consider the provision of adequate lighting and ventilation, prerequisites for employee well-being. All of these considerations constituted our design approach for the space."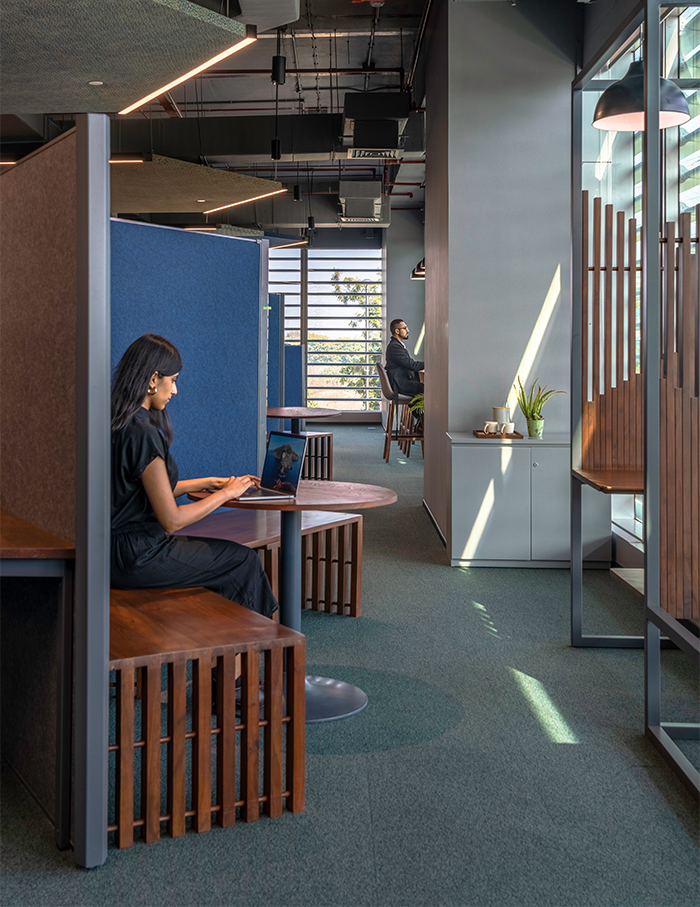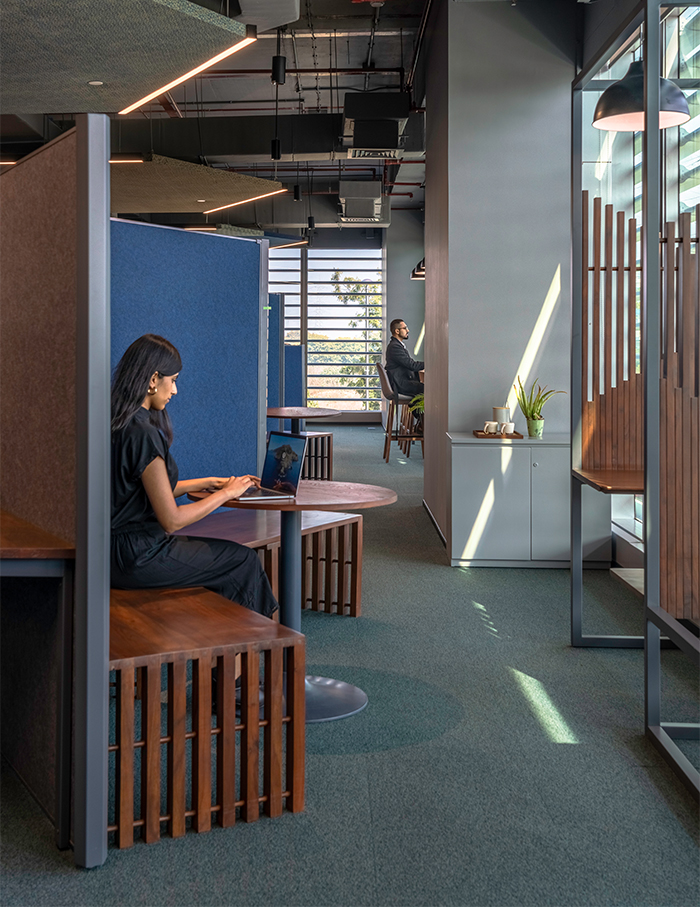 The design of the office also demonstrates a compelling narrative of crafts that can help create a memorable workspace experience for the staff and visitors alike. A series of vibrant Indian crafts are featured in the office—including Godna, Warli, Pattachitra, Gond, Bastar, and Sanjhi, all of which are executed in collaboration with artisans commissioned by the Jaya Jaitly-led Dastkari Haat Samiti.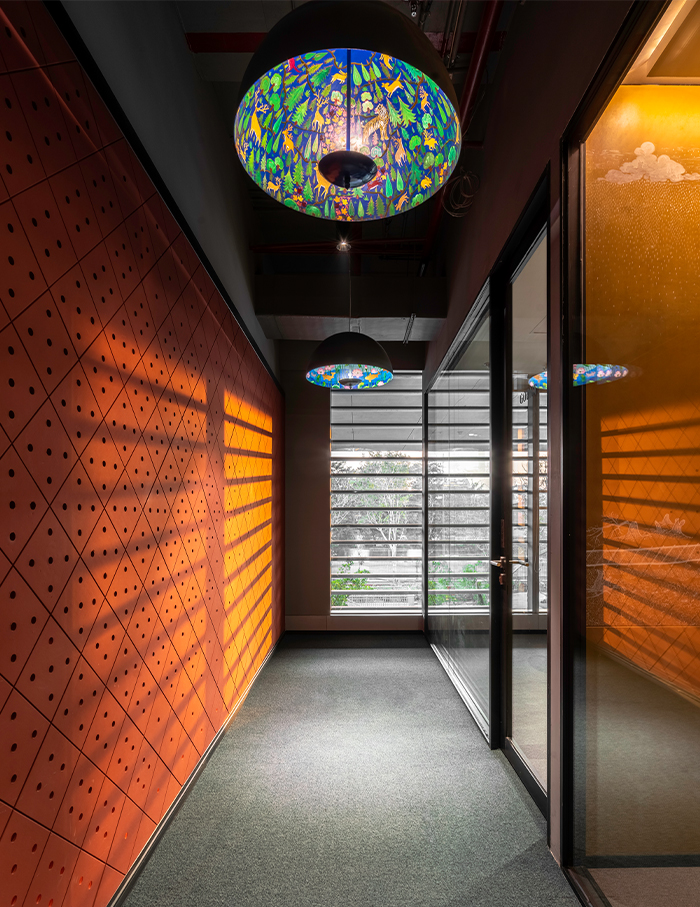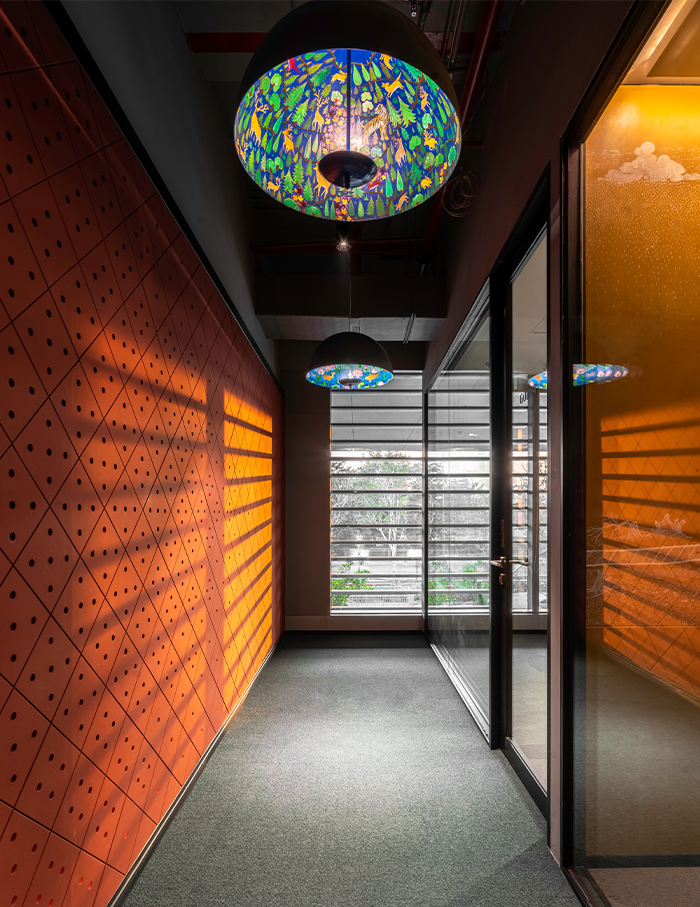 Certain challenges were also faced by the designers. Installing electrical points and optimizing vestigial spaces like shoe and coat racks to ensure seamless movement and workflow emerged as one of them. But Sairam termed this as an enjoyable and unique challenge as the workstations had to be custom-engineered according to the workflows, as opposed to the standard approach of opting for pre-fabricated, modular furniture from a catalogue.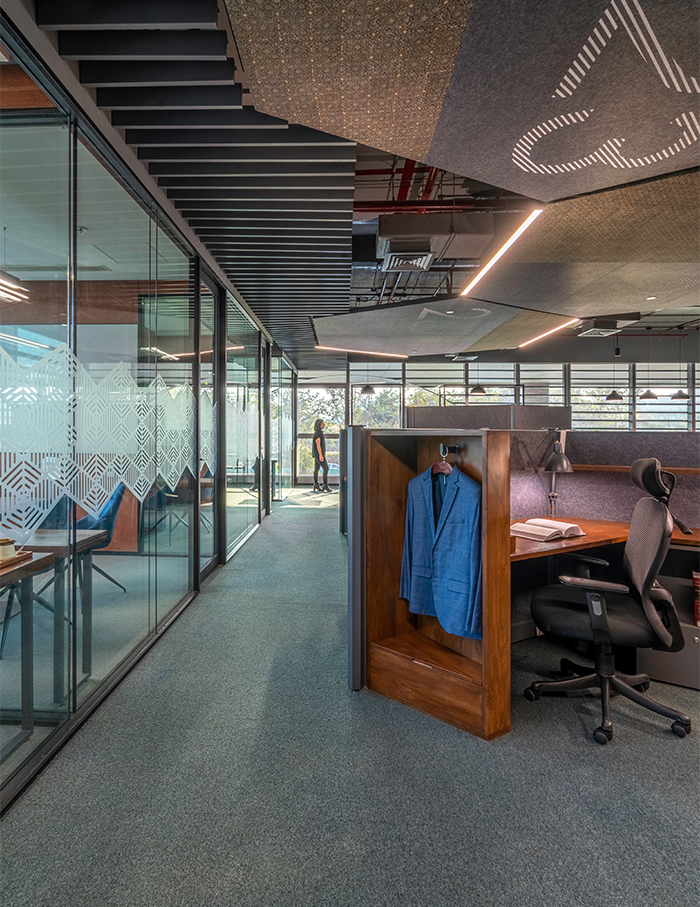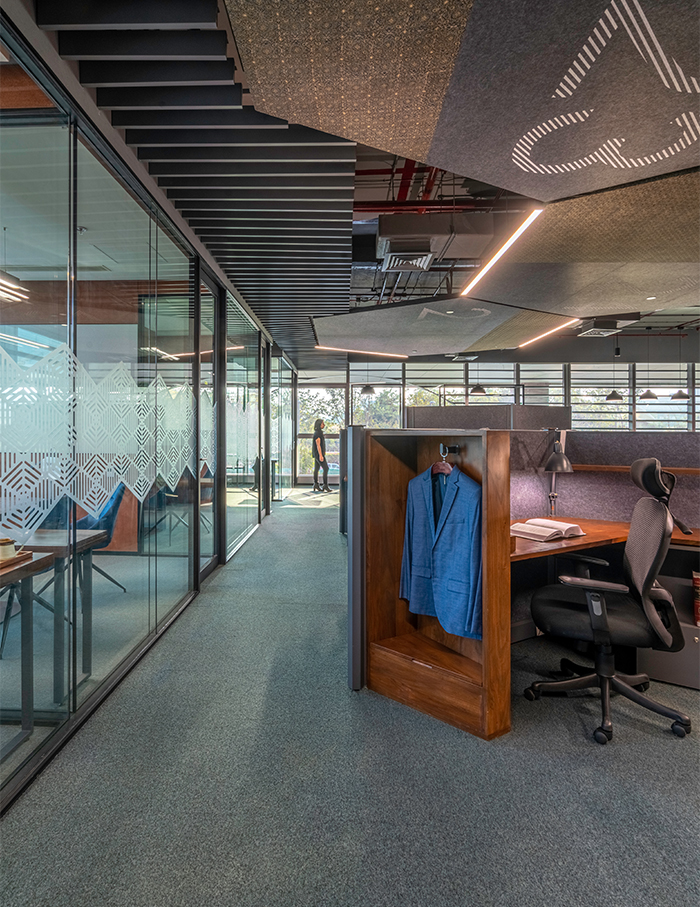 Moving ahead, Sairam shares the sustainable features that have been incorporated in the office. She says, "An agency called Smarter Dharma was specifically brought on board to ensure that each material we used generated the smallest carbon footprint possible–right from the construction materials to the fabric of the blinds. Our goal was to reduce the carbon footprint during construction as well as operationally for the long term."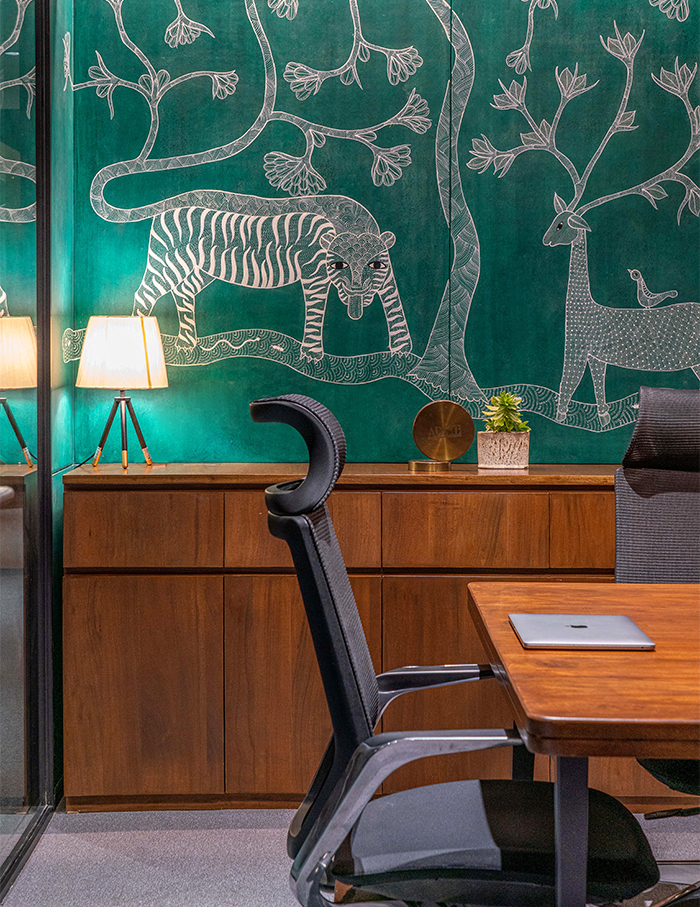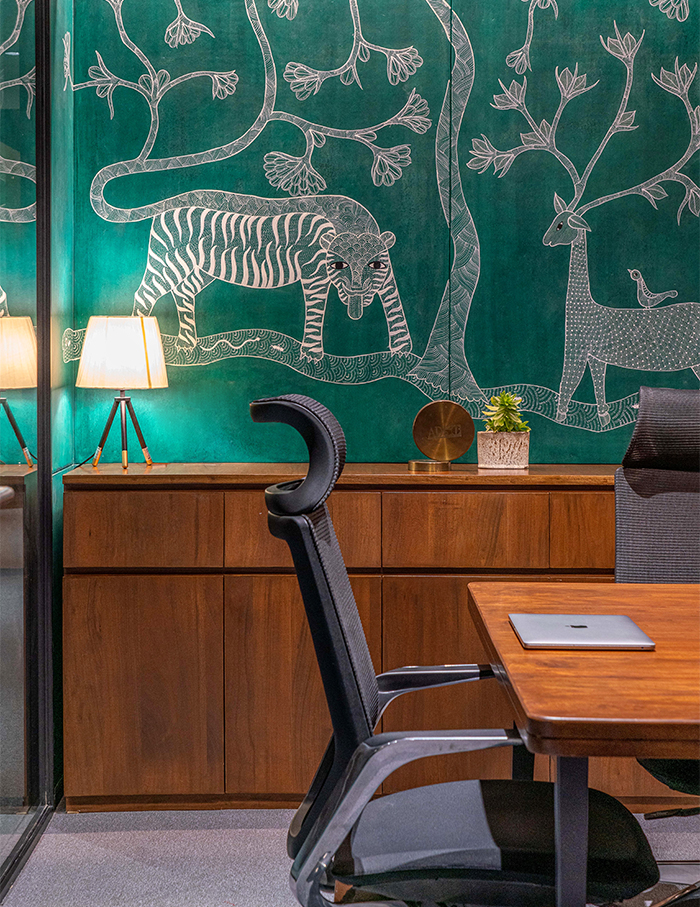 The Trilegal office designed by Studio Lotus meets a wide range of employee desires and physical needs. Strategically conceptualising a perfectly ergonomic office while creating a healthier work environment for employees as well as staying true to Trilegal's ethos is something that is incredible and leaves an impactful lesson for designers who are on their way to build such workplaces. 
If you loved the unconventional aesthetics of this workplace, make sure you check out this Bengaluru home by Studio GSA