Homes
We're in a New York State of Mind as we tour this luxury condo by the Drake/Anderson duo
OCT 11, 2020
| By Vedika Nair
Hello, Upper East Siders! We're here to tell you that luxury has a new address and we're in love with it… Located in one of the most affluent neighbourhoods in New York, this Tribeca residence is a sun-flooded apartment that offers stunning views of the Hudson River. 
Known for their passion to create bespoke interiors, Jamie Drake and Caleb Anderson of Studio Drake/Anderson revamped this 5,800 sq ft Big Apple apartment into an elegant and flexible home. 
A private elevator transports us to the home's foyer, where the doorway frames a vignette of a parchment and ebonised mahogany cabinet placed under a stunning satin brass-trimmed, eggshell lacquer mirror—setting the tone of the apartment.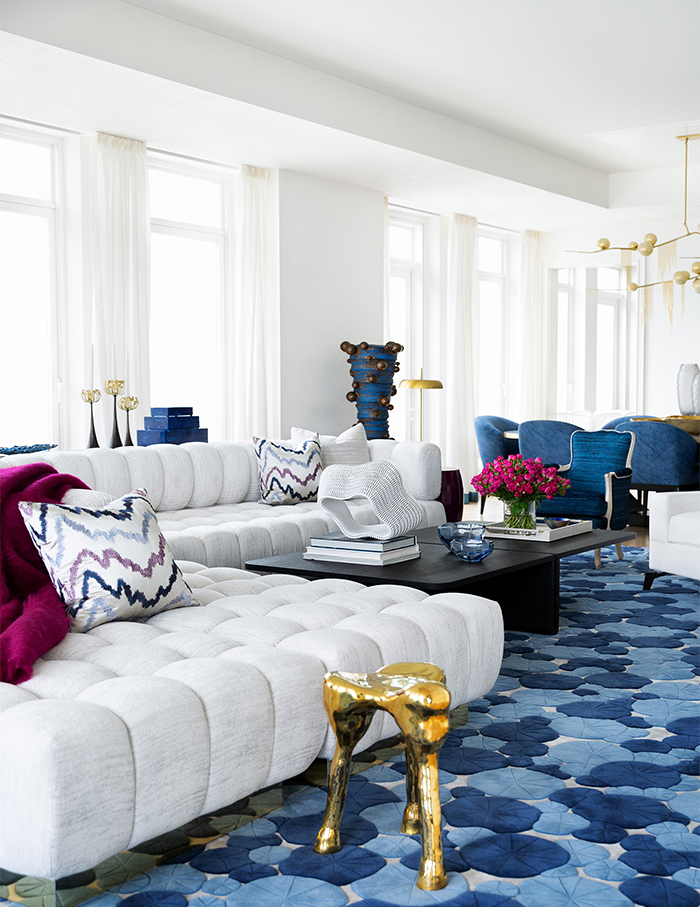 "Neutral schemes with pops of colour are a hugely popular trend. We've made it our own by using big tonal contrast," says Drake. "The overall palette is pale but balanced and strengthened by strong, deep blues and teal in the entertaining spaces and pale pink in the master suite."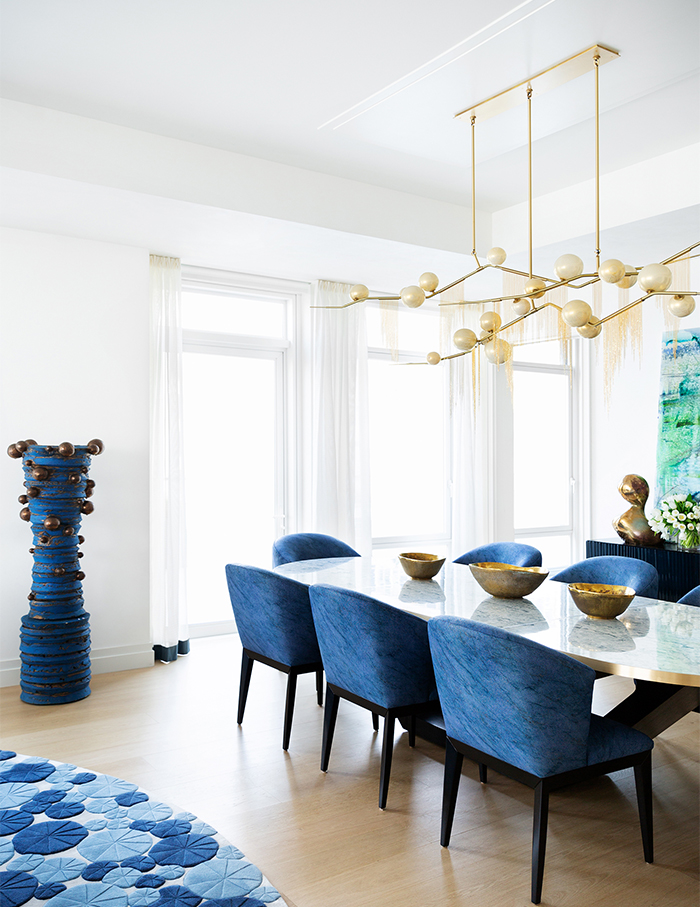 The foyer leads to a white and blue, living-cum-dining space with a hint of gold accents. A custom racetrack oval dining table paired with rich cobalt shagreen chairs, embossed in leather characterise the space. A lacquer buffet as well as a monumental ceramic sculpture by Peter Lane add a jewel toned pop to the room, while a custom cherry bomb fixture by Lindsey Adelman hangs above.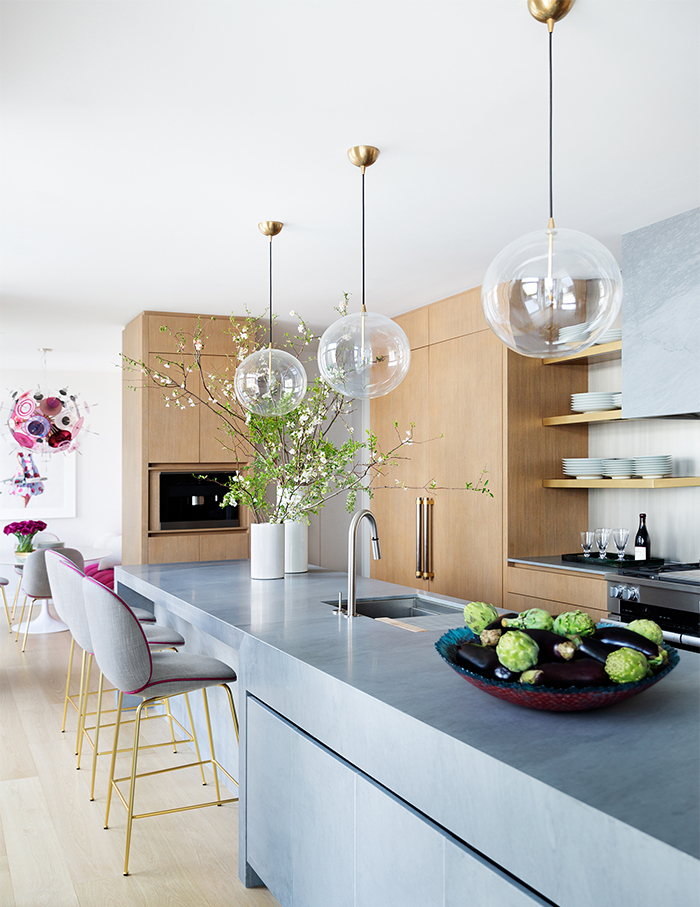 We can't help but hum Billy Joel's New York State of Mind as we take in the magnificent view of the Hudson River. A central back sofa and fireplace face the river, while accent chairs in deep blue hues and an oval rug lend colour to the space.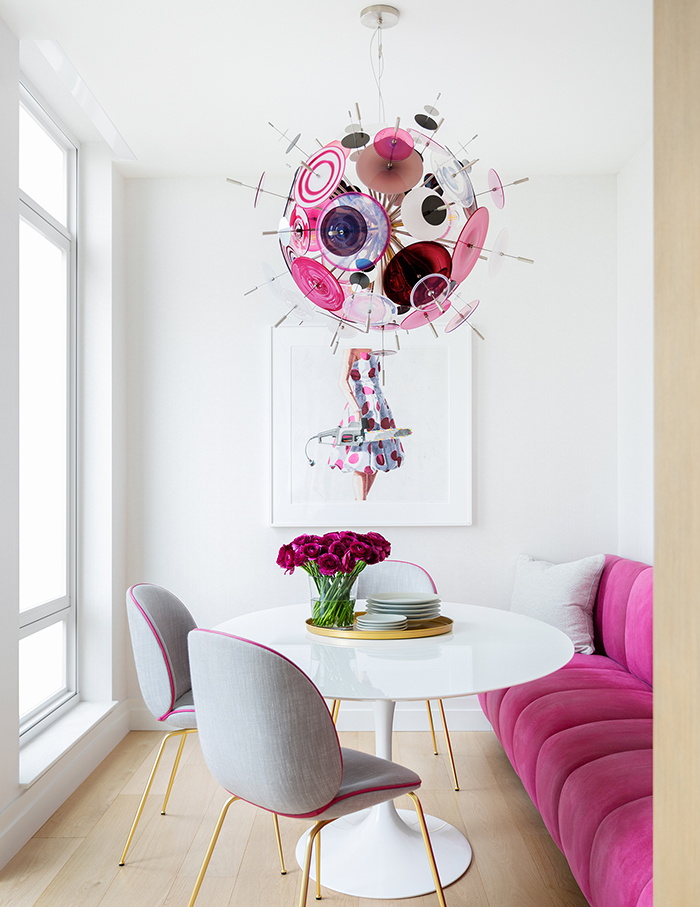 Secondary accents of plum and pink add delight, as does the use of a curvaceous Louis XV style bergère chair with bright notes from the brass elements. The long terrace makes for a wonderful entertainment area—it features a convertible ping pong-cum-dining table by the grille and kitchen, and a lounging zone off the master suite.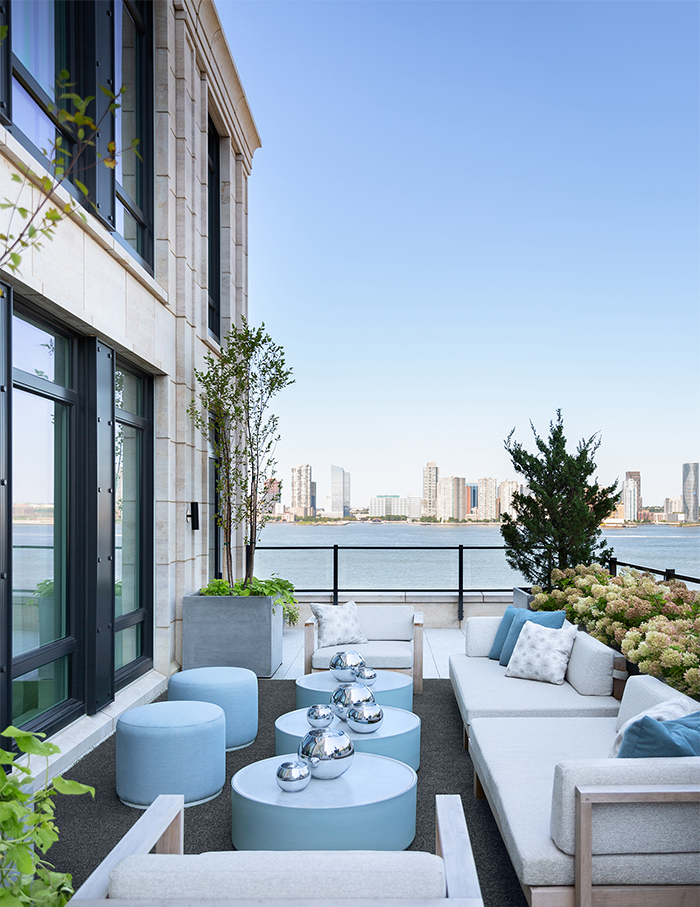 Inside, the kitchen is situated off the dining area and also features a breakfast nook equipped with a bright pink channelled leather banquette. A classic Saarinen oval dining table is paired with comfortable seating jauntily piped in pink, matching the counter stool, while a knockout glass chandelier illuminates the space.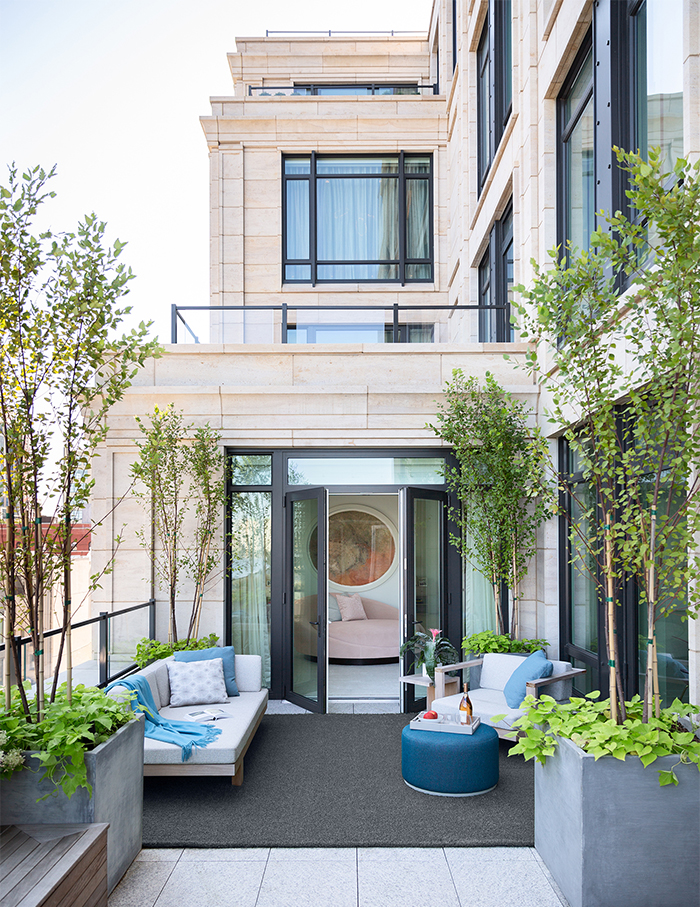 The bedroom-turned-multifunctional den at the far end of the living area is given a fashionable facelift. It is cloaked in a textural, woven teal blue/green wall covering and comes with a wet bar. The library's colours are brought to life with leather-covered furnishing for the desk, ottomans and lighter-toned sofas, pillows and underfoot rugs.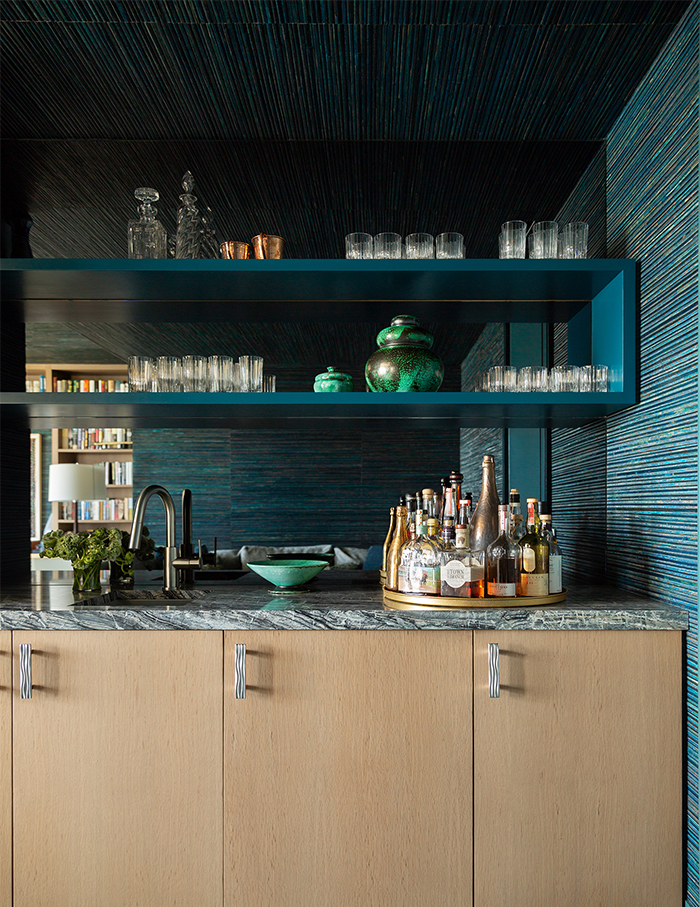 "It was a great design exercise to figure out how to fit all the client requests into the library. The room just wasn't big enough to accommodate a home office desk, file storage, a bar, TV and seating area. Once we came up with the plan of eliminating a bathroom, we only needed to convince the client, and they were promptly on board," explains Anderson.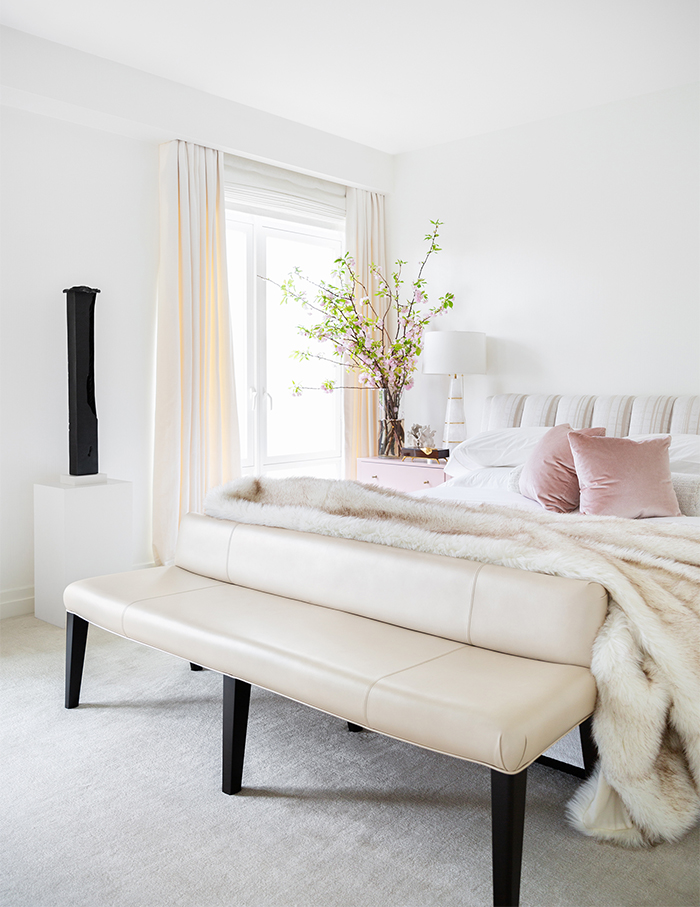 Flushed in off-white, ivory and blush pink tones, the master suite comes with a dressing room, large bath and sitting area. A soothing sense engulfs the sitting space that hosts a circular divan, where the couple spends time watching TV. We love how the pale, cherry blossom pink lacquer bedside tables add a romantic note that ties in with the blush accent pillows.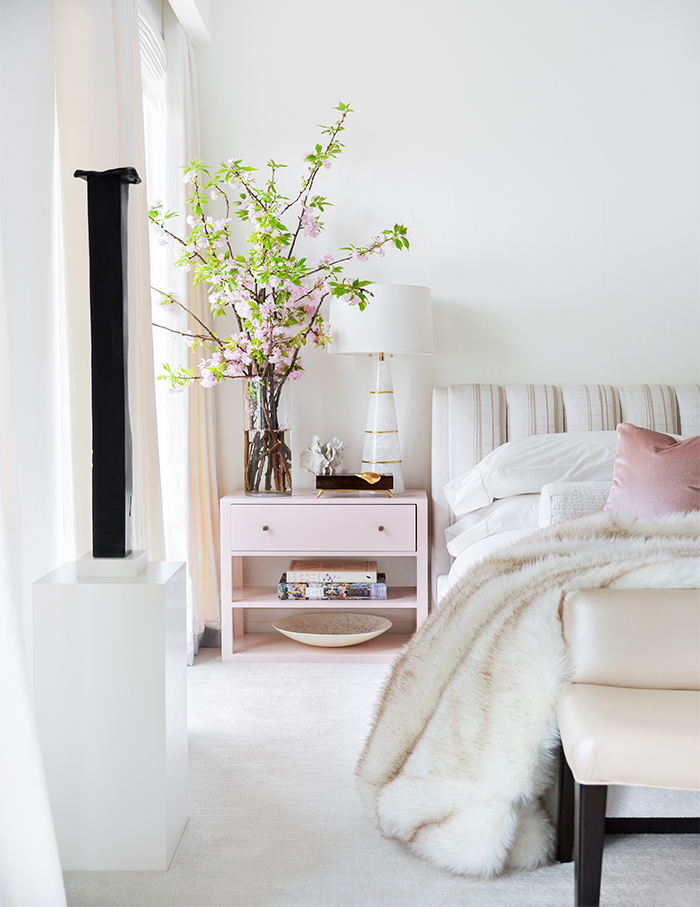 We're big fans of the apartment's playroom—painted in bold horizontal stripes of marine blue and white, with a resilient gym flooring. Featuring a small indoor basketball court, the opposite end houses a sectional sofa and TV making it a screening room.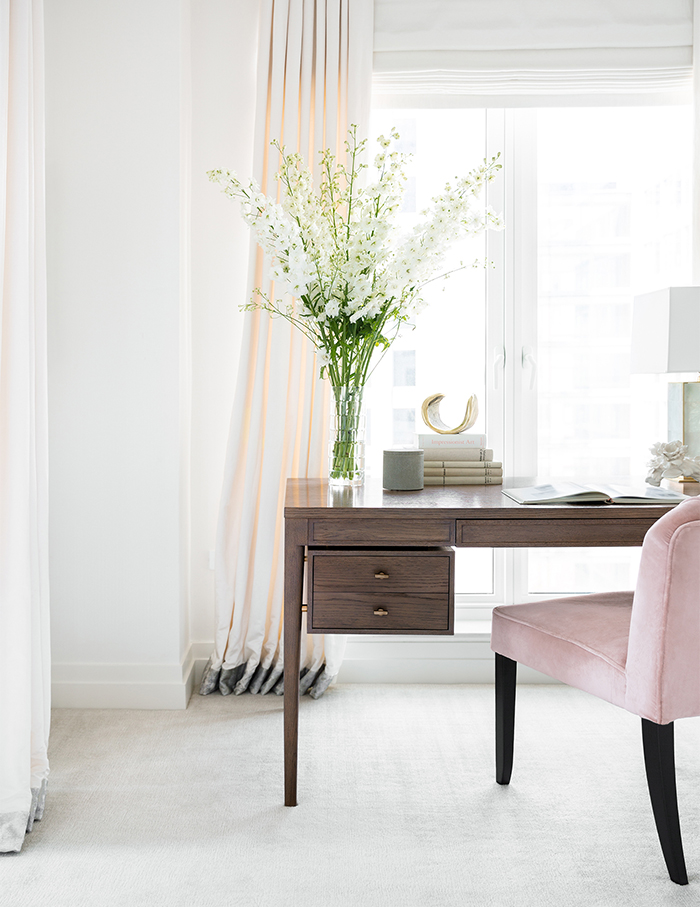 "Our philosophy is to create unique, truly bespoke interiors reflecting our clients and how they live. Every project is filtered through the Drake/Anderson eye and takes full advantage of our passion for interesting materials and textures to create tactility," concludes Anderson.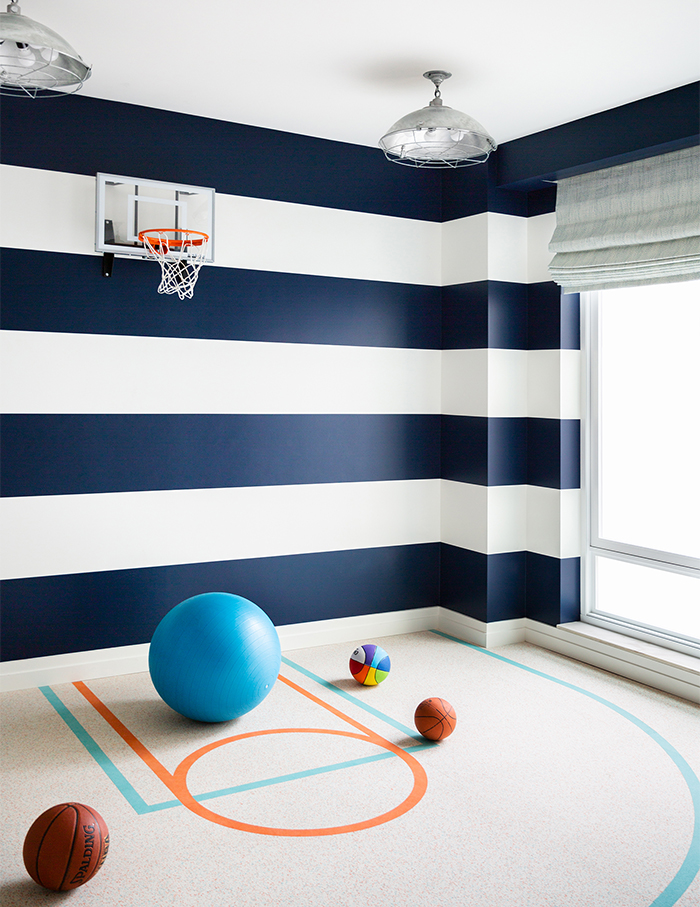 Our August September issue is out now! Click here to read and download for free!