Homes
#EDLoves this 432 Park Avenue apartment by William McIntosh Design
JUL 12, 2020
| By Vedika Nair
While the whole world knows and loves New York as the concrete jungle where dreams come true, we're crushing on the city for a completely different reason—this 432 Park Avenue apartment designed by William McIntosh and Martin Raffone of William McIntosh Design.
Fashioned as an occasional family home and business entertainment zone, the client's brief came with one simple instruction—an abode that blends glamour with comfort. So, without taking away from its unparalleled views of Manhattan's skyline, the 4,500 sq ft home was given a neutral palette and bespoke furnishings. 
The apartment features white walls, curved corners and a makeshift cloud for the ceiling. "It breaks away from mundane trends and instead opts for pale colouration with a warm and luxe theme, inspired by New York City of the 1940s and 1950s," says McIntosh. While most of the furnishings are custom made by William McIntosh Design, the palette used for this home is luxurious and the furniture is comfortable.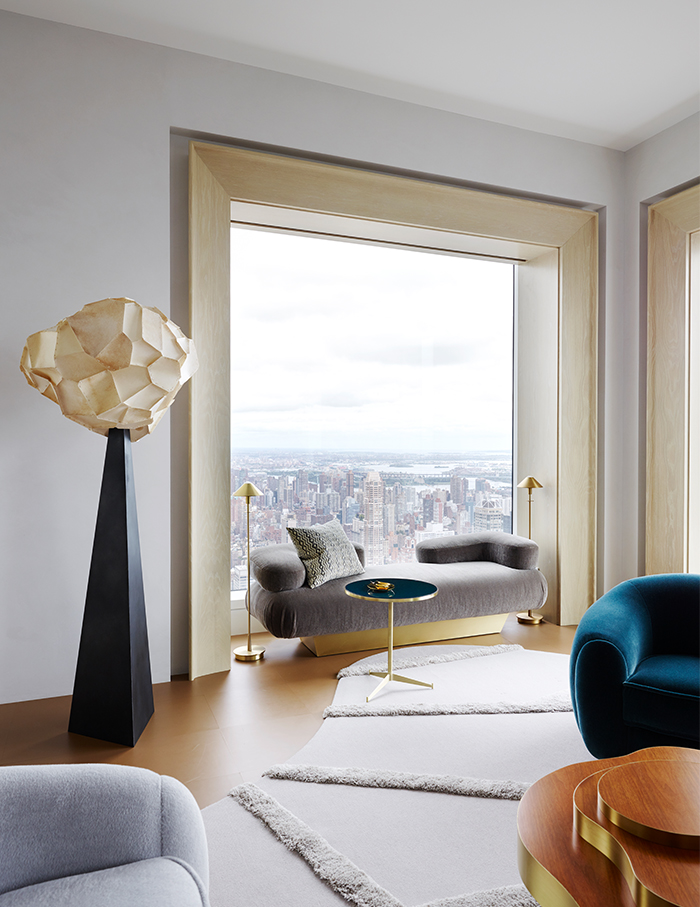 Hints of wood, alpaca, mohair, leather, bronze and a variety of marbles are used abundantly across the home to give it a lived-in yet awe-inspiring appeal. In the expansive living room, seaters in grey, navy blue and beige shades by William Georgis from Maison Gerard is further accentuated by a gold and charcoal tinted floor lamp by Mauro Fabbro from Alexandre Biaggi, and a Tai Ping carpet.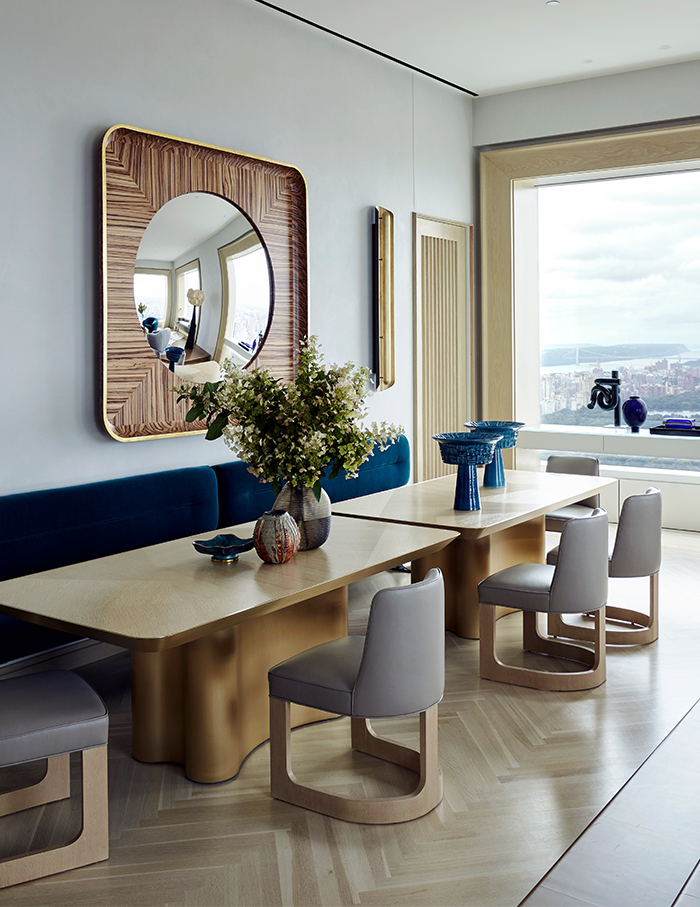 A key aspect in the home is that each room is given panoramic windows to take in enviable views of the Manhattan skyline. Another aspect we're crushing on is a piece of quirky art seen on the living room wall. We love that in addition to complementing the ambience, it slides open to reveal a concealed, bronze bar with an illuminated onyx top.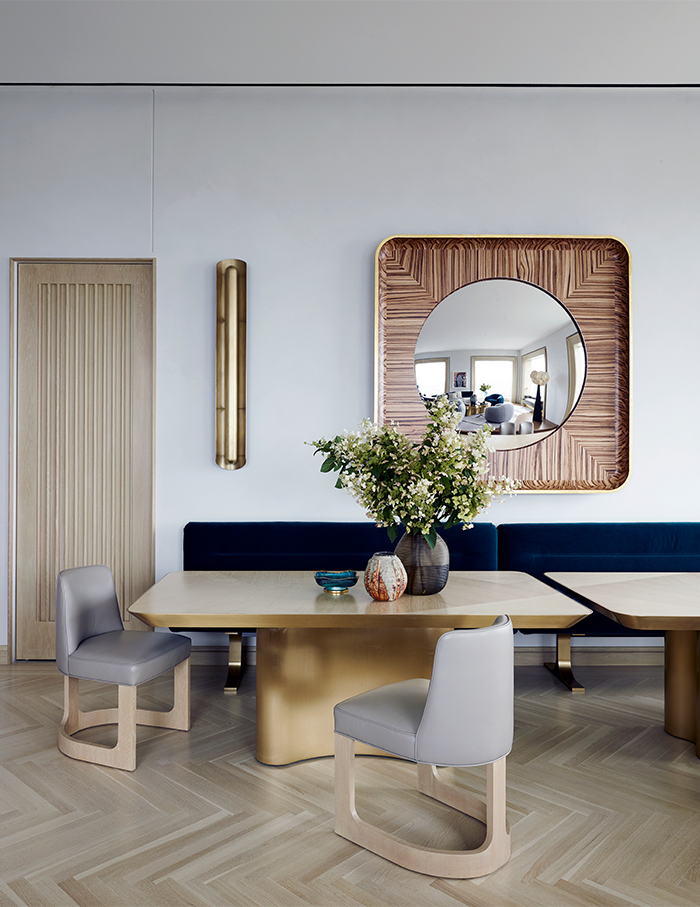 "My favourite design gesture in the apartment is the platform. In New York City apartments, you rarely encounter level changes. To move up those two steps is a very exciting movement through the room. Covering these in leather makes the whole experience that much more rarified," highlights McIntosh.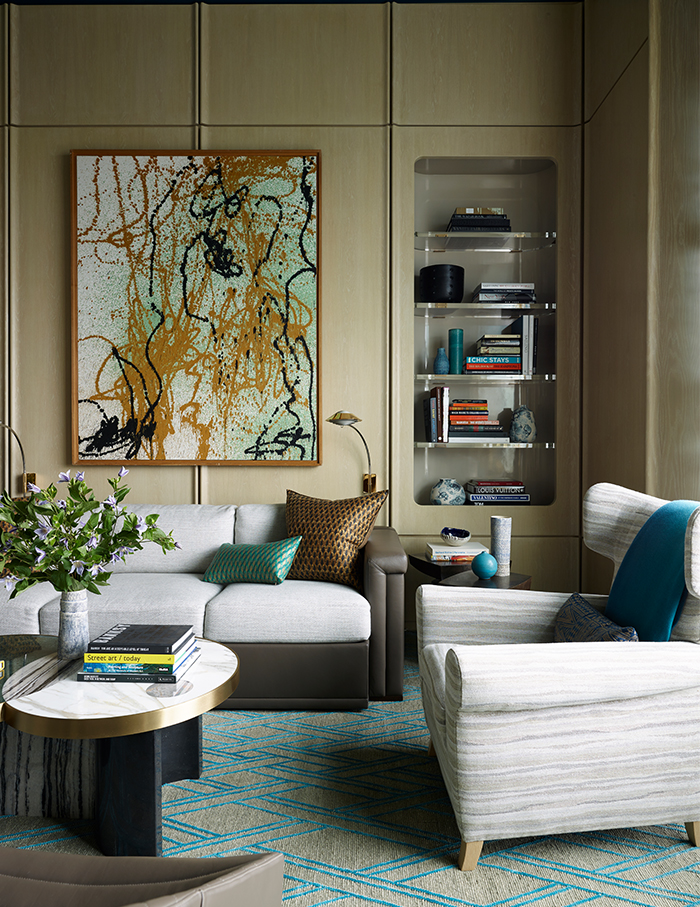 The dining area follows a minimal design and features a wall-mounted mirror that reflects the lounge. Further inside, a lavish library is illuminated by a stunning pendant light by Achille Salvagni from Maison Gerard and a rug from Tai Ping. The space also features custom creations such as the sofa and wing chair by William McIntosh Designs, panelled bookshelves with lacquered interiors, and a leather-wrapped desktop.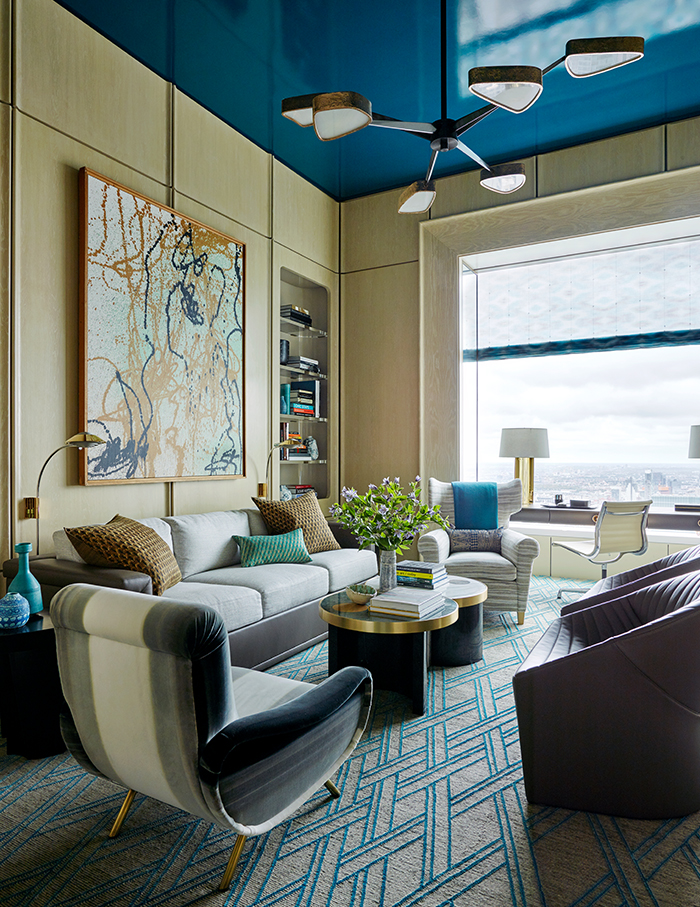 The sleeping areas include a bold guest bedroom with dark grey tones, elegant Tai Ping carpet and a charcoal pendant lamp. Meanwhile, the spacious master suite oozes sophistication with a classy olive chaise from Bernd Goeckler Antiques. "The design of the apartment is unified such that when you go from room to room, you understand that you are in one apartment and experiencing one idea, one ambience," McIntosh concludes.
Scroll to see more pictures from this luxe abode…