Design
Utilising adaptive reuse techniques, Studio Patternmaker transforms this 50 year old home into a chocolate house and cafe
OCT 18, 2022
| By Kashish Kaushal
I make chocolates disappear. What's your superpower? When Parthavi Patel, Founder and Principal Designer of Studio Patternmaker chanced upon this project that required her to implement her passion (read: superpower) of adaptive reuse, she grabbed the opportunity with both hands! Fun fact, she is a Masters in Sustainable Adaptive Reuse from the Rhode Island School of Design (RISD) in the US after a Bachelors in Architecture from MSU. She transformed a 50-year old home into Toska—a chocolate house and cafe located in central Ahmedabad and spread across 2,000 sq ft.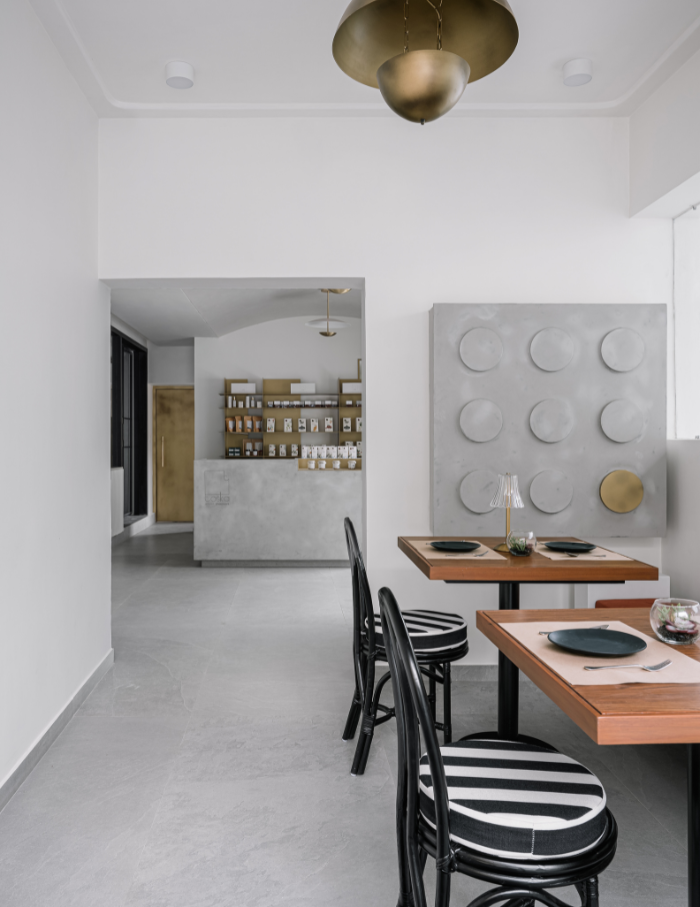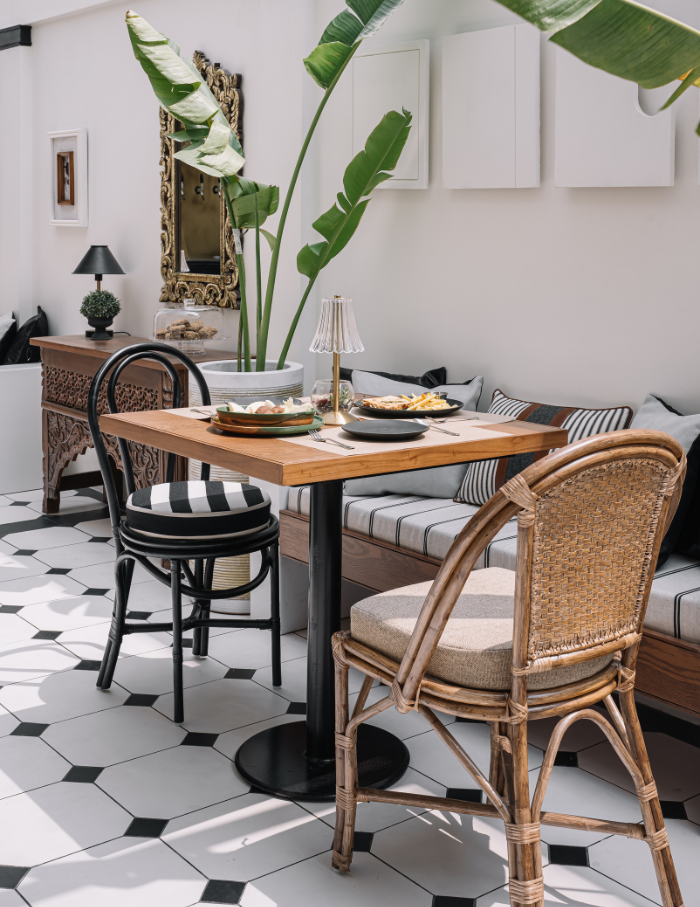 The curious brief
Driven by the desire to create a unique chocolate house in the middle of Ahmedabad where people can walk in, experience chocolate shopping along with observing chocolate-making as an art, Toska had a lot of sentimental value to its owners.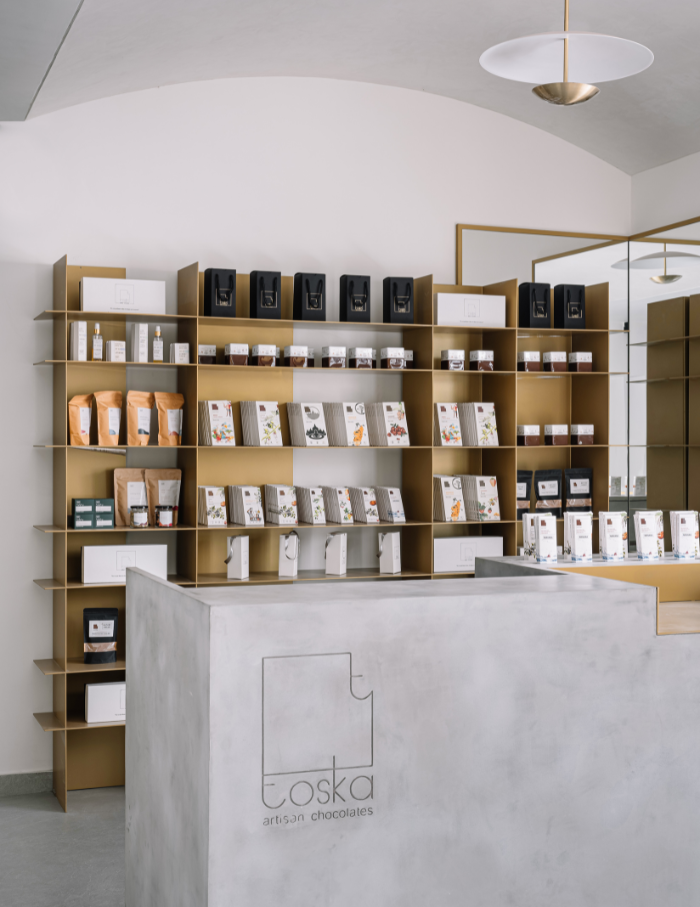 In the owner's words, "The Russian word Toska means longing/homesickness or nostalgia in Greek, an inner pull or ache for a distant place or time gone by. I had lost my father in 2007 and had been nursing a void since. In 2016 when I tasted the first batch of chocolates I instantly got pulled back to the memory of my family together. These times cannot be re-lived but the memories are forever."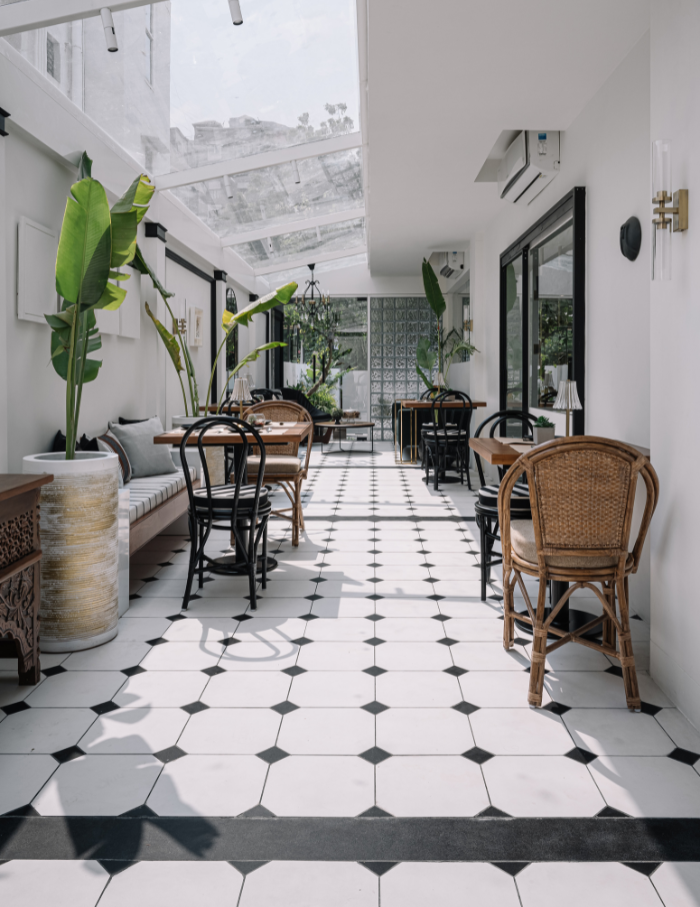 Thus, the onus was on Parthavi to work on a design approach that would be dealt with sensitively and responsibly, not just because of its emotional value but because of the physical context. "This had to be thought of in so many layers. Metaphorically, it had to be a place to create memories, over moments," further elaborates Parthavi.
Life is short, eat chocolate while you tour this cafe!
Toska encapsulates four major areas—a retail space with powder room, production display in front and back of the house, cafe and private seating, and a back kitchen. The entrance gives a clear indication of what's about to unveil—on the right across from the seating area you can see through a wide fixed glass and get a slight hint of the outside cafe with glass canopy and in the front, a doorway leading to the retail area.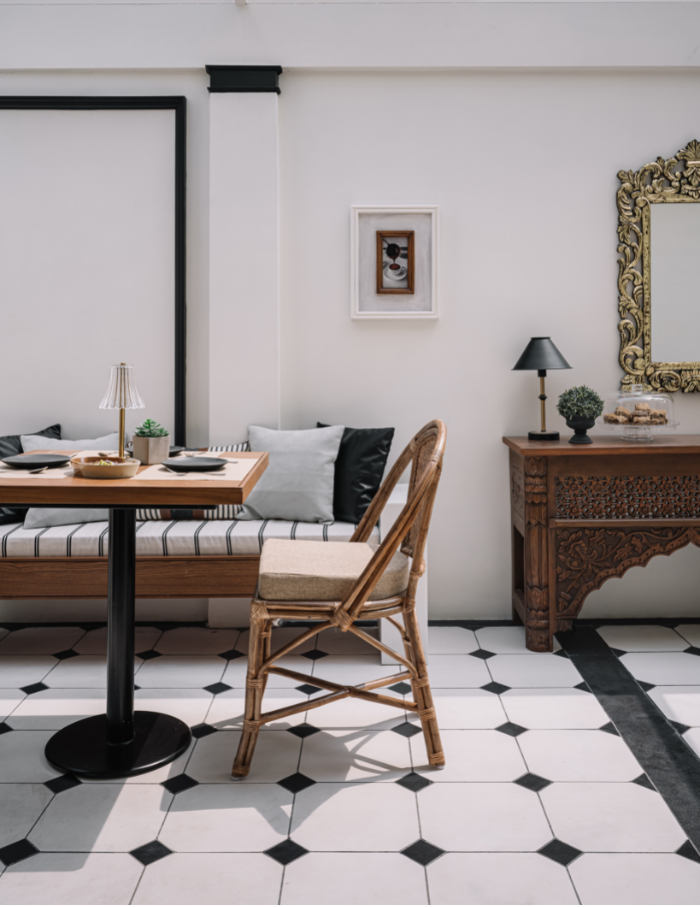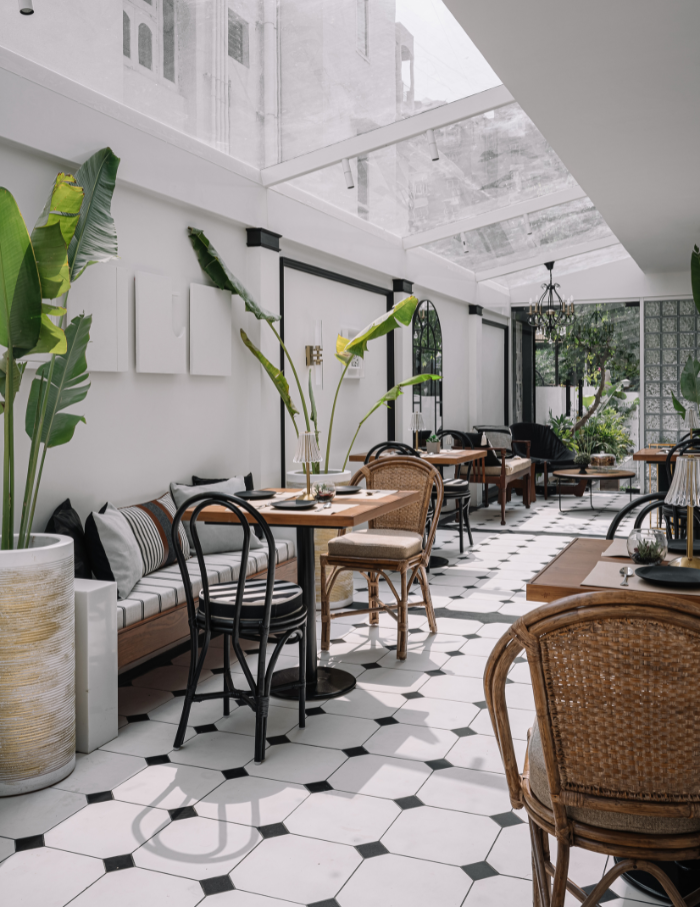 To make the retail area look expansive and soft, a subtly arched ceiling adorned with silver white tonal textures soothes the eyes. Planned in a way that the customer could move freely, a lot of things were taken into consideration—the light grey flooring helps in reading the display better and makes the space look wider. The main counter is textured in a similar grey tone as the floor and is designed to display the chocolate and related products.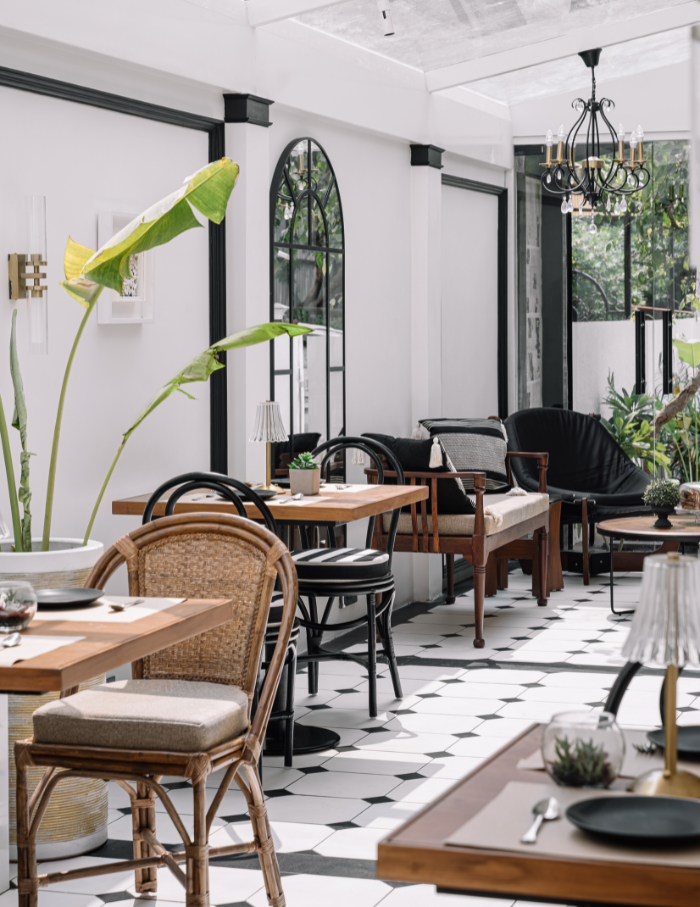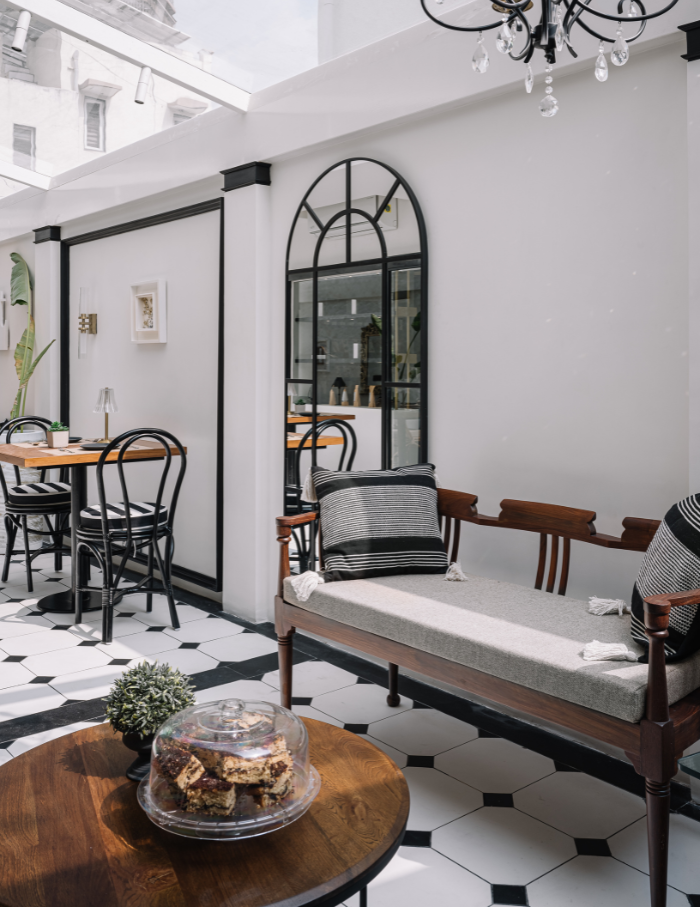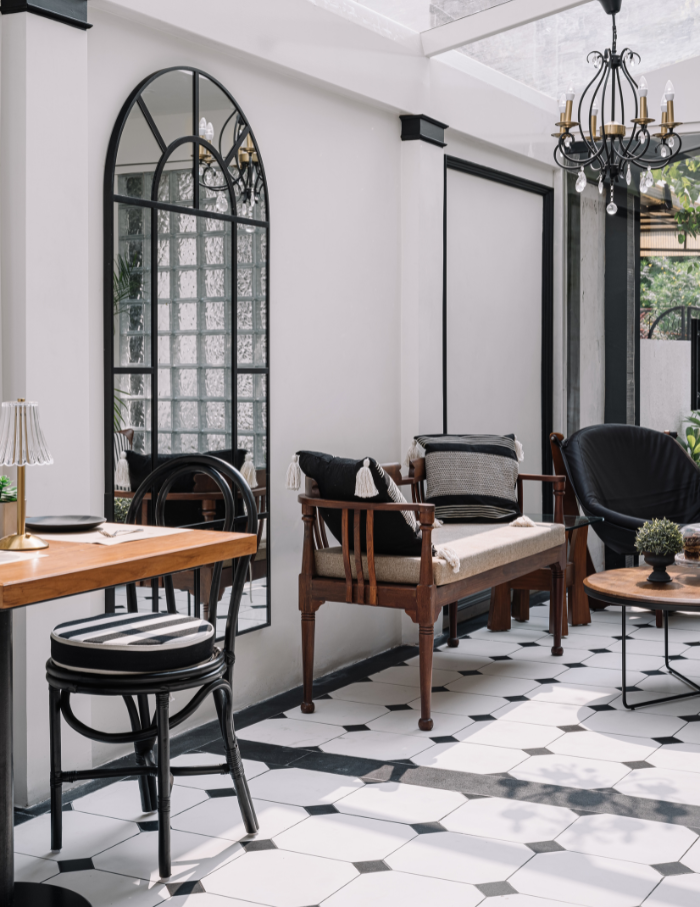 The brass details that form the main supporting material to contrast the soft tones of the whole area are incorporated in the form of really masculine geometric racks. These racks house all the chocolate products. The idea behind using such a pallet was that the products, the chocolates, should be the centre of attention. To really highlight them in the best way possible was the major intent. Beautifully custom-made mid-century light fixtures in brass and plaster amplify the beauty of the ceiling.
From the retail space, one can open the glass sliding doors and step out into the cafe. The cafe outside has a Parisian Bistro vibe with a glass ceiling to keep the atmosphere light and outdoorsy.
The Nostalgia room is a private seating area thoughtfully designed with parquet flooring in warm walnut tones, repurposed doors in black stain (salvaged from the client's home) and re-created raftered ceiling in black stained wood with open grains. And from here, a door leads to the kitchen area at the back where delicious meals, various blended teas, house chocolate drinks, are prepared for an all day affair.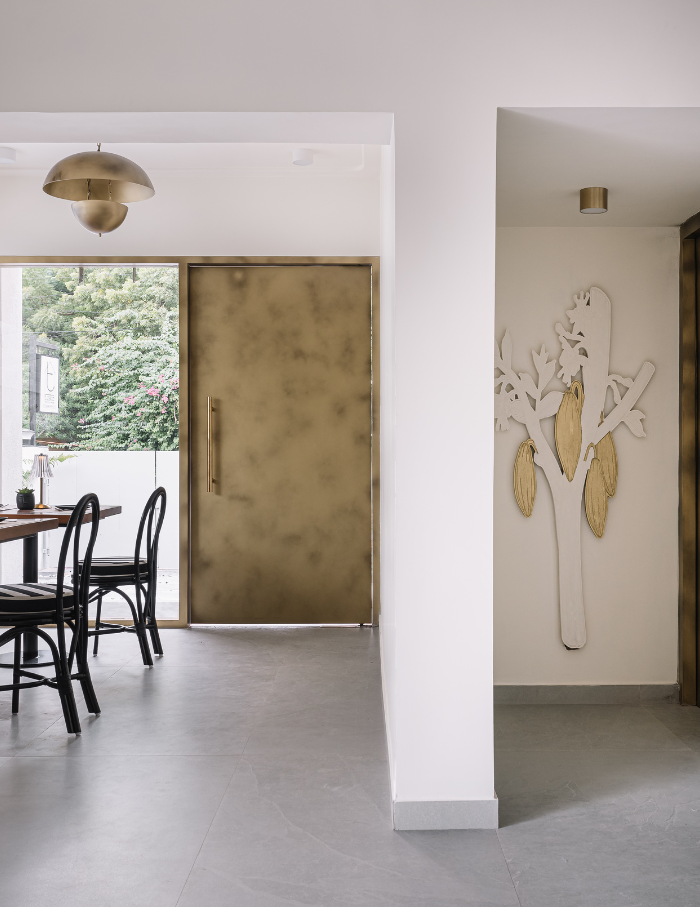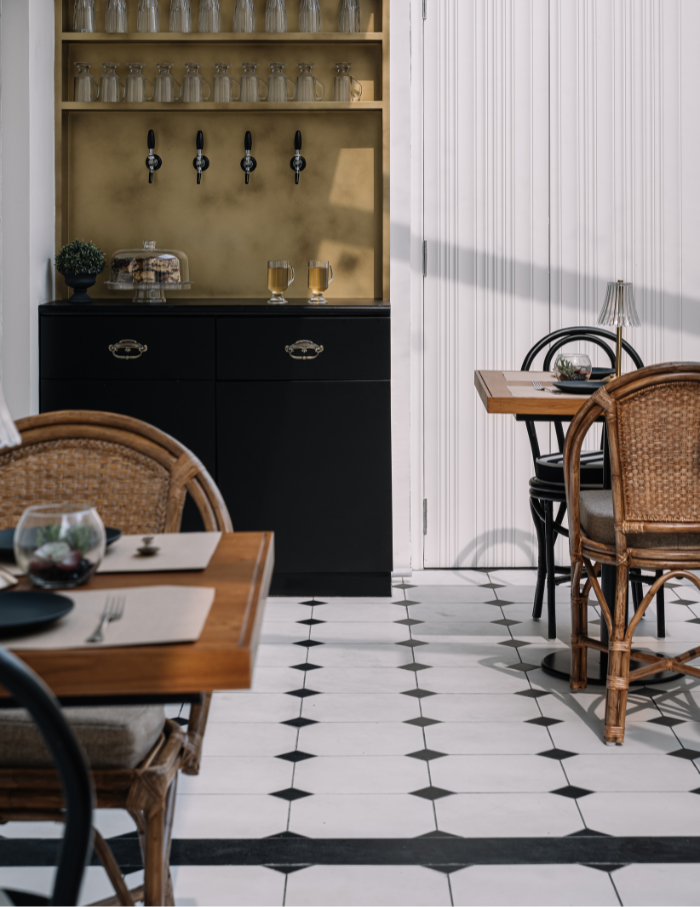 What the designer fell in love with
"When your whole heart is in creating a project like this, all the challenges you come across are just questions waiting to be answered. When dealing with an old existing structure you have to decide what to retain, what to demolish, what to reuse—for nostalgia's sake, for functionality's sake, what to replan and what to add. All these are multi layered thought processes going on in your mind while conceiving the design details. This was one of those projects where I can honestly say I thoroughly enjoyed the whole process, every bit of it," reveals Parthavi.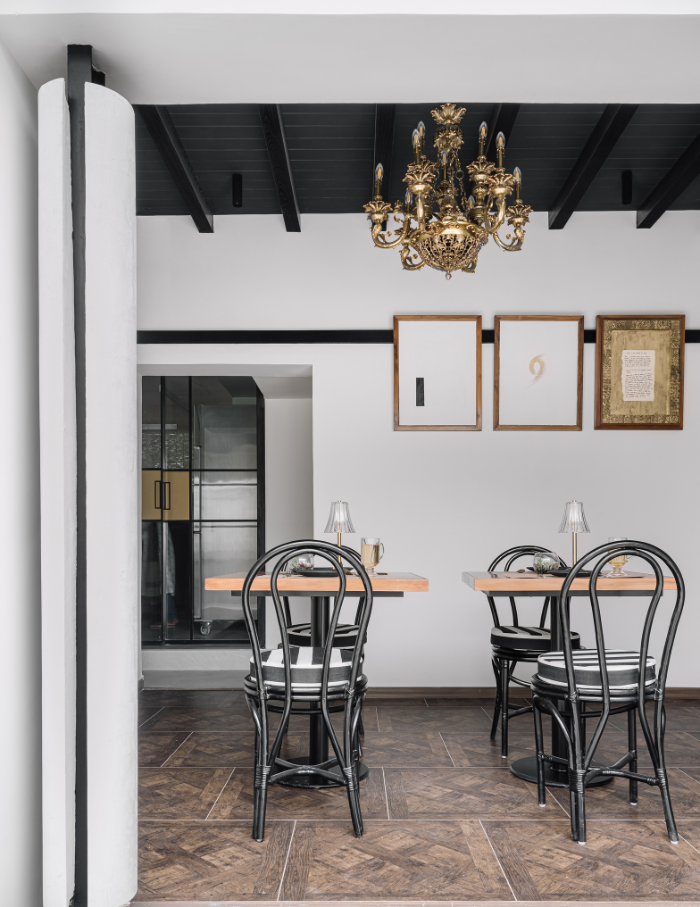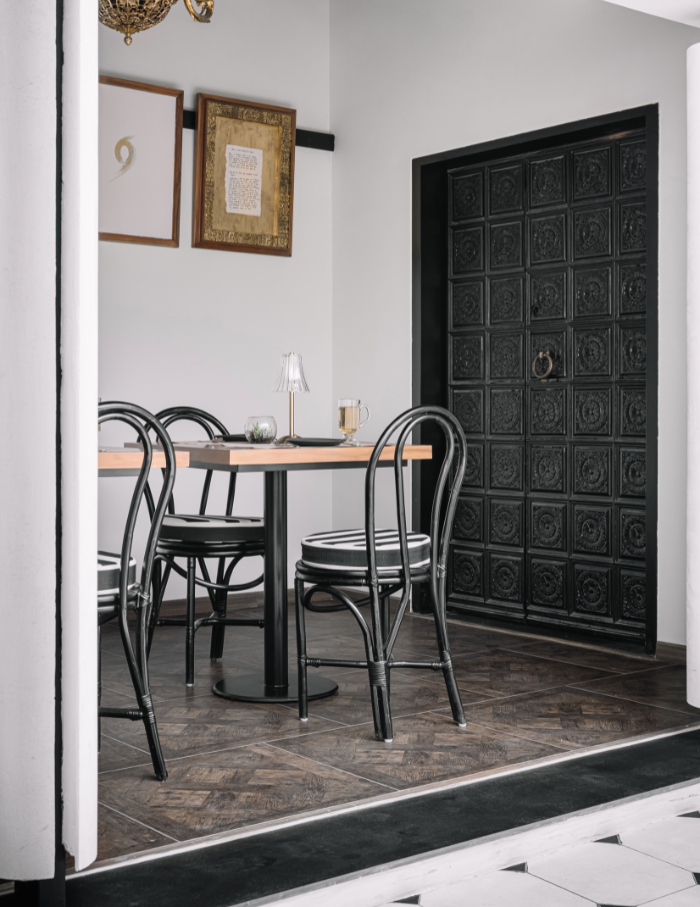 A beauty doused in black and white, Toska is a gentle reminder that endings are as important as new beginnings. In this case it's also peppered with good memories and chocolates!
You may also like: A British colonial-style home office in Mumbai crafted by Papersky Studio