Homes
Unbox Design Studio weaves joie de vivre with pops of colours in this Noida home
SEP 18, 2023
| By Diya Shah
It is oft-quoted that a home is a reflection of oneself. Amidst stillness and transformations, a home naturally becomes a confidant of its dwellers. For an exuberant retiree and her adult son, this is indeed true. Their cove in Noida mirrors their personalities and everyday routines – rooted but effervescent and awash in joie de vivre. Aman Issar, Principal Architect and Founder of UnBox Design Studio with a prompt understanding of the family's design intentions knew exactly how to remould the original space of 1,500 sq ft area into a refreshed canvas.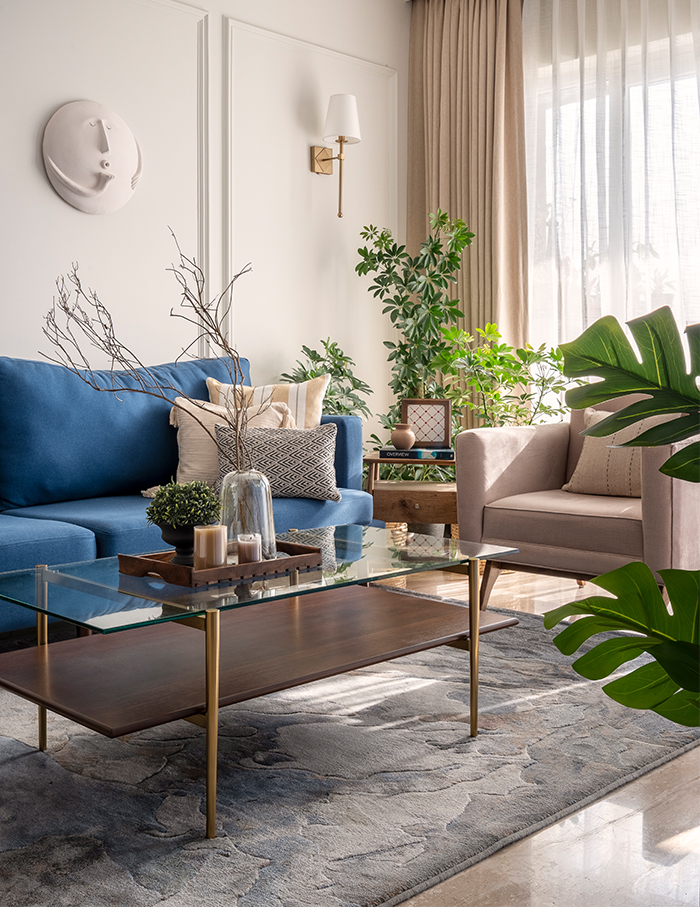 "Through multiple discussions, we understood that their needs would require a creative re-alignment of existing spaces. A typical apartment with small closed-off rooms would not do justice to their lifestyle. We envisioned a series of inter-connected spaces where the living, dining, kitchen and a multi-functional lounge flowed into each other," he explains.
A case of connectivity 
Upon entry, one is greeted by a white foyer console and wicker-accent mirror that sets a homely and bright tone for the rest of the home. A soft glow from the daylight streaming in through the large window invites one further inside.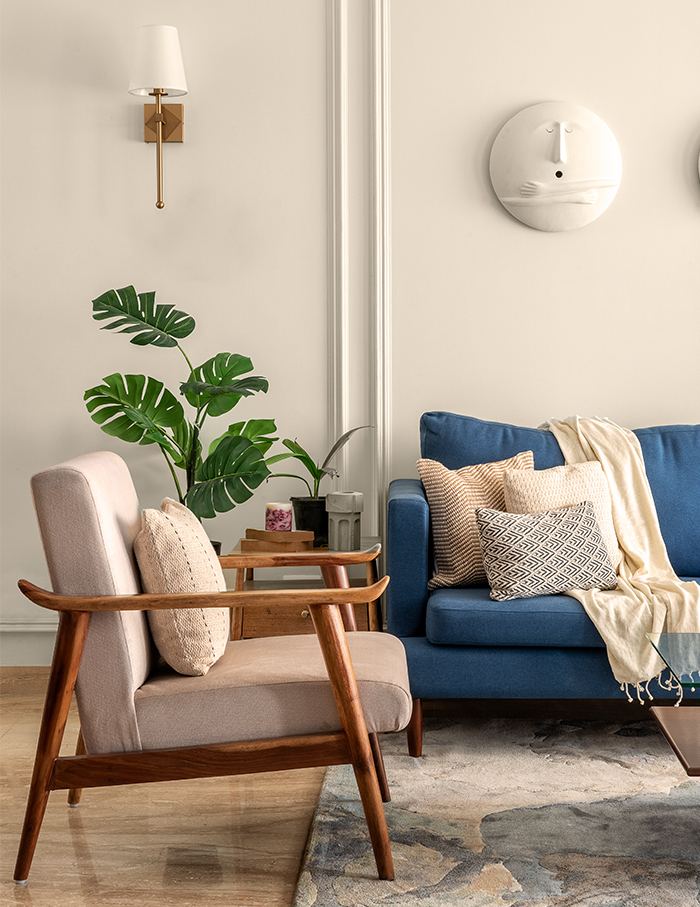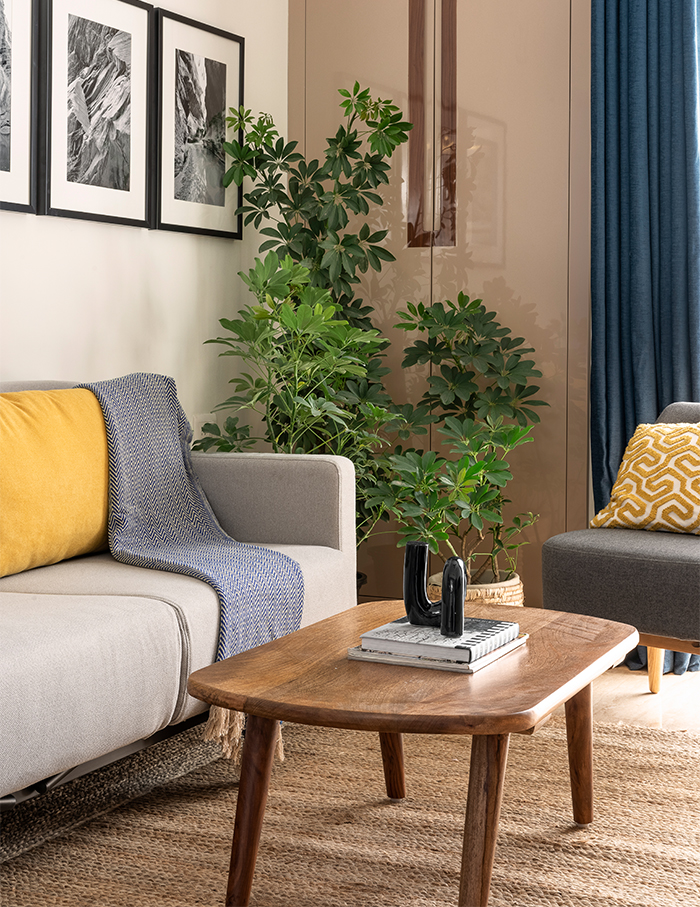 A snug seating arrangement promises evenings of heartening conversations. The elegant old-world charm of back-wall is offset with Claymen faces that add a hint of whimsy and child-like joy. An azure blue sofa sits across the kitchen, a calming space where the creams and whites of the furnishings are balanced by warm wooden accents. 
The rooms are connected by a 'blue box' – fluted glass screens beset in azure blue sliding panels. When closed, they create cosy nooks and when opened, they allow a gentle breeze across the space.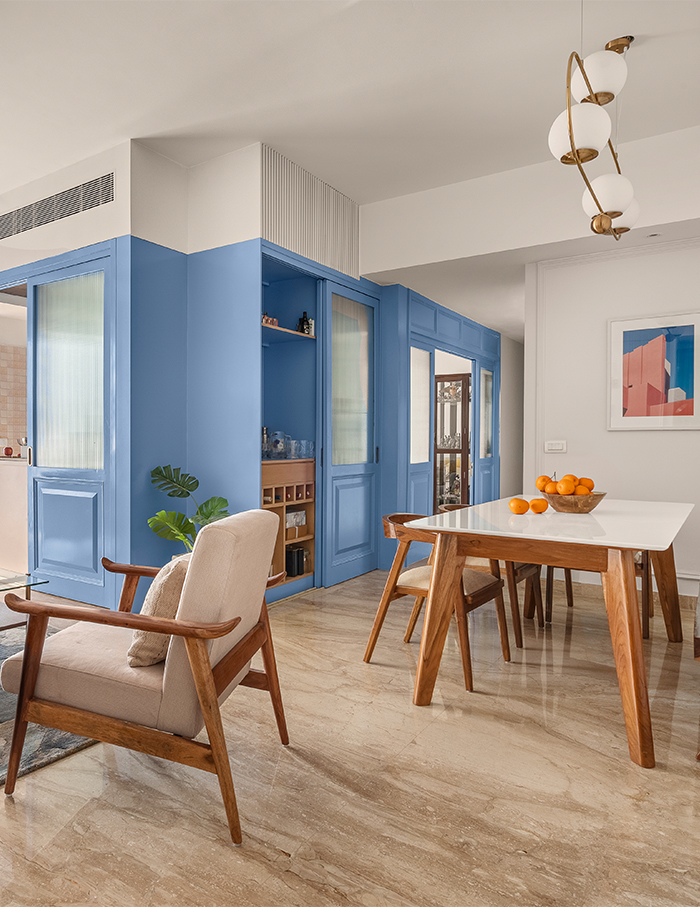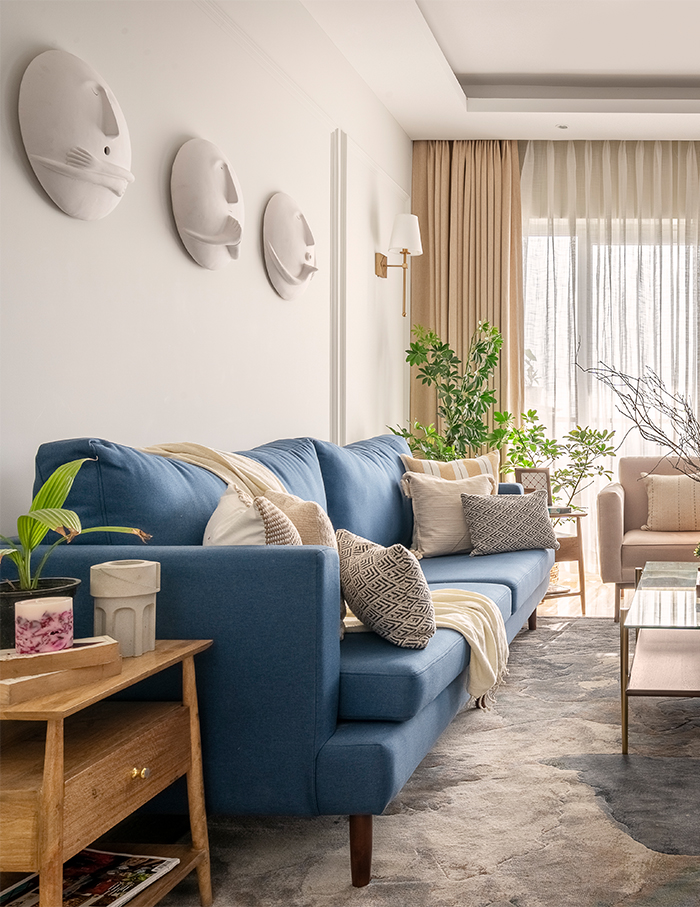 The blue box guides one along the passage into the dining room, which draws from the colour scheme of the living room, creating a visual connection between the spaces. The dining room has a simple and minimal design with a Scandinavian vocabulary. Elegant yet dramatic, a chandelier hangs overhead. The blue box opens into a multipurpose lounge, study and guest bedroom. 
Hymns of individuality 
Tucked away further inside the home are the private bedrooms of the homeowners. The son's bedroom is a melange of greys, browns and charcoal blacks. A corner bed with a cushioned side panel morphs into a study ledge.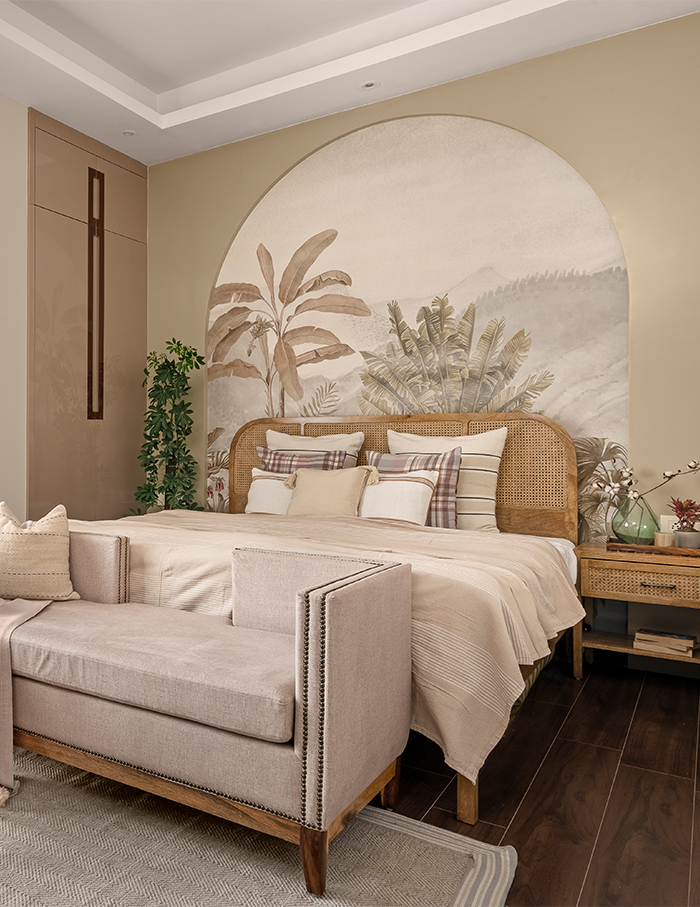 The facing wall is wholly taken over by a metal-and-wood shelf. Its partitions can be moved up and down as per the display requirements of the son, an avid photographer and action figure collector. "​​In time, as the son adds to his collections, we envision the room to update in alignment with the son's life experiences," explains Aman.
In contrast to the thrumming energy of the son's bedroom, the mother's bedroom emanates the muted yet vivacious disposition of its inhabitants. A tropical wallpaper nestled in an arch behind the bed back is reminiscent of a relaxing holiday. Rattan accents transport one to a simpler time, making the space a sanctuary of private reveries.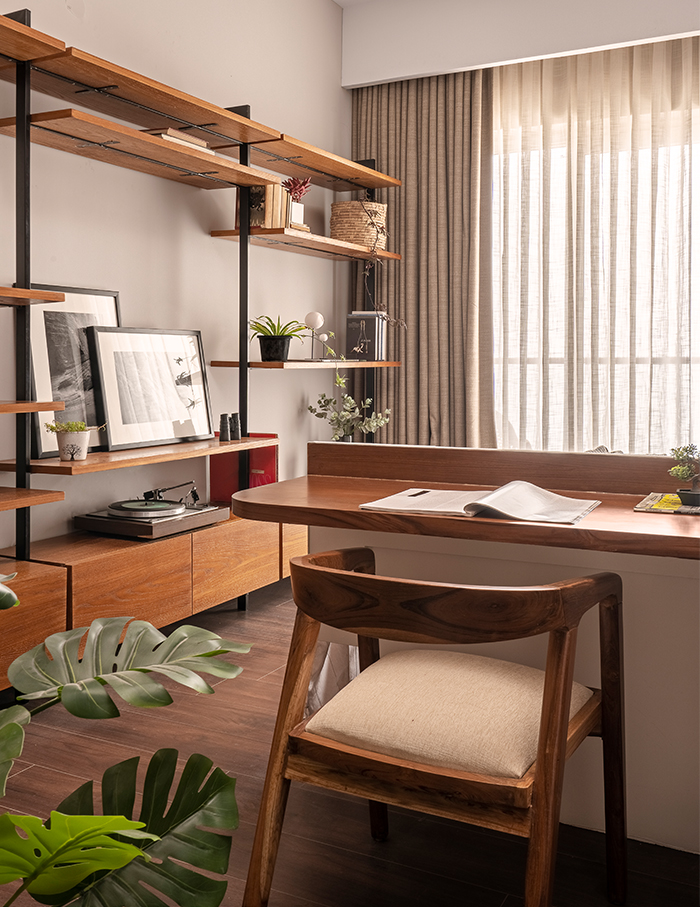 For Aman, a space is an extension of its dwellers. "As a design collective, we begin each project by examining our context. The physical site, our clients' lifestyles and aspirations inform our design language and intent. We try to experiment with each project. What remains constant is our quest to bring in ample light, and fresh air to highlight the craftsmanship and spatial qualities of any structure we design," he signs off. 
Also read: A whiff of macarons breezes across chef Pooja Dhingra's Mumbai home by Ravi Vazirani