Homes
A revelation to the conventional, U and I Designs offers an eclectic take on Japandi design in this Bengaluru home
FEB 16, 2023
| By Siddharth Babani
Inspired by the confluence of Japanese and Scandinavian architectural styles, 'The House of Forms' crafted by founder, Aniketh Bafna, principal designer, Sonal R Mutha and design lead, Khusbu Murarka of U and I Designs manages to deliver a precedent with their contemporary interpretation of Japandi Design
With a penchant for organising lively get-togethers, the young couple who own this 1030 sq ft Bengaluru home, envisioned a space that is both informal and approachable. Subtle yet sophisticated, the house is designed to suit their needs. The expansive and uncluttered design is a reflection of their warm and easy-going personalities.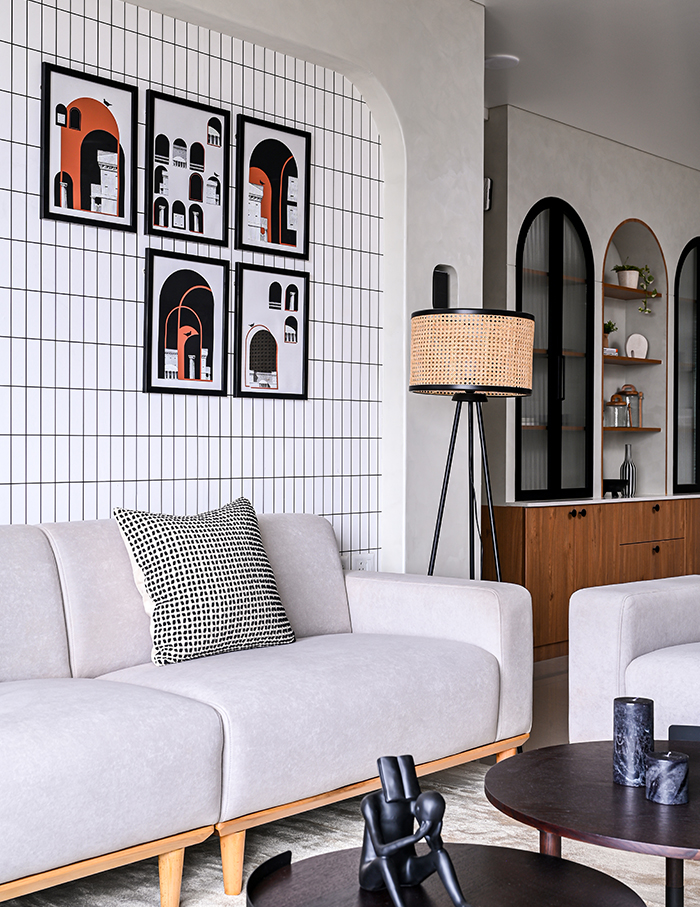 Taking the tour
As one strolls through the front door, one is greeted by a cosy niche that provides seating for the foyer. The monochromatic and teak palette at the entrance is a prelude to the elements prevalent through the rest of the home. 
Conceptualised, built, and delivered by U and I Designs' in-house furniture studio, the Scandinavian style dining table is made from a single slab of polished quartz. It is encircled by a set of wooden chairs and a bench upholstered in a rich, chevron-patterned, blue fabric. A triplet of arched shelving units sit behind the dining table. The open shelf through the middle, is flanked by two encased in fluted glass on either side.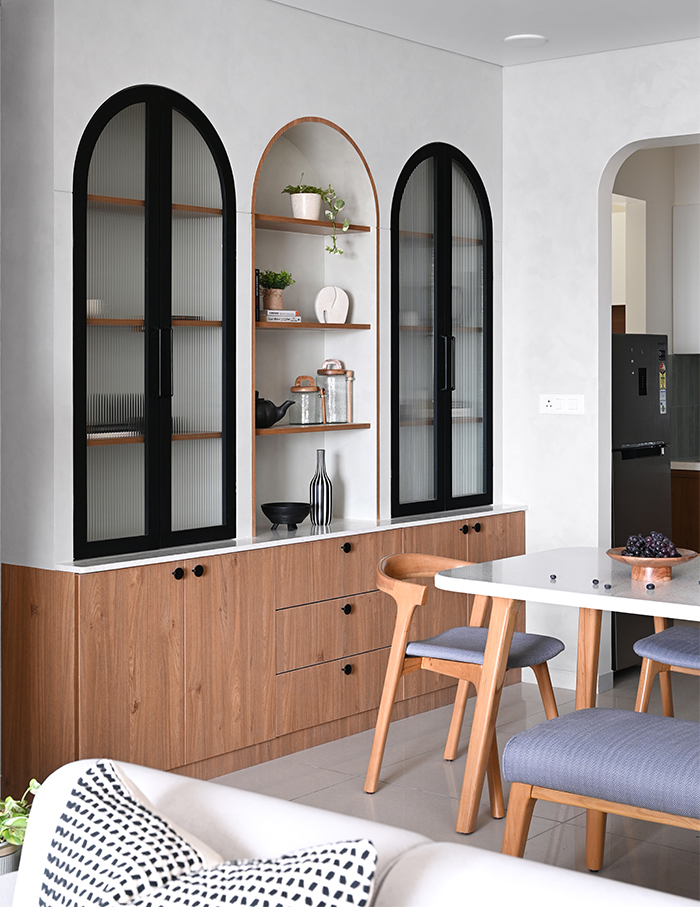 The living room is a celebration of light, featuring rich tones of dappled grey and organic brown accents. Large windows offer plenty of natural illumination, and are draped in a blend of sheer and solid grey curtains. A sense of continuity is maintained throughout the house by the concrete textured paint extending from the foyer to the living room leading up to the kitchen. 
A rounded rectangular archway divides the space between the kitchen and dining room. The kitchen is a tidy space with clean lines, and flat-panelled veneer cabinets. A black sink and faucet produces the much needed contrast—a pleasing silhouette against the vertical sea-green subway tiles.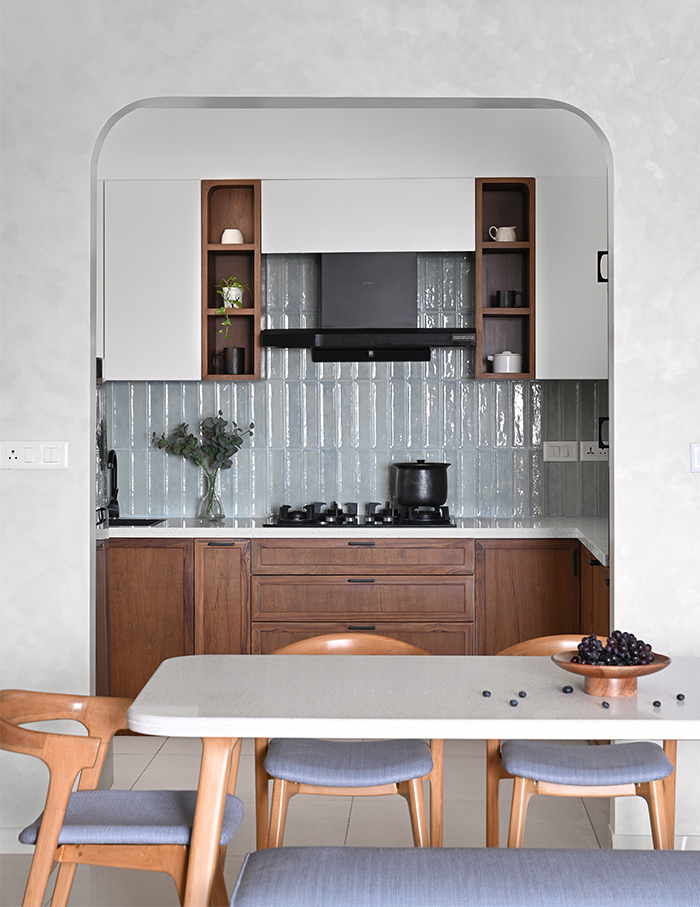 An elegant opera mauve, paired with ivory furniture and teak accents creates a vision of muted elegance in the master bedroom. A series of familiar elements and textures like the ribbed headboard behind the bed and an organic frame of the mirror incorporated, is a pleasing nod to the Japandi style.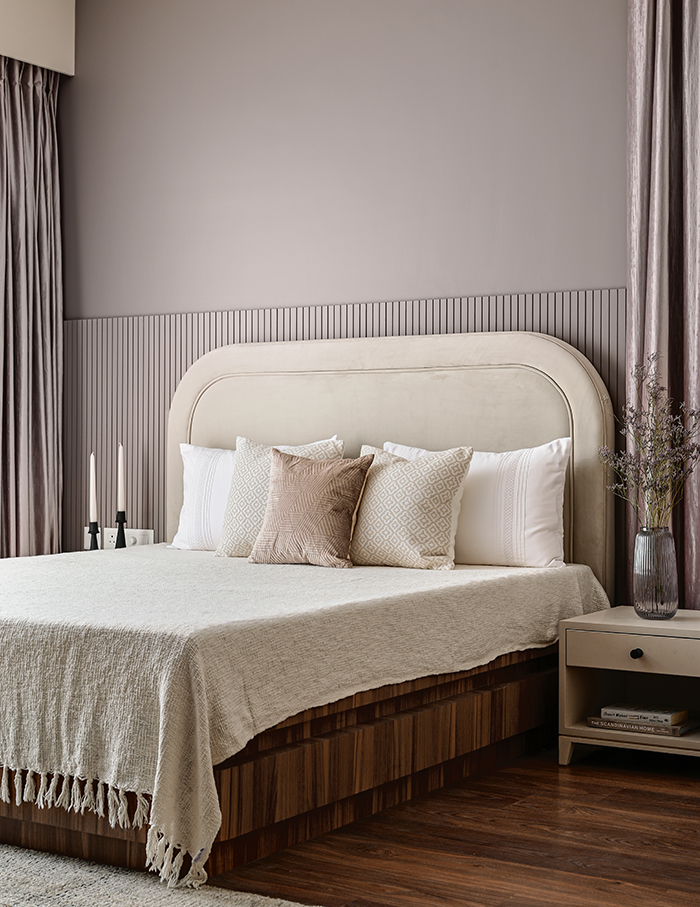 Ideas to keep in mind
Any piece of furniture that is incorporated within a space needs to be cohesive and adhere to the narrative. Certain elements of the home should be custom-made without which the space would lose its sense of identity and create a divergence of styles.
Scroll down to see more glimpses of this home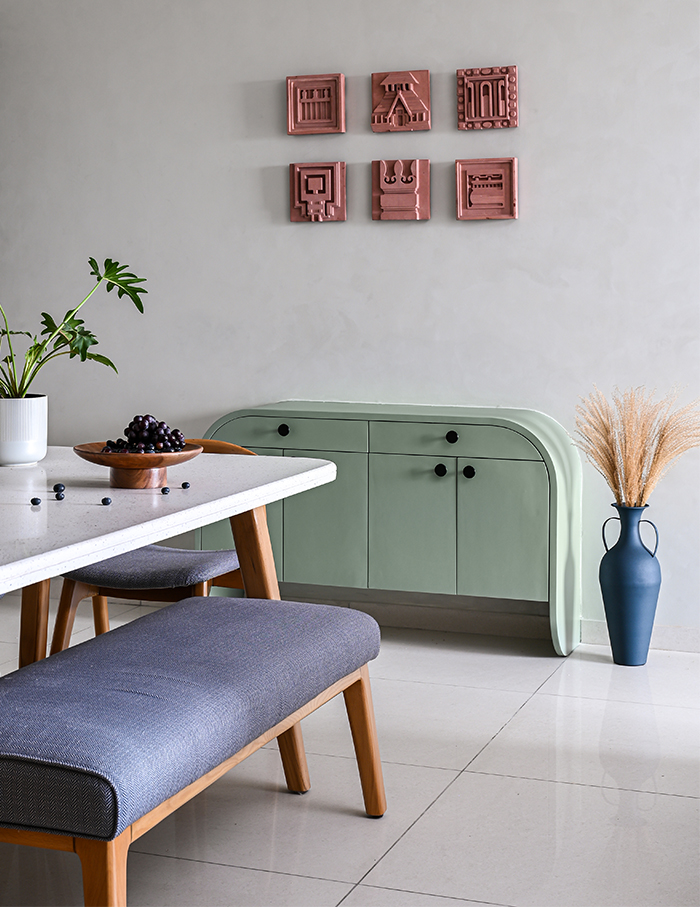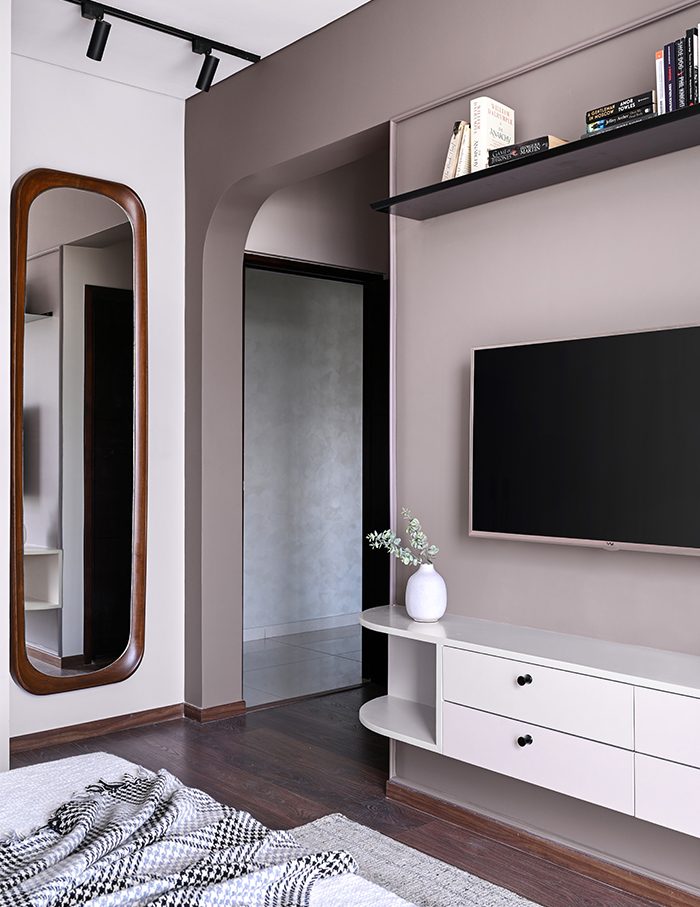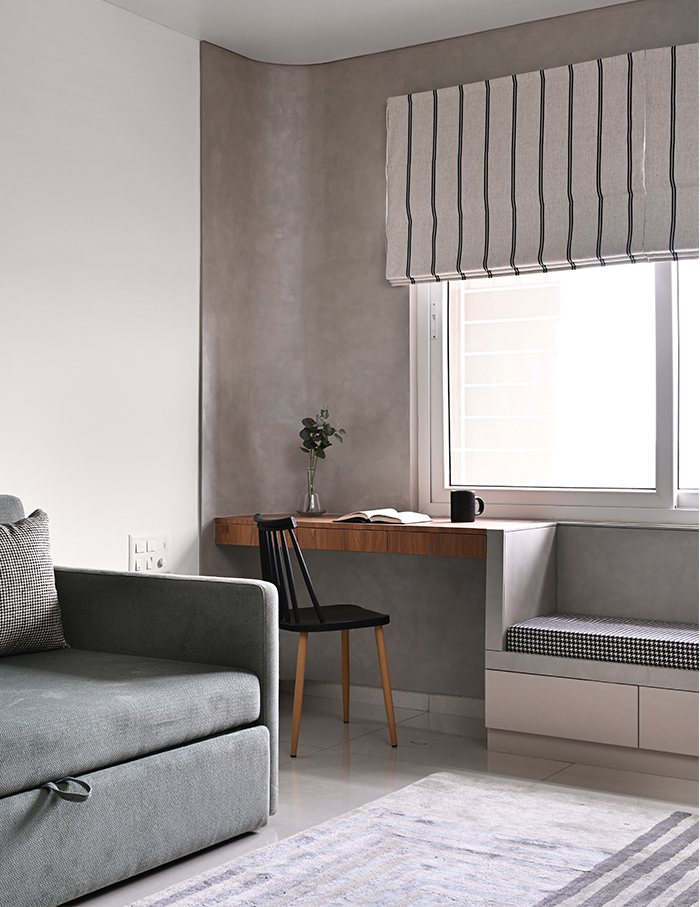 You may also like: Magic in a makeover – TharbusDesigns transforms this Kullu home into a utopian refuge that advocates the less is more design approach