Homes
Magic in a makeover—TharbusDesigns transforms this Kullu home into a utopian refuge that advocates the less is more design approach
NOV 29, 2022
| By Kashish Kaushal
What is it about making an entrance? or first impressions that keep people on their toes? For starters, they last well beyond that moment has passed. "Opening with a bang! That's our design statement. It sets the tone right for the entire project," says Sherab Tharbus, principal designer of TharbusDesigns Manali as she shares her design philosophy. 
Having designed this 1,000 sq. ft home in Mohal, Kullu, Himachal Pradesh, Sherab has completely flipped the home's interiors into something trailblazing yet soft, clean and utilitarian.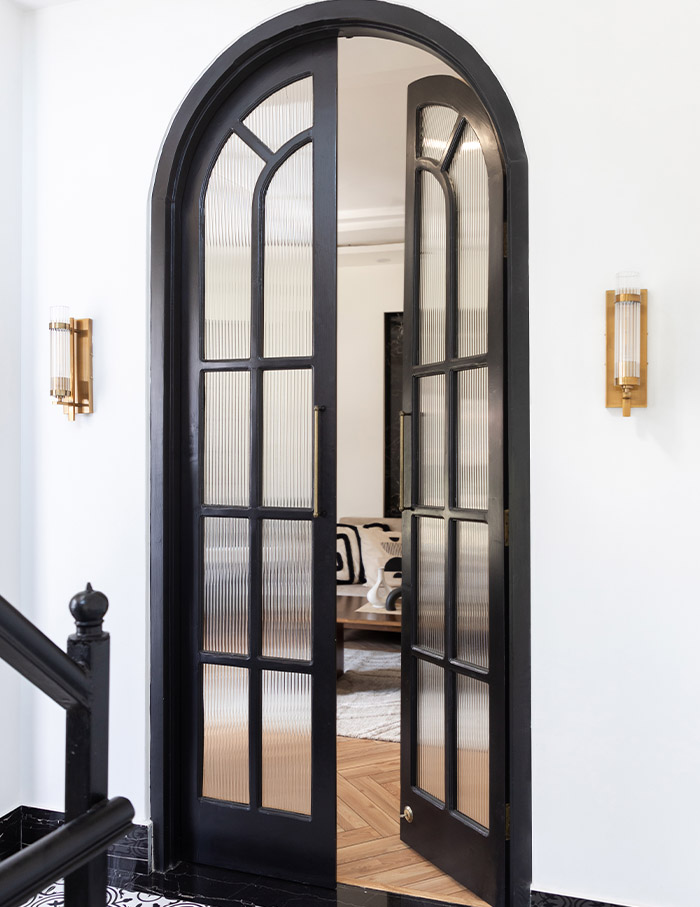 The curious brief
The homeowner, Avinash Shashni, a 28 year old young photographer who recently started his corporate job realised the shortcomings of his house and entertained the idea of renovating it. His requirements were very simple—a clean, functional home, aesthetically pleasing but nothing over the top. "A 28 year old young lad, getting into construction and paying for the whole project himself in order to not burden his parents made this project so very special for us at TD. To top it off, since we don't have contractors in Manali-Kullu, Avinash handled his first construction project all by himself and oh so flawlessly!", reveals Sherab. 
Tour every turn of this home
Starting with a 'bang', the entrance makes a bold statement—an arched door made of PU Painted Deodar wood framing and fluted glass, printed tiles on the entryway and gold lampshades set the tone of the entire space.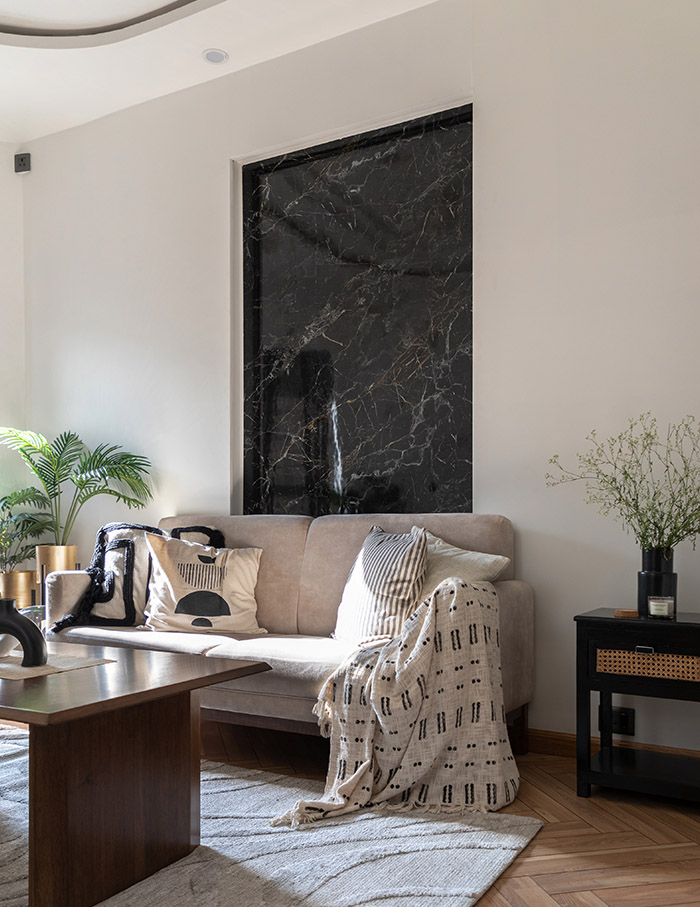 The living room welcomes you inside with a cosy and minimal demeanour. Materiality is at its best display thanks to the statement marble wall behind the seating area. "Fun story behind the fireplace on the display wall—the client's father had it but it was lying in the storage for a couple of years eating dust. We picked it up and centred the whole design around this fireplace which now is a very prominent part of this space," divulges the designer.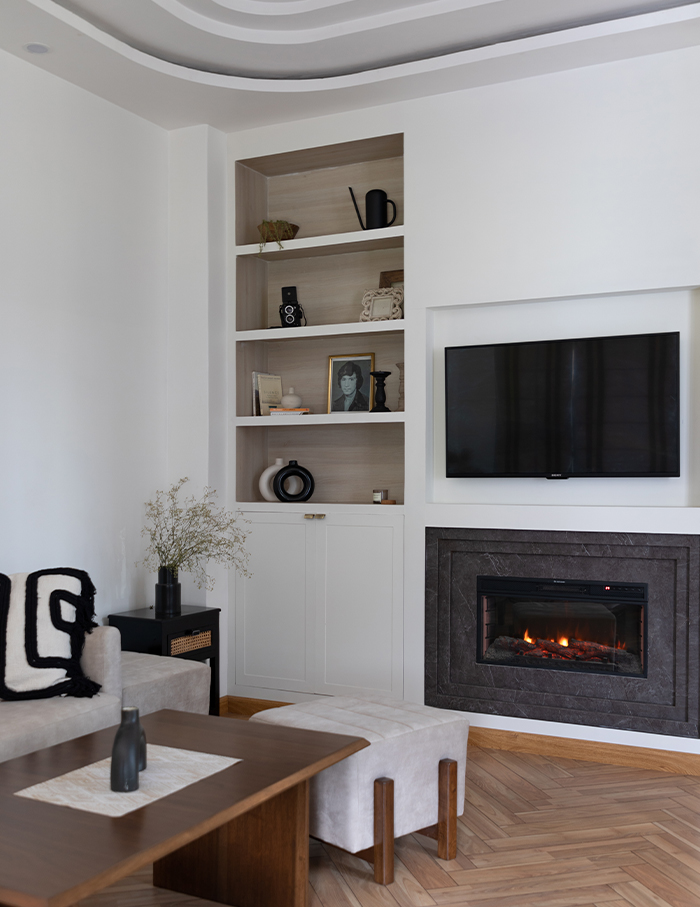 Next up, the alleyway has a kitchen on one side, powder room on the other and leads to the master bedroom. The contemporary black kitchen was a bold move due to the sheer rarity of it, but TharbusDesigns pulled it off with utmost ease. NGL (not gonna lie), it did take a bit of convincing but eventually the client's mother came around to the idea of a fully black kitchen.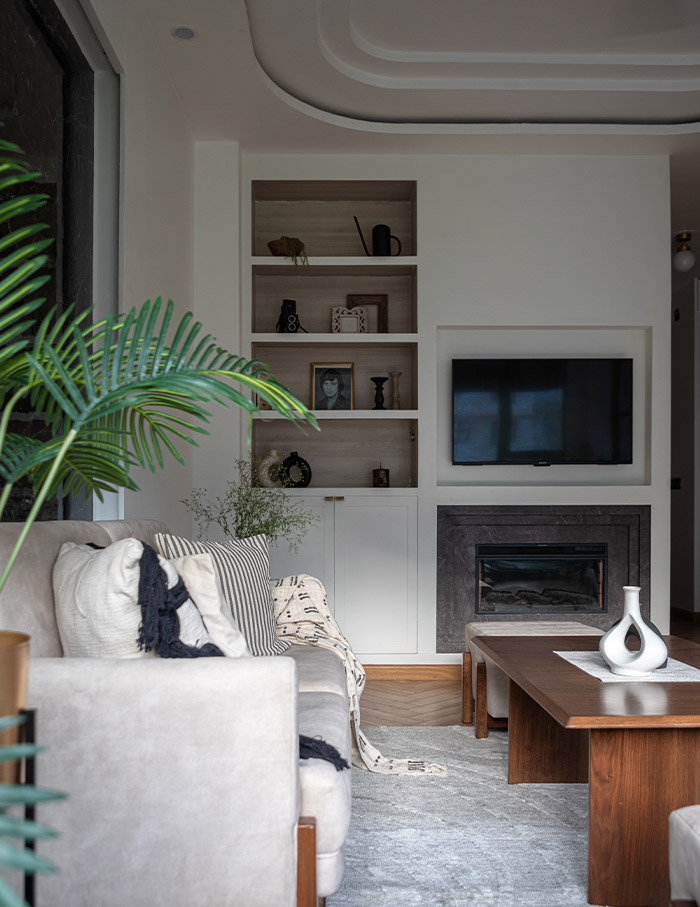 A huge window with morning sun falls straight onto the bed in the master bedroom. What's remarkable here is the step up floor mattress bed with hidden storage that acts as the perfect spot for Avinash to sit and chill with his friends. Don't miss the absolutely stunning view outside the window!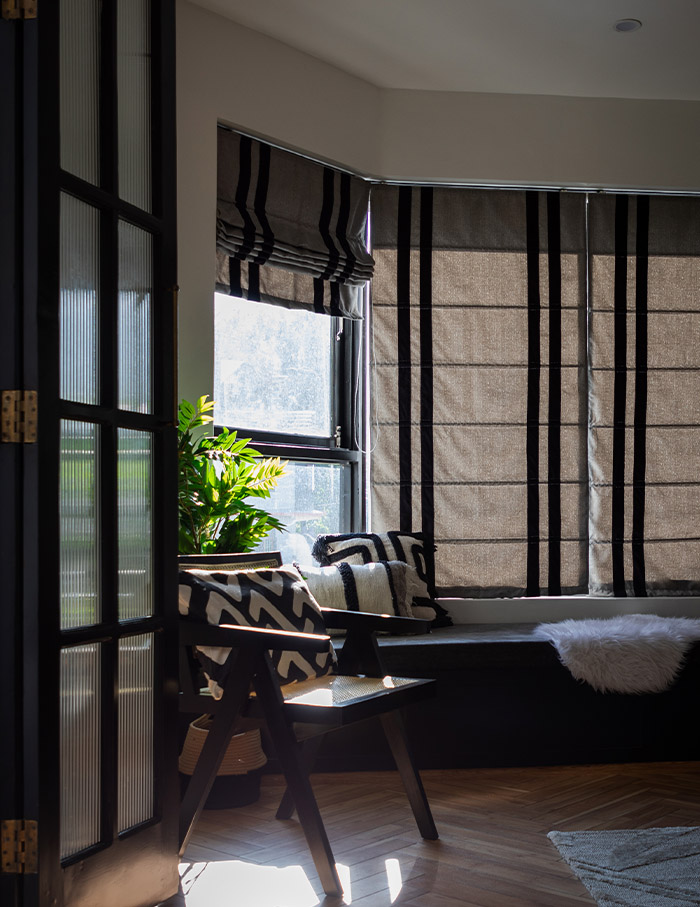 Ideas to bookmark
The colour black by itself is associated with luxury and its use inside this home was indeed a bold move. Having said that, we do love the end result a little too much! Not just the kitchen, even inside the master bedroom black is heavily used with yellow accents making the space look more masculine.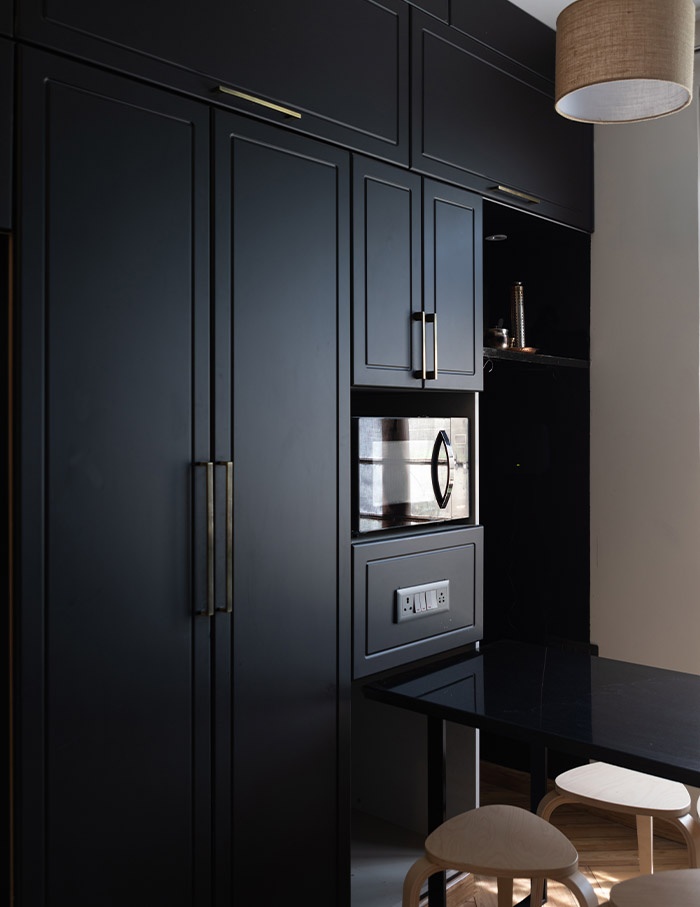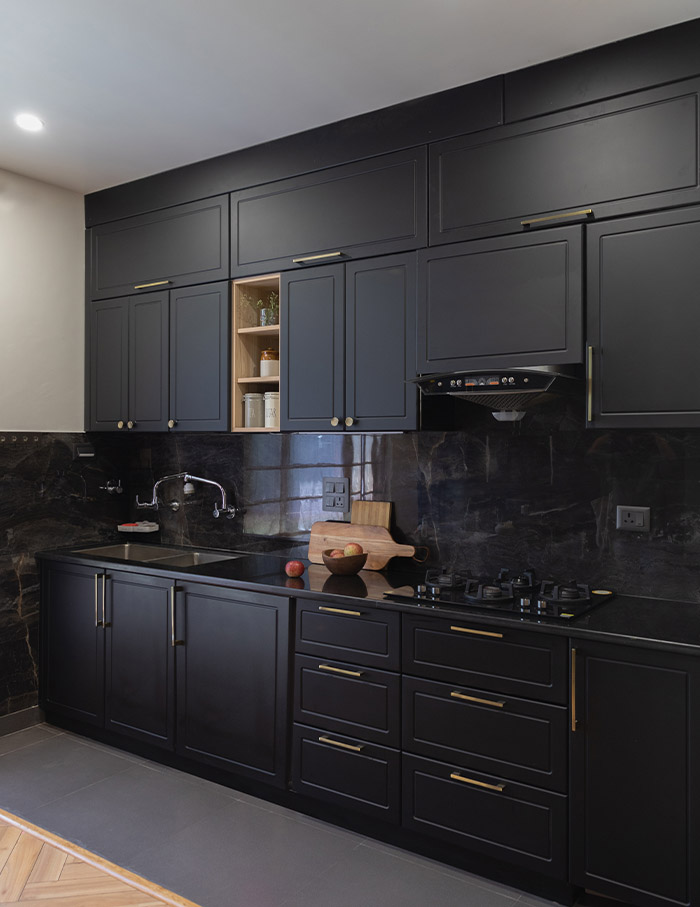 While the process of designing this home had its own high points, Sherab did encounter a few challenges while executing the kitchen space, "We ran across 4 different photorealistic renders to convince Avinash's mother about how the kitchen will look. Showed options with different tiles and eventually an all black kitchen was agreed by all after weeks of discussion. I absolutely don't blame them. A black kitchen was high on risk but oh so fabulous," concludes Sherab. 
You may also like: An archetypal Mumbai home with mid-century furnishings designed by Kavan Shah Design Studio thrives on the clash of materials