Homes
An archetypal Mumbai home with mid-century furnishings designed by Kavan Shah Design Studio thrives on the clash of materials
NOV 24, 2022
| By Akshay Bipin Luthiya
Helmed by Kavan Shah of Kavan Shah Design Studio, this 2,500 sq ft home in Juhu, Mumbai ​​is a culmination of an everlasting and uninhibited dialogue with the urban dwellers and a journey into their reminiscences and aspirations.
"The idea of creating an intentionally incomplete interior, which has been the guiding light for this project. That paired with the 'just the essential' brief from the clients meant careful detailing and curation of objects with absolutely the right form, function and comfort,"says Kavan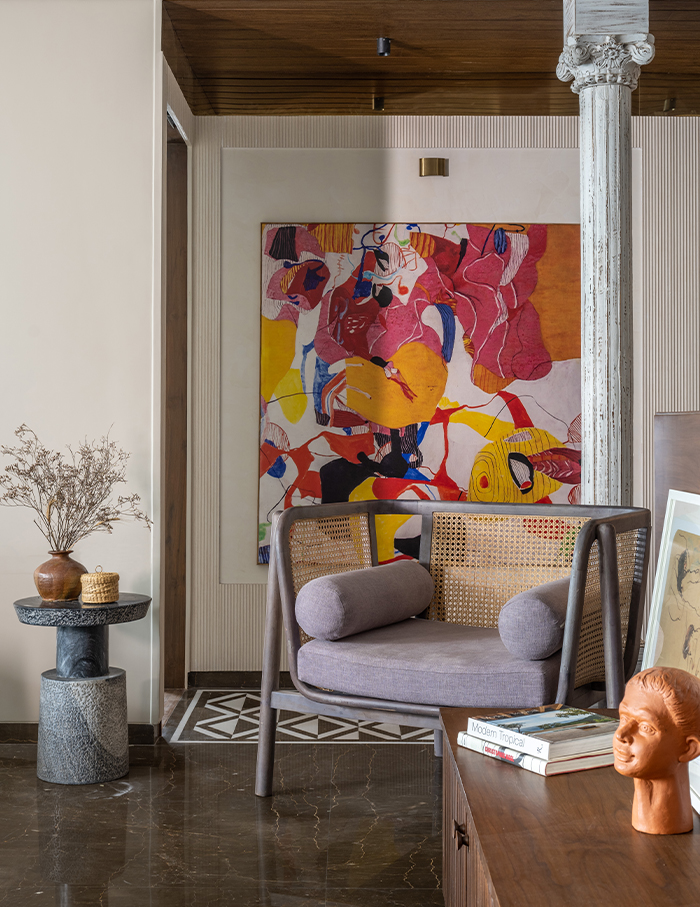 The curious brief
Contrasting vintage heirlooms against modern design, Kavan Shah transforms this residence for an urban family of four in an antithesis of dialogues—minimalistically warm and luxuriously understated.
"I love a clash of materials. I love a clash of periods. I love the tension and the friction that it creates because I think that's what makes a beautiful design, and that's what causes people's eyes to linger just a little bit more," says Kavan Shah.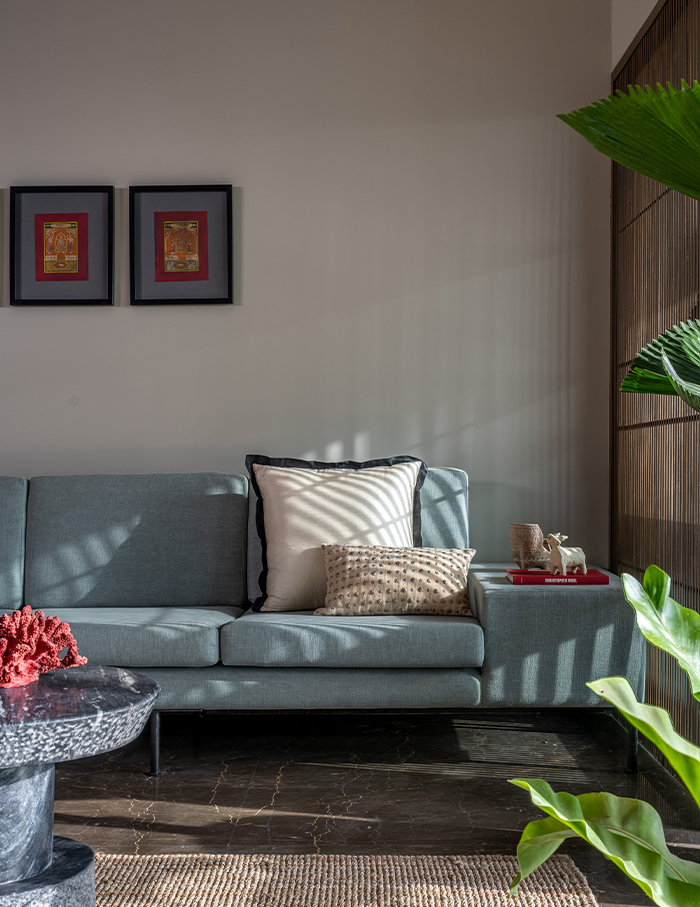 Touring every turn of home
On the entrance, we see a 120 year old, miniature basalt stone statue of Lord Parshvanatha nestled between potted plants, creating a screen between the entrance and the rest of the home. The lobby, kitchen, living room and dining space are laid out in sequence, connected by a columnated passage.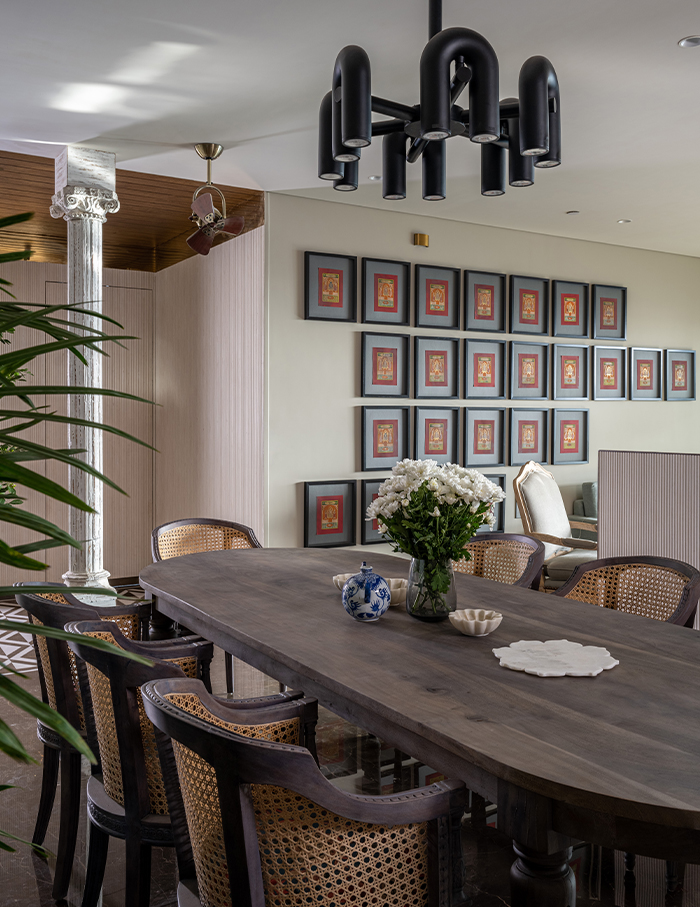 Kavan further elaborates, "we toyed around with the abstraction of time, the curiosity it engendered and looked to translate it into design by keeping the home intently unfinished and perfectly- imperfect."
A wooden swing in an enclosed balcony and an adjacent bar counter makes for a space which spells earthly colours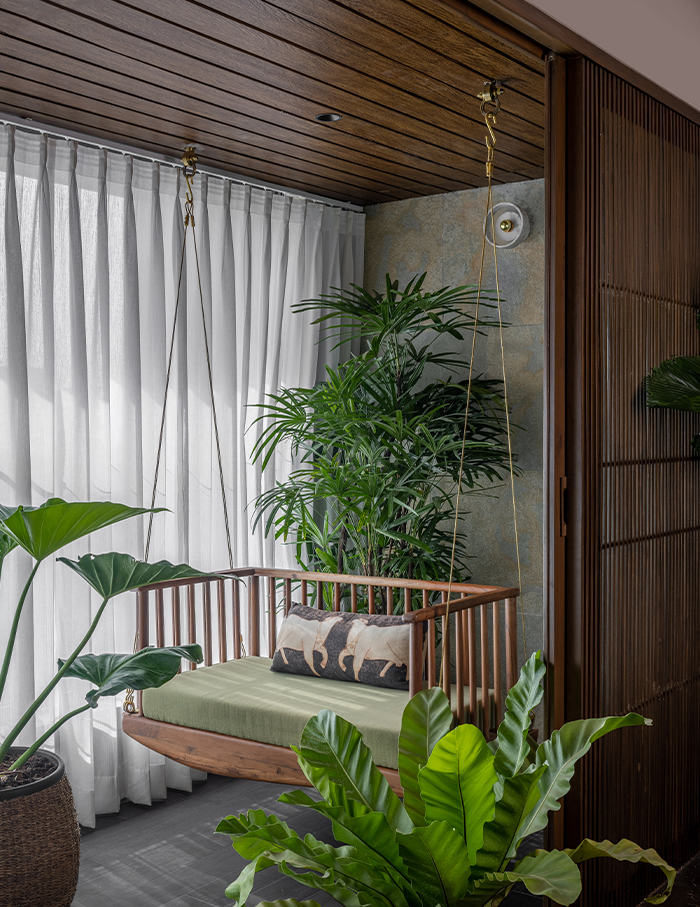 The living room is a charming amalgam of contemporary and classic elements cladded in a combination of antique mid-century furnishings adjacent to sleek contemporary cabinets. Walking further, bathed in sage green and two shades of pink, the kitchen is laid out with mosaic tiles and textured Indian patent stone with dark wood flooring.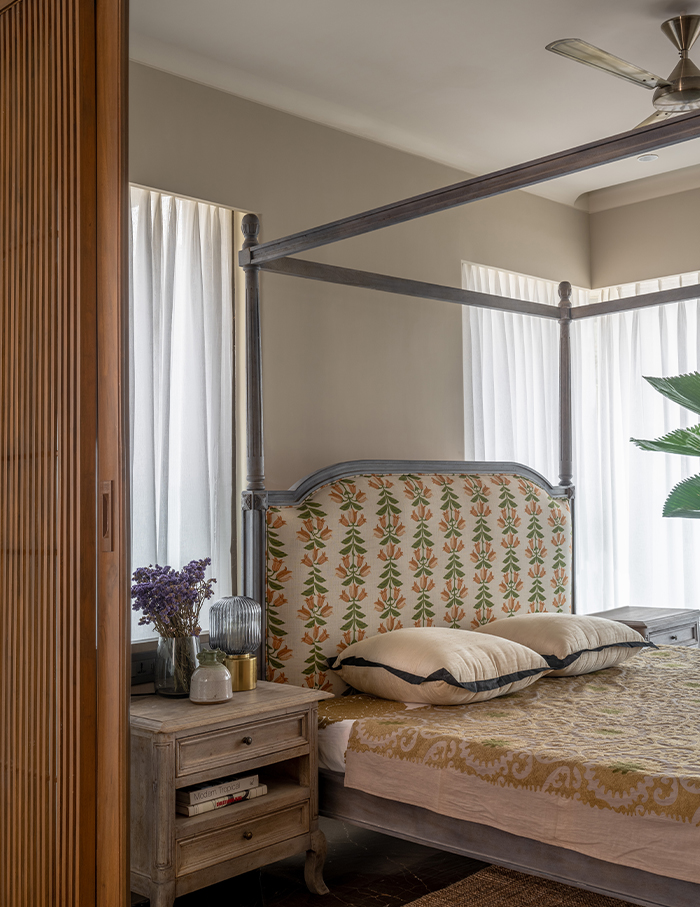 The pooja room finds its place in an old refurbished cabinet, offset by red Sabyasachi for Nilaya wallpaper that adds a hint of luxury placed on a classic black and white inlay floor with neutral-toned walls that creates a calm atmosphere. 
One of the bedrooms speaks of an ancient Indian vibe with sheers bringing in natural light. Pieces of re-upholstered furniture passed down to the homeowners from their parents were chosen to anchor each room and are set against a neutral backdrop to let their warm tones shine.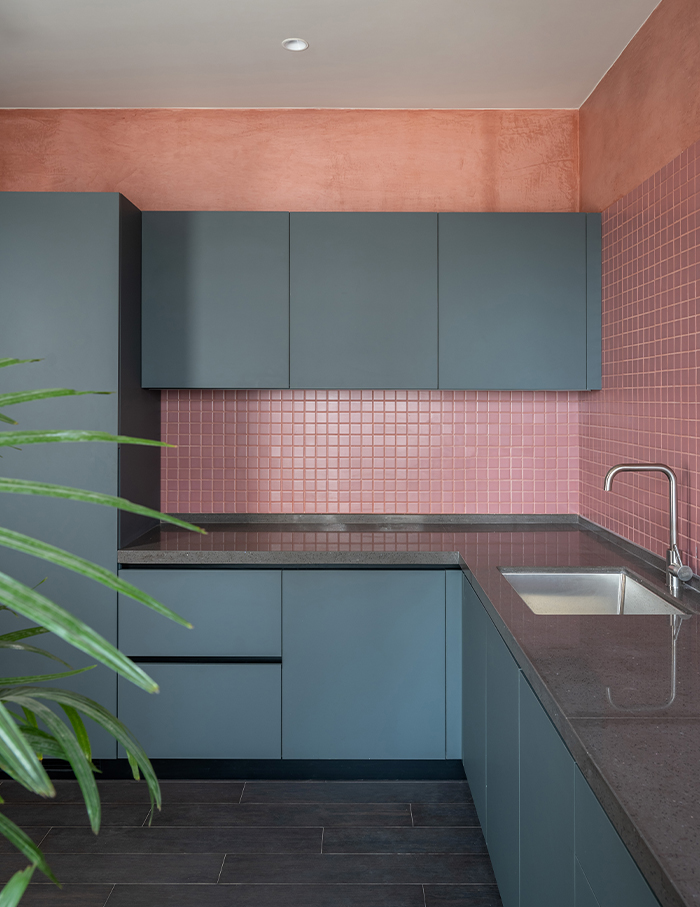 The corridor has monochrome flooring with a wooden console complemented by a wide mirror on the back. The juxtaposition of modernity and history carries into the dramatic powder bathroom adorned by pillars on the outside and a handcrafted lotus marble sink, an elegant brass pendant light and a red travertine interior broken with antique bevelled mirrors on the inside.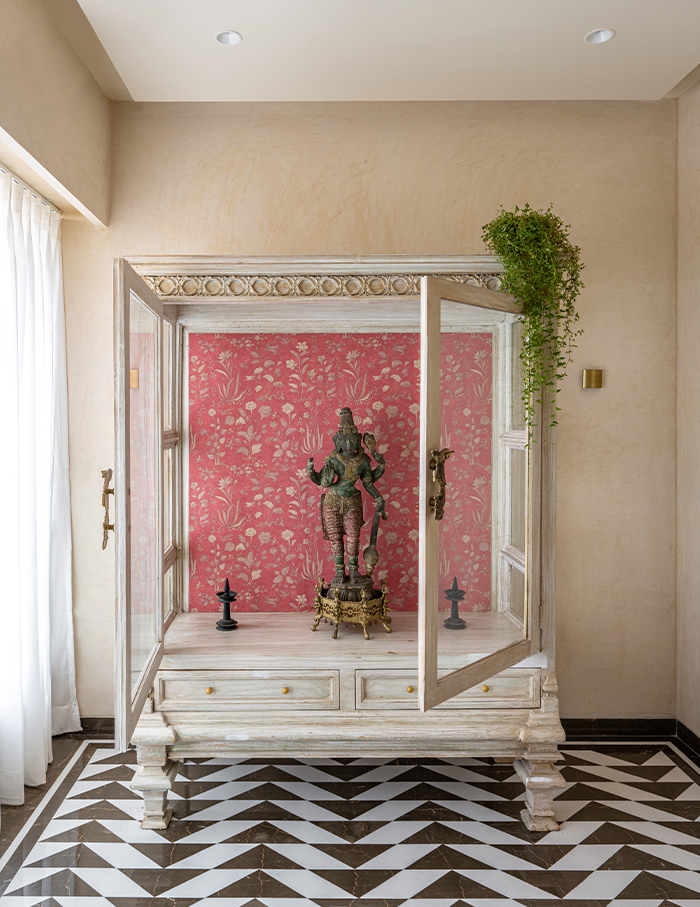 Ideas to bookmark
The brass border running along the house and the walnut wood ceiling in the passage add the warmth required by the white panelled walls below.
A set of cane furniture and cupboards reflect the family's inclination for natural materials and a tropical light-toned wallpaper ties the guest bedroom together.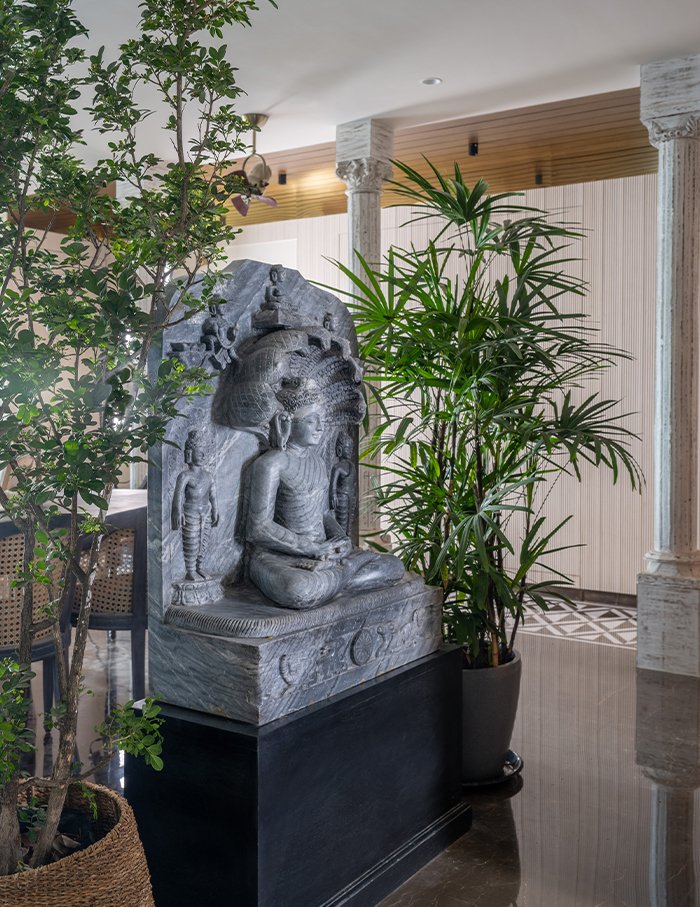 What the designer fell in love with
Kavan crafts versatile spaces that lend themselves to present-day norms of living, working, dining and rejuvenating at home. Making this house a home, he began with 24 miniature Jain Tirthankar paintings that occupy the largest wall in this living room displaying the virtue of Indian culture.  
Scroll down to see more glimpses of this home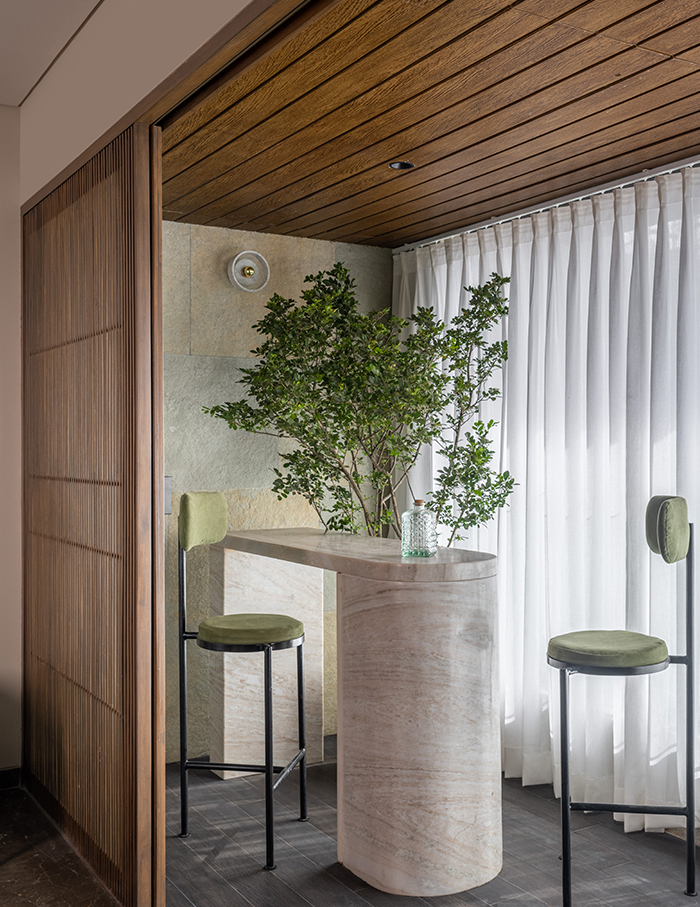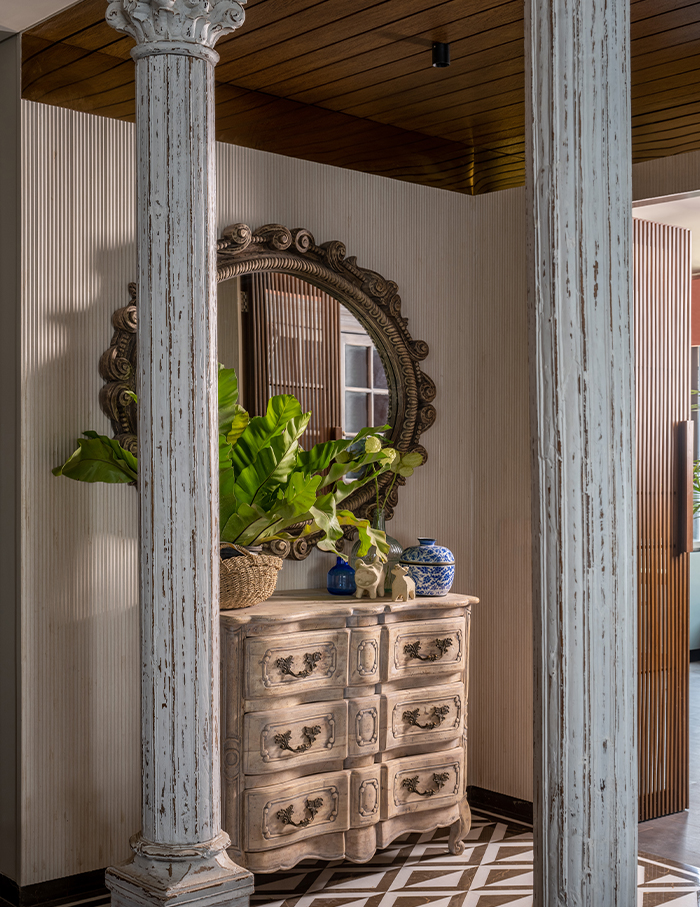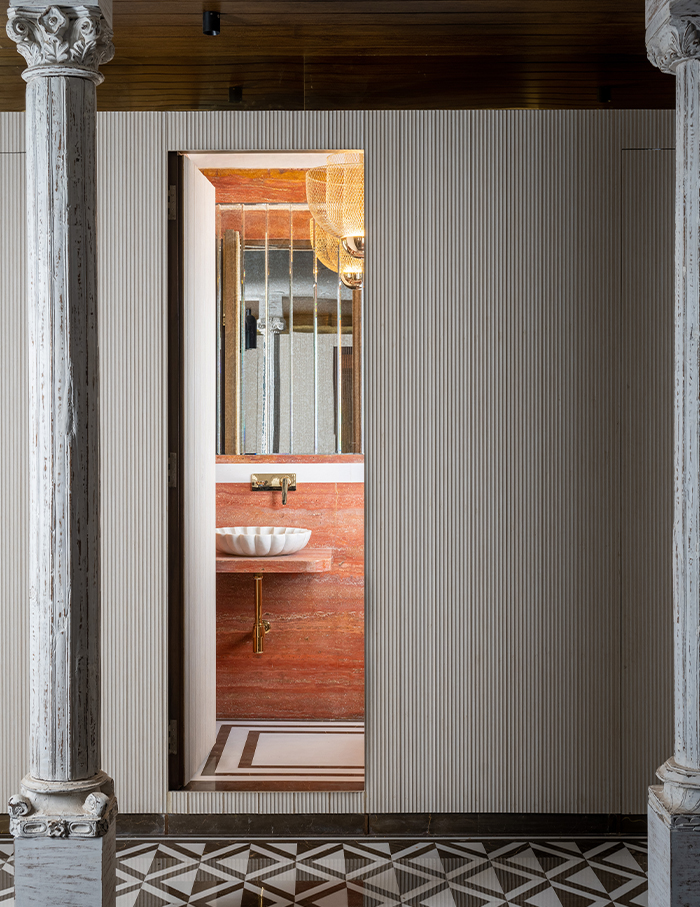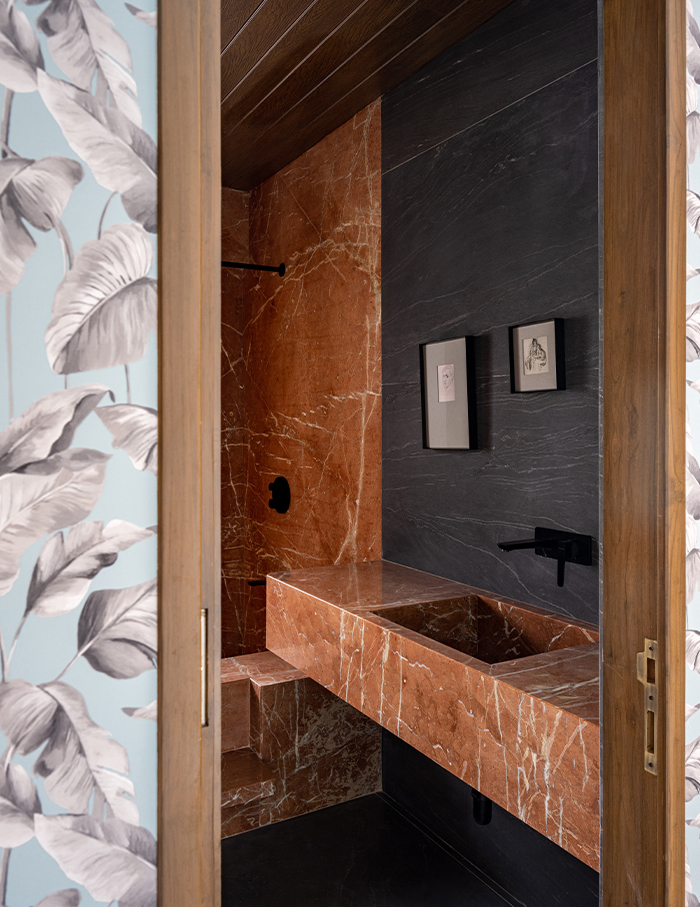 You may also like Breezy Mumbai home by Rohit Bhoite and Lina Kobeissi