Homes
Tipai Wildlife Luxuries: EDIDA winner Ariane Thakore and founder Keyur Joshi craft a haven for holistic goodness
SEP 25, 2023
| By Shriti Das
Tipeshwar's immediate precinct — dusty roads, city lights and traffic defy the microcosm of holistic goodness that awaits us. Our journey from Nagpur airport towards Yavatmal to reach Tipai – Wildlife Luxuries has been long but worth the wait. And a great example of the maxim—all good things take time! Spread across 35 acres, Tipai is the result of founder Keyur Joshi's vision and EDIDA winner Ariane Thakore Ginwala's conviction in sustainable design.
She tells us, "We spent six to eight months with the Centre of Science for Villages (CSV) in Wardha which is 80 kilometres from Tipai, researching low-impact construction before we zeroed on rammed earth construction. Prior to that that, five years were invested in permaculture practices with Goa-based permaculturist Parag Mody."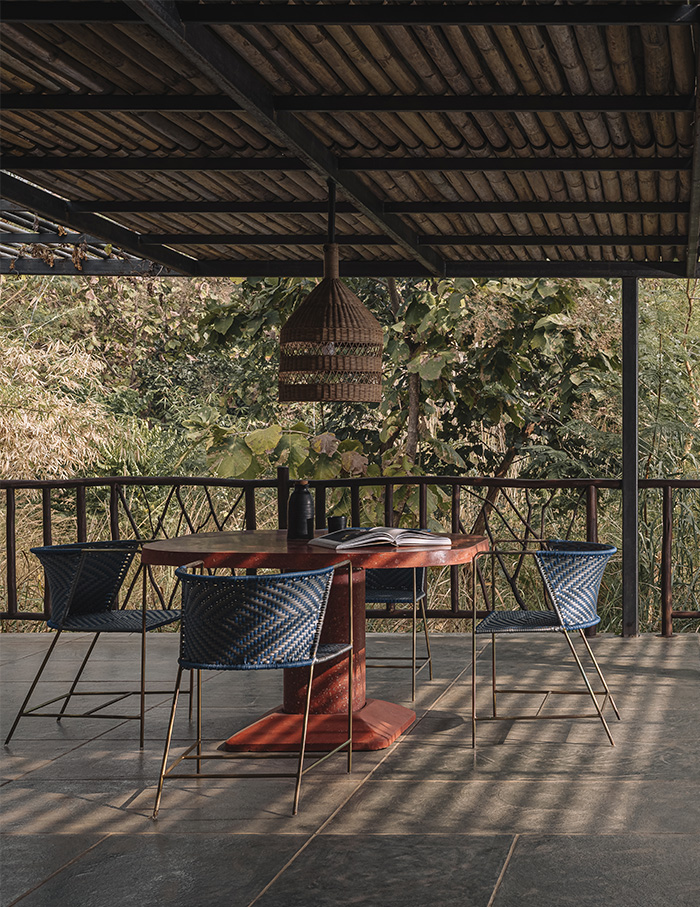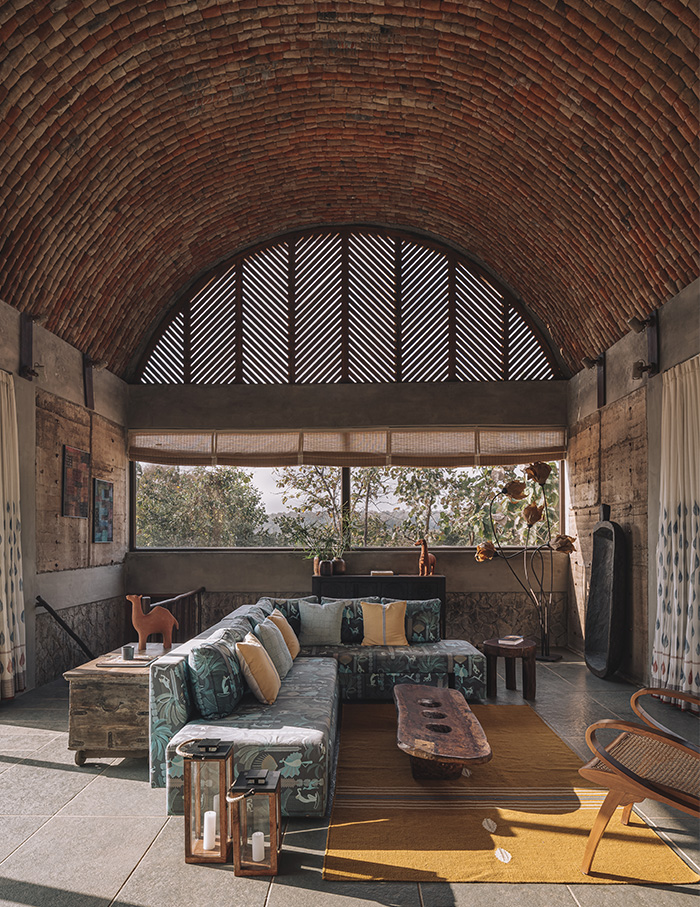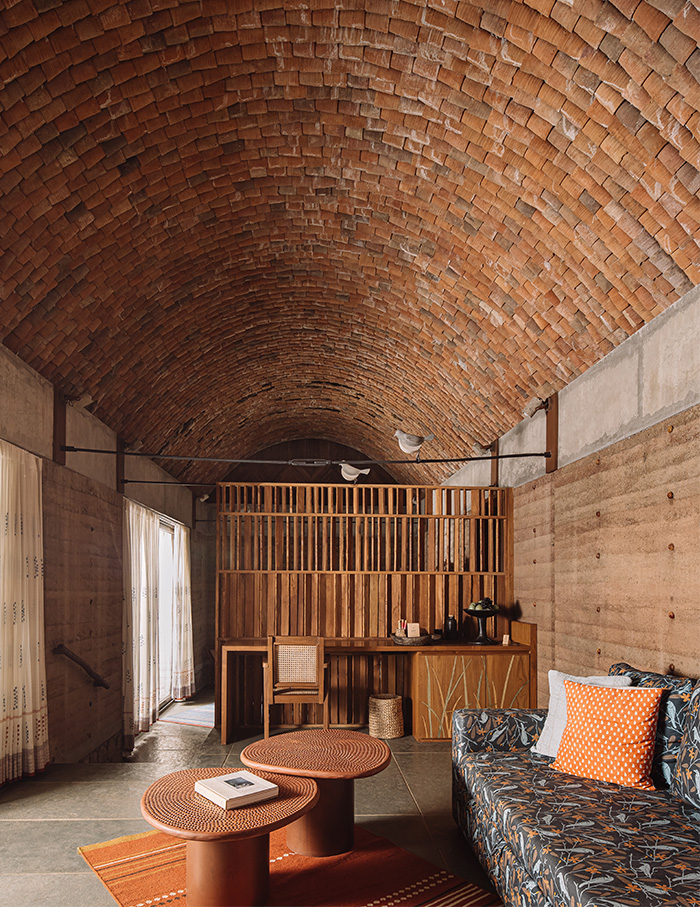 Cut to present day Tipai, its architecture is majorly rammed earth construction with little cement and concrete. The expanse engulfs us in silence, occasionally pierced by rustling leaves and chirping birds. The property accommodates a common area with a lounge and dining space alongside villas for guests, all while defining new benchmarks in sustainable hospitality. Sustainability itself is a multilayered and complex pursuit. It involves sourcing, material usage, construction systems, maintenance, social implications and the afterlife of everything. At Tipai, it came down to channelling design as a vehicle of change. Ata-ur-Rahman, Founder, Kalakutumbh, from Bengaluru trained the supervisors and neighbouring village folks in rammed earth construction. The resources too, were locally procured and conservatively used. "Excavated soil was sieved and used for rammed earth.
During excavation we found massive stones that we used as foundation. Murram and odd-shaped boulders were used to make roads in the property. Concrete is used, although sparingly and minimally for waterproofing and structural strength. The vaulted roofs are constructed with terracotta tiles made by local potters who work at CSV. They were also instrumental in enabling grey water filtration using Kavelus (conical terracotta roof tiles) which is a traditional method of reusing water for plants.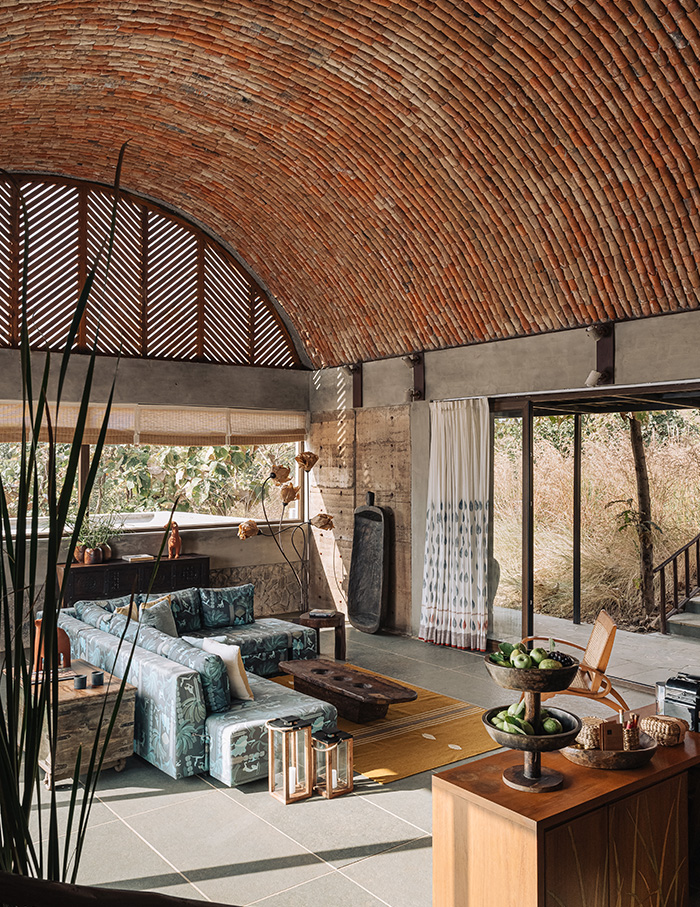 While the methods used are native and local, the aesthetic is far from crude or primitive. Every structure accommodates enormous volumes that are aesthetically balanced and impeccably finished. Like the dining space at the core of the site that is a lofty 45 ft tall pavilion built in steel with a pitched roof that captures views of the horizon.
The villas, called Forest Villas and Pool Villas—include sprawling suites that blend into the outdoors spatially as well as visually. They disappear into the wilderness, like they were built to never exist or make any statement. Idyllically set in quiet landscapes, shrubbery and tall grass, they would occassionally glance at us, rather enigmatically, only to quickly hide again.
It is interesting to note that this abundant foliage is not typical to this region. On the contrary, it lies in a belt that is infamous for its farmer suicides. The drought prone region had been subject to monocultural farming practices, mostly growing teak since the British times. This stripped the land of any biodiversity. Parag, the permaculturist from Goa studied the region and cued towards plantations and methods that would render the land the characteristics of a native forest. "We combined different trees that would attract animals, birds, bees and butterflies and at the same time use species that consume less water. We strategised to save surface water runoff and enrich the soil with biomass. We were clear that we did not want the manicured landscape aesthetic but an ecosystem of flora and fauna that is organic and real," says Ariane. Today, the land on which we stand, is surrounded by the sound of birds and bees, flowering shrubs and thriving trees with the occasional deer venturing within the property. "We must have done something right!" she laughs.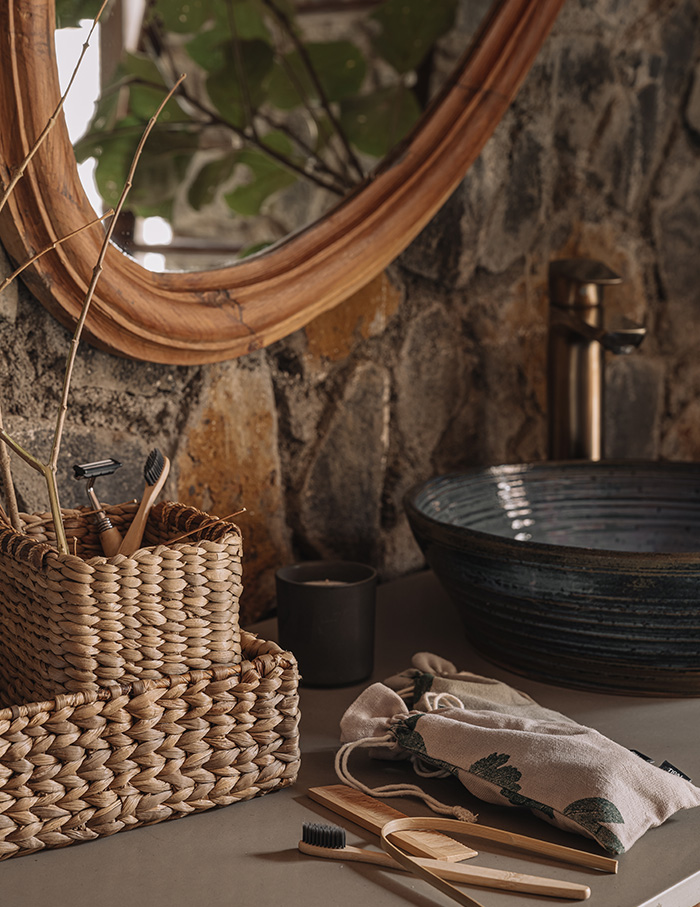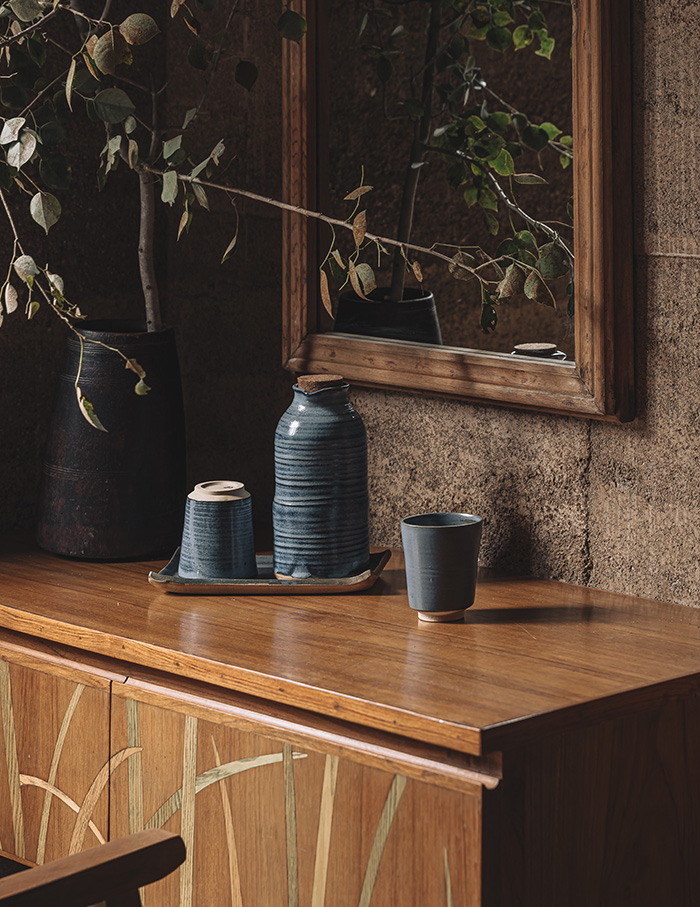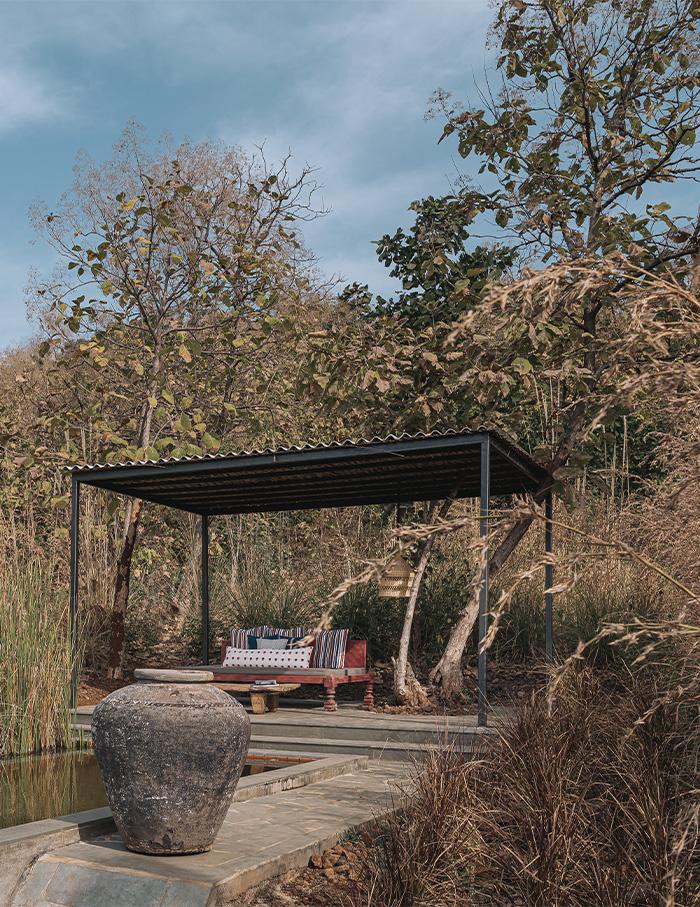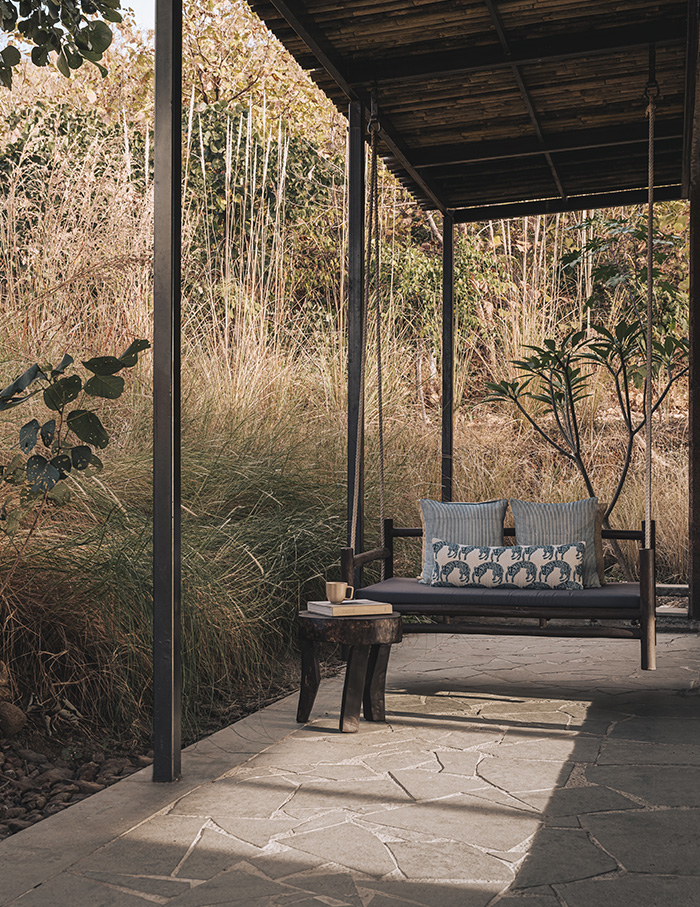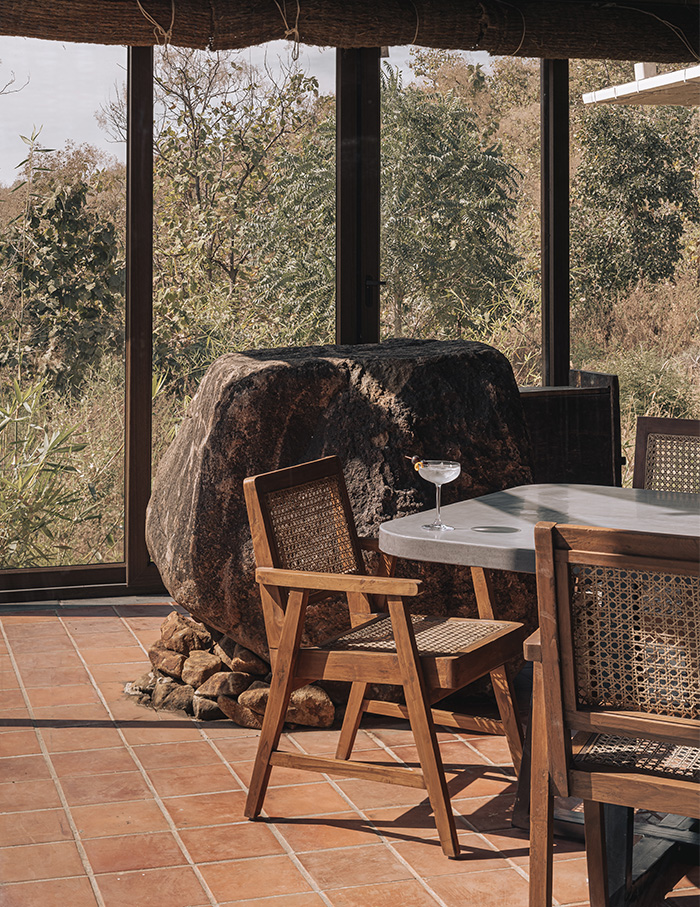 Although, having established the role of intelligent design in empowering the land and local economies, a conventional luxury resort was not impossible given its proximity to Tipeshwar Wildlife Sanctuary which has gained quite the popularity for tiger sightings. The good old cement and brick building, bespoke interiors and branding is a fail-safe formula that ought to succeed in most contexts. Aesthetic architecture and seven-star standardised service ought to tick all the right boxes. And this was exactly the narrative that Keyur and Ariane aspired to digress from and bring about a shift in the perception of luxury and sustainability. "With no hospitality industry baggage, we were free to reimagine everything sustainable luxury stay could be. There were no boundaries nor limitations. Moving away from staple hotel furnishings, our textiles that are designed by Anahita Ginwala have been handwoven by Magan Khadi with organic natural fibres.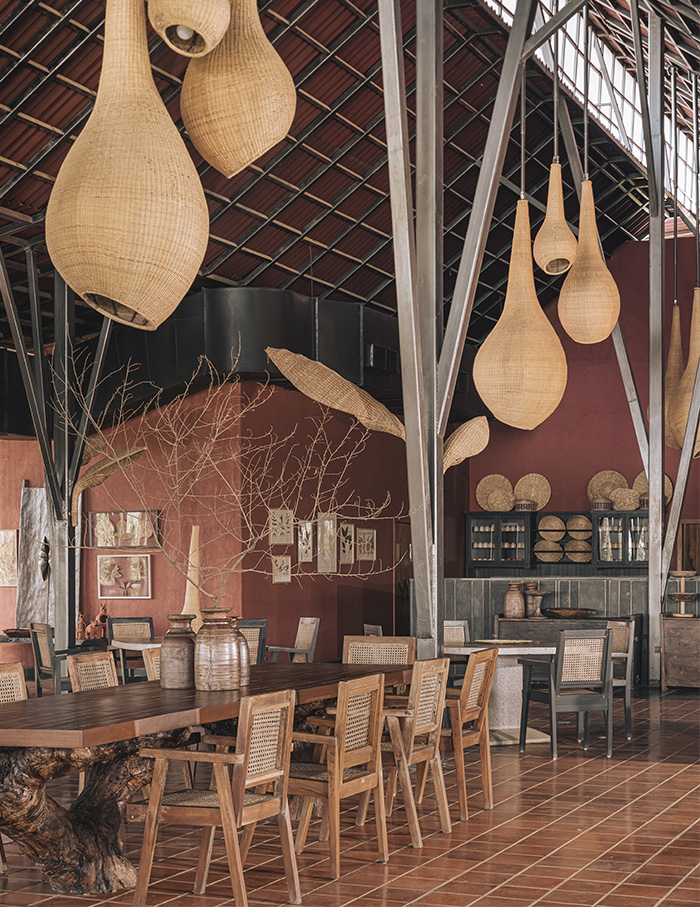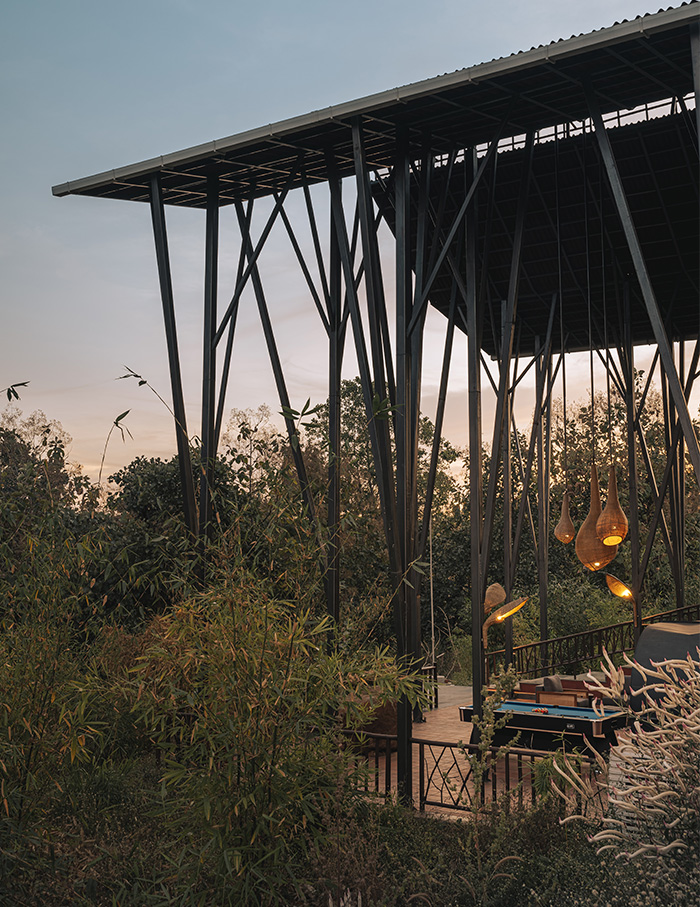 From the tea to the toiletries, every detail has been curated for Tipai with small batch boutique brands who share our value for sustainability, quality, and fairness," Ariane asserts. While hyper-localisation is core to Tipai's concept, probably the most critical takeaway is that their idea of 'local' is different from being 'Indian'. "How can one bracket any singular idea, culture or cuisine as Indian? We are such a diverse country!" exclaims Keyur. And true to that thought, Tipai embodies everything that can set the tone for real luxury and a paradigm of utopian aspirations.
You may also like: Maison Twenty-Six: Aesthete Kiran Rao and luxury hospitality operator Luxunlock Private Villas transpire a French colonial manor of dreams in Pondicherry