Homes
Maison Twenty-Six: Aesthete Kiran Rao and luxury hospitality operator Luxunlock Private Villas transpire a French colonial manor of dreams in Pondicherry
SEP 11, 2023
| By Ashna Lulla
One summer afternoon, curator Kiran Rao found herself in the "grande salon or formal living" of a charming 120-year-old historic garden house tucked away on a quiet street in the French Quarter of Pondicherry. "The salon stopped me in my tracks with its towering ceilings, original cornice work, green walls with maroon trims, and 20th-century Belgian floor tiles," Kiran reminisces.
"I was in love, and the home reminded me of how interiors can conjure up a time and feeling," she smiles. It was this exact feeling that led her to purchase the 4300 sq. ft home on a whim from the descendants of a wealthy Franco-Tamil merchant named Xavier Condappa.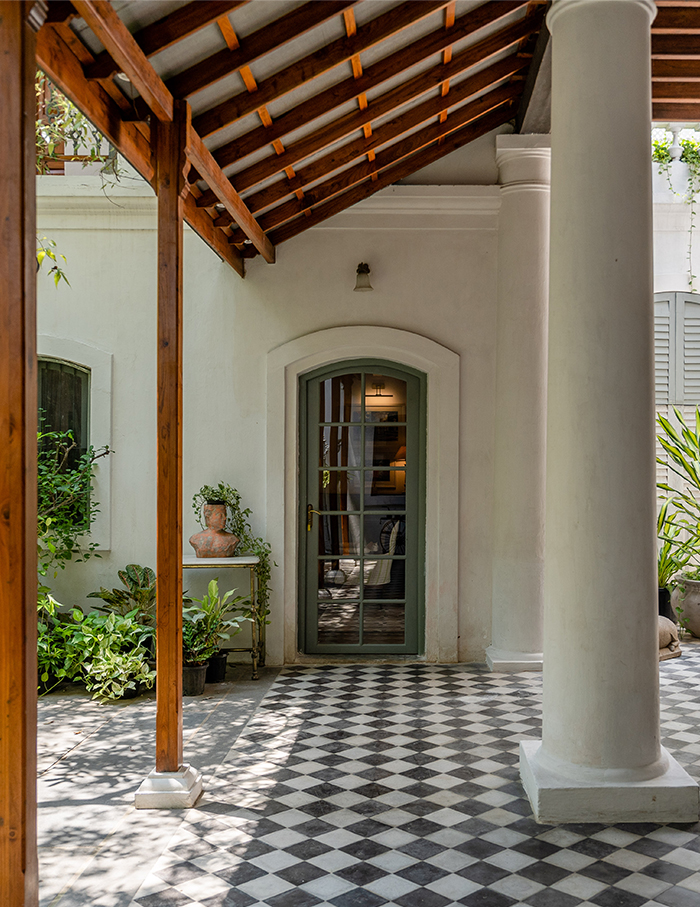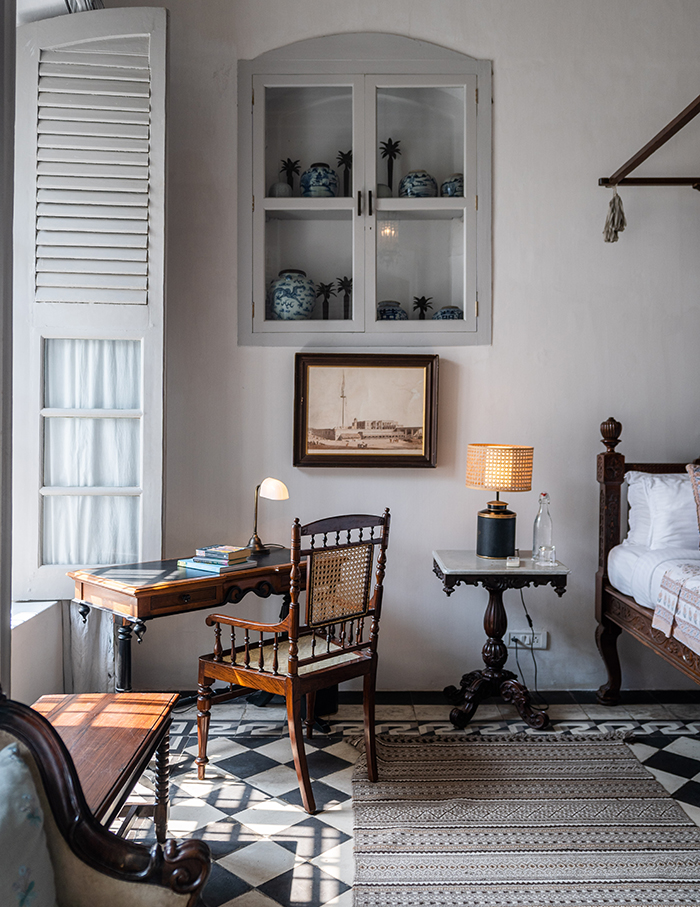 She wanted to craft a unique first-of-its-kind experience (a private rental villa) in Pondicherry – a time capsule that transports its visitors to the French colonial era. She collaborated with Ashish and Rucha Gupta, veteran travel consultants who run Luxunlock Private Villas, an initiative for discerning travellers to experience private homes across South India that tell a story while paying tribute to heritage, design and sustainability.
Kiran was determined to restore the colonial mansion without sacrificing its spirit, and she did so with the help of several agencies: Mr Nilesh M Thakkar, a seasoned restoration expert; Poorva Patel, a conservation architect who supervised the restoration and senior Intach members Arul and Abhhay Narkar based out of Pondicherry and Delhi respectively.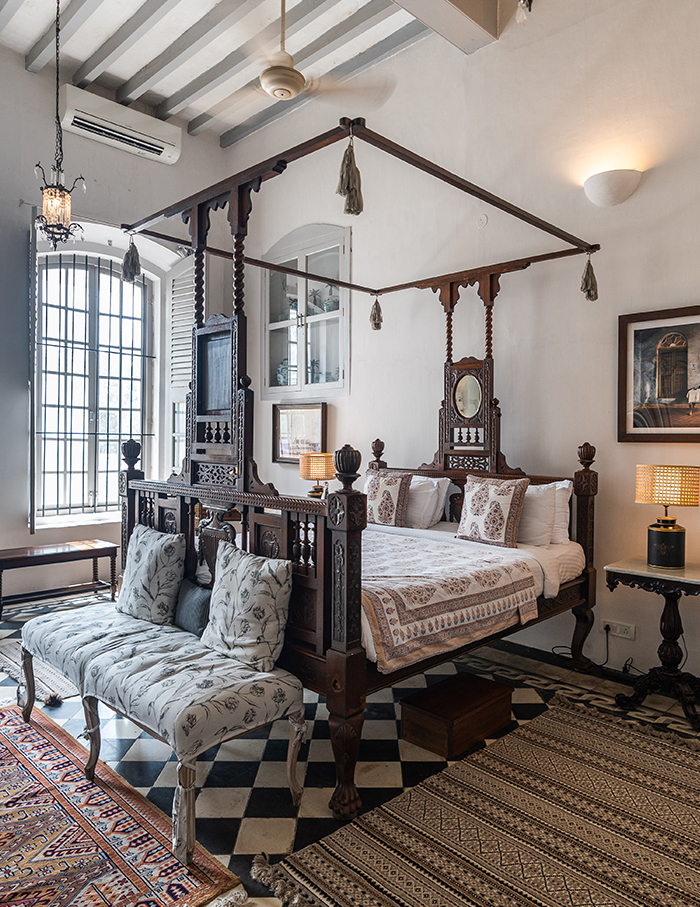 The mansion was built on two levels, overlooking a lush courtyard profuse with mango trees, climbing tendrils, and native tropical plants, metaphorically representing the "Tree of Life", a theme dominant in every bedroom suite. Winding slate pathways arrive at the verandah, which opens to reveal the "grande salon", admittedly Kiran's favourite spot in the home. Connected to the salon are two-bedroom suites that beckon you to relax and unwind. A cinnabar red suite was christened Indo-Chine suite in reference to the striking red accent wall and the former owner's association with family-owned businesses in Saigon and Indo-China. Decorated with Chinese embroidery and chests, fragments from a headboard of a daybed acquired from an opium parlour give the room a heady Chinatown appeal.
The suites were named after British and French colonies across India: Indo-Chine Suite, Bengal Suite, Bombay and Madras Suites.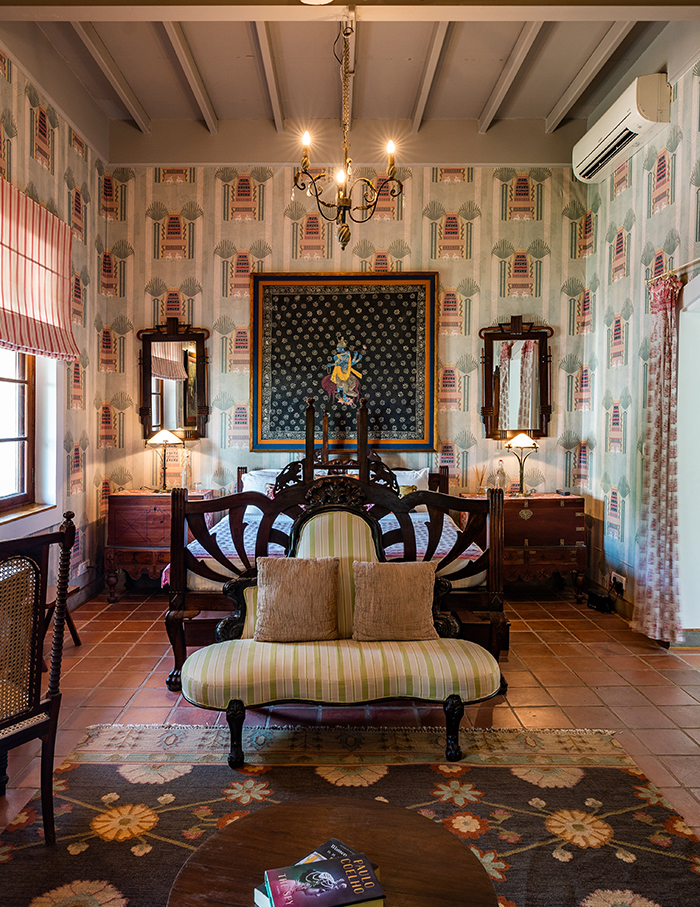 The Bengal Suite, themed in Indigo blue, is filled with art and textiles from East India. A four- poster bed frames a chintz tree-of-life. Framed Kalighat paintings hang above the nightstands, and art deco mirrors help the room appear more spacious.
"I contemplated minimising the service block (kitchen, laundry and staff quarters) to create a larger garden but decided to disturb as little as possible and enhance the existing layout instead," Kiran adds. A metal spiral staircase, another Pondicherry-esque feature that Kiran fell in love with, is located in the corner of the courtyard and leads to the Bombay and Madras Suites, both new additions.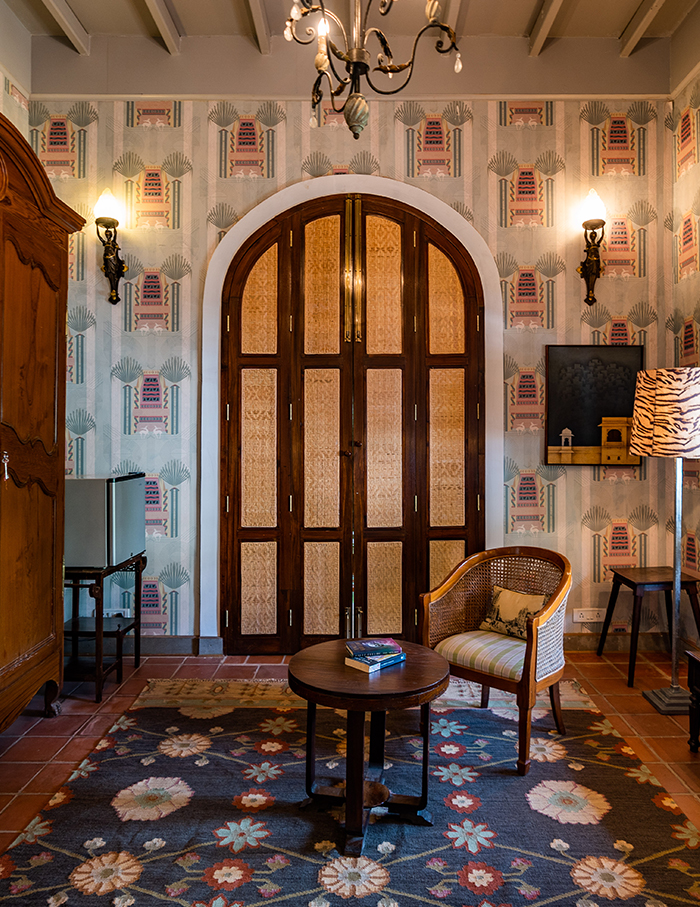 "I retained the lime and mortar finish on the external walls but made structural modifications like adding metal rafters instead of wooden ones and painted them to match the interior, which was lighter and cost-effective additions," she explains. Both suites have air-conditioned lounges and tiny balconies, ensuring a private, tranquil spot. The suites are connected to a verandah – a large covered sit-out where lazy afternoons are spent reading a book or enjoying a hot coffee.
Kiran puts her decorating expertise to good use in the Bombay and Madras suites. "The more layered a room is, the more relaxed it feels. A space needs to be like a person you'd like to get to know, which means it must be interesting and have history and background. A melange of antiques and contemporary furniture has been put together in a happy mishmash of styles that Kiran explains reflects the two decades she has spent decorating and crafting artistic experiences.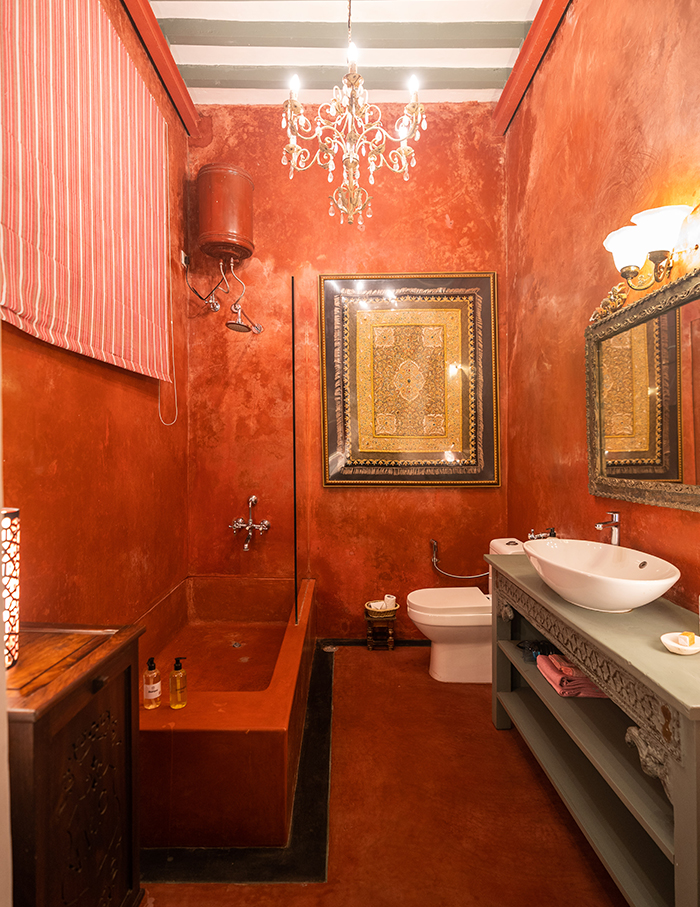 A mint green Dhanraj Mahal wallpaper (from the Bombay Art Deco collection) is an abstract reimagination of a legacy Colaba landmark. The suite is decorated with Campaign furniture, period Parsi pieces, Picchwai, and dated photographs that take you back to Bombay's heyday. Hand sketches by Harry Hancock, famous for mapping Madras and paintings by Rekha Rodwittiya related to Philomena De Condappa, a pianist from the Condappa family, adorn the Madras suite.
Kiran's love for maximalism and crafting layered interiors based on history underpins this home. Lovingly restored by its current owner, Kiran Rao, Maison Twenty-Six went on to win the prestigious Vieilles Maisons Francaises (VMF) award for preserving French architectural heritage, a rare honour for houses outside France. "The house captured the essence of Pondicherry in a certain era, and I wanted to retain that sentiment while giving the home a second life," she concludes.
Maison Twenty-Six welcomes guests and can be booked as individual rooms or as a whole villa rental for intimate family or forum retreats. Book with LuxUnlock Private Villas.