Homes
This three-storey mansion in Gujarat designed by a+t associates revels in colours and patterns
OCT 25, 2021
| By Ankita Rathod
Breaking away from their customary neutral palette, Archis Patel and Tanvi Rajpurohit from a+t associates astonishingly play with colours and patterns at this three-storey mansion in Anand, Gujarat. 
Home to a family of five, the Keshavam bungalow is spread across 5,000 sq ft in a plush community. Comprising five bedrooms, the initial discussions with the clients, "were to have a simple, elegant and timeless conventional house," says Tanvi Rajpurohit, co-founder and principal at a+t associates. "We have used bright and fresh tones in the form of white oakwood veneer and contrasted grey walls with pop coloured furniture and furnishings," she says.
The house opens into a small but well-defined foyer area, styled with earthy elements. Highlighted by a bespoke wall art piece portraying twilight moon along with an oak veneer console and a metal partition, making it an inviting, yet connecting entrance.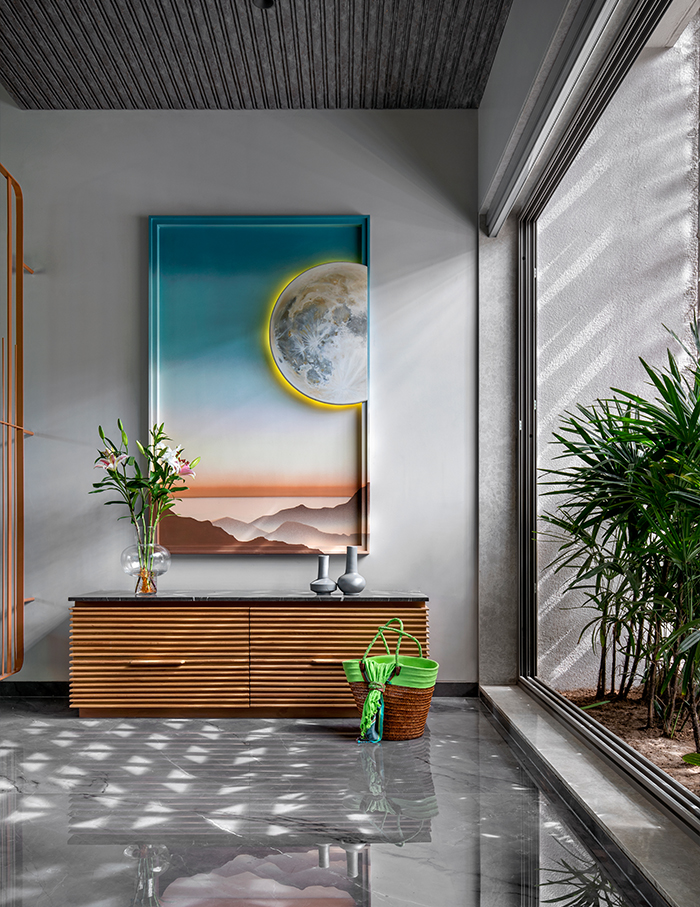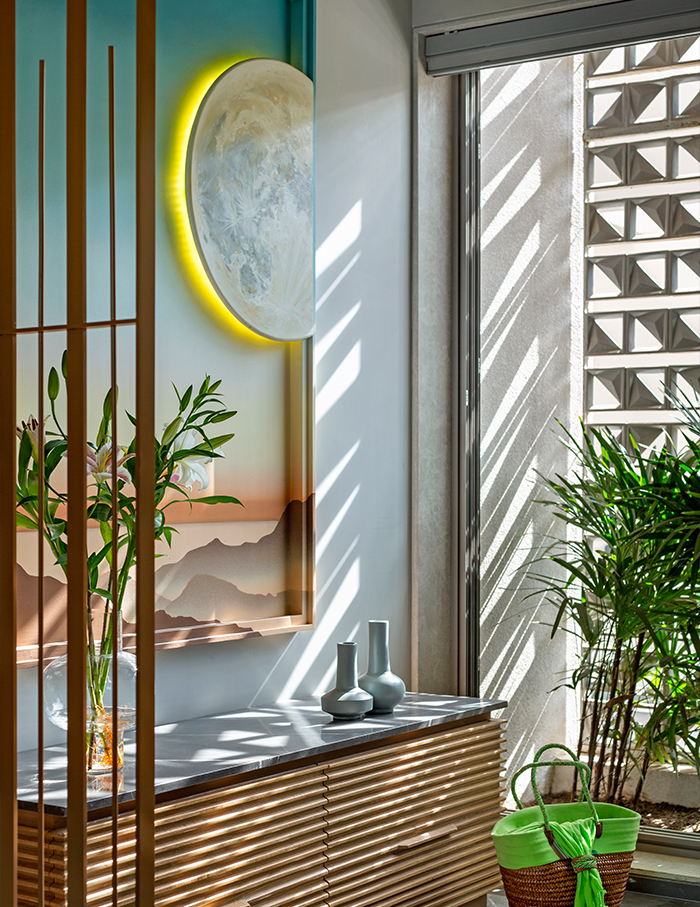 Displaying a minimal design language, most parts of the living room walls embrace glass openings except the television wall. All the furniture here is readily procured. Moving towards the staircase, one can experience a stunning art installation inspired by a readily procured chandelier set on a double heighted ceiling, detailed by hand-painted tribal graphics.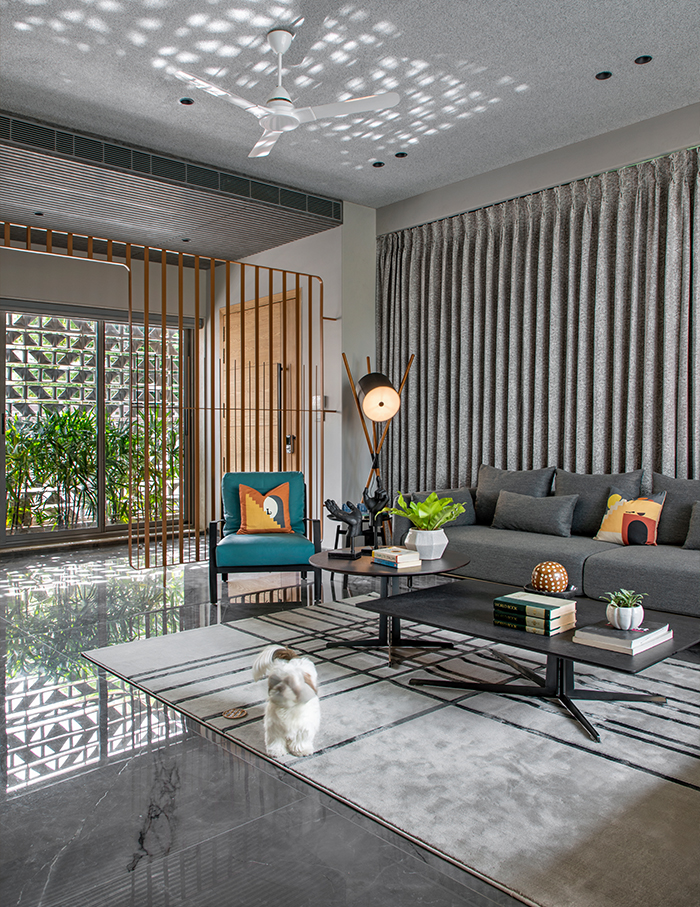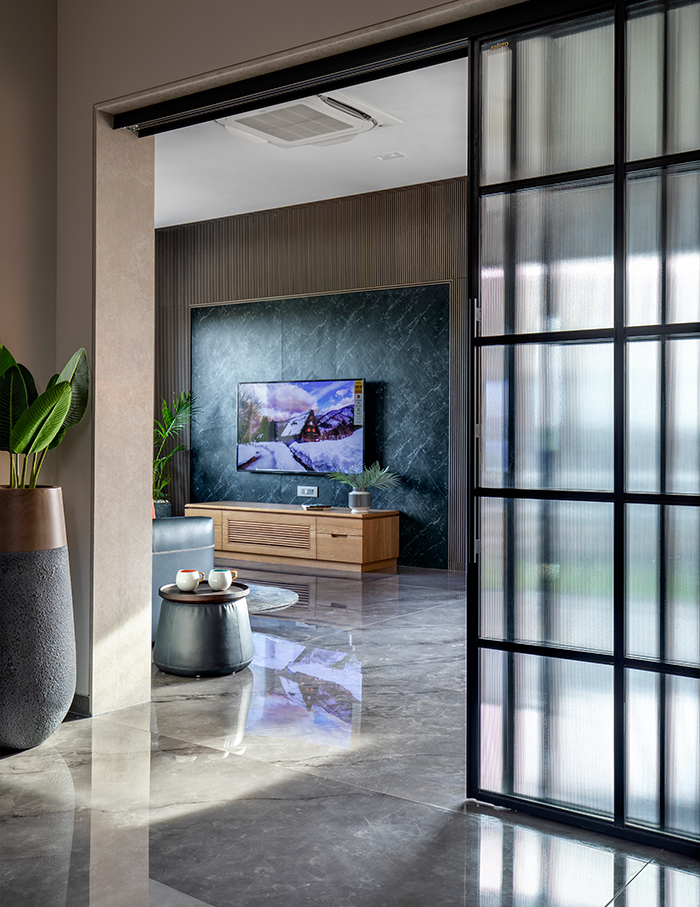 The lower level has all public spaces, including the foyer, living room, kitchen, dining area, a garden area, prayer room, and the grandmother's room and guest bedroom.  Following a uniform theme in all common areas, while individual rooms have a distinct character of their own.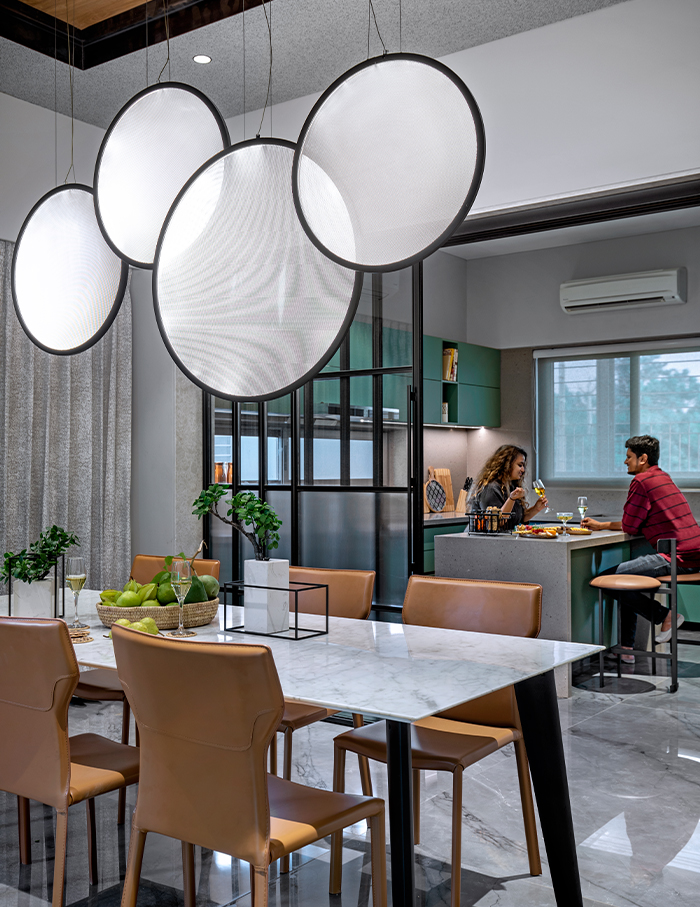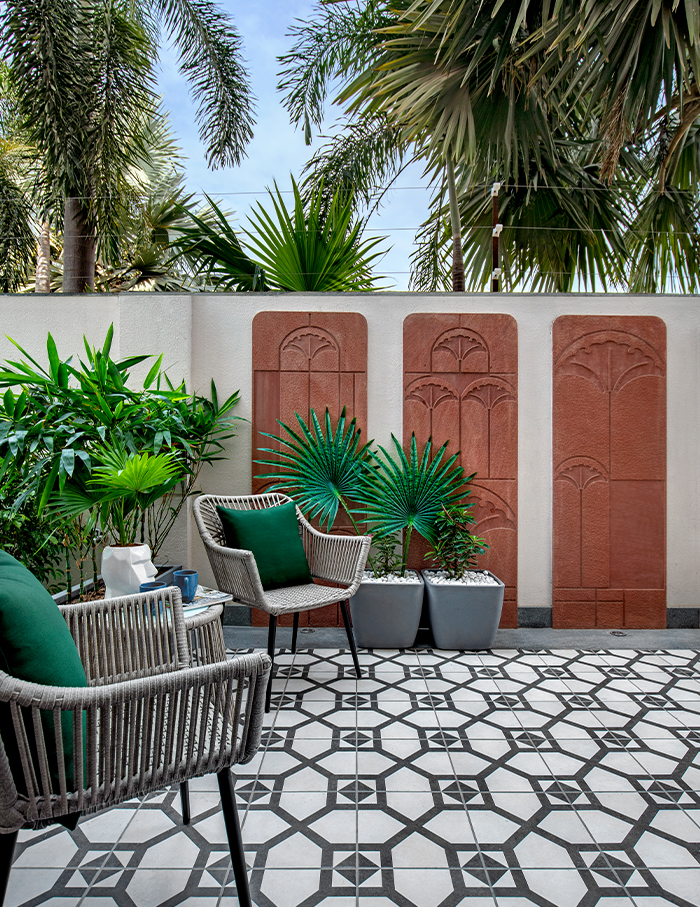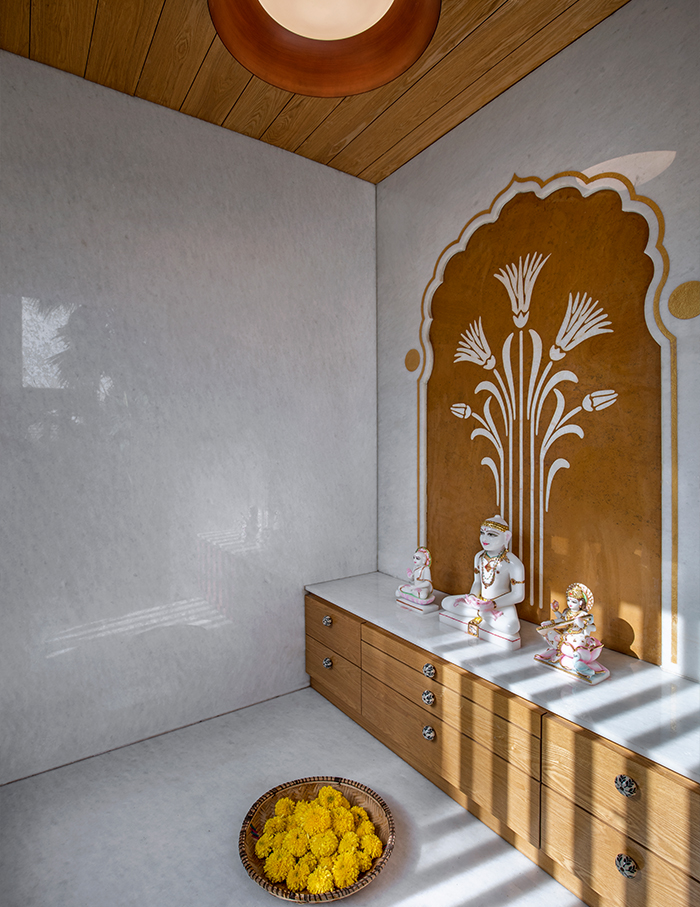 Interestingly, instead of procuring artworks or poster prints, Rajpurohit commissioned local young artists to contribute in creating stunning visual designs to complete the space. "Using local energy for craft and art is a sustainable approach according to us," shares Rajpurohit.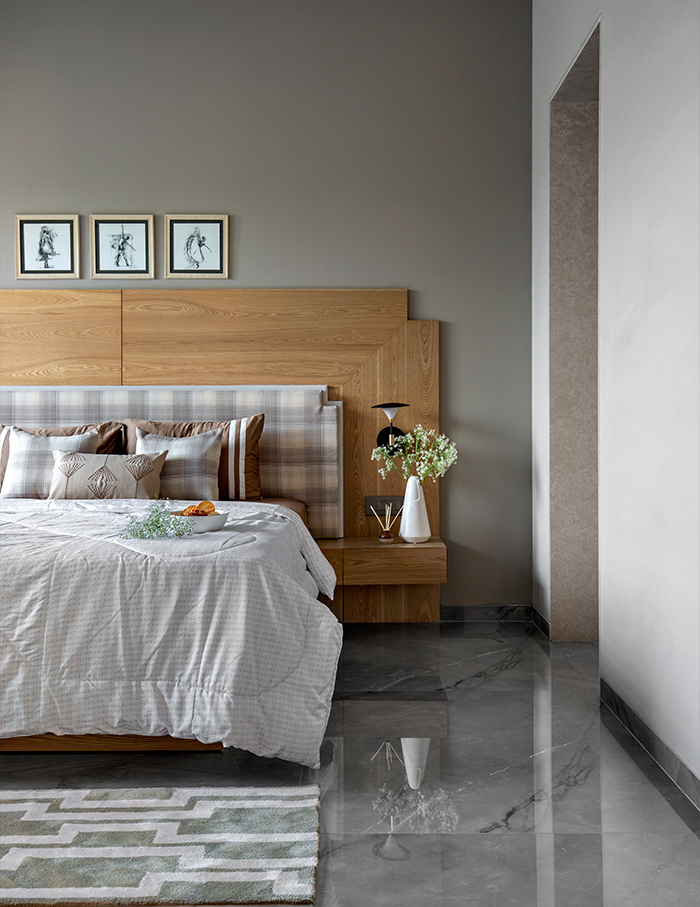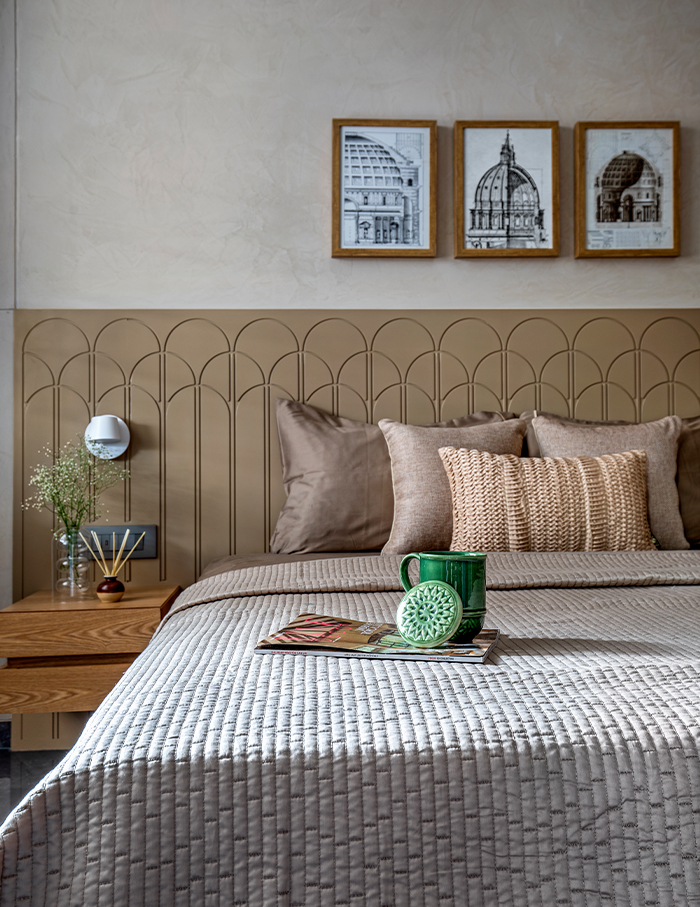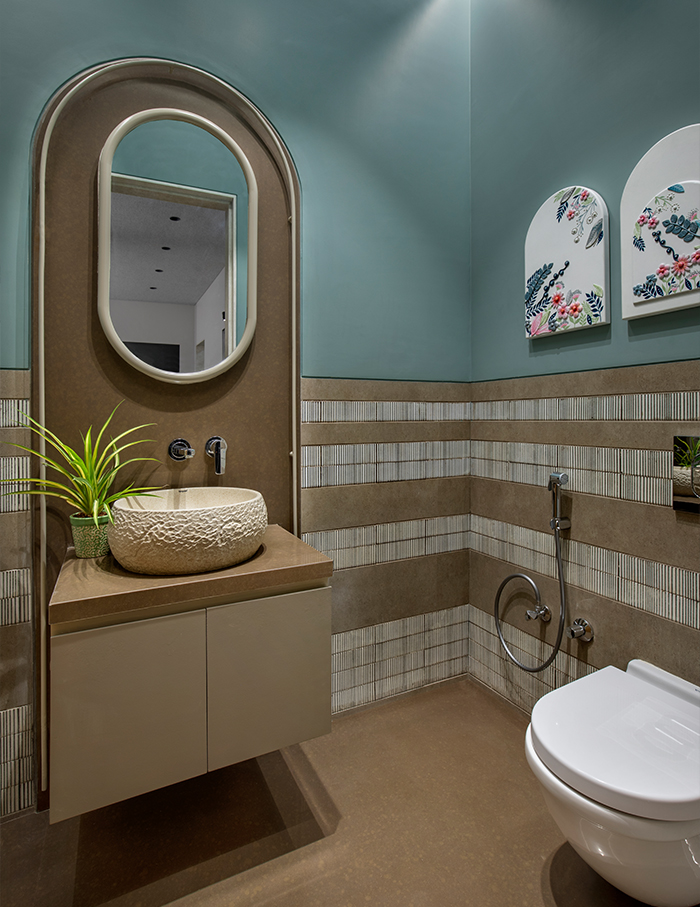 "As designers we are dedicated to innovation and creativity and are continuously looking at ways of experimenting with materials and details in our designs," believing that designs should possess "a basic seriousness and timelessness with an injection of freshness," she says.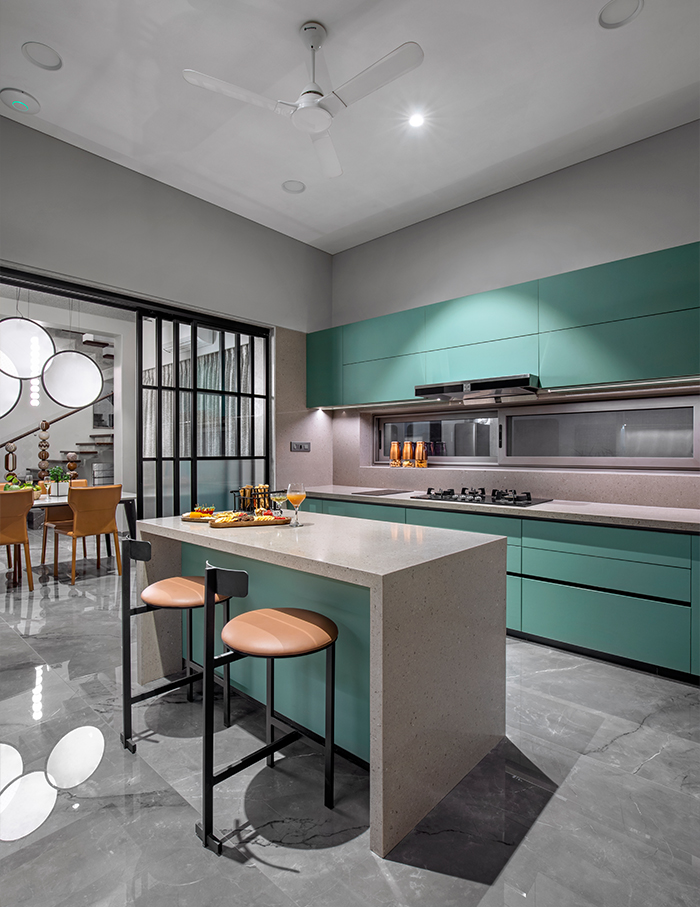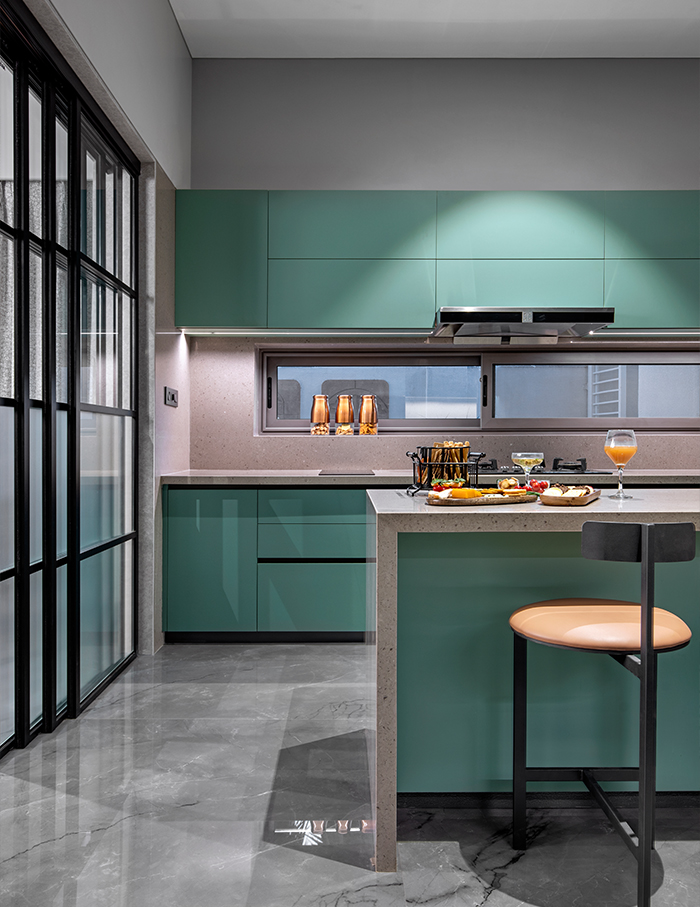 Situated on the first floor, the son's bedroom exudes a moody, dramatic and bold character. The overall colour theme is emerald green with grey IPS textured walls with a dash of black in certain places to add a bold touch. This room has a walk-in closet and attached bathroom.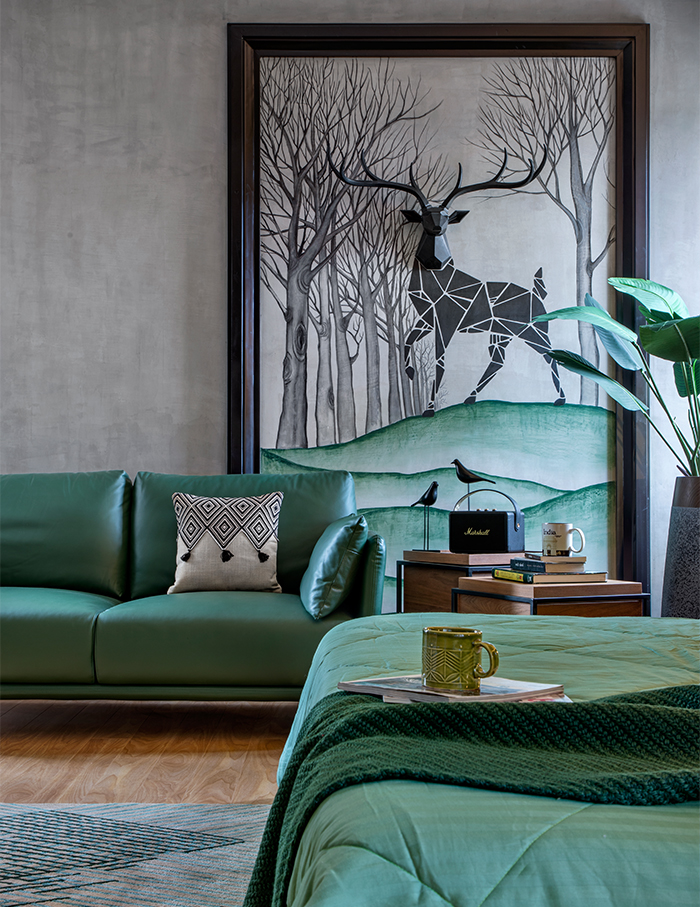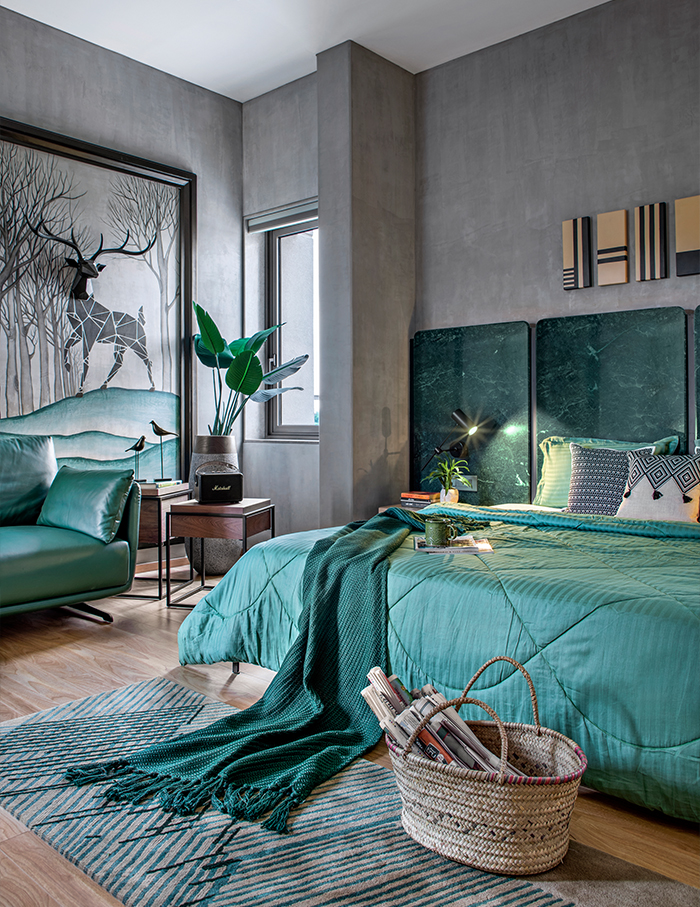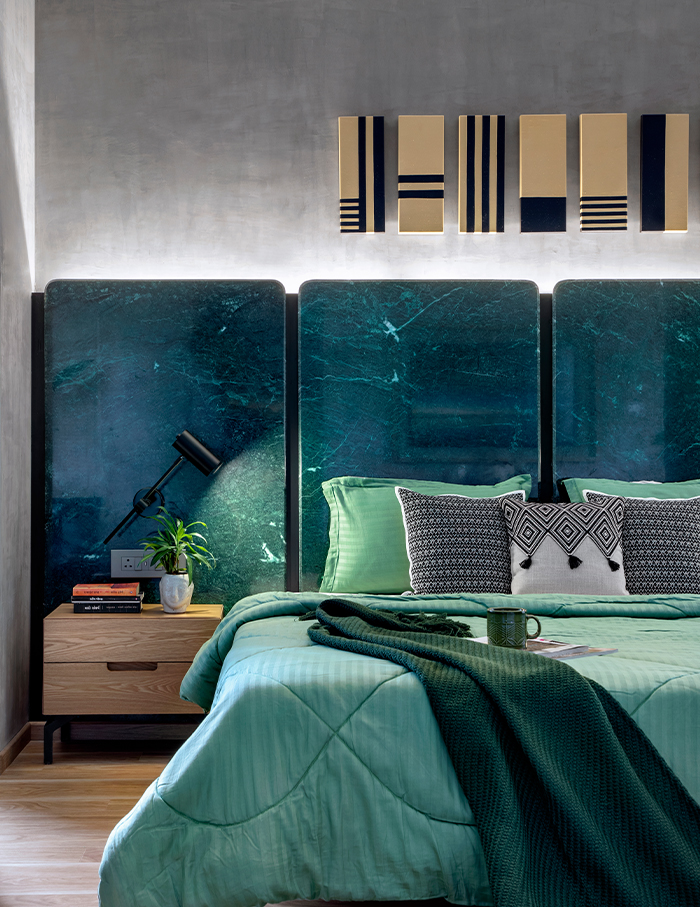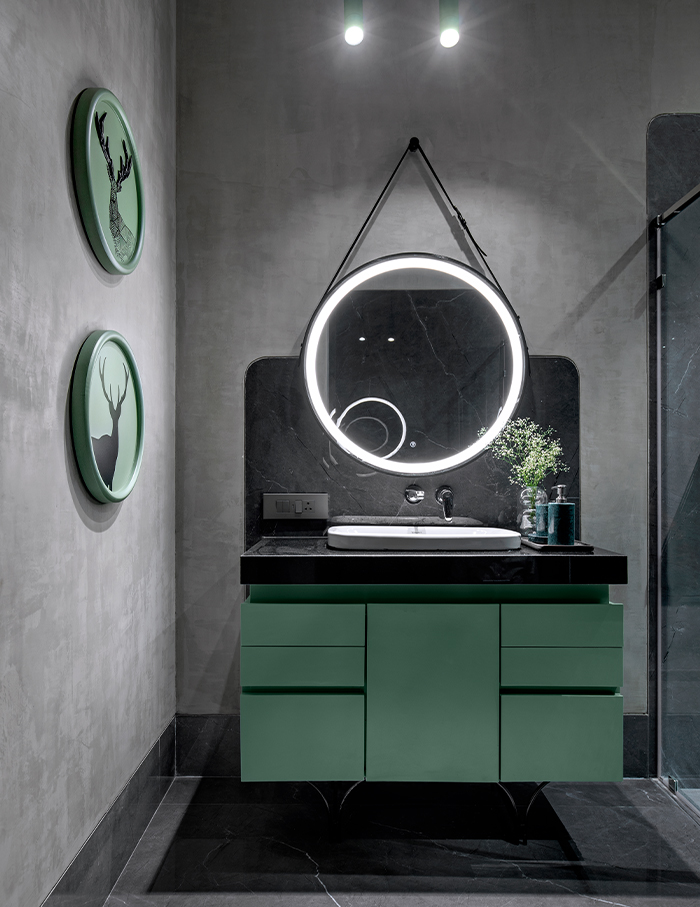 The primary bedroom is modern, contemporary and minimalist. Equipped with a fully fabric upholstered bed in an oak veneer bed back and a longitudinal glass opening. This room also has a walk-in closet with an attached dressing bathroom.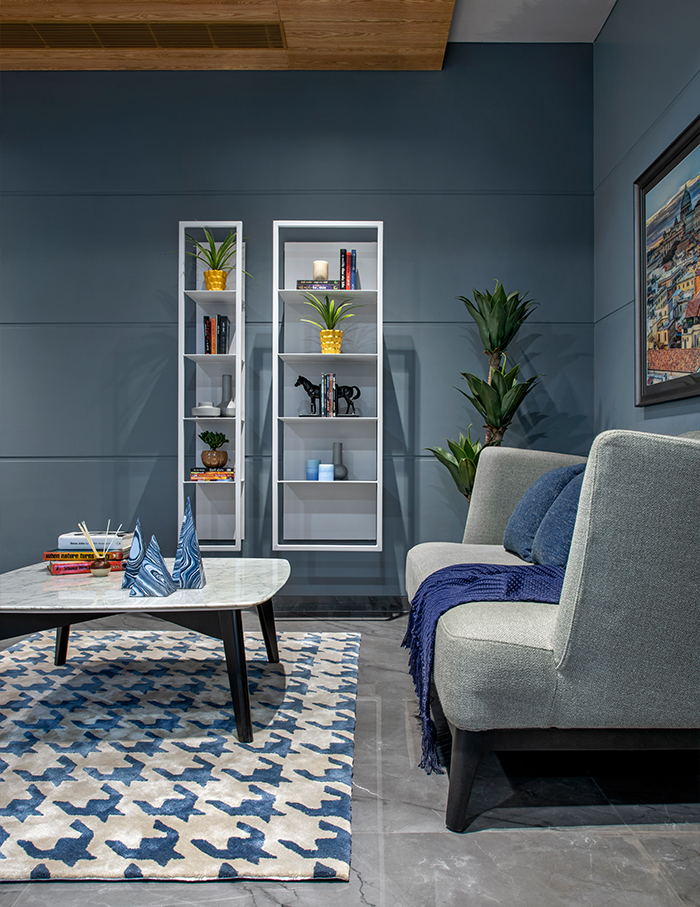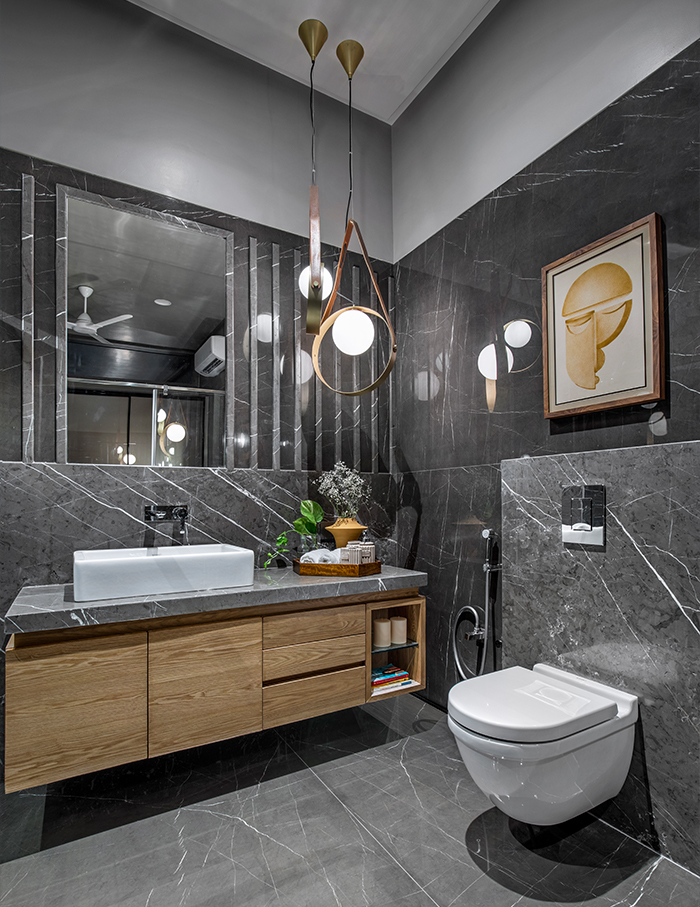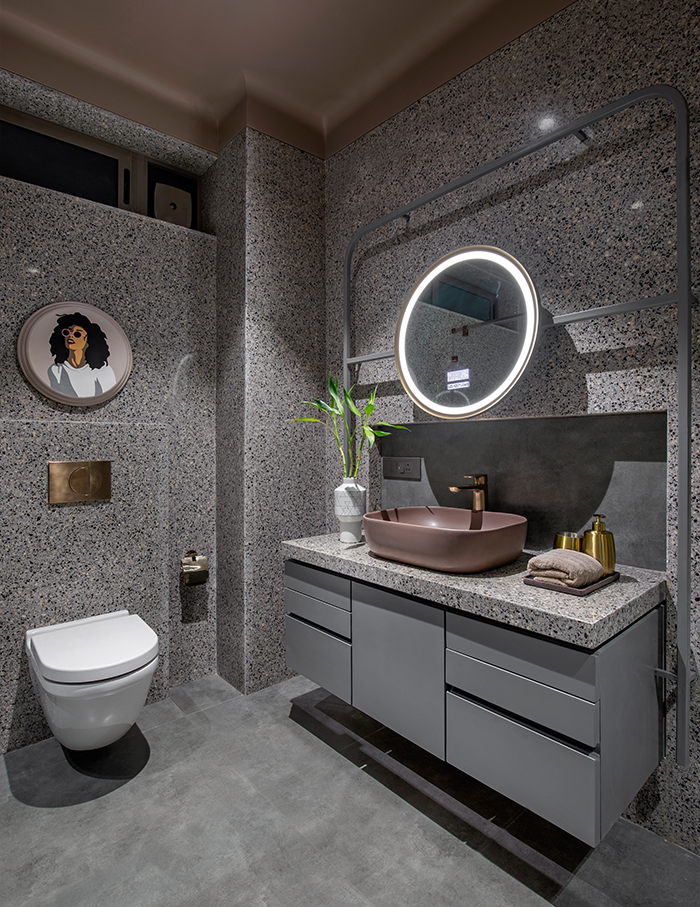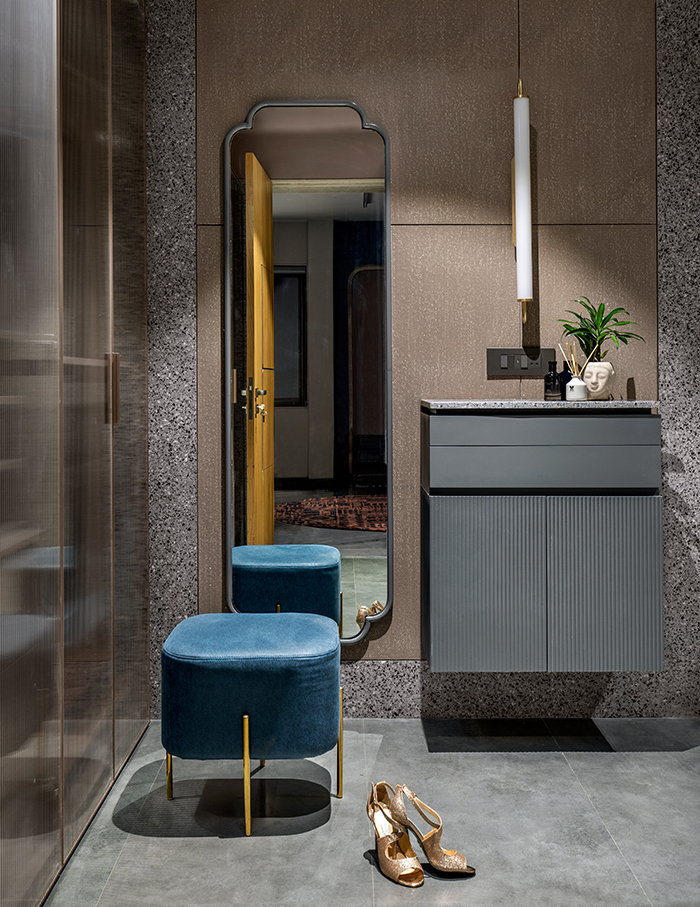 On the second floor, the daughter's room with her private terrace sticks to the minimal design language with a feminine touch. "We have combined shades of peach and French blue with grey walls," says Rajpurohit. The room is enhanced by a circular artwork that attempts to depict her grace and confidence.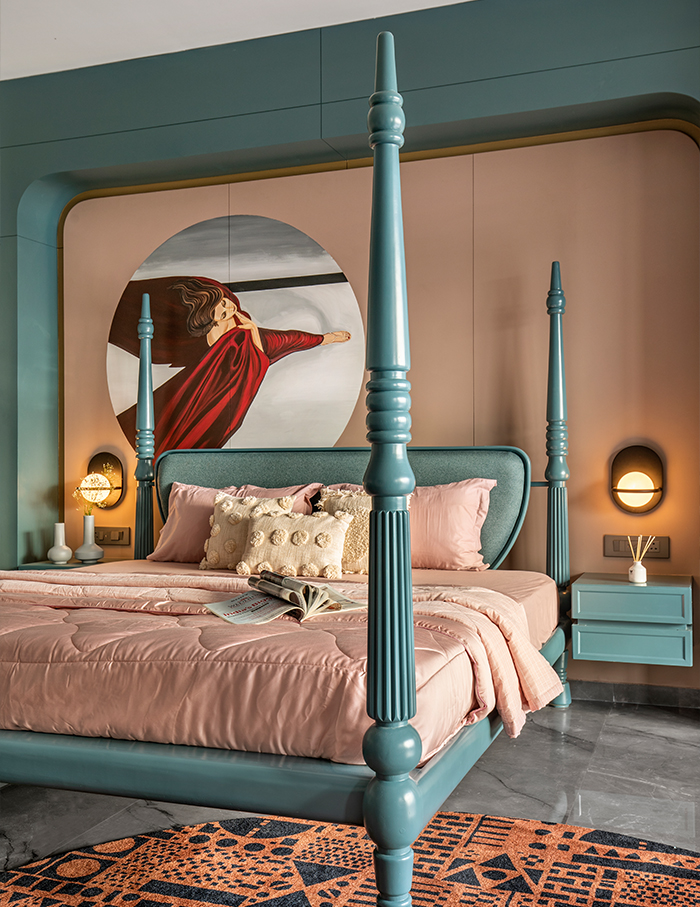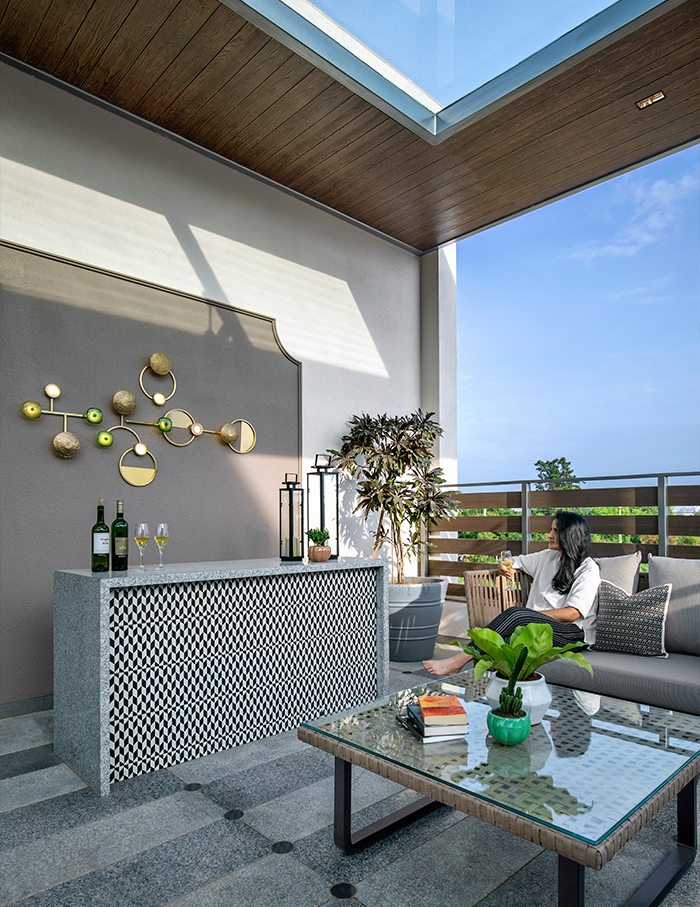 The son and daughter's bedroom were the spaces Rajpurohit and her team enjoyed designing the most. "We got to play with lots of colours, details and bespoke artworks. At the same time, it was challenging to create totally opposite theme bedrooms in one house," concludes Rajpurohit.
 If this mansion motivated you to refurbish your home, you must check out this home crafted by the Alkove-Design.