Homes
This Park Street apartment by Rebecca James breathes a pastel solace into London's vibrancy
JAN 27, 2021
| By Saloni Rege
This Park Street apartment, designed and renovated by Rebecca James Studio, draws inspiration from its existing layout that's reminiscent of Parisian style and exudes a sense of timelessness.
The 4,000 sq ft duplex is a neutral-hued sky parlour located in London's Mayfair neighbourhood. Considering that it's not been modified for 25 years, the family home was taken up as a turnkey project by Rebecca James, one of the UK's leading interior designers.
"Our client wanted a timeless home and we were more than happy to indulge. Our vision was to create a contemporary Parisian-style apartment with light and airy tones. Reined back luxury layered with textures all working together in harmony," shares the designer.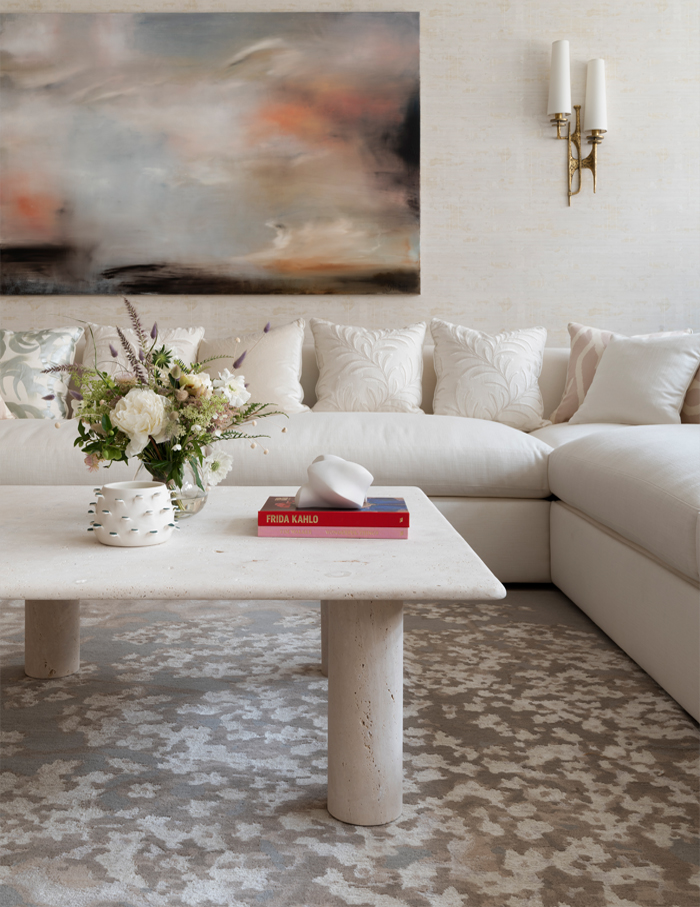 The living room exudes a pristine charm and is dotted with midcentury furniture pieces, including the couches, coffee tables, lounge and swivel chairs that are embellished in white tones and placed on a textured rug that adds an artistic character.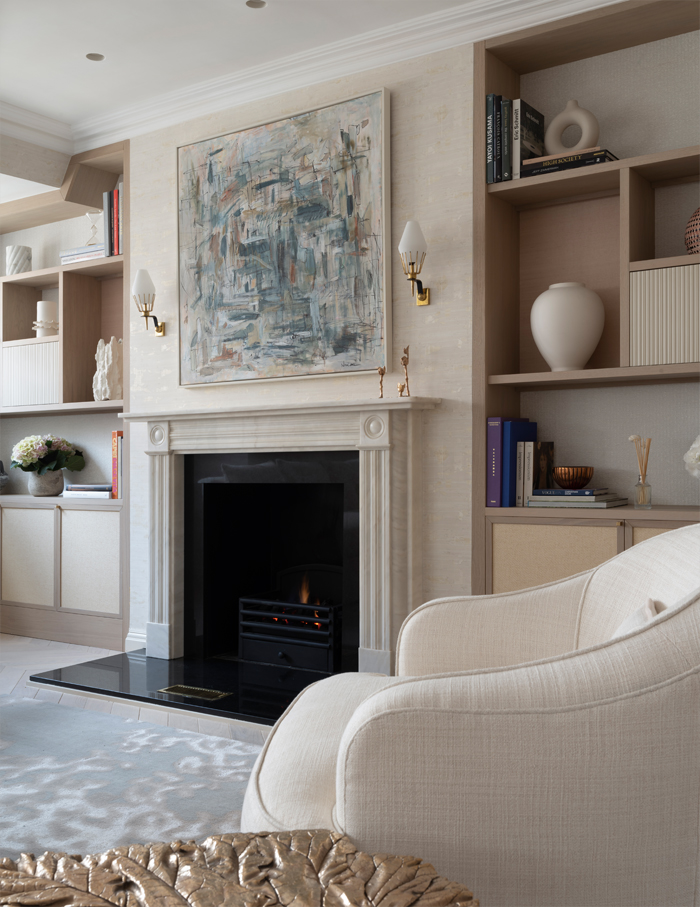 Pastel shades coupled with artworks and a matte ebony fireplace accentuate the space. Adding a symmetrical essence is a full-length shelving unit, which holds books, artefacts and more.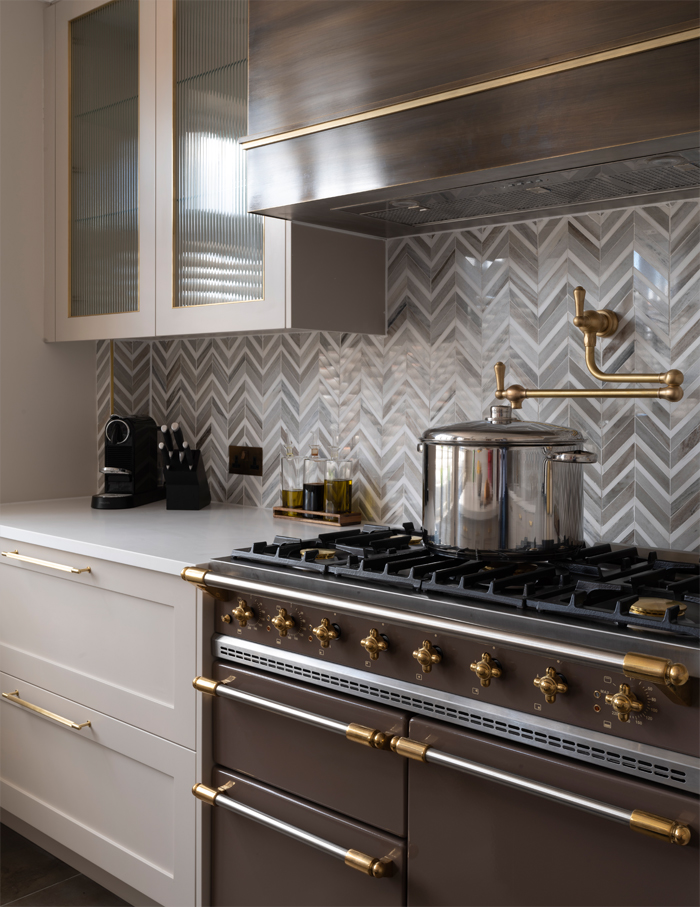 The kitchen uses a tinge of walnut and gold to highlight the theme of the apartment. It comprises additional seating around an island counter, which also serves as an intimate dining setting while a rather formal dining area is placed in a separate section.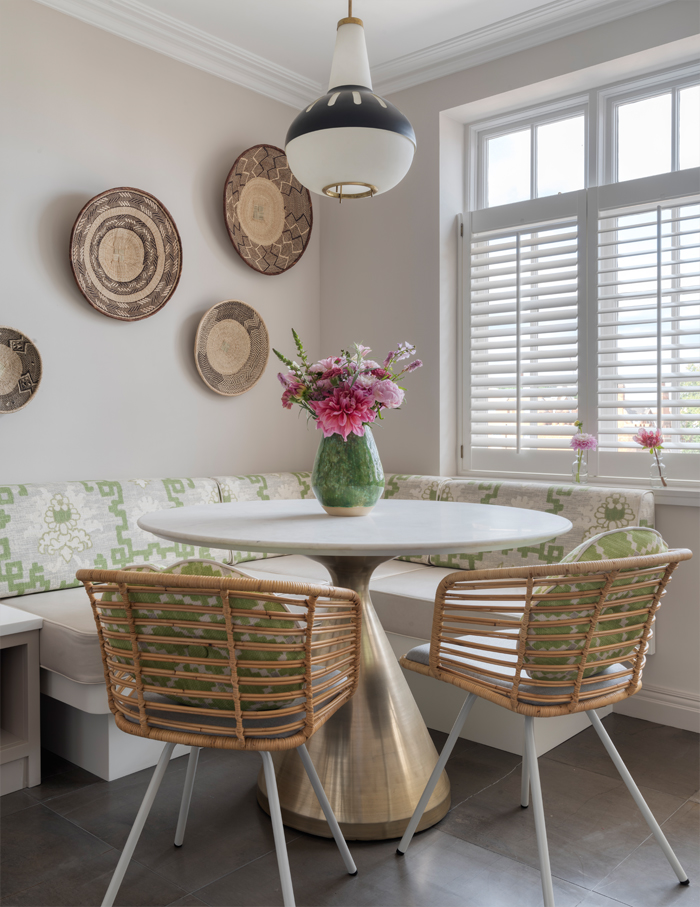 "Earlier, this cooking space was dark and cluttered with heavy furniture and drapery. And the homeowner wished for something more feminine, so we introduced light hues and crafted it as an elegant space," adds James.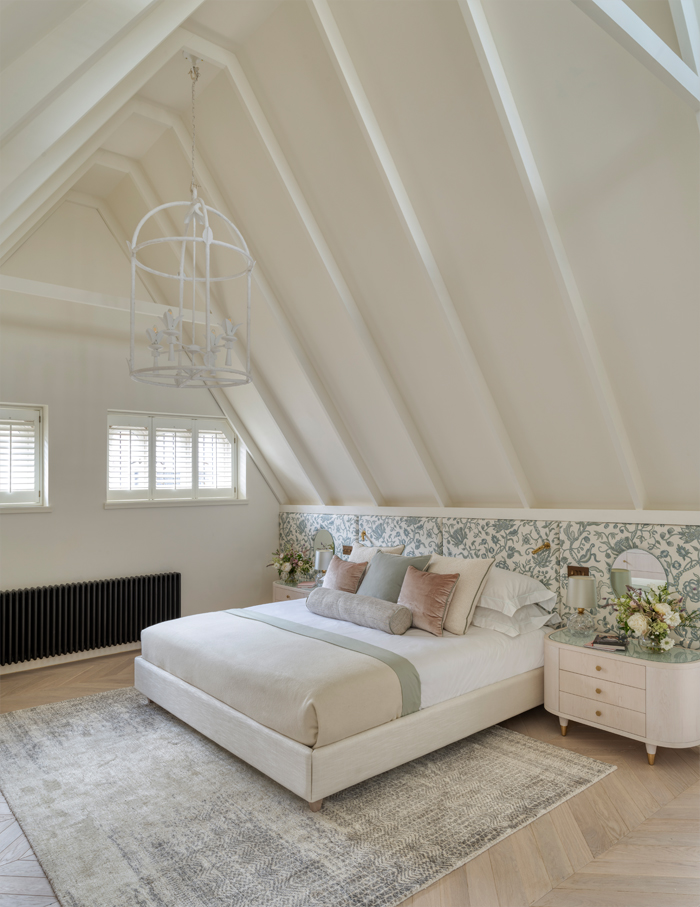 The pastel-hued master bedroom is in line with the contemporary theme of the apartment. It benefits in height from its top floor location and mighty sloping roof. Light oak timber flooring in herringbone pattern complements the room's neutral aesthetic. The fabric headboard by Elizabeth Eakin steals the show with its subtle yet dense floral pattern.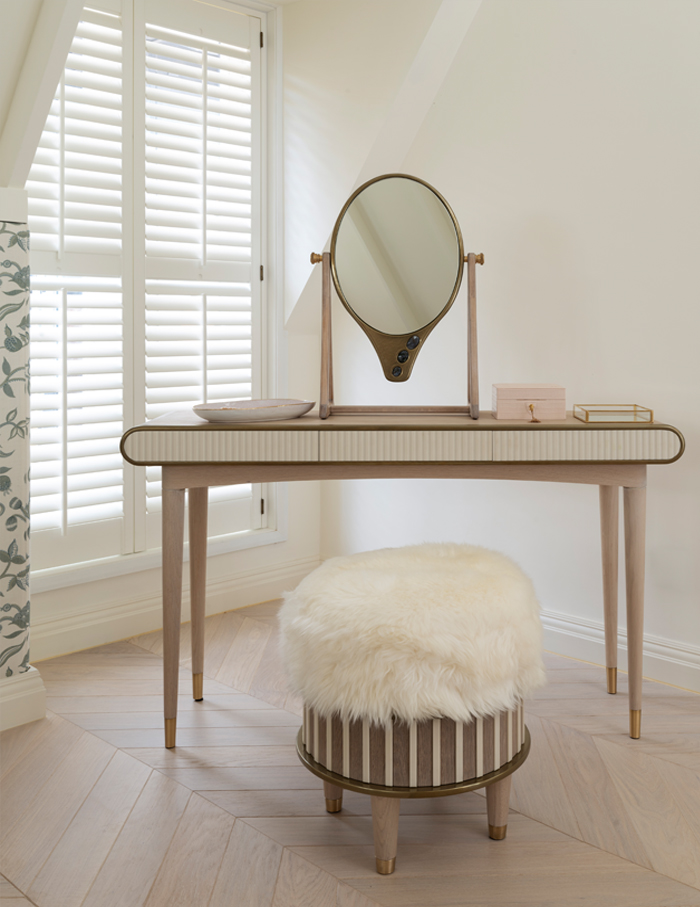 A sleek dresser with tapered legs is placed beside a plush furry pouffe from Felice James. This section is infused with natural daylight and looks expansive, thanks to its colour palette.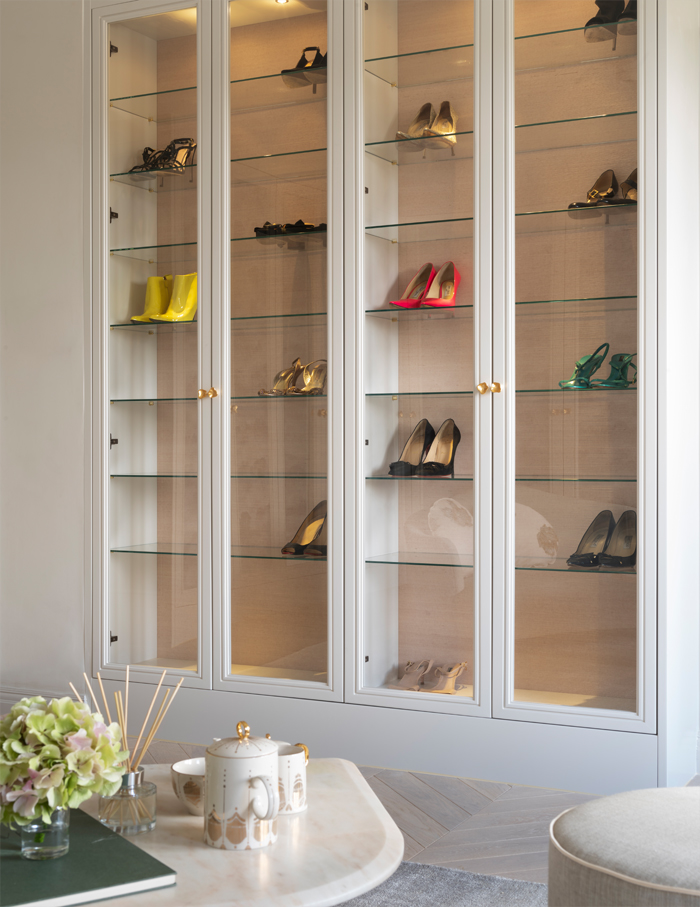 A capacious master closet houses a snug couch from ISA 1950s and a coffee table from AU Bespoke. A shoe wardrobe, akin to a display unit, showcases the homeowner's trendy footwear and accessories, as well as adds colour to the otherwise muted space.
The master bathroom features a shower cubicle backdrop of Verde Panama marble, which is also used as a hexagonal floor mosaic. The angular end of the space is cleverly used as a shelving unit.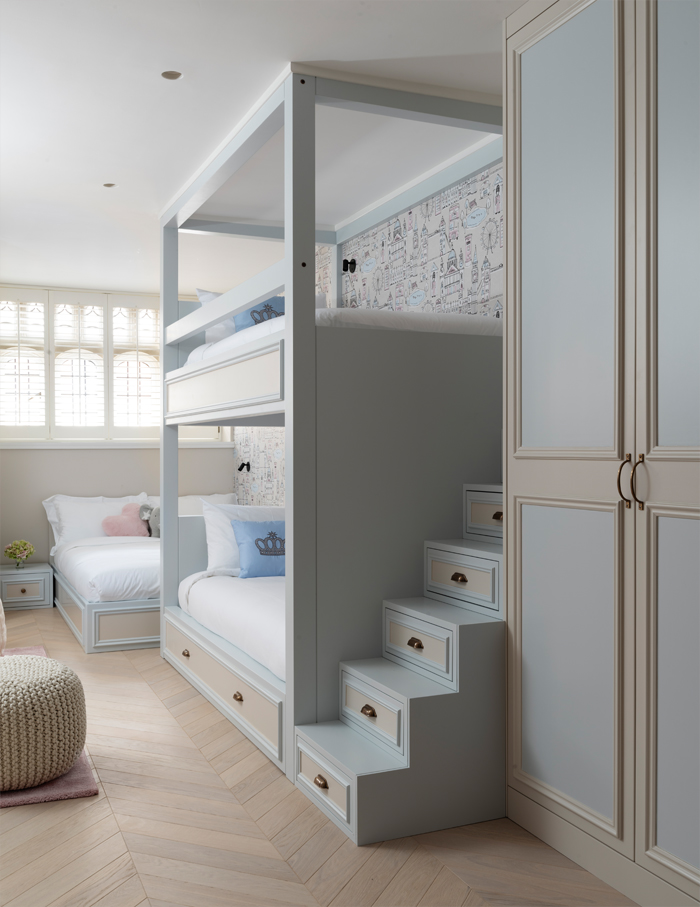 The kids' bedroom is a lively abode in itself, comprised of customised bunk beds and a queen-sized bed. We love that the steps are used as storage spaces! In fact, even the wallpaper is interesting because of its graphical, doodle-like representation of London in pastel blues and pinks.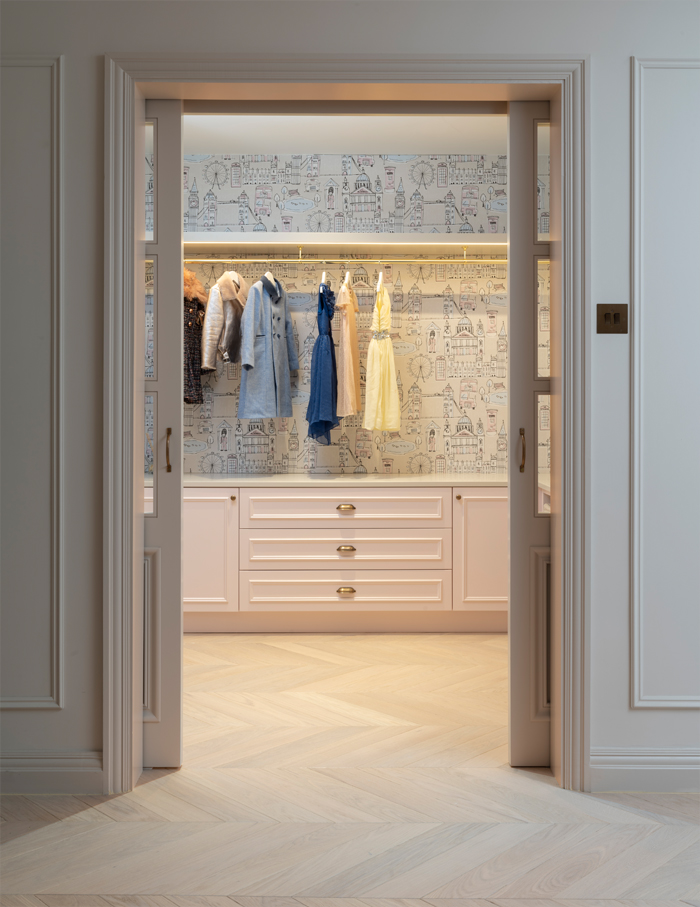 The graphics as well as the colour and material palette continues on from the children's bedroom to their wardrobe. It includes multiple storage units, a clothing rack and the doodle-style London wallpaper, and is accessed via a sliding door.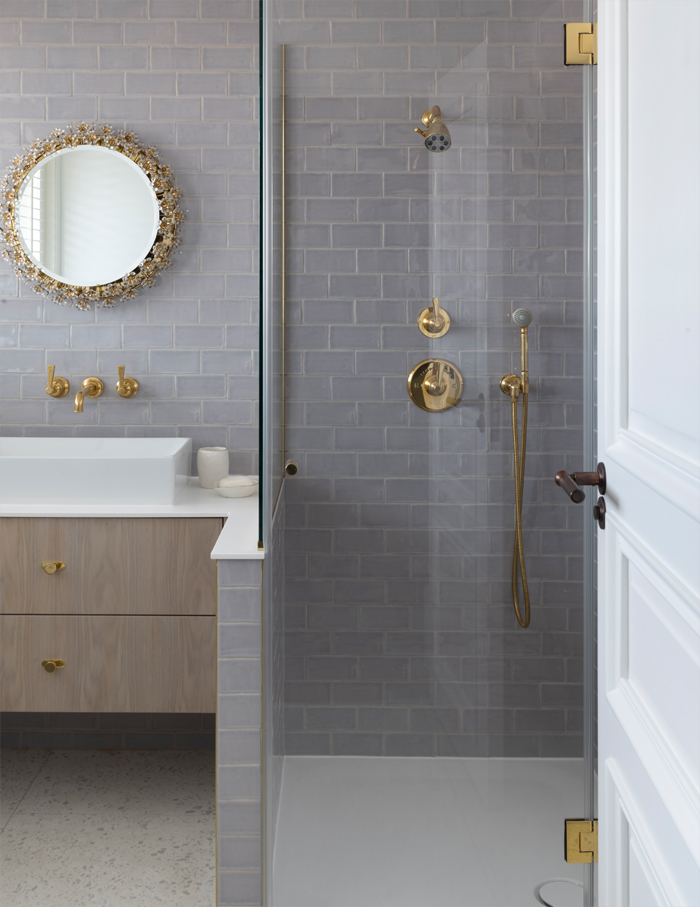 The terrazzo floored bathroom is fitted with brass accents, such as the Palwa 1970s mirror as well as the faucets. On the other hand, the bold bathroom digresses from the neutral theme of the apartment and joins the trendy fireplace with its matte black shade. A shell-patterned tile on the adjacent wall infuses a geometric design in the otherwise refined decor.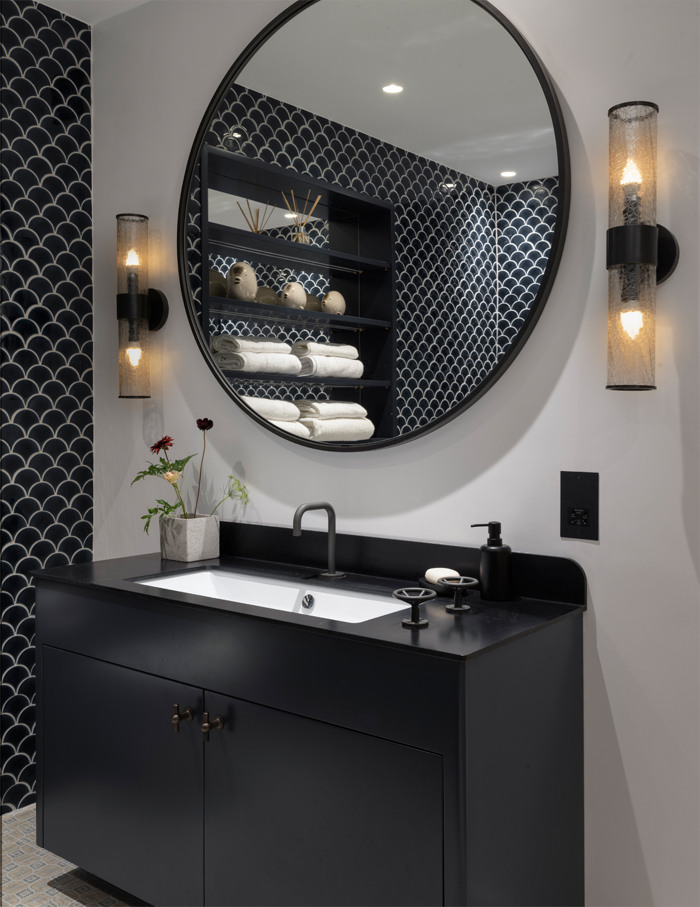 Like many Parisian homes, this London apartment also includes a chic terrace and cosy balcony to unwind and interact with the outdoors, making it that much more covetable!