Homes
This Mumbai Residence crafted by The Architecture Company is a visual fusion of functionality and minimalism
JAN 13, 2022
| By Subikshaa Stalin
Exemplifying modern elegance across an area of 1,400 sq ft, Apartment 2102 is a residence in the prime suburbs of Mumbai. Designed by The Architecture Company, a Mumbai-based architecture and interior design studio, and styled by Krei Studios, a minimalistic design narrative gives life to a joyful sojourn amidst the bustling city.
Home to a well-travelled professional couple who have their children visiting frequently from abroad, this three-bedroom home in the Godrej Platinum towers in Vikhroli underlines their needs for comfort, recreation and happy conversations.
An exceptional feature of the entrance vestibule is the sculpted wooden utility cabinet framing a picturesque view of the living room and master bedroom on either side. Bringing in warm sunshine, the living room window hosts a spectacular view of the achingly familiar Mumbai skyline.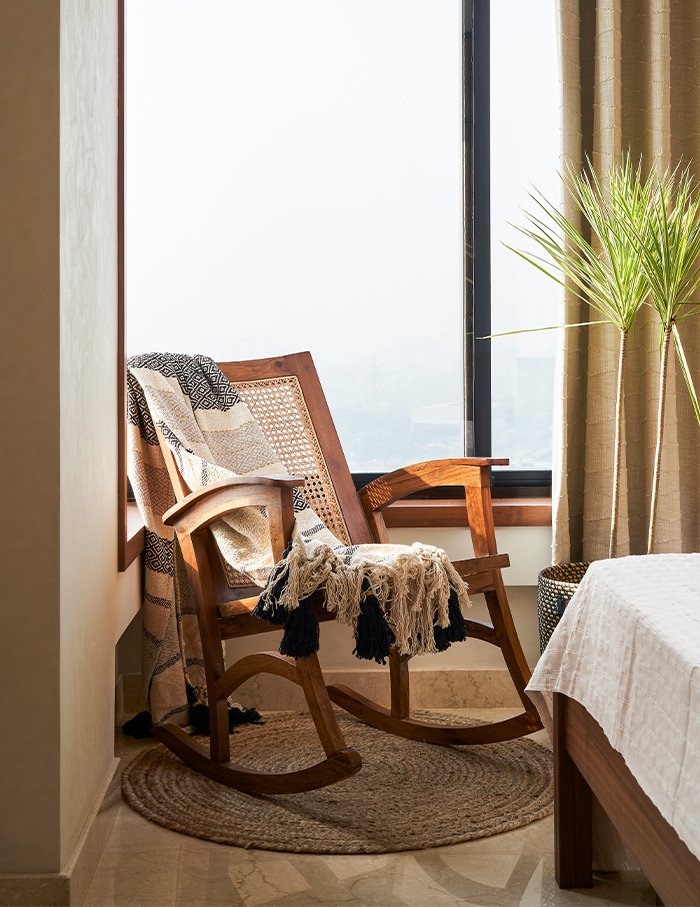 "Having travelled extensively, our clients shared a deep appreciation for minimalistic design. Profound conversations with the client and family led us to a design approach that emphasises cleanliness, light and airy spaces with comfort at the forefront," recalls Rohit Walimbe, Founding Partner, The Architecture Company, along with his architect partners Manasvi Bachhav and Kulsum Tambawala.  
Boasting a vibrant theme, yet staying true to the recurring theme of minimalism, the master bedroom is an inviting space of comfort. Reflecting an adroit design choice, the custom designed wardrobe masks the bathroom door.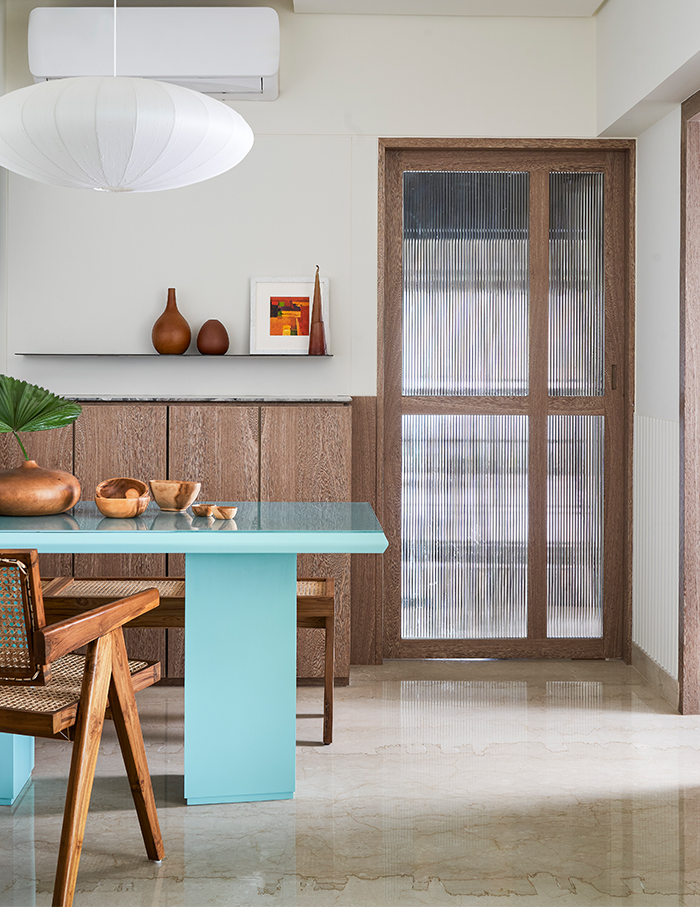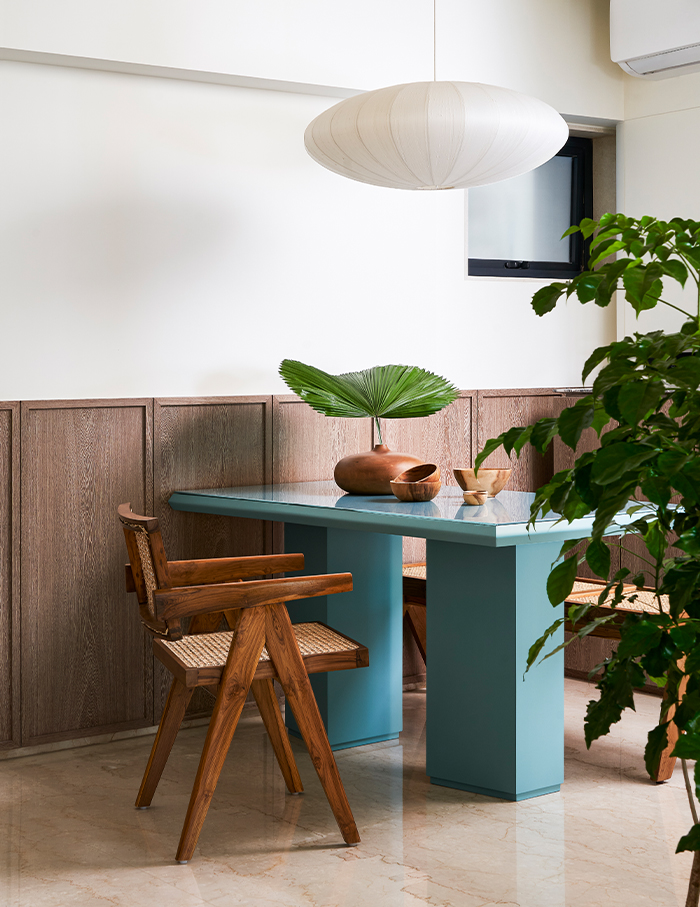 A generous hallway seamlessly connecting the dining area with the guest bedroom opens to a semi-circular lounge reminiscent of a tropical retreat. Offering a panoramic view of the mangrove wetlands, the space provides the perfect canvas for an earthy work environment.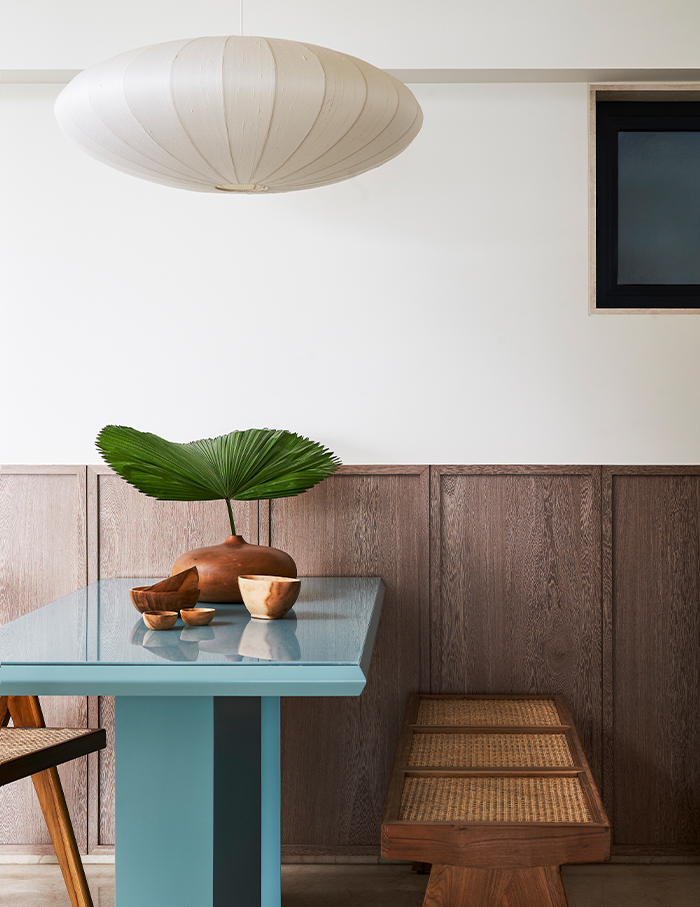 As one of The Architecture Company's favourite spaces to design, the semi-circular lounge proved to be particularly challenging, which was overcome by highly customised cupboards.
Besides the detailing language, the design uses varied materials in all of the rooms to create highly spirited spaces that stand out from one another. The aim to generate unique experiences in each of the rooms through bold yet refined design gestures is thoroughly executed with the careful contemplation of materials.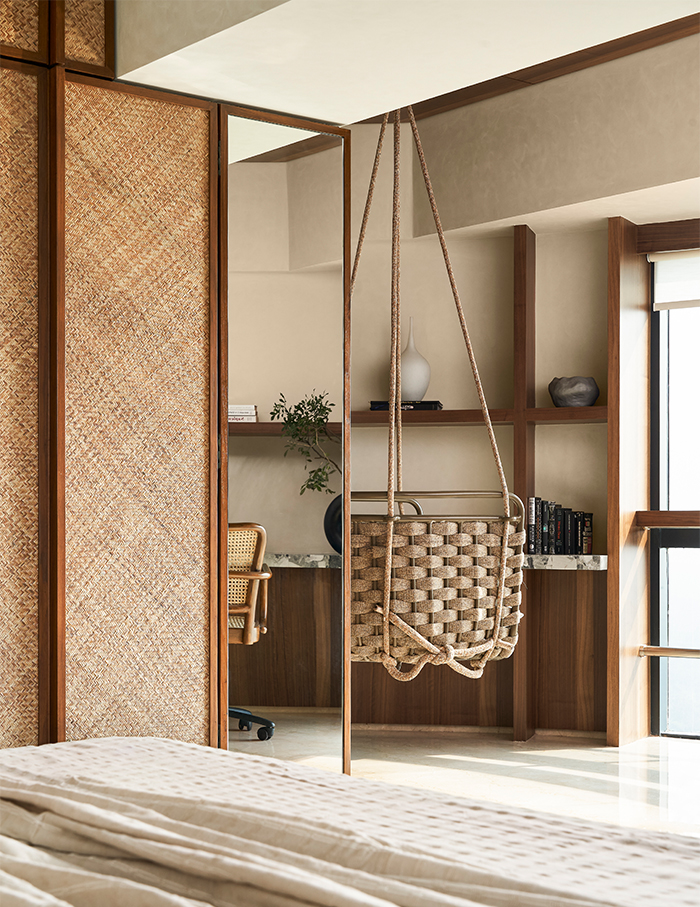 Embracing subtle elegance, the material palette selected for the house emphasises crisp, complex, yet restrained details at every turn. As one of the key materials, wood carefully ties together wall textures, stone finishes and articles featuring a pop-of colour.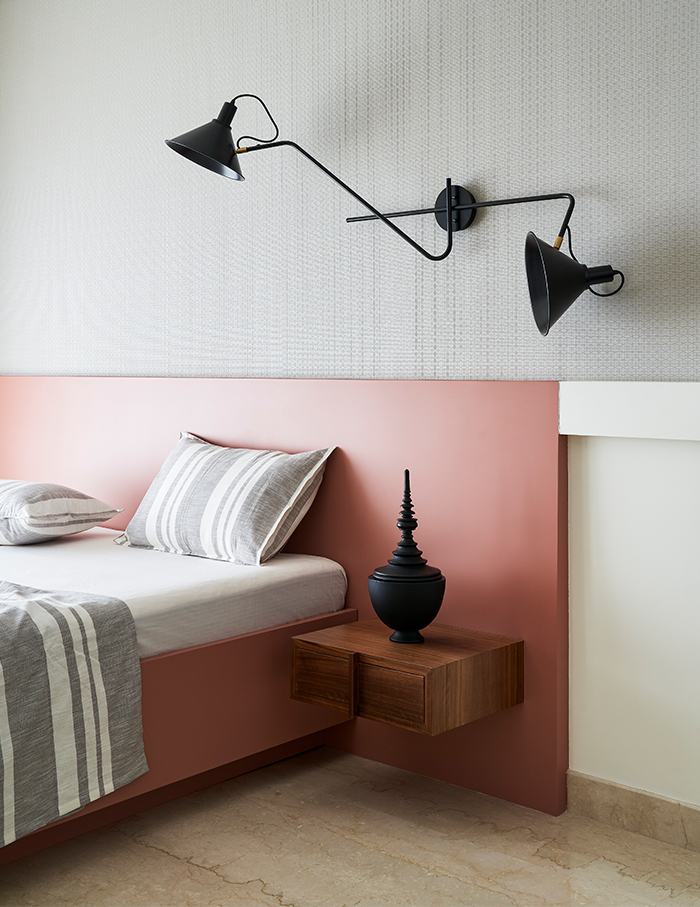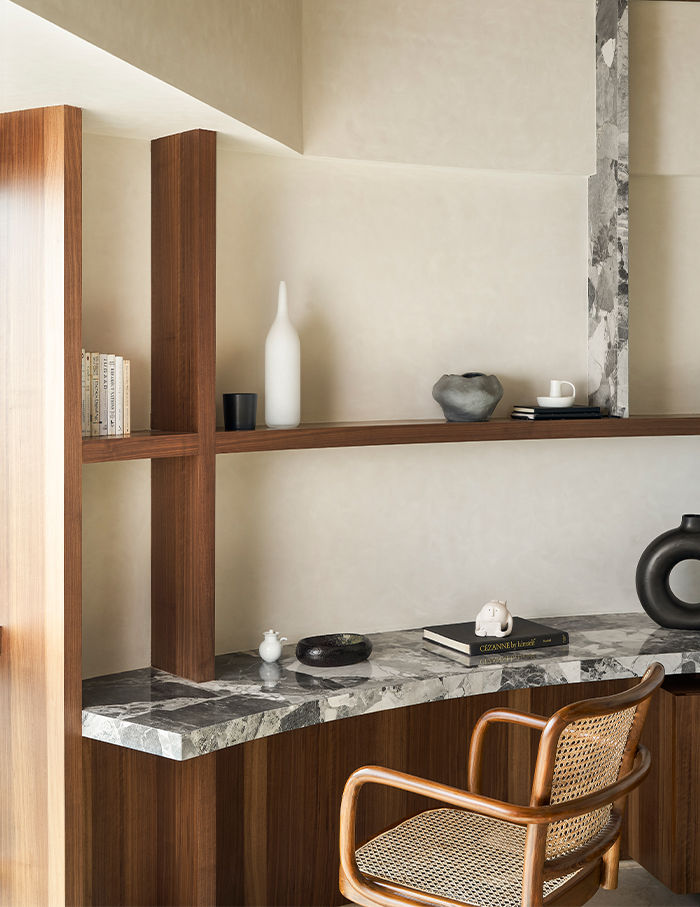 Each furniture piece is diligently curated from both local and international brands. At most times, custom-made furniture complement the space and cater to the individual needs for all members of the family.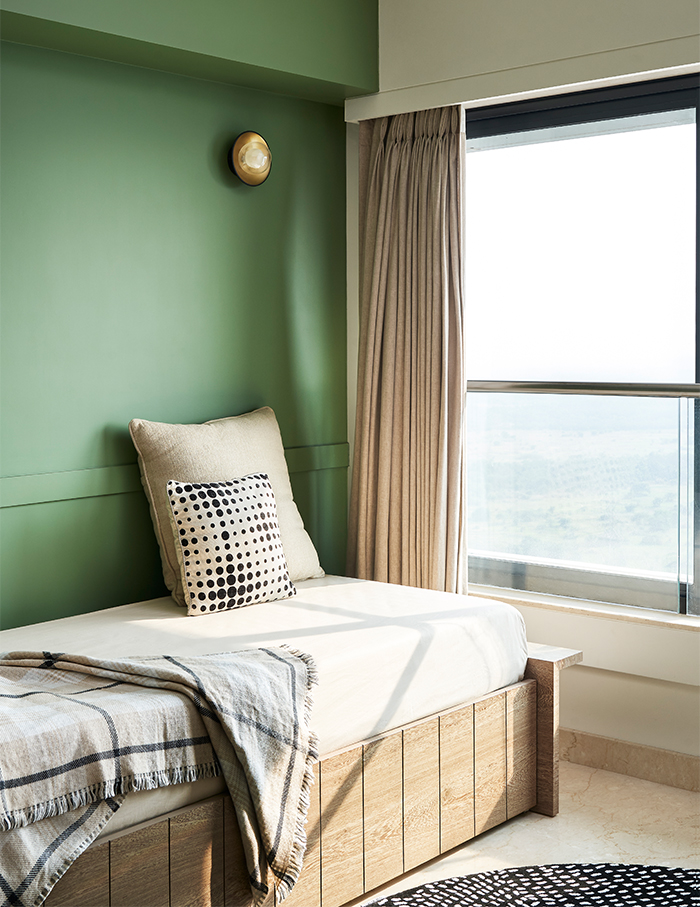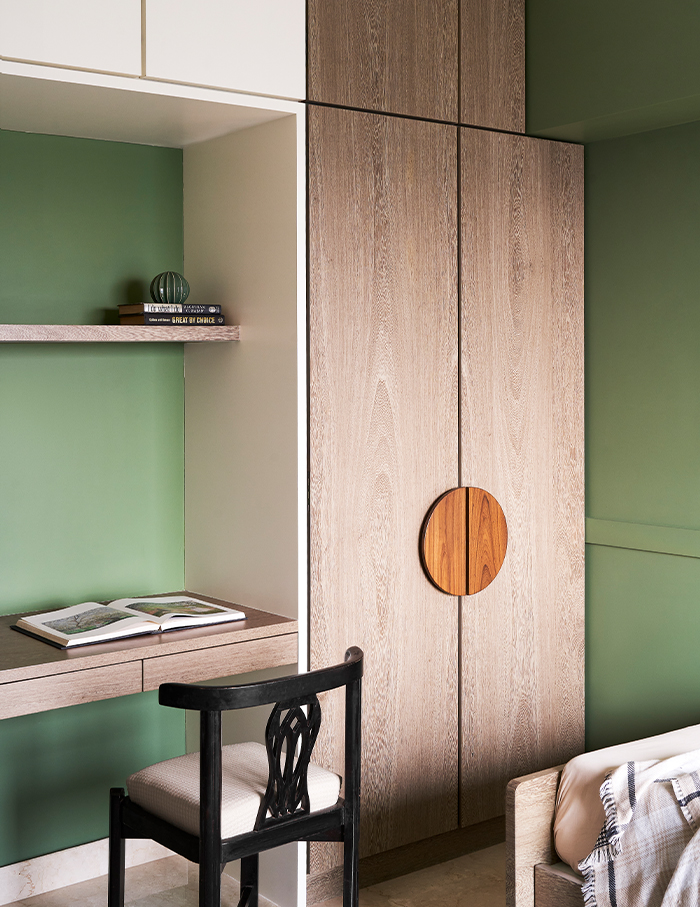 "As a design agency, TAC believes in delivering strategic design interventions that have the greatest impact on the quality of a space while maintaining clean, restrained and minimal detailing. Apartment 2102 demonstrates this approach in more ways than one" say Manasvi Bachhav and Kulsum Tambawala, co-founders of The Architecture Company.
If you are inspired by this sublime design aesthetic, don't forget to check out this Mumbai home by Minnie Bhatt that is a haven of wood, cane and colours