Homes
This Kolkata apartment by Ajay Arya of A Square Designs is nurtured in the arms of luxury
FEB 5, 2021
| By Saloni Rege
Watch your dream home come to life through the lens of this lavish apartment crafted by designer Ajay Arya of A Square Designs. This 8,000 sq ft Kolkata abode occupies an entire floor and is suffused with luxe minimalism.
The residence renders an unequivocal charm of modernity and balances fine materials and myriad textures into spatial proportions.
"Interior design is about creating a timeless environment that is attractive and meaningful, transcending the notion of simply incorporating what is trendy," shares Arya, the founder and interior designer of A Square Designs.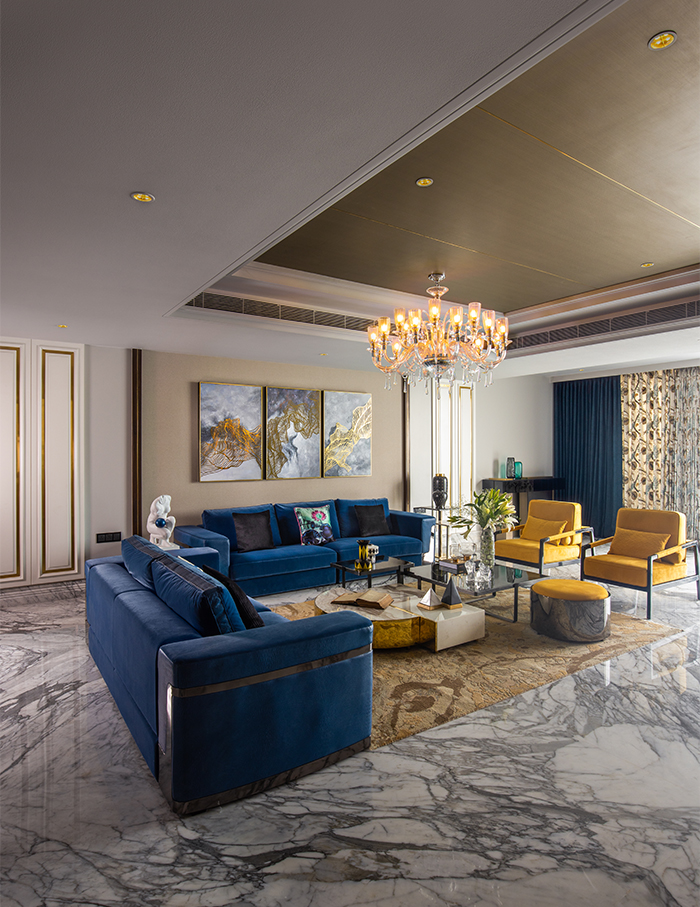 The foyer mingles with the capacious drawing room, predominantly ruled by statuario marble and dotted with chic furniture and decor pieces in shades of royal blue and illuminating yellow. The pristine walls with wainscotting pair perfectly with metal accents.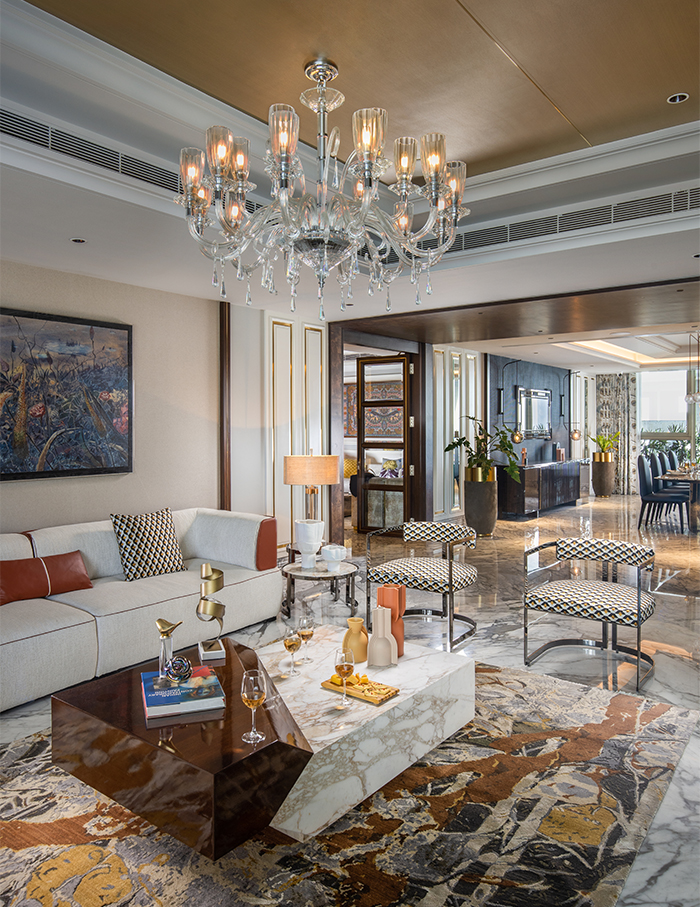 The drawing room is segregated into two formal seating areas, both eclectic in fashion and seamlessly linked with a marble floor. It also establishes a visual connect with the exemplary dining area, which is placed along a long balcony to overlook Kolkata's lush wetlands and bring daylight in.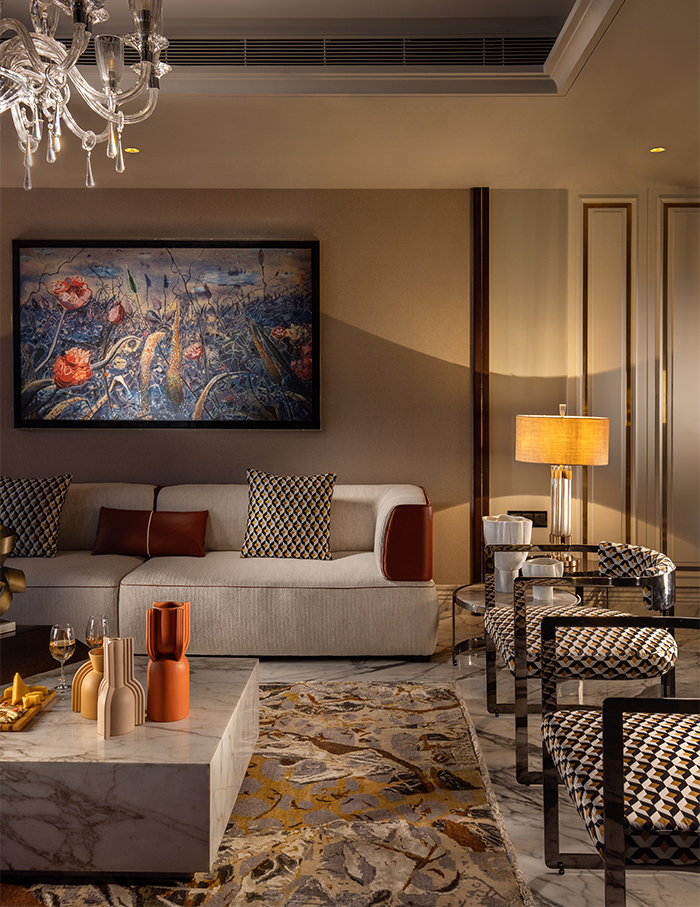 "We thoroughly enjoyed doing up the common spaces; they look really chic and very liveable. We feel this house looks stunning and is pleasant owing to the natural light that streams in uninterrupted," adds Arya.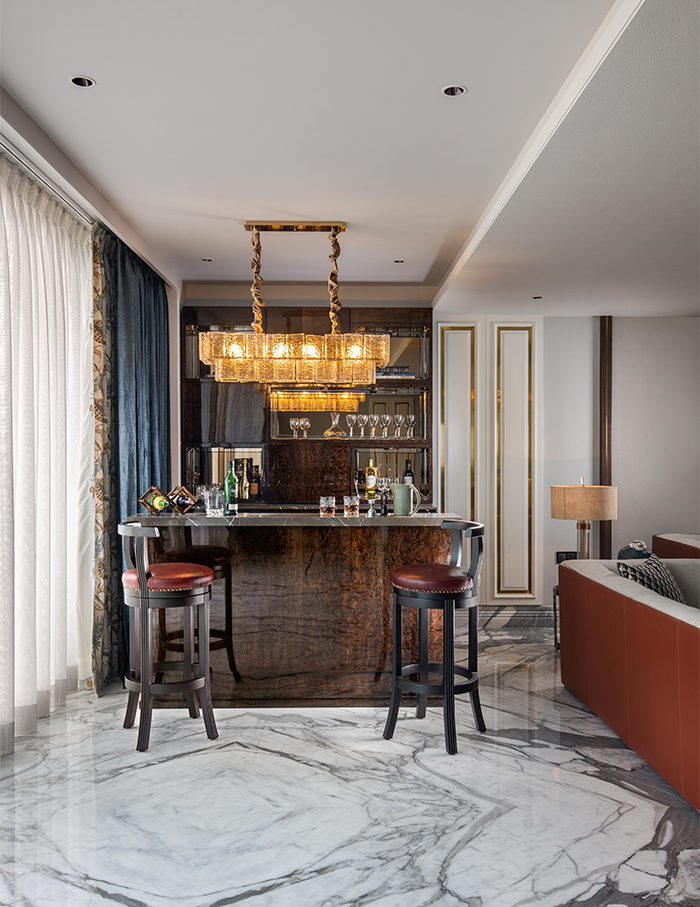 The living room also houses a trendy bar lounge, dressed in wooden hues of dark walnut. It is designed in a corner by the balcony, making it the perfect spot not just for sundowners but also round-the-clock soirees.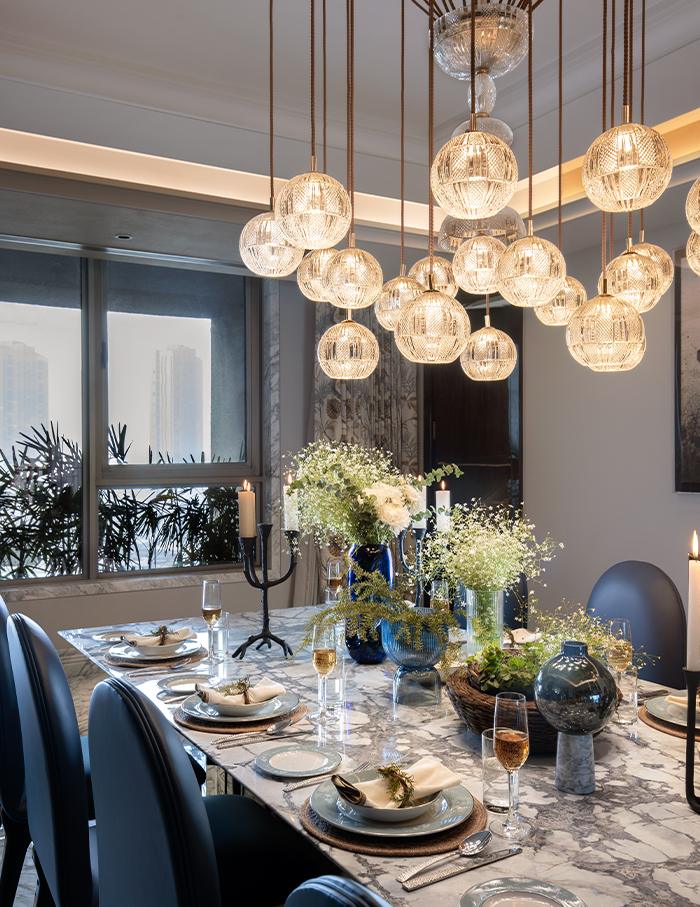 A 10-seater dining table welcomes us into a grand feast-like setting. The statuario marble tabletop matches the flooring and brings out the bold hues of fabric chairs, adding character to the decor platter.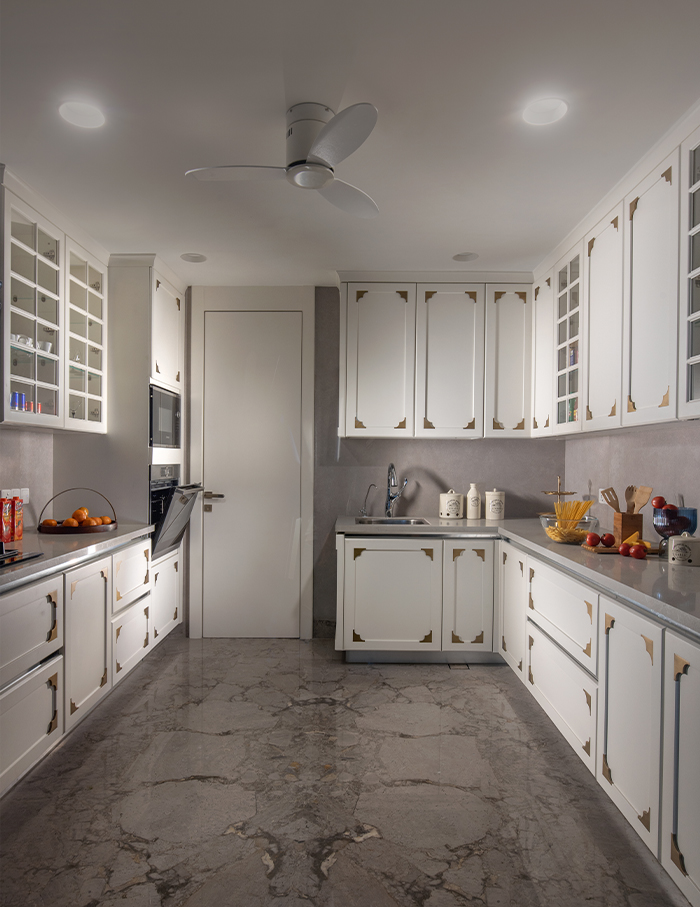 Adjacent to the dining area is a fully equipped kitchen. It is wrapped in greys and whites, embellished with gold corner accents, Sareen Colin marble and Alsorg cabinetry.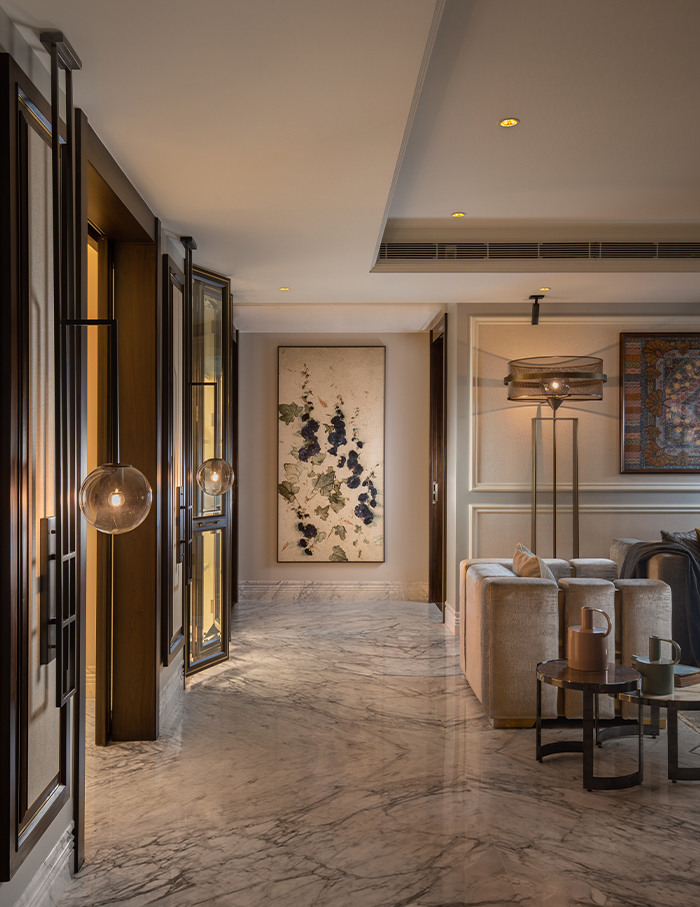 The drawing room provides access to the informal family lounge, which acts as an entertainment arena and is where the family gets together.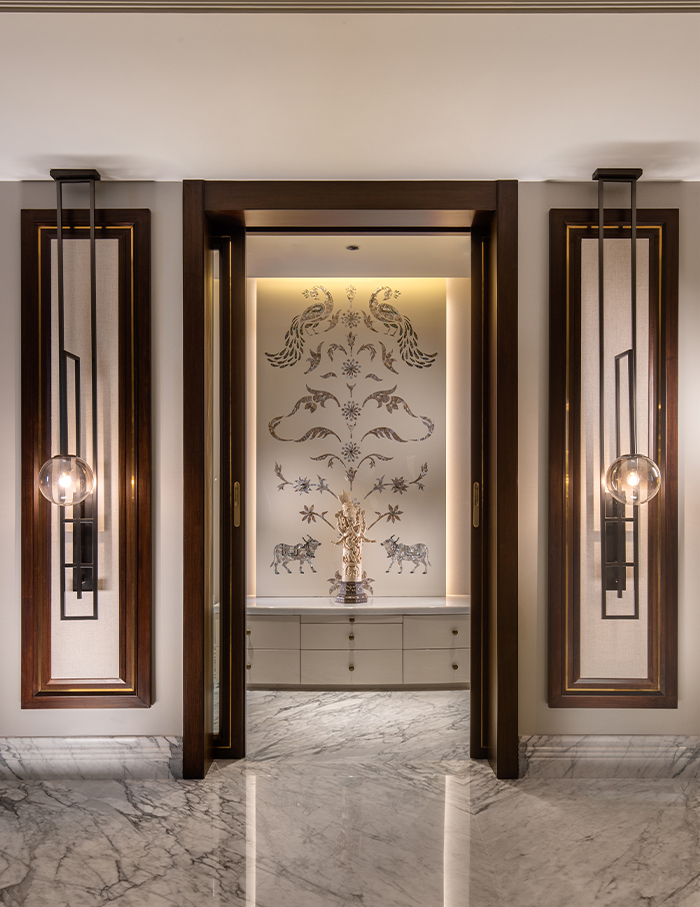 Several spaces can be accessed from the family lounge. One of them is the prayer room, a serene space with modish pendant lights on either side of the sliding door. Another is the marble-clad powder room that displays an interesting geometric pattern of inlay flooring and uses luxury sanitary fittings.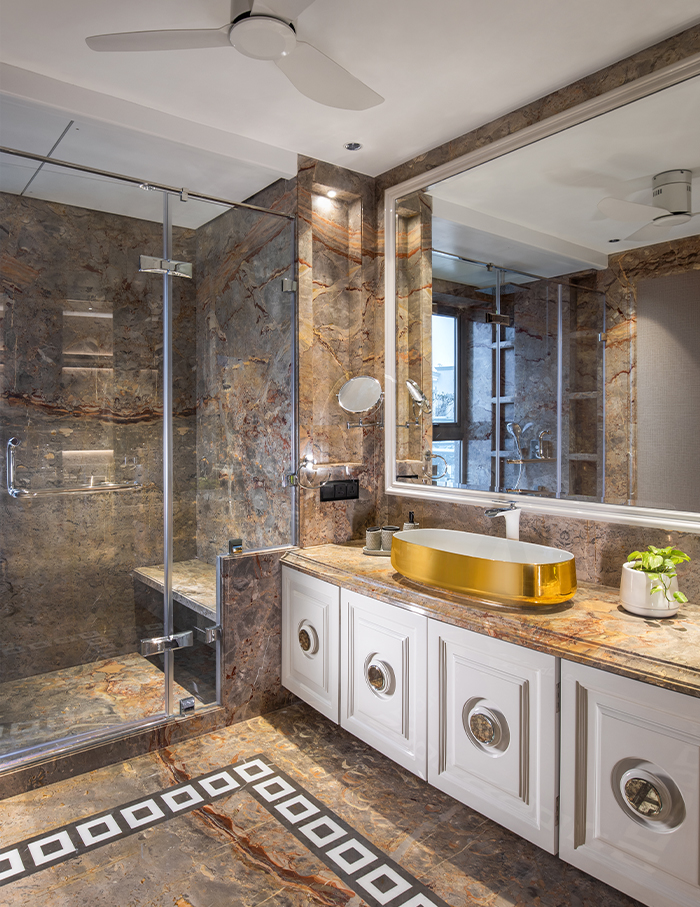 To the right of the family room are two "bachelor pads" that align with the theme of the house. Geometrical patterns and comfort remain the overriding themes of this space. One of the rooms here, in particular, uses bronze Armani marble and beige soft furnishings in velvet, linen and leather.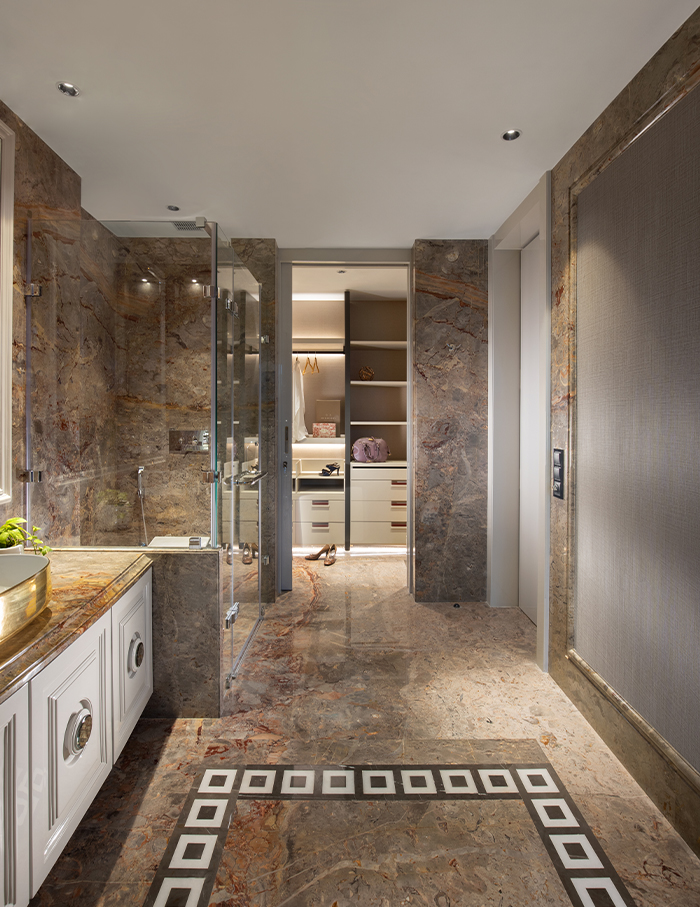 On the other side of the family room are the master and guest rooms, both draped in tranquility and solace. We love how the home includes mood-evolving, multifunctional areas.
Scroll below to see more images from this palatial Kolkata home by Ajay Arya of A Square Designs…