Homes
Timeless and transcendent: This Kerala home by De Earth Architects is a lesson in celebrating nature indoors
OCT 31, 2023
| By Aparna Kher
A house that lives and grows with you, where nature is omnipresent, and where you can weave the story of your life within its walls and eaves. Such is this haven by architects Vivek PP and Nishan M of De Earth Architects in the heaven-on-earth state,Kerala. Dubbed Swasthi, it celebrates the tropical glories of this lush land through its vernacular style, infused with modern elements in this abode.
Conceived as a symbiosis of utility and beauty, Swasthi in Kannur  is a 4,835  sq-ft ethnic residence reimagined for contemporary living. The house sits next to its ancestral home and takes form across multiple levels, owing to the site's natural contours. A basement parking leads you up a few steps to the entrance of the house. A rustic swing greets you, leading you into the central living space.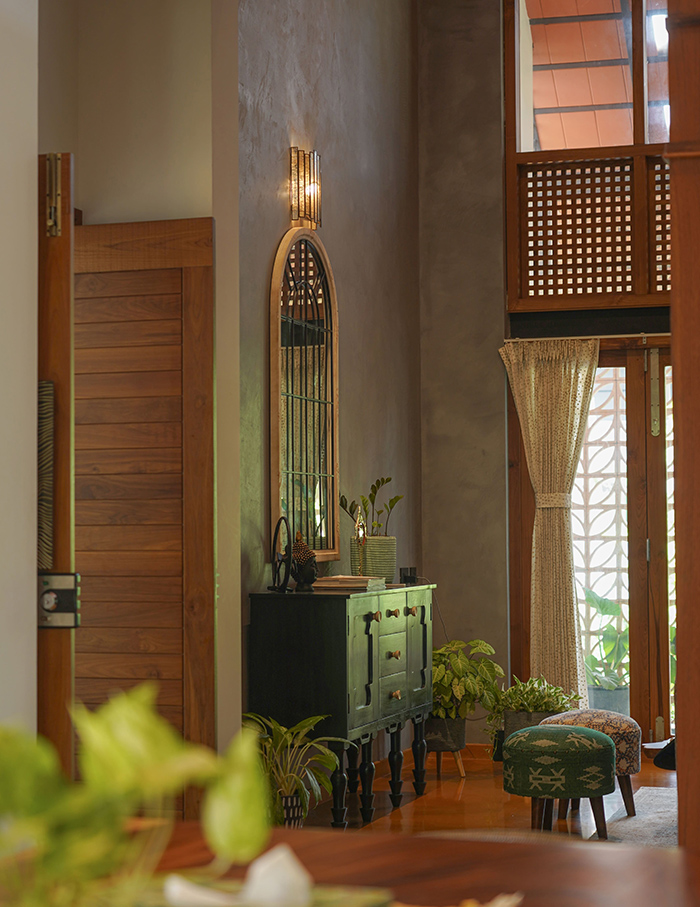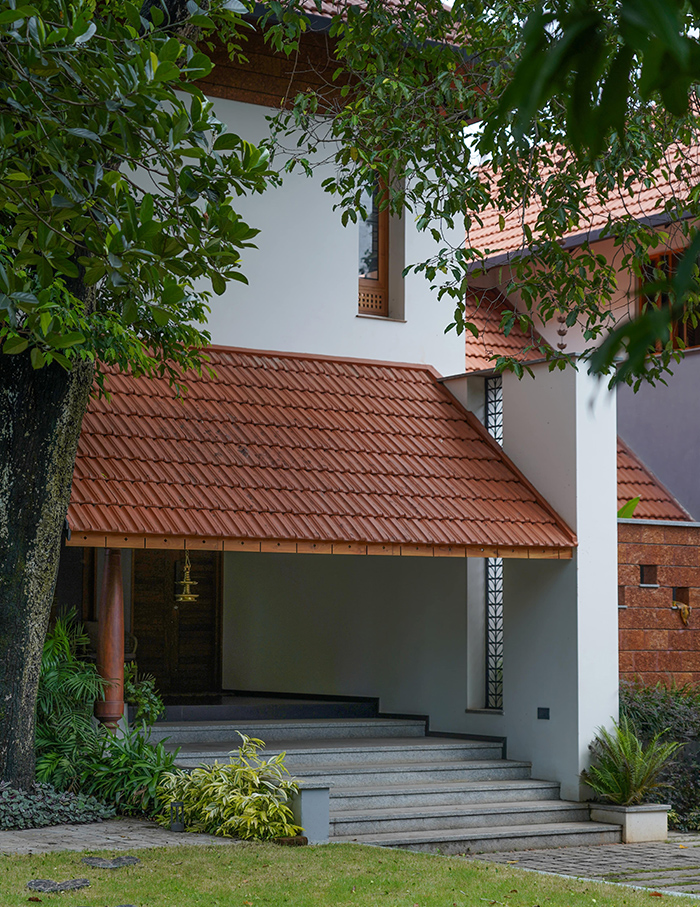 Conversation with the outdoors
This abode is designed with multiple interfaces with nature and has courtyards opening out in all four directions. Across the living room, a charming southern courtyard is enveloped by a jali. On the east, a lovely, cobblestoned court extends beyond the kitchen, creating an inviting breakfast nook at its interface. Marked by mosaic flooring, the western court is a sociable space with yellow-oxide-finished seating that wraps around the whole space. 
A vegetable garden sprouts up on the northern side of this home, adding to the interstitial spaces that lend this residence its character. The courtyards offer distinct experiences with the surrounding landscape, creating soothing visual melodies.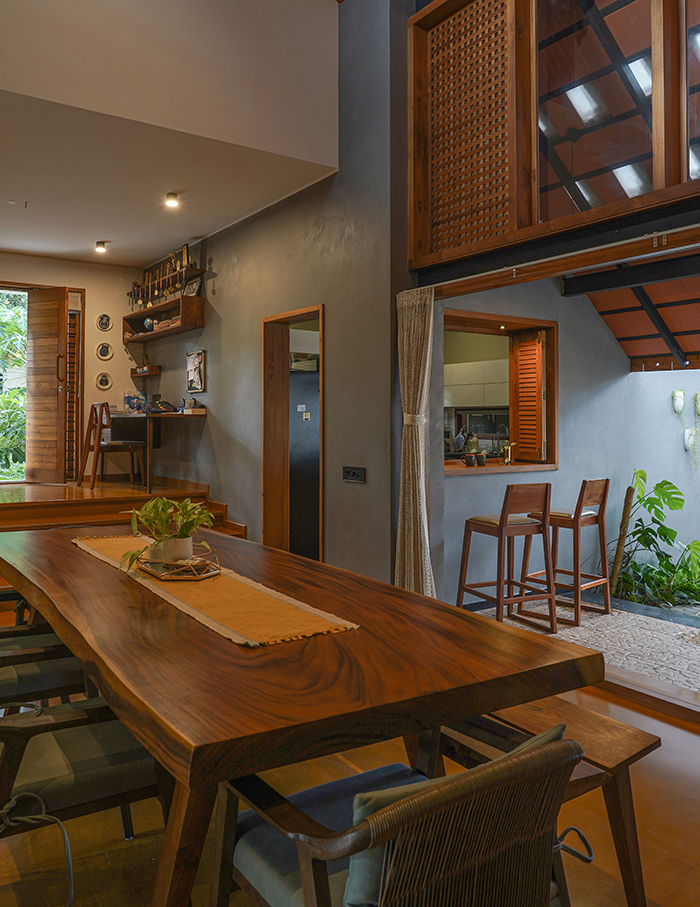 Material maze
Locally sourced materials and construction techniques married with a minimalistic design style introduce a sense of simplicity. The raw tactility of exposed concrete and laterite is juxtaposed with the soft glow of ethereal light and serenity in the interiors. Changing volumes add to the playfulness of the home. Nature weaves through the perimeter of the house and envelopes it with timeless beauty.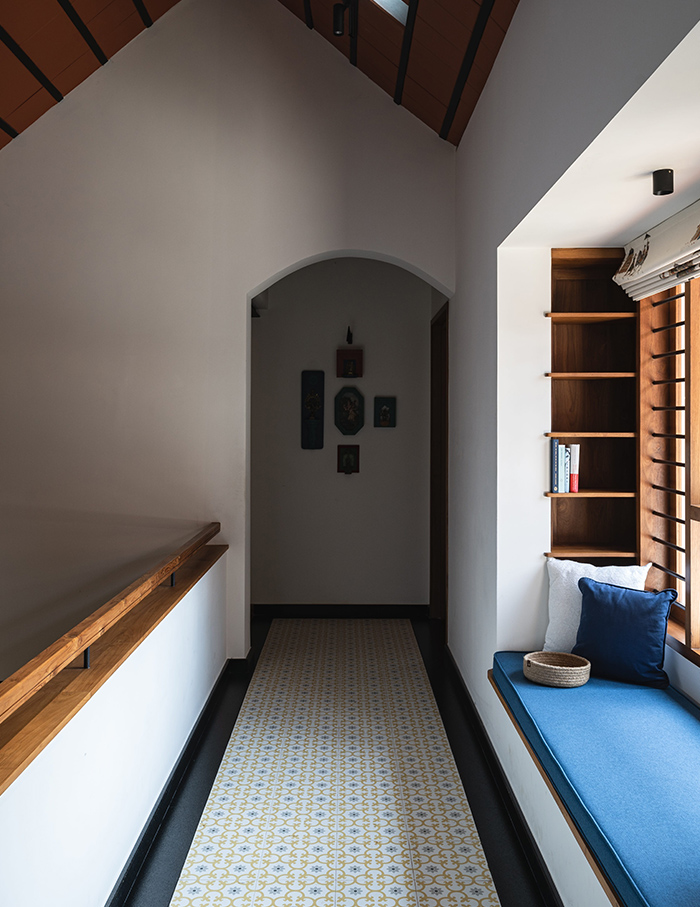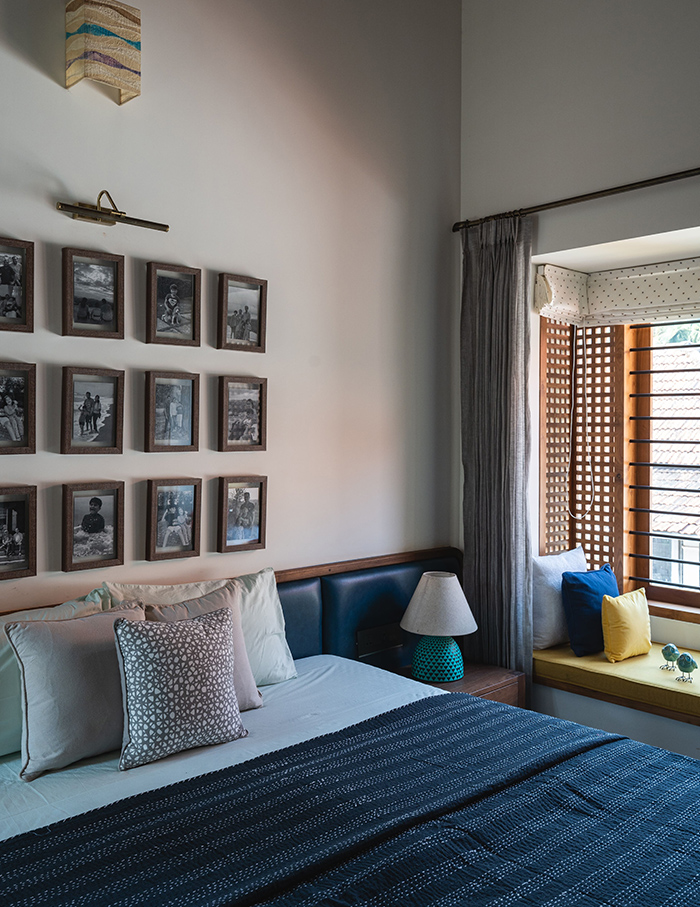 The common areas occupy the ground floor, while the private spaces are reserved for the first floor. High ceilings, generous windows and the light hue of Jaisalmer flooring invite the play of light into the living and dining areas as they flow seamlessly into each other. The sloping, clay-tiled roof extends into cantilevered eaves to respond to the monsoon's might. The thoughtful infusion of local heritage and tradition balances out the contemporary essence in this abode. 
Extended ceilings and skylights establish a smooth connectivity between the lower and upper floors. The bedrooms are designed with a quaint, minimal essence, prioritising simplicity and peace. Bay windows with screens look out into the courts below while pops of colours in the interiors put on a stunning show within. The son's room sports a bookshelf stairway that leads into a private attic. The primary bedroom reminisces the past through collections of monochrome photographs.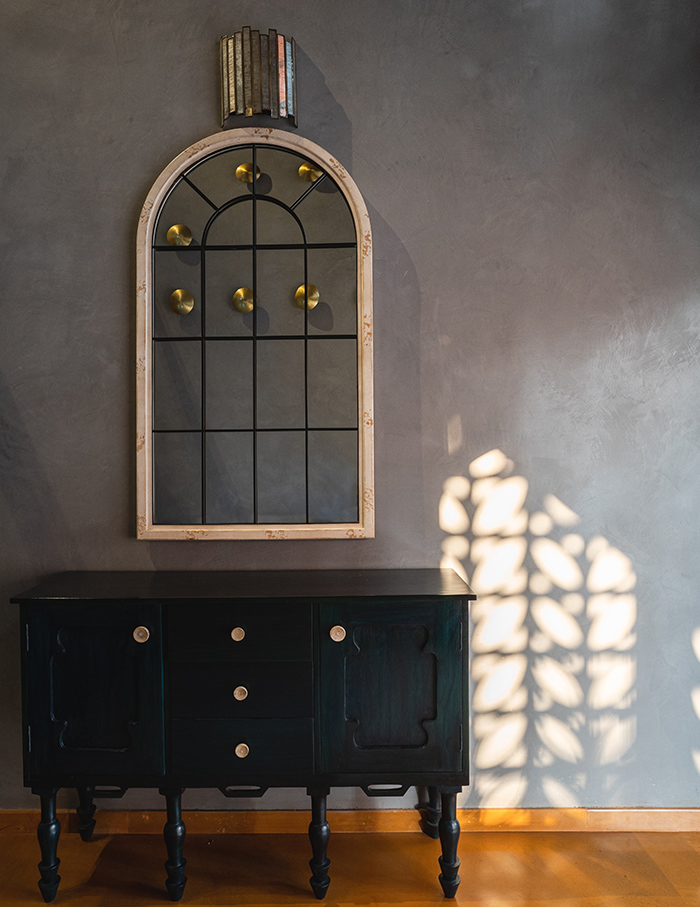 Pulsing with nature, Swasthi emanates a timeless transcendence through its marriage of vernacular and contemporary elements.
You may also like: In awe of greens: In Kerala, LIJO.RENY.architects designs a home that enjoys rains from every angle