Homes
In awe of greens: In Kerala, LIJO.RENY.architects designs a home that enjoys rains from every angle
JUN 21, 2023
| By Alexa De Souza
One of the things that would attract many to this home is the living simplicity it carries. The ability to reconnect with nature and truly engage with the natural world around us. That is exactly what the homeowners here in Chavakkad, Kerala desired, to enjoy the rain from every room. And Lijo Reny the principal architect of of his eponymous firm, ensured to bring that quality beautifully in a unique and vibrant "Colour Burst House".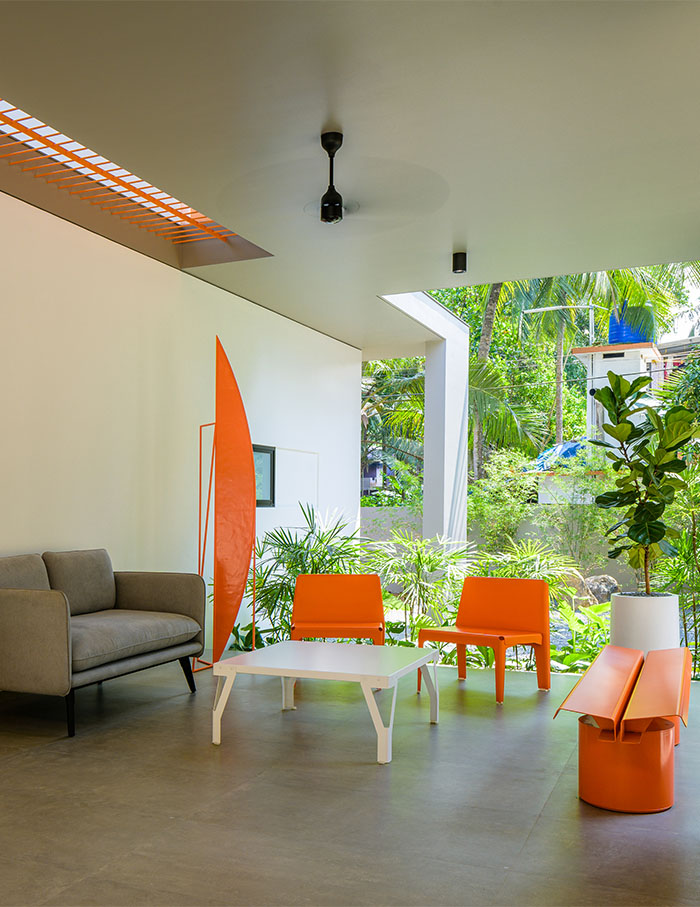 The architectural concept revolves around creating a seamless blend of indoor and outdoor spaces, allowing the occupants to experience the changing seasons comfortably.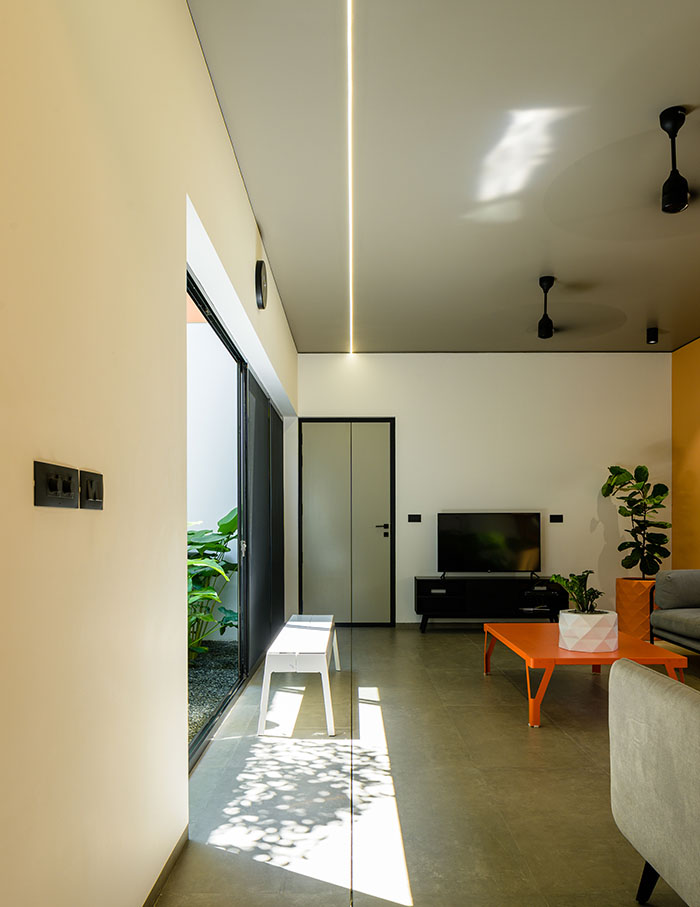 The house features a rectanguloid form that is softened at both ends by walls and frames extending into the landscape. The entrance to the house welcomes visitors with a skylit landscape and a pavilion-like sit-out, which serves as an outdoor living area.

This area sets the tone for the blurring of indoor and outdoor spaces that is prevalent throughout.
Positioned perpendicular to the road, the house takes advantage of the site's length and the prevailing wind direction. It is divided into three bays of horizontal development.

The primary bay envelopes the car porch, sit-out, living area, powder room, kitchen, and work area. The secondary bay houses the bedrooms and their attached toilets, with a hidden courtyard accessible from all the bedrooms. The dining room sits in the middle bay, with an indoor patio above it serving as the family room. These two bays are connected by two large double-height courtyards that create a microclimate within the house, helping to keep it cool during hot months.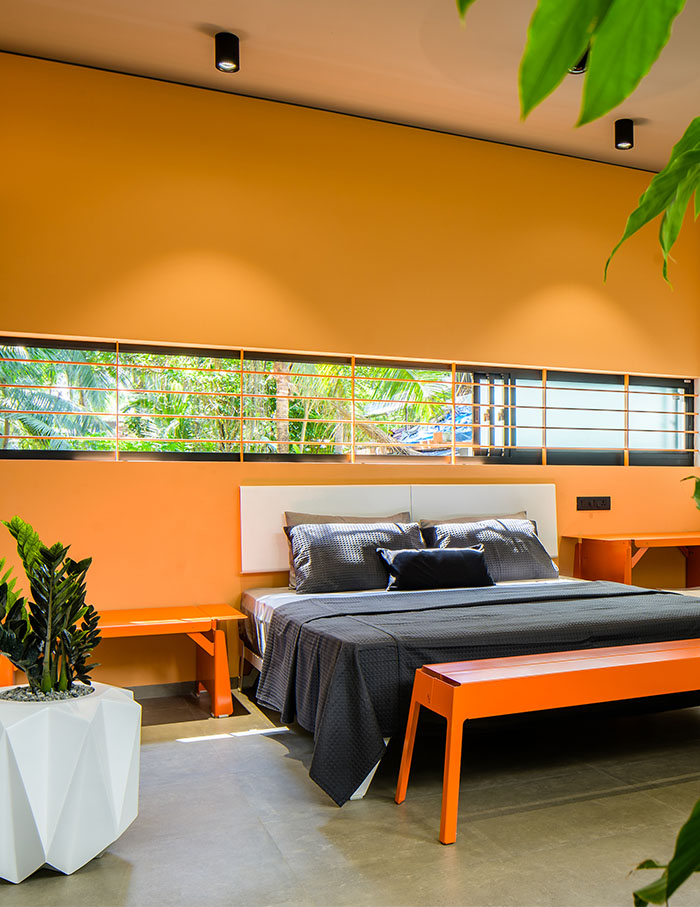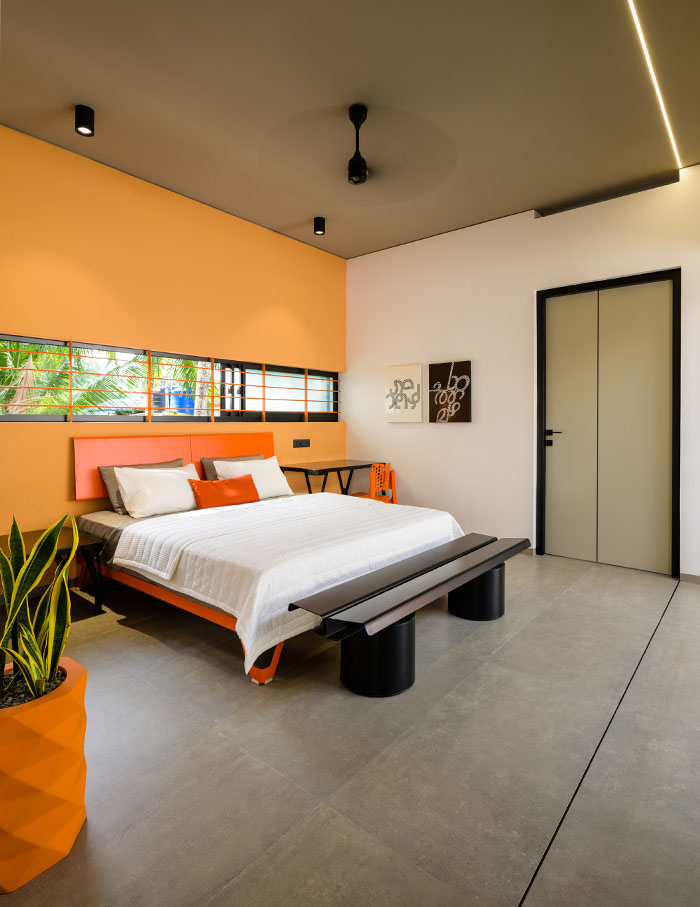 The internal spaces flow seamlessly into each other, promoting an open and accessible environment, even for wheelchair-bound residents. The private bay, located between the living area and the first bedroom, is adorned with lush tropical vegetation to provide visual separation.

The courtyard connecting the kitchen, dining room, study, and second bedroom has less vegetation, encouraging movement and serving as an alfresco dining or relaxation space.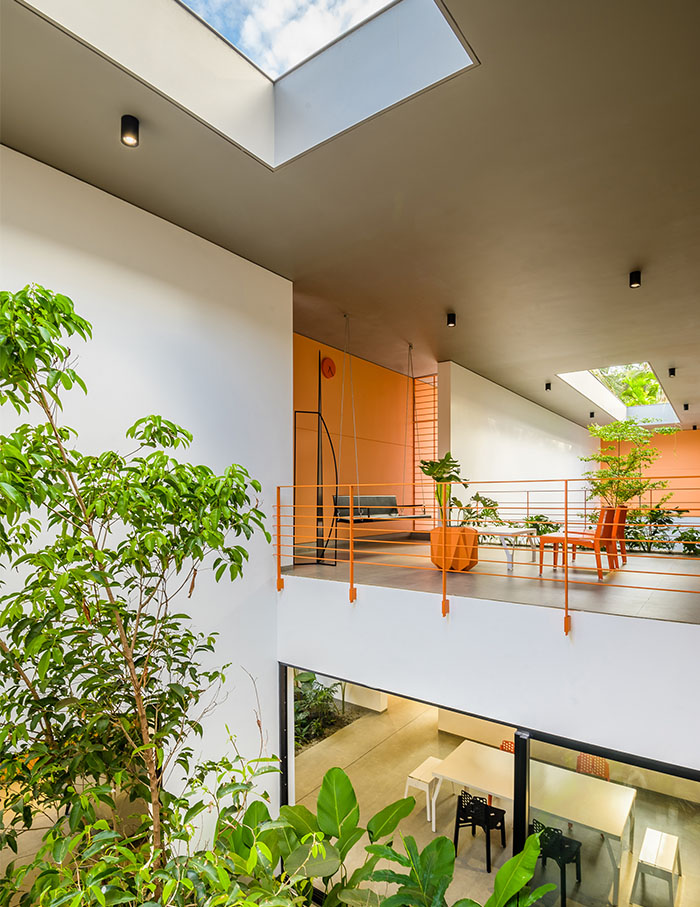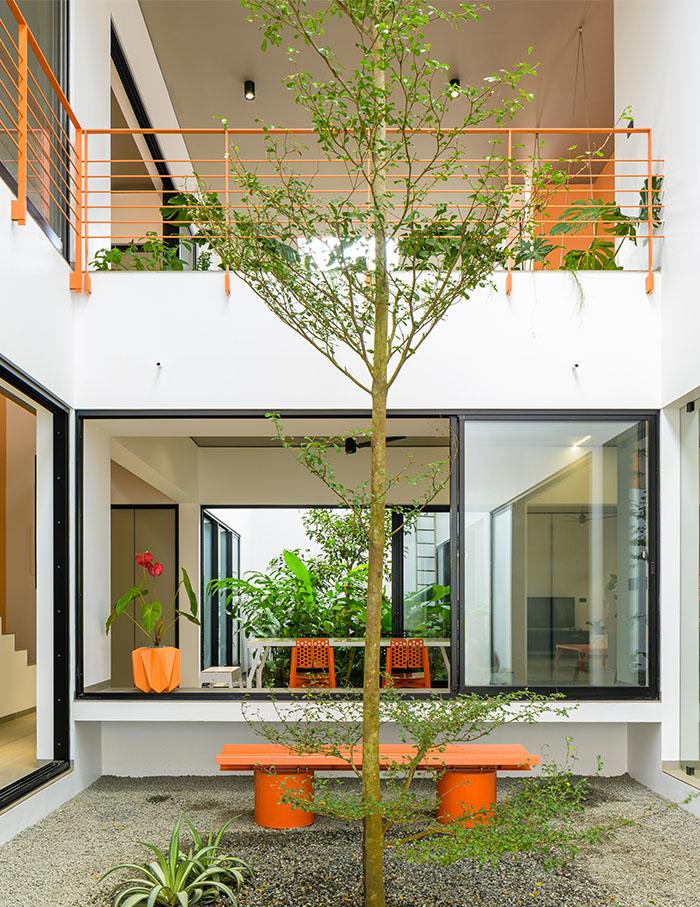 Overall, the Color Burst House is a striking and imaginative home that combines the joy of nature, vibrant colours, and thoughtful design to create a harmonious living space where the clients can fully enjoy the rain and the changing seasons.
You may also like: A gallery of statement furniture and sensuous shades, this Kerala home by Humming Tree iterates a chic palette