Homes
This Gurugram home by MADS Creations is seasoned with seamless materials and colour play
JUN 24, 2021
| By Jayasmita Ray
An impeccably exuberant 2800 sq ft four-bedroom apartment in Gurugram by Meenu Agarwal of MADS Creations honours its serene environment with colour, artworks and accent pieces that exudes its homeowner's personality.
We are greeted into the foyer area with a neutral colour palette, creating an ambience of calmness and harmony. An expansive, linear space, branched into three specific areas of living and dining space, highlights the home's central area.
Raised on one end, the dining area defined by gold-finished metal screens is adorned in plush upholstery, creating a well-balanced palette. "Green is another influential colour brought in by the plants placed in the various corners of the home," shares the designer.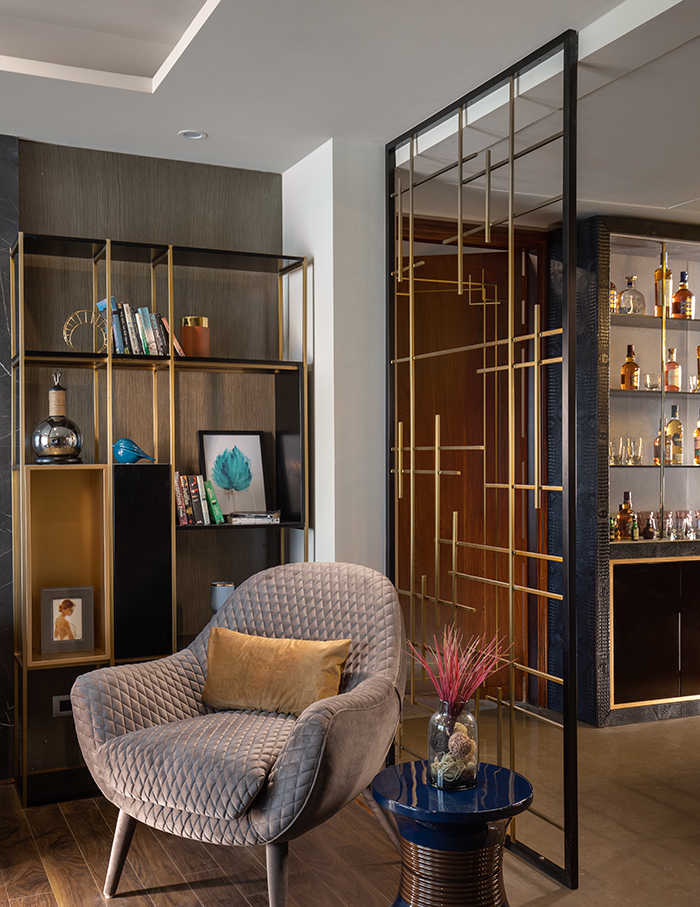 A true blend of modern luxury and a few traditional elements, the home with an open concept allows the user to view the entire space in one go, yet creating enough privacy for each area.
Each space in the home reflects individual personality themed with cohesive décor. "The furniture in the specific area is what allows us to pick different décor themes. We have experimented with accessories, their colours, and the artworks picked for the varied walls," says Agarwal.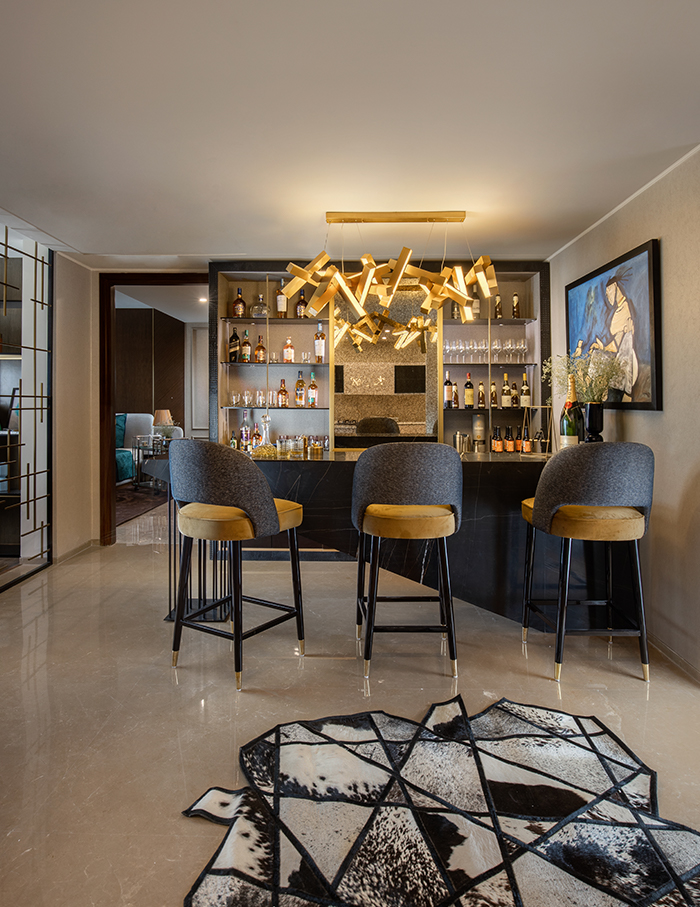 A custom kitchen creates a sleek and clean look as a result of the neutral colour palette. An accent piece in itself, the bar is the most loved space of the home. Adjoining the bar is the family lounge, the most comfortable and inviting space of the home, separated from the bar by a metal partition with intricate detailing.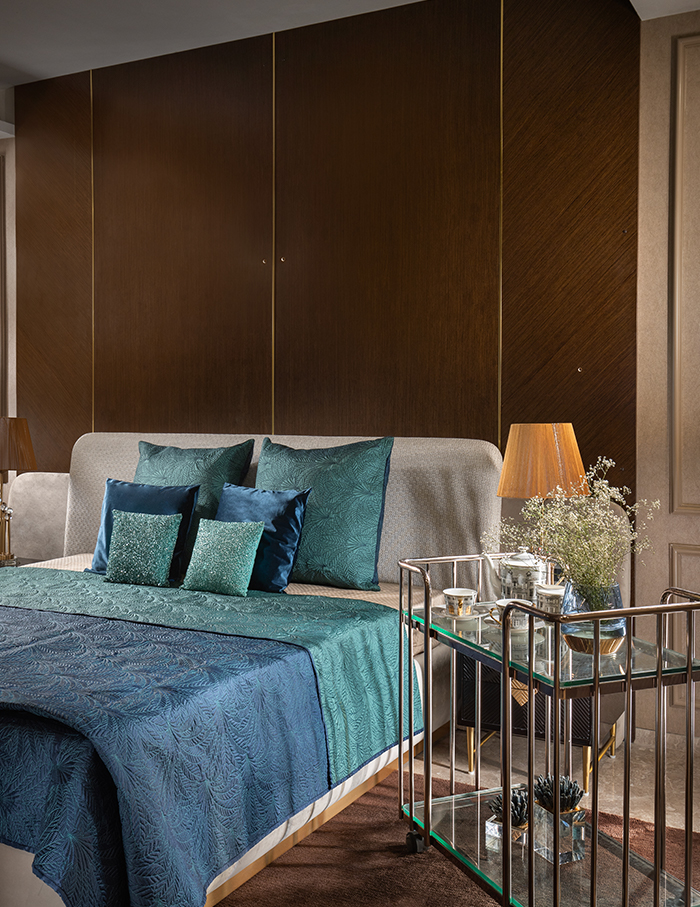 Located next to the lounge with a connection to the balcony, is the primary bedroom with pops of colours and experimentation of texture and materials. Artworks bring in bright shades of orange and blue complementing the other elements. The bigger bedroom has a connected wardrobe area and dresser following the neutral palette.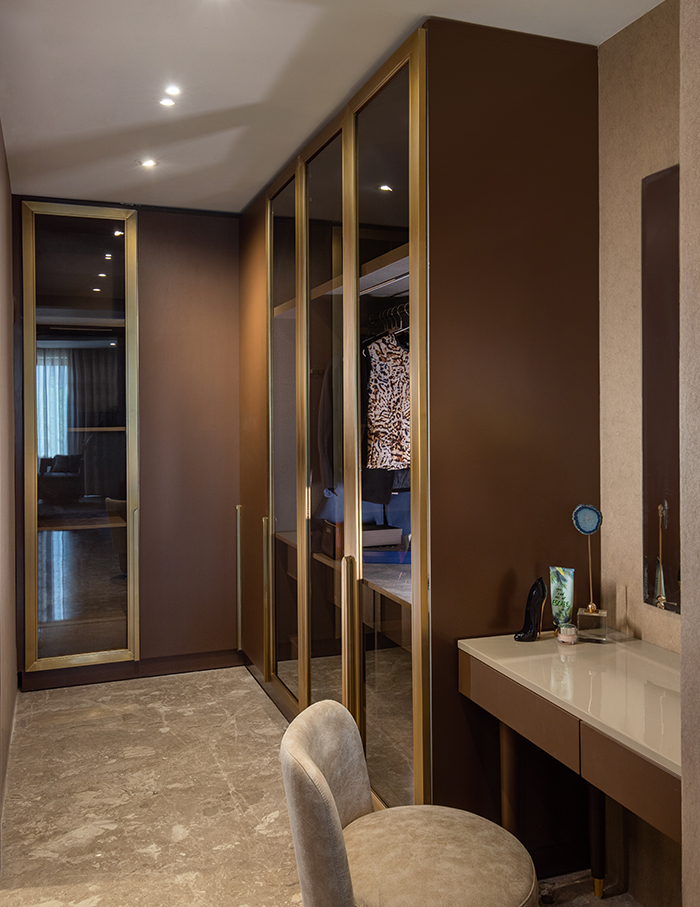 Plants in every corner of this home add freshness and natural energy to the interiors, as well as improve the visual impact, and quality of the air within the home. Curated pieces from wall lights to furniture pieces with sensitivity to the overall theme adorns the unhindered home.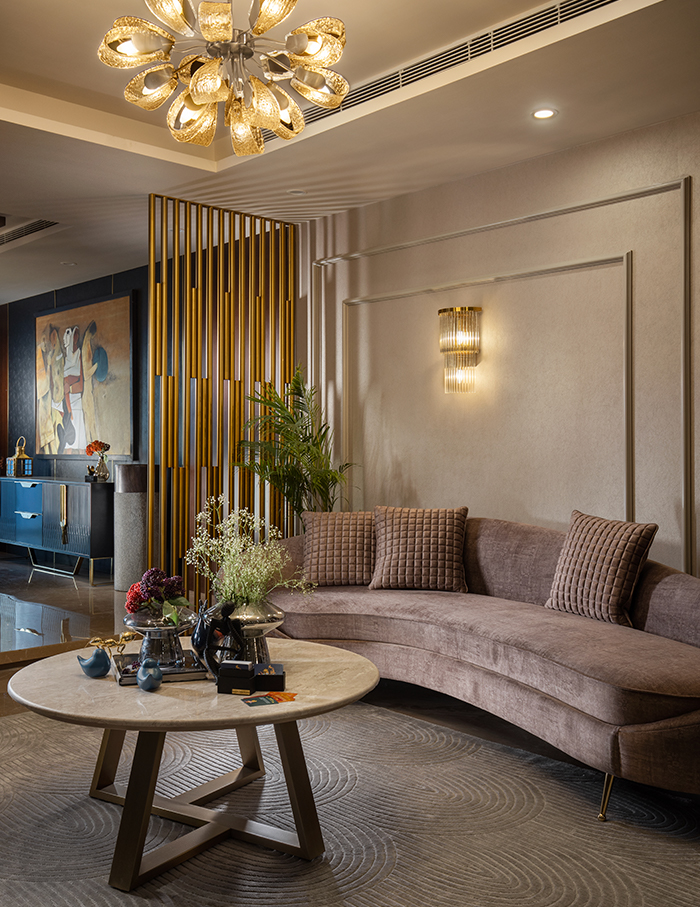 "Most enjoyable part of the project was its planning because we had a bare shell in front of us with a lot to offer. Modern luxury is our design style and in a way most of our design philosophy. Our expertise is in playing with materials and colours which is reflected in every corner of this home," concludes Meenu Agarwal.
Scroll through for more images from the home…