Homes
Marbella Villa, a project by Meenu Agarwal of MADS Creations, is drafted with the essence of urban-luxe themes
JAN 30, 2021
| By Meghna Meduri
Marbella Villa in Gurugram is the latest addition to MADS Creations' revered portfolio. Each section, including the three bedrooms, suits the personal preferences of the homeowner (a fashion designer who shall remain nameless) as well as reveals designer Meenu Agarwal's signature style.

The 3,200 sq ft home is split into three levels. On the ground floor are the living and dining area as well as a guest bedroom. The level exclusively accommodates personal spaces such as a family lounge, master bedroom and the son's room. A bar, lounge and home theatre in dark hues are planned in the basement.
"We take a layered approach to create rich and luxurious environments, filled with unique and exaggerated design elements," shares Agarwal.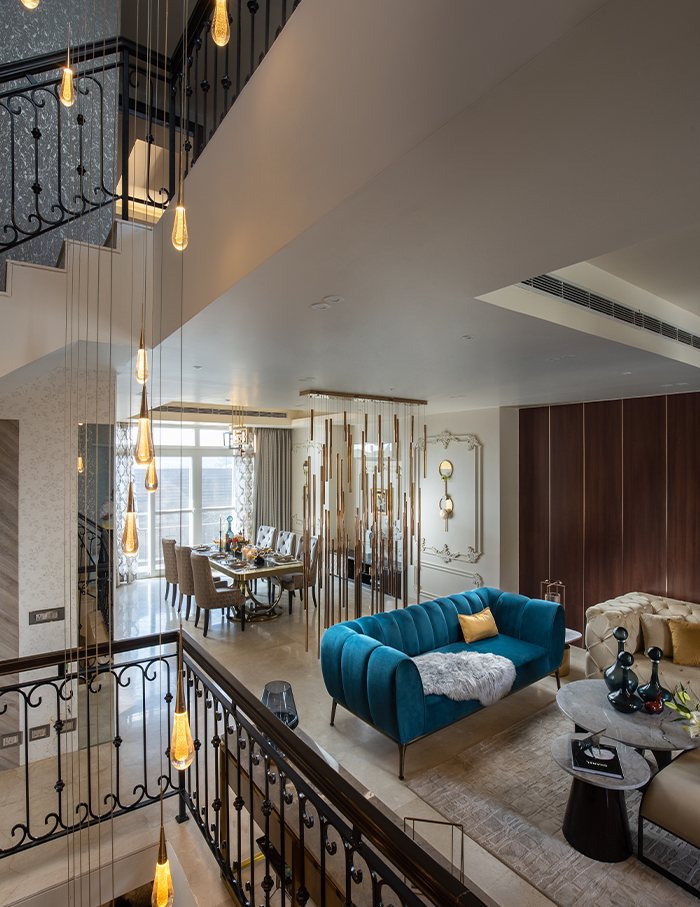 Exuding opulence and all things luxe, this home perfectly embodies the term "extravagant". Every floor is imbued in a different theme along the lines of modern luxury style but the space finds common ground in the rich details, lavish furnishings and unusual design elements.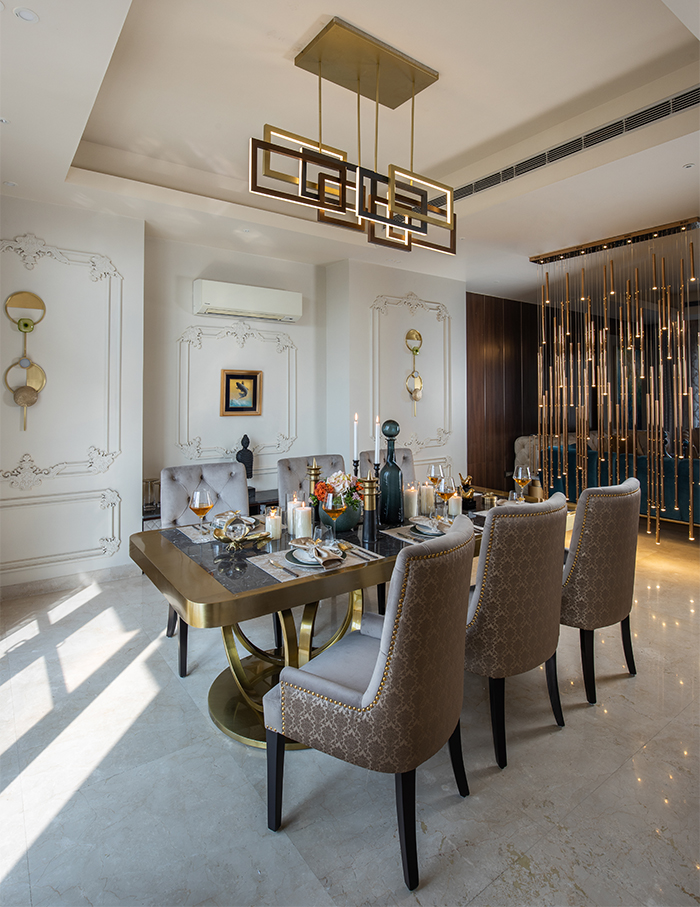 Let's start from the lowest level—the basement, which has a modern theme. We are particularly intrigued by the intricate and theatrical bar and lounge. The bar is mounted on a raised platform with a stone top that's finished in laminate. This space is paired with a metal inlaid marble flooring and modish bar stools.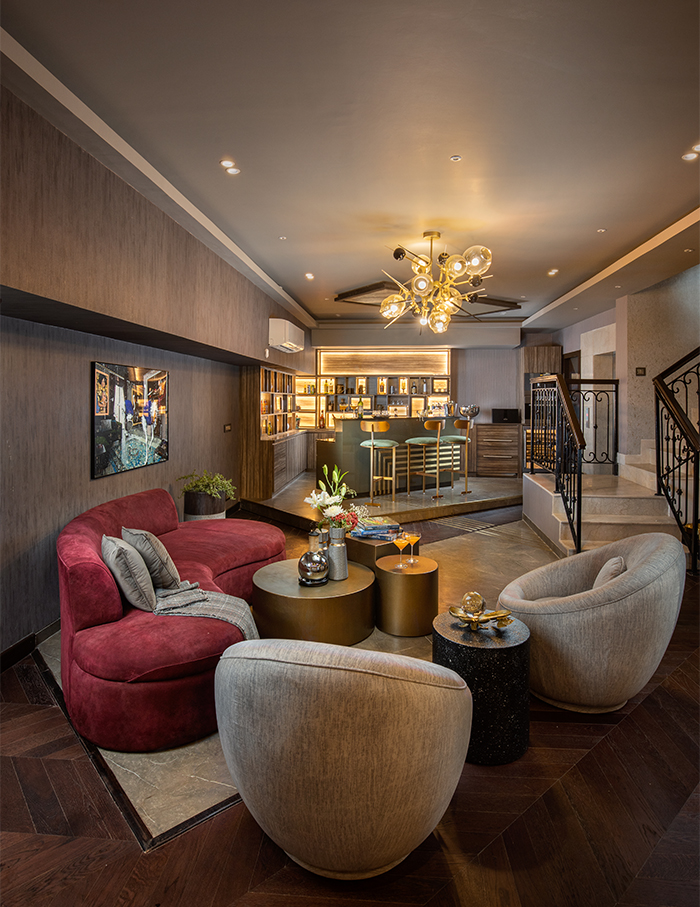 On the ground level is the living room. Here, we see a number of wall treatments, each exquisitely planned. In the seating area, multiple laminate panels are placed on the vertical surfaces, while the demarcated dining section features intricate wooden moulding.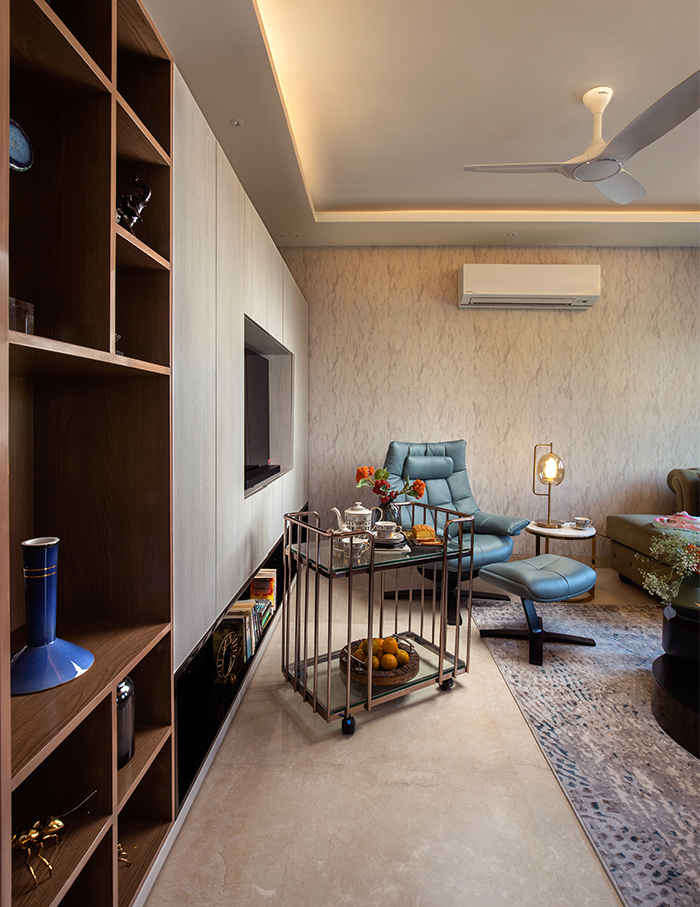 The family lounge on the floor above, on the other hand, is developed into an open and airy space, making way for relaxation. Nearby is the master bedroom. It is furnished with simple wood moulding on the walls, wooden flooring and illuminated by the carefully curated colours.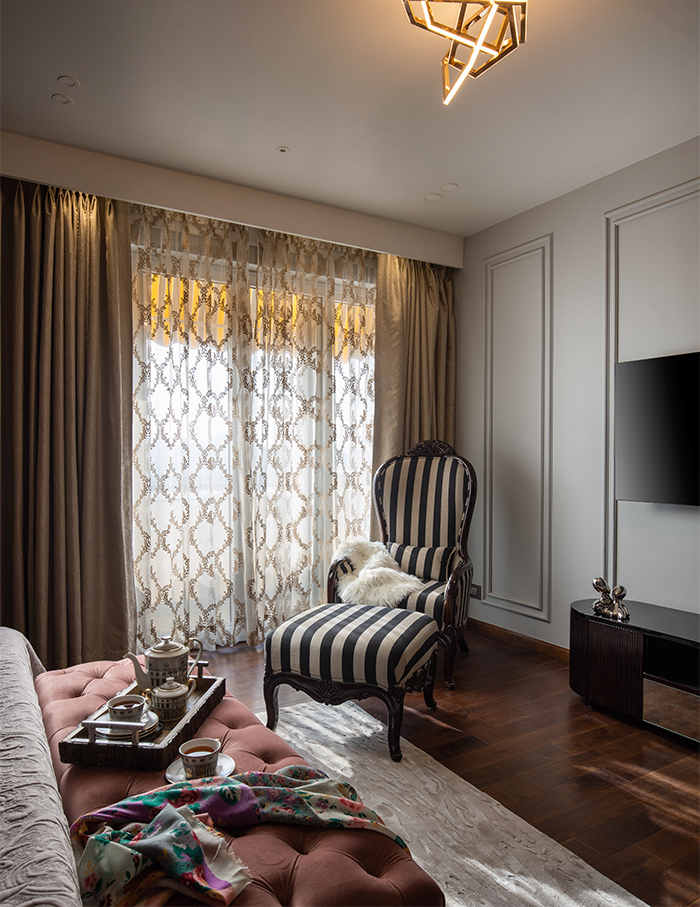 The common thread linking the entire house is the neutral colour palette. Bright shades and golden finishes are only used as accents. "A subdued colour scheme allows for layering of a variety of textures and materials—stone, fabrics, metal, laminate, wood—and coalesces into a cohesive design," says Agarwal.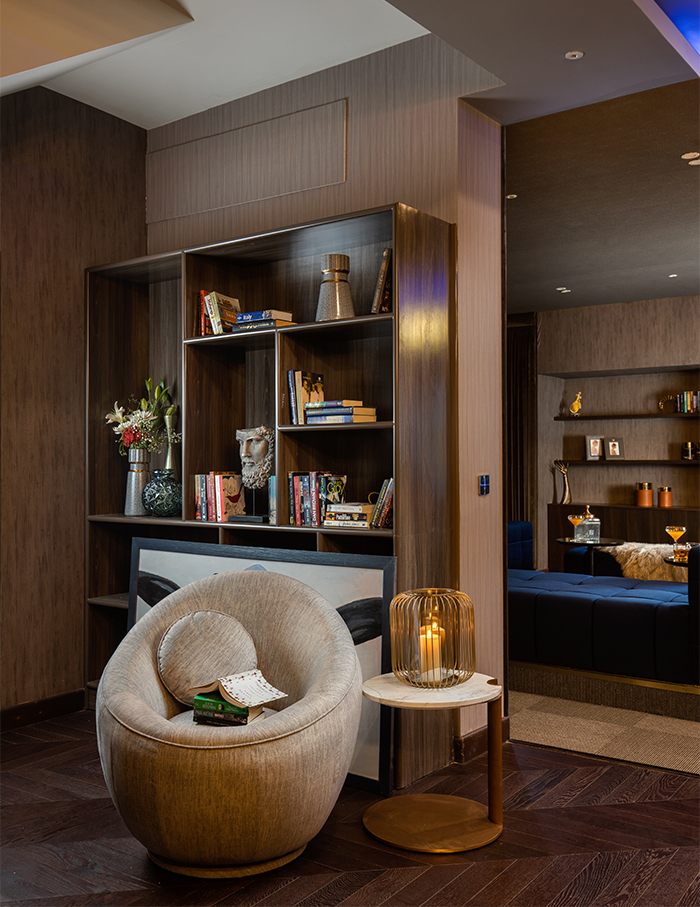 "We've woven bespoke and plush furniture, customised with specific contours and finishes, within this home. A diverse material palette, including exotic stones laid out in exciting patterns, rich wall panelling and metallic finishes, are the key highlights of the home's opulent interiors," concludes Agarwal.