Homes
This Gurugram apartment designed by Nivasa is spacious and flamboyant with a kaleidoscope of accents
NOV 17, 2021
| By Anushua Aich
Home to a family of three and their little canine companion, this apartment in Magnolias complex, Gurugram, designed by Nivasa is fun and flawless. Conceptualised keeping in mind the personality and needs of the family members, the home offers style and comfort in bounty for them to settle in peacefully. 
The vivid interiors reflect sharpness and precision as the contemporary and linear patterned walls render a white backdrop. Further, to ensure that the snow white composure of the walls does not appear pale, various vibrant paintings, opulent chandeliers and minimal light fixtures adorn the walls.
Nivasa's choice of decor pieces, for instance, the soothing Buddha statue in the elegant foyer or pastel-hued sofas with rounded corners in the living space, are so muted yet unique in their characteristics that the pieces feel at home with a sense of belonging. 
Division of spaces in a balanced yet effortless manner is also something that stands as inspirational. As the hallway opens to the living and dining areas, both of which are large spaces—the first glimpse of what balanced aesthetics look like is procured in pastel shades of pink, blue and grey. To prioritise comfort, the living space is divided into two formal seating areas, both featuring modern furniture with a touch of classic detailing.
 The living area leads to the dining space in an open floor plan, making it the perfect space for hosting guests. Resembling the saccharine pink and white cotton candy, the dining area houses a luxe six-person dining table with chairs that are a blend of old-world and new aesthetics.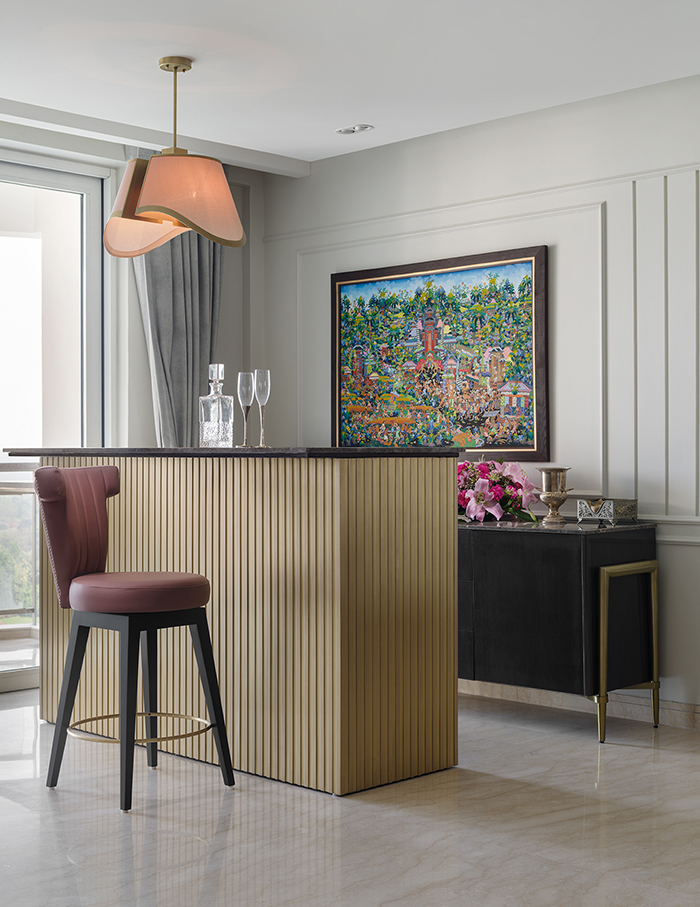 In addition to the dining table, the living room also exhibits a sumptuous pure brass bar. This chic bar is situated by the window overlooking panoramic views of a lush green golf course—rendering the space with an earnest, relaxing ambience to dwell in after a hard day's work.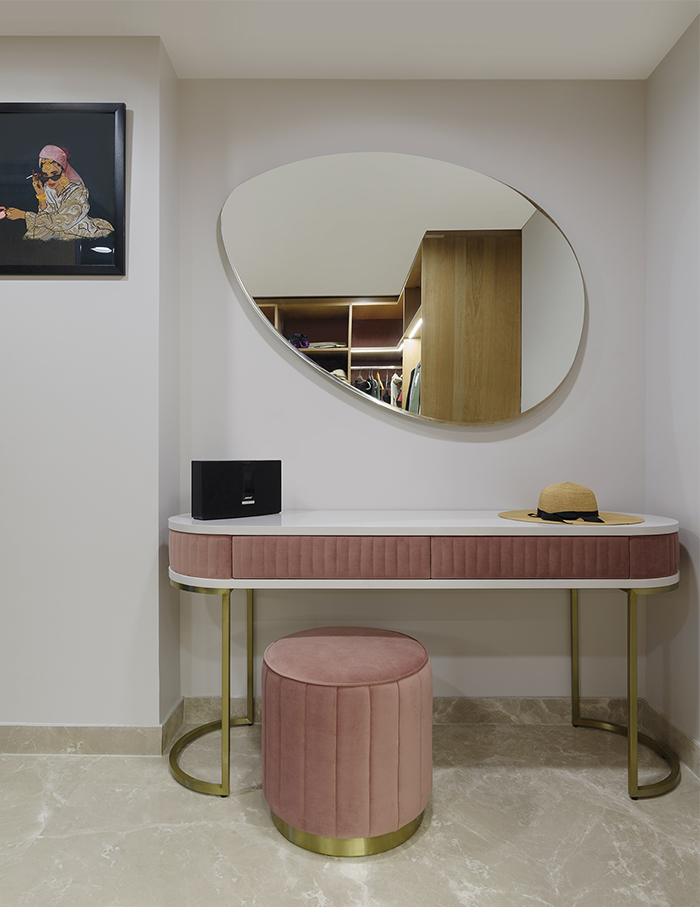 The colour palette shifts to darker tones as one moves towards the primary bedroom. With a walk-in closet and a cosy balcony at opposite ends, this bedroom comes alive in gold and brown shades. The highlight of this primary bedroom is Nivasa's contemporary canopy bed. It has a headboard with an intricate hand-crafted leather braid pattern intertwined into a large leather sheet along with panelling of brass with a gleaming gold finish—showcasing gentle ways to bring forth a balanced contrast in such spaces.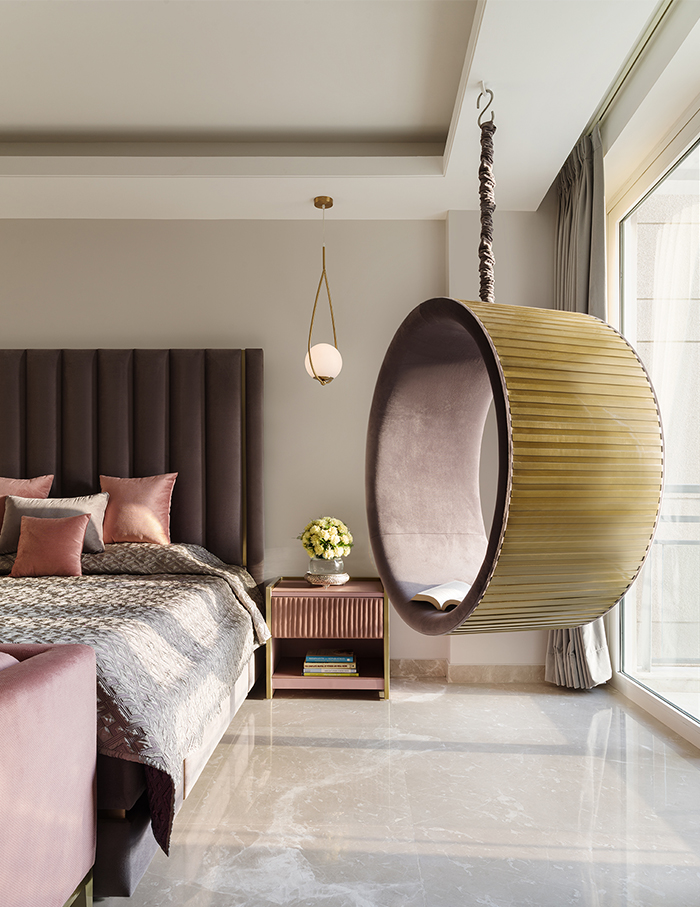 The daughter's bedroom on the other hand is distinct in multiple ways. Through plush furniture and stunning accents, this bedroom speaks about the daughter's taste and preferences. How she finds serenity in wine-hued cushions and couch and to treasure this calmness, Nivasa's quirky Circle of Life Swing is brought to the narrative of the space.
In all, this exquisite abode has a plethora of luxurious materials, rich textures and vibrant hues—which are evoking bliss as one remains fixated by these consistently.
If you found this polychromatic abode fascinating, make sure to check out this show home by MAIA Estates!